Our Favorite New York Spots
Words by Dalene Heck / Photography by Pete Heck
To finish off our east coast road trip and begin our stay in New York, we asked our readers for help what to do via our Facebook page and in our first post.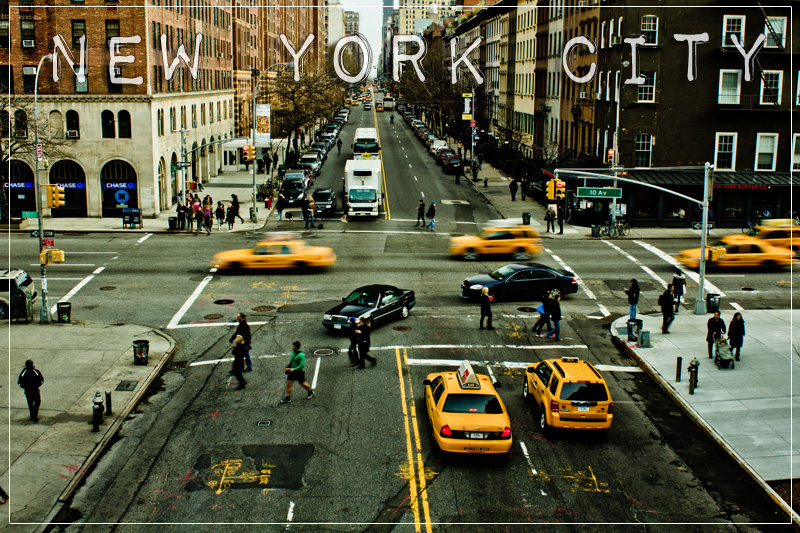 We were WELL rewarded with plenty of tips! The sad thing is that even six weeks is not enough to get to do everything in the Big Apple; we feel like we barely scratched the surface.
We did the best we could – spending lots of money on the subway and putting many miles on our walking shoes (but not enough to avoid adding a couple of inches to our waistlines at all the amazing restaurants).
But it was all done just for you (y'all owe us some pairs of fat pants). All so we could bring you this list of…
Our Favorite New York Spots!
OHHHH, THE FOOD…
You can't be surprised that the first category has to do with eating, seeing as we dedicated a whole post to dumplings, noodles and cupcakes!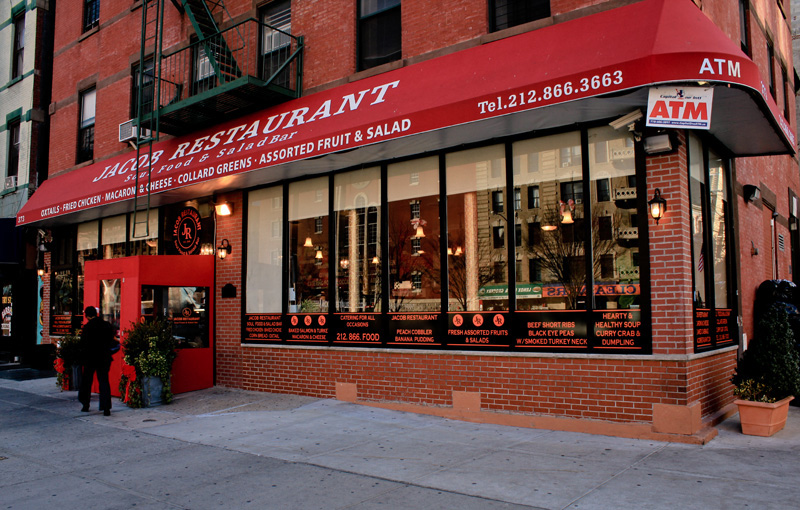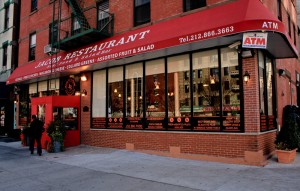 –> On our first night in the city, we were directed to a little spot around the corner for a buffet of delicious soul food. Jacob's incredibly tasty mac & cheese and jerk chicken, plus the live Sunday night jazz music started our infatuation with Harlem.
–> Our favorite type of food is Vietnamese so we wasted no time scoping out Nha Trang for our fix. This restaurant recommendation came courtesy of this excellent list of cheap New York eats curated by Jodi at Legal Nomads. It is a most excellent list – we indulged in just five of those listed and they were all great).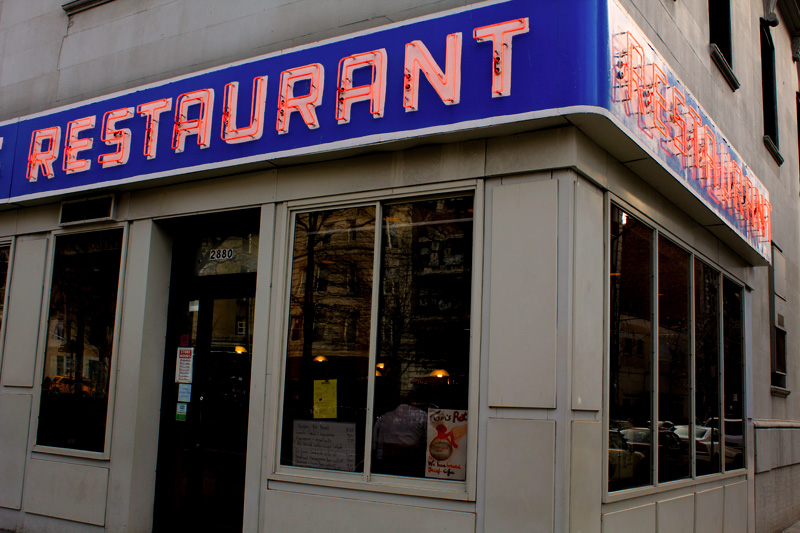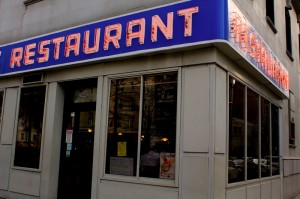 –> We were drawn to Tom's Restaurant as avid Seinfeld and Suzanne Vega fans, but we returned for the delicious cheap food and the cast of characters that goes there. Might be the best place in the whole city to just sit and enjoy many New Yawker accents.
–> We once asked a waiter at a pub where to find the best burger in New York. His answer: McDonalds. How sad that he hadn't heard of Steak 'n Shake! While the Original Steakburgers are the standard, I'd also recommend the Frisco Melt served on sourdough with a sweet and tangy sauce.
AND OF COURSE, THE DRINKS!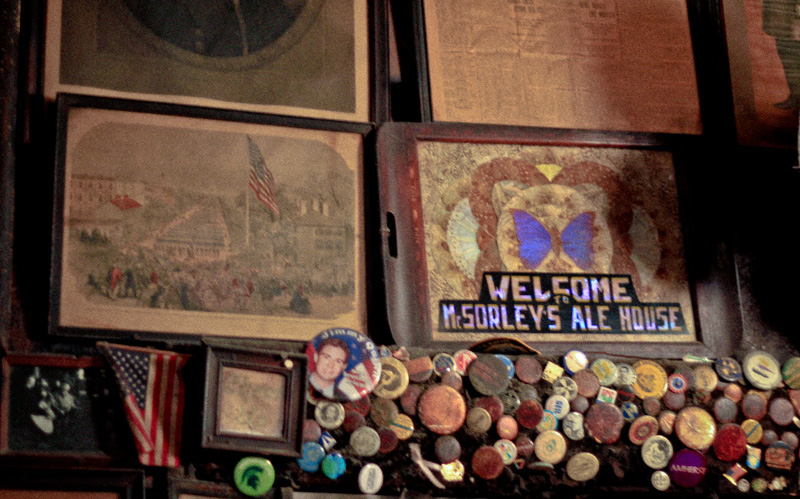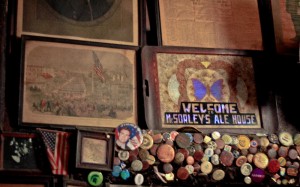 –> Many people recommended this gem: McSorley's Old Ale House in the East Village. It claims to be the oldest continuously operating ale house in the city, which didn't allow access for women until 1970! You can only order two types of beer, light or dark, and they bring them two at a time for $5. Pete likes the dark, I like the light, and we both loved the dusty atmosphere. (It also happens to be around the corner from our tattoo parlor, should you feel so inclined!)

SHOPPPPPIIIIINNNGGGG
We aren't big shoppers (carrying only 130 liters of already-stuffed space between the two of us), but we needed to replenish and replace some of our holey clothes! We had great success in two spots:
–> Century 21 is *the* place to go for discounted brand names. Be prepared to fight crowds, filter through stuffed racks and not even get a chance to try them on (there are no change rooms for men!), but the deals are worth it if you're patient.
–> We ventured into Brooklyn to find the Unique Thrift Store, and are so glad we made the trip. Excellent quality merchandise in an uncrowded store at great prices!
ENDLESS ENTERTAINMENT
We did a lot of research for which Broadway or off-Broadway show we should see. And then we didn't go, with no good excuse.
Being good-little-Canadians we also wanted to catch a Rangers hockey game, but those games are SO expensive!
This is what we did instead…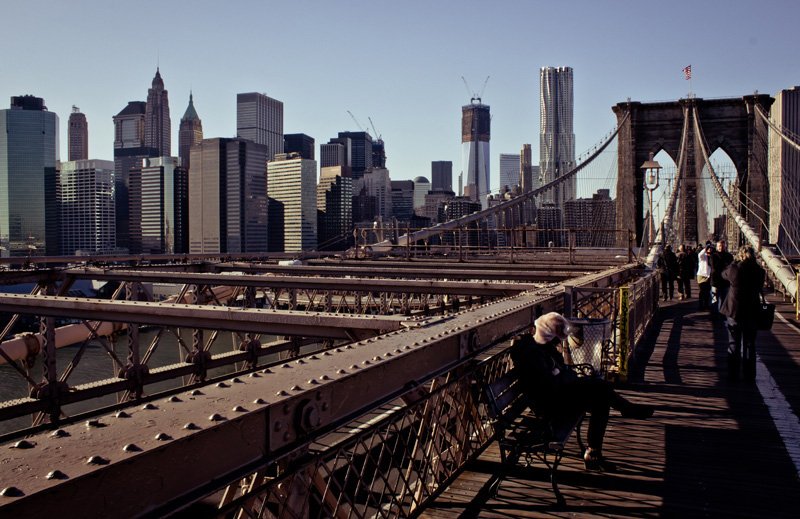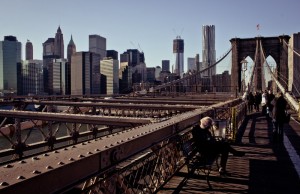 –> Walked the Brooklyn Bridge. We enjoyed walking the Brooklyn Bridge no less than THREE times. For us it was just a real testament to the enormity and scope of the grand city – the views are incredible from all angles.
–> Watched a taping of Late Night With Jimmy Fallon! It wasn't that hard to get tickets – we got them about a month after applying. The show was hilarious and the crowd was completely hopping; I even got a high-five from Jimmy as he ran through the audience at the end of the show. (Yes, I have washed that hand since then).
–> We were pretty lame when it came to seeing the many world-class museums that New York can boast about, having only made it to the Museum of Modern Art and the Studio Museum in Harlem. Both are highly recommended.
–> And in case you missed it, this is what else kept us thoroughly entertained: visiting historic Ellis Island, walking through Central Park, Amateur Night at the Apollo Theater, debating the best city views, racing around the city in a scavenger hunt, and just taking advantage of the fact that New York is a photographer's DREAM.
So much more to do…so many reasons to return.