An elephant has thick skin.
Up to one inch, in fact, thickest on parts of the head and the back. Under the light touch of my hand I could feel every leathery crevasse and the course hair that sprouted randomly.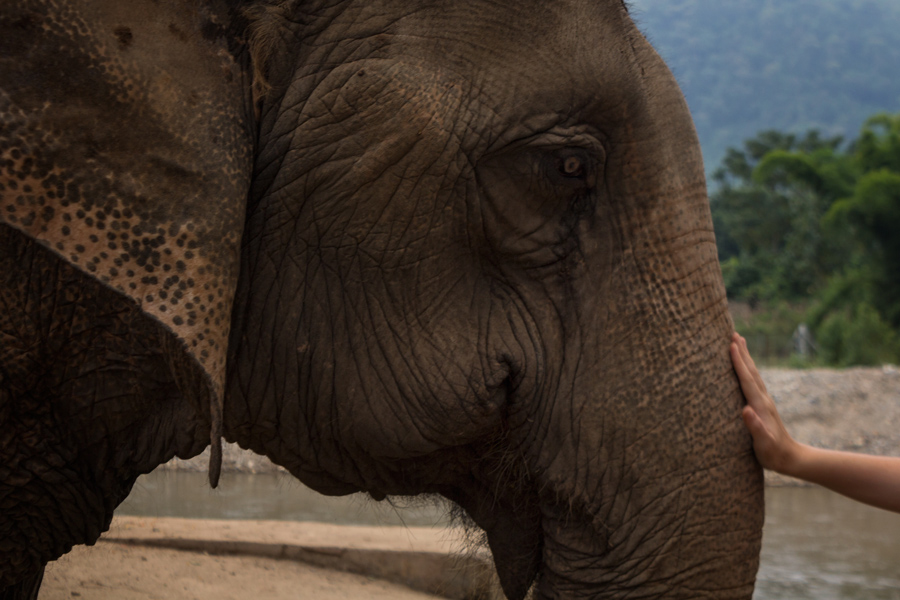 On average, an Asian elephant is two and a half meters high, weighing between three and four tons. They are one of the biggest animals to roam the planet, but their enormity and thick skin do not save them. They are being driven out by the expanding population of humans. They are hunted and exploited.
Young wild elephants are torn from their mothers, are caged and beaten until their spirit is broken and they can be used for labour. They become blind by circus lights and suffer spinal injuries from carrying tourists. Their hips and legs break from overuse in the logging industry.
These beautiful giants know great pain, and their numbers on the continent dwindle.
But…
There is this one amazing, blissful place…
If you are having problems seeing the above, click through to see the Elephant Nature Park video.
On the drive to northern Thailand's Elephant Nature Park (ENP), we passed many other elephant facilities labeled "park", "camp" and even "sanctuary". We could hear the squeals of patrons and see them climbing on for the much anticipated ride atop the majestic creatures. Unknowing (at least, we hope that it was done in sheer ignorance) of the fact that such an excursion is actually very harmful to the elephants. That not only were they savagely beaten into docility, but that their sensitive backs are not built to support the weight.
Of the multiple facilities that exist on that one long stretch of road in the jungle, ENP is the only one where elephants can't be ridden. The only one that nurtures rescued animals with broken legs, hips, with blindness. The only one that also opened it's doors to hundreds of stray dogs from the Bangkok floods of 2011, and cares for cats without homes.
It is the only one that should be visited in Thailand, for anyone who cares at all about animals and their ethical responsibilities as a tourist.
More from our days with the elephants.
*****
The Elephant Nature Park runs solely on donations and volunteers. Some of our travel blogging friends are currently spearheading an excellent initiative to raise funds for the Save Elephant Foundation, and are giving away an amazing prize (a trip to Thailand!) along with it. Here are the details…
The amount that you donate will dictate your number of entries into the contest (go here to make your donation).
After the donation, MORE entries can be earned by sharing the contest via social media
With your donation, you will receive access to a weekly, exclusive blog that highlights different travel destinations and holidays and festivals from around the world
Not only will your dollars support a VERY worthy cause, but in addition you can win: $2,000 towards a flight to Thailand, an 8 day, 7 night tour of Thailand (including a stop at ENP) for two people from Where Sidewalks End.
A great prize for a really fantastic cause that we fully support. (I hope that one of our readers wins!) **THIS CONTEST IS NOW CLOSED**