Do It Yourself – Turkish Food
Do It Yourself – Turkish Food
Words by Dalene Heck / Photography by Pete Heck
Not only do we enjoy discovering delicious treasures in every new place we visit, but we like to dabble in the local culinary arts ourselves.
Armed with a Turkish cookbook and an incredible nearby market, it is one of our goals to  test out several new recipes and share them with you as we go.
First up…
Kimyonlu Sahan Köftesi (Cummins Köfte)
500gr. minced meat
1 onion, grated
3/4 cup bread crumbs
2 tablespoons tomato paste
3 cloves garlic, crushed
2 tsp. salt
1/2 tsp. pepper
2 teaspoons köfte spice**
1/2 cup olive oil
**Kofte spice (we think) is equal parts cumin, paprika, and chili powder
Blend minced meat, onions, bread crumbs, garlic, salt, pepper and köfte spice.  Knead this mixture well for 10 minutes.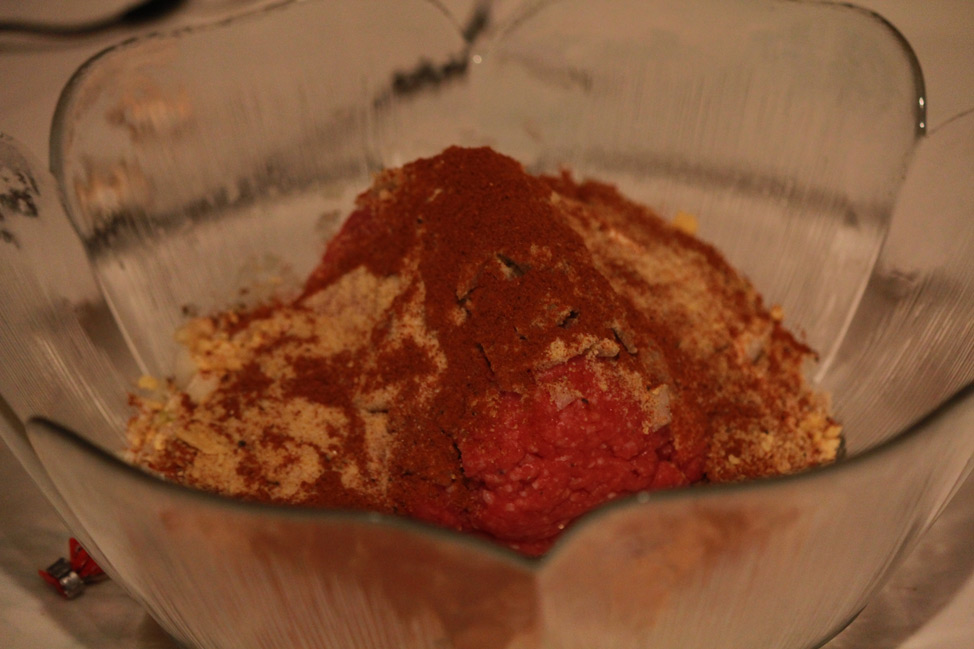 Take walnut sized pieces, roll into a ball and then flatten.
Heat olive oil in a pan and lightly brown the köfte on both sides. When done, take them out and arrange in a flat pan.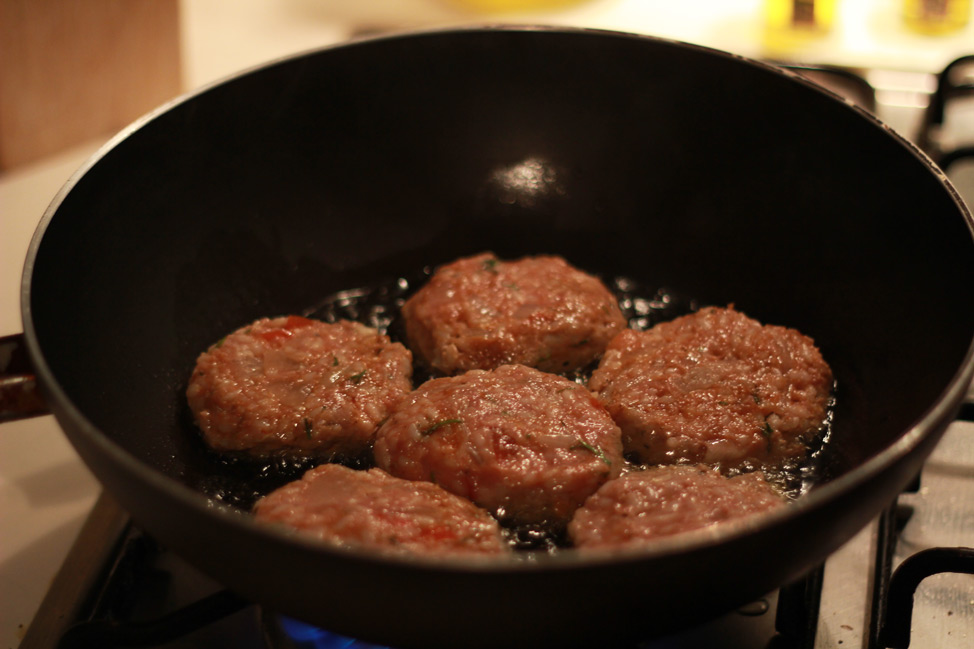 Mix tomato paste with hot water and spread over köfte.  Sprinkle with salt.  Add potatoes (optional), mixed peppers and cook on medium heat for 20-25 minutes.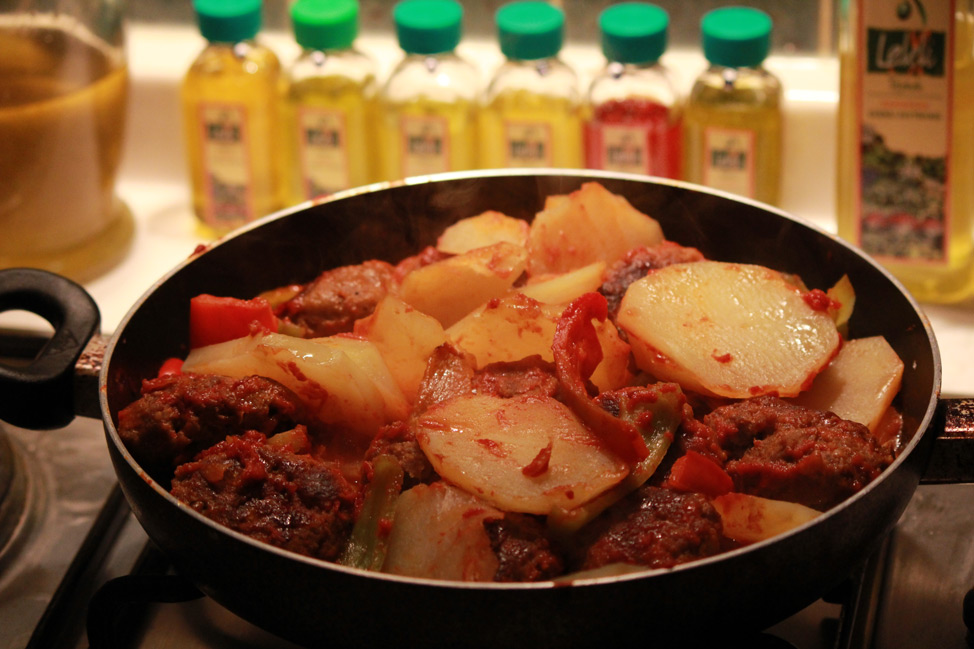 The Verdict: We really enjoyed this recipe. It was particularly easy, although a little messy kneading the meat dough. The flavors of the köfte spice really soaked into the meat and the vegetables making it very tasty.
Etli Biber Dolmasi (Bell Peppers Stuffed with Meat)
6 medium sized bell peppers
3 Tbsp margarine
1/2 tsp. salt
Meat Filling:
250gr. minced meat
2 Tbsp. margarine
1 medium sized onion
1/2 cup rice
1 medium size tomato
Chopped dill
Salt
Pepper
Prepare the meat filling first.  Chop the onions and lightly brown in pan with margarine.  Add rice and 1/2 cup water.  Cover and cook for 10 minutes until the water is absorbed. Remove from heat.
Add all the other ingredients and mix them well.  Knead for about 5 minutes.
Cut around the stems of the peppers and open the lids up (keep the lids). Remove the seeds and wash the peppers well.  Stuff the peppers with the meat filling and put the lids back on.  Arrange them side by side in a saucepan.  Add 1 3/4 cups water, the margarine, and salt.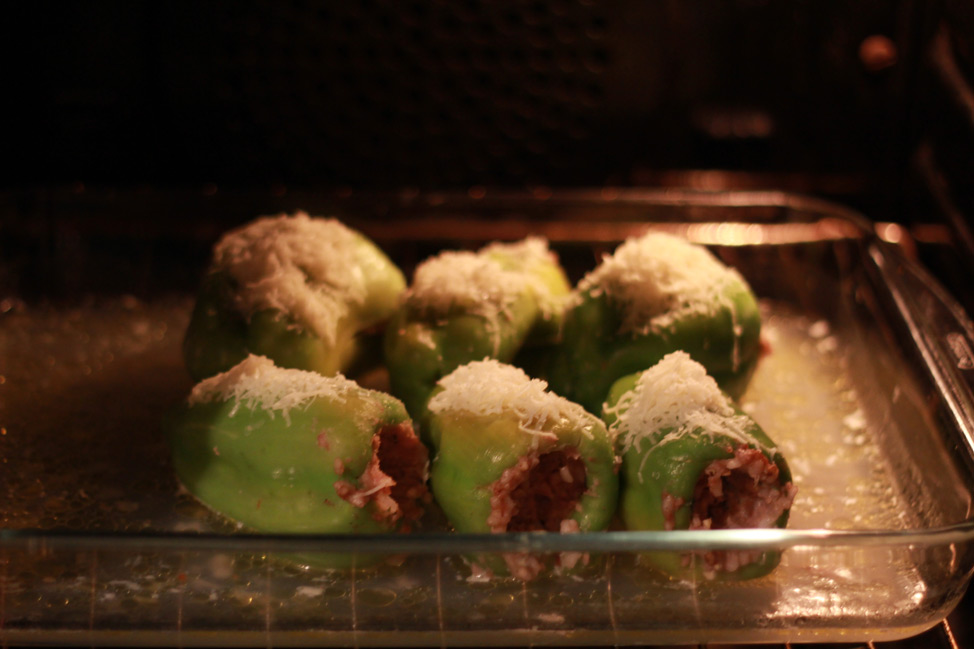 Cover and cook on medium heat (150C) for about 40-60 minutes until tender.  Serve warm.  If you wish, garnish with yogurt, cheese, chili oil, and fresh dill.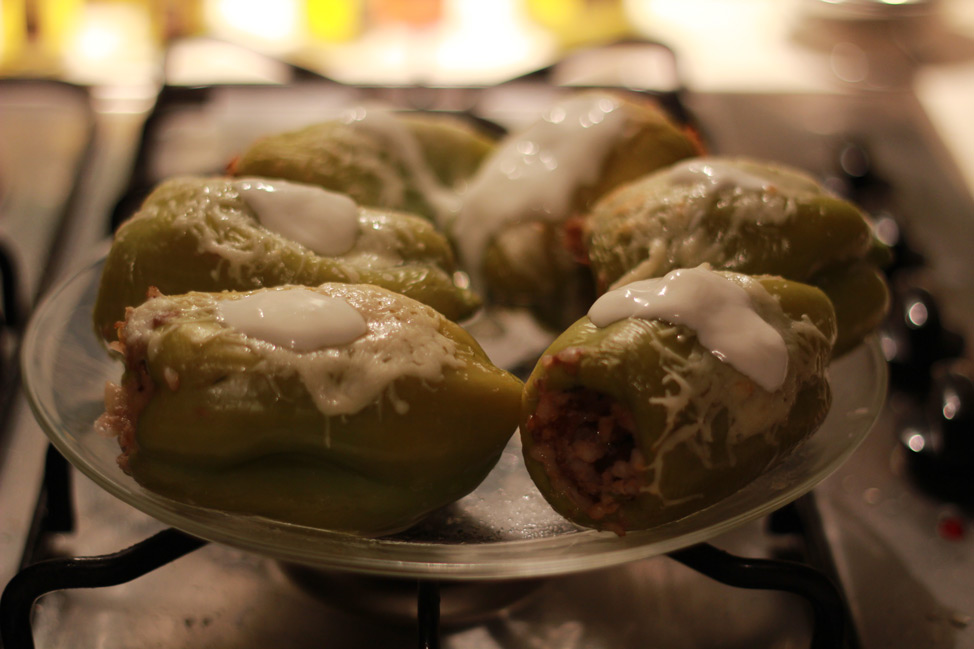 The Verdict: Again, another fairly easy recipe, but we found this one a little bland.  We did add yogurt, fresh dill and chili oil afterwards which made it much better. Our recommendation is to add more spice. 
*Note that you can substitute the peppers with tomatoes and stuff them for a change.