Words by Dalene Heck / Photography by Pete Heck
Early on in our tour, I wasn't sure if I would make it.
I clenched my eyes shut and stood completely still to calm myself, to try and forget that I was in a tiny, dank tunnel with numerous other people in my personal space. The air around me was humid and heavy, the guide's voice barely audible over the echoes of others. I wanted to run back from where we came, or reach out and scratch at the limestone walls to forge an escape.
I do not have a good history of visiting dwellings underground. While my certain fear of tight spaces has yet to ever bloom into a full-blown freak-out, the panic is always there, taunting and threatening. But once again I somehow managed to find peace within, to put one foot in front of the other and continue.
And we hadn't even gotten to the really creepy part yet.
There are an astounding 300km of tunnels under Paris. Route markers adorn the gritty walls, matching the names of parallel streets running above ground as they existed in 19th century Paris (and may not be the same today). Enroute to our final destination of the legendary Catacombs, we passed many other hallways locked and sealed. Our guide often spoke of cataphiles (or cata-addicts) – adventurous people who illegally roam the tunnels regularly. They do it to party, to explore the unknown, or just because it is forbidden. Their desire is clearly something I will never understand – especially as our guide also spoke of the many who have gotten lost and died.
This was not our first time in Paris and I had put off this tour until now for obvious reasons. But after nearly a half-hour of walking, stopping and observing, panicking and relenting, the tunnels thankfully began to open up to more space. This was at once soothing to be able to move more freely, but also not without dreadful anticipation, as what we saw next would add another entirely macabre element to this experience.
Bones.
Seven million of them from 13 centuries of perished Parisians.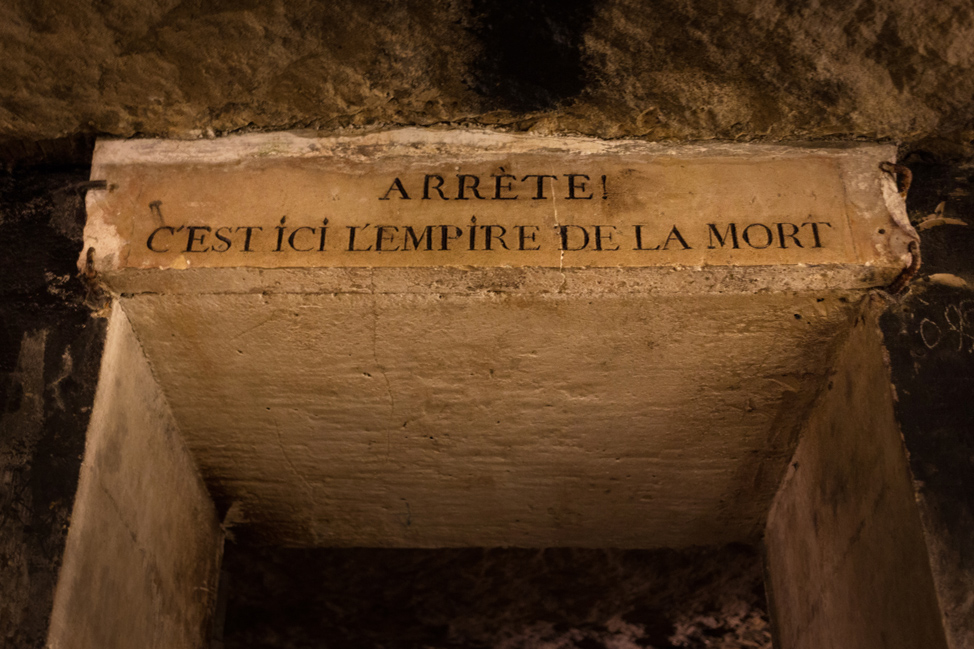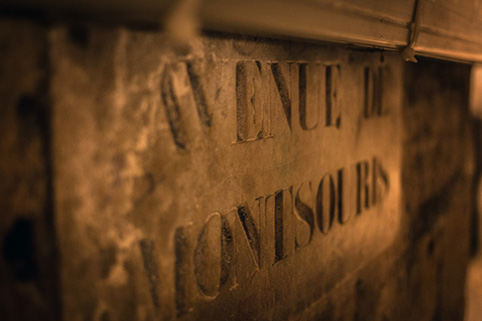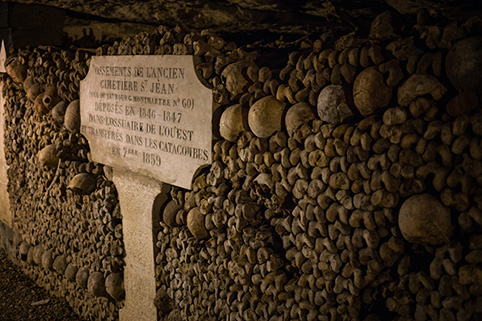 Late in the 18th century, Paris had some major problems. For one, it was sinking and on the verge of total collapse, thanks to underground mining that had largely gone unchecked. Massive empty quarries sat underneath the city, major work was required to shore up the walls and ceilings so that the roads and buildings above it could remain intact.
For another, the dead were overflowing. Cemeteries were full and thus bodies were not buried to their proper depth. The overflow caused serious stench and health problems for the surrounding neighborhoods.
The decision was made to transfer the remains into the vast empty spaces beneath the city. The gruesome construction and relocation began in 1786 and the Catacombs received skeletons from all of Paris' cemeteries until 1812.
Their creator, who wanted it to be a visited mausoleum, designed it to appeal to those fascinated with the romanticism of death. Leg bones were found to be best for building sturdy and straight walls and skulls were used for decoration. Poetry and quotations in various languages adorn engraved plaques scattered around the tunnels. Stacks are organized by cemetery so that it is possible to trace ancestors by cemetery and year.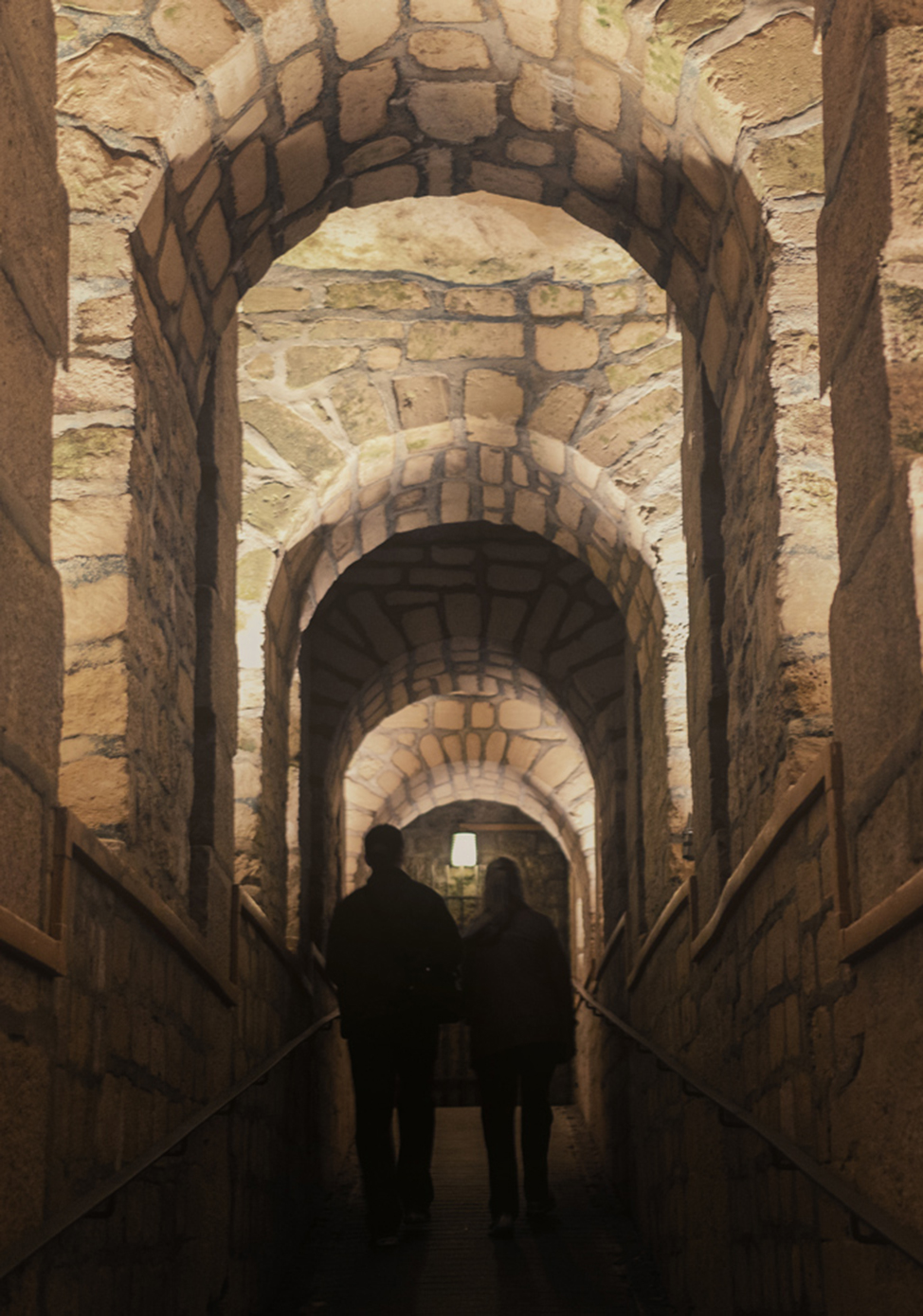 For me, I could fathom nothing romantic about it. Our guide pointed out those skulls which were rough and black and thus had obviously died of the Black Plague. Others noted that very few of them had teeth intact. A quick flash of light behind the scenes showed indiscriminate piles of various bones, broken or small, unusable for the morbid display.
Our guide herself spoke candidly about her job as the tour wrapped up, spilling that even though she had been doing this for less than a year, she thought it was time for a break. She was plagued with nightmares and even sometimes saw people as skeletons as she passed them in the streets. And while I was ultimately glad I had stomached the intriguing tour, after just a couple of hours underground, I could scarcely blame her for this admittance. I knew I could have never lasted that long myself.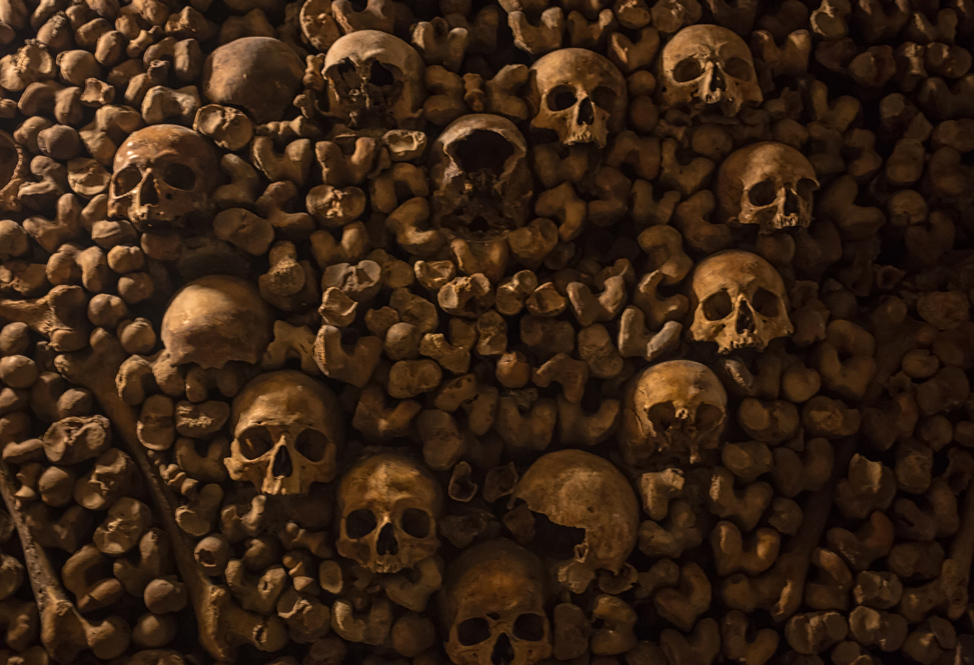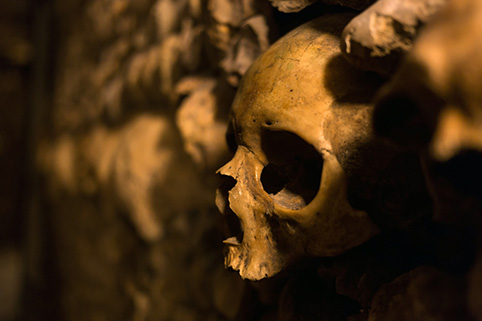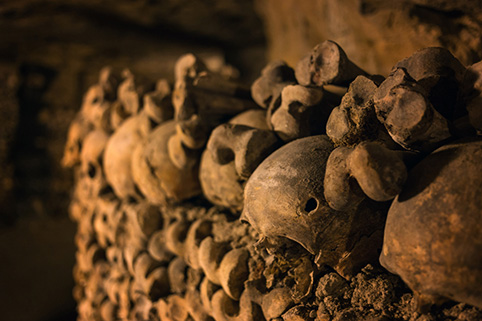 how to do it
The Catacombs are opened daily year-round. The number of visitors are highly restricted, and thus in the high-season of summer, you can expect to wait in the queue for 3 to 4 hours. A fantastic option is to book this Viator tour, which offers a small group size with an excellent guide, plus most importantly, takes you right in past the long lines.
***Please note that while our tour with Viator was complimentary, all opinions and panic attacks are clearly my own.