The last few days of 2009 were at hand, and after almost two weeks lazing around in the beautiful Mendoza, Argentina, I needed something to get the blood pumping.  I first tried a zip-lining excursion with a friend and we both agreed that it failed to give the adequate rush we were looking for.  Thus, we set our sights higher (and peer-pressured Pete into joining us).
We set our sights 1,300 meters higher. Never before had the three of us tried paragliding, and it seemed like a perfect way to send 2009 out with a bang.
And hopefully not a splat!
Pete and I rode in the back of a shallow pick-up truck to the top of the mountain.  We held on for dear life as we were constantly jostled on the bumpy road, the driver whipped around every tight corner.  At that point, we figured that if we could survive the drive up the mountain, we could survive jumping off of it.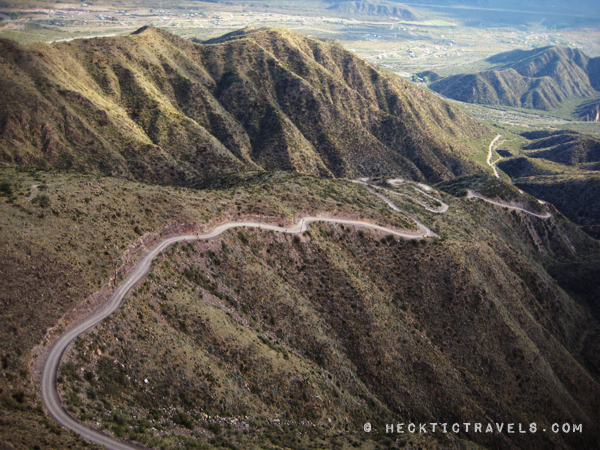 The sight of this bag gave us some comfort.  That initial comfort didn't last long however, as we saw one guy chicken out at the last minute, and also remarkably watched one single jumper fall from the sky.  As we were waiting for our turn, we heard a course of people shouting "Mira, mira!" (Look, look!)  We ran out from under the shade in time to see one lone jumper falling straight down, her emergency shute deployed but obviously not working.  Others tried to contact her on the radio to no avail. When she disappeared behind a mountain, the guides turned to us, shoulders shrugging, and said: "Okay.  Your turn now!"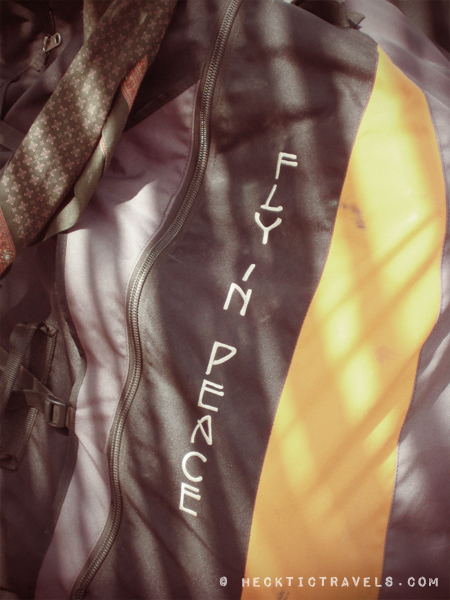 Getting the equipment ready for a jump.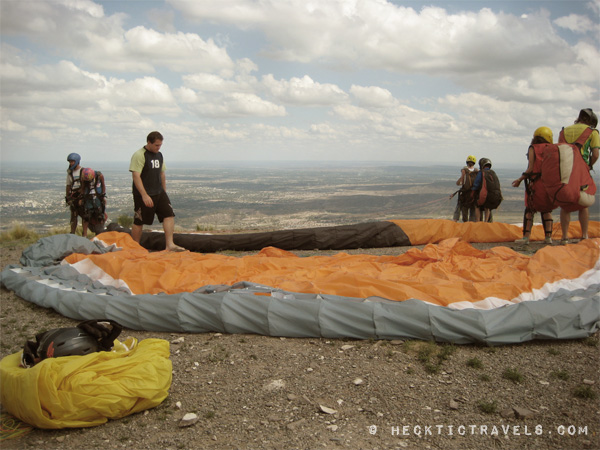 Pete deep in thought… "This isn't so bad, right?"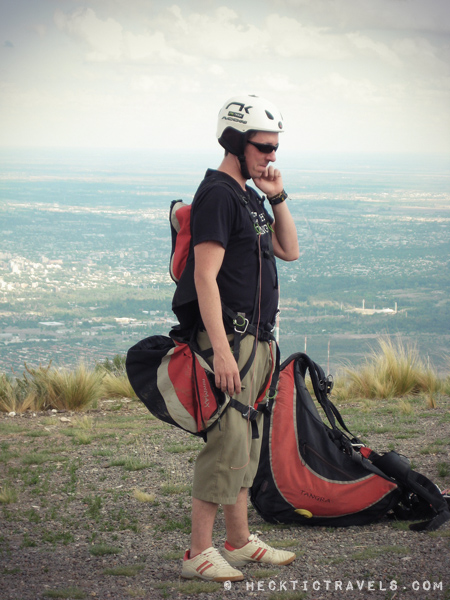 Relaxed and ready to go! Pete was the first to be airborne.  It happened so suddenly – the tandem jumper would just begin to yell "Corre, corre!" (Run, run!) when the wind was perfect. There is no weirder feeling then to be running towards the edge of a mountain, knowing that soon there would be no ground beneath your feet.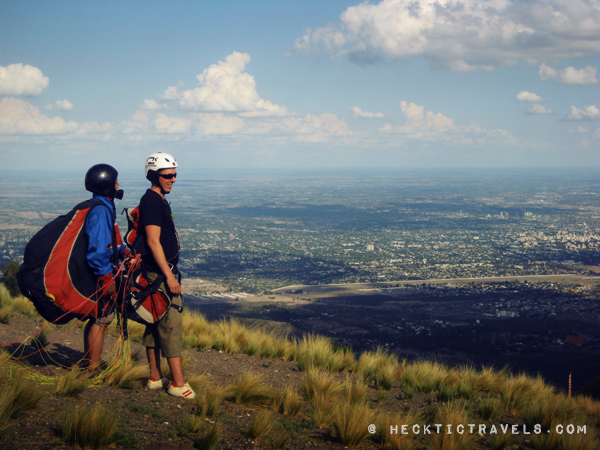 And, he's off!! My heart stopped for a brief moment when Pete ran off the side and dipped below the mountain and out of my sight.  Soon, the thermals lifted him up and within view.  I could breath again.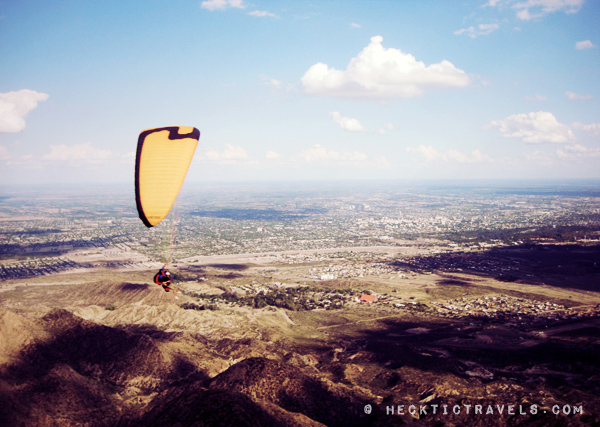 And this is me, seconds later. Note that my "extremely-thrilled" face and my "so-scared-I-think-I-pooped-my-pants" face is pretty much the same, only I can tell the difference.  I won't tell you which one this is.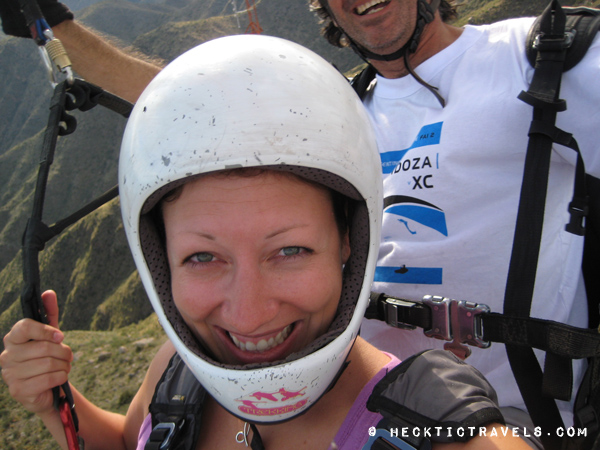 More of Pete in the air.  The beautiful city of Mendoza is in the background.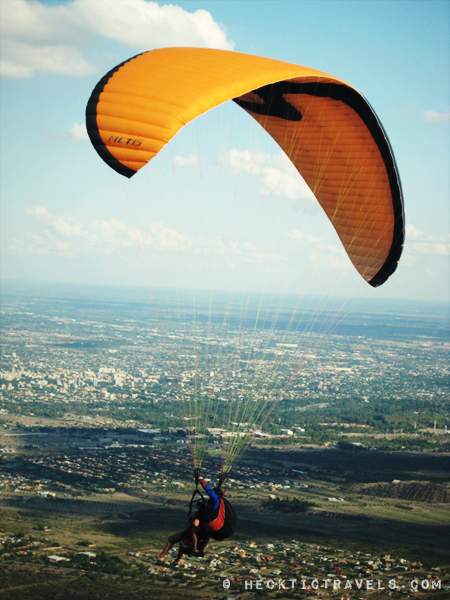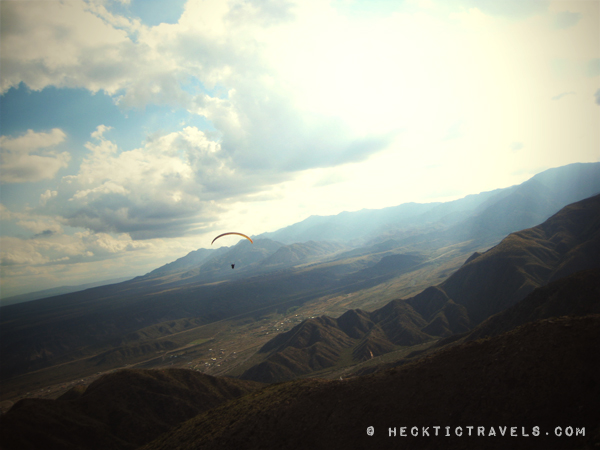 I was on the ground first, waiting for Pete as he circled above, preparing for his landing.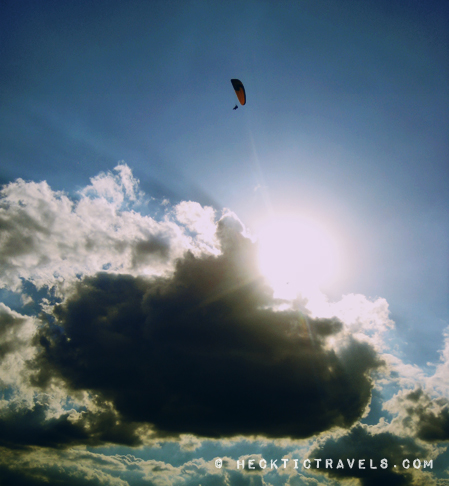 On the ground and heading back to our hostel, this was our best attempt at our "we're-superheroes-that-just-ran-off-a-damn-mountain" face.  It obviously needs some work.