Words by Dalene Heck / Photography by Pete Heck
We scrambled over loose rocks and up a gentle slope, a chill breeze cut through us despite the hot Moroccan sun cooking from above. Below we saw a fox bounding over sand and around palm trees, having obviously been spooked out of the shade of a rocky overhang as we climbed above his head.
On the smooth top of the hill, and as we settled into the picnic lunch we had picked up at the last town, we admired the variety of views around us.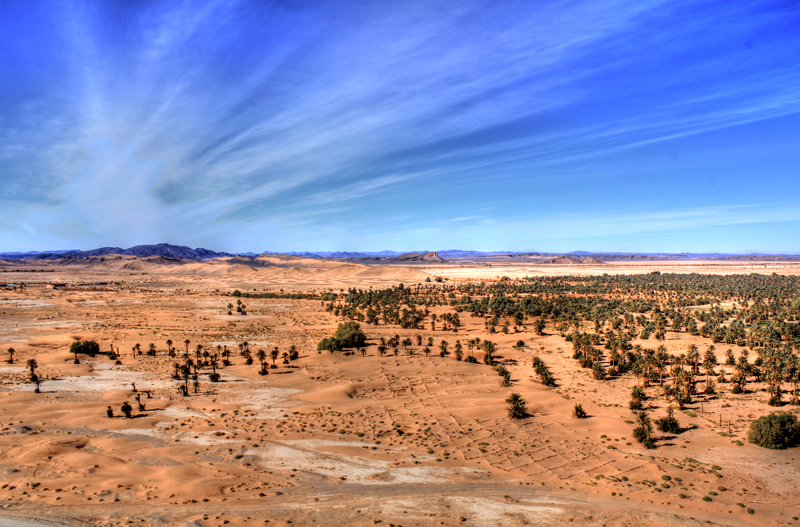 The bright orange sands of the Sahara could be seen in the distance, and beyond them the cliffs that struck the border between Morocco and Algeria. Towering mosque minarets were speckled throughout the countryside, surrounded by the small populations they were built for. Encased in the rock at our feet were innumerable fossils, some protruding from the stone. In the far distance were the snow-capped Atlas Mountains we had driven through the previous day.
"From here, it's like seeing a Moroccan Salad,"
our guide Hmad said.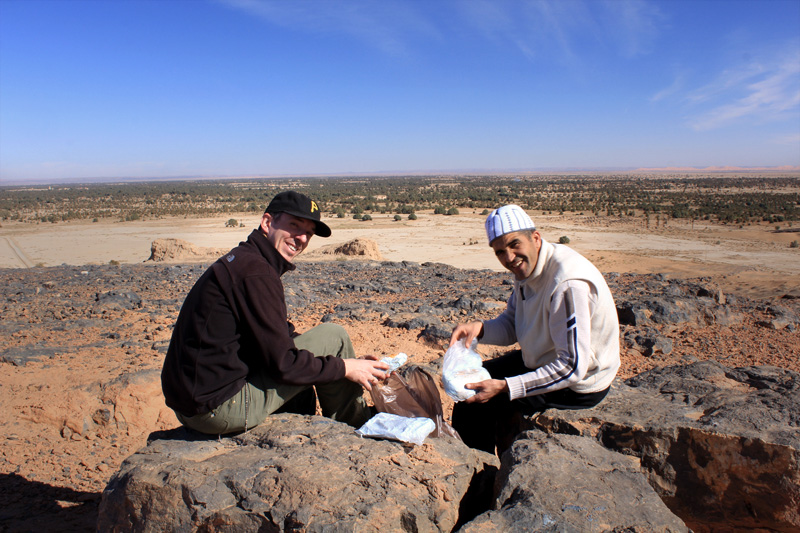 We were constantly moved by the contrasts that Morocco provided. Where else can you see desert and snow capped mountains in one eyeful? Home to the only ski resort in Africa, the white High Atlas Mountains were constantly in view on our long first day of driving, and provided for a variety of distinctive landscapes. Each turn on the windy roads through them brought a new color and almost an entirely new environment. Often, red soil shone bright in the sun, other vistas offered only brown, and sometimes luscious green foliage blanketed the valleys. Clumped Berber villages, plentiful along sparse rivers, were the only stable fixture with their consistent red buildings and array of traditional Kasbahs.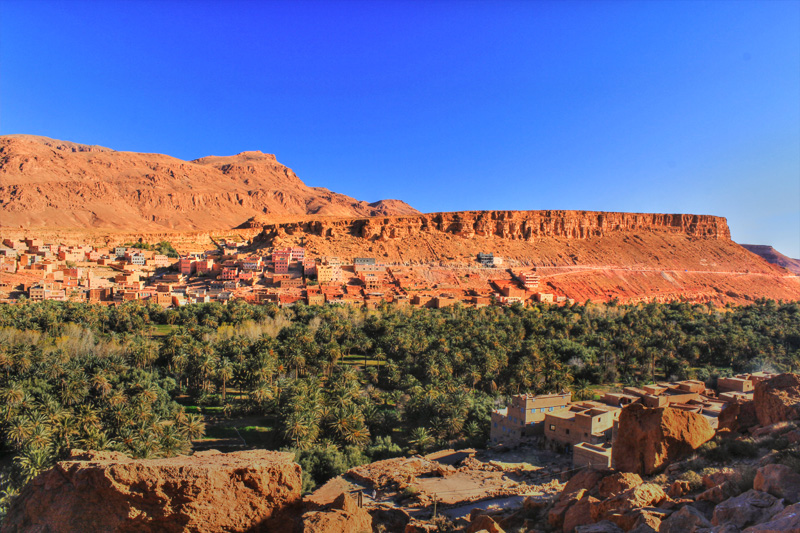 We saw staggering gorges…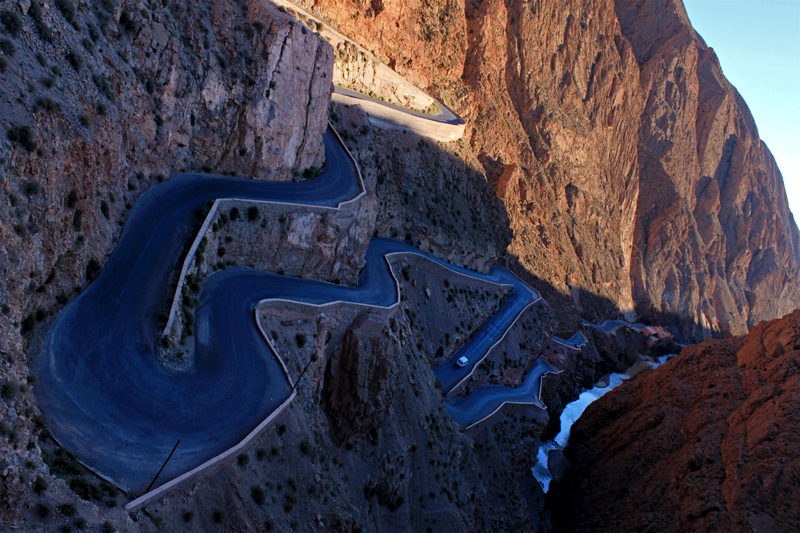 And we stopped at Ait Benhaddou, a Unesco World Heritage Site seen in many famous movies like Gladiator and Lawrence of Arabia. Lo and behold, look at what can surprisingly be seen in the distance…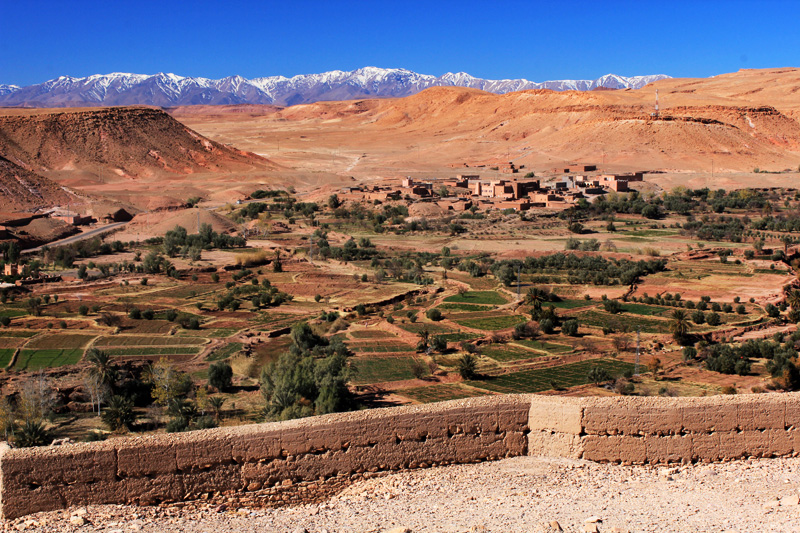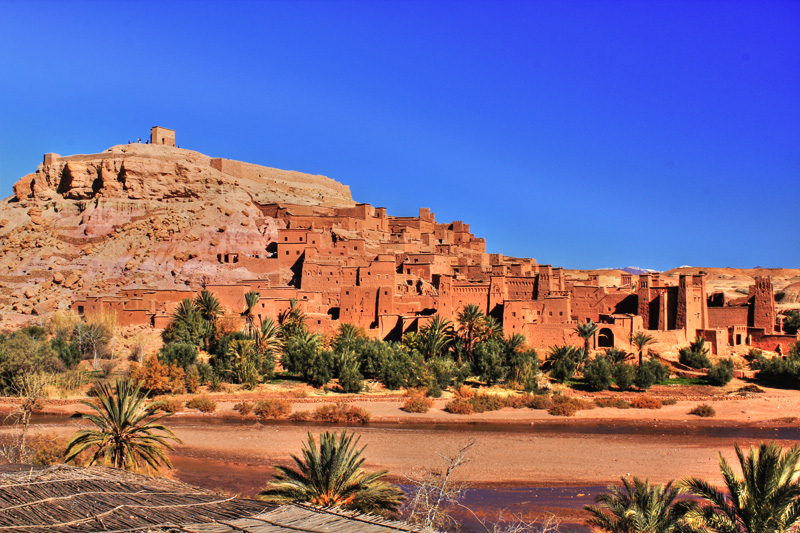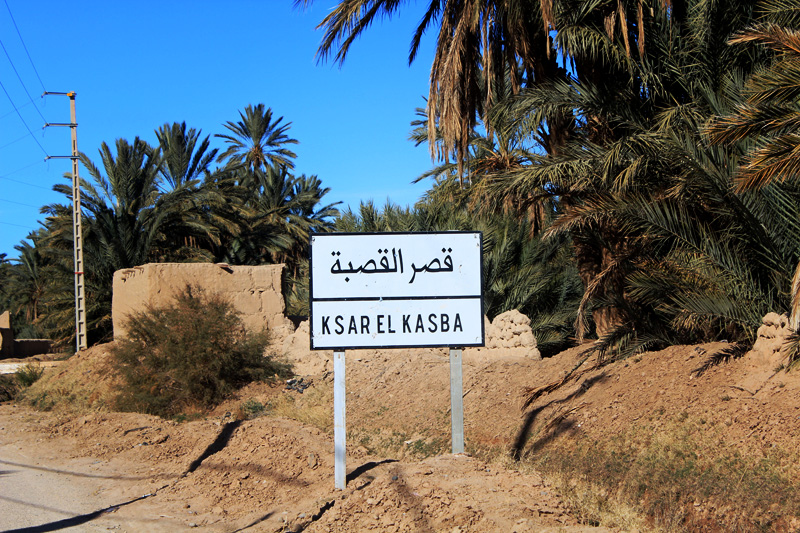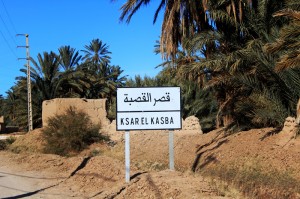 Contrasts were also easily seen in the habitations and people as we ventured further south. Away from the chaos of the cities, life got simpler, and we found more people robed in traditional clothing. We drove through numerous small, walled villages called Ksars built in close proximity to each other. Constructed of mud and dating back to the 12th century, a continuous wall encircles the interior buildings, raised to protect inhabitants from attacking neighbors. Kids, who were typically indifferent to us in the cities but were intrigued by our presence in the south, often waved from their perch on the side of roads where they watched the world roll by. They squealed when Hmad teased them by slightly swerving in their direction. "They would have thrown rocks at me in other parts of the country," he said with a reassuring smile.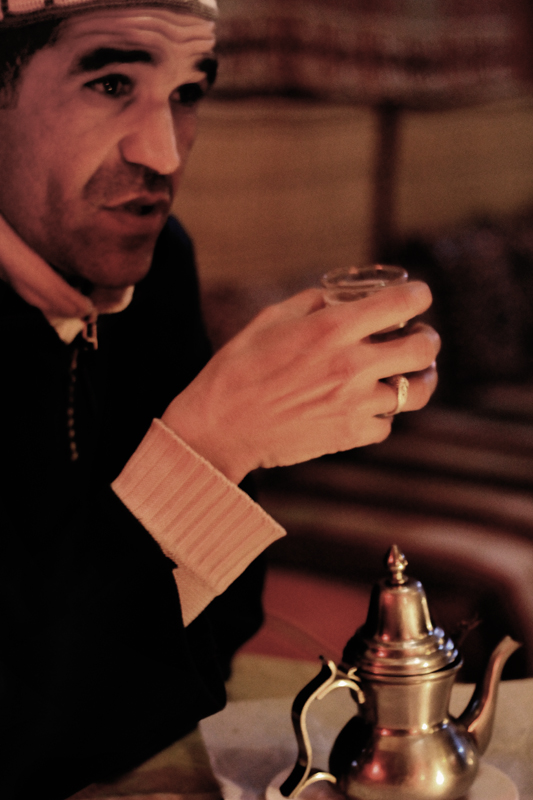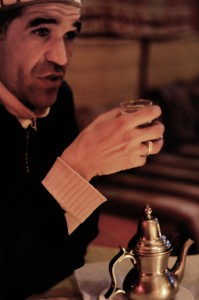 That was the extremely amiable character of Hmad. With Pete and I both having no knowledge of Arabic and only a smattering of French, our interactions with locals were quite limited until we met our gracious host. My only impression of Moroccan men had been through the lewd looks and comments I received every time I ventured out. Unaccustomed to this and perhaps overly sensitive, I continuously felt uncomfortable and wary to be far from Pete.
Hmad showed a very different side, and one that we would find again in others during our time in Morocco, such that I came to believe his positive traits to be a truer representation of character. He was most generous with his time and his knowledge, answering every stupid and ill-informed question we had. He was completely gentle in nature and had a witty sense of humor. Hmad endlessly joked with waiters, and showed repeated kindness and respect to all we encountered. When two young kids approached us at a rest stop asking for change, he instead offered them the keys to our vehicle with a shy smile that caused the youths to burst into a mess of giggles.
And that's one of the things we'll remember most. Beyond the picture-perfect viewpoints we marveled at along the way, there was much more than diverse landscapes to be discovered.
**********
Many thanks to Hmad and his company Merzouga Journeys for our exceptional tour. For our itinerary and full review, please click here. Following will be two more posts from this tour, as we enter the Sahara Desert.