Prince Albert National Park, Revisited
Words by Dalene Heck / Photography by Dalene & Pete Heck
As a child, Pete camped in Prince Albert National Park with his family a couple of times. Too young to remember many details, he said the strongest memory he has is of leaving the area to return home to Edmonton. He bawled on his way out of the small townsite of Waskesiu. He told me that he had so much fun making new friends at the beaches that he didn't want his time there to end.
Upon our invite to explore the area in all its winter glory, we didn't hesitate to accept and arrived in mid-January. Pete was eager to see what he remembered. I was eager to see if he'd be able to keep it together this time.
"What's your wolf strategy?" Our guide Brad asked as we drove out of Waskesiu to do some wildlife spotting. My initial thought was to respond with:
umm, scream and run?
But then I realized that he was subtly referring to the fact that our camera sat loosely between us and rendered useless if we were afforded only a quick sighting. With Pete's hands on the steering wheel, I took up the charge, holding the heavy camera body in my lap with one finger on the trigger.
It was a surprise to me that seeing wolves was even a possibility, figuring that they are strictly elusive, but Brad assured me that they can be curious. And in Prince Albert National Park, they are also plentiful. I had never seen one in real life before.
Just a few minutes out of Waskesiu we were surprised by another species — two large elk sauntered across the road in front of us, unbothered by our presence. Thanks to my prepared wolf strategy, my trigger finger was able to get off a couple of shots before shadows from the tree-lined road hid the optimal light from my lens. It would be our only wildlife sighting from our couple of hours of viewing — the wolves remained elusive, and the spot where we had hoped to see otters was too frozen over. Witnessing the free-roaming bison would involve too far of a drive for our short stay.
No matter, there is so much more to do in the area anyway.
"What's your wolf strategy?" Our guide Brad asked as we drove out of Waskesiu to do some wildlife spotting. My initial thought was to respond with: umm, scream and run?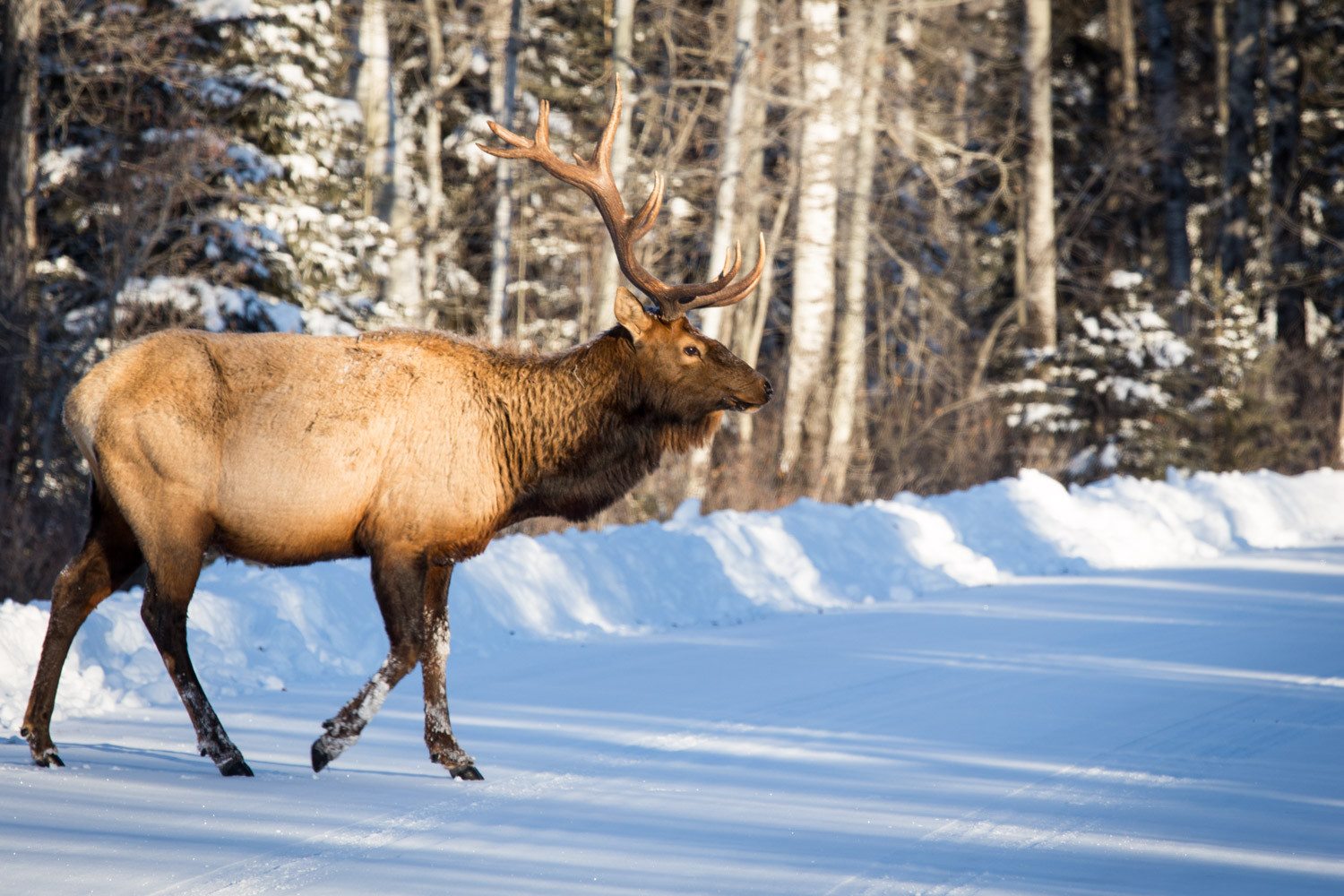 Prince Albert National Park encompasses 3,874 square kilometers of boreal forest and encompasses the merging of the northern and southern ecosystems. The park itself was formed in the late 1920s for tourism and recreation, and only in the 50s did people begin to realize how important it is for preservation.
Hence the world-class concentration of wildlife, and part of the draw for people from all over the country and world. Notably, one of Canada's most well-known naturalist and conservationist, Grey Owl, lived in the park in solitude and wrote books from it for many years. (And was even played by Pierce Brosnan in a feature film about his life.)
For almost one hundred years the protected park has become a playground for both animals and humans alike. After our quick attempt at wildlife viewing and several stops along the way to capture quintessential winter scenes, we eagerly turned our attention to the other activities offered.
For almost one hundred years the protected park has become a playground for both animals and humans alike.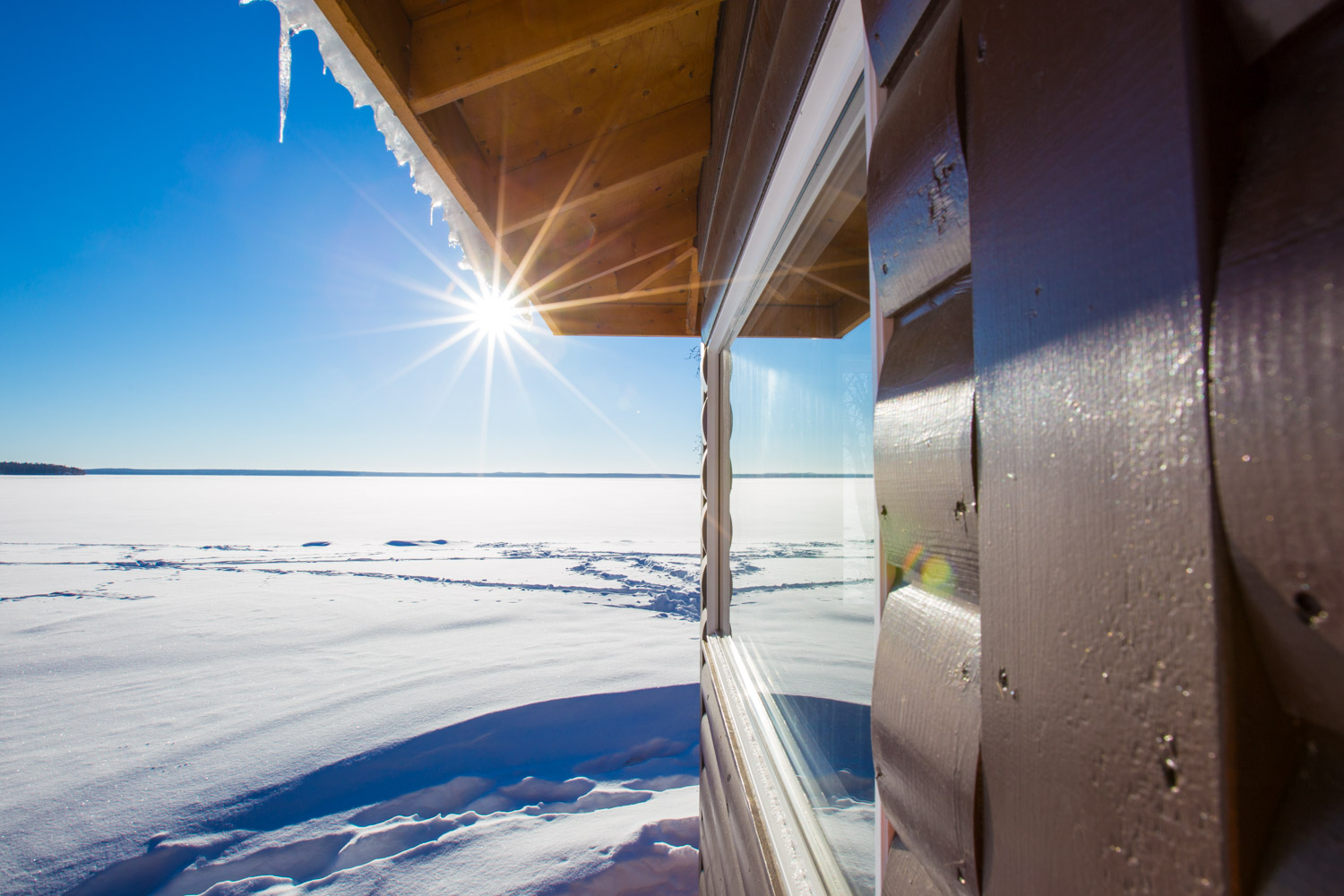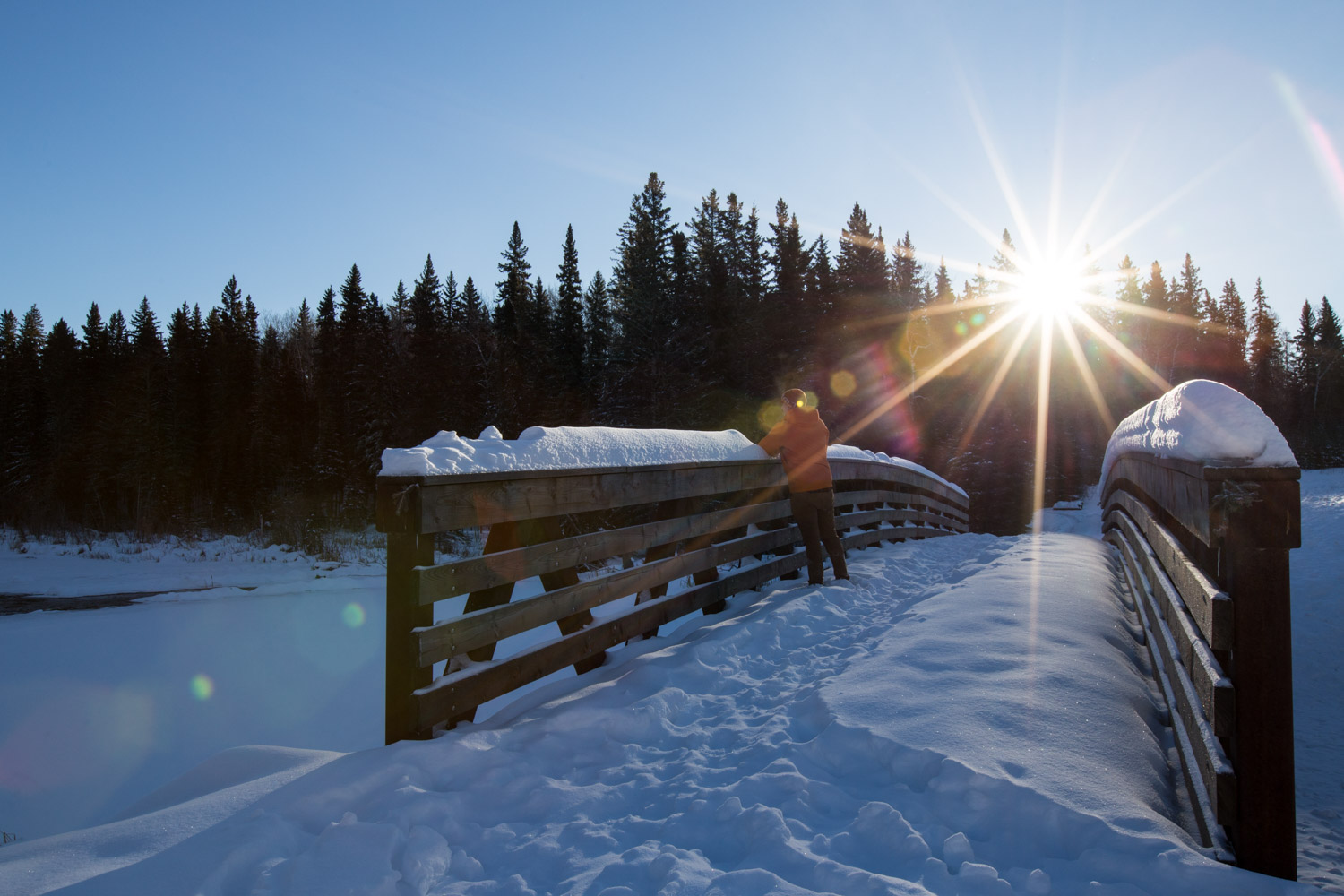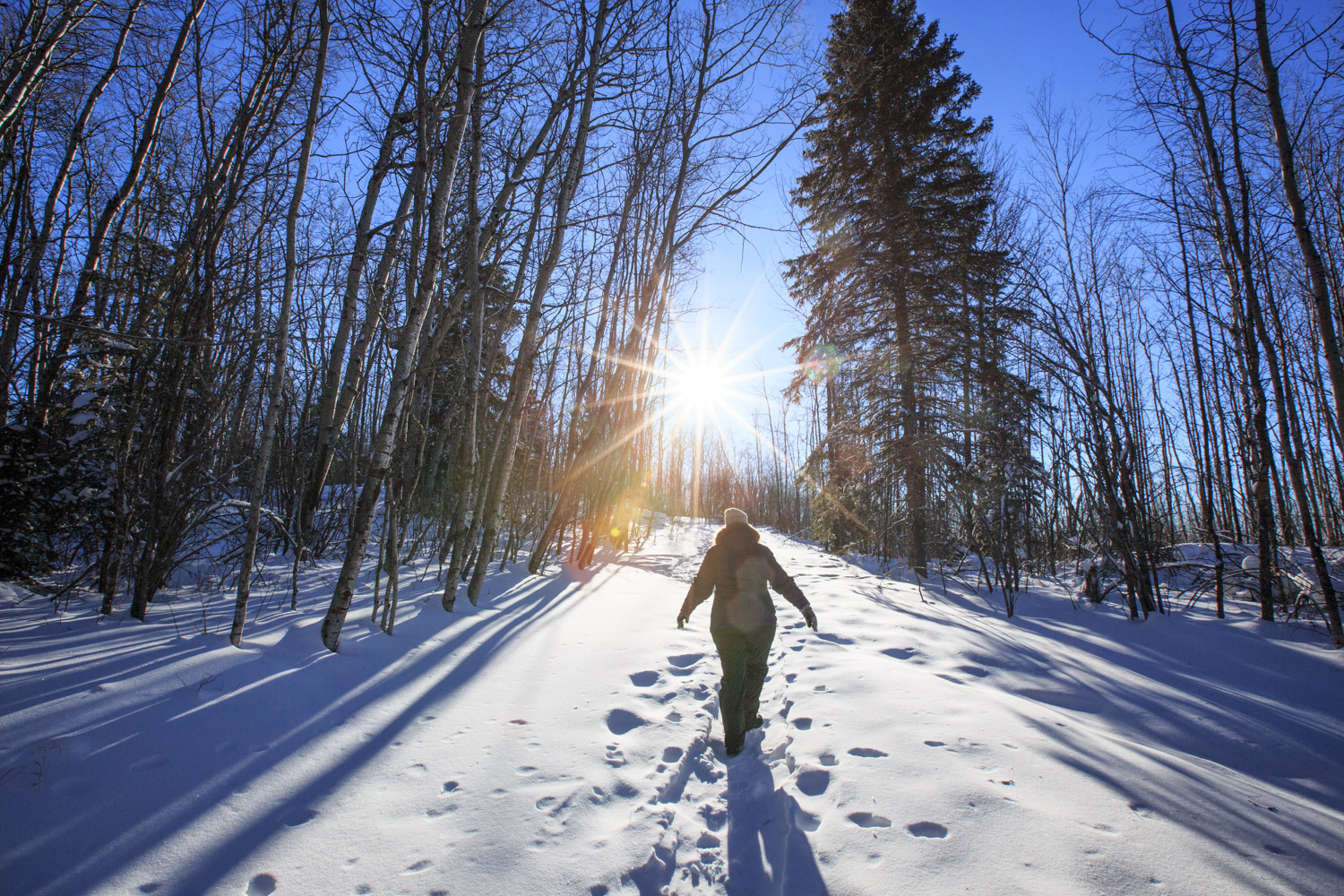 There are many options available, but only one place to start.
Hawood Inn, located within the townsite of Waskesiu, generously houses equipment of all kind. Cross-country skis, snowshoes, and more are available for free loan, and we loaded up all possibilities in our vehicle to have on hand and use depending on the situation in front of us.
With forty-seven kilometers of well-groomed cross-country ski trails available, we were both eager to attempt at least one. We have never historically been very good at the sport on the several occasions we have tried it in the past, but without doubt, this was my favourite experience in the park. While the temperatures read well below freezing, no wind was present among the trees surrounding the Fisher Trail. Nor was any sound but the swish of our movements through the forest. The snow was plentiful, the terrain was gentle, and the sun rays continuously split through the coniferous trees as the bluebird sky stretched overhead. Our limited abilities failed to matter in such a perfect setting.
Hawood Inn, also our home for a couple of nights, allowed us to cap off perfect days with a soak in their rooftop hot tub. (By us, I mean Pete, as I'm never a huge fan of indulging 'human-soup-containers'. But he enjoyed it thoroughly and even took the opportunity to try freezing his hair, an authentic Canadian experience we learned about in Yukon but never were able to partake in while we were there.)
Our limited abilities at cross-country skiing failed to matter in such a perfect setting.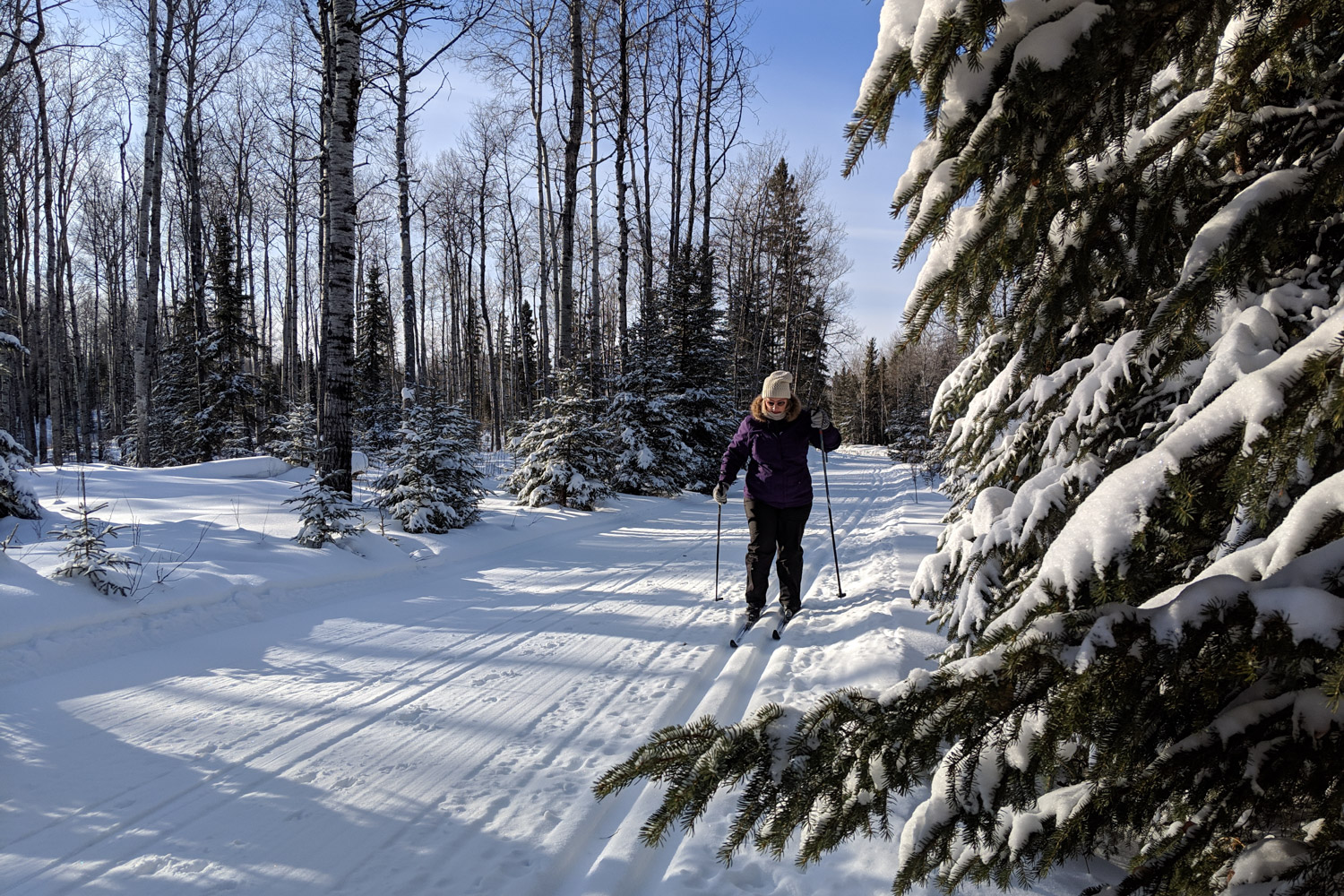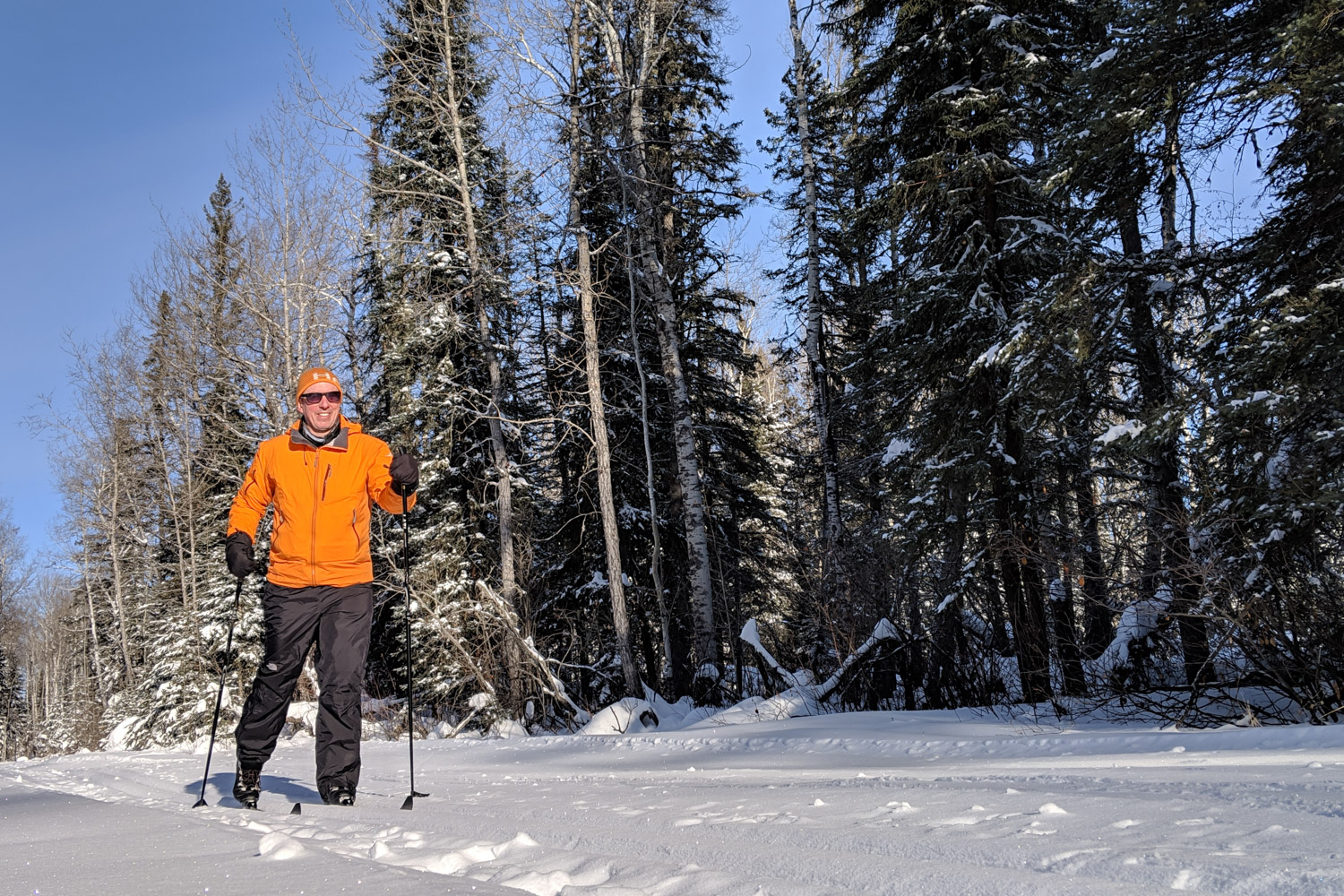 On the outside edge of Prince Albert National Park is also
Elk Ridge Resort
— a year-round retreat with a special affinity for indulging winter fantasies. Besides being an obvious magnet for wedding parties to its gorgeous property, it also can be a temporary home for anyone who likes to curl up in front of a cozy fireplace with a drink in hand. Spa-goers and fine diners will also be very pleased with what is on offer. As will anyone in snow pants.
We eagerly shoved our bags in our room and ran outside to do as much as we could before the early evening crept in. Surrounding the expansive hotel are a variety of activity stations. An outdoor skating rink with hockey equipment is nearby, a miniature sheet of curling ice, signposts marking cross-country skiing trails, plus ample trails for tramping (perfect for us snowshoeing beginners). But what had our attention most eagerly was the crokicurl.
As avid curlers, this life-size hybrid of curling and crokinole has long fascinated us. (And by long, I mean since its inception in Winnipeg just a few years ago). We were enamoured by the curling rocks made of hockey pucks (does it get any more Canadian than that?) and squealed so much about our intense game that I am sure patrons inside the hotel heard us.
Spa-goers and fine diners will also be very pleased with what is on offer at Elk Ridge Resort. As will anyone in snow pants.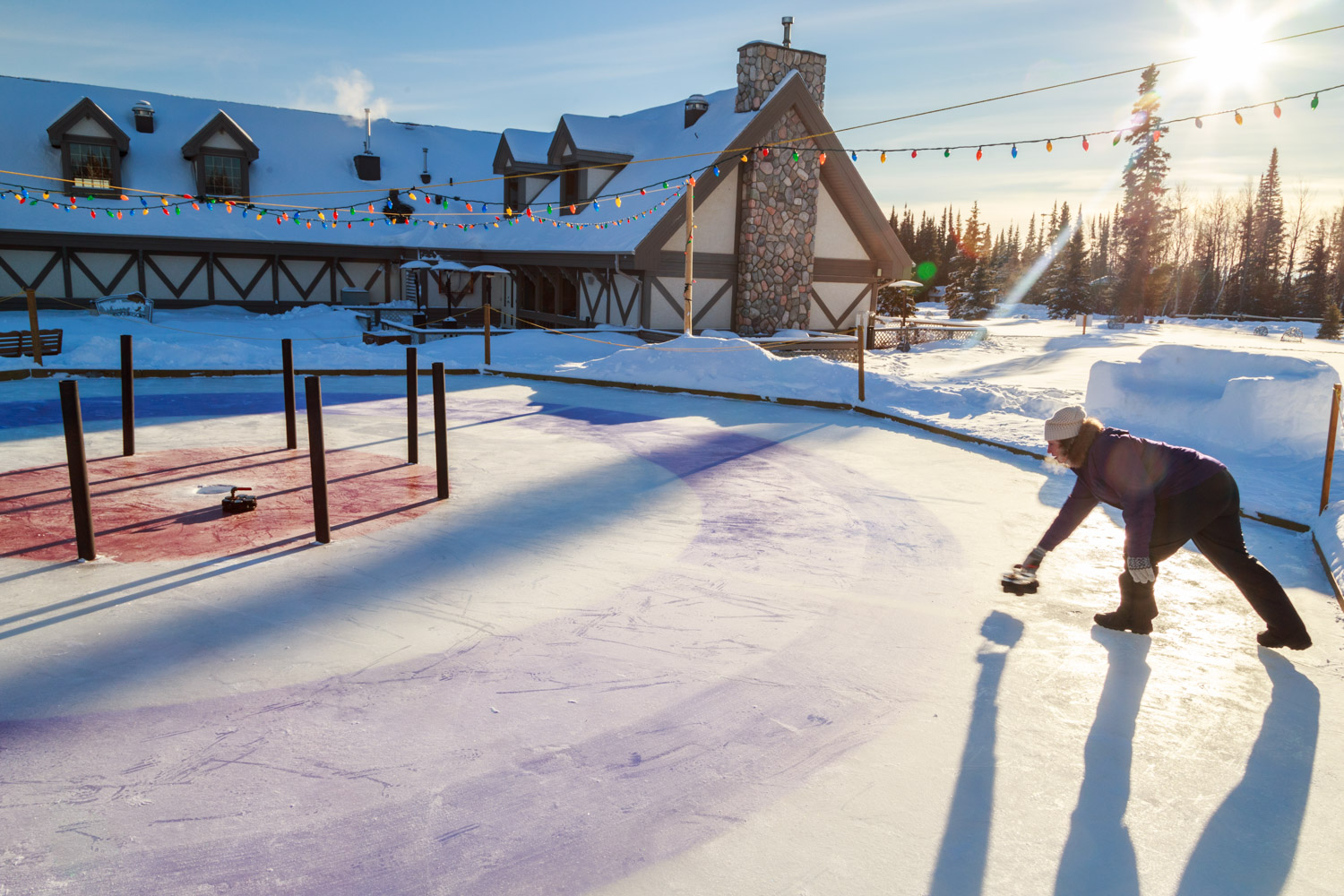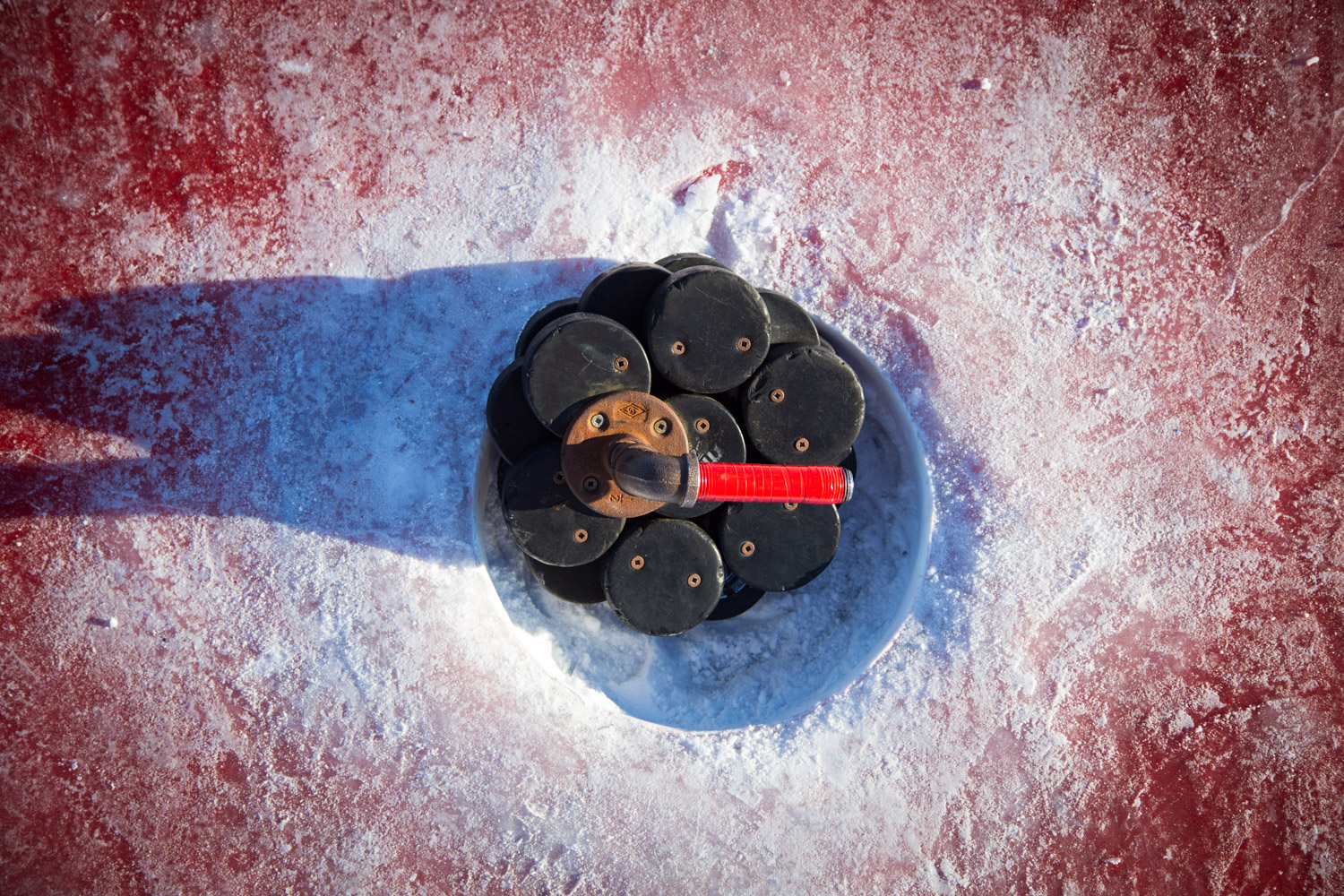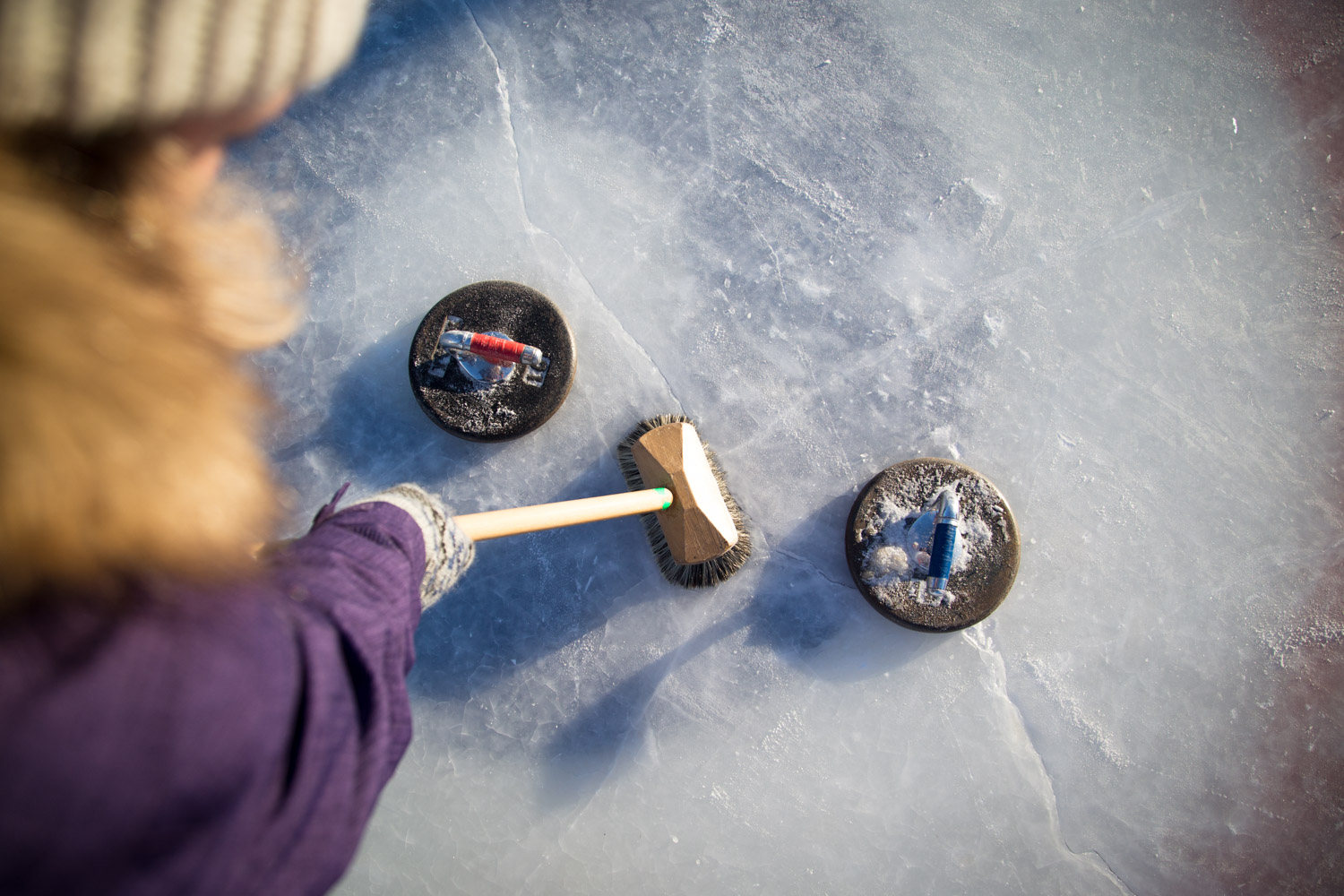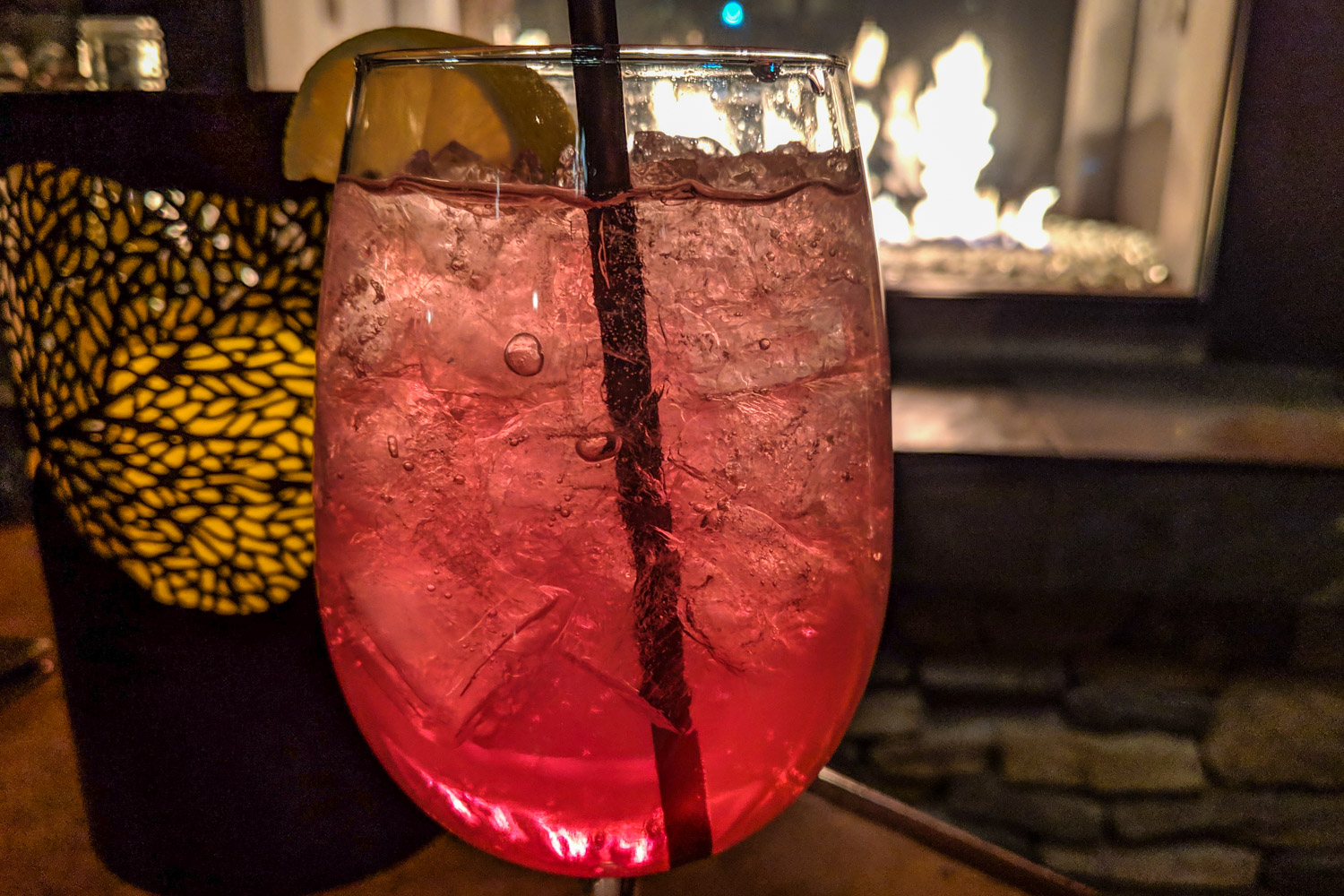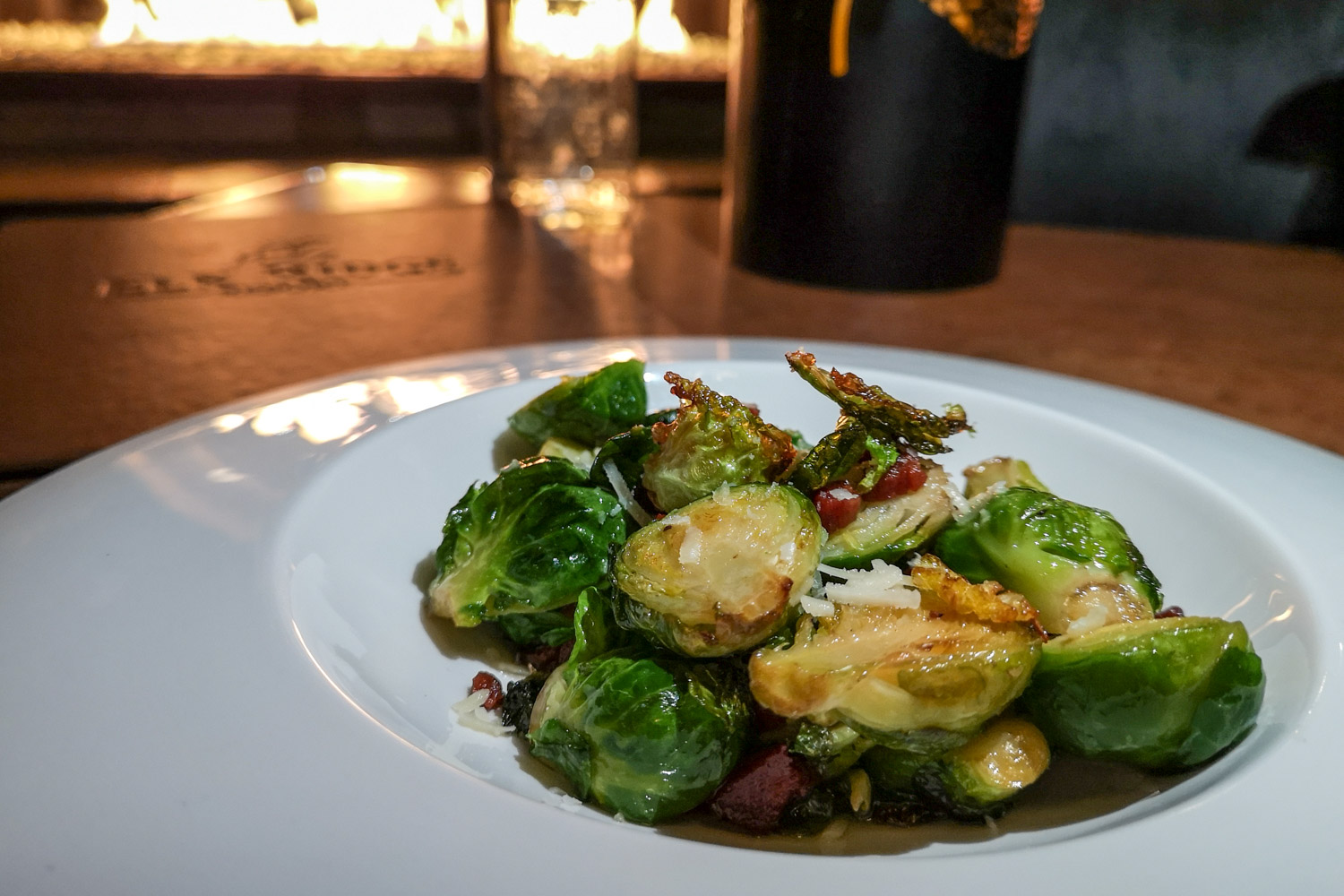 As it goes in the north in winter months, darkness fell in the late afternoon and we called it a day (after Pete finally wiped the ice with me in crokicurl). I forgave him over drinks and dinner by the aforementioned fireplace. The meal helped to smooth it over — brussel sprouts with wild boar, braised elk tips and the best truffle oil mashed potatoes I've had in a long time. We slept snuggly and deeply until our early morning rise to begin the trek home.
I watched Pete's face as we pulled away, waiting for any sign of waterworks to begin. It had been over 30 years since his last visit, and this time he managed to keep his emotions in check. Although I expect that the maturity gained over the years caused his tears to turn to smiles as he was beaming plenty. As was I. This little winter escape to a little winter town in a large national park was packed full of more fun than either of us had imagined.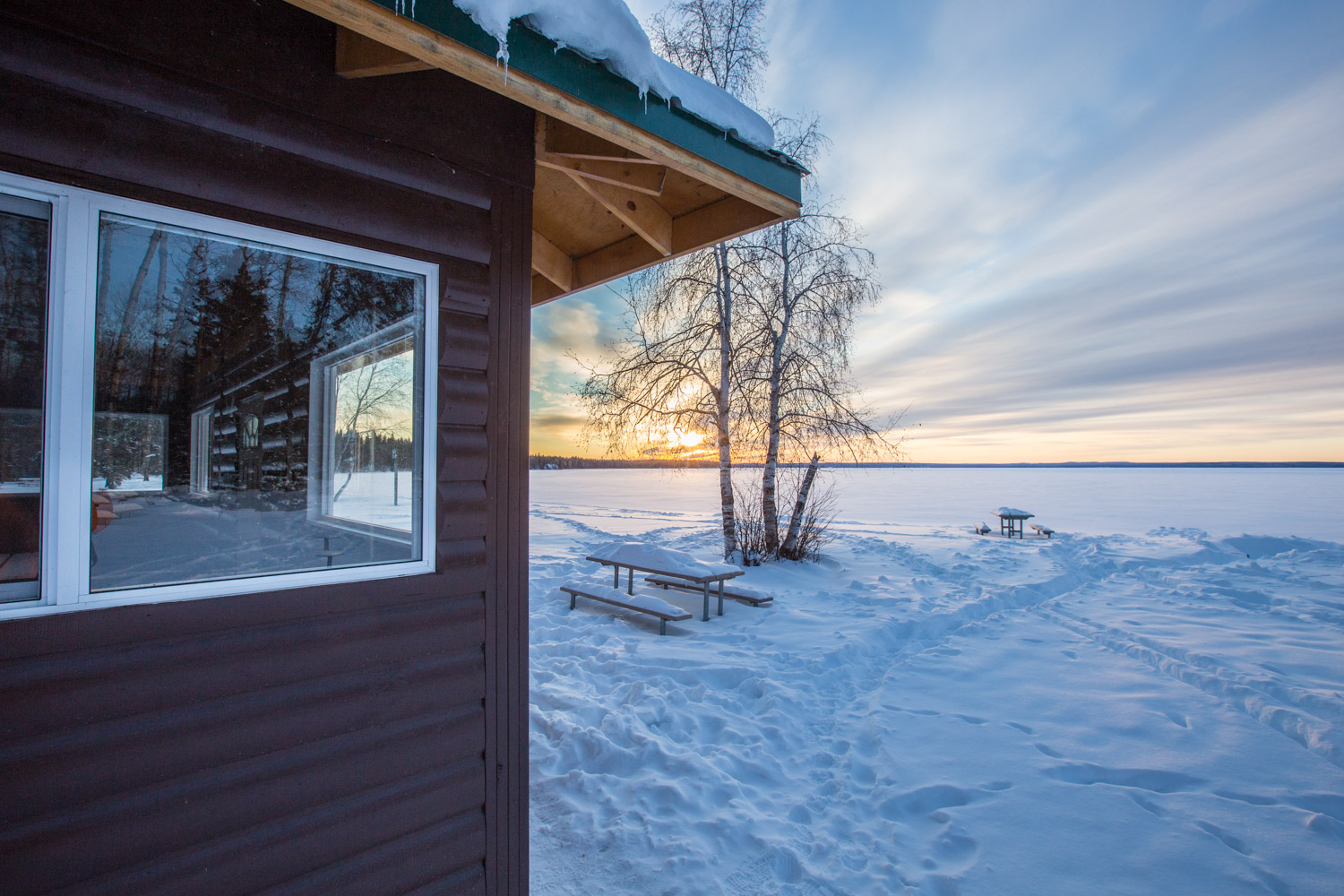 how to do it
If traveling north from Saskatoon, access to the national park is located on Highway #2, and the townsite of Waskesiu is just minutes from the main highway. Bustling with tourists in the summer, the winter season will provide a bit of a trade off — fewer crowds for a couple more layers of clothing.
Driving the area surrounding Waskesiu provides a perfect sample of the park. You don't have to venture too far off the main paths to feel like you are somewhere completely secluded and in nature. Just be sure to have your wolf strategy prepared.
Hawood Inn was comfortable and perfectly equipped to make a winter vacation in the park enjoyable. Be sure to also stop at the Parks Canada office for current information. Also, as usual, we found that having a guide early in our stay amplified the experience for us — we learned a lot about the area in a very short time period.
This post was produced by us, brought to you by Parks Canada and Waskesiu & Area Wilderness Region.