If you know us at all, you know we like good music, and love a good music festival.
So when the organizers of Castlepalooza generously welcomed us as their guests, we were all over it. A small, intimate crowd of 3,000, set against (what else) but a gothic castle in the middle of a forest near Tullamore, Castlepalooza put on three days of non-stop music on two different stages, complete with a wide selection of great food and cheap beer. It was the perfect recipe for us to enjoy the two things that we love most about music fests: discovering new bands, and intense people-watching of all the crazies who attend. It has to be one of the best music festivals in Ireland!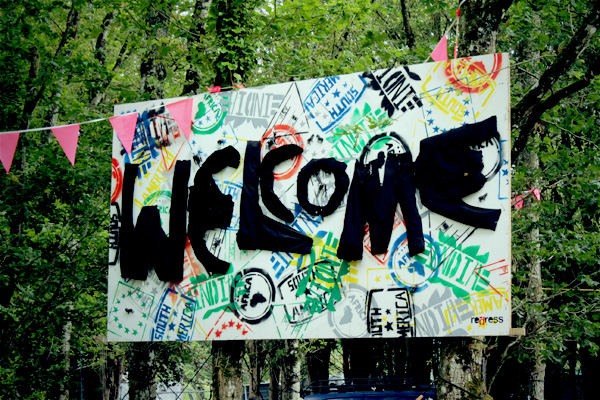 The Music
Admittedly, there were some bands that Pete and I vowed to punch off the stage if they didn't end the agony quickly. But overall the performances were quite good, and there were some real stand-outs.
Admiral Follow – I'm a big sucker for rock bands that feature classical instruments, and in this case, it was a flute.  This Scottish band has a lot of great variety in their sound and had listeners hopping to their catchy tunes.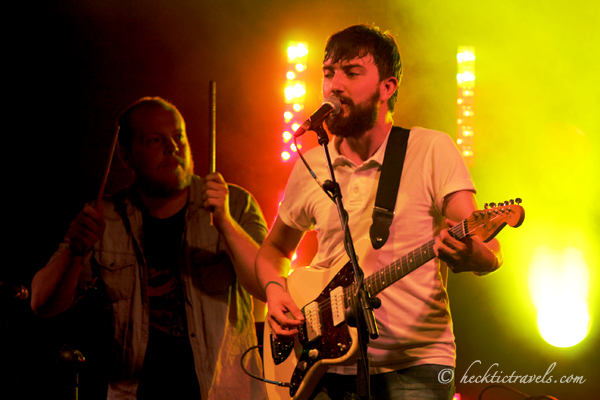 Dry The River – This band hailing from East London has an easy listening folk sound that readily encouraged much foot tapping and swaying.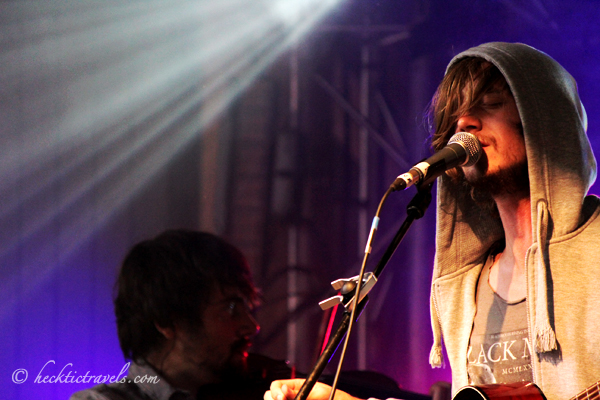 Ceili – During the late Saturday afternoon, in the middle of a bunch of alternative rock acts, this traditional Irish band had everyone up singing and dancing. It was such a cool and patriotic spectacle to see, as this large band had the crowd going like no other given an afternoon time slot. The best part about it – where else would you ever see a Teletubby trying to polka?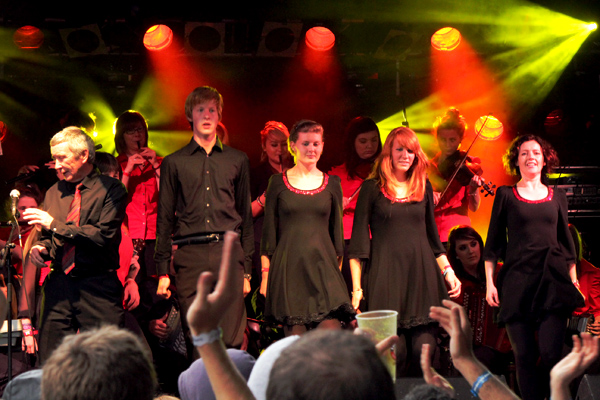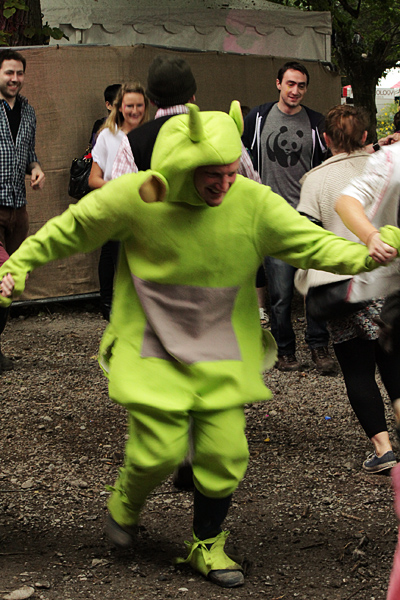 These Charming Men – A band entirely devoted to The Smiths playlist, and they nailed it. The lead singer is Morrissey's doppelganger in vocal chords and somewhat in looks. They played an extremely spirited hour of music that no one could stop dancing to.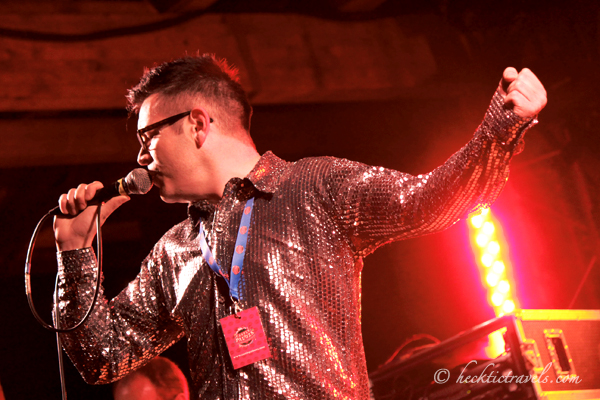 Naughty By Nature – This 90s hip hop duo has been making music for 20 years, and I stood front row, singing along to almost every lyric (how old am I?) They turned their act into a montage of 90s hip hop hits – not just their own – and put on a really stellar show. At the end they even had several fans up on stage dancing with them, making it a most lively way to cap off a great weekend of music.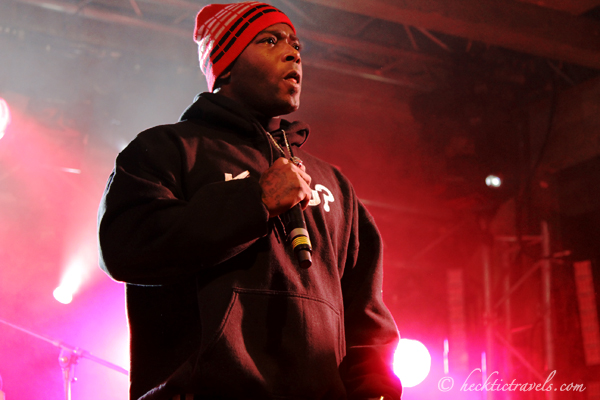 The People Watching
It alllll comes out at music festivals. Costumes, decorative make-up, and the most colorful array of wellies (rubber boots) that I've ever seen.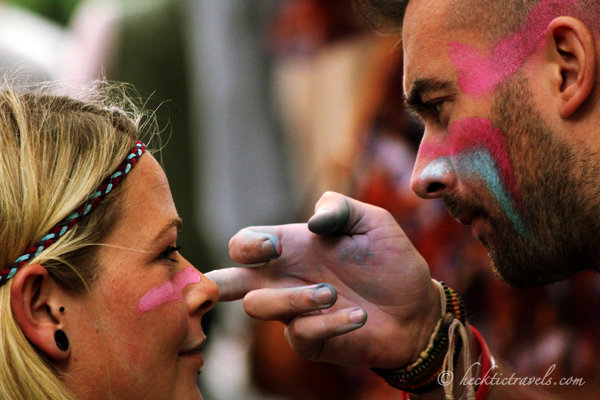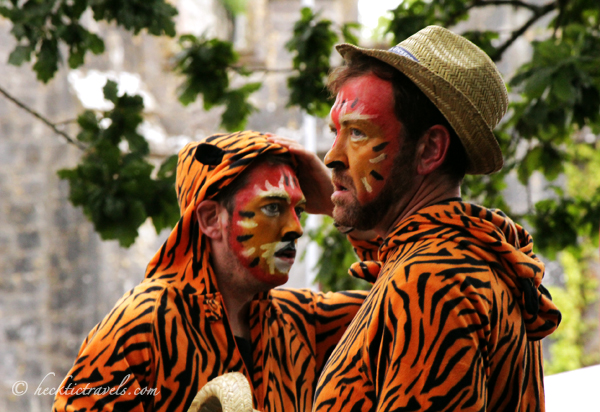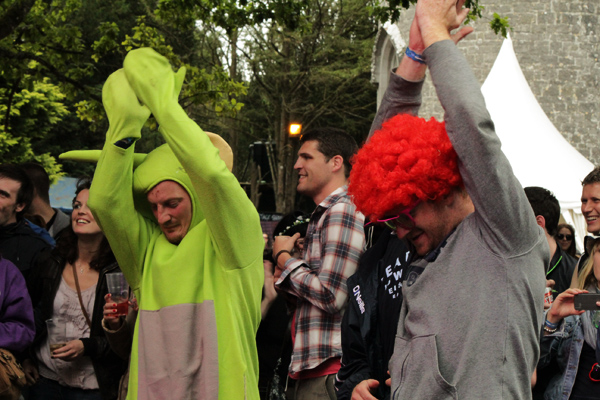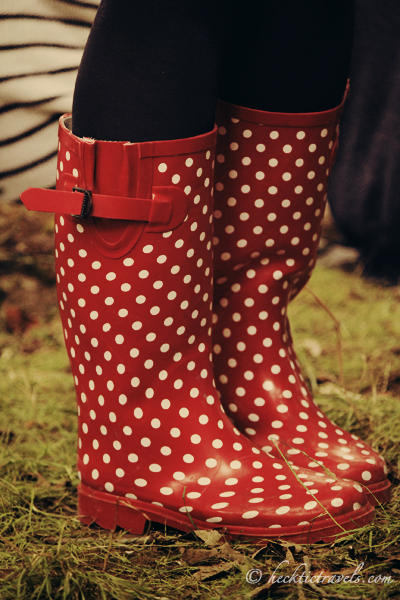 And of course, there's always the exceedingly drunk guys who choose to put on a show of their own.
"Can I sit here?" he asked, pointing to the empty spot on the blanket beside me. Pete and I had been watching this guy for hours as he stumbled around our little area from girl to girl, some tolerating him for a short while, but eventually always shushing him away at some point. Seeing as Pete had left me alone to stand in the queue for beer, it was now my turn.
"No, my husband will be right back," I replied, as politely as I could.
Taking my rejection as an apparent invitation to sit elsewhere, he instead chose the bare grass right in front of me, and boldly reached out to start squeezing my outstretched toes.
"Um, don't touch me, please," I said, pulling my feet back in. He looked up at me completely dejected, and seemingly surprised at being so. But this didn't stop him from trying again.
"So, what's your name?" he continued. I could barely understand him through the accent and the slurring. When I finally indicated as much, he bravely leaned in until his face was less than a foot from mine. It was then that the full force of his stench hit me then. Likely wearing the same grubby clothes since the start of the festival, he reeked of all things nauseating.
"Could you maybe go away please?" I tried to balance my question kindly with what came next, "You really smell."
His face turned into a snarl. "You stink like shit," this odorous prince charming said, "you should go take a shower." I couldn't help but laugh, entirely sure that I smelled like roses in comparison. Oops! This encouraged him further.
"Look at how she dresses," he nodded to a young blonde standing a few feet behind me, wearing shorts that barely covered her ass. I nodded, truly impressed he could even see that far. "She's hot, you're not."
"Okay, that's enough. Go. Now." At first he refused, leaning in to perhaps insult me further, when a couple sitting in front of me came to my rescue, drawing him into conversation and eventually banishing him from our little area.
Hours later, well after Pete had returned and much reminiscing had been done with Dave and Gemma (my saviours from Cork), we saw our friend being carried out on a stretcher. Passed out to the world, we figured he had been going a good twelve hours or so that day. Gotta admire his endurance.
A big thanks to the organizers of Castlepalooza for a memorable weekend!