We've been casual observers.  We've been stage-side and furiously shot pictures of famous rock stars.
It was time.  Time to get ourselves behind the scenes.
And so when our good friend in Hamburg invited us to work alongside him for the Canadian Blast group at the Reeperbahn Music Festival, we were all over it.
Besides, we haven't spent much time at home lately.  It would give us a good opportunity to practice speaking Canadian, eh?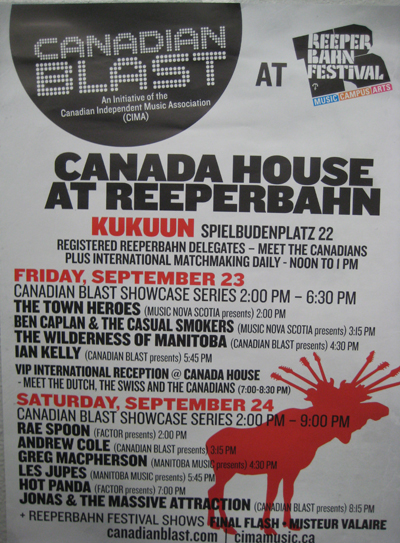 Ah…the glamorous work of a volunteer at a music event.  We set up chairs and tables, we took down chairs and tables.  We made coffee, procured snacks, and hauled bottled water across town.  All for the love of the music.
We did have some totally bad-ass rock star moments. Like when we waltzed into a local bakery on the first morning of the event, looked at the waitress and boldly said: "Alles."
You heard me.  I want ALL of your sandwiches. We have rock stars to feed.
We also made countless new friends at the front door of our venue wooing would-be patrons to enter and listen to the up-and-coming Canadian bands.  The phrase "freibier!" was rattled off to anyone within earshot.  The Switzerland venue next to us was serving fondue and chocolate.  Idiots.  We have free beer.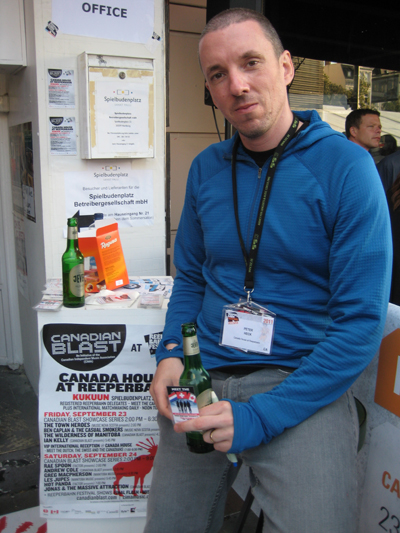 Good looking dudes and free beer.  What else do you need?
It was a long two days of playing gopher and front door bouncer, but it was totally worth it. Not only did we get to see some really great new Canadian bands and chat with some of the musicians, but we used whatever energy we had left at the end of the day to sneak in a few other shows as well.
These are bands I REALLY encourage you to check out.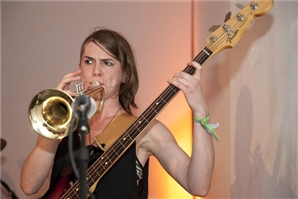 Hot Panda
Yes, Catherine Hiltz is playing a trumpet and the bass at the same time. This is just one of the crazy talents that these band members have. They put on an amazingly energetic show with many standout tunes that turned the place inside out.  (And they just happen to hail from Edmonton, Pete's hometown!)
Killer vocals and big melodies define this band (who is actually from Toronto). A really nice group of people and worthy of some big space on your iPod.