Three Stories of Ha
Words by Dalene Heck / Photography by Dalene & Pete Heck
"Can I share my ha with you?"
I leaned in and pressed my sweaty forehead against his. With eyes closed, we inhaled deeply through our nostrils, taking in the swirling odors of the salty ocean, perspiration, and wafts of my sun cream.
We pushed back and met each others smiling faces with soft laughter, albeit mine a bit nervous, after having shared such an intimate moment with a new friend.
One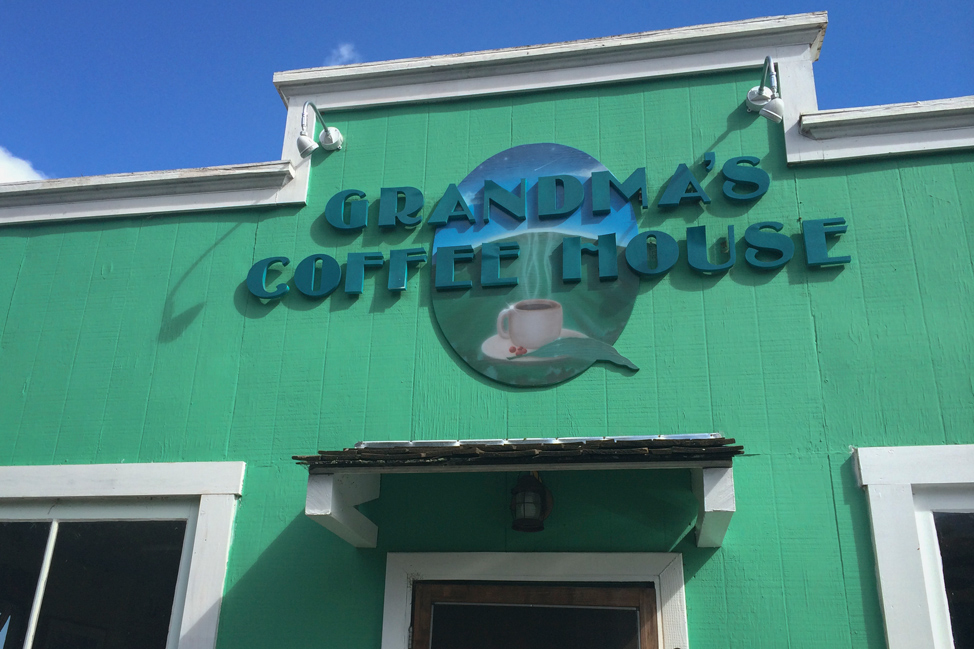 She caught our attention as soon as we stepped inside the famed Grandma's Coffee House in Maui's upcountry. Sitting at the first table to our left, she nodded and offered a sincere hello, her eyes sparkling with generous energy. She could have been the namesake of the bustling shop we sat in, with her glistening white hair, warmth and character that surely demonstrated why the cafe routinely had praise heaped upon it.
Pete went up to place our order and I sat across the room from her. Each time the door rattled open she greeted the entrants with the same warm smile, the same nod of her head. She met my glance a couple of times from across the room, still beaming.
Pete brought our order back to the table and smiled at her again on his way past. As we focused on our mugs of steaming coffee and plotting the rest of our day exploring Maui, we did not notice her approach. Suddenly, she was above us, with one hand on each of our shoulders.
"Where are you from?" she said so sweetly and softly, her voice matching her demeanor to perfection. We told her.
"Ohhhh! It is so nice that you are here!" She reached over the table just then, unexpectedly, and gave us each an encompassing and thoroughly delicious hug. First Pete, and then me, her eyes brimming with pure joy unlike I have ever seen.
She nodded at the Maui guidebook in front of us and gave a quick wave to the scenery through the storefront windows, "There's not much to do around here," she said as if stricken by total modesty, not acknowledging that the swaying palm trees and luscious foliage blanketing the upcountry had any appeal at all.
Spotting her husband wave to her from outside, she turned back and with another quick nod, was on her way. My hand rose to my heart as we watched her go, trying to entrap the warmth inside.
She reached over the table just then, unexpectedly, and gave us each an encompassing and thoroughly delicious hug.
Two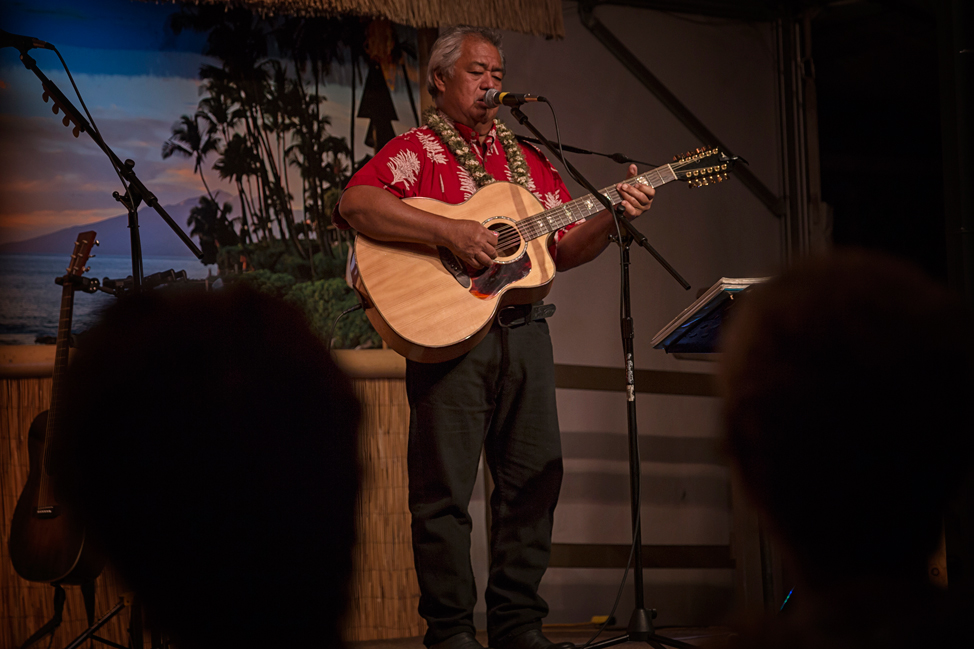 The room glowed. A painted sunset of Napili Bay stretched across the back of the stage, the warmth of the yellows broadcasting welcome to all who entered the small open air room.
There weren't many of us in it, and Pete and I felt shyly out of place, quickly taking two seats near the exit. All around us were eager fans, readying their cameras and twitching in their seats as they waited for the show to begin. We, on the other hand, had just learned that day what slack key music was.
Slack key is seen as one of the most genuine expressions of the Aloha spirit, a genre of music born on the islands. It was developed primarily to meet the rhythms of local dancing, characterized by slacking or detuning one or two strings of a standard tuned guitar.
When the show began and the musicians expertly played and began their soulful singing, we also had the opportunity to study the smooth movements of an accompanying hula dancer, noticing for the first time that the dance is the gentle telling of a story. That the face is always smiling, the hands always gliding, not abruptly but in fluid motion with the music.
Even without the rabid appreciation that those around us shared for the performance, and although this was a show repeated weekly, we still couldn't help feeling a part of an exclusive and special event. We were enraptured.
Beyond the alluring tunes themselves, it was the way the musicians referred to each other throughout. They were uncles and aunts, nephews and nieces, all in intimate recognition and respect of mentors. The familial terms and long stories that came before each song made us feel a part of a tradition, of something bigger than the sounds that filled the small room.
The face is always smiling, the hands always gliding, not abruptly but in fluid motion with the music.
Three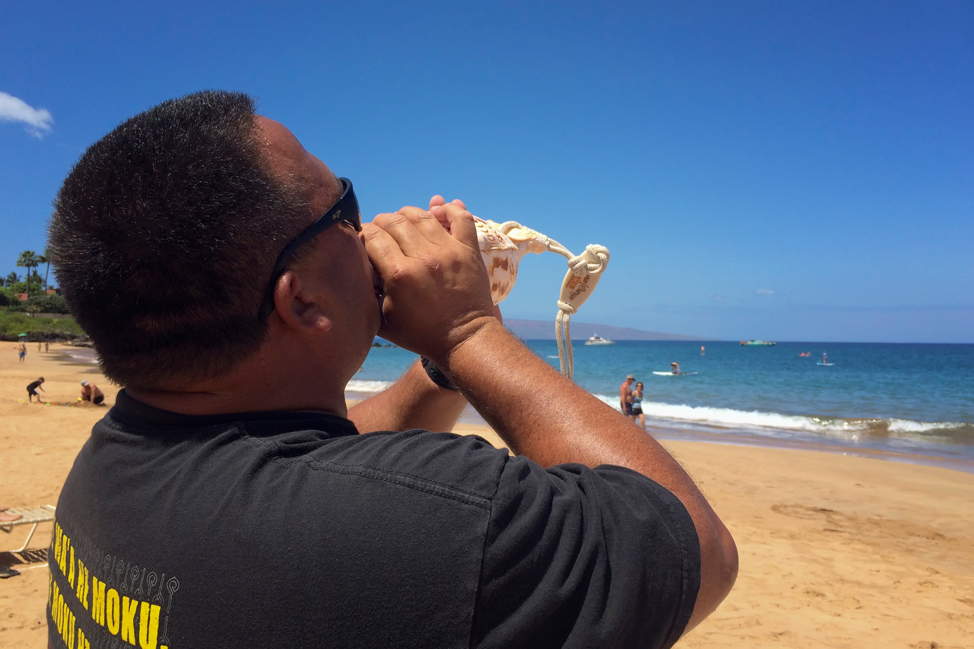 We rolled the outrigger canoe to the edge of the water via a series of inflated buoys, but before we were set to push them out on the water, Kevin faced the ocean and his large hands curled around a conch shell.
Passerbys stood and stared as long notes bellowed from the shell before he lowered it and then took to chanting. As he explained to us then, it was a Hawaiian traditional to offer chants when embarking on the ocean. His melodies rose above the waves as he asked for permission from the water, the whales, and the fish, that we should safely enjoy our journey that morning.
The canoe was slim, we sat snugly on the thin slats with paddles in hand. Kevin called out traditional words for when to paddle right, left, and when to rest. He pointed out the many hunu (turtles) when they appeared in the distance so that we could move in for a closer look.
In the short span of two hours he filled us with knowledge of local culture, encouraging us to learn and share, given the sad projection that the race of Hawaiian people is expected to be extinct by 2044. He taught us more chants and encouraged us to call them out – he inspired our enthusiasm so completely that we sang at the top of our lungs to the amusement of the other boats who passed.
Across the back of his shirt was a statement that held true to his philosophy and the culture: "The canoe is our island, the island is our canoe." Such an integral part of Polynesian culture in days past, family trees actually included the name of the canoe next to those of the children. "The canoe is a metaphor for life," he said, "it requires unity to propel forward."
After dragging the boat ashore we began a long goodbye. Kevin asked us if we knew the true meaning of Aloha, and more specifically the root of Ha, to which we responded no.
We knew it to be used only as a casual greeting, but not as recognized by the Hawaiian people as a way of life – Ha is the breath, the source of spiritual power. Ha is in every smile, every courteous gesture, in the affable and hospitable character of most every person we met during our stay. (Truthfully, it was something entirely unexpected by us, on a small but popular island that we thought would be overrun with vendors touting tourist attractions, we never anticipated such a mellow, unassuming, and outright friendly vibe.)
As such, the proper way to say Aloha is to share that breath with whom you are greeting. To welcome that person into your space and share your spirit.
"Can I share my ha with you?" Kevin asked.
The proper way to say Aloha is to share that breath with whom you are greeting. To welcome that person into your space and share your spirit.
how to do it and where we stayed
The slack key show, headlined by Grammy-award winning musician George Kahumoku Jr., is a twice-weekly event held at the incredible Napili Kai Beach Resort, where we also stayed. Set in Napili Bay, this might just have been our favourite spot on the island. For our full review of the resort, please click here.
Our outrigger canoe experience was courtesy of Hawaiian Outrigger Experience, and also might just have been our favourite excursion! We are so grateful to Kevin and his crew for enthusiastically sharing so much with us. It's not everyday that anyone can get us to sing in public. 🙂
Many thanks to the Maui Visitors Bureau for having us. As always, all opinions are our own.