A few weeks before we left Canada in 2009 to begin our vagabonding ways, we were excited to spend an evening at a local pub to say goodbye to many of our closest friends.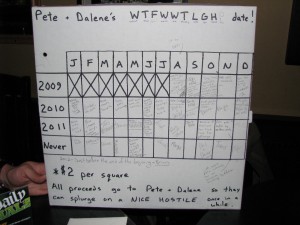 One of our dearest friends wanted to make the evening a little interesting for us all.  With a sharpie and an empty pizza box lid, she constructed a betting pool, and titled it: Pete & Dalene's WTFWWTLGH date!  Translation: Pete & Dalene's What-The-F#$%- Were-We-Thinking-Let's-Go-Home Date.
Throughout the night, our friends and family chose the square with the month and year that they thought we would call it quits and head back home to resume our suburbanite lives.  The guessing was all over the place, some thought it would only take us six months for us to get the crazy outta our system, others guessed we would never return.
The jury is still out, but all signs are pointing to "never" as the correct answer.  Not once in the history of all our travels, have Peter or I turned to each other and muttered: WTFWWTLGH, and neither of us can see that happening soon.
We have, however, used the shorter phrase of WTFWWT during our travels on account of some real missteps.  Several times.  And thus we became inspired to construct a list of our favorite What The F&$% Were We Thinking Moments: Travel Edition.
1. How ridiculous is this? We spent months and months planning to make our travels happen.  Where to go?  What to see?  How to pack? And then, after all that planning and a very long day traveling from Canada to Peru, I opened my backpack to discover that it never occurred to me to bring pajamas.  How does one forget to bring their jammies?  WTFWIT?
2.  Um, where's my purse? Tired of being squished in a tiny bus seat by all the things I was carrying, I took my purse off from across my shoulder and gave it to Pete to hold.  Once he tired of holding it, he shoved  iton the seat in between the two of us.  Two hours after our arrival into the Puerto Natales bus station in southern Chile, while we were getting organized for dinner at a nearby hostel, we realized that that is exactly where we left it.  Panic! A quick sprint back to the bus station, we held our breath after asking two employees if they knew anything about a black purse that was left behind.  "Ah, esta bolsa?" the employee asked, as he brought it out from behind the counter.  Inside, all credit cards, passports and other documents remained untouched.  Breathe out.  WTF.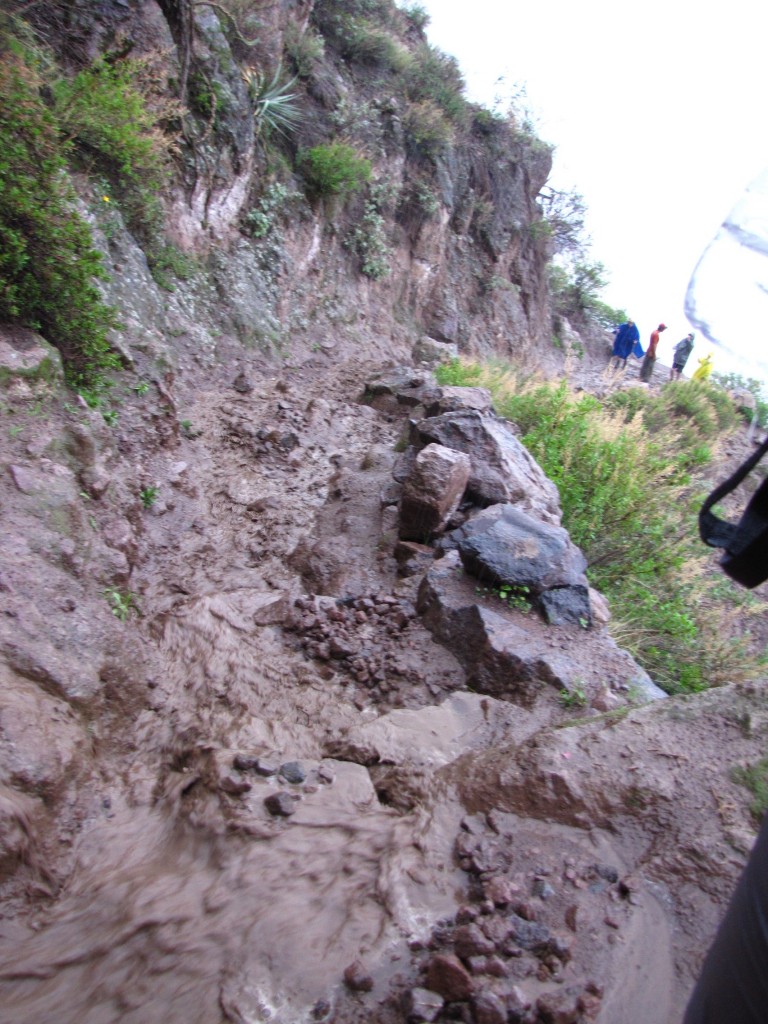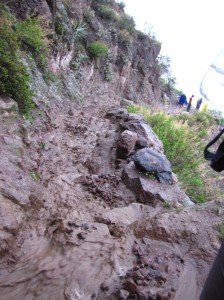 3. Yay!  Let's go hiking in Peru during rainy season! Due to the torrential rains and tragic landslide that occurred just a month before, we weren't able to hike Machu Picchu when we had planned to.  So, instead we opted to hike in nearby Colca Canyon which had seen rain, but was still open for business.  Seemed like a great idea, until we got caught in a minor landslide of our own and endured some seriously scary and life threatening moments.  Looking back now, WTFWWT?
4. Lucky for us, Pete looks like a real badass when he shaves his head. Lonely Planet lists the Tumbes border crossing between Peru and Ecuador as the sketchiest in all of South America, so we prepared for it.  We had our plan: take a bus in the middle of the day, follow all others on the bus in a straight line, don't look at anyone, keep our belongings close.  I'm not really sure when/how we went astray, all I know is that very quickly, our passports were in the hands of a group of four shady characters who were demanding that we pay money to get them back.  After a bit of arguing, Pete finally yelled "No Pagamos Nada!" (We're not paying anything!), and they handed back our precious documents without further fight.  Could have been much worse.  Do I even need to say it all?  WTF…
5.  Thank goodness for the friendly Galapagos Islands! With only 60 litres and ~10 kg of stuff to take care of, you would think that I could keep track of it all.  Especially something that is so precious to me – my iPod full of music, games, emails, and generally, my life.  I left it on the bed of our hostel in the Galapagos Islands.  My WTF moment came when as we were driving to the airport, with no time to turn around.  Thankfully, the very sweet hostel receptionist flew it to me the next day in Quito, with the sweetest little note saying:  "Please don't forget it in Quito.  People is not honest sometimes."  Bless her heart.
6. A dangerous quest for gelato in Florence! This is an oldie, but a goodie.  So good, in fact, that I have shared this WTFWIT moment with very few people.  The details are a bit hazy for me, but Pete swears it all happened.  It might have involved a lot of drinking.  It also maybe included me abandoning Pete in a bar to roam the streets looking for gelato at 2am with a new friend.  Perhaps new friend and I got severely lost, and ended up begging some random Italian guy to drive us back to our hotel.  And maybe, just maybe, on the way back to the hotel, I might have lost my cookies in the back seat of said stranger's car, due to the alleged alcohol consumption.  It all might have happened.  WTF *might* I have been thinking?
Alls well that ends well, but we sure got awfully lucky escaping each incident above relatively unscathed.  But, that's what gives us the best stories, right?
Think you can top our WTFWWT Moments?  Let's hear it.