Tips For Full-Time RV Living
Words by Featured Guest Blogger Laura Greene
"What do you think, Dixie? You want to go to Cambodia? Maybe I can get a puppy backpack and carry you around on my back!"
As my husband, Kevin, asked our 75 pound German Shepherd these questions, she just stared at him, rolled her eyes, and wandered off to get her ball.
And so it was that we determined a life of international backpacking was not in the cards for us.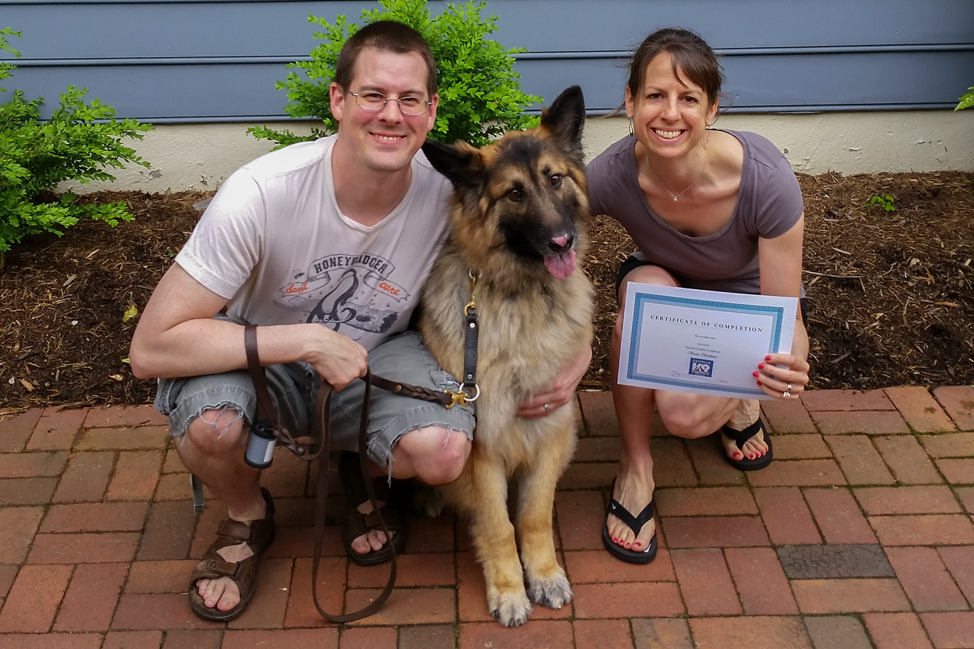 One might expect that walking away from our professional legal careers, selling our home, and giving up the life we had built in Virginia would have been the most difficult things we did a year ago. But really, the toughest challenge we faced was figuring out how we could travel long term with our dog. No matter how much we may have wanted to jet off to Southeast Asia or Central America with a backpack and a one way ticket, there was no way we could do that as long as Dixie was in our keep.
We considered several other options for long term travel, but each one had huge drawbacks, usually Dixie-related. Air B&B's, house sitting, and hotel stays were all off the table because of the dog. And if her presence wasn't going to be an absolute barrier, the costs of such travel would be. We needed an economical form of travel where not only would the dog be comfortable and safe, but where her presence would be welcomed rather than considered a detriment.
The answer was as obvious as it was perfect. Touring the country in a motorhome would not only allow us to go wherever we wanted with Dixie by our side, but it would allow us to control our itinerary, our pace, and our budget. And, as an added benefit, it would allow us to gently step into the world of full time travel and nomadic living. Because, let's be honest, it's a lot easier to downsize into a rolling "tiny home" and travel within the borders of your home country than it is to reduce your possessions to those that fit in a backpack and head for distant lands, complete with foreign languages, currencies, and customs.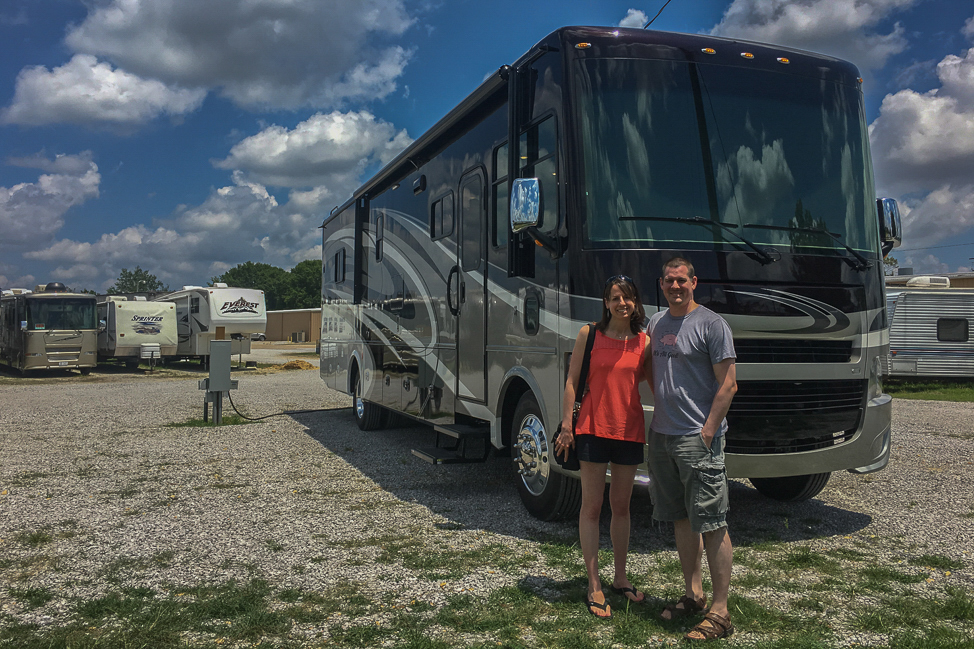 The more we thought about full-time RV living, the more we loved the idea. Driving ourselves around our own vast country and exploring the thriving cities, historic small towns, and breathtakingly diverse natural landscapes that can be found throughout the United States would give us exactly the type of meaningful adventure we were looking for. And, as an added bonus, at the end of each day, we knew we'd be able to come back to our own home, with our own things, and truly relax.The problem for us was the only camping we'd ever done was the sleeping-bag-and-a-tent kind (and if I'm being honest, our version of "camping" could more accurately be described as: "drinking beer outside with our friends.") We'd never spent a single night in an RV and knew nothing about owning, maintaining, or traveling in one.
Once we started looking though, we found a highly engaged and exceedingly helpful community of full time RVers. Online forums, Facebook groups, websites, and YouTube channels centering around full-time RV life abound, and more seem to come online each day. And while the majority of full timers are older than us, we've found a large and ever growing community of younger people who are downsizing and taking their lives on the road.
facebook groups & forums
RV to Freedom – A relatively new Facebook group with a very active community. Visitors can find lots of good questions and answers about everything related to full-time RV life.Excapers Facebook Group – A division of the larger RV advocacy organization, Escapees. Xscapers focuses on younger RVers. Their Facebook page is very active with lots of good information.
IRV2 – A very large internet forum devoted to RVing.
Escapees RV Network – Another popular internet forum.
We quickly learned that there are as many types of RVs as there are RVers. You can spend half a million dollars (or more) on a rolling party bus fit for a rock star, or you can spend a tiny fraction of that on a much more modest rig. RVs range in size from 12 foot travel trailers to 45 foot behemoth buses. Campgrounds, too, run the gamut from high end, resort style properties full of amenities (pools, jacuzzies, tennis courts, and activity centers) to state and national parks that offer more rustic and natural surroundings. And if you truly want to get away from it all, the Bureau of Land Management maintains millions of acres of federal lands in the western United States which are open to "boondocking" – camping without hook-ups – for free.
So far, we've stuck to full service campgrounds mostly because our travels have been on the east coast where boondocking opportunities are limited. Once we pull in, we hook into full electrical power, fresh water, and oftentimes, a sewer system. Our 38-foot rolling home comes with just about every feature one could want: from the necessary, like heating, air conditioning, a refrigerator, a 3 burner stove top, and a bathroom with full size shower, to the unnecessary-but-still-nice-to-have like an electric fireplace, a convection microwave, two televisions, and a washer/dryer.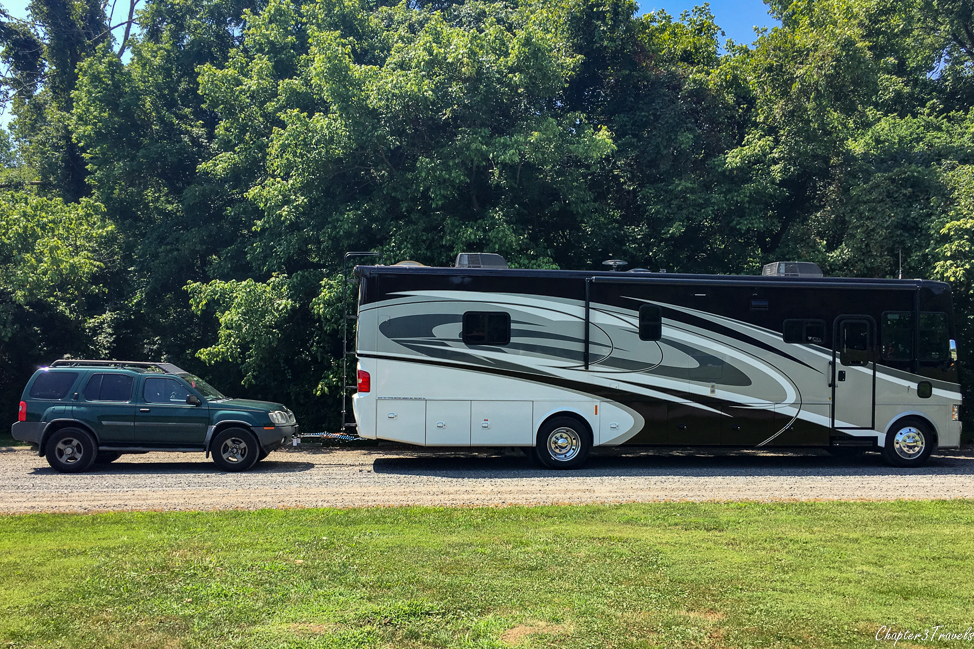 Transitioning from our 1100 square foot townhouse to this 350 square foot rolling home has been much easier than we ever expected. Indeed, there is almost nothing we miss about living in our old "sticks and bricks" house. We've found that we have more than enough space for the two of us, and we've rarely missed the things we got rid of.
Speaking of selling our home, once we did, we could no longer claim to be residents of Virginia. Luckily, several U.S. states allow full time RVers to claim residency even without owning or renting property. Florida, South Dakota, and Texas are the three most popular states for full-time RVers to "move to" when they begin traveling full time. Each has its own benefits and drawbacks. We chose to domicile in Florida because their health insurance options best fit our needs. We signed up with a mail forwarding company that provides us with a street address for DMV and voting purposes, and bought our health insurance on the Florida exchange.
more information on domicile
Escapees – An RV advocacy organization that offers information on domiciling in Texas, South Dakota, and Florida.St. Brendan's Isle – The mail forwarding service we use. Their website contains lots of information about domiciling in Florida.
Of course, like any form of travel, full-time RV life is not without its challenges. Putting our home through the equivalent of an earthquake every couple of days means things invariably break and we spend an inordinate amount of time troubleshooting various issues. RVs usually get between 7 and 10 miles per gallon, meaning fuel costs can quickly impact our budget. Speaking of which, many campgrounds charge a lot of money for a glorified parking space where we may be living just feet from our neighbors, and our neighbors may be inconsiderate jerks, just like anywhere else. Finally, given the surging popularity of RVing, it can be difficult to get reservations in a lot of popular campgrounds. As lovely as it might be to daydream about driving off in whatever direction the sun happens to be shining, the reality is, if we want to be in Florida during the winter or Maine during the summer, we have to make reservations months, if not years, in advance, and we may need to pay a hefty price tag for the privilege of parking in a cramped campground.But while this lifestyle is not always perfect, we have concluded that its benefits far outweigh its costs. In the short time we've been on the road, we've watched surfers catch the last waves of the day at Folly Beach, South Carolina, we've listened to jazz musicians play to packed houses on Frenchmen Street in New Orleans, we've driven along bucolic back country roads in Lexington, Kentucky, and we've sampled some of the best barbecue in America while touring central Texas. And the best part was at the end of each day, we got to go home and sleep in our own bed, in our own home, with our favorite furry family member curled up on the floor next to us.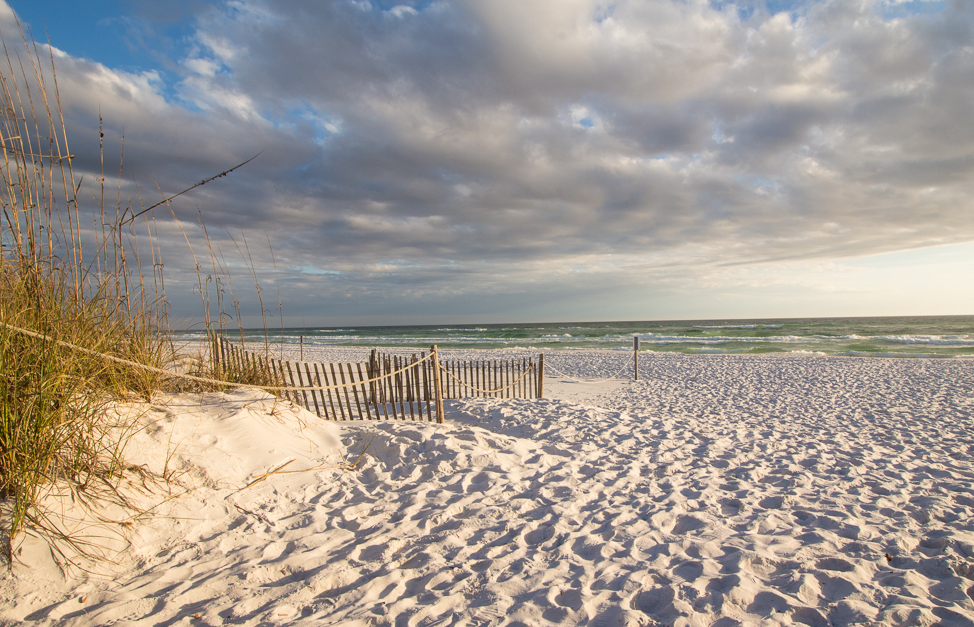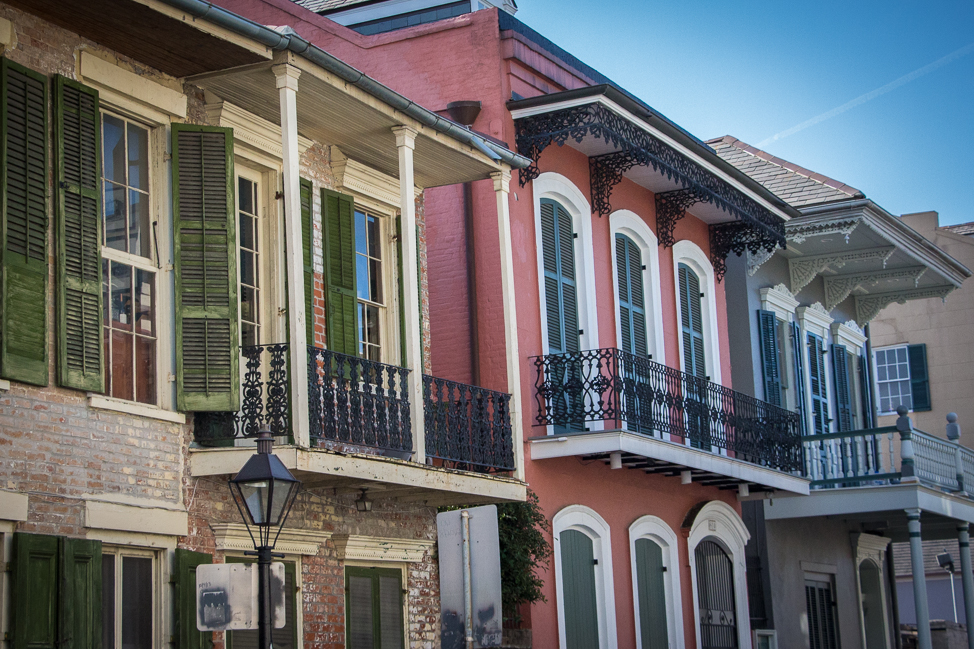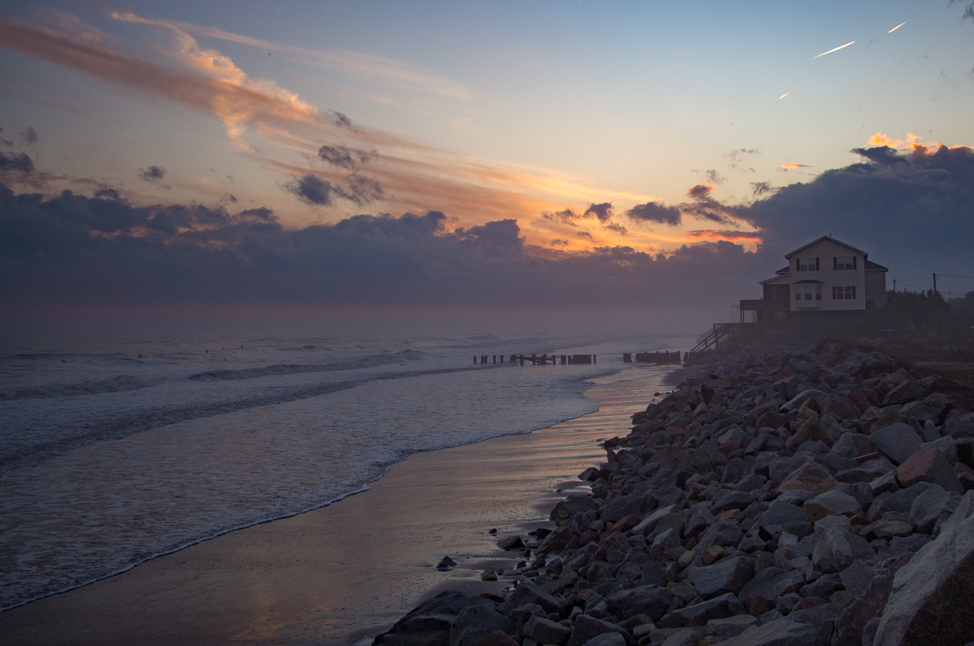 introductory resources and websites
RV Love – Marc and Julie Bennett have a very popular website and youtube channel capturing their life as full time RVers. They have a ton of information available and recently built an online learning platform that takes would-be RVers through all aspects of transitioning to RV life. While we have not used the program, it's something we would have loved to have back when we were starting out and we would absolutely trust their advice.Technomadia – This couple started out as full time RVers and have now moved on to life on the water. They have several helpful resources on their website. One we used early on was this beginner's guide.
Road Less Traveled – This couple has been traveling in an RV for years and their website contains hundreds of articles about full-time RV living, including information about budgeting, travel planning, technology, and maintenance.
Wheeling It – Another website we have used and continue to use to learn about RV topics. Nina has written helpful articles on healthcare, finding work and volunteer opportunities, boondocking, and health insurance.
author bio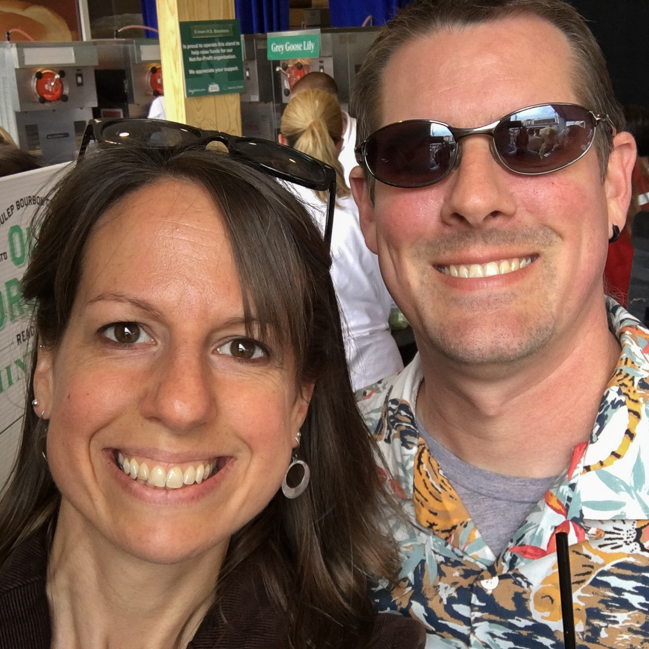 Laura Greene is an attorney from Arlington, Virginia. In August of 2016, she and her husband, Kevin, decided to take a multi-year career break to travel the U.S. and Canada. They quit their jobs, sold their home, and hit the road in a 38 foot Class A motorhome. She blogs about their travels at www.chapter3travels.com.