It is More About the Journey – The New Normal
We had a really wonderful two weeks at home visiting our family and friends. It was a whirlwind of travel throughout Alberta, and as always, we are very grateful for the support of all who showed up in full force to visit us if only for a few short hours.

Our family and friends were as excited for our upcoming journey as they usually are, and this time, perhaps even moreso then our previous departures to Latin America. I guess I can understand it in a way – when we made the decision to travel South America, it was met with worry and fear for our safety, and probably just general concern on whether or not we had completely lost our marbles for making such a drastic life change. We're a couple of years in now, have proven that our marbles are (mostly) intact, and we're soon to be traveling to a more modern part of the world with perceived higher safety for tourists (and help would just be a free call away).

Understandably, they expected excitement to ooze from us too. Never before had we heard so many variations of: "Omigod, you are going to Ireland! Are you excited or what?"
After considerable thought, and with full honesty, I had to answer: "No."
I wasn't excited. And I couldn't even say why.
I wanted so badly to be. I wanted to have sleepless nights in eager anticipation, I wanted to be giddy with the fact that in just a few days, I would be roaming the enigmatic Emerald Isle.
Something must obviously be wrong with me, I thought. Or, was Ireland maybe the wrong choice for our next adventure, if I couldn't get excited about it?
An astute friend finally pointed out something so obvious, it hadn't occurred to me:
"This is your new normal. Jetting off to new places is just what-you-do."<
My new normal. Compared to my "old" normal, of being a corporate nine-to-fiver and suburbanite, I'll take it. But then will I get to a point where I will tire of this normal too? And then what? What can possibly beat this?
This thought plagued me through the last few days leading up to our departure. I was still sleeping well at night, I wasn't panicking with wonder at what-I'd-forget-this-time. I woke up the morning of our flight with no butterflies in my stomach, with no tears in my eyes at leaving my family and friends for gawd-knows-how-long.
It felt like just another day. And it pained me.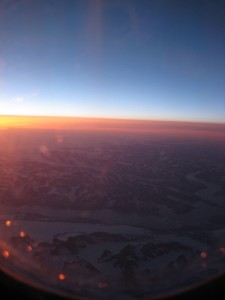 The plane took off, and still nothing. As we were flying over Greenland, the low sunlight bewitchingly lit the sky with pink and purple hues even though it was the middle of the night. I admired it, but it didn't provide any sort of symbolic "aha" moment that I was waiting for.
We landed, yawning. Without sleep on the 9 hour plane ride, we grabbed our carry-on and stumbled off the plane. The brisk, fresh morning air squeaked through open doors and gave us the jolt that we needed.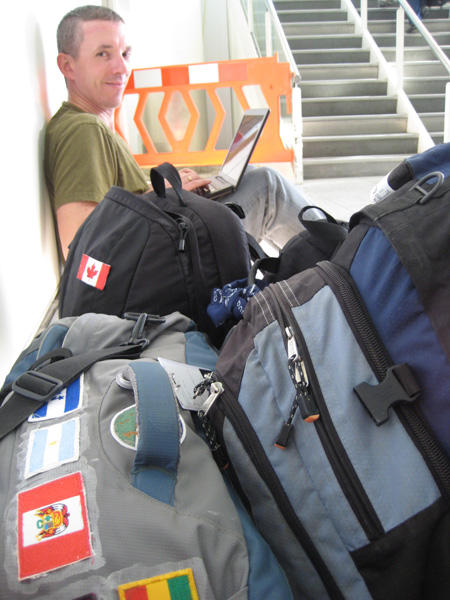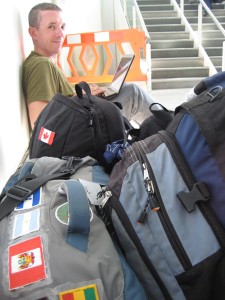 We fell into our airport routine. I can't explain why we behave this way, but Pete and I instinctively careen through airports as if someone is following us…as if we are contestants on the Amazing Race and have to Get! There! First! We squeezed past slow walkers and raced through our check stop at the departure monitors, quickly getting the details of our next flight. We edged our way to the front of the baggage carousel, eagerly grabbed our heavy packs and bee-lined to the customs counter before racing off to the next airport terminal.
And after we successfully navigated through the maze that is Gatwick airport and Came! In! First! in line at the Aer Lingus counter, it hit me. Finally, the rush of excitement that I had been waiting for. Despite being dog tired from a long, sleepless flight, we were here, and we were energized. We had successfully found our way around a new place and were already learning new things – if I want coffee with milk, I ask for it "white"!
So. This is what it's all about.
It is nothing against you, Ireland, I am sure you are lovely and I'm happy to be here.  I'm ready to explore your dramatic cliffs and endless green fields, but I'm truthfully more excited about learning to drive on the wrong other side of the road, and anxious for the thrill of sharing a stout with a local in an off-beat pub.  I'm realizing that it's more about the journey and adventure then it is about the actual destination.
In this new normal, it's all about everything in between.