Words by Dalene Heck / Photography by Dalene & Pete Heck
There are a few Romanian words that I unexpectedly learned straight away.
Obosit? – Said repeatedly to me after just a few minutes work. "Tired?"
Pauza, pauza – "Take a break, take a break."
Basica – "Blisters?"
I may not appear as a gritty farm hand ready to tackle a long day in the field, but I have logged plenty of hours doing manual labour in my day and am far from lazy. I got my back up, held tight to my rake when they tried to strip me of it, and refused to sit down.
(That is, until I did get a basica from the rake rubbing my skin raw between my left thumb and forefinger. Thankfully it was near the end of our day because I surely wasn't going to tell anyone.)
Although I do believe that their insistence of minimizing my contribution had less to do with the fact that I don't appear able-bodied. Here both Pete and I were, two foreigners and complete strangers, working in their fields and even paying a small stipend to do so. Our handling of a rake was a direct challenge against their small town hospitality.
I wondered though, if they realized our real reason for being there.
*****
We entered the golden hour while working in the small field. We turned over the straw that had been cut before our arrival, giving the shaded side a chance to dry in the sun before it was to be packed away. With the handmade rakes and forks we would scoop under, flip, and lay it back to rest. Pauza, pauza, they insisted in chorus after just a few minutes of work. I tried not to pay them mind, continuing to keep pace, but then the Grandpa who worked alongside us sat for a pauza, and yelled at me to join him. I couldn't refuse.
He continued the yelling, in Romanian phrases I couldn't possibly understand, gesturing to the field before us, the cows eating in the ditch across from that, and the staggered peaks of mountains just beyond. I nodded and smiled, but when his voice rose to form a question, I had to just say "I don't know."
Then he would say it again, yelling louder. (I thought this was solely a North American tradition to speak louder to enforce understanding, but apparently it is universal).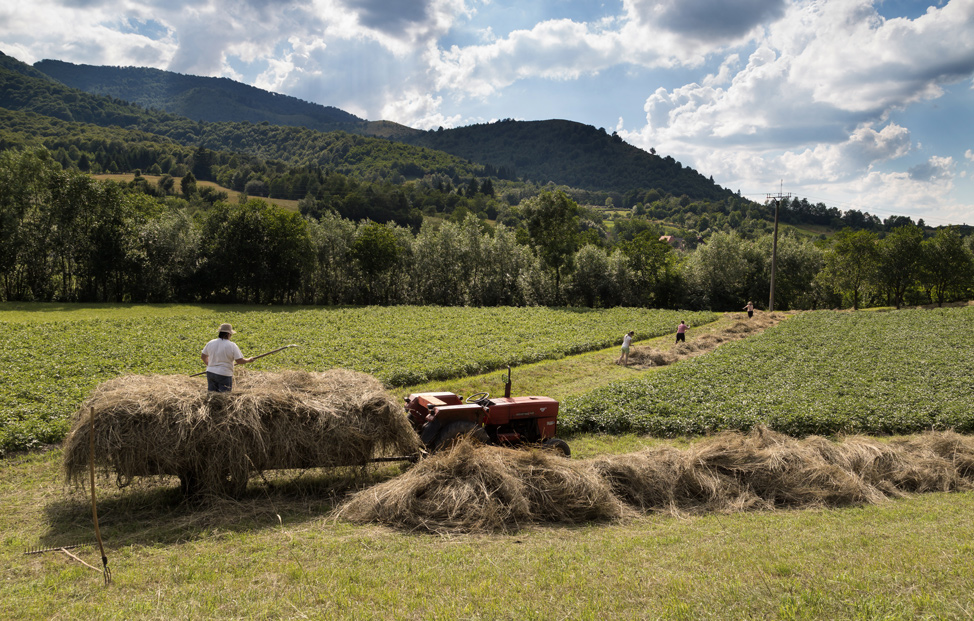 Once the field was turned we all sat for a long pauza before going back to where we had started to stack the straw into piles. There was no bailer to reduce the labour, the entire Ittu family (and one neighbour who we never learned the name of), just raked and stacked, raked and stacked. Mrs Elena Ittu soon stood on the top of a long wagon attached to the tractor, spreading and smoothing the straw tossed up. Her position appeared more precarious as the stack got higher, but she expertly balanced and continued evening the pile.
The short ride back to their house saw us cross a small creek with tractor, wait for a horse drawn carriage to pass, and see others walking home from the fields with rakes and scythes resting on their shoulders.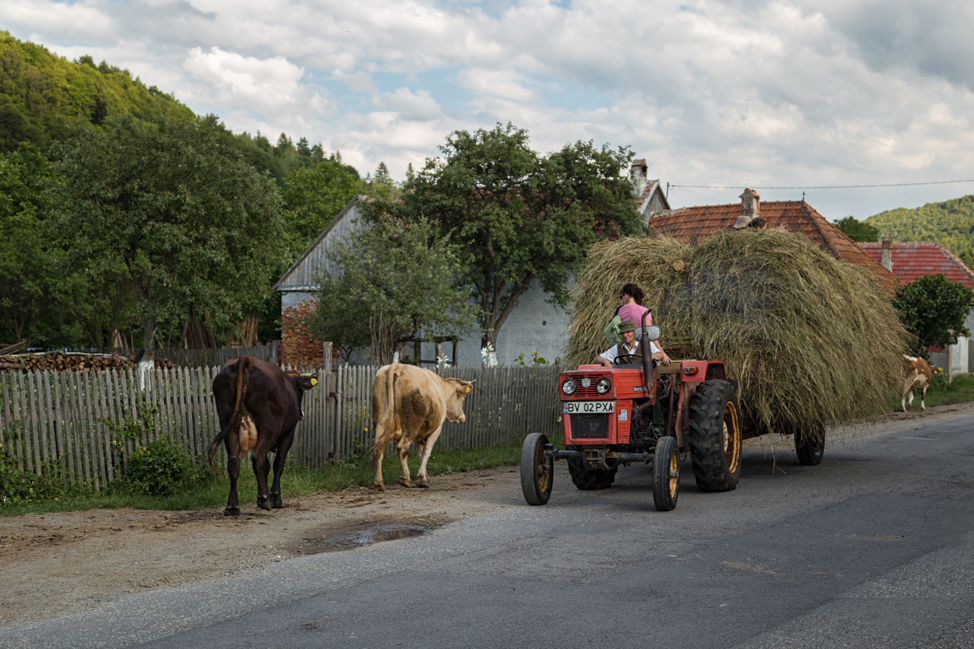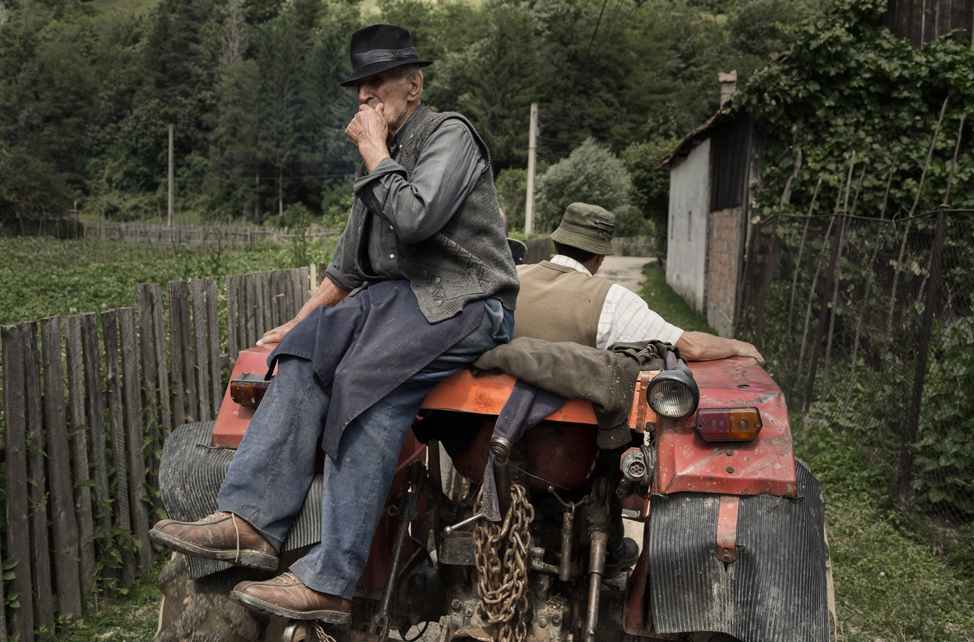 Romania cannot be considered a sleek and modern country by any means, and the small village of Sinca Noua even strikingly less so. It is as picturesque as quaint rural towns come, settled between two emerald mountain ranges, the Persani in the northeast and the Fagaras in the west. With a population of less than 2,000, traffic jams still do occur, most commonly in the morning and evening when livestock are herded on the main road to and from the communal pasture.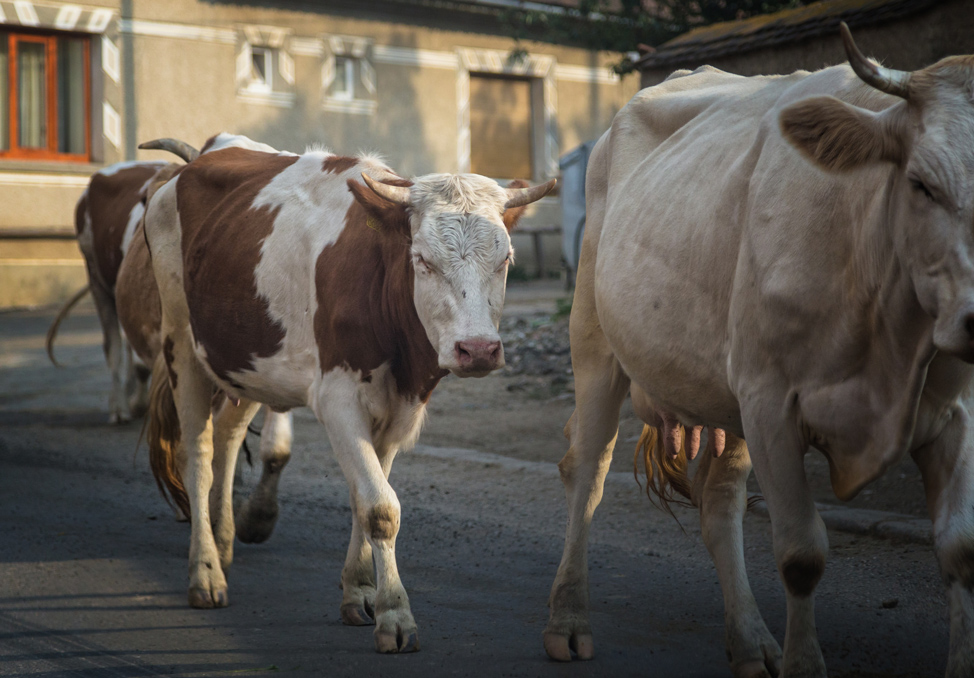 Many of the locals have barns right within their small estates, and in the evening one member of the Ittu family would collect their cow and usher it down the driveway, through the courtyard, and to the attached barn to the right of the kitchen. Behind that door were also chickens and two dogs, a few cats would sleepily emerge from the barn when the smell of food wafted into the courtyard. The youngest and cutest could often be found curled up on the bench just inside the door.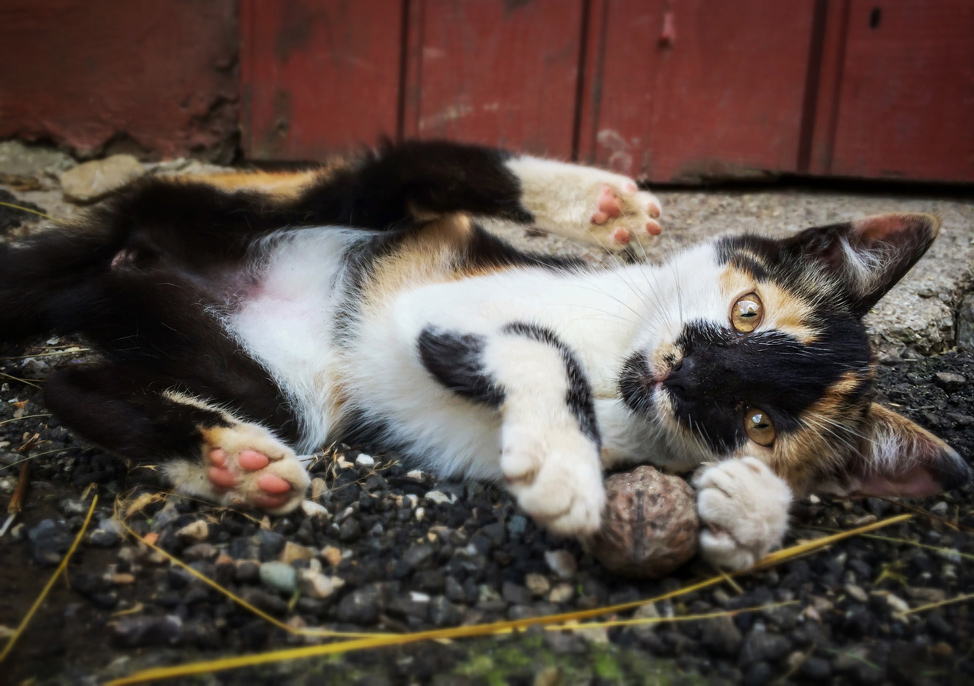 Life revolved around the kitchen. It is only accessed by the courtyard, and takes up just a tiny fraction of the entire space, but it is where the day began and ended and held all congregations in between. During the heat of the day, when the wood-burning stove blasted at full force, the table and chairs were moved outside for the midday meal to be enjoyed.
All Romanian food was made from scratch, including the liquor served up at every meal. Shot glasses full of palinka or cherry flavoured vodka were offered before any bite was taken. Un pic, un pic, was the resounding chant for everything placed in front of us, we had to at least try it, and couldn't handle the disappointed looks on their faces if we attempted a refusal. Besides, if the robust 90+ year old Grandpa gave any indication as he downed more shots then the rest of us, perhaps we had stumbled onto the secret of his long life. (My own pathetic resistance to alcohol, on the other hand, meant I held a joyful buzz for most of the day.)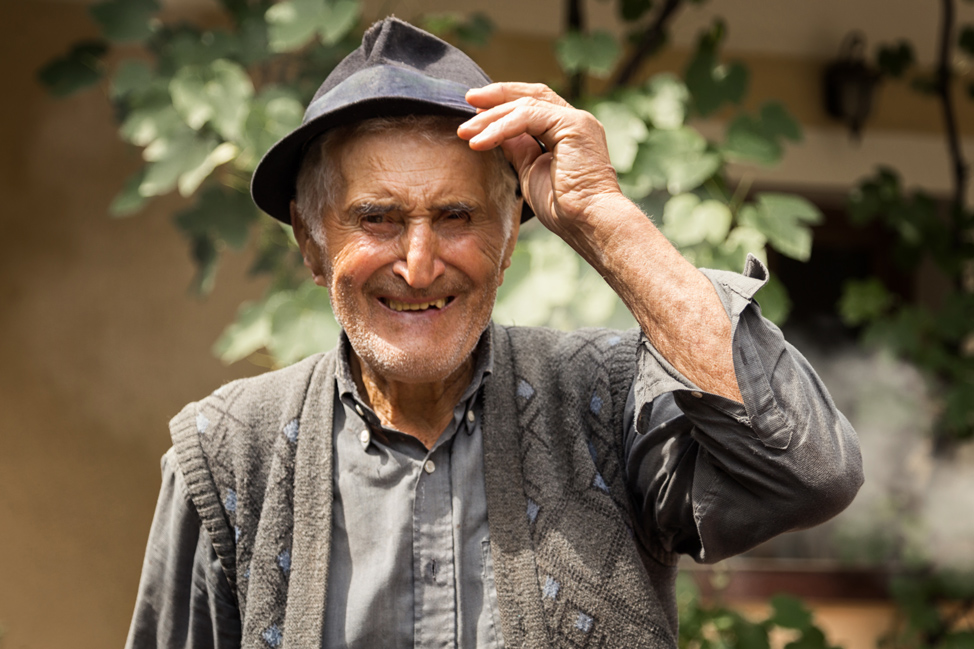 Sitting around the small kitchen table, we all took to hollering at each other in our native tongues, hoping something would get through. The inefficiency of our communication forced Pete to translate on his phone and the daughter, Nicoleta, did the same on her computer, which worked moderately well. But it wasn't until well on in the second day that we found our most effective method – imagine our surprise when two English-speaking Canadians in a rural Romanian home found common ground via broken Spanish with Nicoleta.
La comida was served up in generous heaps. Sausage, cheese, eggs, mamaliga, and bread for breakfast. The two later meals always started with a gorgeous soup followed by grilled meat with potatoes and once a pilaf. More bread, small salads, and then a desert that I was invited to help craft.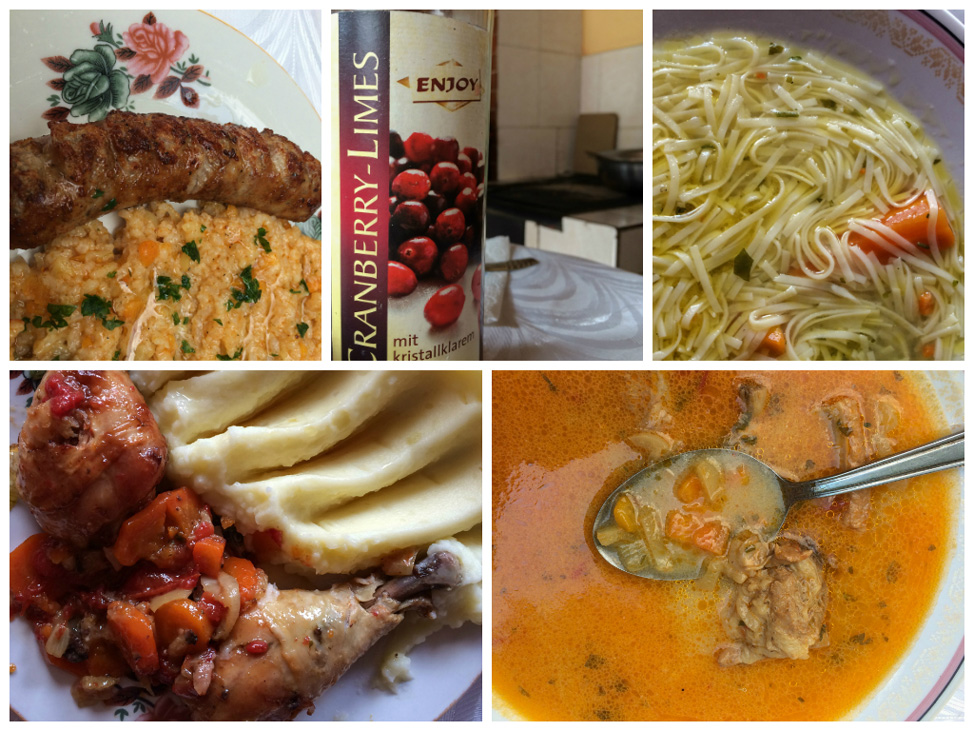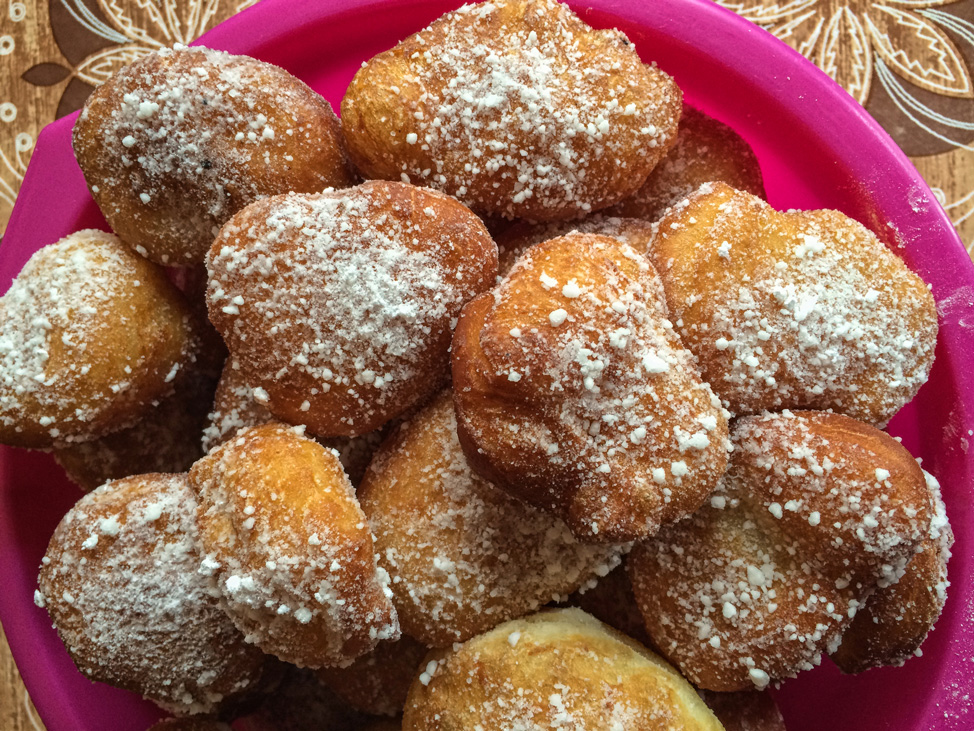 On the second day while we readied for work in the fields again, it was suggested that I stay behind. At first, with the language barrier, my back rose again, believing that their insistence was because they thought I was obosit or not fit for it. But I couldn't be cross for long, for I was invited to get my hands dirty another way – in the kitchen. Myself, Elena and Nicoleta would make gogosi – Romanian donuts.
No recipe on hand, no measuring cups used. On taste and feel only Elena would determine the quantities to be added. While the dough rose, we butchered more conversations and then some carrots for dinner, and played with the cats when they made themselves seen. When it was time to shape the dough, Elena stretched it with her hands, Nicoleta cut it with an upturned cup, and I added the powdered sugary goodness.
I had never quite had pastry this fresh, my mouth burned on testing it, and they laughed at my eagerness and gushing. Elena reached over and squeezed my arm, oozing warmth in the sparkle of her eyes.
And that was exactly what I had come for.
*****
Fully sated, blistered, maybe even a little obosit, we were set to leave after three days with the Ittu family. And that is exactly what we felt – a part of a family – for in this time we worked side-by-side with them in the fields, in the kitchen, attended their church service, met their friends and extended family, and shared generous meals and shots of palinka. Pete and I had picked up many Romanian words since arriving, including that which we didn't want to say at that moment – ramas bun. Goodbye.
We were handed a bag full of pound cake to take on our journey, and handshakes were replaced with hugs. Elena made a big circle in front of her with her hand, which I finally understood to mean that she was asking us to return.
Of course we would, I assured her, but really, I didn't know. We find ourselves making that promise often in our travels, but the world is too big and wide to make it everywhere twice.
This particular promise though, I hope to keep.
*****
We put together a one minute video showing highlights of our time with the Ittus!
how to do it
VillageLife.ro is an NGO committed to bringing sustainable development to rural Romania. They work with three other families in small towns besides Sinca Noua, and for a very affordable price, allow travelers to experience small town life in Romania.