Making the Switch to Dell
Words and Photography by Pete Heck
I switched from a Macbook to a Dell computer…Purposely. (cue gasps)
And the truth is, I LIKE IT. (cue bigger gasps)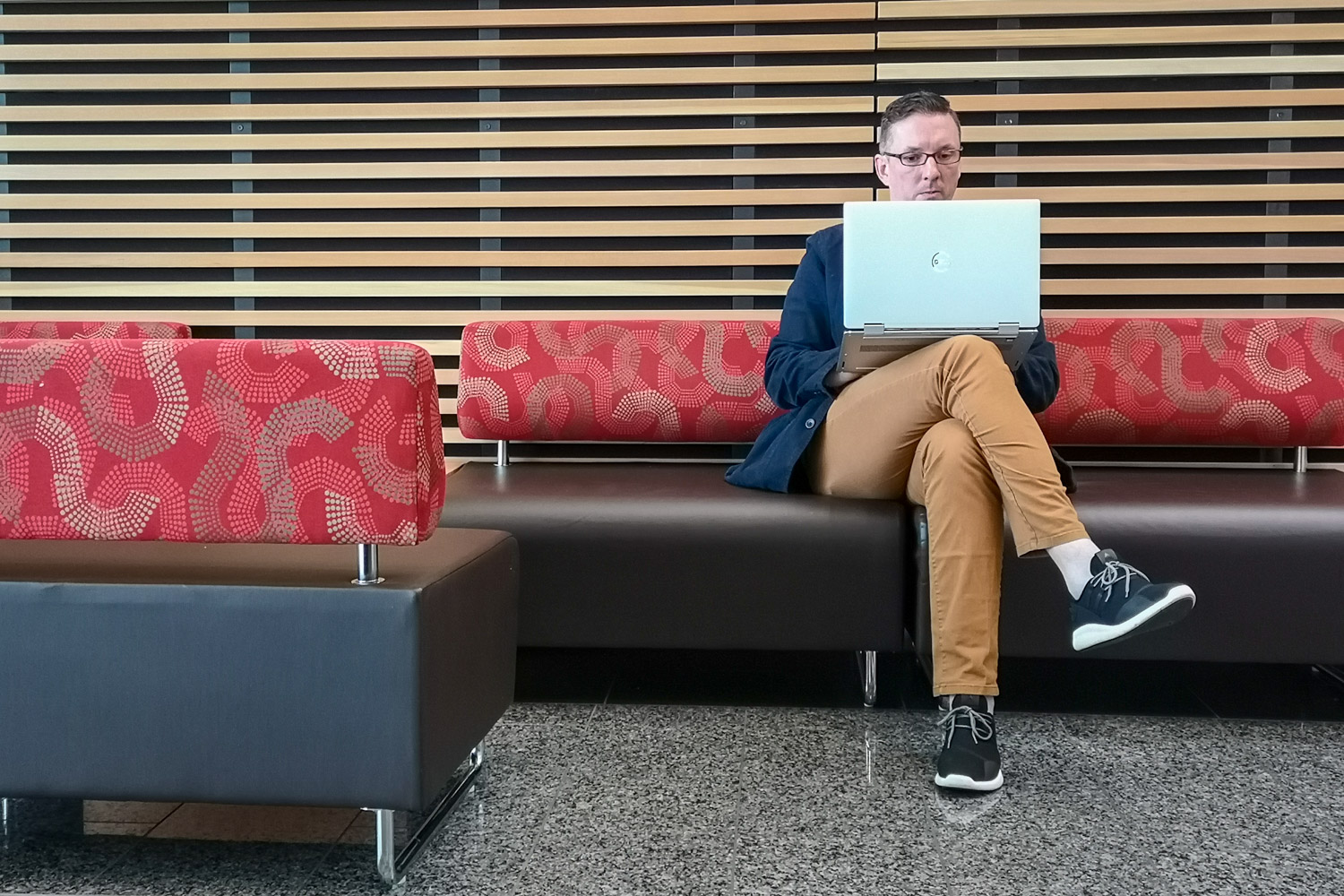 here's the scoop.
For the past 10 years, I've been a dedicated Apple user (as far as computers go, anyways, because I think their phones are children's toys), and was frustrated by the fact that it was out of necessity. Considering that I was permanently on the road, I required a machine that was not only light and portable but was reliable, dependable, secure, and had some longevity.Let's be honest…in 2010, machines that ran on Windows sucked. They were everything opposite of what I needed, and considering that I traveled in countries with spotty network security, I didn't dare mess around with a machine that was vulnerable.
Cue 2018, and I needed a new computer. It was opportunistic that the team at Dell reached out, proposing that I give their machine (the Dell XPS15 2 in 1) a try. I was intrigued, nervous, excited, and optimistic.
Upon my first look at Windows 10, it's obvious that things have drastically changed. Especially considering the last look at Windows I had seen was probably Windows 7(?), it's clear that the operating system has corrected its mistakes of the past and now presents as something solid.
But would it stand up to my workflow and the four criteria I listed above?
Workwise, I'll be honest, my flow is pretty simple and the bulk of my use is twofold: (1) Online use (browsing, online applications (Google Drive) and simple coding, etc), and (2) Graphic design and photo editing (Adobe Creative Cloud).
For me to really test it, I had to take it on the road. And after six months of use and three multi-leg plane journeys, I've had a chance to give a fair assessment of the machine.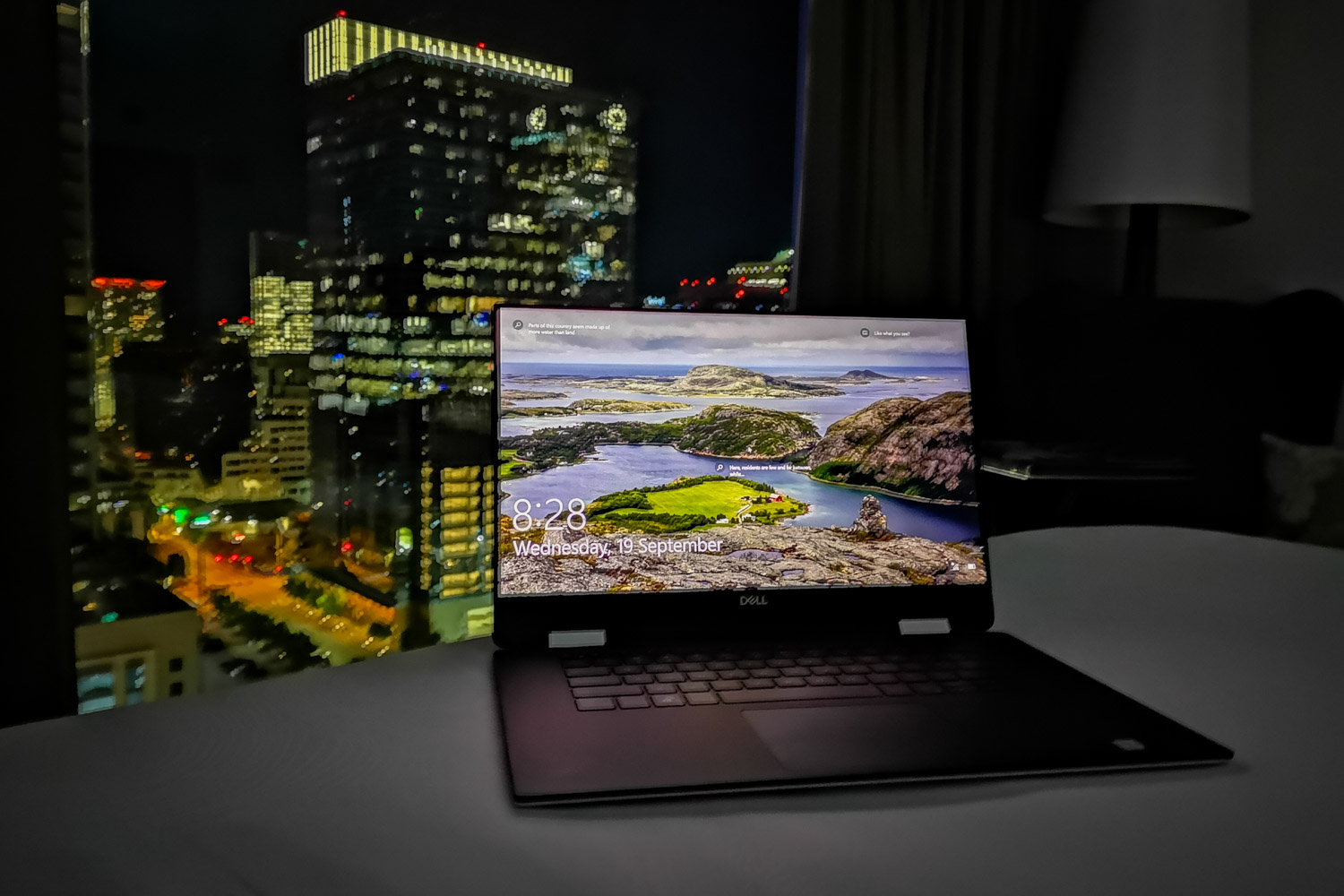 what i like about the dell xps15 2 in 1
size and weight
First off, it's a 15″ screen and it only weighs 4.3lbs (1.95kg). It's actually smaller and lighter than my previous 13″ Macbook and is a big step up considering the amount of power that's inside. It easily fits in my photography gear bag and also in my lightweight carry sling.
display
I upgraded to the 4K Ultra HD 3840 x 2160 screen and it really blows my mind every time I open it up. It's a virtually borderless display and it really does maximize screen space having nearly edge to edge clarity. Photos are pin sharp (apparently there over 16 million colours), and images appear lifelike with a tonne of depth. For my photo editing, it's no surprise that it has been a huge upgrade and benefit.
speed
I made the decision to go to with a solid state drive as I've had my share of hard drives crash on me in the past. Apart from the stability the 8th Generation Intel® Core™ i7-8705G Processor combined with the upgraded RAM (16gb) makes this machine lightning fast. There's no more waiting around as it takes less than 5 seconds to completely boot up. I've also never had to wait for a program to load or seen a spinning worm. Even with multiple applications open and my browser with multiple tabs open, there has never been any lag.
touch screen
At first I really didn't know how much I would use a touch screen and now I don't know what I'd do without it. It's fantastic for scrolling, clicking on webpages, and increasing workflow efficiency versus using the trackpad. Granted, I don't use it as much when ported at home with my wireless keyboard and mouse, but when I'm out or traveling, I use it all the time. The only downfall is having to clean the screen much more often.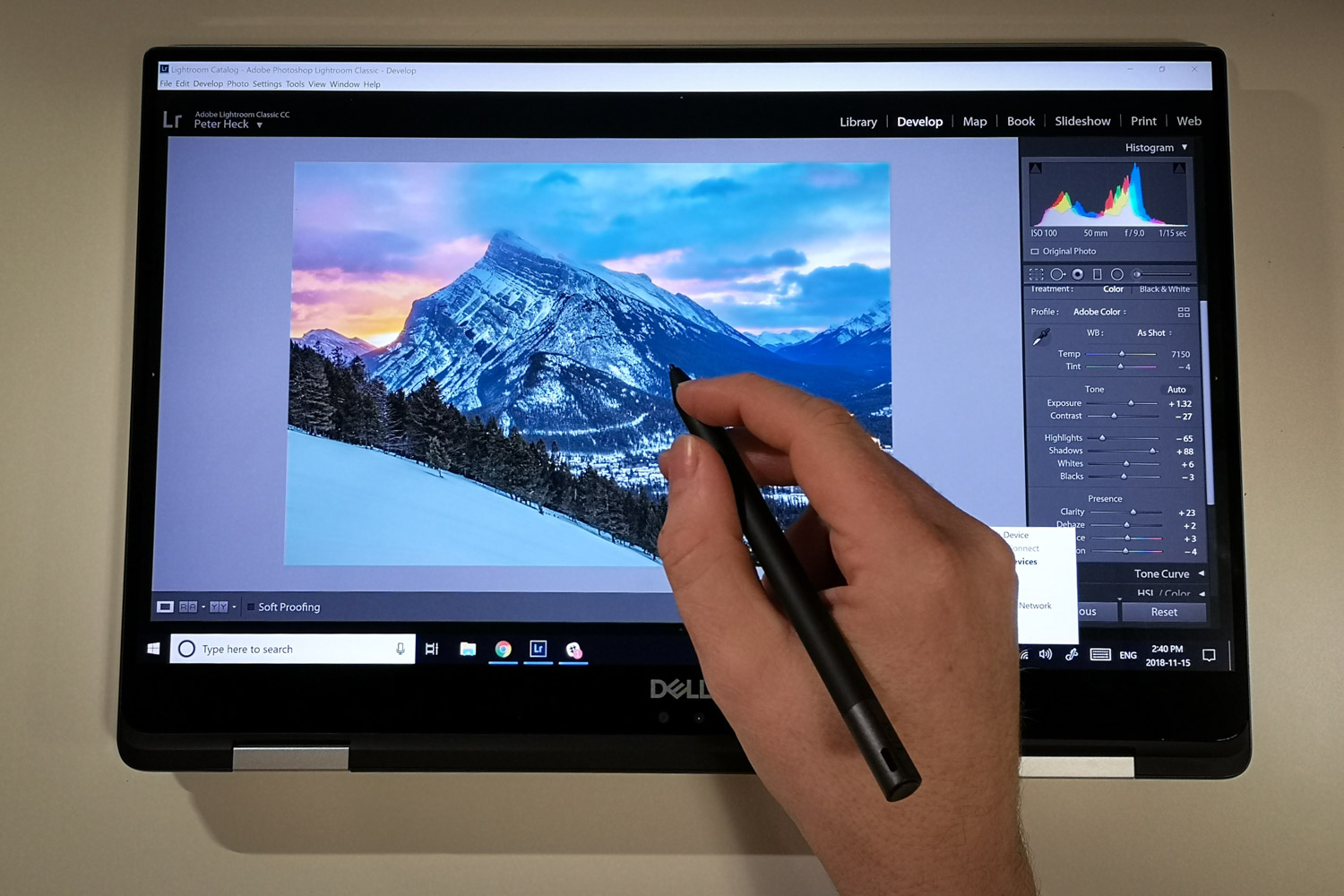 2 in 1 – laptop and tablet
I love the option to switch to tablet mode and the ability to switch to the tent mode to watch videos or TV when I'm traveling. I find myself using the Tablet mode often for photo-editing coupled with using the Dell (Wacom) pen (sold separately). It gives me sharp precise edits versus having to use the touchpad.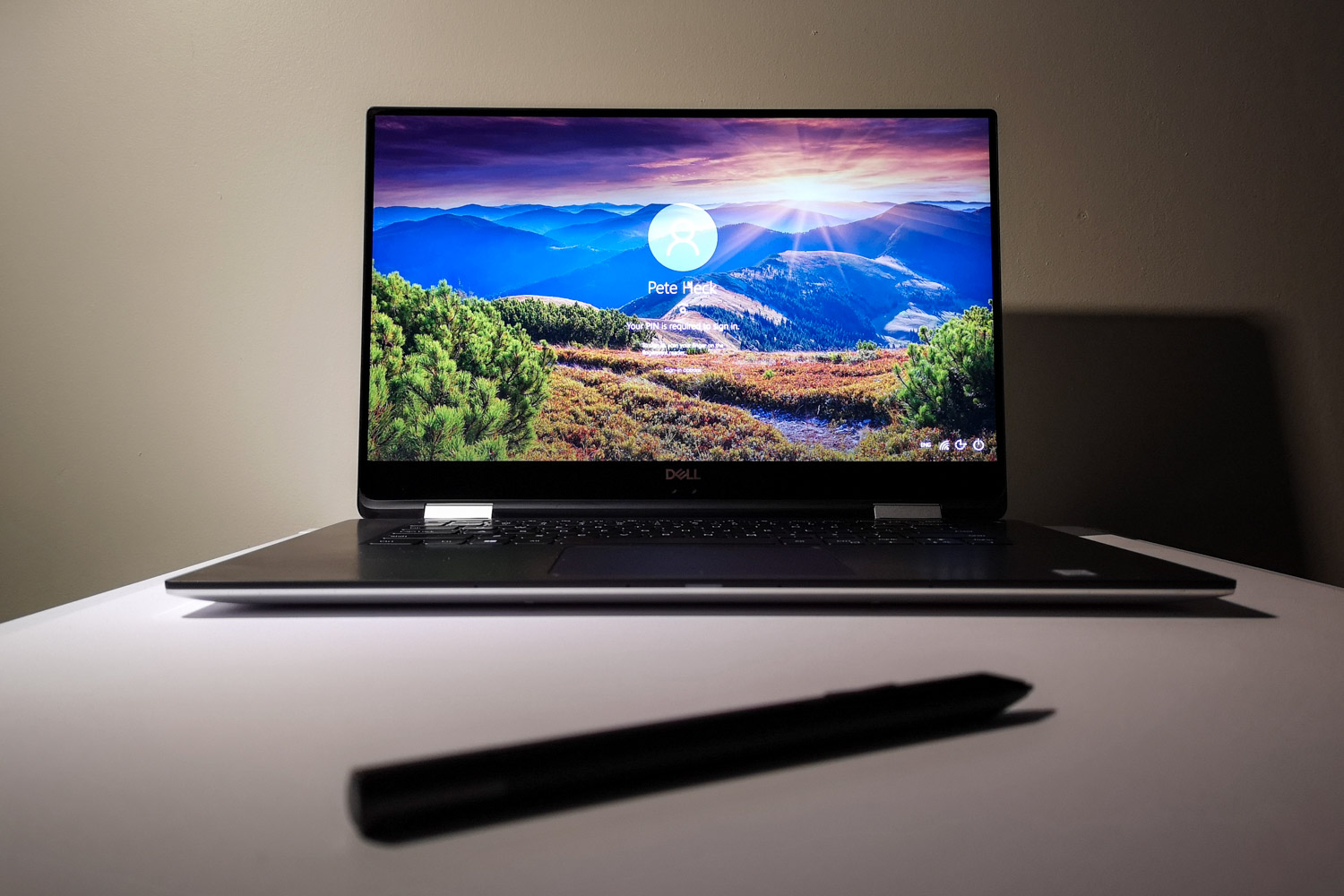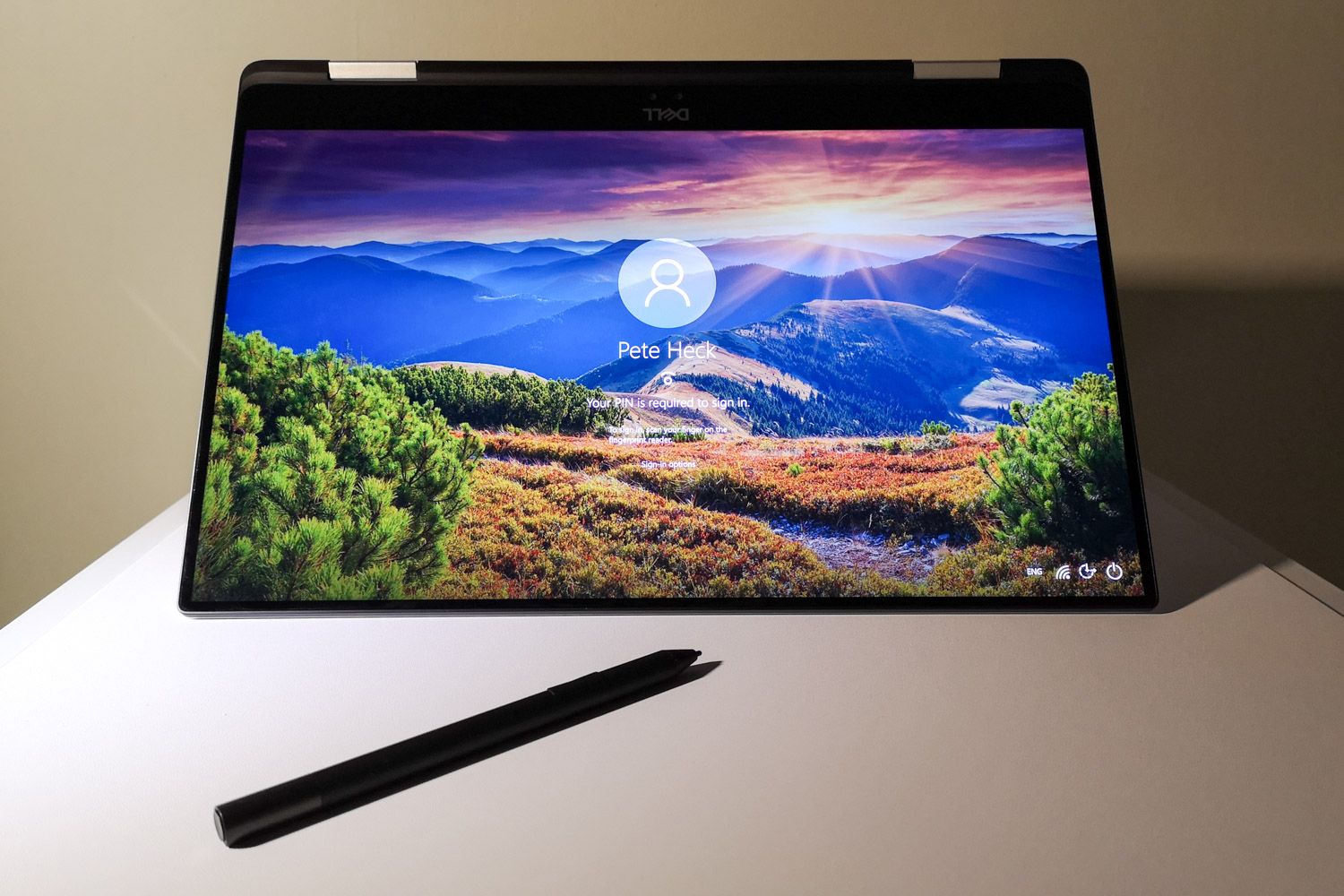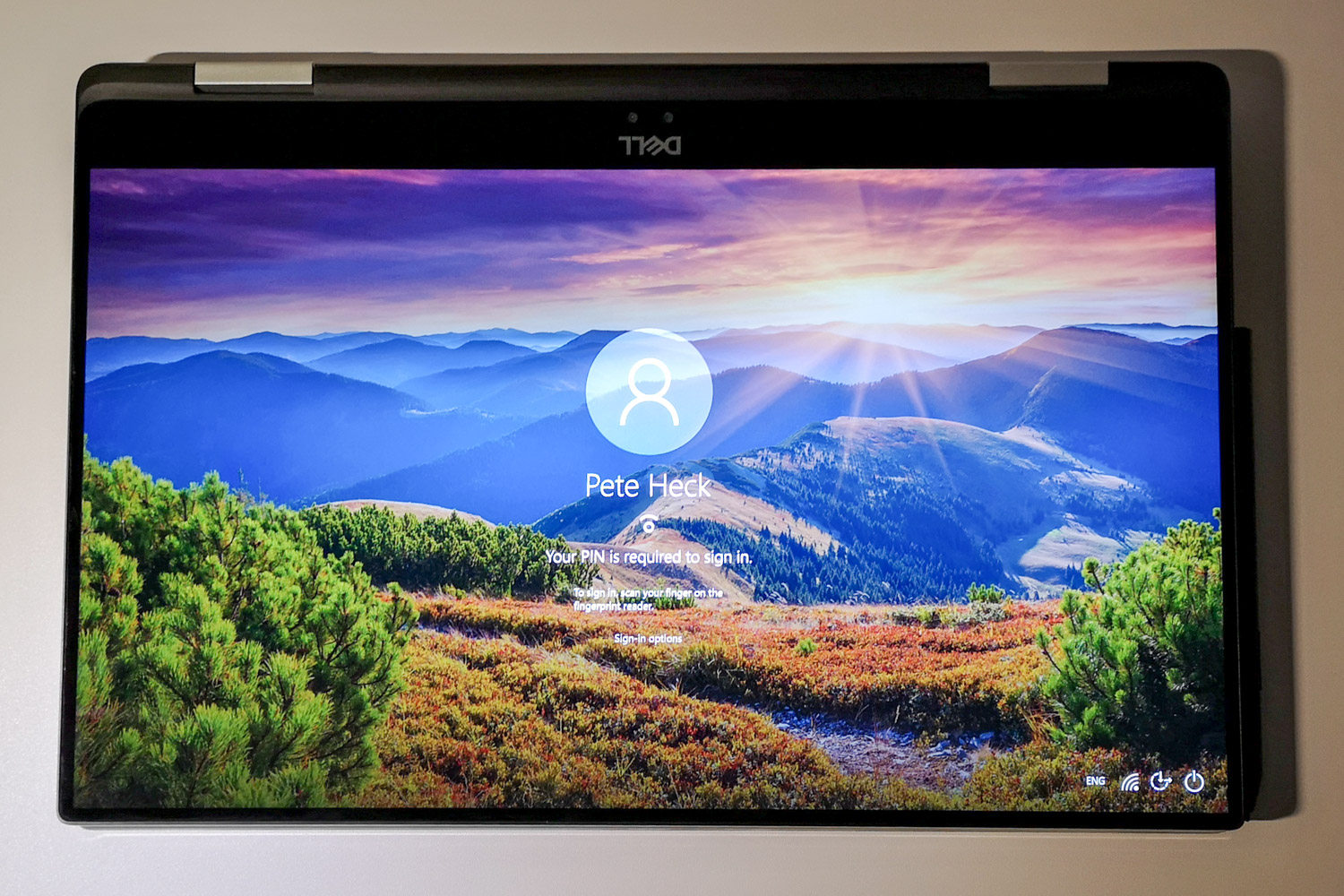 Battery Life
Overall, the battery life is good. On a busy day, while running the display in 4K, I can get about 3-4 good hours out of the battery. There are not too many machines out there that can do this running this much power.
What I don't really like about the Dell XPS15 2 in 1
I had to dig deep to find flaws with this machine. And these are only a few minor things that I wish were different.
Port Configuration
The machine comes with 4 USB-C ports (two Thunderbolt 3 and two USB-C 3.1). Sure, it's sufficient for charging as it gives me options to charge on either side of the machine, but what I find most annoying is the lack of an HDMI port. Having to rely on a dongle to plug in a standard HDMI cable is disappointing.
And including the micro-SD slot is a head-scratcher. I understand that saving room is a priority but if you're going to put a port in the machine, I would have much preferred an SD port. Especially to photographers to have the option to plug in their SD cards to download images.
The Nostril Cam
Due to not wanting to compromise space on the gorgeous 15″ screen, Dell put their webcam beneath the screen. The result: an unflattering upward angle view, right up into the nostrils. Rumour has it the new models will have it moved back to the top.
Initial Setup
The initial setup was a bit of pain getting the machine cleaned up and optimized. With the help of some Windows users, some online articles, and uninstalling some of the programs that came with the machine (hi McAfee), I am much happier with the performance.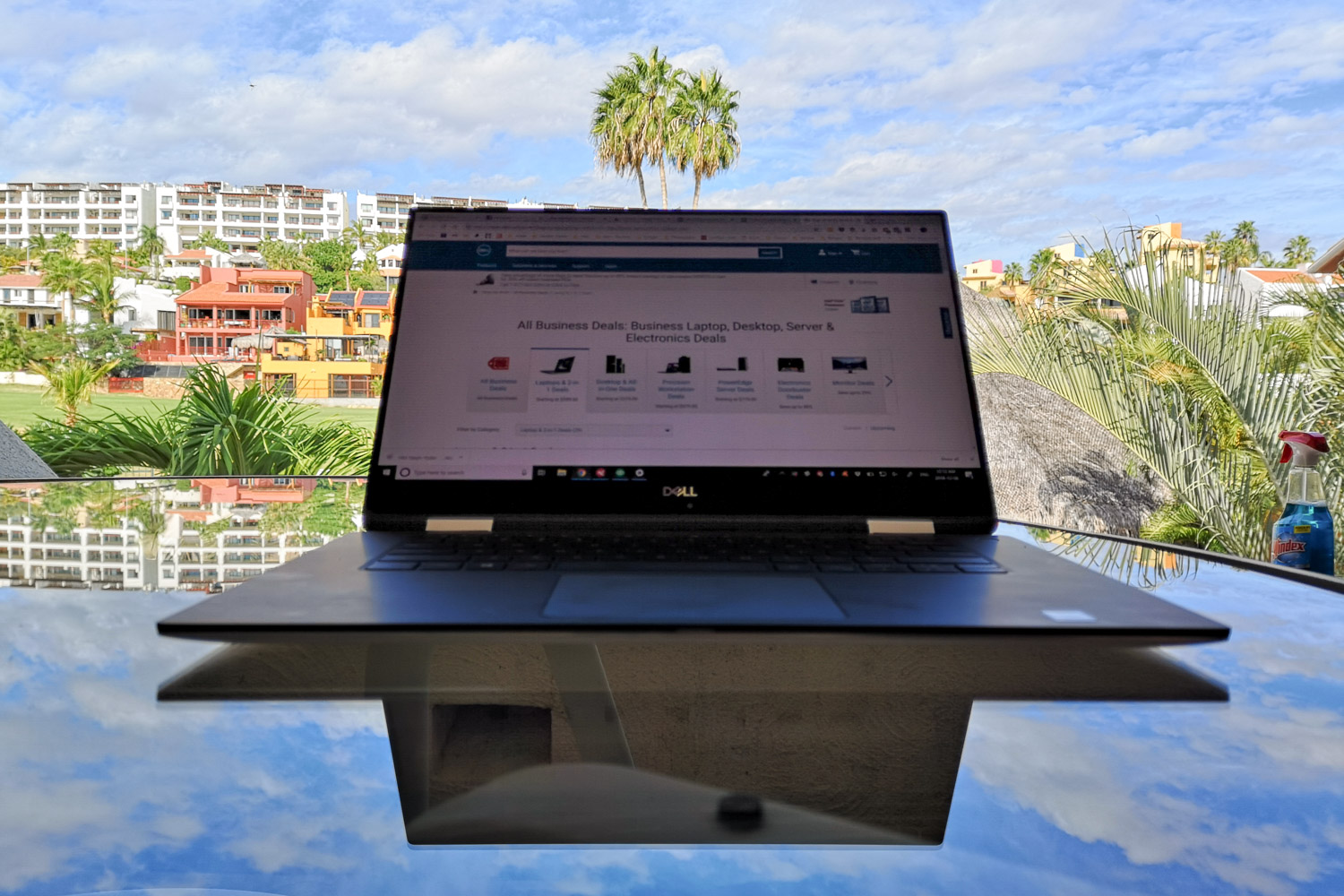 Overall
Overall, I'm extremely impressed and converted back to being a Windows user. The Dell XPS15 2 in 1 has performed incredibly well and for the price tag of this machine compared to the Mac, it's worth considering if you're shopping for a new machine. It's met 3 out of 4 of my criteria to date – reliable, dependable and secure. The last we'll have to see if it stands up to the test of time and can continue to perform as it has so far. I'm confident it will.
To those naysayers out there, unless you're committed to sticking to AirDrop or are avid Final Cut users it's worth it to make the switch. Windows 10 is solid and Dell has made a machine that can compete with any Apple product.
I'm now convinced I'll be a Windows user for many years to come. I can't believe I'd be saying that, but because of this Dell, I'm a firm believer now.
The team at Dell sent me a complimentary XPS15 2 in 1. Since receiving it, I've put the machine through my workflow to give a fair assessment and opinion. All opinions I've expressed are my own.