Review: Peak Design Ltd Gear
Review: Peak Design Ltd. Gear
Words and Photography by Pete Heck
I see the shot I want. I take my pack off, put it on the ground, unzip, take out the camera, remove lens cap and I'm ready. But the moment is gone, and I've missed it. The image is locked only in my brain.
As a photographer this is not an uncommon theme. There have been numerous times this has happened. So I searched for a solution that allowed me to have my camera more accessible and not strapped around my neck or shoulder by the standard out of box strap.
I found a company which was doing some incredible things for photographers.
 With a mission like this,
The mission of Peak Design is to enable photographers, adventurers and outdoors enthusiasts to better capture the beautiful world around them.
I knew I wanted to align myself with these guys. Their team of engineers are photographers that are serious about making high quality equipment and finding ways to eliminate the camera carrying annoyances and frustrations.
Capture Pro Camera Clip
The Capture Pro Camera Clip is a pro-quality camera carrying solution. It can attach to almost any pack or bag strap and allows me to have access to my camera almost instantaneously.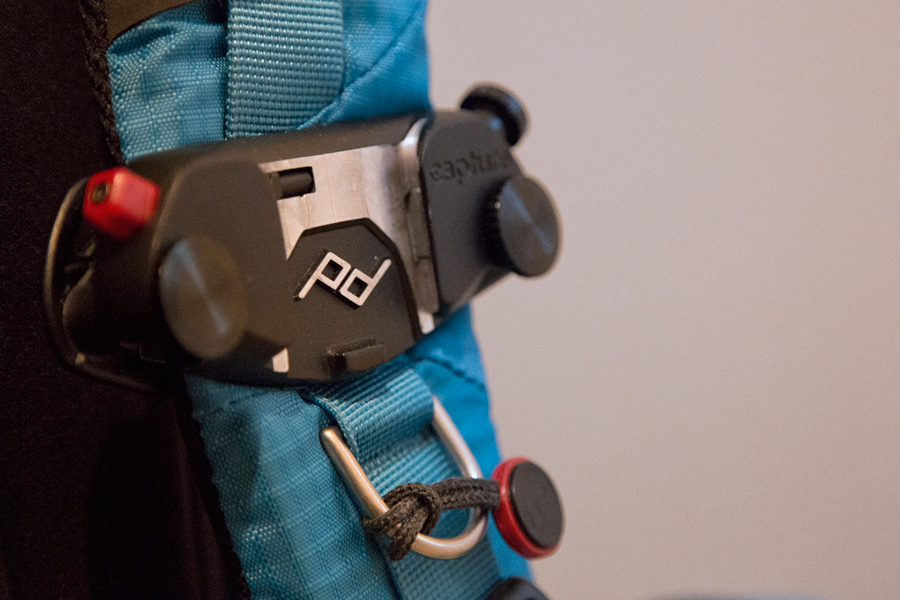 My camera easily clicks in and and releases from the Capture Pro mount. There is added protection so that I can lock the camera into the mount with the twist of a button and same to unlock. As an added bonus the engineers at Peak Design have designed the quick release plate to fit into ARCA and RC2 tripods so it's not necessary for me to switch out plates to set up on my tripod.
And cameras are not the only thing that you can strap into your Capture Pro.  I have mounted our GoPro allowing me to capture video and keep my hands free. Peak Design's Facebook stream also illustrates some pretty unique ideas including carrying audio equipment, spare lenses and other creative ideas. I think for now I'll stick to just carrying my camera.
PRO Pad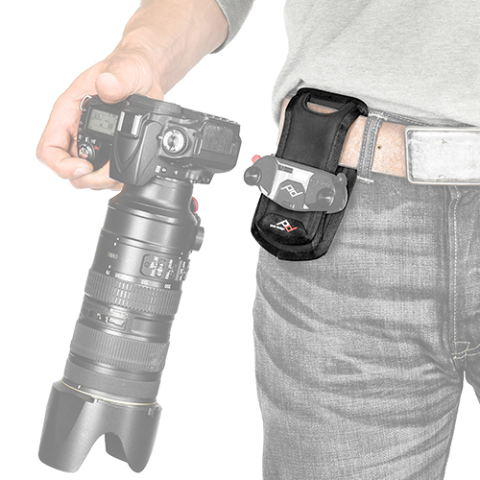 The PRO Pad was designed by Peak Design for a photographer to carry a camera on their belt. This has definitely come in handy for me when shooting street photography. It also can serve the purpose when one carries more than one body on a photoshoot, always having quick access. What I like most about the PD PRO Pad is the ability to attach it to your backpack and it just fits on my F-Stop Tilipia BC pack.
Slide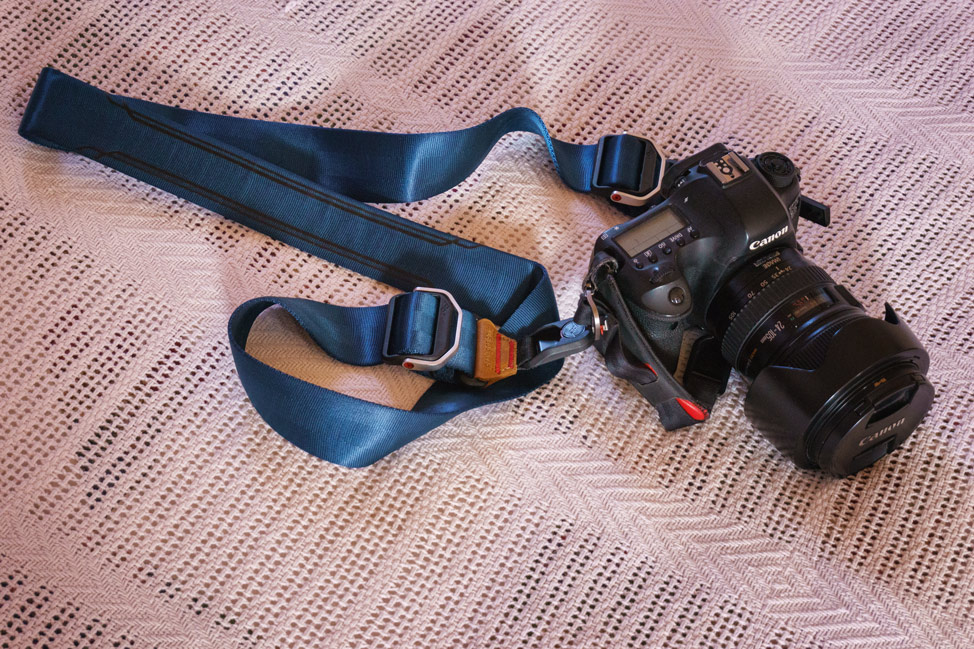 The Peak Design Slide is a heavy-duty strap constructed from the same material that seatbelts are made of. The best feature about the strap is the ability to adjust the length on the fly quickly and easily. No more fumbling around with annoying small straps and clips. I allow me to change the strap to a sling or a neck strap in mere seconds.
Leash and Clutch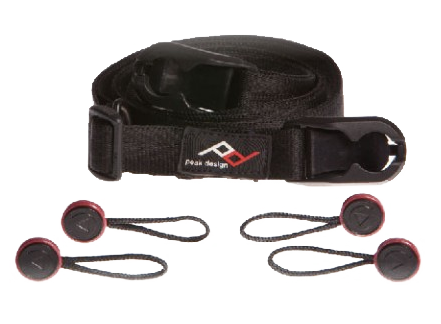 When I detach the Slide from my camera, I love having the Peak Design Clutch attached. The clutch tightens around the back of my hand giving me full control and confidence that the camera will not slip out of my hand.
The leash used to be my camera strap before I switched to the Slide, but now the leash acts just as the name says. I use it to leash my camera to my body when I am shooting on my tripod. It is more of a security thing for me in case my tripod tips over, or if anyone decides to try and snag my equipment they'll be taking me with it. I also will attach the leash to my pack at times to make sure it doesn't wander off as well, another handy use of the Peak Design anchors.
Overall
Peak Design Ltd. has delivered exactly what I was looking for. My original neck strap is now replaced with Slide gone and I have always had access to my camera so that I don't miss out on shots. I carry our second body in the Capture Pro so that all my gear is readily available. Most importantly I'm confident with the Peak Design gear that my camera and equipment are safe and secure.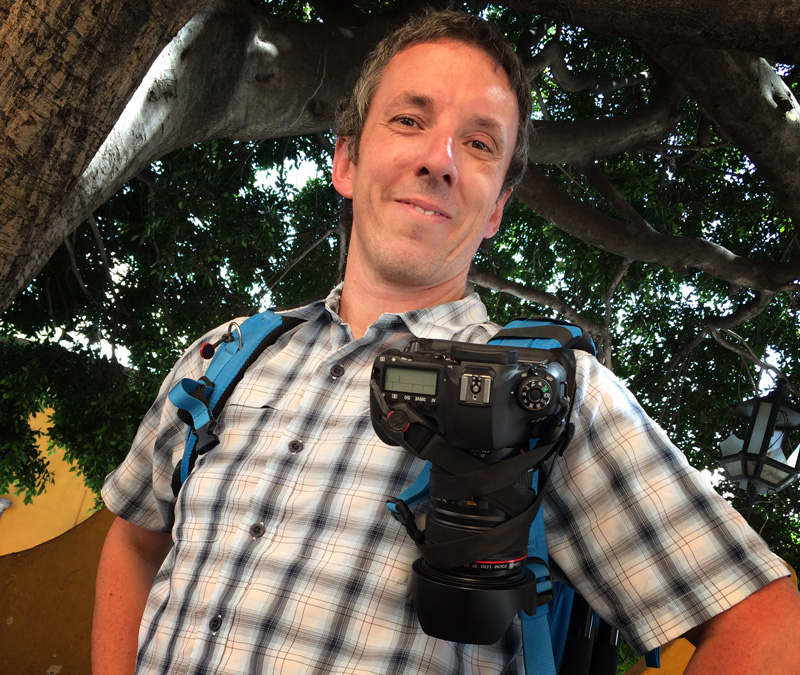 ***Peak Design sent me gear to test out, but as always the opinions expressed are my own.
If you are interested in picking up some Peak Design gear enter the code HECKTIC at checkout to earn 10% of your Peak Design order.