I can't emphasize enough the overwhelming hospitality we felt during our few days in Northern Ireland. From friendly people just stopping to chat in the streets to twice having complete strangers offer to guide us with their car, we developed an immediate love and appreciation for the people of this tiny country.
For us it drew an obvious parallel to another nation in another hemisphere that exhaustively impressed us with its warmth – Colombia. While the causes of the well known problems within these two countries are quite different, they both share a recently troubled past, and an extraordinary quality of great kindness, perhaps due to their eagerness to shed the violent image they carry.
And it is terribly unfortunate that while the worst of Northern Ireland's tumultuous history may be behind them, powerful tension still exists in certain areas. In Belfast this is most clearly symbolized by an immense wall separating the Falls Road of the Catholic nationalists and the Shankill road of Protestant unionists, with new sections to the wall having been added as recently as 2006.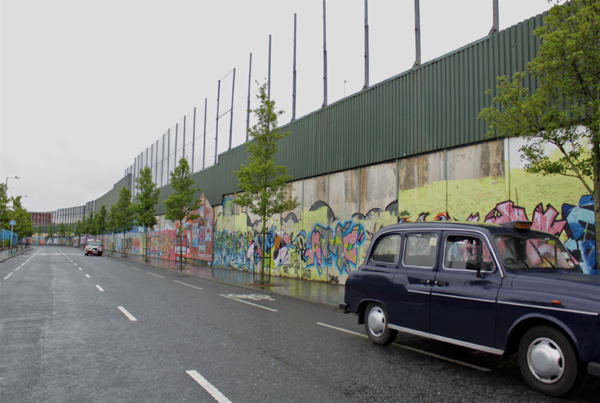 Gates allow for a flow of traffic between the two contesting neighborhoods during the day, but are locked after dark.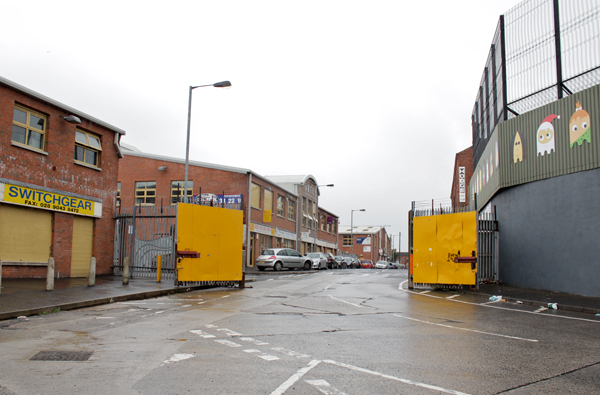 These chilling words started our taxi tour in Belfast. "Nobody wants to invest here anymore, there are few opportunities for the people who live here. I wish I had left when I had the chance." Al was only fifteen when the Troubles began. Being raised in one of the safer, mixed neighborhoods in Belfast, he proclaims to be unbiased and harbors equal hatred for both sides in the dispute.
Al took us to both sides of the monumental "peace" wall, starting with the Protestant neighborhood along Shankill road. Fiercely loyal to the United Kingdom, we saw an array of blue, red and white flags, and some haunting murals.

Idolized as a commander in one of the para-military groups, McKeag was a top operator in one of the assassination squads and was thought to have killed at least 12 people, mostly ordinary Catholics.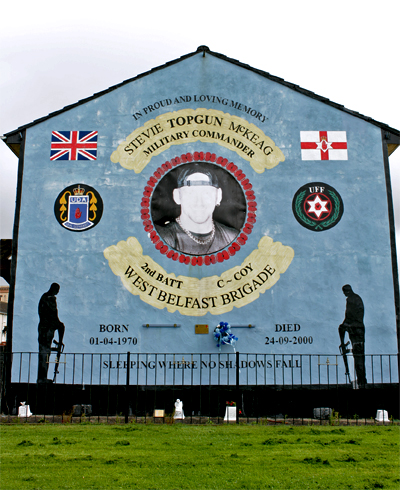 Wherever you stand, the gun is eerily pointed at you. This is known as the "Belfast Mona Lisa".
Just a few feet away, but separated by the wall that towers over 20 ft, is the Catholic neighborhood of Springfield.
Some of the houses directly beside the fence are protected with steel cages against petrol bombs being thrown over.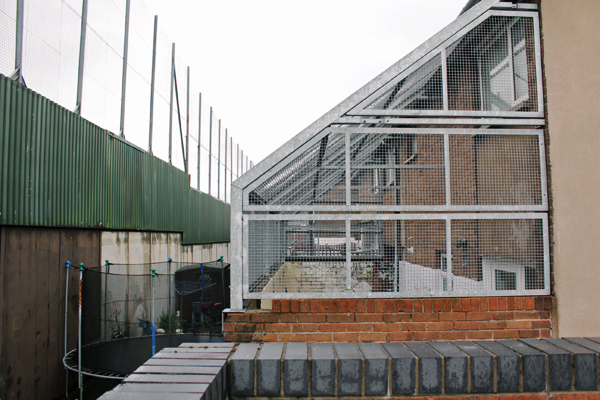 At the start of the Troubles, Bombay Street was torched – 65 houses were reduced to 20.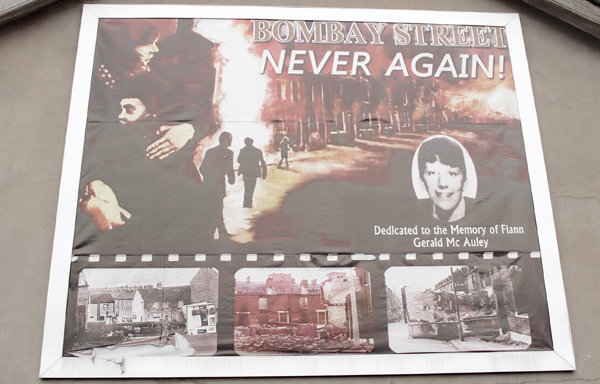 Bobby Sands is a legend among Catholic supporters. Held as a prisoner of war in the late 70s, he died in 1981 while leading a hunger strike when the British government removed the inmates special category status of political prisoners (as was previously agreed to). While he was imprisoned he was elected to parliament and wrote several published letters and articles. Some of his poetry has been made into popular songs.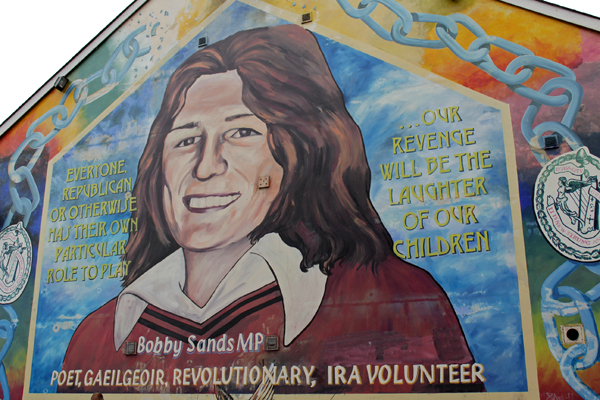 Al shared stories of his friends lost during the early days, and a startling revelation he had just a few weeks ago. "One lady on a tour commented that it must be nice for things to pretty much be back to normal now," he said, "and it made me realize that I don't really know what normal is. Normal existed for me only up until the age of fifteen. That thought made me very angry."
The Troubles are said to have officially ended with an agreement penned in 1998, but violence still sporadically erupts along old lines, the latest being less than one month ago. Al believes it will be at least twenty years before any of the walls come down, even though the feuding parties are smaller and the reasons to fight are abating, whole generations need to forgive and forget what has happened in recent times.
I find this terribly heartbreaking that a nation full of such generous and hospitable people may continue to be plagued by the turbulence of a few. And while one red-penned message on a wall of millions will hardly lessen these issues, writing it meant a lot to me.