Life in a Far Northern Town
Words by Dalene Heck / Photography by Pete Heck
On our first night in Churchill, Pete packed up his camera gear and set out at about 10pm. Rustled into action by the Aurora Alert app flashing on his phone, he ignored the heavy cloud cover we had been under since earlier that day. He held onto the hope of a break in the clouds or that the strength of the lights would at least brighten their hue.He left the warmth of our hotel room just as an old military siren blared. I never got a definitive answer as to why the siren is still in service given that there is no remaining military presence, but if I were to guess, I would say it still serves as an important reminder. That the streets are empty, quiet, and possibly soon to be overtaken by the world's largest land predators.
Pete returned just a few minutes later. With his eyes focused upwards while walking on a peaceful street, hoping to see any glimmer of green cosmic light, he returned his gaze to street level and realized how utterly vulnerable he was. And that at any second, he could come face-to-face with a curious polar bear. Disastrous encounters in this small northern town usually happen when people forget to respect this environment in which they are in. He did not want to be one of those statistics.
It's Churchill's great deception. For all its friendly residents and quiet streets that would lure visitors into feeling welcome and secure, danger lurks large, in the form of an icon of the Arctic who moves stealthily and is primarily motivated by one thing.
Hunger.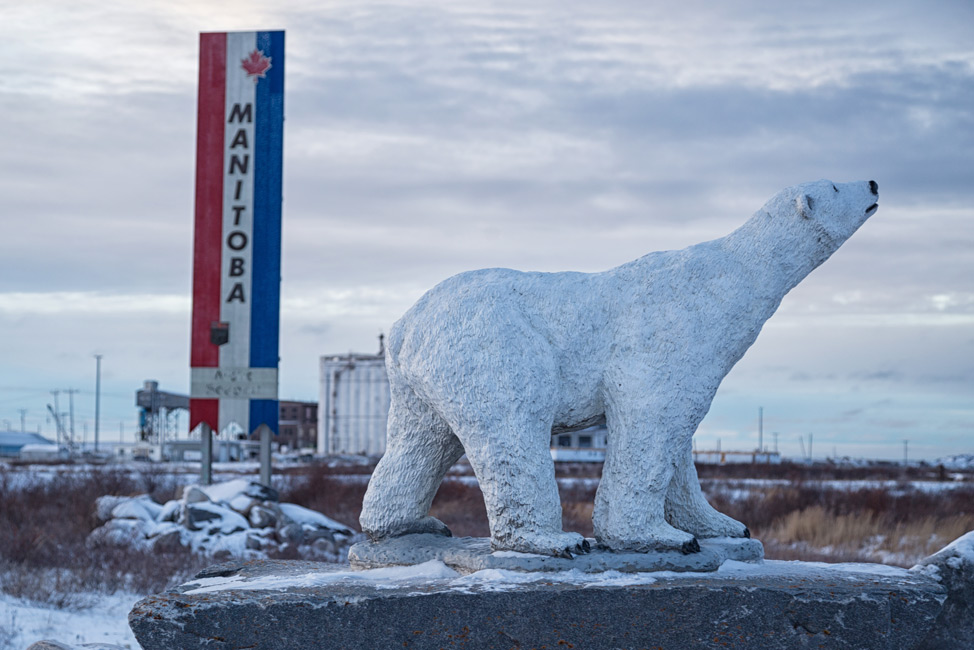 Accessible only by train or plane, Churchill is a tiny slice of Canadian civilization situated on the banks of the Hudson's Bay. It is situated just north of one of the least visited parks in North America – Wapusk National Park – well protected for it is a major polar bear den area. During seven weeks spread over October and November, polar bears can outnumber humans in the surrounding area. The bears congregate near town and wait for the Bay to freeze over so that they can begin their feeding season.They would have gone several months since their last meal of seal blubber; the females even longer if they gave birth in dens and cut off many weeks of prime feeding while depleting their resources and nursing cubs. In between their annual quest across the frozen Bay to feast on ringed seals, they will have only eaten such things as small rodents, vegetation, and seabirds. While deadly encounters between humans and these carnivores are rare, the power of a big appetite should not be underestimated.
The residents of Churchill are on high alert during this time that the bears are passing through. House and vehicle doors are left unlocked should anyone need immediate shelter. An alert program is in place with a 24-hour emergency number that everybody knows. Gunshots are commonly used to scare those bears that get too close (in one day we heard six in the span of just a few hours). Large bear traps can be seen in some spots surrounding the town, and a bear "jail" even exists to house those who are not so easily deterred. The bears will be brought in while tranquilized and held up to thirty days; if the ice hasn't formed on the Bay during that time, then they will be hoisted by helicopter to a location further north.
Halloween, smack dab in the middle of bear season, is an event like none other. Residents circle the town in their vehicles and helicopters circle above to ensure that the children can safely go door-to-door after dark. Common sense would have kids avoid costumes that resemble their hungry neighbours.
And journeys into open spaces are done under the watchful eye of someone with a rifle who knows how to use it.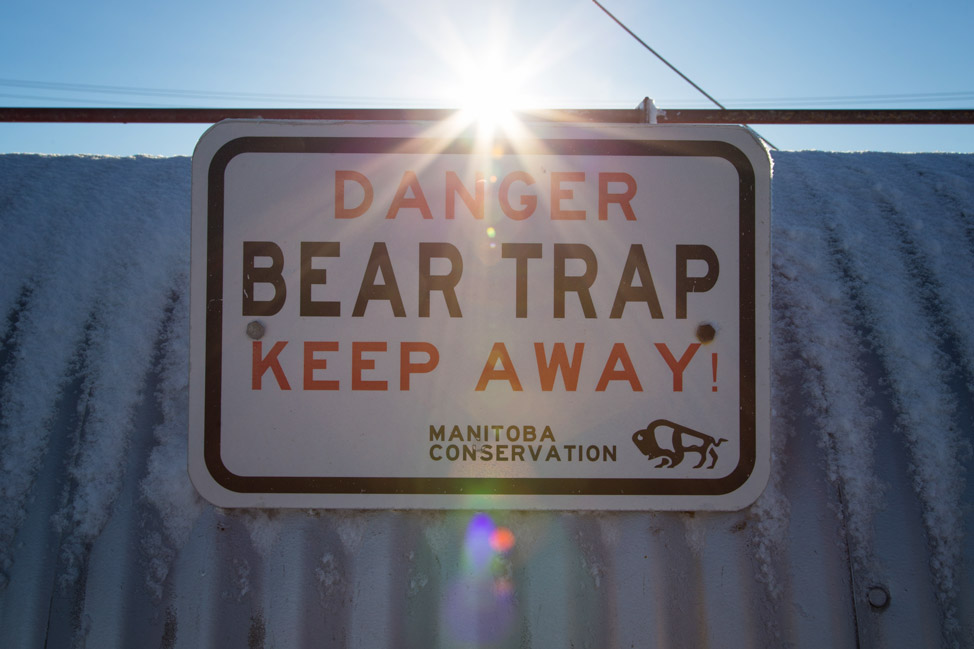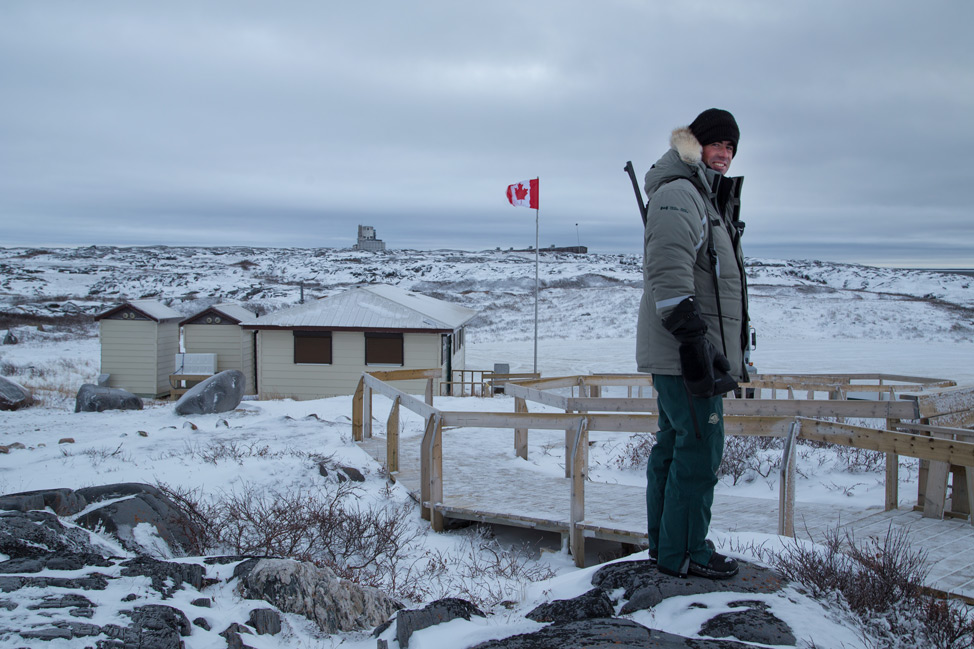 "You'll see my colleague David there with a 12 gauge shotgun full of lethal ammo. He's on polar bear patrol." Rhonda, an interpretive guide at Cape Merry, stood on the steps of our converted school bus to explain the significance of the narrowing sliver of land in front of us, along with her own affinity to the area. She traded one northern locale (in Ontario) for another, and declared Churchill to be the home she would never leave.
Rhonda's story was one we heard often during our short stay there, from locals and seasonal employees alike who return year after year. What continually draws them there may vary by person – while some likely shirk from the vigilance required to live in the surroundings of such powerful beasts and a harsh climate – I could absolutely acknowledge the appeal. Not only from the challenge of both mind and body to live so remotely, but also to be a part of such a close-knit community where the residents rely on each other to help preserve the safety of both themselves and the bears.
It is a tiny and quiet town, bustling for only two months of the year, but in a fascinating natural environment that can hardly be found elsewhere.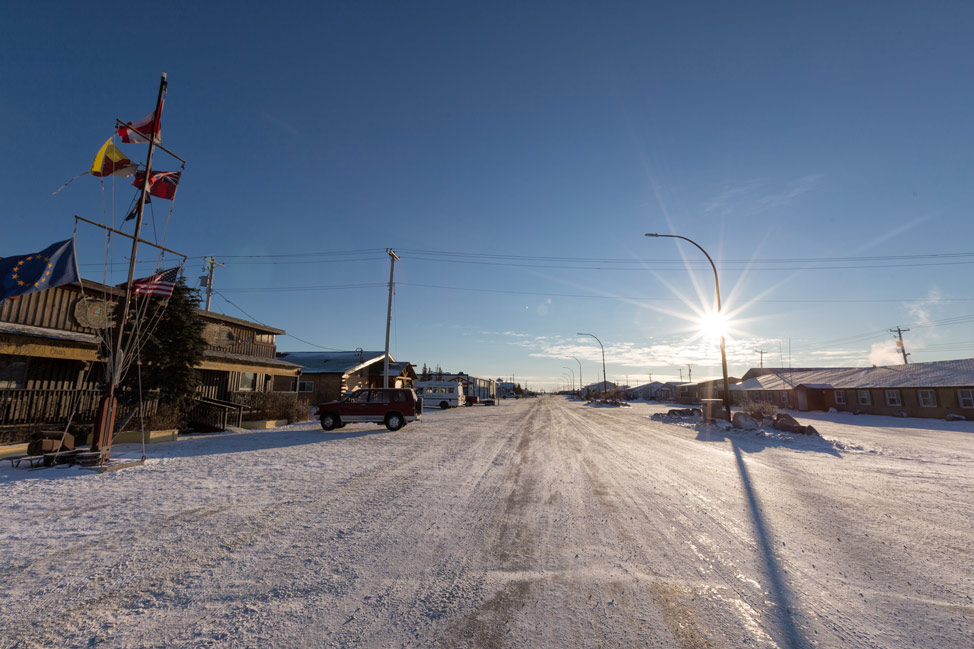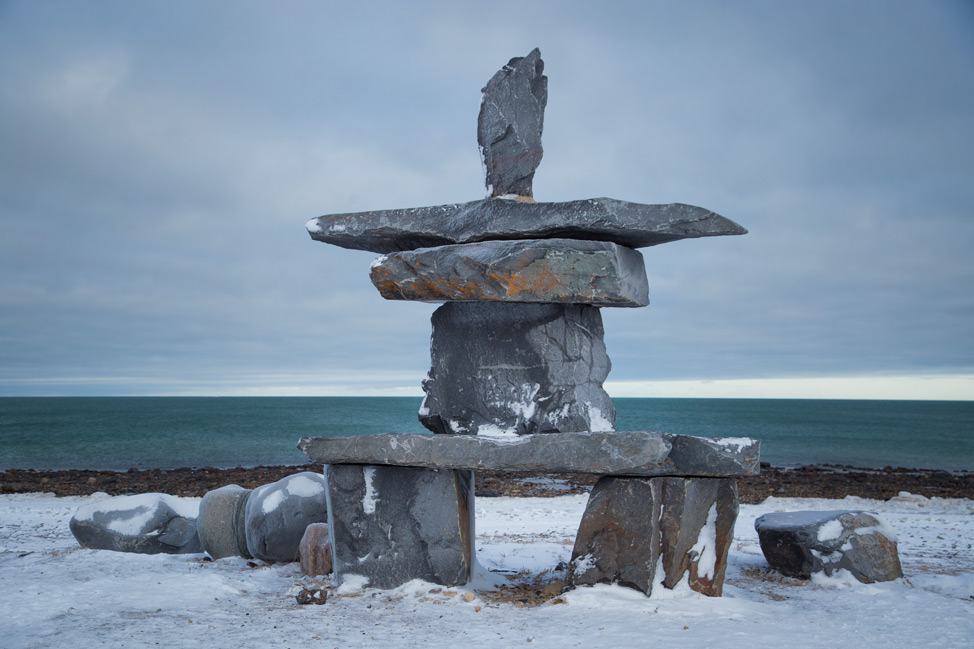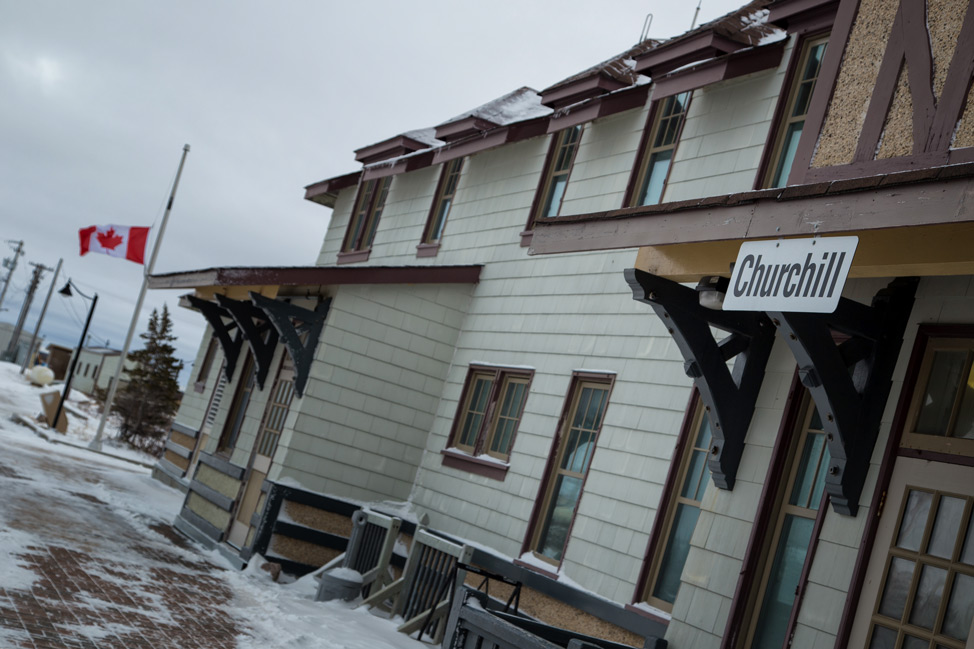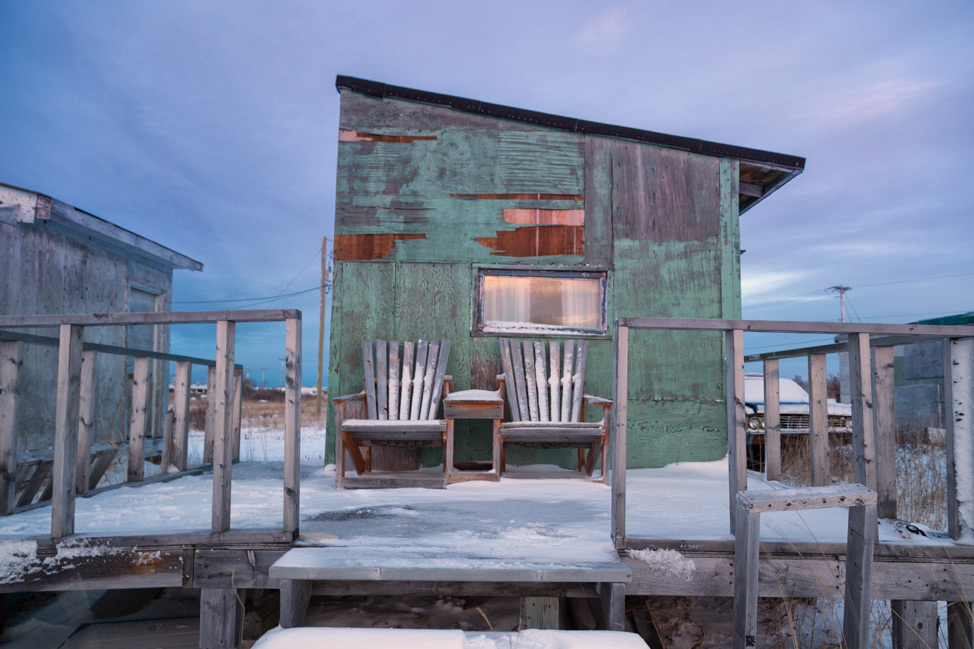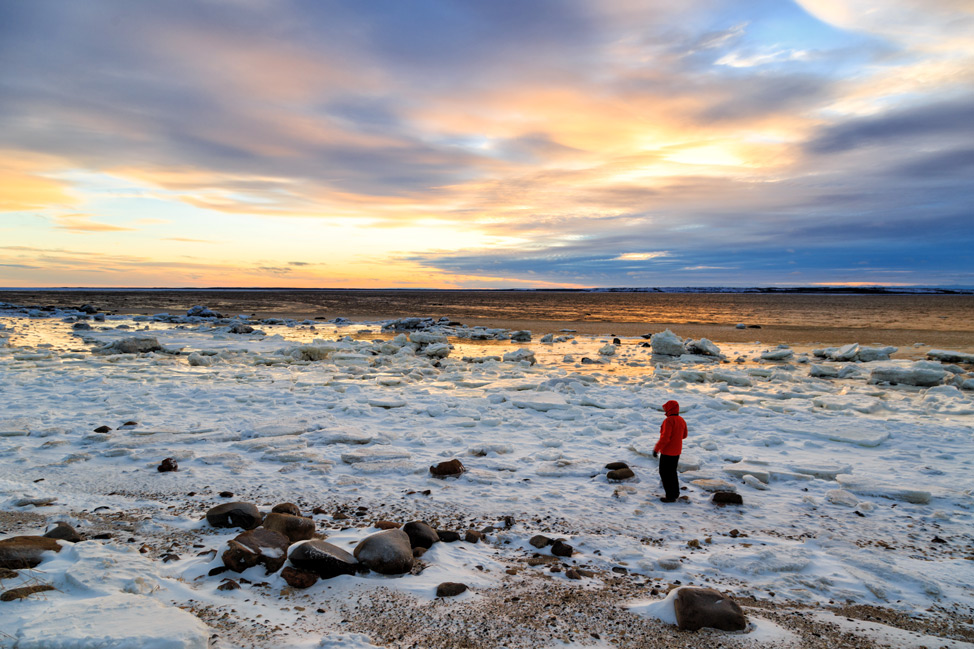 Within minutes of our arrival, we got a taste of what that life might be like.Enroute from the airport to Churchill in the converted school bus, we made a sudden stop. Our driver noticed a small male bear (with paws the size of dinner plates!) sauntering along the ditch on her side, clearly heading for the garbage facility up ahead. With walls reinforced by layers of steel, the bears are prevented from devouring the treasures inside, but the aromas emitted are still alluring. Despite our schedule being in jeopardy, we followed the bear for some time and then drove past the building in order to check that no one would be caught outside and off-guard. Thankfully, the surrounding yard was empty save for the penned dogs whose barks eventually scared the bear off in another direction.
"That's a bonus bear!" our guide Hayley said, referring to the fact that we had our first encounter before even venturing out onto the tundra. A bonus for us indeed, but likely not if someone had been caught unaware around the corner.
Our excitement at seeing that first giant of the north could not be overstated though. For that is what we had made the trip to Churchill for, and the best of our sightings was yet to come.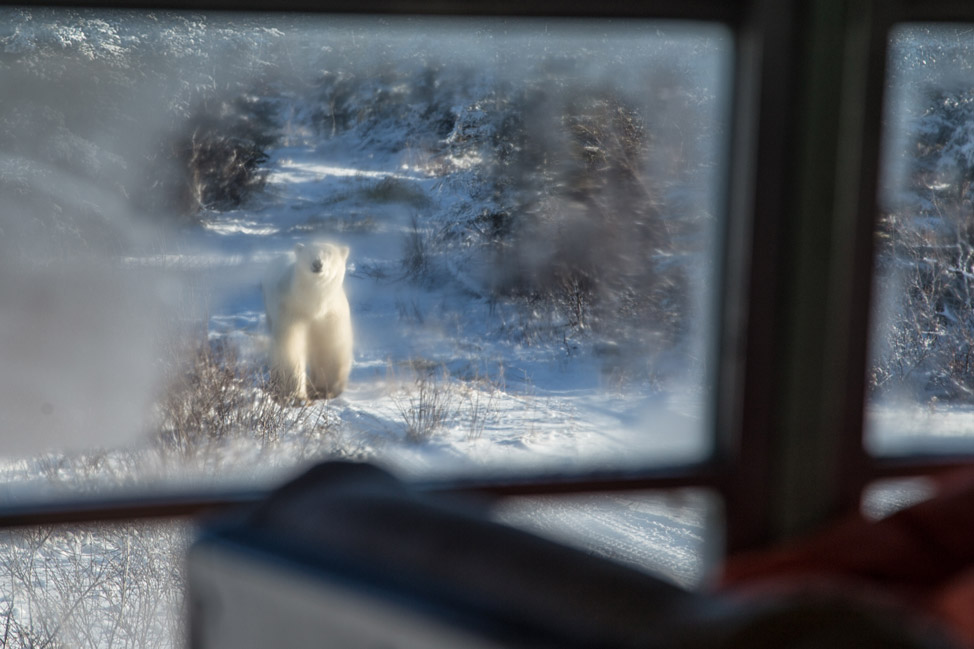 how to do it
We ventured from Winnipeg to Churchill with Frontiers North Adventures, and they offer a variety of tours for different experiences and budgets. They provided us, without a doubt, with one of the most exciting and compelling tours we have ever done, with careful respect for the environment and community of Churchill. We were well taken care of on and off the tundra, and our guide Hayley was nothing short of exceptional.
Our trip was courtesy of Travel Manitoba and Frontiers North Adventures. All opinions, as always, are our own.