Oh, the Glorious Food!
Words by Dalene Heck / Photography by Pete Heck
If there was one thing that Pete and I were most excited about on this journey to Southeast Asia – it was the food.
Pete fancies himself a chef-in-training (rightly so, he is a very excellent cook), and his default meals are always Asian inspired: stir fries, curries and the like. Thus one of the first things we did upon arrival in Cambodia was uncover some of the prominent local dishes, and get to tastin'.
And when we were done tastin', we wanted to get to cookin', and so we quickly signed up for a Khmer cooking class.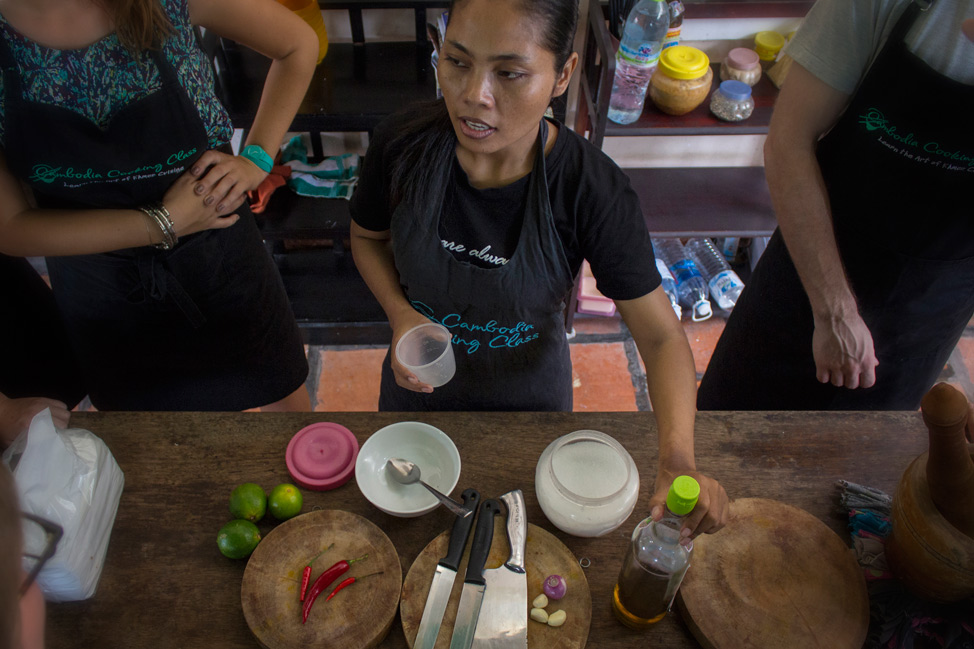 On the menu, the local specialty of amok and the universal favourite of spring rolls!
Fish Amok
It is best described as a smooth curry dish, with a dollop of coconut cream added on top. (While the specialty is to use a white fish, for those of us that find even the smell of it stomach-churning, any other protein can be used.)
For all the intensive ingredients in this dish, it actually was not all that difficult to make (or so says us class participants who had most of the ingredients just handed to them).
Fish Amok Recipe
5 dried red chilies: soaked, drained and chopped into a paste. (Or, use how many you want, depending on level of spiciness desired).
3 cloves garlic
2 tbsp galangal (Thai ginger)
1 tsp lemongrass (thinly sliced)
zest of 1/4 lime
1 tsp salt
optional: 4 tbsp of peanuts
______
3 tbsp fish sauce
500g of protein
3/4 cup coconut cream
2 cups coconut milk
1 egg, beaten
Combine the first seven ingredients in a food processor and blend to a thick paste. Alternatively (more traditionally and definitely more badass), use a mortar and pestle and work those biceps.
Stir the above (called the kroeung) into 1 cup of coconut milk. When it has dissolved, add the egg, fish sauce, and protein. Then add the remaining coconut milk and mix well.
Make banana leaf cups (if so inclined, or ceramic bowls can be used) and add the mixture. Steam for 15-20 minutes, then put the coconut leaves on top. Steam further until the mixture is solid, but still moist.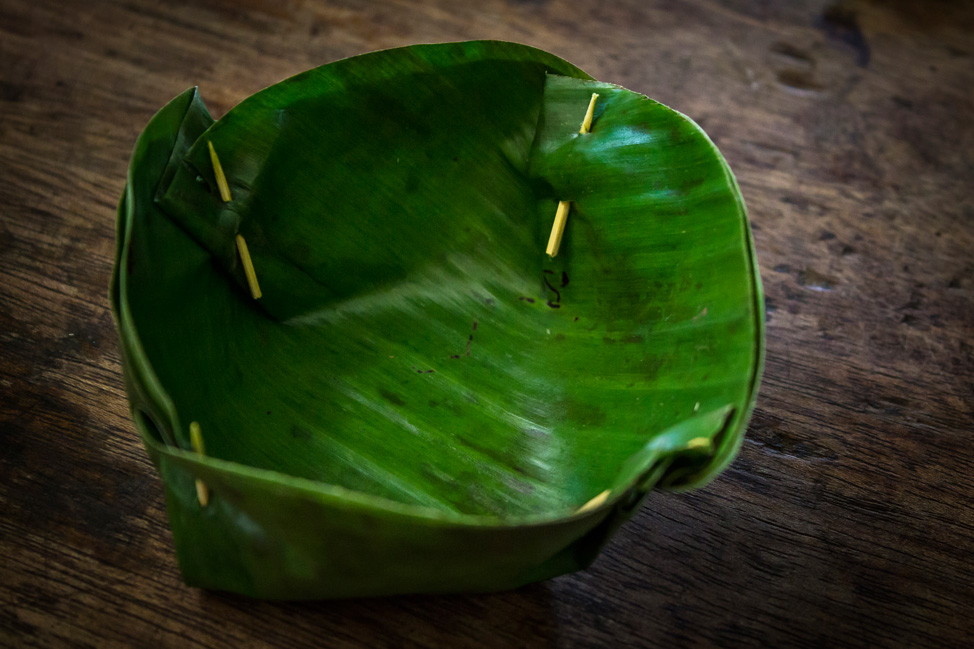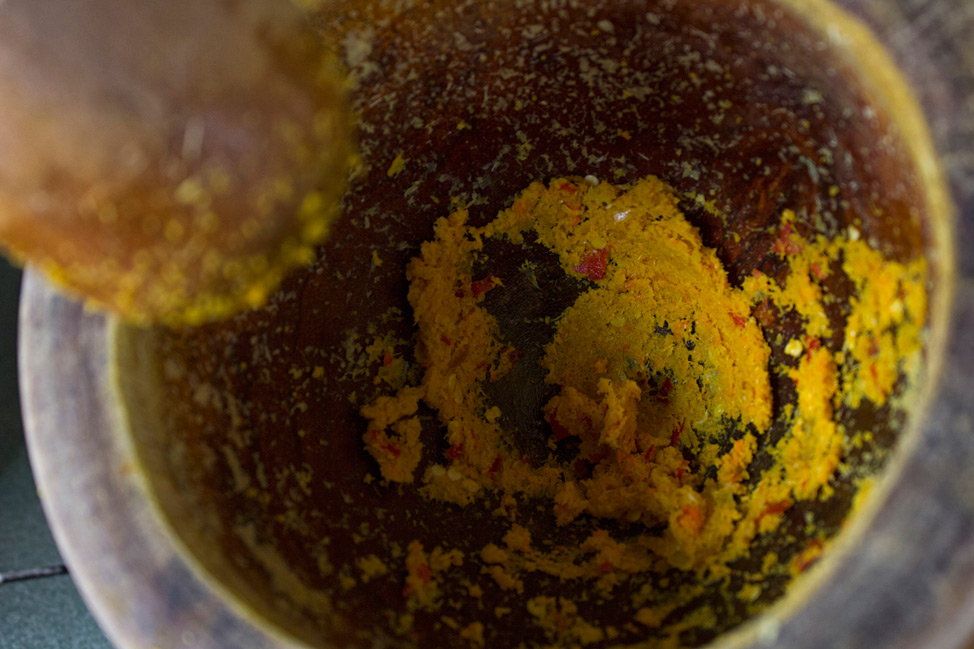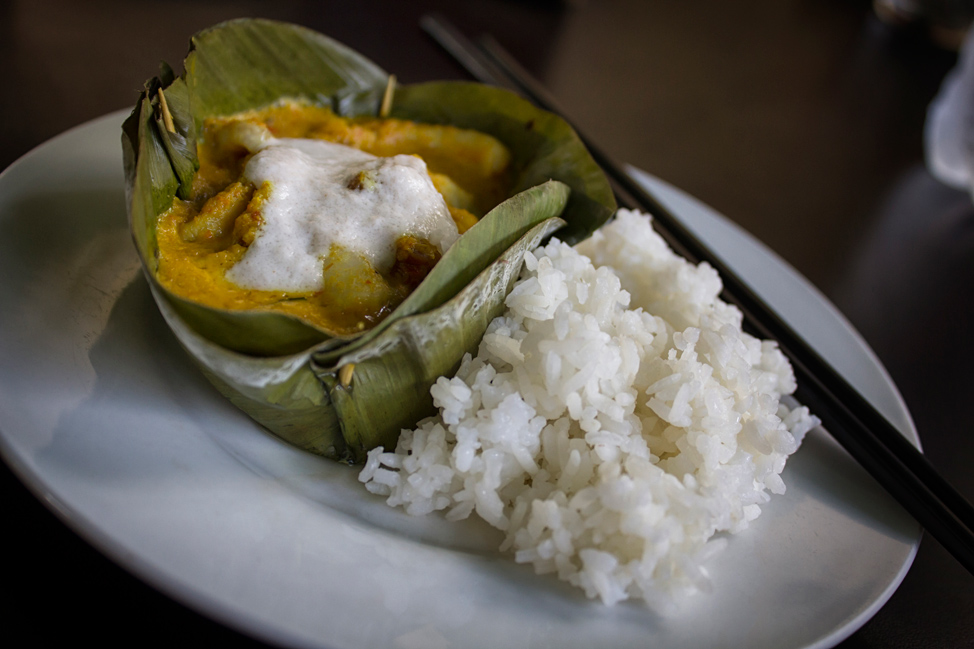 Spring Rolls
I'm not gonna lie, there have been an awful lot of spring rolls consumed by us in Cambodia. And we found their "stuffing" to be unusually simple compared to others we've eaten our lives. While other items (and proteins) can be added, the basic filling has only shredded taro root and carrots.
Spring roll recipe
2 cups taro root (shredded)
2 cups carrot (shredded)
25 spring roll shells (rice paper)
1 tbsp peanuts
1 beat up egg
3 cups cooking oil
salt, sugar, pepper (to taste)
The shredded taro root needs all juice removed, or else it can cause burning in your mouth! (Did not know that.) After shredding, place in a large mixing bowl and add salt to bring out the liquid. Squeeze it out and rinse in clean water, this may need to be done repeatedly until the water is clear (we did it three times). Then mix with carrots, and season with sugar and pepper to taste. Pre-form the mixture into separate rolls.
Lay a spring roll sheet flat on a cutting board and place the filling roll at one end. Roll it tight and seal the end with the beat up egg. Heat the oil on high temperature, then turn it to medium, and place the spring rolls inside. Turn them frequently until golden brown. Remove, let cool, and devour.
Sweet & sour dipping sauce recipe (SUPER delicious)
4 cloves of garlic
1 fresh red pepper
1 fresh hot chili
2 tbsp fish sauce
2 tbsp sugar
1 tbsp salt
2 tbsp lemon juice
1 tbsp peanuts (crushed)
1/2 cup of water
Crush the garlic. Add sugar, salt, hot chilis and red pepper. Stir well and add water, fish sauce, lemon juice. Mix well. Serve with peanuts sprinkled on top.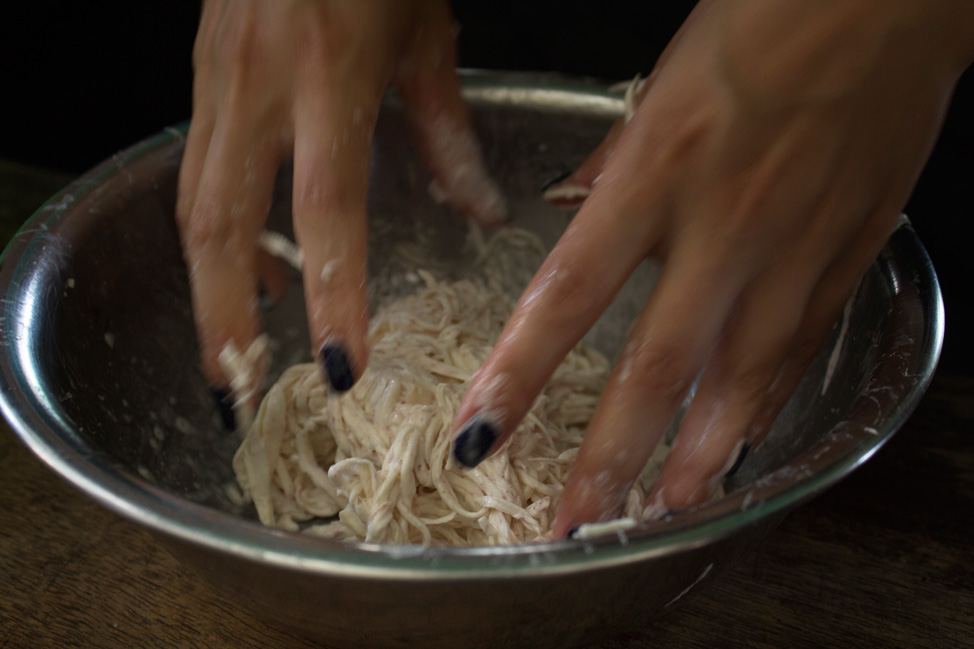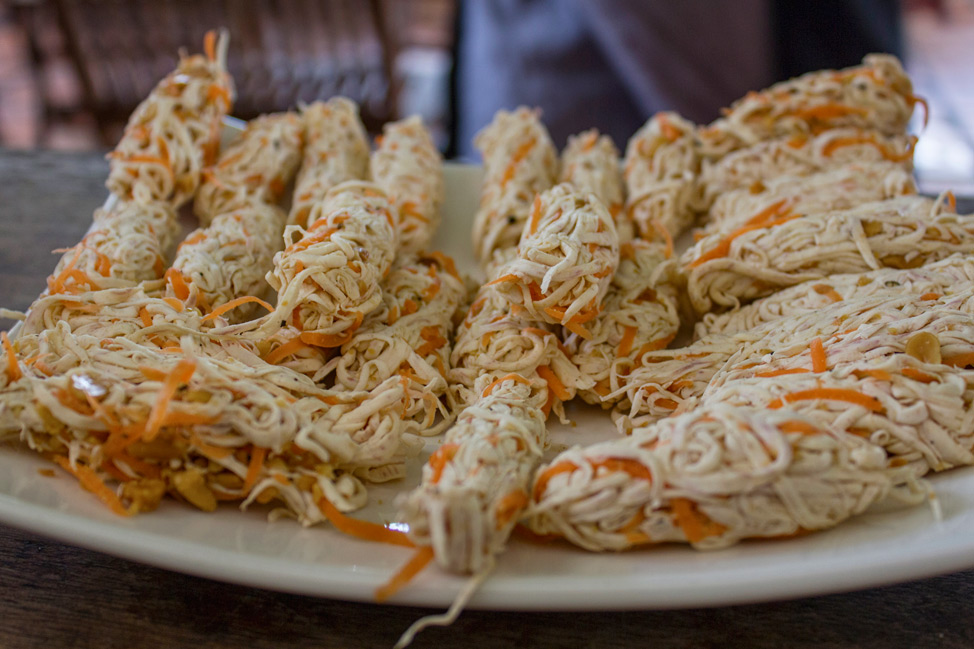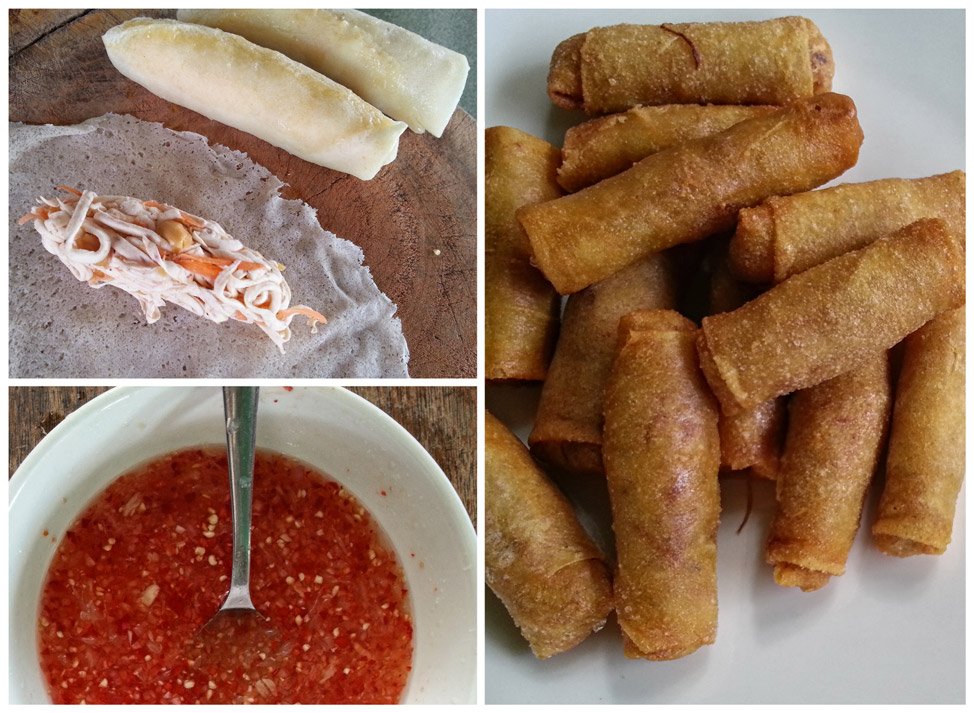 And while I was a full participant in the class, I was much happier during the eating part, and we both declared the results to be the best food we had eaten since our arrival. (There is no one happier than me that Pete has these new recipes and skills in his arsenal.)