Words by Dalene Heck / Photo by Pete Heck
I wouldn't say we were nervous to come back to Latin America, but we did coach ourselves a bit as we sat on the plane into Guatemala City. We reminded each other to raise our shield of wariness, to be more diligent in watching our belongings and skeptical of offers made. Eighteen months of being away opened us up to the fear so commonly spoken of about these parts.
We slipped easily back into our Spanish tongues, much easier than either of us imagined. On the short drive from Guatemala City to Antigua, Pete chatted it up with the driver, albeit in simple Spanish, but it was quite an extended conversation. There were causes for some laughter with obvious slayings of common words – like when instead of Pete calling certain items "cheap" (barato), he called them "drunk" (barracho).
Our driver, and the other few motorists he shared the road with, weren't as crazy as I had built them up to be in my head from previous experience, and the streets were much cleaner. Either Guatemala is an exception to common Latin American problems, or some memories have been twisted over time.
After a few days in Antigua, I believe both are true to some regard.
The city gave us a very gentle re-introduction to Latin America, easing our concerns and reminding us of our comfort level with travel here. Tales from seasoned travelers are not far off the mark – Antigua is fairly scrubbed and aptly marketed for large tourist crowds. Typical North American fare is available and plentiful, several upscale shops are set-up behind crumbled plaster walls.
But we paid no heed, we were too enamoured with all the things to do in Guatemala, and our stunning surroundings, to be bothered by the discord of others. Between sidestepping massive potholes on the sidewalk and roads, we feasted on all the brilliant colours. After months in mostly grey, white and chilly Wisconsin, the blue sky was a welcoming sight, as were the varied hues of the buildings lining the streets.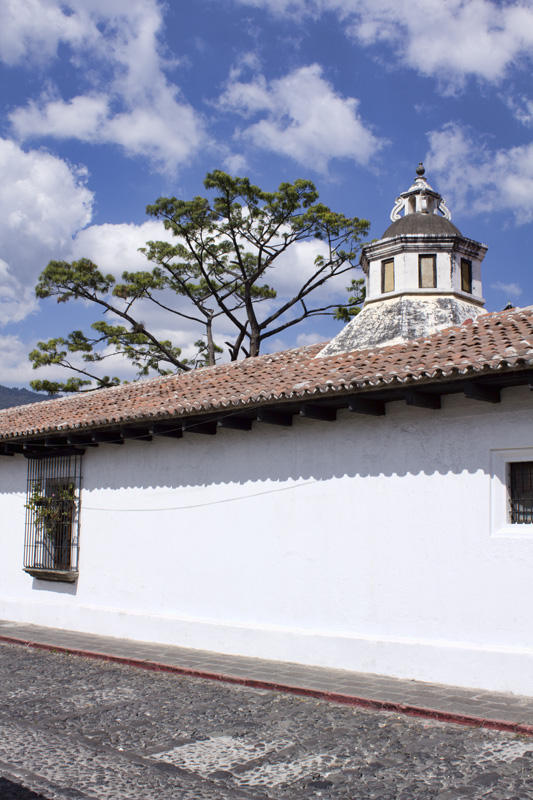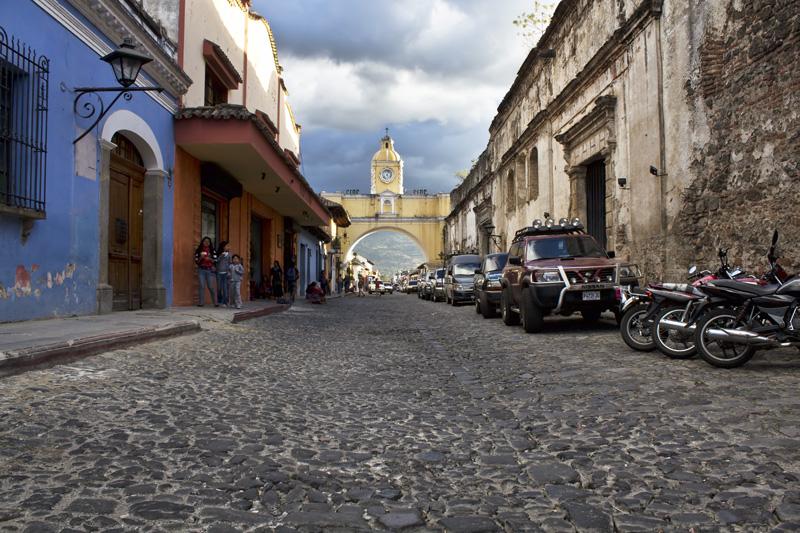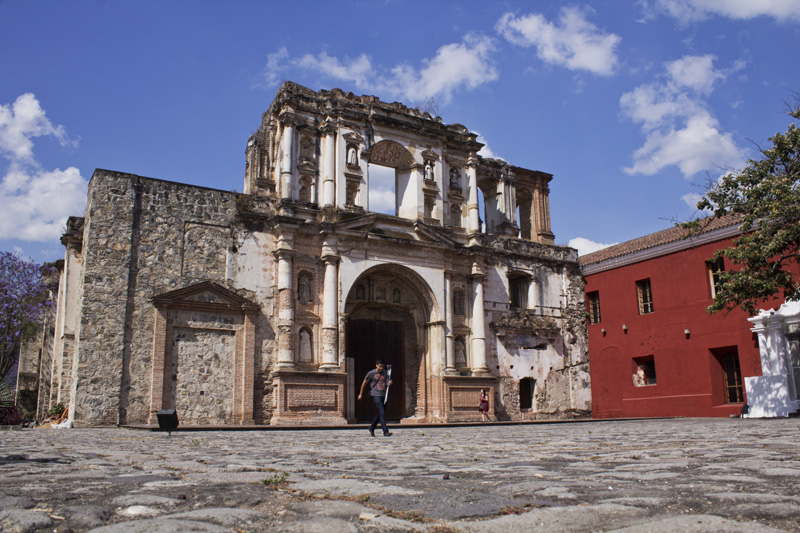 The people were so friendly. Common nods, holas, gentle smiles. We've been caught up in the fast-paced North American and European cultures for too long, the laid-back nature of the Guatemalans eased us quickly.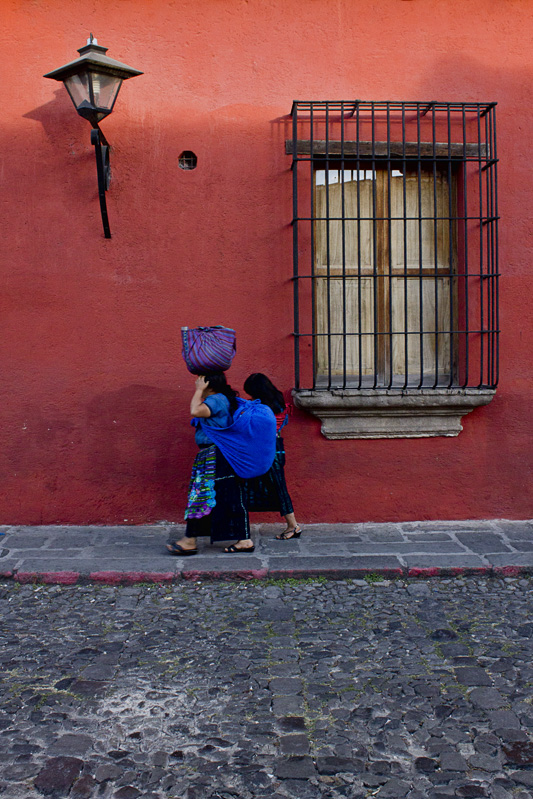 We slurped fresh fruit from baggies, bought for pennies at the side of the road. We wandered map-less, and pleasantly stumbled into the blank and quiet corridors of an abandoned convent. We were never far from the view of the domineering Volcán de Agua, and were reminded of some exhilarating memories living on the base of a rumbling volcano in Ecuador. We wished to see lava flow and the ground to shake, to once again feel the true excitement we knew this part of the world was capable of. One morning I ran out of our hotel room, nearly shouting to Pete who was on his laptop nearby: "Did you feel it? Did you feel it?" I was grinning ear-to-ear, so sure that a tiny earthquake had shook our room. It (disappointingly) turned out to be just the aftershocks of a passing truck.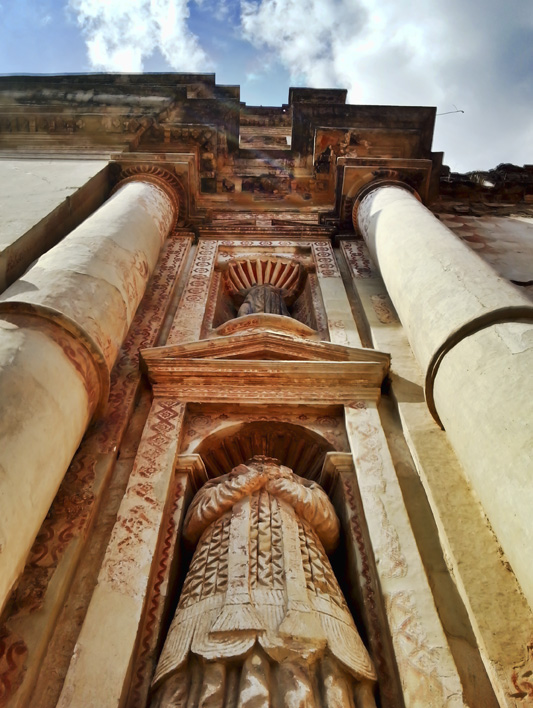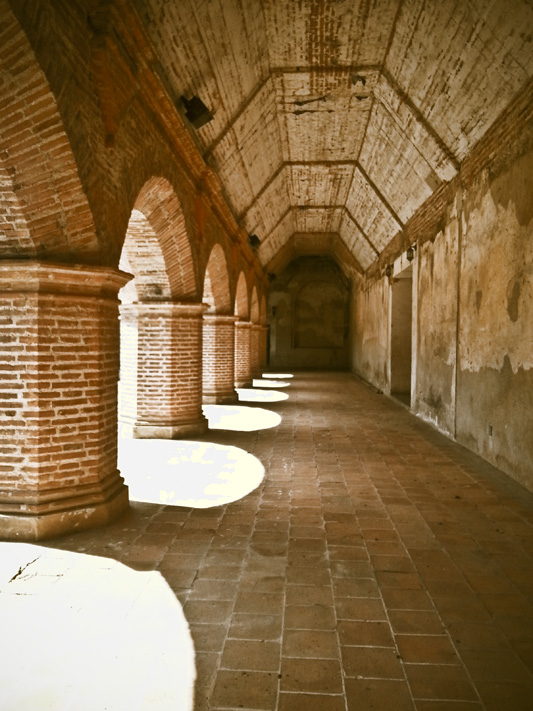 We rode an ecstatic high for our first few days. After several months of being at home and then so close to it, we were thrilled to be back somewhere that felt familiar yet tinged with challenge. Somewhere new but still comfortable. We were gently, gently, introduced back into Latin America, and very glad to have landed in Guatemala.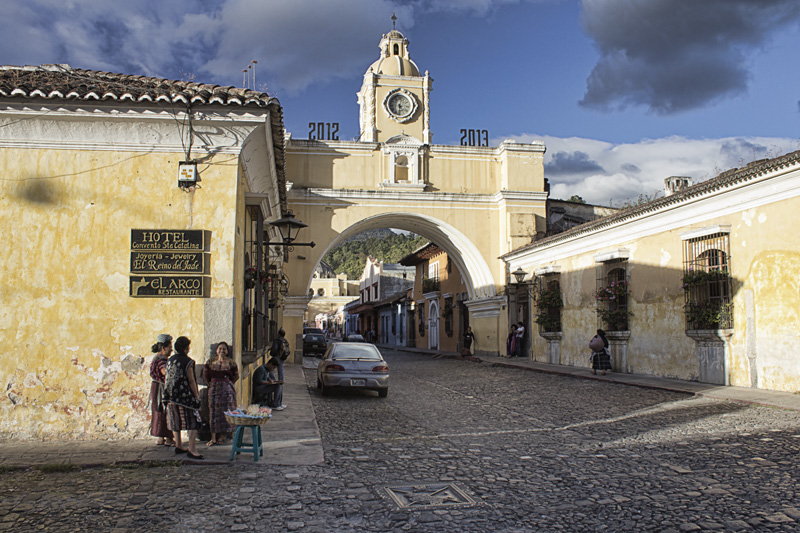 *****
Many, many thanks to the Hotel Casa Antigua who sponsored our stay in Antigua. We were minutes from the main square, and charmed by the intricate details of the historic building. To read our full review, please click here.