Words by Dalene Heck / Photography by Pete Heck
We found it somewhat curious, when we began to look at our itinerary for our time in Tampere, that most of our activities would actually take us out of Tampere.Upon arrival, it all became clear. Not that there is any reason to want to get out of Tampere – quite the contrary – it has the photogenic charisma of a former industrial city fully embracing its roots and celebrating its idiosyncrasies. Quite importantly, they have an exquisite restaurant called "Pork and More" that should be visited regularly (the food scene is bursting in the city, but those ribs were all we needed). And the residents we met were also a charmingly humble bunch – as evidenced by their tourism hashtag of #AllBright, a spin on what they normally say about themselves (that their city is alright, but #Alright was deemed not braggy enough for tourism). It's easy to see that there plenty of reasons to get to know more about Finland's second biggest city.
What became clear though is that in spirit, there is little distinction between being inside the city and being outside. The residents, like other Finns we met but seemingly moreso, embrace their outdoor exploits with gusto and it is easy for them to do so. The city is located between two lakes, has plenty of open space, and even some big adventures on offer.
So while much of our time was spent out in the area surrounding, it was all a part of the greater Tampere experience.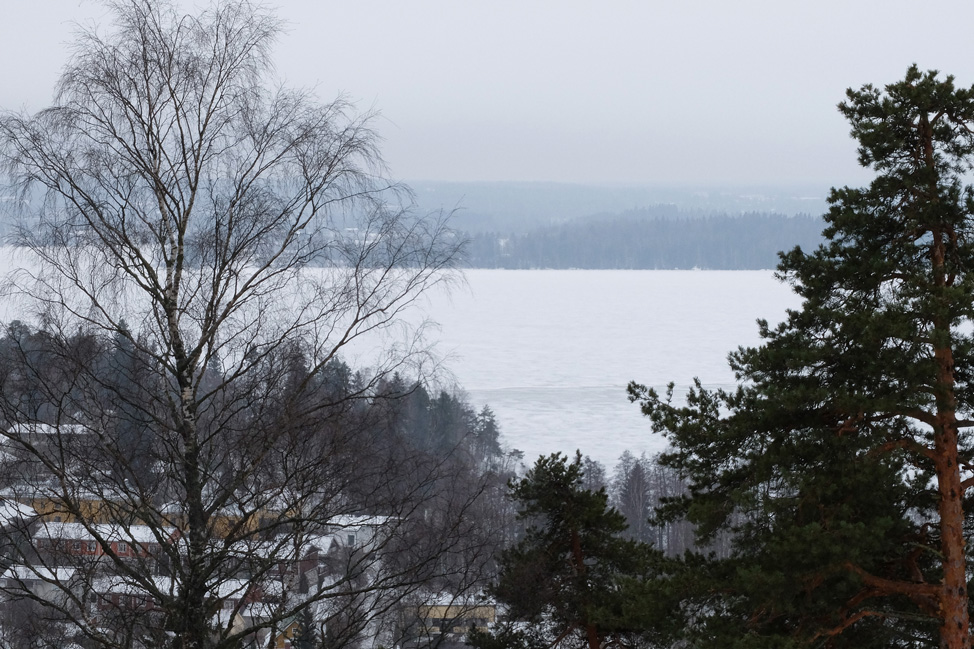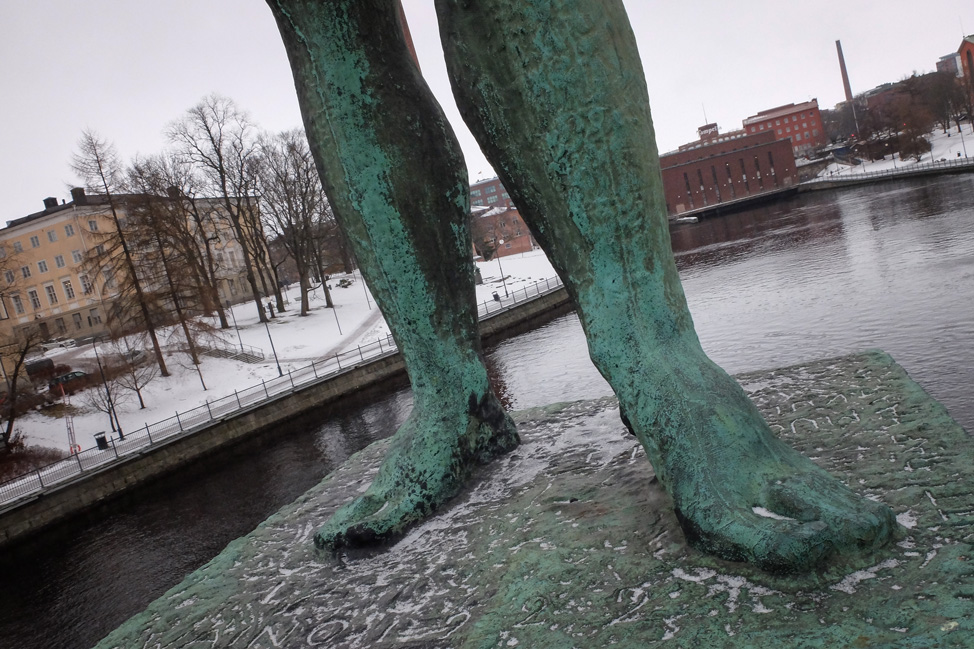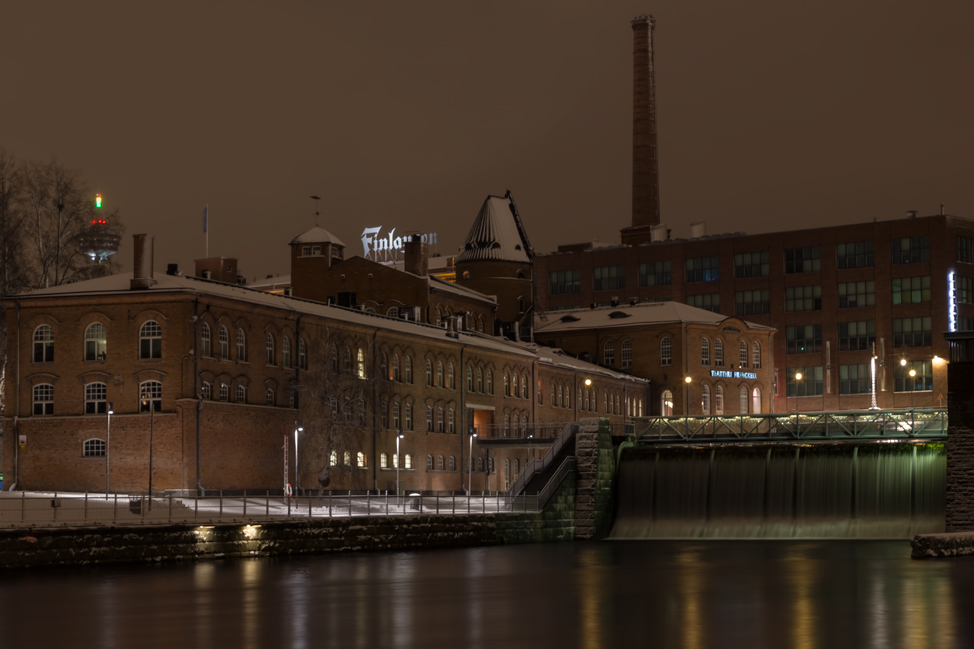 over the edge
And on our first excursion, I did one thing that I've never done before.
I chickened out.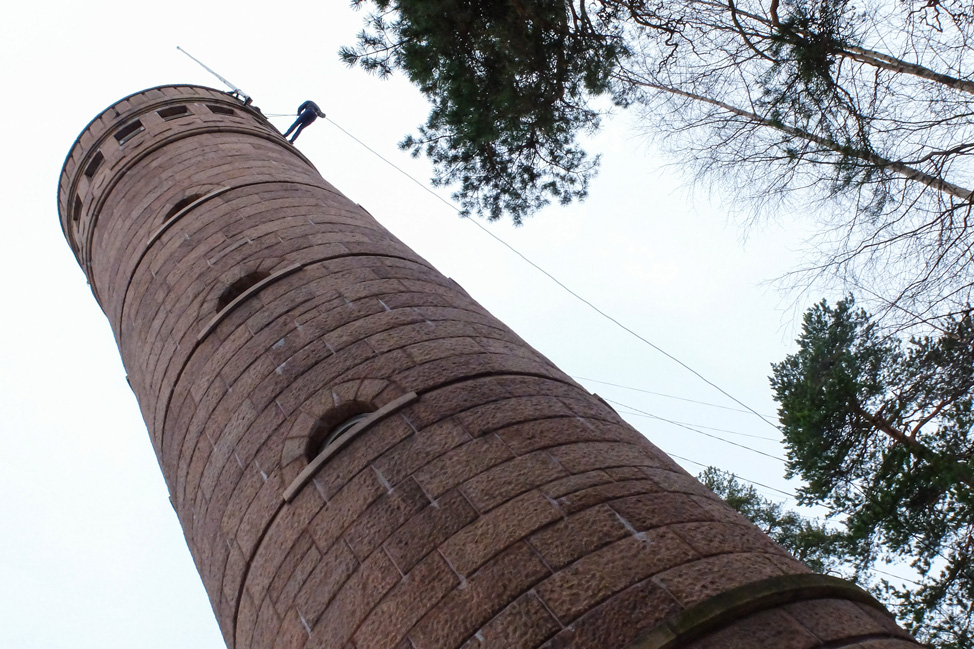 From the bottom, it really didn't look that scary. Neither Pete nor I had ever abseiled before, but this small tower of only 26 meters in height seemed perfectly conquerable. I went through all of the training at ground level, fully assured of myself and even a little cocky.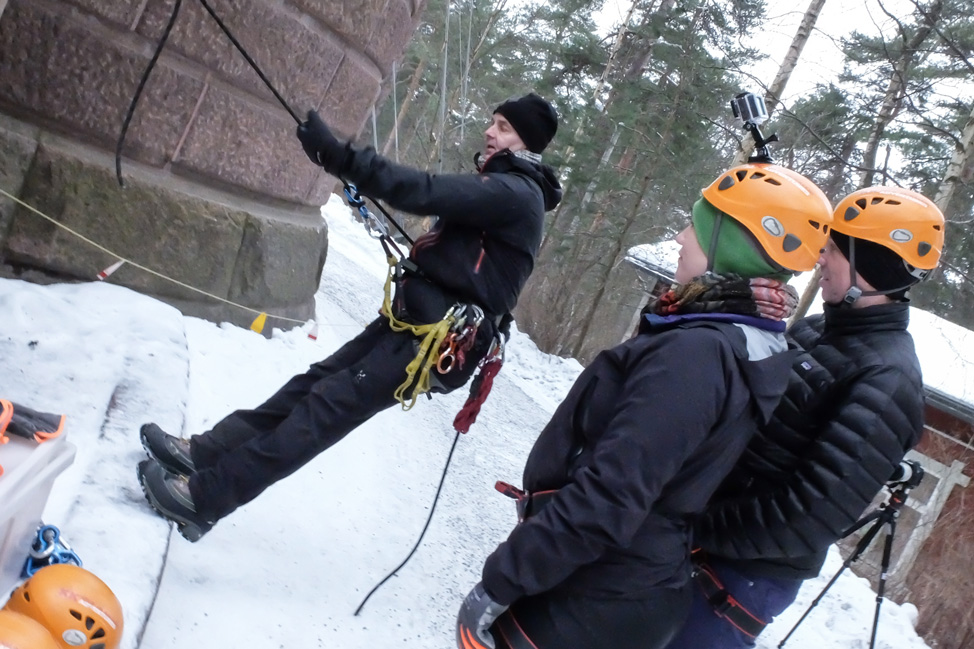 But then we went up.
I really should have gone first. To see Pete teeter on the edge of the tower, his knuckles clenched around the cable, his legs visibly wobbling and his usual easy-going demeanor vanquished, I knew that I didn't stand a chance myself. I encouraged him as best I could as he inched his way down – I called out to him every few feet that he was doing a great job and to keep going. He gained confidence and started to bounce a little off the tower. But seeing him enjoy himself didn't matter, my mind was made up. So while still encouraging him in one breath, I turned to our guide Eero in the next and said: "Yeah. There's no way I'm doing that."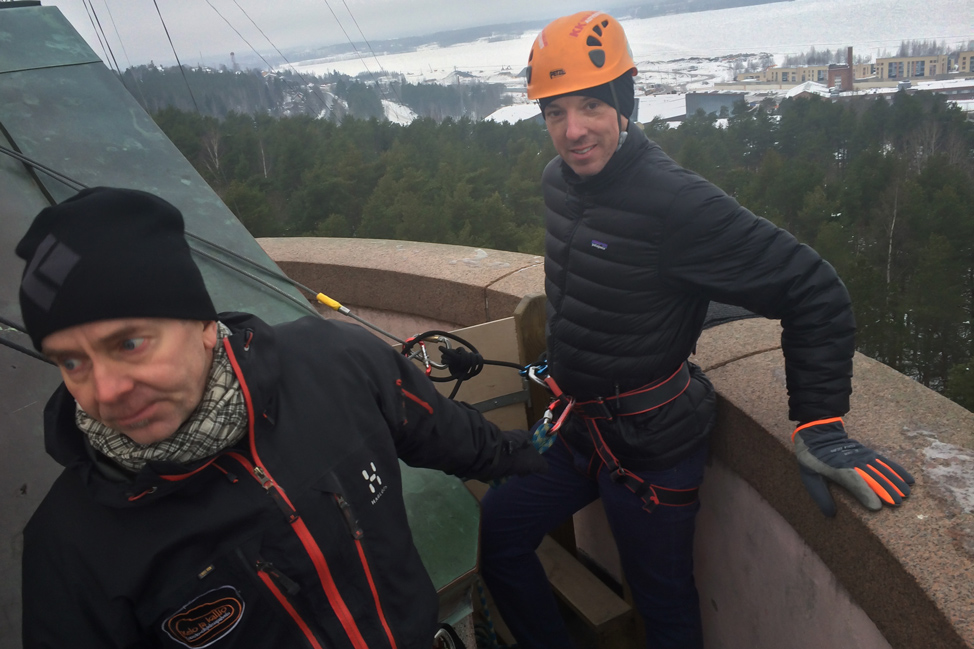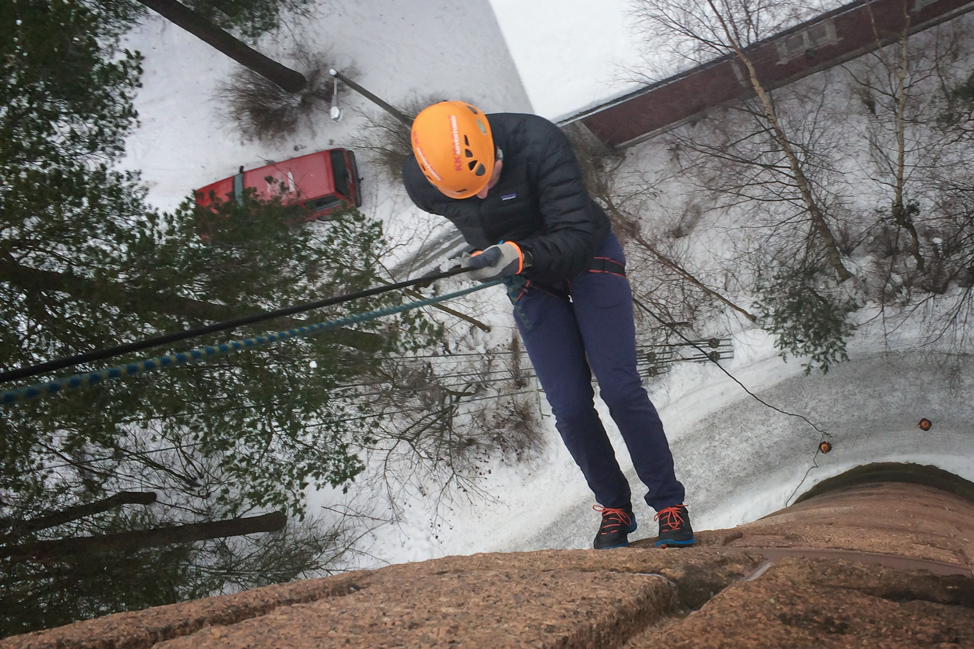 Pete arrived at the bottom, began to ready his camera to capture my descent, when I surprised him with a tap on the shoulder. The stairs were the only way I was getting down the tower that day.
Into the Deep
Now this, I could do.
Even though we had done it before during our last excursion to Finland, we came into the country knowing full well that you all would take great pleasure in watching us squirm again.
Except that this time, the squirming was non-existent. In fact, there wasn't even any screaming. (Although that could have also been because I couldn't breath.)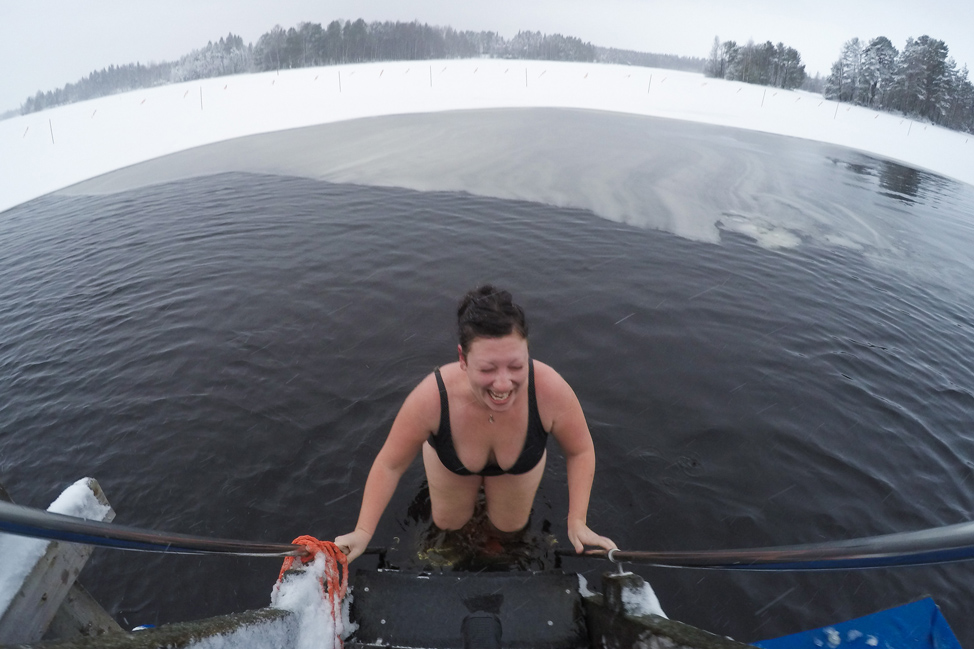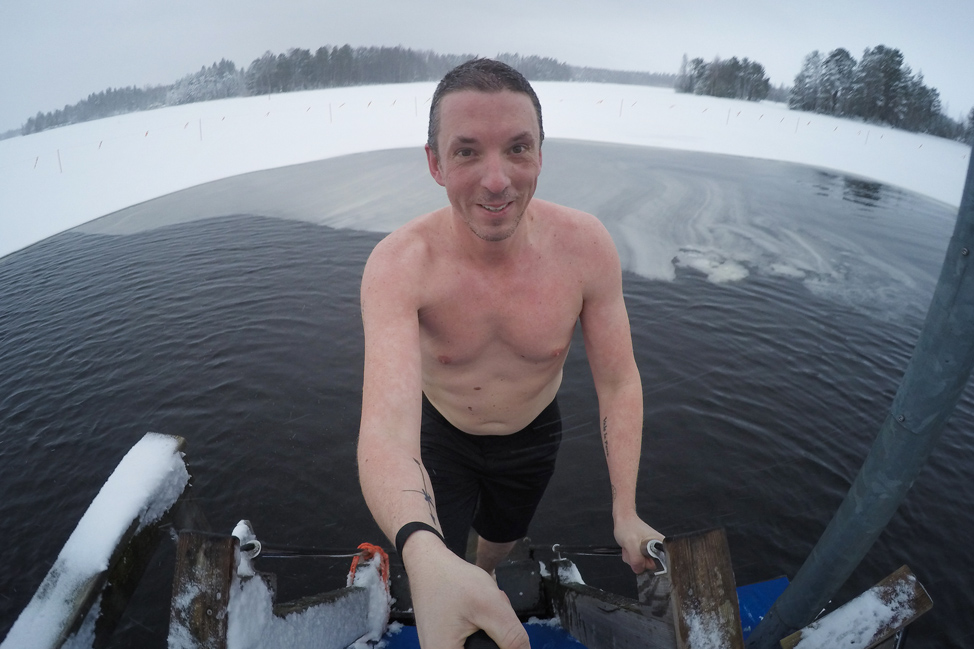 We were just out of the city in a local swim club, the only tourists in the sweaty and busy sauna, speaking the only English in a room packed with Finns. We must have been a curious sight, especially when we decided to not just sample the activity but actually dip in and out of the frozen lake five times (beating our past record of four). "I'm sure I will get a lot of questions about you the next time I return," our guide Pirjo said.
In full truth, it wasn't just the record breaking that kept us going, but the sweet rush of euphoria after each dip. The first few seconds, literally breathtaking and a bit uncomfortable, made the following few minutes totally worth it. Sitting outside with a beer in hand, snow softly falling around us, we glowed from the endorphins rushing under our skin. Several minutes later, the chill would force us back inside for another turn in the sauna and the cycle would begin again.
Last time we braved the frozen lake because you (the readers) forced us to do it. This time, we did it for our own pure enjoyment. And loved it.
Through the forest
On our quest to try every winter activity that Finland has on offer, this was one that we never even knew existed.
We both like to adorn skis from time to time, but cross-country has never quite been our thing as it takes a certain level of co-ordination which, despite being naturally and adequately athletic, somehow evades both of us.
But then we discovered skin-based skis which have a layer of moleskin along the bottom to provide grip. It made climbing small hills much easier, and the shorter skis also gave us each a boost of confidence in careening through the forest.
This was easily the most fun we've ever had tramping through thick snow in a silent forest. (Even if our co-ordination was still slightly off.)
how to do it and where we stayed
While in Tampere, be sure to outdo me by abseiling without fear. ALSO, when done, reward yourself with one of the donuts in the shop below. I don't throw around the words "World's Best Donut" lightly, but in this case, I mean it.
We can't tell you where we were winter swimming in Tampere because we were sworn to secrecy. But there are plenty of other places to try it out.
Try out skin-based skiing with the folks at Hiking Travel Hit LP, who run all kinds of outdoor activities year-round.
We stayed at the beautiful Cumulus Koskikatu, which above all, had a tremendous view of the river valley below.
This post was produced by us, brought to you by Visit Finland.