A Perfect Romantic Retreat. Almost.
At first glance, it appeared that we were only trading one refuge in the wilderness for another. We left our house-sit, drove an hour to Canoe Bay, and found ourselves in another cozy log cabin, surrounded by more unspoiled views of a lake, deep in another secluded piece of forest.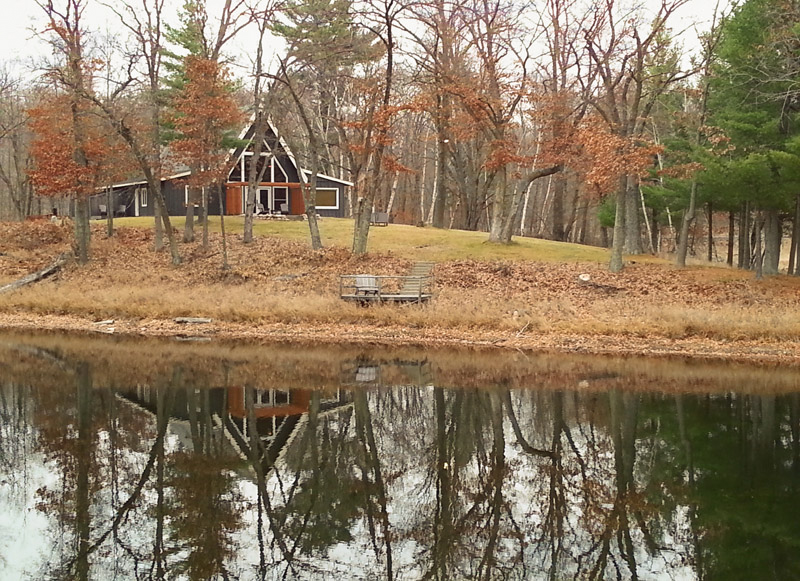 It would undoubtedly be a divine sanctuary for city-trudging warriors. An escape from gridlock onto carefully carved natural trails, a shocking slap of silence compared to the churning of common urban noise.
We thought, given our thorough contentment with our current (and similar) living arrangement, that we may not be easily seduced by the resort, despite it's rating as one of the top romantic hotels in the world. However, once we settled in, and gave ourselves over to the indulgent service, the spectacular cuisine, and yes, the romance, our two nights at Canoe Bay became a captivating affair to remember.
Our room with a gorgeous view. Just behind the photo was a luxurious king size bed, to the right, a self-adjusting fireplace, and to the left, a whirlpool tub built for two.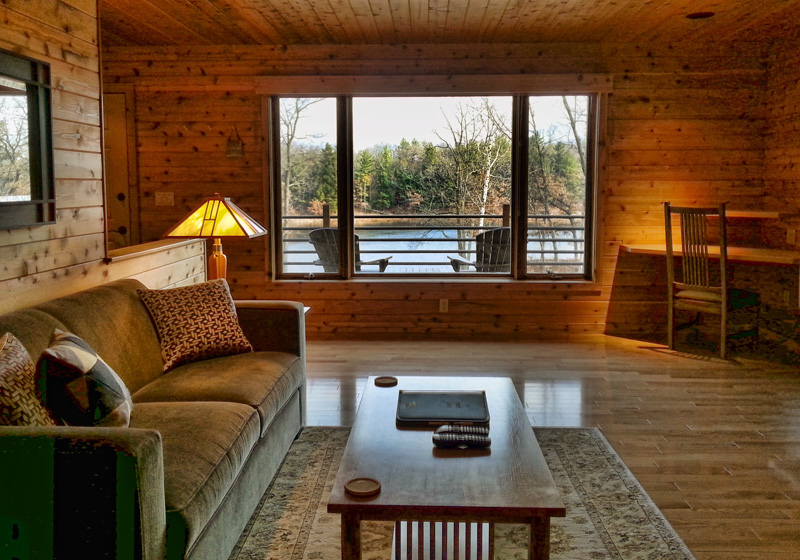 Spoiled much? To start off our day, a healthy and hot breakfast was delivered right to our door.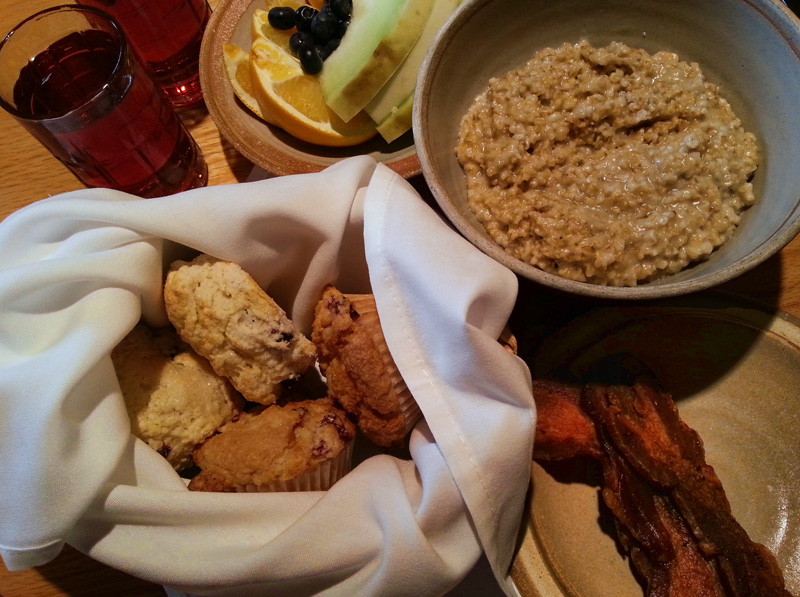 By candlelight we enjoyed dinner in an intimate lounge, and savoured every single bite placed before us – as if not finishing it in it's entirety would be to smite the kitchen, for all the obvious care they put into each and every dish.
The first night: organic greens with pears and fresh goat cheese; beef tenderloin with caramelized pearl onions and carrot puree; raspberry tart for dessert.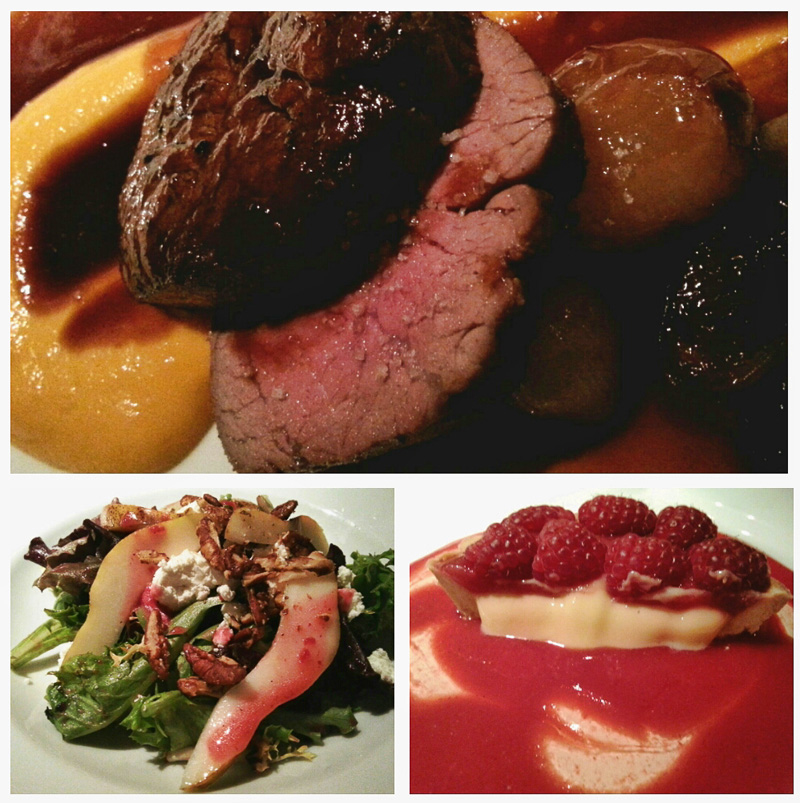 The second dessert stole the show though, brownies slash fudge slash all the chocolate-y goodness we could handle.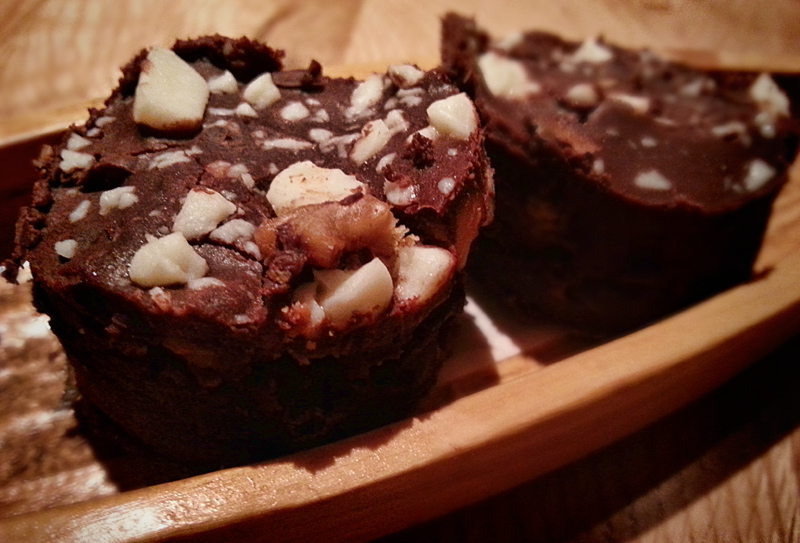 The second night: orange, arugula, radish and honey with cracked pepper; butternut squash soup with sunflower seeds, chives and sunflower oil; pan-seared Alaskan halibut with purple fingerling potatoes, mushrooms, and an orange rosemary sauce; blackberry tartlets for dessert.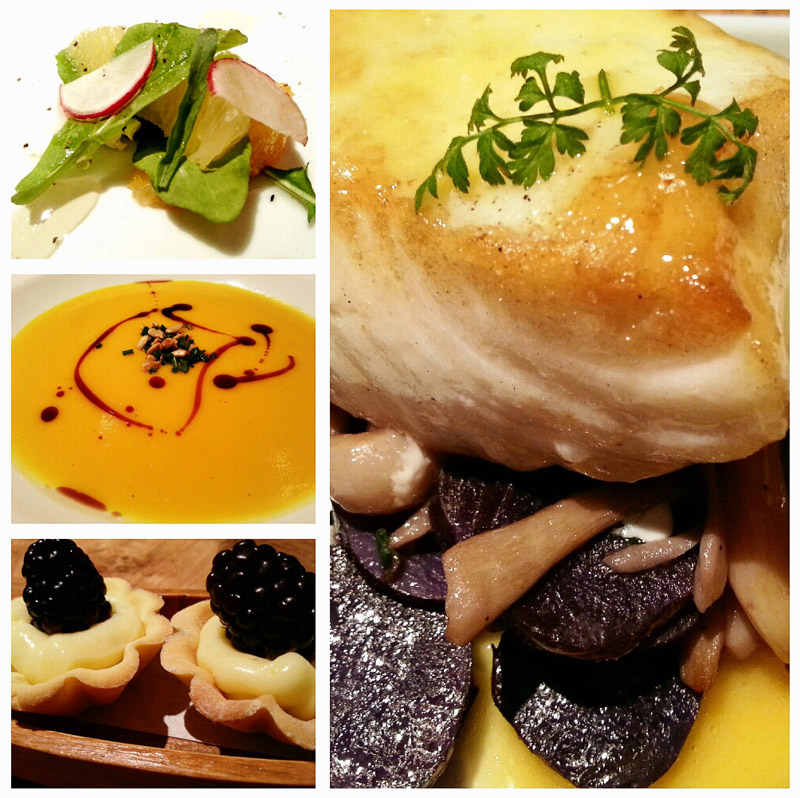 This was exactly our kind of place. It was at once pure luxury and sinful decadence, but also in the most casual of settings. Before the splendor to be devoured at the dinner table each night, we spent the days exploring all inches of the property.
So many locals have commented to us that we are in Wisconsin at the exact wrong time of year – too late for the brilliant colors of fall, too early for the pristine white blanket of winter. There is something to be said for wandering in the brilliance of browns though, hearing that satisfying crunch of leaves underfoot while cool air faintly swirled around us.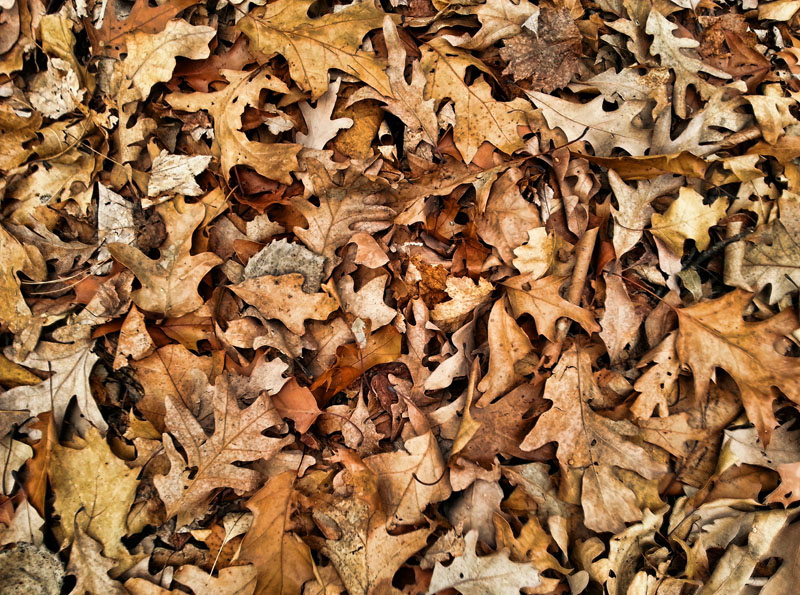 Maybe we had TOO much fun.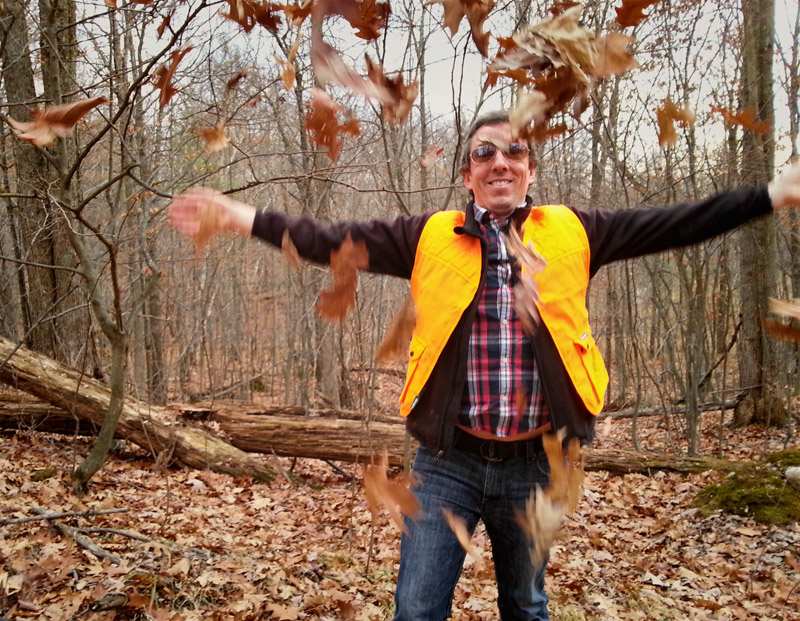 And, you know if there is a lake, we have to get on it.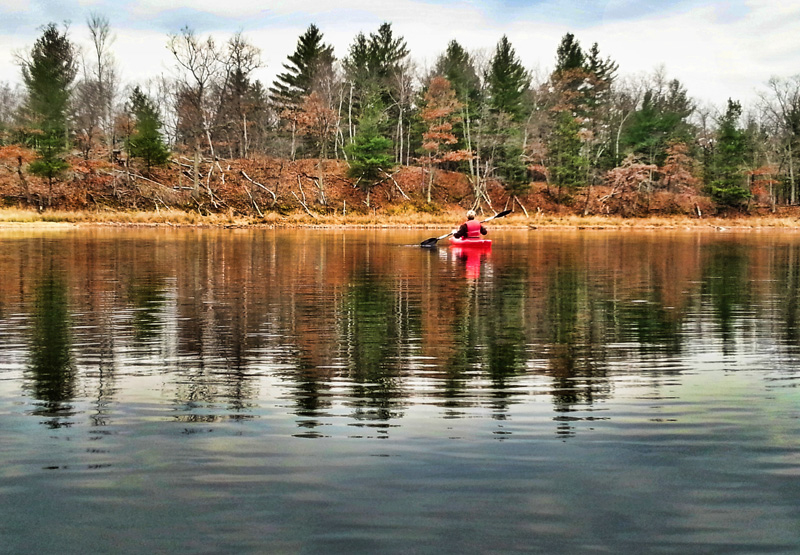 Scattered throughout the property are views built for two.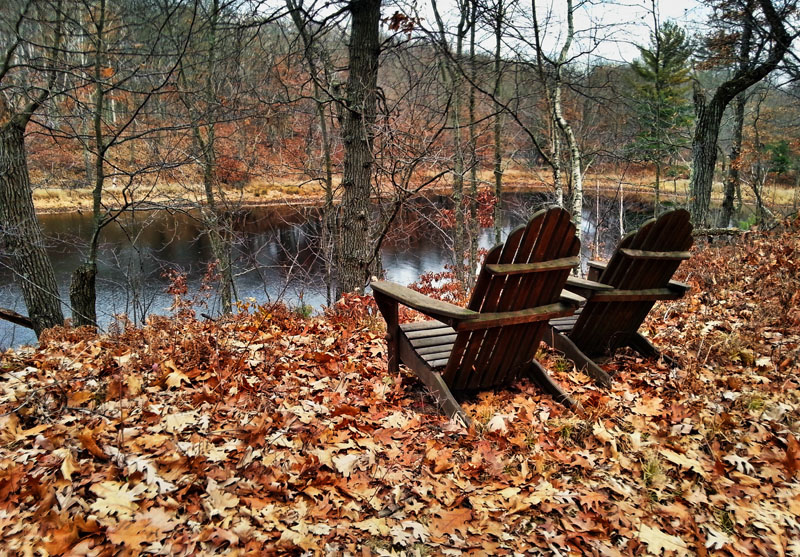 We ducked into the library to snuggle up with hot chocolate and a good book.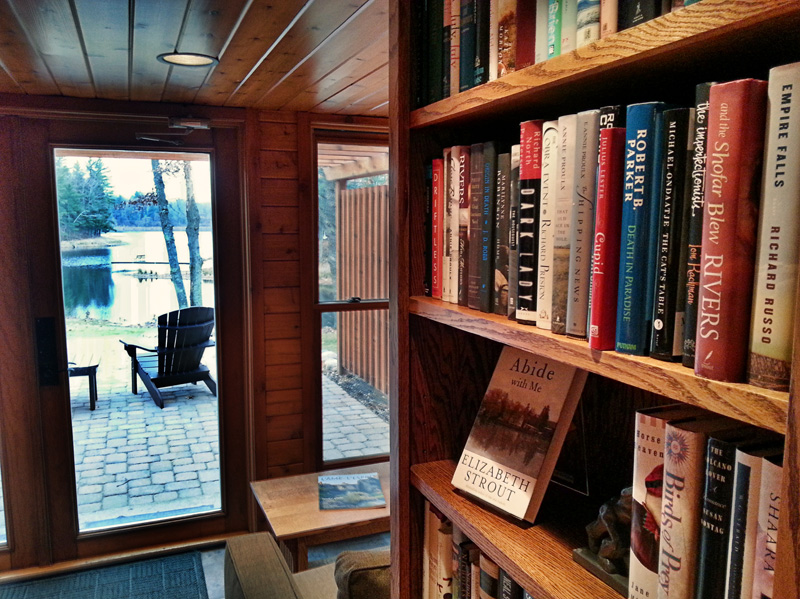 The early morning fog on our last day epitomized our mood at having to leave.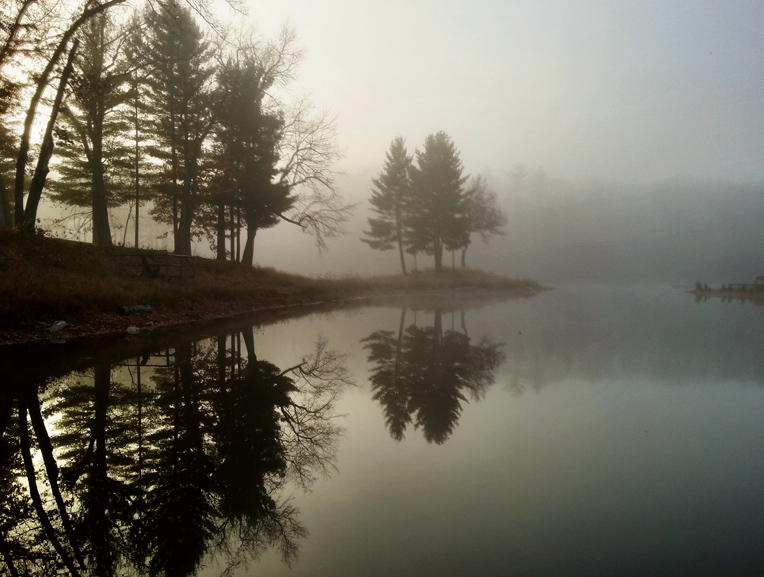 We fell for it. Every nuance designed to emphasize romance hit it's cue with us, almost completely.
I say 'almost' because there was one slight barricade to total happiness, one grievance that caused a blemish in our perfect rendezvous.
As snap-happy as we usually are to record all such distinguished moments in our travels, on this trip we were limited. Being that this excursion was gifted to us by Samsung Mobile, we left our DSLR behind and relied solely on our new Galaxy SIII, which we love, but…
We had only one camera.
There are two of us.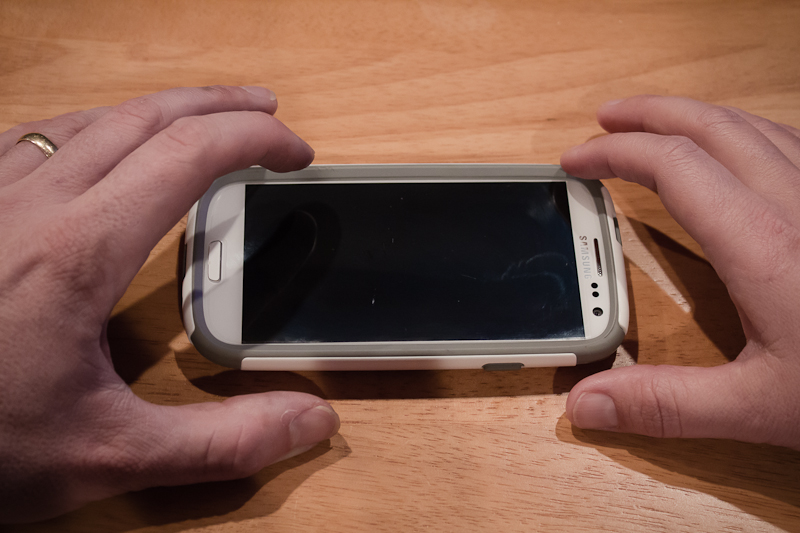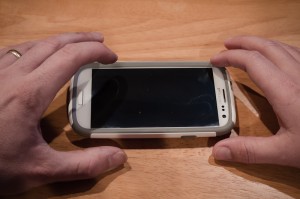 (And, you have to understand, I had better lighting at my side of the dinner table. I DID! And, the angle that Pete was using to take the photo of the two deck chairs was totally wrong, I tell you!)
So, perhaps a little childish quibbling resulted, as we both lunged for the Galaxy at all the opportune moments. We are quite enamoured with the camera, you see, and we both have a sincere passion to bring you the best photos possible.
There are worse things to fight about, I suppose.
(But maybe we could work on our timing.)
*****
All of our photos and this post (and the next one!) were taken with our Samsung Galaxy SIII. Many thanks to Samsung for gifting us the phones, and for sponsoring this trip to Canoe Bay. All views expressed here are our own honest opinions and do not reflect the views of Samsung.