Words by Dalene Heck / Photography by Pete Heck
It all starts with bread.
Then…more bread.
Then finally (after one more slice of bread), the main dishes come out and the real fun begins. One thing that we didn't expect from Turkey was to enjoy the food so much!
Turkey has so many different dishes it was impossible to try them all. No matter what your food preference is, you will not go hungry in this country.
here is a selection of the dishes we loved…
Simit – The Turkish pretzel. It's a baked dough ring covered in sesame seeds. You can find them at anytime or anywhere and are a perfect snack. You could almost say it's the national food of Turkey.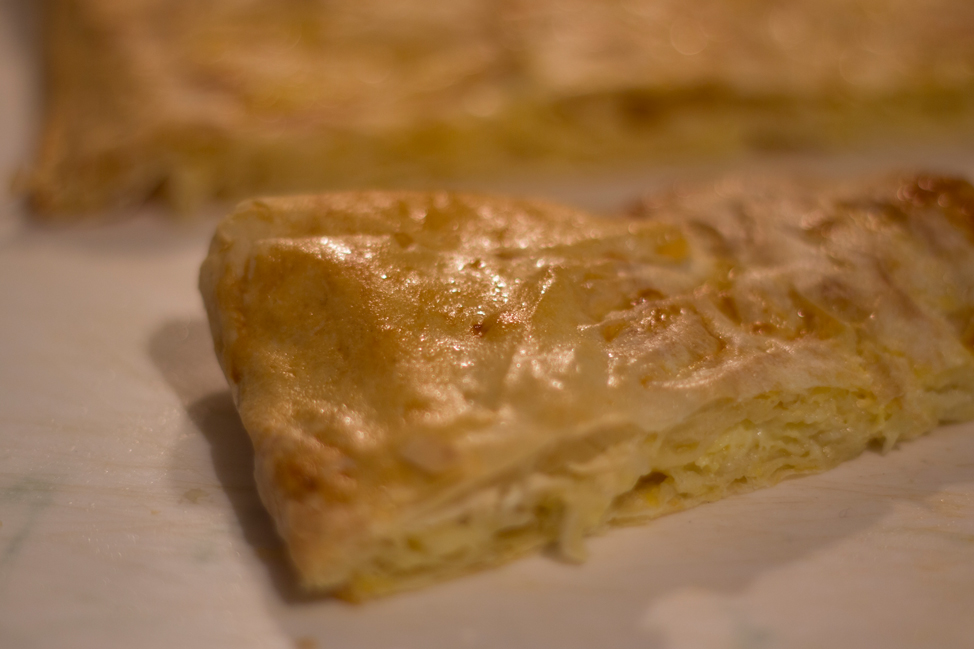 Börek comes in many shapes and varieties. But it is essentially two things that we all love: pastry and cheese. Sometimes they will try to sneak some spinach in there to make it healthier, but you can totally pick that out in protest if you choose.
Döner – Turkey's cheapest and best fast food. The chicken or lamb is slow roasted on a huge skewer and then thinly sliced off to be served on bread or rolled up in a wrap. It is topped with tomatoes, lettuce, a special tomato sauce (and, if you wish, ketchup and mayo).
İskender Kebap – It took us until our second visit to discover this, and it quickly was elevated to one of our favourite dishes. Take delicious, savoury döner meat, top it with burnt butter and tomato sauce, and smother it all over chunks of fresh bread. A dollop of yogurt on the side adds some refreshing twist on the flavour.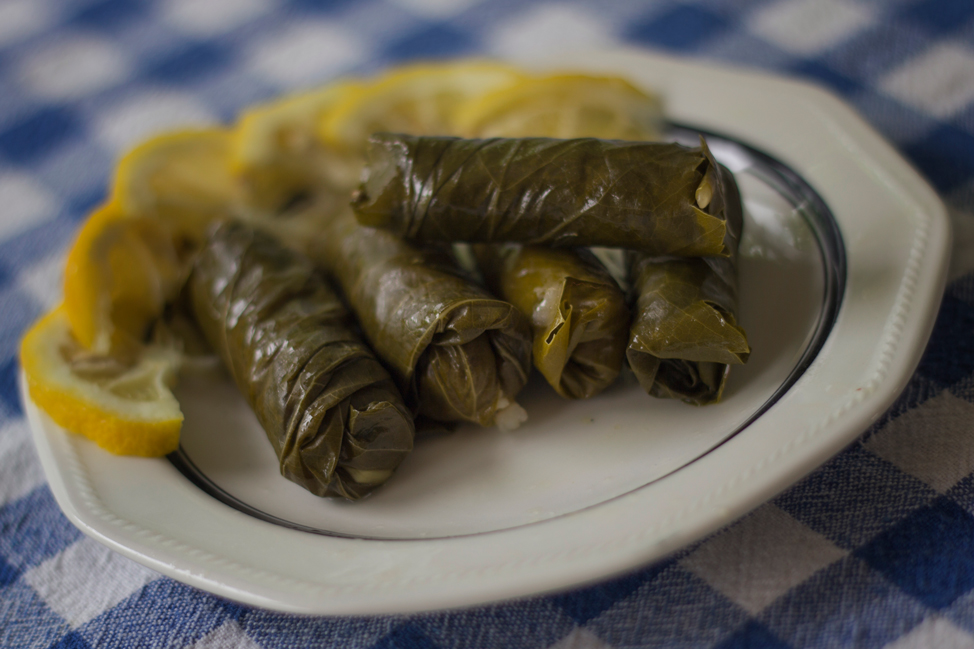 Sarma – One of our favorite snacks or pre-meal appetizers. They can be found throughout the Mediterranean countries, and Turkey's form of the dish is delicious. Grape leaves are stuffed with a rice, garlic and olive oil mixture and then topped off with lemon juice. We often found ourselves reaching for second (and third!) helpings.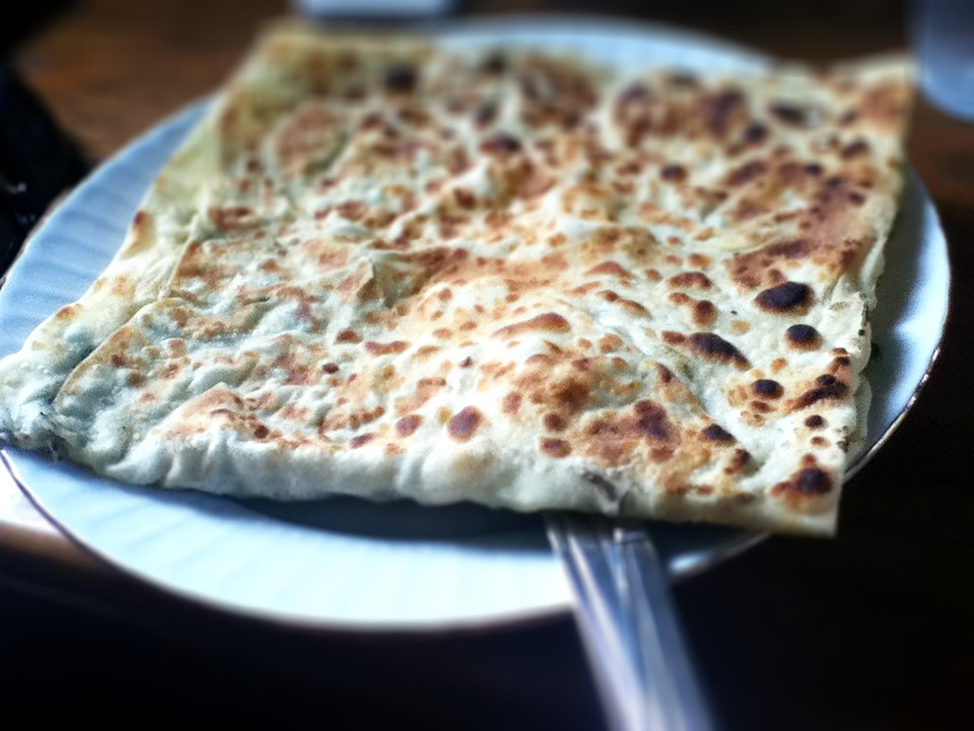 Gözleme – A hand made pastry stuffed with either spinach, cheese or potato. It is very similar to the savory Greek pastry Spanakopita.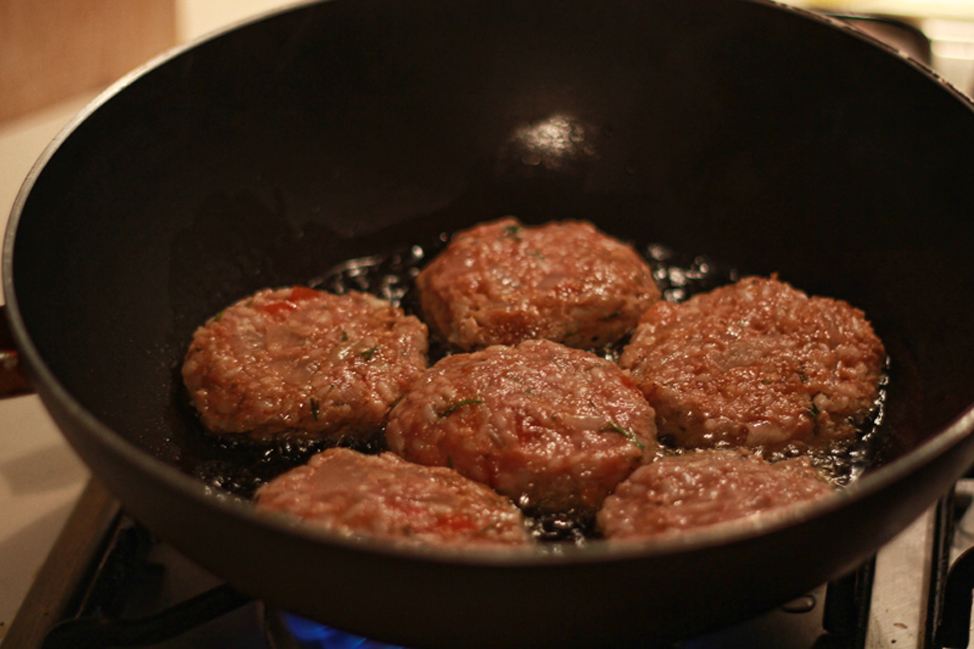 Köfte – These little meatballs can be found in a multitude of different dishes – we preferred them just plain grilled or in a spicy tomato sauce. We even tried cooking them on our own.
Mercimek Koftesi – This dish is considered a delicacy in Turkey and we were fortunate enough to try it on a picnic with friends. They are lentil and bulgur wheat balls, rolled up in lettuce and topped with lemon juice. A great vegetarian dish and a recipe for this can be found here.
Mezes – These are the Spanish tapas of Turkey. Small specialty dishes that generally serve as either a snack with drinks or the appetizer before the main meal.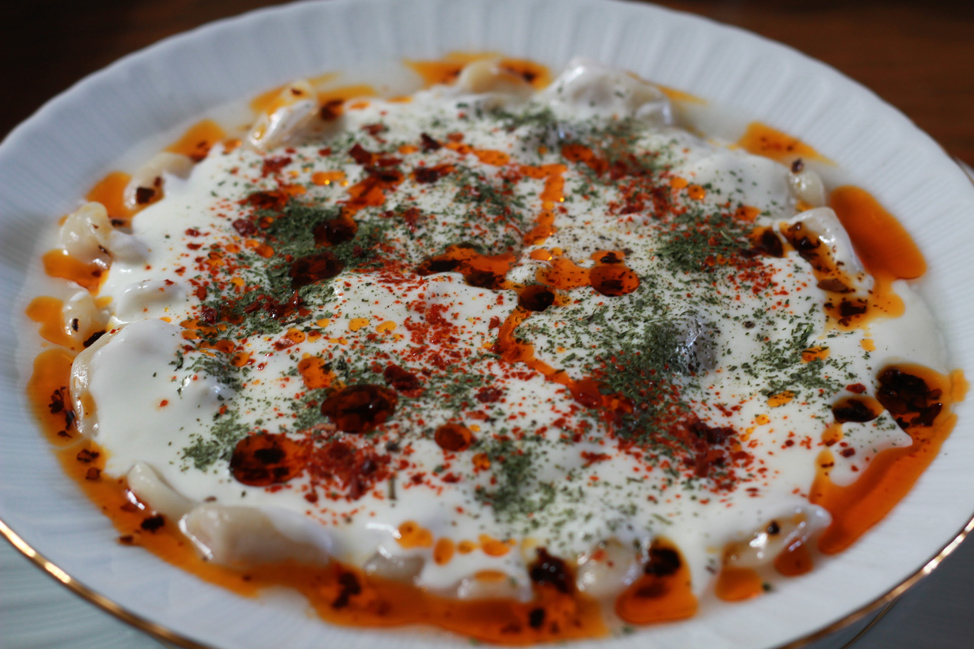 Mantı – One of our favorites. Small pasta ravioli like shells filled with meat and topped with yogurt, garlic and a chili oil. It is normally garnished with mint, and normally inhaled within a few minutes. It is THAT good.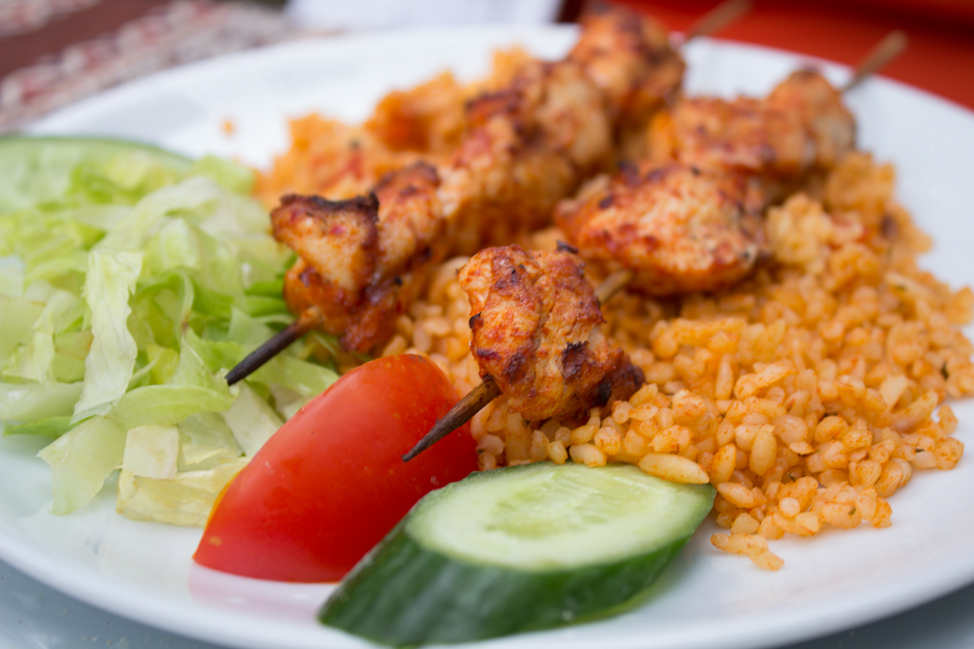 Şiş – You can't go wrong with grilled meat on a stick. Found on probably every menu in Turkey, chicken, beef or lamb is generally served with a side of rice and a salad.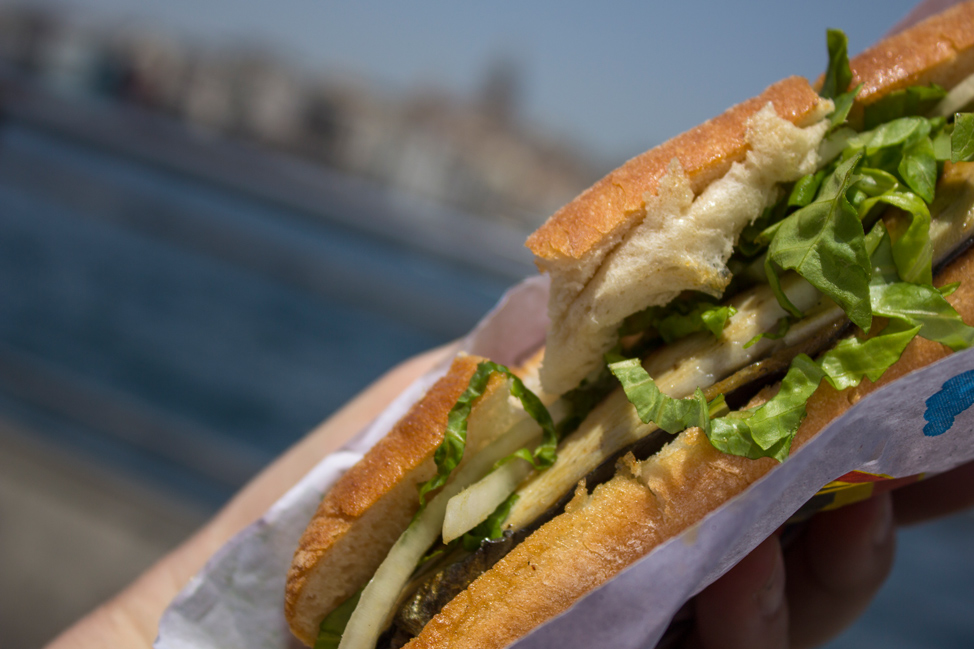 Balik Ekmek – A staple along the coasts, fish sandwiches are typically cheap and always fresh.
Patlican Musakka – Roasted eggplants, minced meat, peppers, tomatoes, tomato paste, onions and an array of Turkish spices all mixed together and slow cooked for a mouth watering meal. Of course it can be topped off with some yogurt.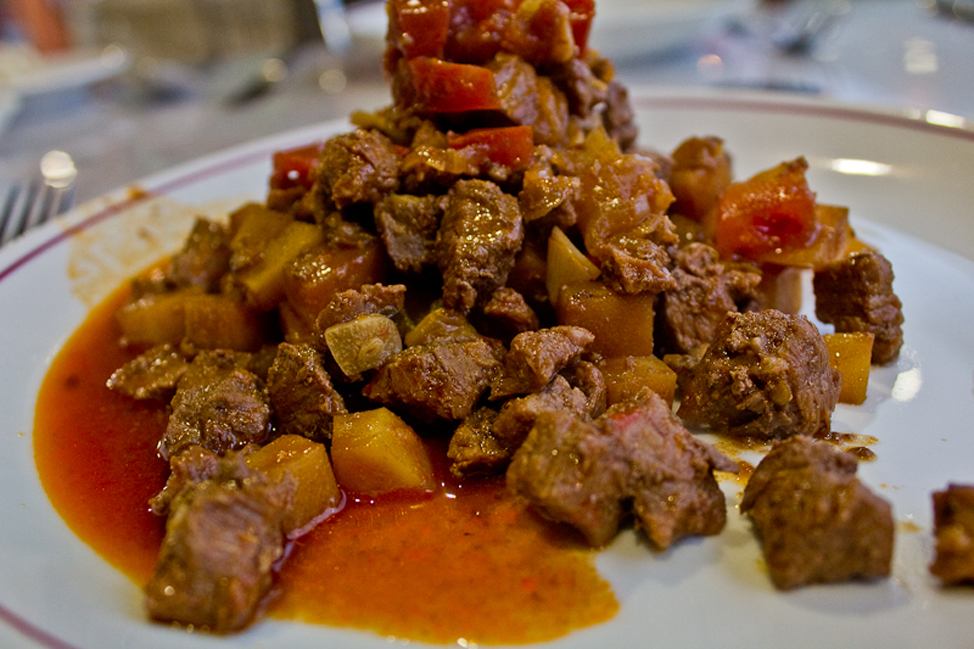 Testi Kebab – A specialty from the Cappadocia region, this lamb and vegetable dish is cooked in a sealed ceramic pot for over an hour and when it is removed from the oven, the top of the ceramic pot is cracked with a back of a knife and removed.
Saç Tava – minced meat, vegetables and spices are cooked in a traditional large convex shaped pan. This dish came garnished with french fries which is a modification to the original recipe.
Kokoreç – Turkey's answer for the late night hot dog. Lamb sweetbreads, heart, lungs and kidneys are seasoned with olive oil, oregano, salt and pepper. They are held together with the intestine and then slow roasted on a large skewer (similar to a döner). It is then shaved and served in a roll. A popular late night delight after a party or an intense game of Okey.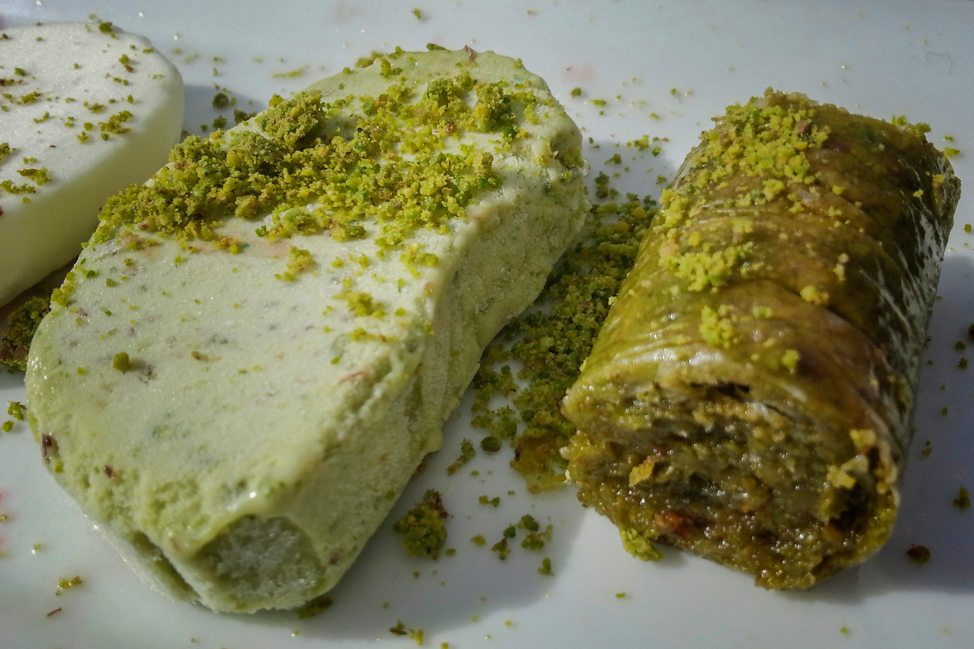 Baklava – Yes, we already did a whole post on ONLY baklava, but it is worthy of mention again. And again.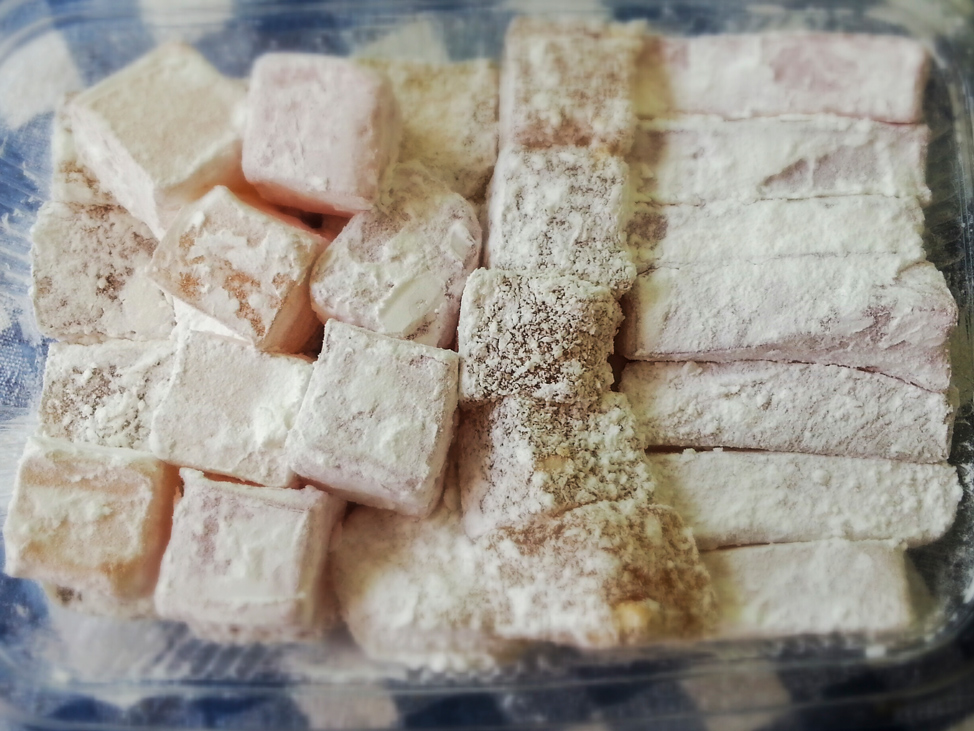 Lokum – Turkish "Delight" is exactly that – and if you haven't tried it fresh from a market vendor in Turkey, you haven't tried it before. The rose flavour is especially delicious.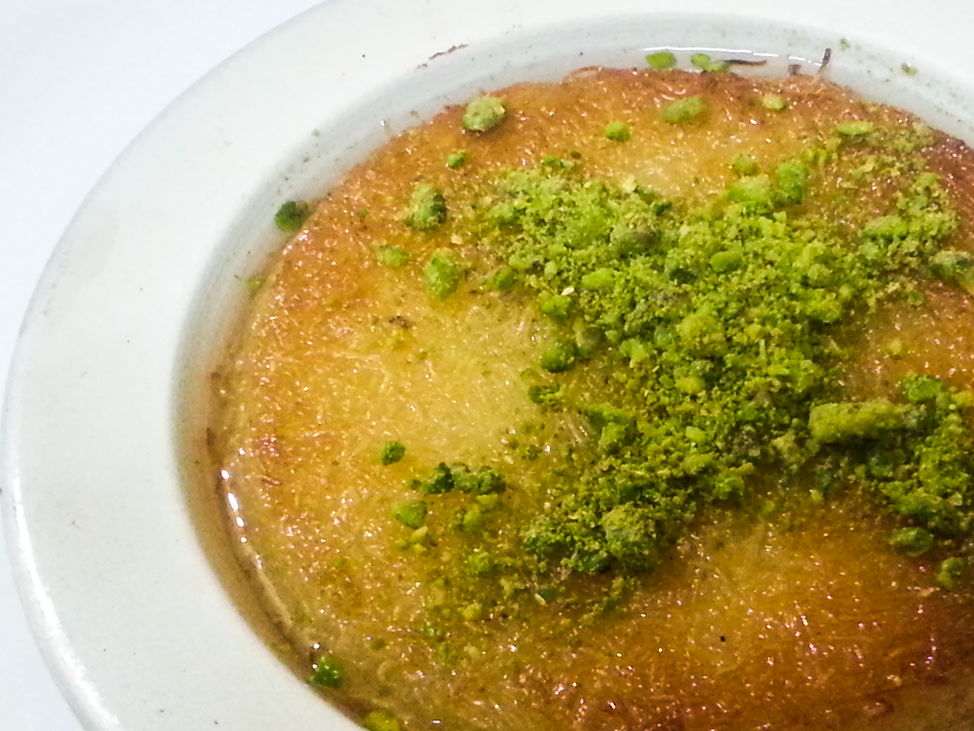 Künefe – Shredded wheat soaked in syrup and topped with crumbly pistachio. Sounds delicious, right? What about if there is a layer of melted cheese underneath? Still all good ingredients, but for us, didn't quite work all together.
and, to wash it all down…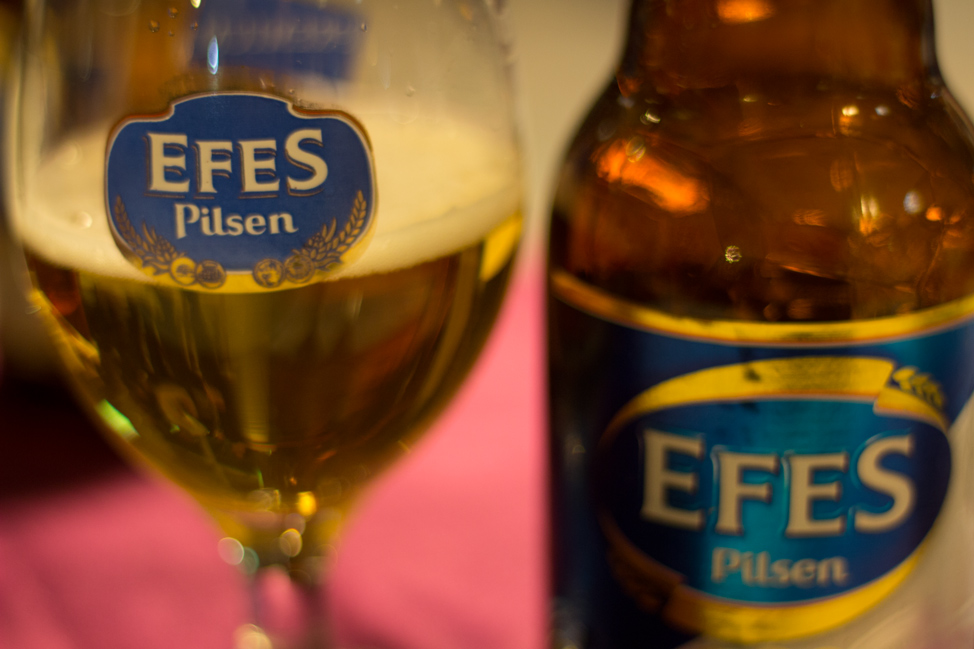 Efes – For a country where beer choices are few, the award-winning Pilsner Efes was surprisingly good.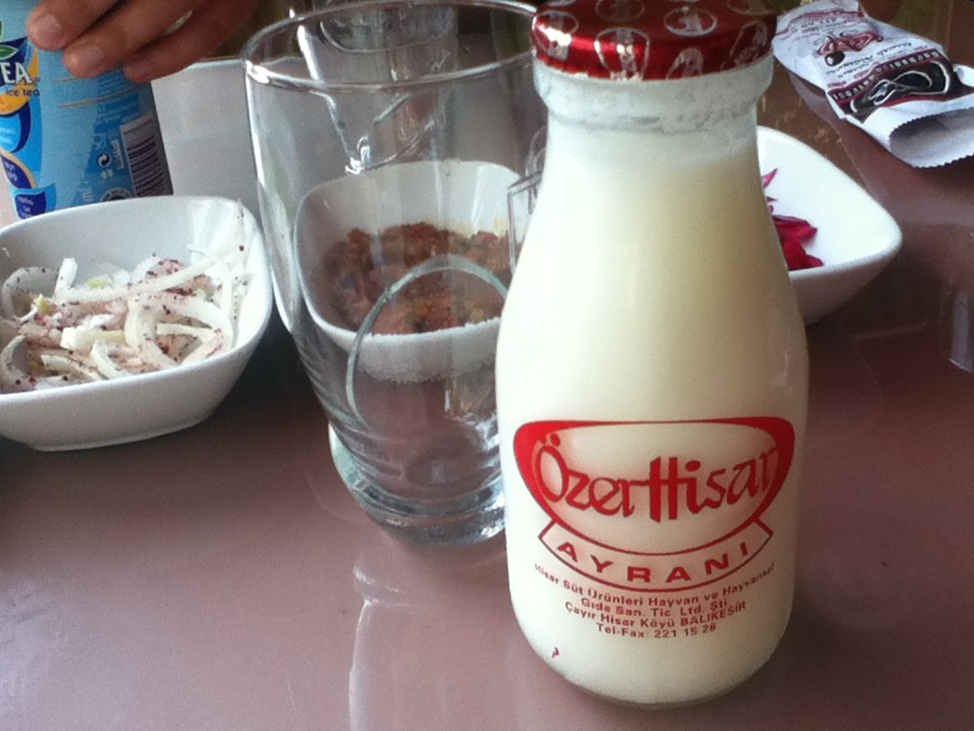 Ayran – The judgment was split on this one (Pete: yay, Dalene: nay). Ayran is very popular, commonly served with döner, and is best described as a salty yogurt drink.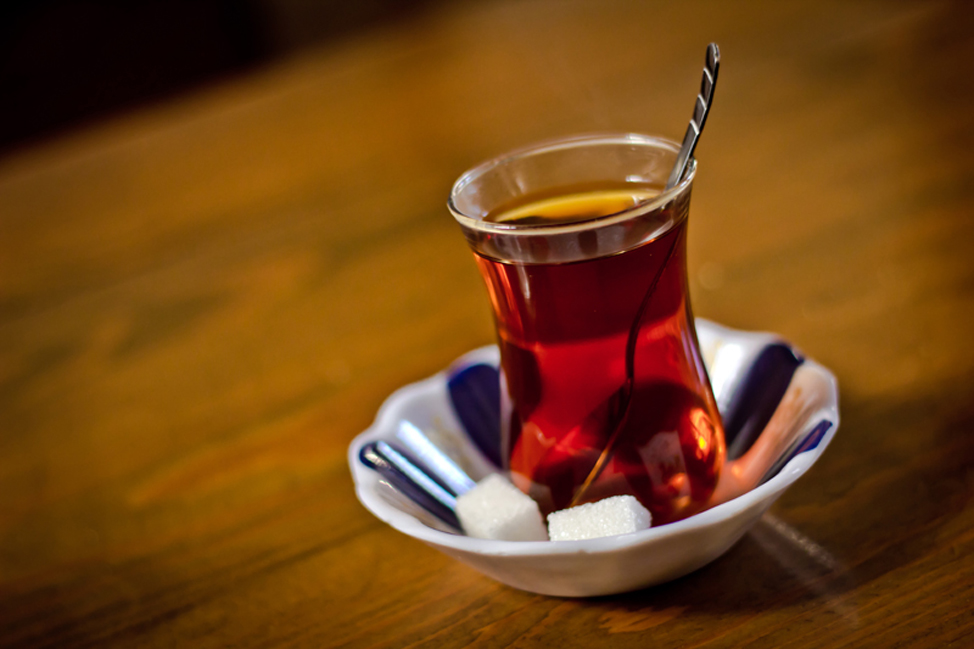 Çay – The Turkish take their tea seriously, and in large quantities. It is not uncommon to see people walking around with trays of the tiny glasses to be distributed in the markets or at any public venue.
So after indulging on all this wonderful Turkish food we are in desperate need of a long term appointment with a treadmill. We keep wondering if we will find a country where they are crazy about celery. Maybe if we find this place we can drop some of these hard-earned travel inches.
Are you planning your first trip to Turkey? Use the Turkey Travel Blog to help plan your journey.