Our Most Memorable Nova Scotia Experiences
Words by Dalene Heck / Photography by Pete Heck
With a cumulative six weeks spent in Nova Scotia over three different trips in the last six years, we're bold enough to suggest that we might be expert-level tourists of this island province. In fact, beyond our home of Alberta, we've spent more time exploring this province than any other.
Purposefully, we've driven almost the entire span of it, and we've taken several roads more than once. There are some experiences we've sadly missed out on due to inopportune weather, but we never struggled to find something else spectacular to do, and we have no doubt that we'll get back to do all that we want at another time.
And we expect to be able to publish another "most memorable experiences" post in the future – even with all that we did, there is much more on our to-do list, and we're eager to get to it when it is safe to travel again. But here's a summary to get us started!
Beyond our home of Alberta, we've spent more time exploring this province than any other.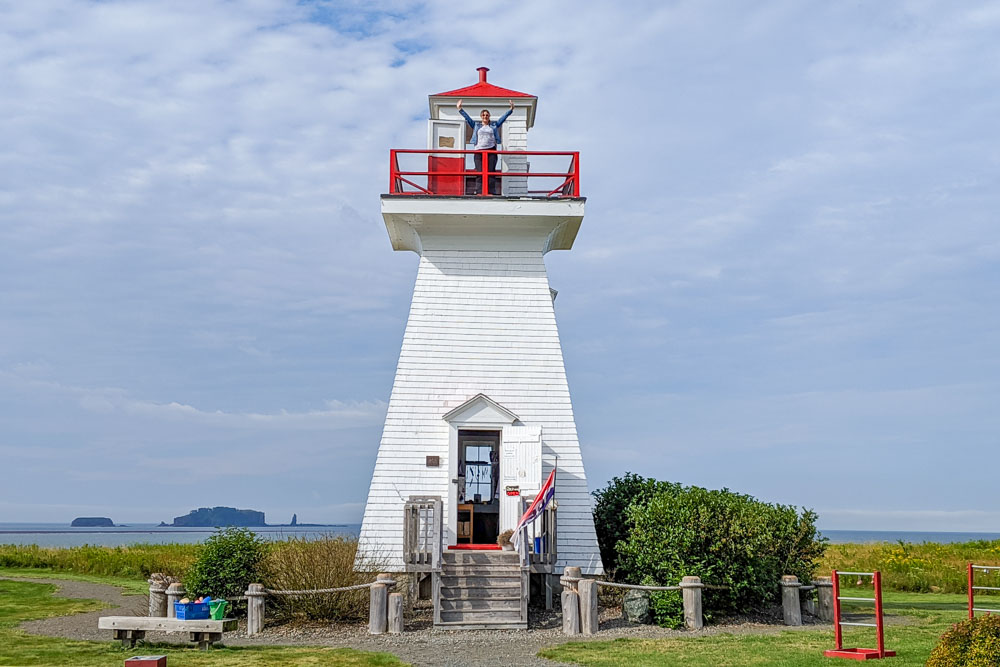 Eating Dragon's Breath Cheese
Those who know us well should NOT be surprised that eating cheese has made the list of best experiences in Nova Scotia, but the fact that this experience actually tops our list should be a solid indication of just how good it is.
We rolled into That Dutchman's Cheese Farm just before the lunch hour – so that we weren't exactly famished but our hunger was beginning to peak. The storeroom is small but stuffed with a large variety of cheese and other fun souvenirs. We had one singular thought in mind though: to find the famed Dragon's Breath blue cheese and make it our meal. Pete picked out sausage to accompany it, and I grabbed a box of crackers. At the till I asked for a small cooler pack as I was sure that we wouldn't finish the black bell of cheese (as they call it). The lady nearly laughed at me, and rightly so. We stepped outside to enjoy it at their garden picnic table, cracked the top of the bell, and on the first whiff of its delicately spiced aroma, we were hooked. Once we started eating it, we couldn't stop.
(For future visitors: the shop will give you a refund on the cooler pack if you don't end up using it.)
Lumberjack Training
There's been some forced career-pivoting going on in the past year going on in this past pandemic year. We were not immune to that ourselves, with tourism being the hardest-hit industry, but we've been diversified enough to make it through this far. And if it wasn't working out…well, we always had our lumberjack training to fall back on.
Granted, we have a lot more work to do to match the expertise of Darren Hudson of Wild Axe Productions, but he was also the perfect person to begin our journey. He's a 5-time lumberjack world champion and also a helluva nice guy. He offers summer camps for kids, and an exciting day-long experience for tourists. It was certainly one of the quirkier things we've done in our travels, and thus super memorable. (Especially because I bested Pete in an impromptu axe-throwing contest.)
Exploring Taylor Head Provincial Park
Nova Scotia boasts 20 stunning provincial parks, and in our extensive travels to the province, we've been to a good number of them. However, nothing stands out as emphatically as our time at Taylor Head along the Eastern Shore.
I cannot think of any other hike we've ever done where 4 kilometers of easy trail turned into an over-two-hour expedition. We had arrived late in the afternoon, just as several others were leaving, and were grateful for empty paths and the soft light of the descending sun. We picked berries, stopped for so many photos, and took our time on a cobbled shoreline. We returned another day to linger on its white sand beach, captivated by the skills of a wind-surfer in an otherwise sublimely peaceful setting. Being on the eastern shore means it is less visited than other parks in the province, but certainly no less beautiful.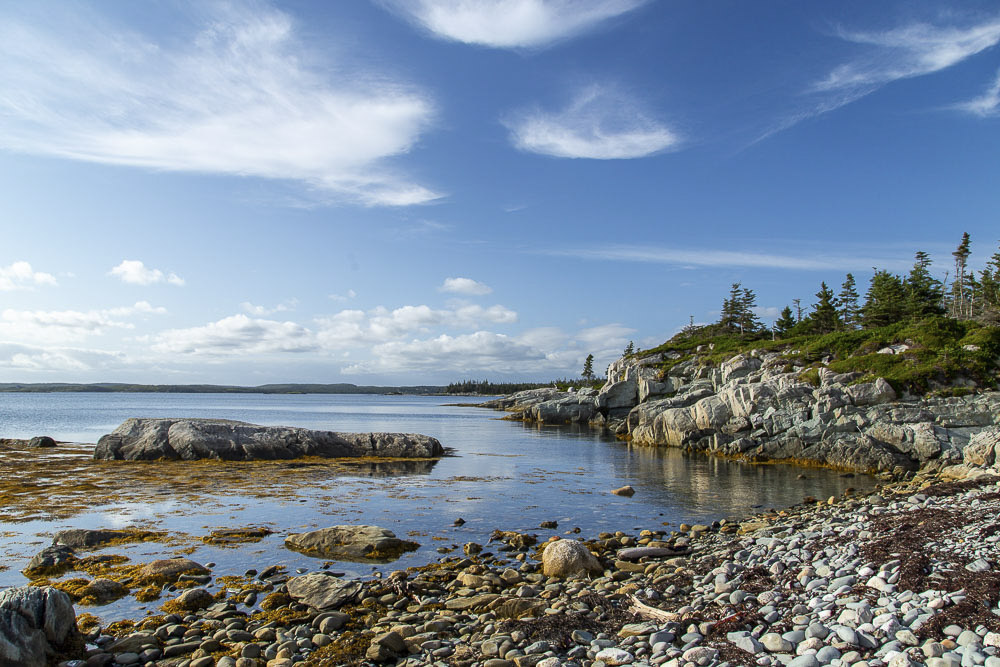 Tidal Bore Rafting
Seeing the highest tides in the world roll in is one thing…but riding on top of them is quite another. And that is the unique opportunity that presents itself near the small town of Maitland, where the leading edge of the tide pushes itself up the Bay of Fundy, creating natural rapids as it goes.
The experience is best shown by this video made after our visit. Those squeals and smiles are all real, we promise you.
Golfing Cabot Links
To be honest, we both kinda suck at golf. But that doesn't stop us from swinging the clubs whenever we can – the appeal of a few casual hours outdoors outweighs the embarrassment at our incompetence. So when the opportunity arose to take a turn on Cabot Links, that was an easy yes.
Did we feel worthy of this experience? Not really, but perched on cliffs towering over a mile of sandy beach in Cape Breton, the course is famous and frequented by hot-shots from all over the world. It was not an opportunity to turn down, and especially because of Pete's par on hole 6, it will be an experience that is forever remembered.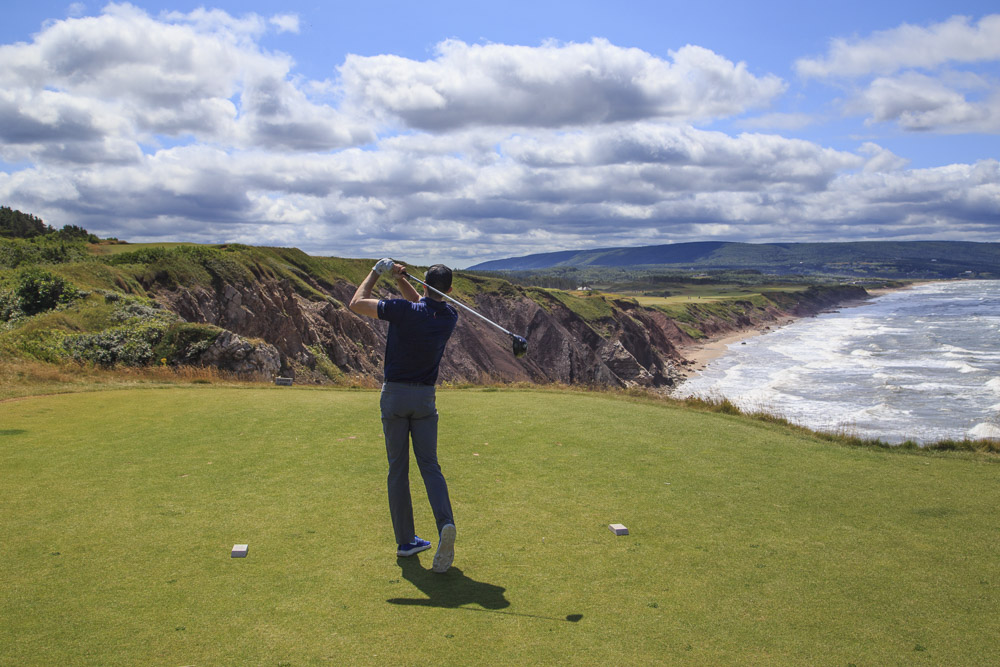 Hiking and More Hiking
The more miles we put under our hiking boots, the more attached we become to a place. And we did our fair share of trekking in Nova Scotia! The province offers so much variety in terrain and scenic views that comparisons are impossible for us to pick just one experience.
We loved the forested Liscomb River Trail that led to a small suspension bridge overlooking a waterfall. Eatonville Trail in Cape Chignecto Provincial Park was a wonderful consolation for the fact that our kayak tour was canceled that day; we stumbled into the park and onto that trail which included a detour to a secluded beach that we had all to ourselves.
And finally, the Skyline Trail on Cape Breton Island was certainly a memorable one, and not just for the sensational ocean views, but for the personal challenge it presented.
Eating all the Lobster Rolls
I'm not a seafood eater (I KNOW!) so I asked Pete about his favourite of this Nova Scotia staple, and like hikes, he couldn't pick just one. I asked Pete how many lobster rolls he ate in Nova Scotia and he couldn't tell me that either. Suffice to say, he tried a lot and by his estimation, it was never about the search for the best anyway. Sampling the variations on offer across the province is a divine experience itself. Why limit yourself to just returning for the subjective "best" when you can move on and try as many as possible?
Maybe not such a good philosophy for love, Pete contends (he'd better say that!), but with lobster rolls, he stands by it.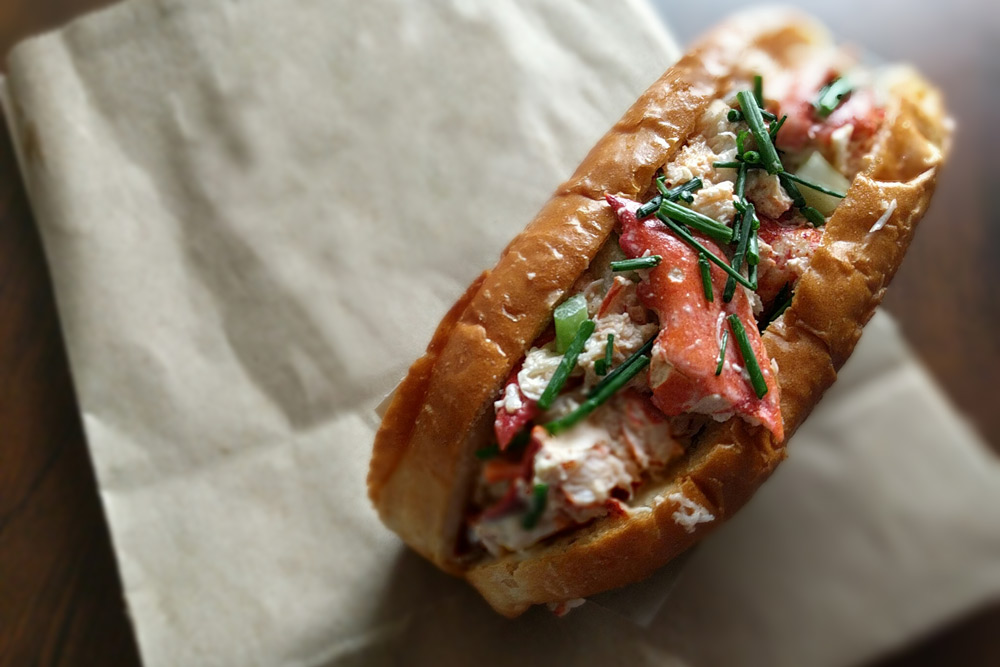 Driving Cabot Trail
This is hailed as one of the most scenic drives in the world, and for good reason. (Especially if you drive the western side during the evening golden hour – which we highly recommend – to see the contours of the road in drenched in that soft light.)
It is likely, if you afford yourself a good amount of time on Cape Breton Island (another thing we highly recommend!), that you will drive at least portions of the trail several times. Remind yourself in advance that efficiency is not the goal here – getting from start to finish is only made better by taking every side trip that your itinerary will allow. Don't miss White Point Harbour if you can help it; and save time for stopping at such places as the Wreck Cove General Store for their legendary lobster sandwiches. Plan for dinner at the scenic Rusty Anchor, and also don't miss the live music at the Red Shoe Pub.
Give yourself a whole week there if you can! You will not be disappointed.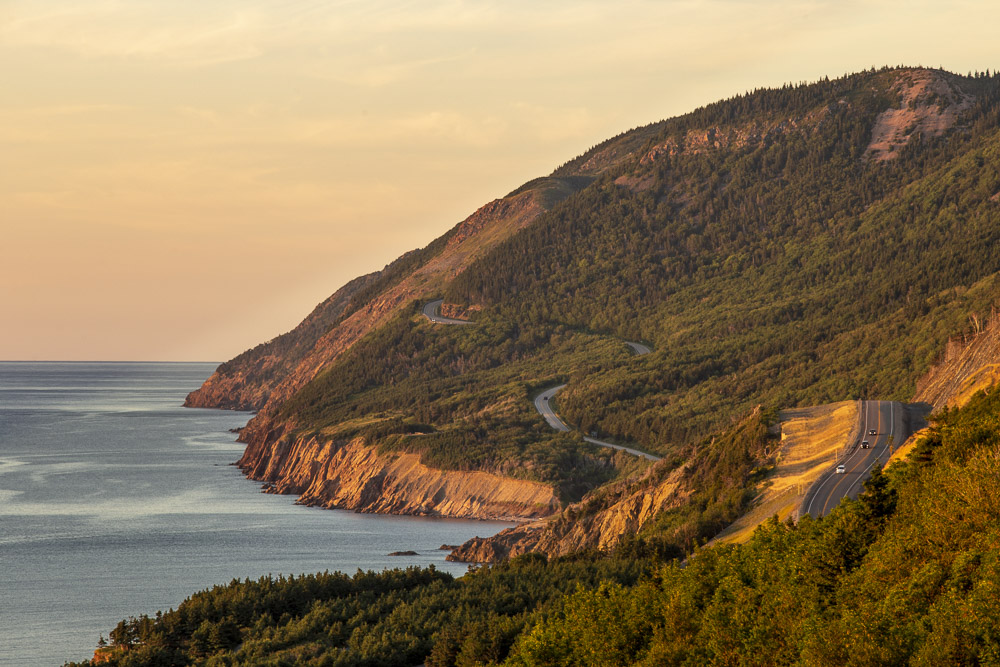 Visiting the Tusket Islands
Being land-locked Albertans, maritime culture is not something that we ever truly understood (nor will we likely ever), but a trip out to the Tusket Islands gave us an impressive glimpse.
This archipelago of 200 islands south of Nova Scotia once served an important purpose. None are permanently inhabited, but they once were used as a layover for fishermen to cut down on commute time during peak fishing season. Now that fishing grounds are much farther offshore, the saved commute time is less significant, and the shanties constructed to house the fishermen now serve as summer homes. The docks are used for storage of lobster traps.
A trip to the islands, lead by legit lobster fishermen, is a historic journey to a remote part of the province that few people see. Topping it off with full Nova Scotian hospitality (music and food are included, of course!) and some epic fishing stories makes for a sensational and unique experience.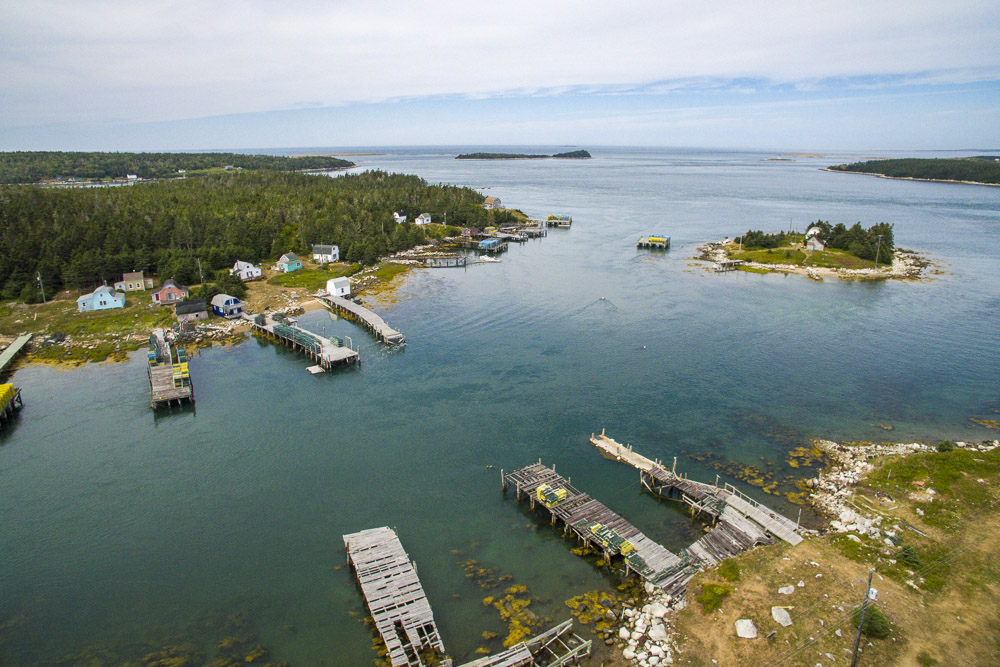 Canoeing in Keji
Kejimkujik National Park is actually split into two spots – the seaside location has some of the most brilliant beaches in Nova Scotia, but in all honesty, we'll take the woodsy setting in the middle of the province on most any given day.
The lake by the same name is large and speckled with islands harbouring idyllic camping spots (one of the best places to go camping in Nova Scotia, without doubt). We cruised around the islands on canoe, so eager to park and make camp for a few days! The water was mirror-smooth, and our mid-week visit in fall meant that we had the whole place to ourselves.
It is always our goal to find such silent spots for solace (we're selfish like that).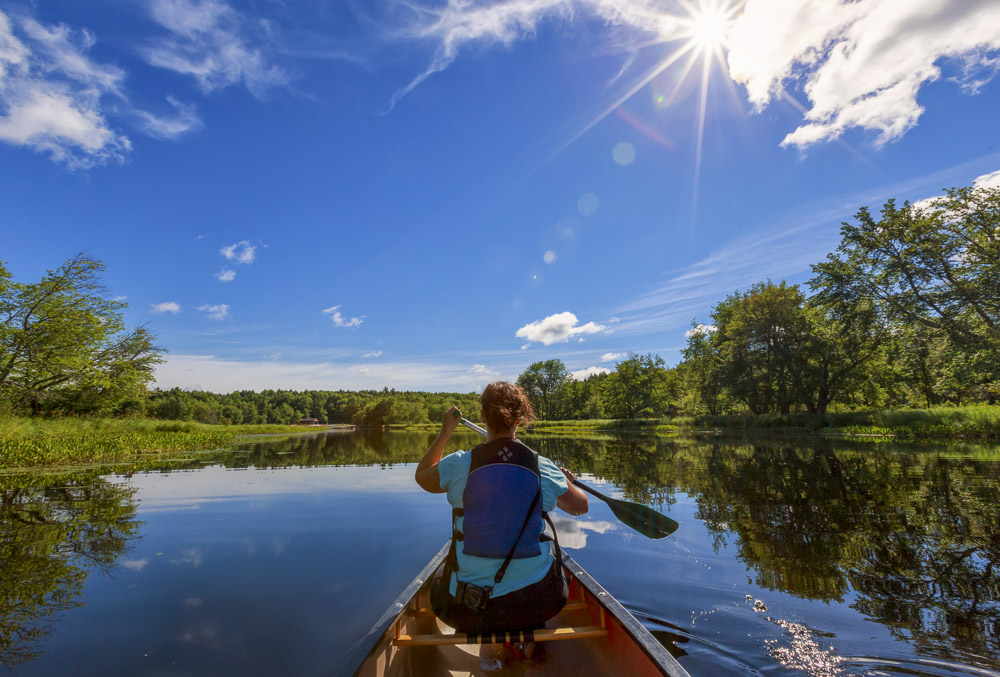 don't miss a post!
sign up to receive
hecktic travels
directly to your inbox