Words by Dalene Heck / Photography by Pete Heck
I wasn't sure if the alarm had gone off or if I had just dreamt it. No one was stirring outside and the warmth under the heavy mound of blankets convinced me not to find out for sure.
A few minutes later, I had my answer. Pete rolled over, nudged me and whispered: "Do we get up?"
We both groaned in protest but forced ourselves to rise from our slumber. Still no movement from the other tents as we crept around the campsite, piling on layers of clothes and washing up. We stood outside Mohammed The Original's tent and gently beckoned him out. We could tell that he wasn't pleased with this early rise, but we were determined to reach the top of the biggest dune to watch the sunrise.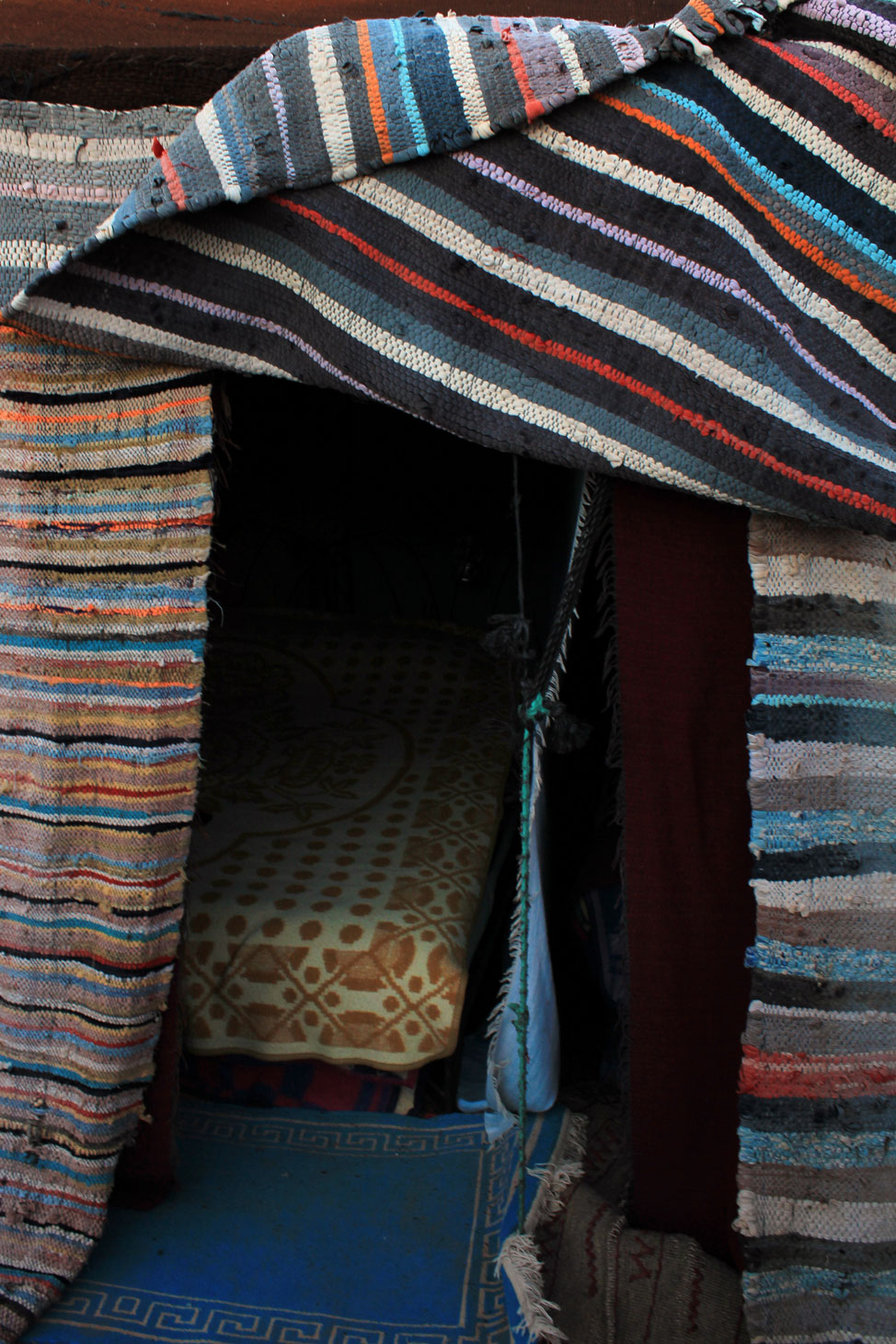 Our cozy bed.
Just beyond that dun, the midnight blue was fading to royal as the sun's rays began to reach the horizon. We started the easy trek with gentle rises and falls in loose peaks of sand, Mohammed lead us along a specific path with only a gradual incline.
It started to get steeper. Some hills were such that we needed to run up them in order to make any headway and save from slipping too quickly down into the soft sand.
I tired and stopped to catch my breath. Pete and Mohammed kept going onward, determined to make it in time, and the gap between us widened. The brighter blues were beginning to reach more of the vast sky, and I worried I'd be caught on the wrong side of the big dune and miss the brilliant sunrise entirely.
I figured I wouldn't make it. I reached a flat spot with a great view over the expansive desert behind me and sat down. I took a deep breath and closed my eyes for a brief meditation, and soaked in the absolute, ear-ringing silence and the dreamlike moment.
I was in the magnificent, other-worldly Sahara desert (an essential stop on any good Morocco itinerary). Pinch me.
I opened my eyes and saw the pinks and yellows starting to color the sky, and for a brief second, the tallest dunes in my view sparkled as the dawn's early light reached the peaks. I sat perfectly still and watched the light creep slowly down the dunes and wake up the world below me. Camp stirred with the others lumbering from their tents. Still, I could hear nothing, and savored my quiet view from above.
Pete made his way back down the dune and joined me a few minutes later, gushing: "That was one of the most incredible sights I've ever seen!" I believed him, but could hardly be disappointed in my own experience enjoying the first dazzling moments of this day alone. We were both giddy, and I commemorated the momentous occasion like any person would when in a giant expanse of fluffy, inviting sand…
Although I expect others would have been able to celebrate more gracefully.
And these are Pete's awesome photos of his memorable morning!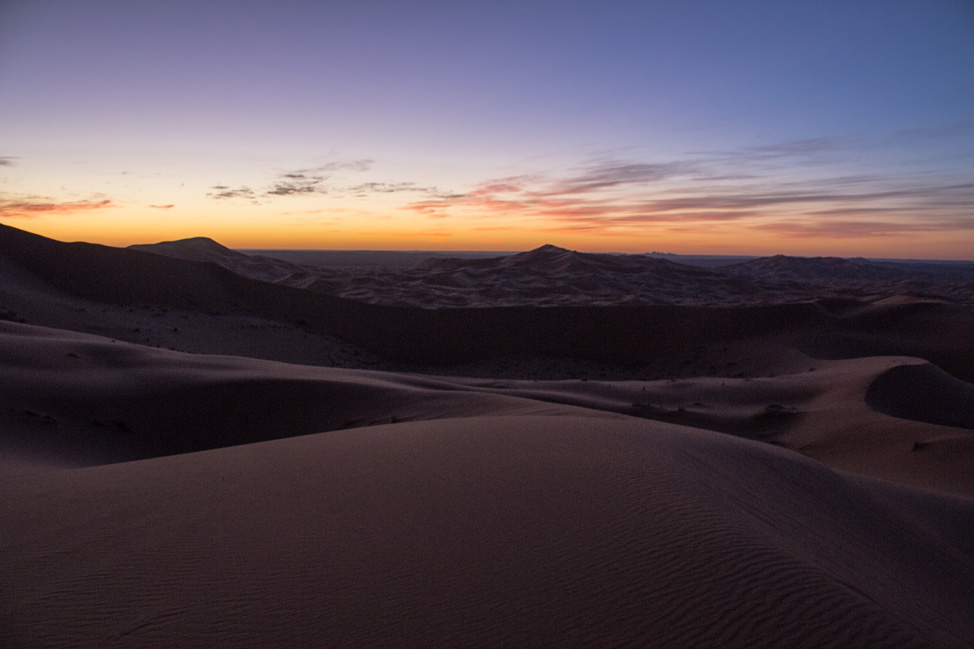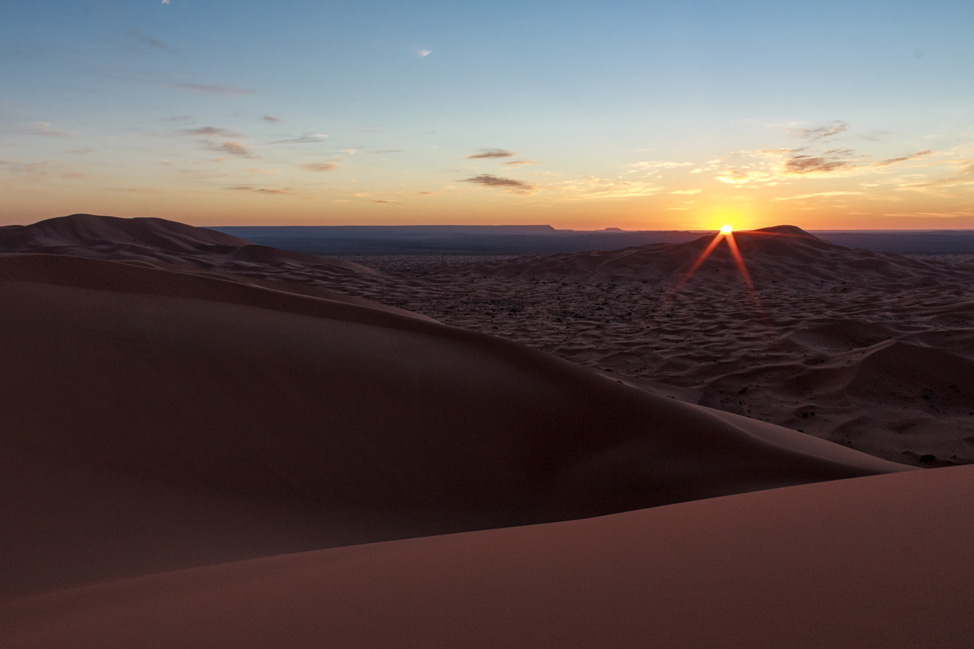 how we did it
Our visit to the Sahara Desert was a part of our wonderful tour with Merzouga Journeys. For a full review and the itinerary for our entire tour, please click here.