The Best Sights to See in Porto, Portugal
Words and Photography by Pete Heck
The alarm rang at 6:00 am. I had set it the previous evening with the intention of capturing the early morning life through Porto's streets. What was the beginning of a new day for me was, for others, the last remaining moments of an evening out on the town. I rolled out of bed, wandered to the window and looked down upon the University bar, which was still busy with patrons finishing off their last drinks and conversations. I laboured to put on my clothes, all the time muttering that this is the life of a photographer. I glanced at Dalene and how comfortable she was and considered crawling back into bed and getting a few more moments of sleep.
We had arrived two nights prior and were excited to explore this enchanting European hotspot. The city has so much to offer other than, of course, the popular drink "port". Whether it's a romantic getaway for two, a family trip, or a girlfriend's getaway, there are so many things to do in Porto.
I grabbed a pastel de nata I had purchased the day before, threw on my shoes and hoodie and went off to work. I kicked my way through a few empty beer cans that lined the street. It was still dark out, but I knew I had to pick up my pace in order to capture the first light.
My stride quickened, and my energy level rose. I thought to myself how my photography passion was invigorated by this new city. Coming from New Zealand I had started to lose some of that passion, which is strange as it is such a photogenic place. But I just wasn't feeling it there. Maybe it was the familiarity of the country and that nothing really seemed new. Or maybe it was the negative energy that surrounded us. Regardless, from the moment we landed in Portugal and started to discover Porto, any misgivings I had about my chosen work quickly disappeared.
The Best Sights to See in Porto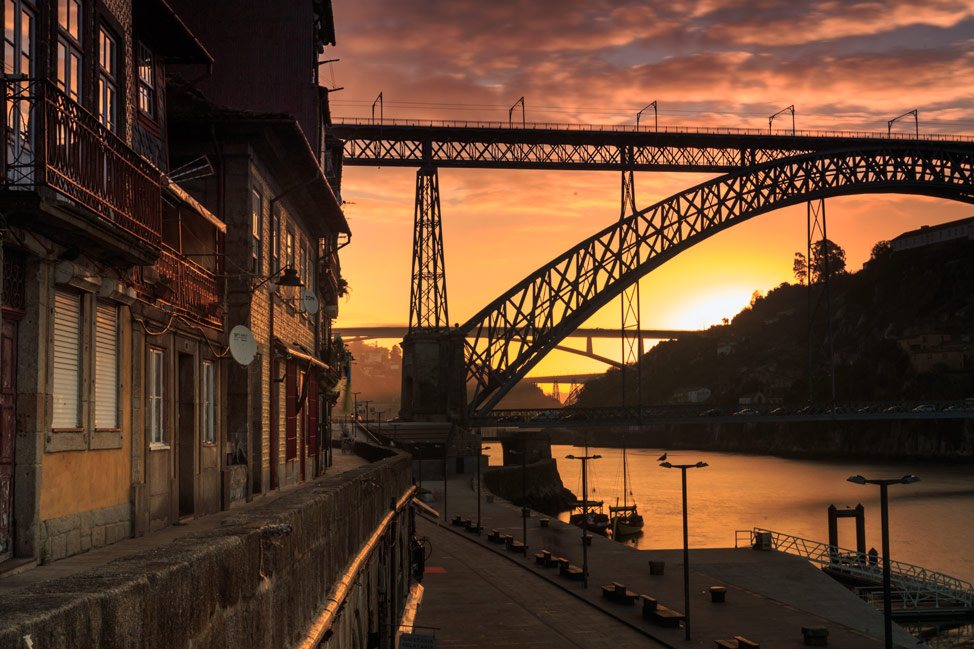 The midnight blue began to lighten to royal, and the pinks and purples also crept in. The city was beginning to wake; the day was evolving. The sun had begun to shine on the Dom Luís Bridge, one of the most famous Portuguese landmarks. I set up for a couple of hours that morning, capturing the light and the essence of the city. I felt good and proud of my work. Something that had lacked for a few months.
The city of Porto sparked my creative side. The architecture, the light, the street art, and the history all contributed. I worked on things I wanted to improve. I explored angles, and worked on stitched images and long exposures. I woke up for sunrises and stayed out for sunsets. I was even inspired to dedicate a full day to improving my portrait photography (it helps to have a beautiful model to join me – thanks to Dalene for being so patient).
My experience certainly gave me many reasons to love this city.