Review: Kanetix.ca Travel Insurance for Canadians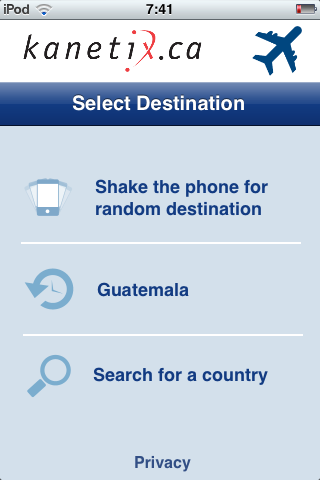 Words by Dalene Heck / Photography by Pete Heck
A lot of people ask us whether we purchase travel insurance. We do. We don't like to take the risk that we could end up having outrageously high medical bills in a foreign country. Fortunately we have not had to make any claims to this point in all of our travels, and I really hope that trend continues. But we will always continue to travel with insurance.
There is a new tool on the market to help Canadians shop for their travel insurance. It is the iOS app called Kanetix Travel App and you can find it here. The free app will provide an online quote comparison service for emergency medical travel insurance for Canadians. The app brings together with insurance companies in a one-stop shopping environment making it easy to find the right policy.
The app can help you find cheap vacation insurance (including for seniors and snowbirds), and the insurance quotes are from many of the top travel insurance companies throughout Canada.
Review of Kanetix Travel App: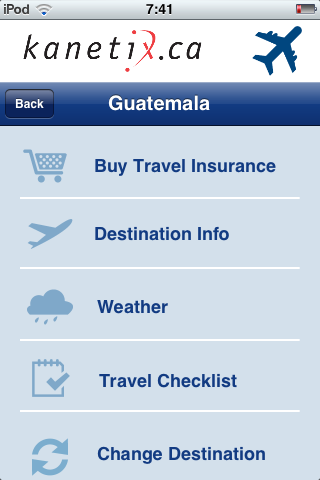 The app is very easy to use. You first enter the destination you wish to go and it will bring up a screen dedicated to that destination.
You then can either look at information regarding that selected destination (weather, sights and history), and for even more in depth analysis you can click and be re-directed to the World Travel Guide website. The app even provides you with a generic interactive packing checklist very useful for anyone who forgets things behind.
Once decided where you are heading you can proceed with getting a travel insurance quote. The questions are very easy to answer and there are only 2-3 screens of information necessary in order to receive your quote.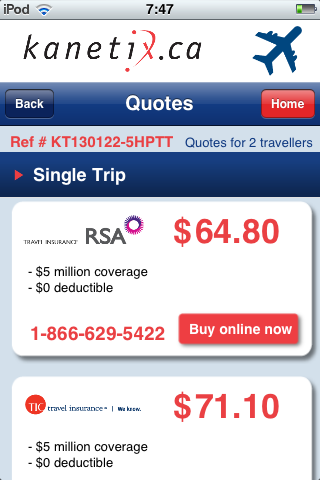 Here is where the app is really helpful. Once you input your email address, the app will kick out the numerous companies and what their rates for your trip will be and for how much you are covered. Depending on location, duration of trip and the other inputted factors, your quote will be instantly displayed with the company selling the policy and the number to call them.
It's really that easy. The only step left is making the call and booking your insurance policy to ensure you are covered for your travels.
And if you don't book right away, the app will even send you a quick reminder asking you if you thought about buying a policy before you jet off.
Overall: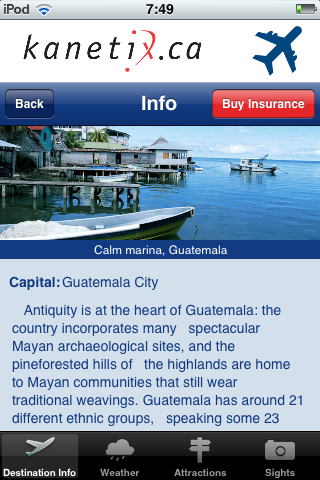 The Kanetix.ca app is very user friendly and will get you a travel insurance quote fast. The travel guides within the app are good for basic information and the links to the World Travel Guides are helpful for those who like to plan off of guidebooks. The weather option is a little redundant as usually insurance is bought in advance and we would not use the app to solely check weather, but the travel checklist would be a handy item to make sure we didn't forget anything important. Finally, we were a little confused with the necessity of the shake the device for a random country as we would probably never use this function, but nonetheless it is a fun little feature if you are bored and want to get an idea of what a policy will cost.
If you are looking to get an idea of what a travel insurance policy will cost give the Kanetix.ca travel app a try. it's free, simple to use, and gives you numerous options based on what you are looking for.