Making Friends with the Genus Camelus
Word by Dalene Heck / Photography by Pete Heck
So, my first encounter with camels while in Morocco didn't go so well.
I was hissed at. I saw teeth in a growly, show-offy kinda way.
But I wasn't discouraged. I wanted another chance to change my experience and outlook, to hopefully smooth things over between myself and the genus Camelus. Pete and I were set to ride again, this time in the majestic Wadi Rum of southwest Jordan.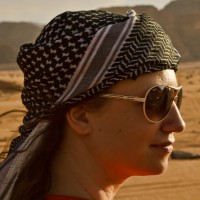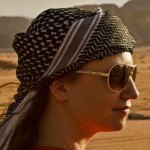 I was more prepared to face my Jordanian camel, after being surprisingly scorned by his Moroccan cousin. I looked the part – wrapped up in traditional head gear and all. I'm guessing I even sweated off five pounds the previous day as we made our way through Petra, so my new camel couldn't complain too much about the burden of my load.
He didn't complain, he didn't seem to pay me mind at all and was completely indifferent to my presence. He and I were in a caravan of many – a troop of four humans and an entire family of the camelid persuasion. We rode upon the big daddy, his son, and two of his "lady friends", while a pair of wee four month-old babes followed us the entire way. We headed off into the Valley of the Moon for tea and to watch the dramatic desert sun set.
I was grateful to have no lingering camel-issues, I wanted nothing to distract me from this: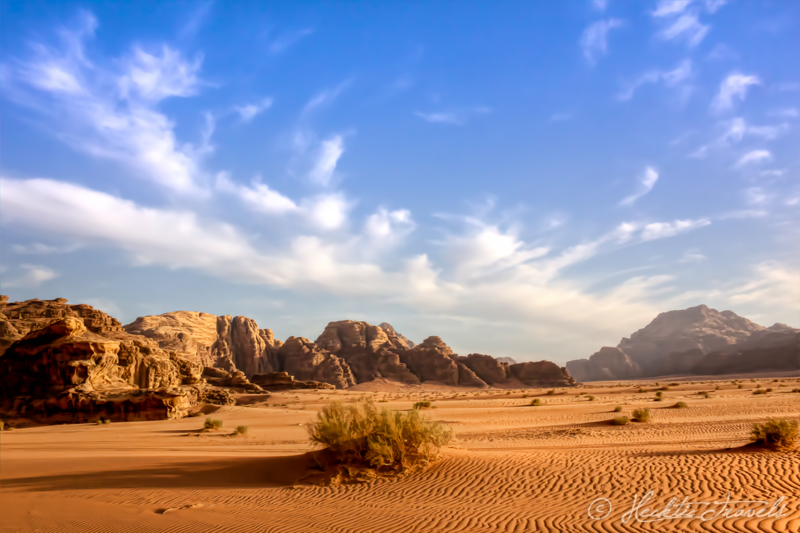 Our convoy was a silently smooth ride led by a friendly Bedouin whose playful nature with his beloved camels was so endearing to watch. There was the odd traffic jam when the baby camels would run up to be near their mothers, sometimes almost tangling in the lead ropes that held us all together. Other times they followed at a distance, or playfully chased each other beside us, their frolicking fuzzy bodies casting long shadows on the bright orange of the desert.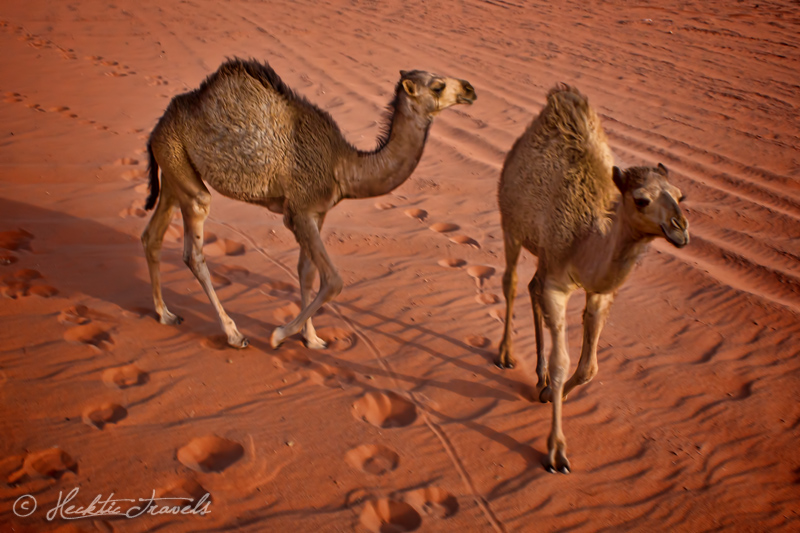 After an hour of riding we stopped, and I helped our guide gather dry branches to make a fire so that we could enjoy a cup of tea while we watched the final moments of the descending sun. Although delicious, the heat of the tea was too much for me, and I refused a second cup. "La shokran (no thank you)," I said, in my feeble Arabic.
His response was well beyond my comprehension, but he said it with a large toothy grin on his face. "He said that you are sweet as honey," Muhammad translated. I smiled (and most probably blushed) gratefully in return.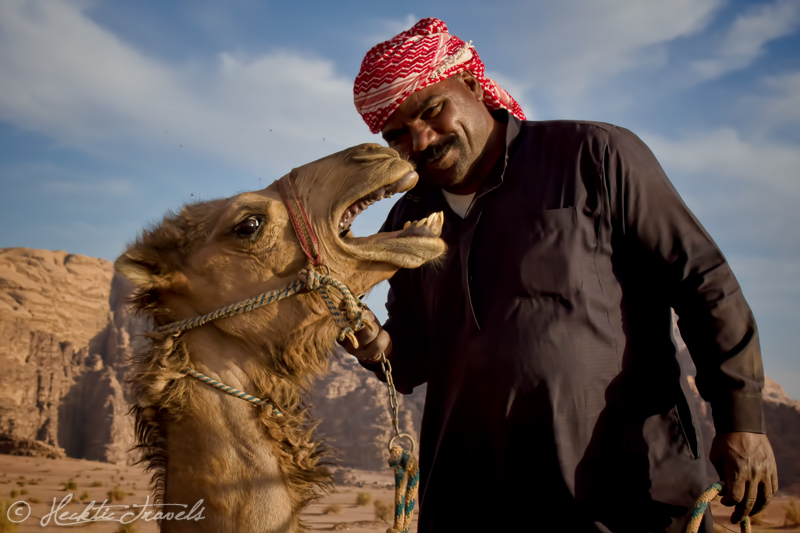 As the sun's rays weakened behind the jagged rocks in the distance, we packed up to begin our ride back to camp. My camel, who had been banished away from the others for causing trouble amongst them, watched me carefully as I approached. I reached out to him, and he let me gently stroke his cheek, even leaning into it for a deeper rub.
Had I made a new friend? Probably not, everybody's got an itch that needs scratching every once in awhile.
But I'll take it.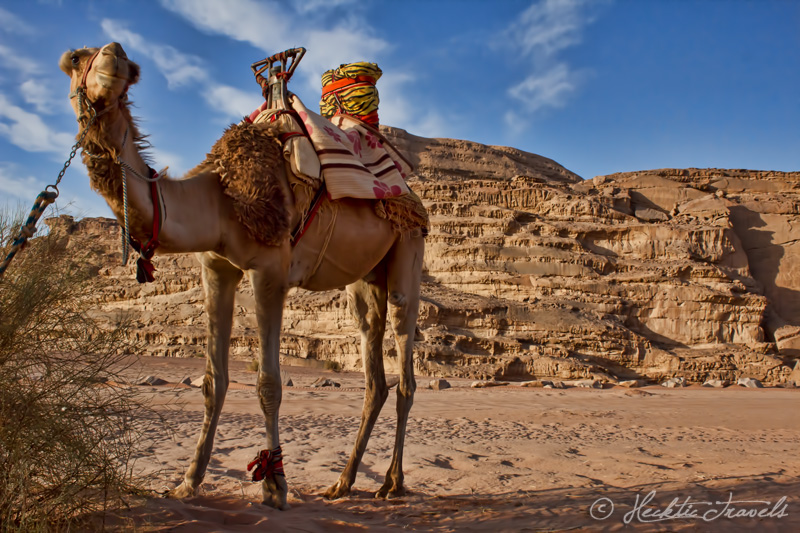 WANT EVEN MORE CAMEL-Y GOODNESS?
Of course you do!
Here's a short video of our time in spectacular Wadi Rum:
*****
Our adventure in Wadi Rum was arranged by Visit Jordan. As always, the opinions we express are our own.