The Story Behind the Book
The Story Behind the Book
October 8, 2015
I think that a lot of the time, people are really curious about what we do all day. You know, besides frolicking in the Serengeti and the like. The really fun stuff maybe makes up 20% of our time? The rest of our days are not too dissimilar to yours. We still have to work pretty hard to put food on the table.
As I write this I am sitting on the couch in our Airbnb apartment, completely pantless as I wait for the laundry to finish. When I'm done, I'll probably watch a rerun of Parks and Recreation to unwind. Pete will go get groceries and cook dinner (we'd go out but I'll still be pantless and most public places frown on such displays – as they should). Dishes will be my responsibility. More Parks and Rec will happen and then we'll turn in early. Sadly, this is representative of many of our days lately (except mostly with pants).
Although today was really fun as Pete and I stole away for a few hours to wander around Porto, but such frivolous uses of our time have been the exception. It's the first time in about five days that I got out to enjoy the city. The rest of our time here (and, for a lot of our housesit in New Zealand), I was writing a book on how to work with travel bloggers.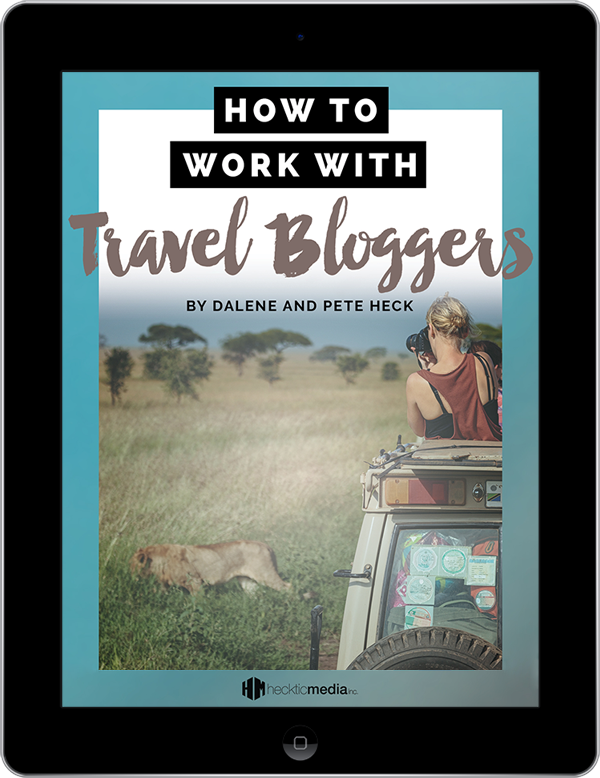 Most of you really won't care about the contents inside this book as it's pretty "inside baseball", but I hope most of you can appreciate what has gone into it. The long hours of writing, the cost of outsourcing some of the work, the self-doubt, the soothing shots of rum, then longer hours of re-writing.
But in the end, it turned out to be something we are really, really proud of.
This book is the culmination of our almost five years experience as bloggers, and two as people who hire bloggers and other travel influencers. We've had so many conversations with different travel brands about how to find and choose the right bloggers to work with, how to measure success, etc., yet realized that there is no one place to find those answers. We also realized that many don't know how to tell if a blogger is legit. It's a sad truth that there are far too many out there who misrepresent their value by purchasing fans and followers. It's about time that those practices are outed for the good of the entire industry.
Often Pete and I feel like we exist in a vacuum and so to ensure we had a balanced view, we called in help from some trusted brands with lots of related experience. We brought in another stellar blogger to help edit, and relied so heavily on our assistant to keep us organized that I am surprised she didn't up and leave us. (And I can't even credit her with a backlink here for fear that someone will find her and steal her from us. YOU CAN'T HAVE HER. SHE'S OURS.) We also couldn't be trusted to design something so pretty by ourselves, so called in reinforcements from the same company who did our current website.
At least the hard part is over, right? It's done, it looks gorgeous, it's OUT THERE. Sigh, I wish that's all it took. As we learned after launching our housesitting ebook, it's all about the marketing.
We are just getting started (and add this onto everything we else have on the go). There is so much more work to do, but we truly believe that this book is going to play a big role in the future of our business, and our continuing lives as digital nomads. It's good for us and good for the industry that we're happy to be a part of. And if all goes well, we'll be able to go out and play more soon.
WITH PANTS ON, people. Get your head out of the gutter.


P.S. Want more behind-the-scenes looks at our lives? Check out more of our In Real Time posts.