Advice From the Packrat Backpacker
Advice From the Packrat Backpacker
January 18, 2016
Dalene has many nicknames for me (most are loving, to be sure), but the one she has used most consistently over the past few years is the "Packrat Backpacker".In my defence my previous piece of luggage was not a backpack. It was, however, a gargantuan 120 litre dual layer suitcase. And most of the time, it was stuffed to the gills. Understandably, I've been ridiculed for the size of it. I'm probably the only nomadic blogger (or non-blogger for that matter) that has traveled with a two compartment 120 litre suitcase. And this is why, despite getting asked continuously about how to pack for a long-term trip, our answer has been "we are the last people you should ask for luggage advice."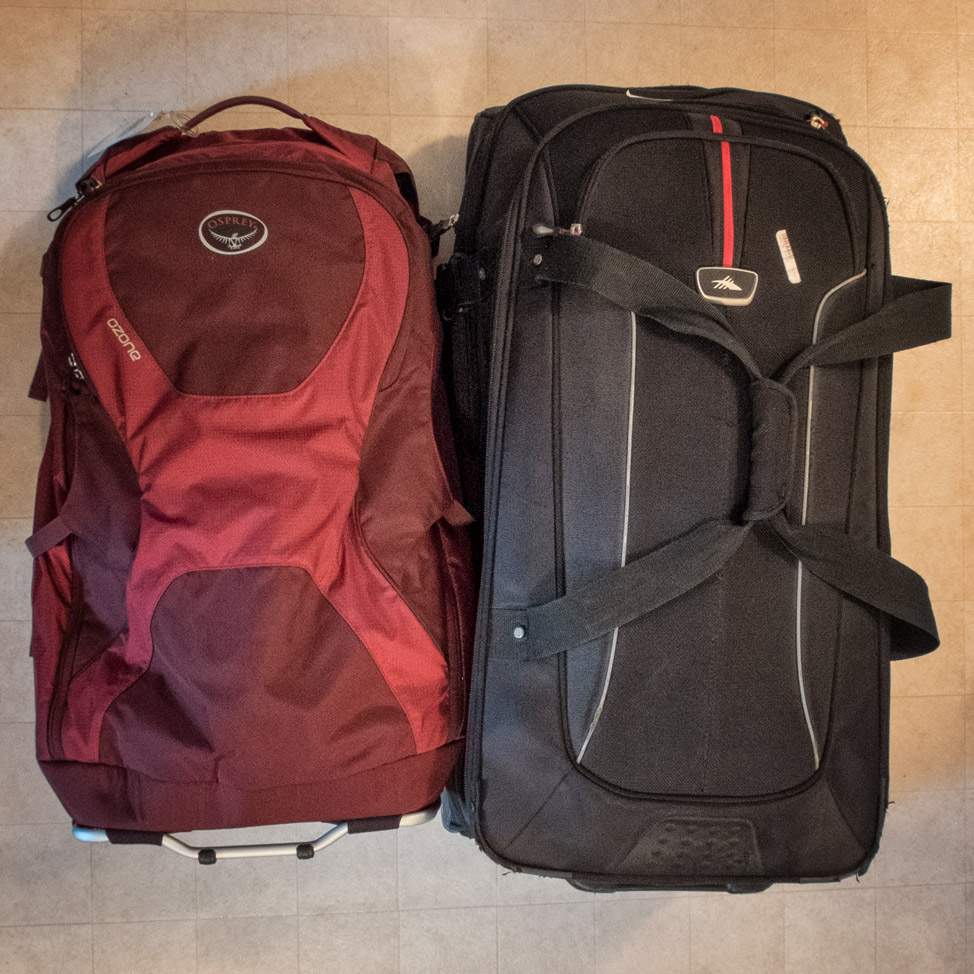 I have reasons why I traveled with such a beast:
Considering that we don't have a home base and that our trips back to Canada are very seldom, we need to carry all of our essential gear.
We're not the types who chase warm weather year round and therefore we carry both summer and winter gear so that we are ready for all climates.
Being a photographer I need to pack extra gear that won't fit into my carry-on, e.g. my tripod.
I like having a bit of wardrobe choice and carry more than normal amounts of clothes. Plus I'm not a big fan of doing laundry more than once per week.
When we first started traveling back in 2009, en route to Bolivia with no end in sight, it was a big challenge for me. It was a transition from a 2,100 square foot home and a walk in closet for my clothes to a 70 litre backpack for everything. I'll be honest, apart from my pets, family and friends, I miss having nice clothes. Granted, I do have a single dress shirt, and my pair of Sanuks have to pass as my dress shoes. But there are days when I feel extremely under dressed.
After a couple of years traveling I acclimatized to the change, but that has also been made easier since changed our travel style to moving much slower by doing things like housesitting. Given that we are in locations for extended periods and I do not have to be carting my backpack around every other day, it's not such a hassle to carry more.
And like any being, I adjusted to the environment I live in. I found ways to fill all 120 litres of the suitcase. I was able to cart around gifts for months on end waiting for our return to Canada. I hauled all of the dirty laundry. I carried backup cords (for everything, and sometimes several) so that we wouldn't be inconvenienced when the main one faulted (which has happened).
But the end of the monster suitcase days was nigh. On one trip back to Canada after I had unpacked, one of Dalene's nieces actually crawled into the suitcase with ease and room to spare. Was that a sign? Or was it me constantly flirting with the luggage maximums in airports? Or possibly dealing with the endless taxi drivers eye rolls and comments of "how strong you are". In the back of my mind I knew this was too much luggage.
In December 2015 I think I finally found the middle ground. I cleaned out my 120 litres of gear and paired down everything I didn't truly need. I scaled back the amount of clothes I have (slightly) and invested in some packing cubes. After careful research I chose to go with one of the highly recommended Osprey Packs and they agreed to send me a complimentary one – the 80 litre Ozone wheeled pack. Dalene already uses an Osprey and loves it – it's been a couple of years now and her bag has held up very well. The packs are known for being light weight and for their durability – I needed a pack which has the endurance to take the beating of the continuous visits to the airport.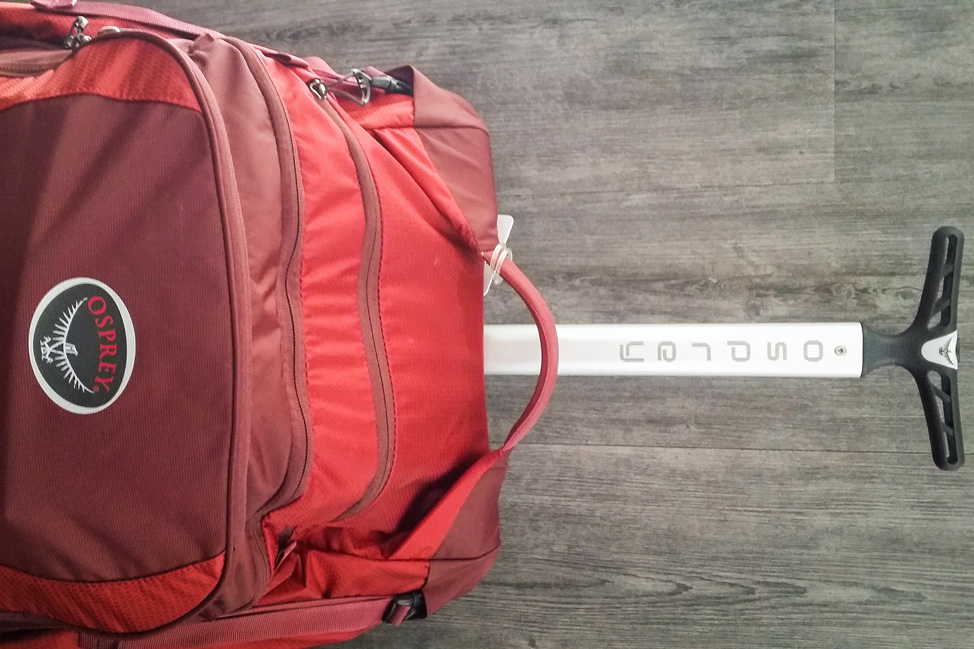 Miraculously, everything fits. My tripod sits well in the main compartment. I have room for the three packing cubes, which are quite handy when packing and unpacking each time. There are side compartments for my shoes and flip-flops and a back compartment to hold the extra cords and books I haul around. The pack uses almost every litre of space to house something. At first it felt as though I had forgotten many things, but really, I hadn't.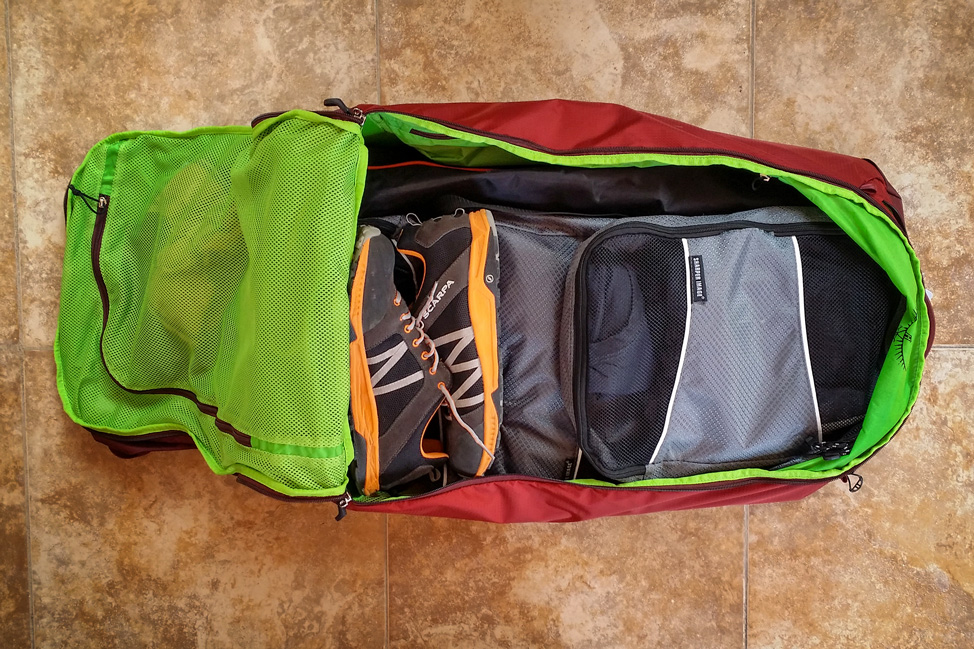 Apart from practicality, I love the colour of the pack. It's quite unique to the jet black or bright red suitcases you see spilling it out onto baggage carousels at airports. (I would have thought this would make it less easier to lose, but I do have to take a minute here to acknowledge that somehow Air Canada managed to lose it. And not just once, but THREE times in a row.)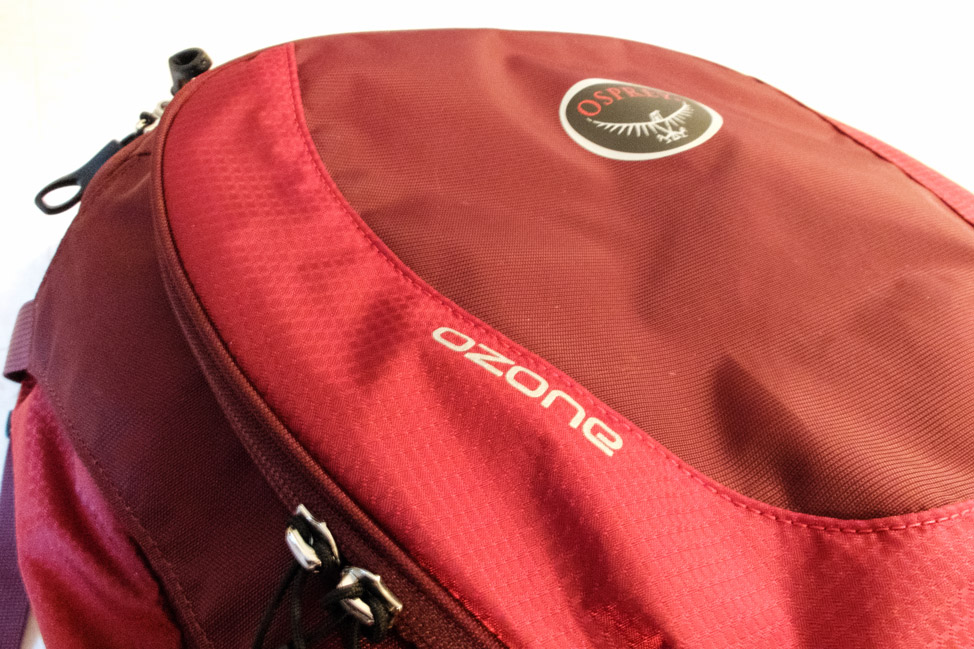 With this Osprey bag I think the ridicule I've endured may come to an end. Dalene can no longer call me a packrat as I can't pack much extra. Taxi drivers don't roll their eyes anymore. I'm well under for airline weight allowance and even I am always shocked at how small it looks.
Maybe now I can actually offer some sound packing advice? We'll see. It's been almost seven years on the road and we're still figuring stuff out.

P.S. Want more behind-the-scenes looks at our lives? Check out more of our In Real Time posts.