The Time in Between
March 8, 2017
It was really easy to forget that I have cancer.
Everything had just been so normal. After just a couple of days of not ingesting arsenic, I felt completely revived, and this last month off from chemo was the best I've felt since October. Full of energy, eating well, allowed to mingle in public without fear because my white blood cell count rebounded.
The bone marrow biopsy had left its mark though. Even though it was a simple and quick procedure with barely any initial irritation to whine about, the recovery was something else. I slept awkwardly, limped for nearly a week, and shifted all my weight to my left leg such that it was sore from overuse.
But I hardly had cause to complain. By the end of the month my walks were getting longer and longer and even progressed to some light hiking. I was emboldened by the disappearance of brain fog and all the other ugly things that chemo had brought on the month before. I had the attention span to even read a whole book! (Which is really good, as I have run out of MasterChef seasons to watch).
I went to actual restaurants for the first time since October. Pete and I even took two road trips: one to Medicine Hat to see my Dad and then a few days later we were off to the mountains. Our friends at the Alberta tourism board treated us to a dreamy stay at Mount Engadine Lodge. They even turned on the blue skies and moderate temperatures for us. We walked around it until I exhausted myself, ate well, saw friends, and also spent a couple of days in Canmore and Banff just because. The mountains give me strength, they always have, and I relished every moment of it.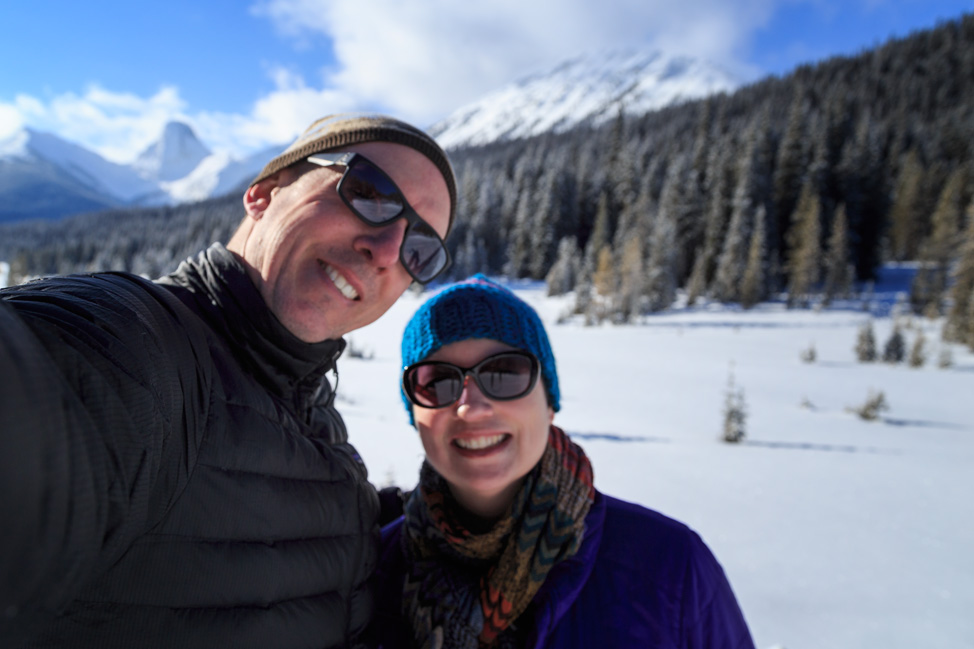 I did not speak the L word or the C word very often. I didn't feel it, I didn't want to think about it, and I didn't have to. My time off was my time off, from all of it.
But then the results of my bone marrow biopsy started to trickle in. I waltzed into my doctor's office last week with nary a concern – the initial scan showed I was clean, and I expected the deeper look at the molecular level to say the same. By now, according to protocol and 90% of patients who have taken this treatment before me, my active cancer cell count should have been zero.
One test showed that it wasn't, and that was not the news I was expecting. The doctor talked about my possible resistance to arsenic and that the next step could potentially be a bone marrow transplant. Such a procedure is risky, requires a lot of hospital time, and has a year-long recovery period.
"I'm sorry to alarm you," he said. We had one more test result to wait for so nothing was certain. But I was reeling.
My last week of time off was suddenly not that. Pete and I had planned to head to Edmonton to visit family but I couldn't stop crying or bring myself to face anyone. I went from agony to acceptance to disbelief. There was a dramatic decrease in the cancer cell count (from 85% to 0.5%) – how could it not be working? How could I be one of the very few people that is actually resistant?
Turns out, I wasn't. The first test was a false positive. A deeper look – ran twice just to make sure – showed that the asshole cells had been wiped out. The doctor called on Friday to tell me that I was officially in complete molecular remission.
This is it, guys. I'VE WON. I don't think I have to expand here as you may be able to imagine the celebration that ensued. (Or maybe not? I will only say that it included a lot of ugly crying, gatherings of friends and family, a limo ride, shooters, champagne, purse juice, and a surprising absence of a hangover that I will chock up to the fact that my body is now used to much harsher toxins.)
The rate of relapse for this type of cancer is very low. This is, as we hoped from the beginning, going to be a painful but relatively short blip in my journey. It has not been without it's extremely terrifying moments and will change our lives in other ways, but this end result is the absolute best we could have hoped for.
WHAT'S NEXT?
It's not quite over yet. I started chemo again on Monday and will continue every weekday until April 7th. I expect the same brain fog, fatigue, and other side effects as the previous round. But this one will be different for one big reason: it will be my last.
However, I will still be bound by my cancer. For the next two years (at least), I will need to have tests done every month and see the doctor every couple. I will be able to travel, but Pete and I clearly cannot just pick up the lifestyle that we used to have. Everything changes.
How? Nothing is entirely certain just yet as we are still just grappling with it all. After eight years of carefree travel, this will be an adjustment. Many people who travel for as long as we have most often choose to slow down after a certain point, but for us, this certainly won't be by choice. It will be a necessity.
Hence the grappling. I keep telling myself that it doesn't have to be worse, just different. I hope to believe it soon enough.
Much love,