Ready for Winter in Alberta
Words by Dalene Heck / Photography by Pete Heck (unless otherwise noted)
It snowed here last week.
It's not unusual in September for snow to fly across Alberta with ferocity. It doesn't usually last though, instead just serving as a warning shot for those who might have forgotten that winter follows summer very quickly here, leaving us with a very brief (but beautiful!) fall.
We were tucked away in another part of the province and missed the storm, but we still took the warning seriously. Pete immediately bought snow tires for our vehicle, and I stalked out a new winter coat.
I didn't want some flimsy, tiny thing filled with just a handful of down feathers like I have had for the past several years. I don't need something that I can roll into a ball and stuff into a corner of my luggage to be carried through subsequent warmer climates. In previous years we've leapt over whole seasons on our nomadic journey; one year we went from fall in Wisconsin to sunny Guatemala and then up to Finland in the depths of their winter.
Now that we have a home base in Alberta and plan on spending a good chunk of the winter here, that flimsy jacket just won't do. And as much as I struggle with the thought of owning many things again, warmth is one thing that I was eager to buy.
I wanted a big, poofy winter jacket with fake fur on the collar. A bright coloured one too, not my typical choice of black which would have been suitable over the rotating variety of colours that were stuffed into other corners of my luggage. One that would ensure that Pete won't lose me if we get caught outside in a wild Alberta clipper.
Warmth is one thing that I was eager to buy.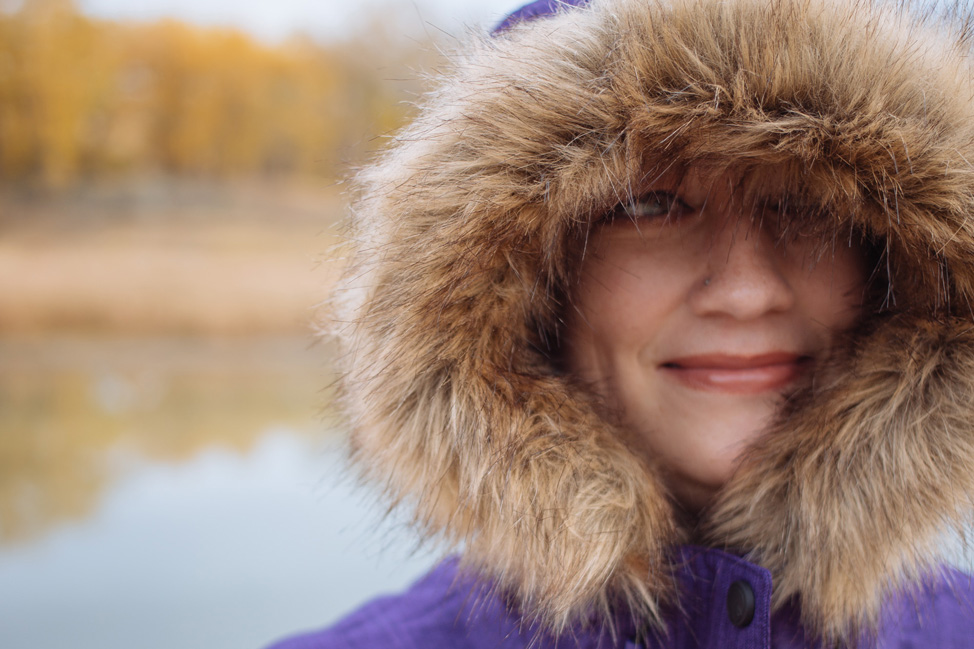 I found it. It's just so PURPLE and warm and I love it.
So what am I going to do in my very purple-y jacket? There are so many things to do in Alberta during winter, and this is is what we hope to get up to…
TO THE HILLS!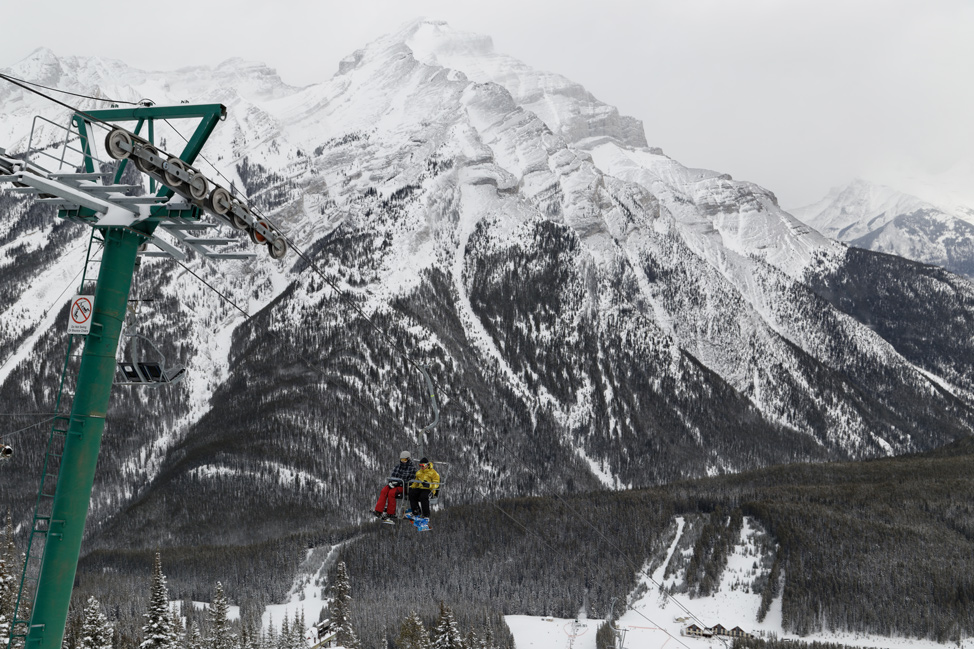 My jacket is actually designed to be used on the ski hill (there is a cool inside flap meant to stop snow from getting up the back). I will admit that to get me skiing again though, there will have to be the promise of a strong apres-ski atmosphere as well. I don't mind the sport, I've had great teachers and tried several times, but I am someone who typically picks up things easily. With skiing, I did not. Hence my frustration, which can only be quelled by spiked hot cocoa and lots of it.
For an alternative, I want to get back to Mount Norquay for their tubing hill. I am really good at it (basically because it just involves sitting and screaming). My talents are very specific.
THE INEVITABLE RETURN(S) TO BANFF AND CANMORE
We already know we will be in Banff in March for a conference, but even without other plans cemented, I can guarantee we will be there at least several times. That's just what we do in winter: we enjoy Banff. What I love so much about this small town during winter is that it is typically less jammed with tourists (which is surprising, given that it is a ski town), and there is still so much to do. Hiking in many spots can be done year-round and the ride up the Banff Gondola is a must in order to see all the snowy peaks. A bathing suit will also be necessary for the Banff Upper Hot Springs (Imma gonna need a purple one like my jacket).
And on the way to/from Banff, a stop at the Yamnuska Wolfdog Sanctuary near Canmore will be a necessity. We have visited the sanctuary twice now, but are always eager to stop in to see the amazing work they do and meet any new wolfdogs that now call Yamnuska home.
CURLING. (YES, CURLING.)
The other day, Pete got caught saying "ice curling" to a friend here in Alberta. After many years of talking to people overseas about curling (because we are nerdy and in love with it), we had both learned that it was the best way to start explaining the somewhat obscure sport. But here, curling is deeply ingrained in our culture. No explanation needed.
And with all of those years away, we have both really missed the game. Not only are we going to try and get some playing in (Pete is a former junior Canadian champion, after all!), but there are also major events happening in the province that we hope to watch, including the Canadian Mixed Doubles Championship in Leduc.
FESTIVAL FESTIVITIES
Alberta is big on festivals, and the province doesn't stop just because it's a little cold.
Jasper in January is one that we've enjoyed once before and are eager to get to again. Not just for the ongoing events (an annual chilli cook-off, a street party with fireworks, and much more), but for the quintessential winter activities that ensures visitors to Jasper embrace the season. Think skating on a mountain pond and hiking in an ice canyon.
The Silver Skate Festival in Edmonton has to happen too. For the third year in a row, it will be highlighted by the presence of massive, acre-sized ice castles which will hopefully be ready to go for the holiday season (weather depending).
THE CANADIAN BADLANDS UNDER SNOW
The hoodoos are unique and magical all on their own (so we finally discovered this summer), but I am eager to see them under a dusting of snow. With our new winter tires we're planning some more road trips through the southern part of our province to see more of thi area which we now cal home. This time our goal will be to see it all under a white blanket, and if we're lucky, some northern lights action while we're at it.
With all of these activities on slate, we will have a busy winter. Undoubtedly there will be some days that will be too blustery for us to leave our insulated home, and on some roads will be so slick that we will be prevented from going anywhere. And undoubtedly I'll whine a bit about those days too.
It can be easy to forget that those inevitable week-long stretches are really just small blemishes on the year here, given that a big swath of Alberta actually holds the title of Sunniest Place in Canada. But for those days when roads are good and activities beckon, you'll see me out there in the purpliest purple jacket you ever did see.
There are so many great things to do in Alberta. Now I'm just waiting for winter to get here!
You'll see me out there in the purpliest purple jacket you ever did see.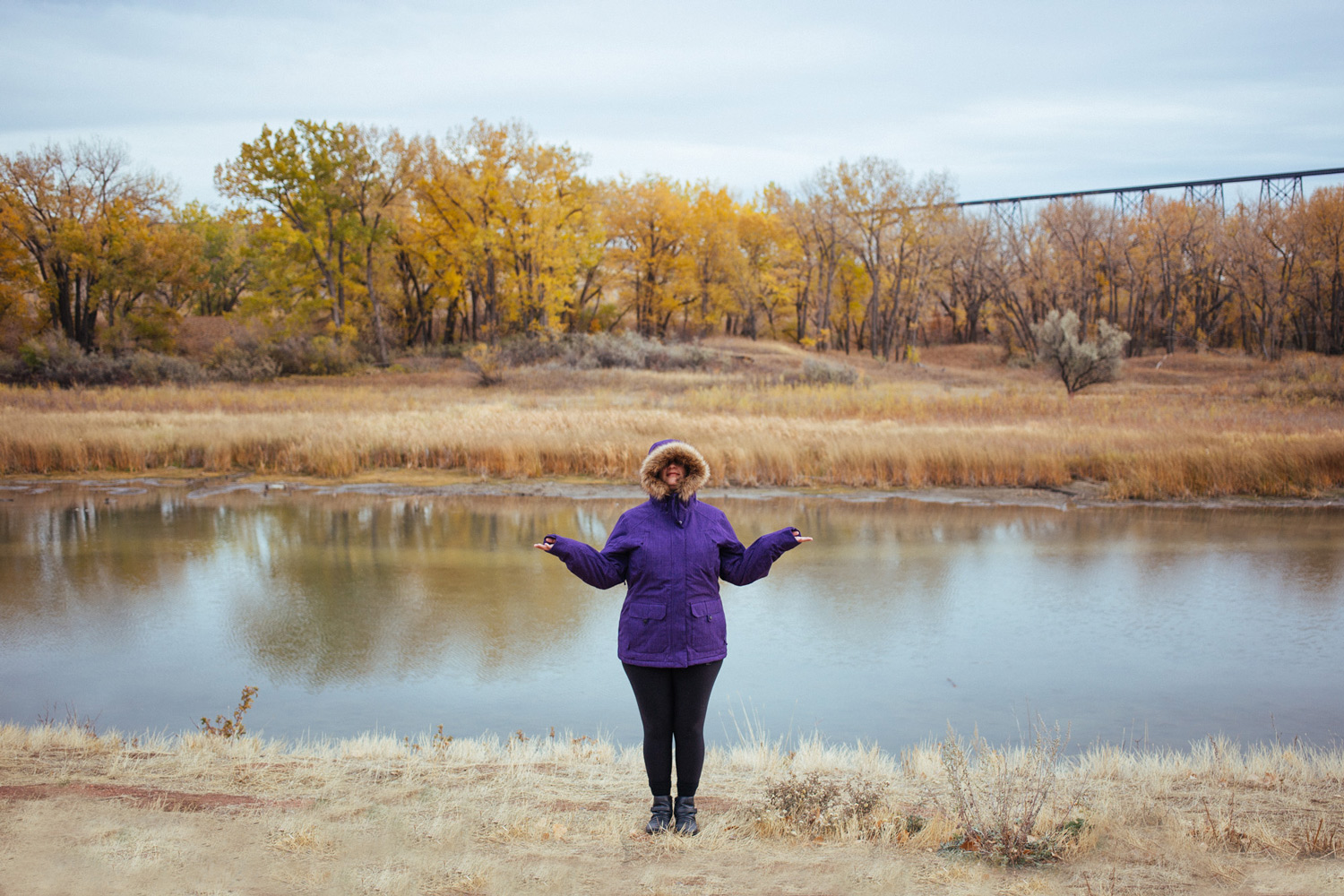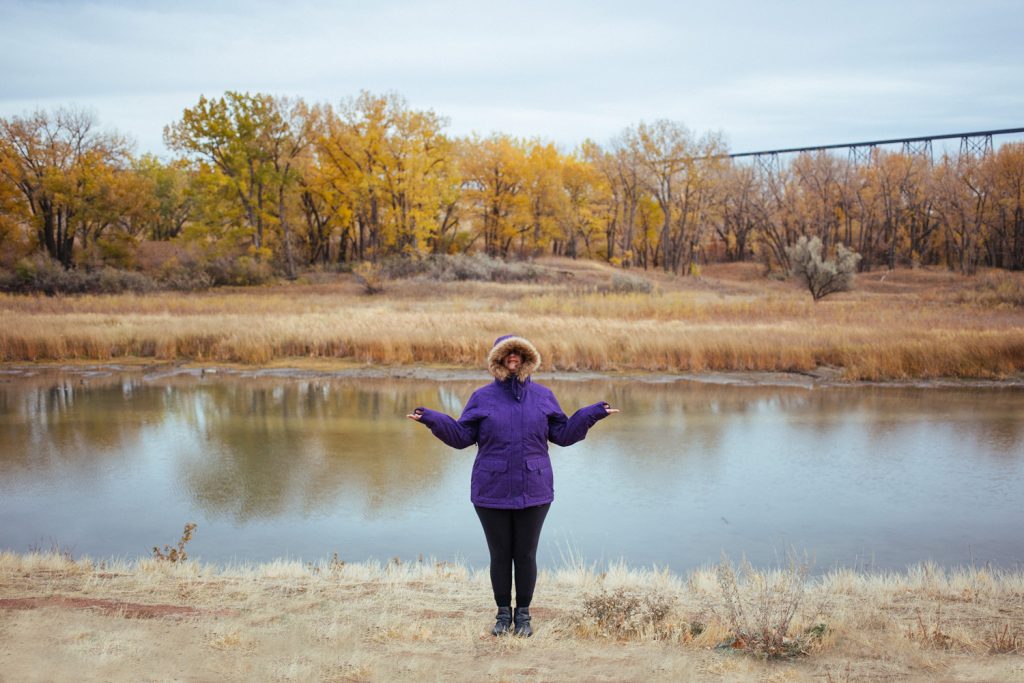 This post was produced by us, brought to you by Travel Alberta.
don't miss a post!
sign up to receive
hecktic travels
directly to your inbox