Words by Dalene Heck / Photo by Pete Heck
Ireland has some immensely spectacular scenery, without question. The problem is, everybody knows it. Trying to see the popular sights during the summer months means elbowing your way through hordes of tourists to get a proper view.
The Cliffs of Moher is one of the most famous spots on the island. The bluffs are over 200 metres high and stretch for 8 miles against the Atlantic Coast. Upon first sight, we stood motionless with mouths agape, and emphatically uttered only one, single syllable:
Wow.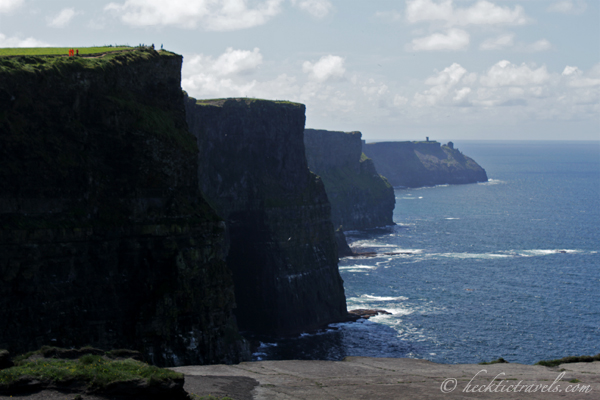 And then some tall sweaty guy with a mullet walked in front of us and broke our gaze. Of course.
I can't say that tourists are ruining everything, because hey, we are two of them. But waiting several minutes for the path to clear in order to snap a few photos is not my idea of a perfect travel experience.
But alas, we did it anyways. The place is popular for a reason – our reaction at first sight is definitely not unique – and so we waited patiently for our chance. Even the path over the fence into do-not-go-here territory was well trodden.
O'Briens Castle, and just a few of the gazillion tourists, in the distance.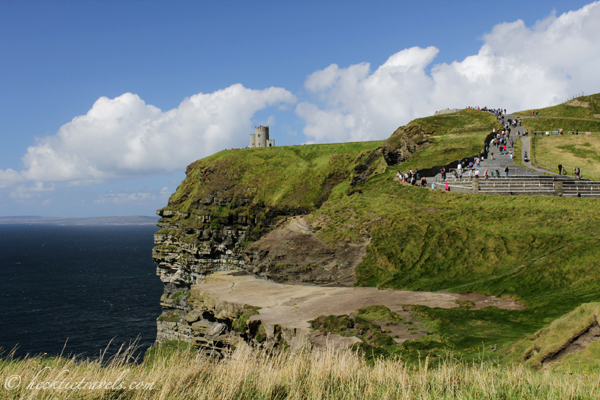 Pete "safely" going to the edge of the cliffs in the do-not-go-here territory (he is a wee bit scared of heights).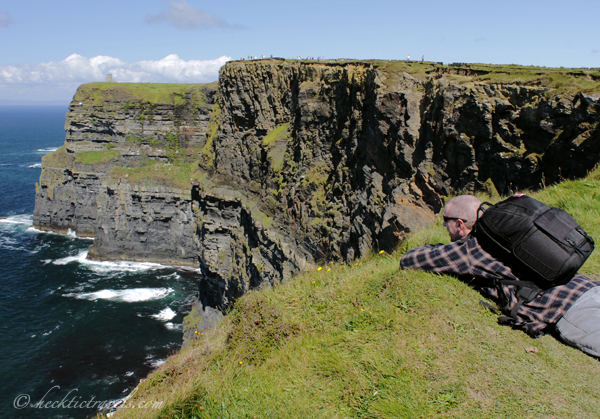 My foot over the edge of the cliff. This picture freaks Pete out every time he looks at it.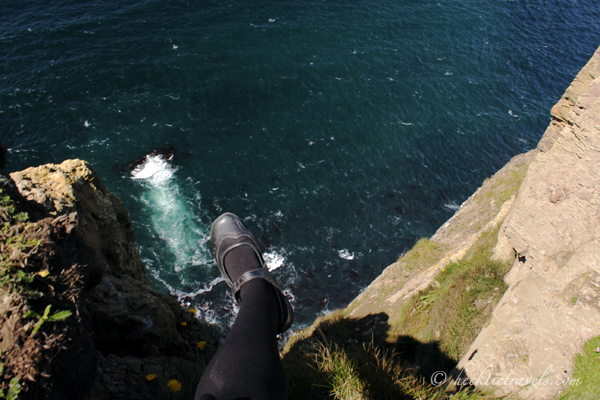 We ultimately did enjoy our time there, but came away nonplussed with the size of the crowds. It was impossible to have that perfect, peaceful moment of connecting with the beauty of nature with so many people around.
We were missing something. We craved that moment. And so, a little further down the road, we made another stop on the coast, and claimed it as our own.
I give you…The Cliffs of Heck!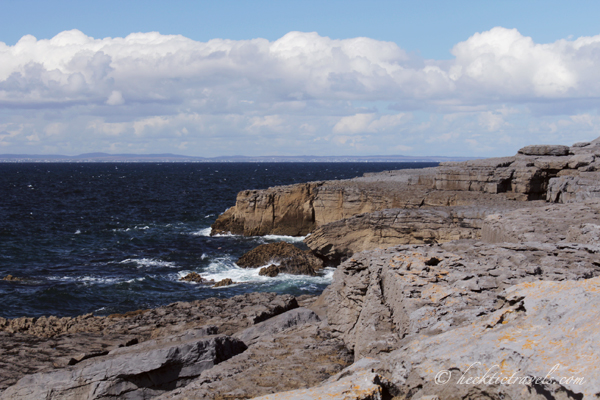 Okay, so maybe they don't have the dramatic heights of the Cliffs of Moher, but we didn't care, for an hour they were completely ours to explore and enjoy with no one else in sight (and no mullets to distract our view).
That is just what we needed.