The Night Market in Marrakech
Words by Dalene Heck / Photography by Pete Heck
If we were looking for chaos, we found it at the night market in Marrakech.
In fact, we found it within only a few minutes walking from our riad. After winding through several quiet derbs, we came to a main street that lead us to the markets in the center. The energy on this artery was instant and intense. Motorbikes sped and weaved around the crowds of people and carts pulled by donkeys, Pete took the outside lane to shelter me from the traffic. Around us, souks were hawking everything from bras to raw meat to household goods. Wonderfully colorful shops of shoes, fabrics and ceramics also brightened the way.
Bonjour, hello, everyone called, a grand smile on their face and an outstretched hand leading would-be patrons into their store or open stall.
We stopped to snap photos but were rather shy to take them. One shop owner yelled at me from across the way to stop. We became more sneaky and I pretended to pose so that Pete could zoom in around me and capture some of the street scenes.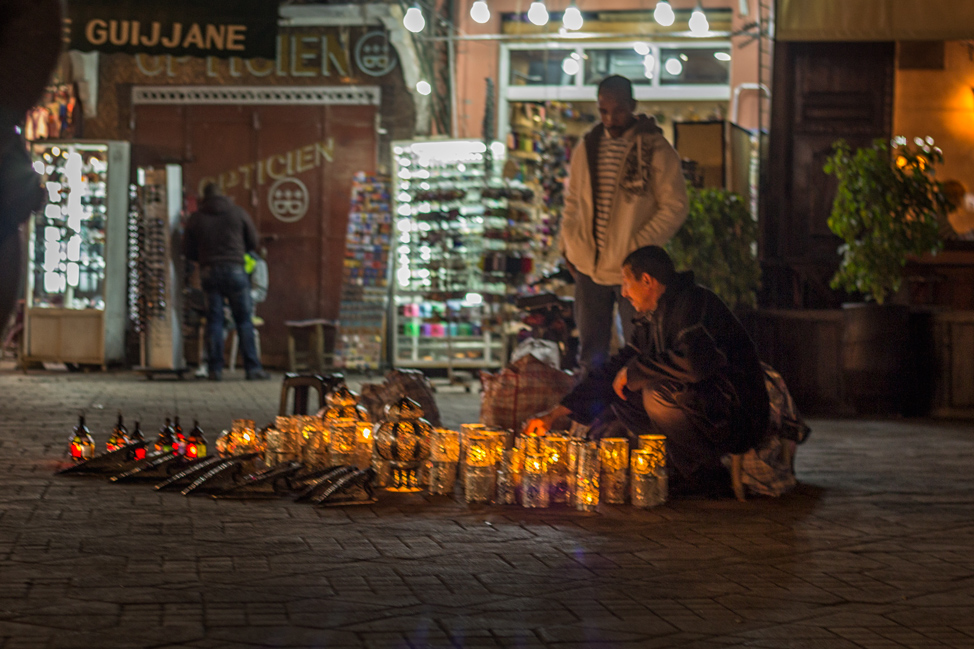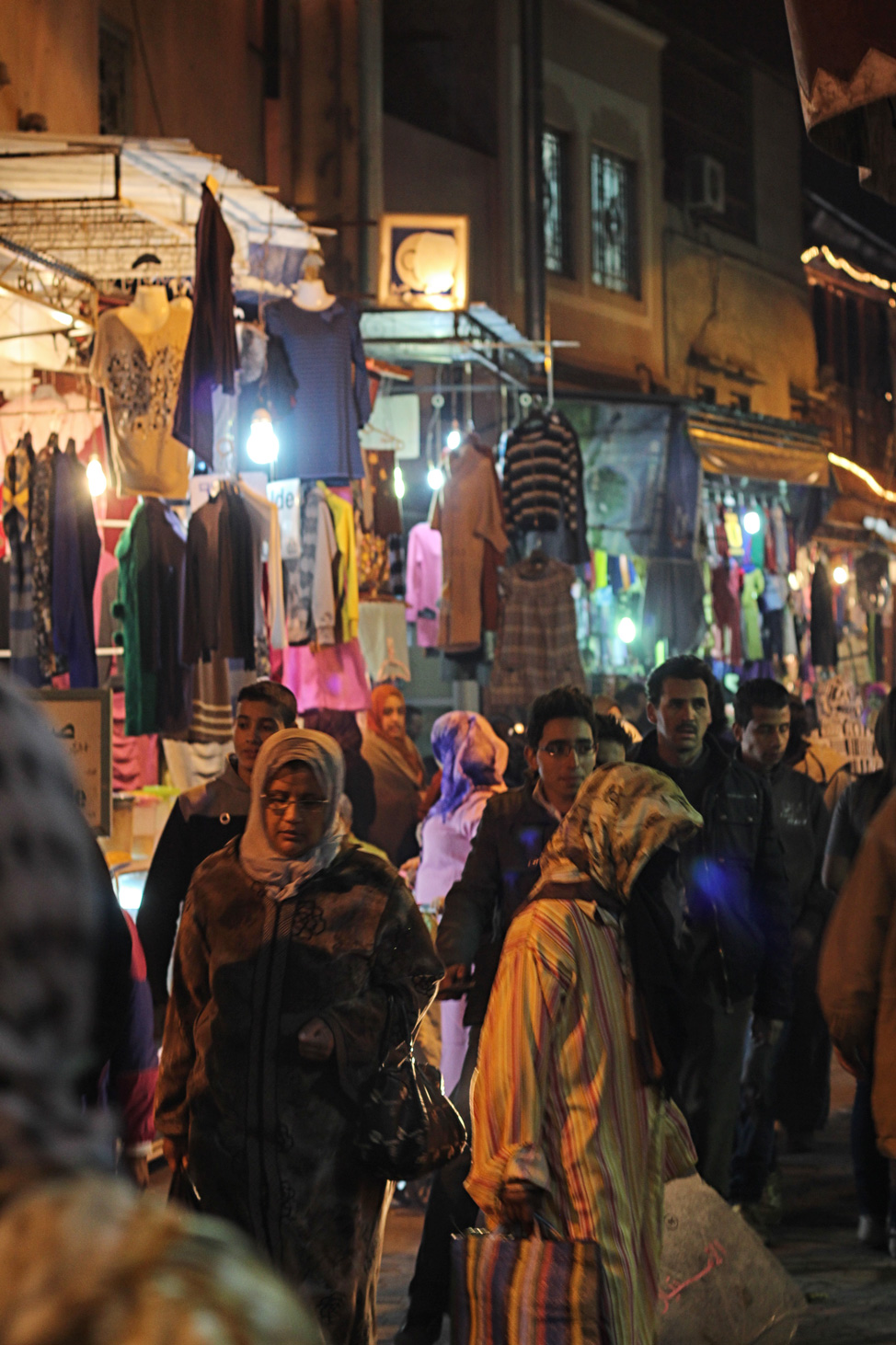 >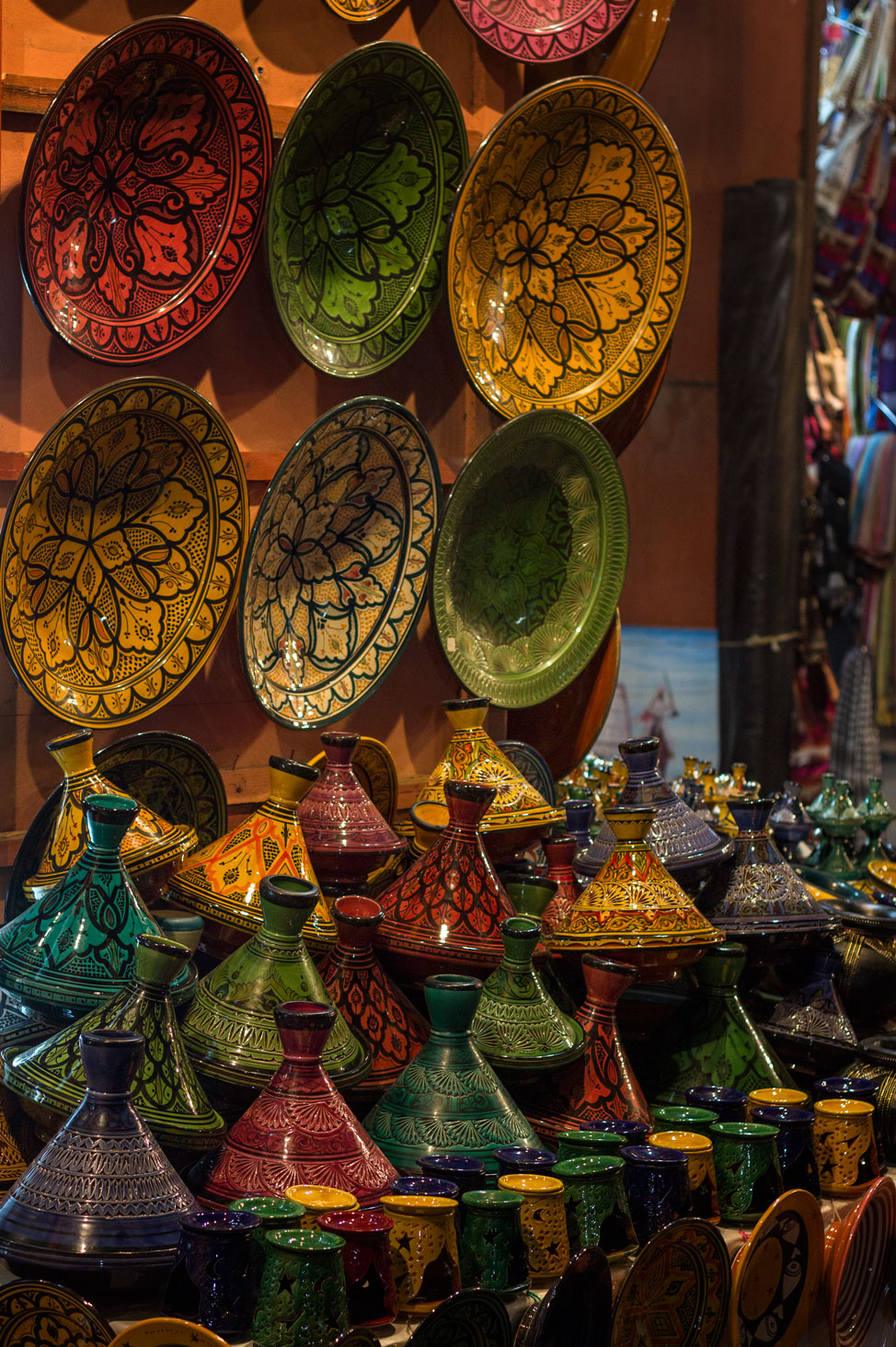 At one point I walked slightly ahead of Pete and we got separated. Within seconds, a small man with a wayward ball cap atop his head stepped in front of me, his eyes roamed my body from the feet up. "Very nice," he creepily drawled. Becoming begrudgingly accustomed to this sort of unwelcome attention in Morocco, I casually stepped around him and into another crowd of people. Pete finally made his way back to my side.
We neared the market and the alternating aromas hit full force. We passed spice shops that temporarily distracted from the heavy diesel fumes of the speeding motorbikes, and it wasn't long before we caught the scent of grilled meat which meant we were near the center square.
I began to get very nervous.
Snakes.
I hate snakes.
Earlier in the day, a lady staying at our riad told a tale of her teenage son being surprised by a man who draped a snake around his neck without warning. After much imploring to have it removed, the man then demanded payment for the experience. Such men and their snakes are speckled throughout the markets, and I had been keeping a careful eye out to avoid them. They are most commonly found near the food stalls.
"Do you want me to get bitten, poisoned and die?" I dramatically asked Pete as he mocked my fear.
Through a crowd of people I spotted a man holding three small snakes as he scanned for obvious tourists. We were just two of those many tourists, but I wasn't taking any chances. When we were within twenty feet of him, I positioned myself on the farthest side of Pete and clung to his torso.
We passed unharmed, and I relaxed somewhat. But I was always tense and on the lookout.
The assault of the obnoxious dinner slingers soon began from the stalls of fresh food and grills lined up under white tents. Each had one man responsible for coaxing patrons to their tables. "But you look like you are starving," one said as we pushed past him. We were searching for the highly recommended stall number 100.
We found it and immediately sat down, garnering small applause from all who worked there. Their charm was fictitious and obviously made for the crowds of foreigners. But it worked, and more people took seats around us.
"Do you want me to get bitten, poisoned and die?" I dramatically asked Pete as he mocked my fear.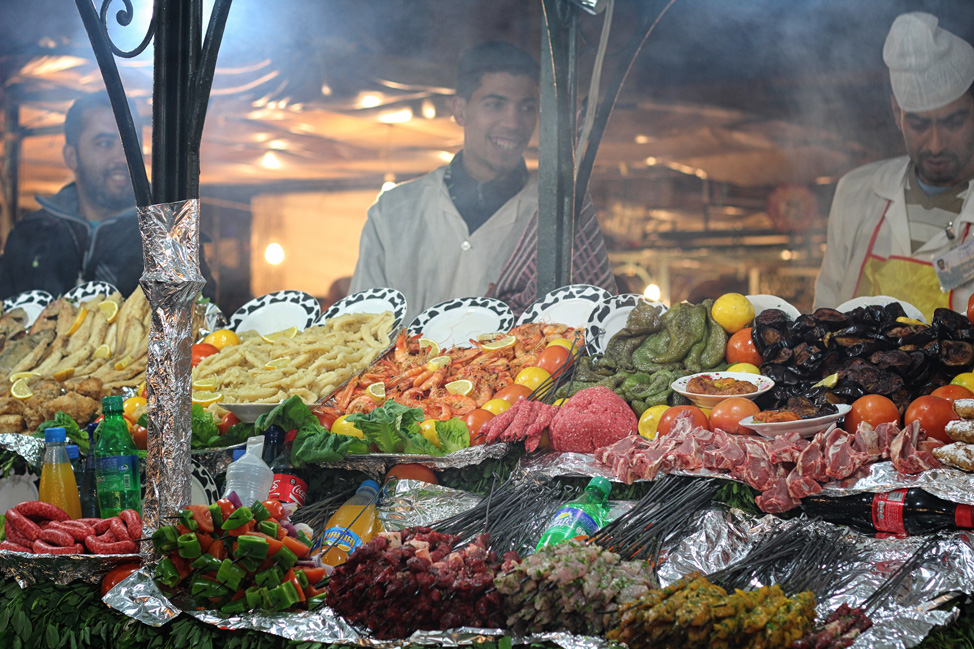 Our waiter led us up to the buffet of fresh, uncooked food so that we could pick out what we wanted. We ordered a round of mixed brochettes, veggies and sausage. I had asked our waiter about one pastry dish and he responded that it was traditional pastilla, filled with chicken and almonds. I didn't order it, but it mysteriously showed up at our table with the rest of the spread anyways.
It was all so delicious.
Even the pastry thing (which, I learned later, is more traditionally made with pigeon meat). It was garnished with sugar and cinnamon which made it quite sweet for a chicken dish, but it was amazing.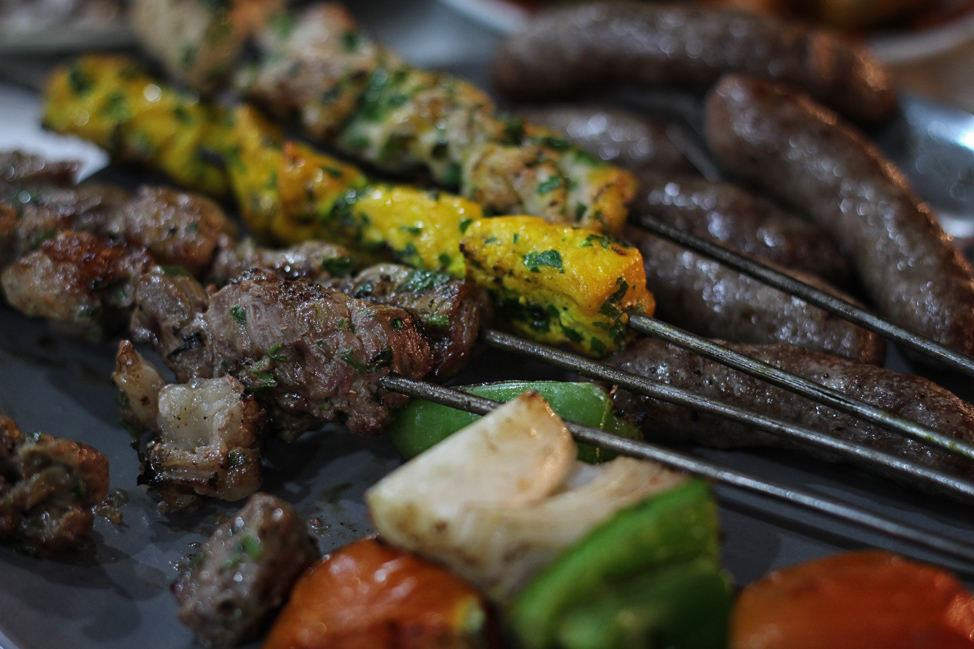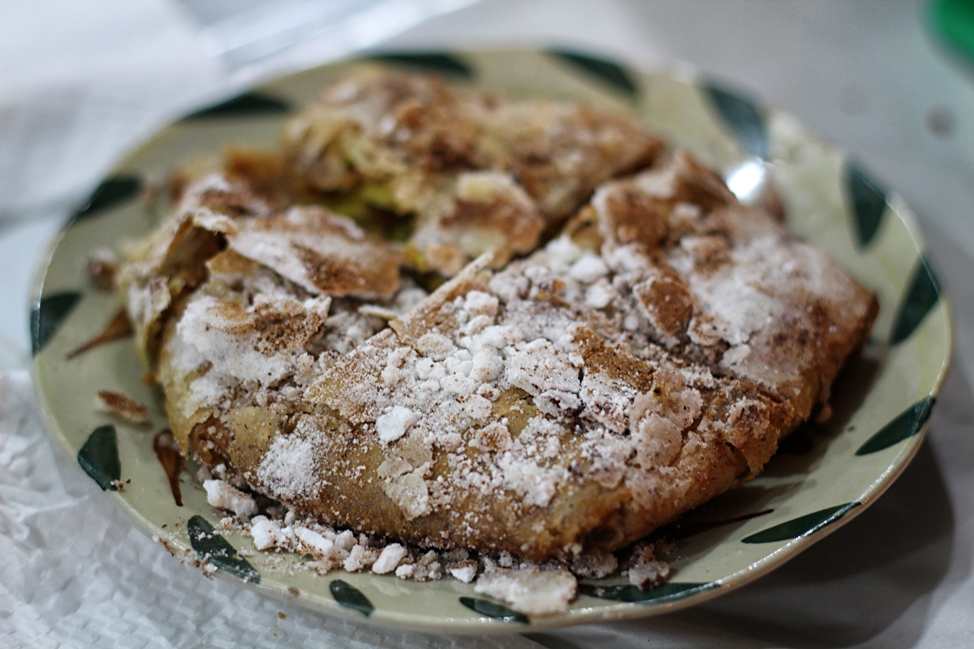 While we ate we enjoyed music from unrecognizable instruments just beyond. Several men pushing very large white carts walked past and tried to sell us a variety of desserts just as we were tucking into our grilled meat. More applause as more people sat down. The whole area was an electric whir of sounds, smells and activity.
We left quite full and I commented that I wished we carried a sign that said "We-just-ate-don't-bother-us!" because we immediately were being guided to various stalls as we walked past. "Demain," most of them insisted when we refused, "Come back tomorrow!" A couple of more aggressive men put their arms around Pete: "Mon frere, mon frere, remember me tomorrow!" Another saw the Canadian flag on our backpack and yelled out "Jim Carrey!" as we walked past.
We made our way across the medina, ever mindful of snakes, to have a drink at a restaurant balcony high above, exclusively for the better view.
From above we could see, and still smell, the clouds of grilled meat. The buzz of activity was mesmerizing to watch and capture.
The whole area was an electric whir of sounds, smells and activity.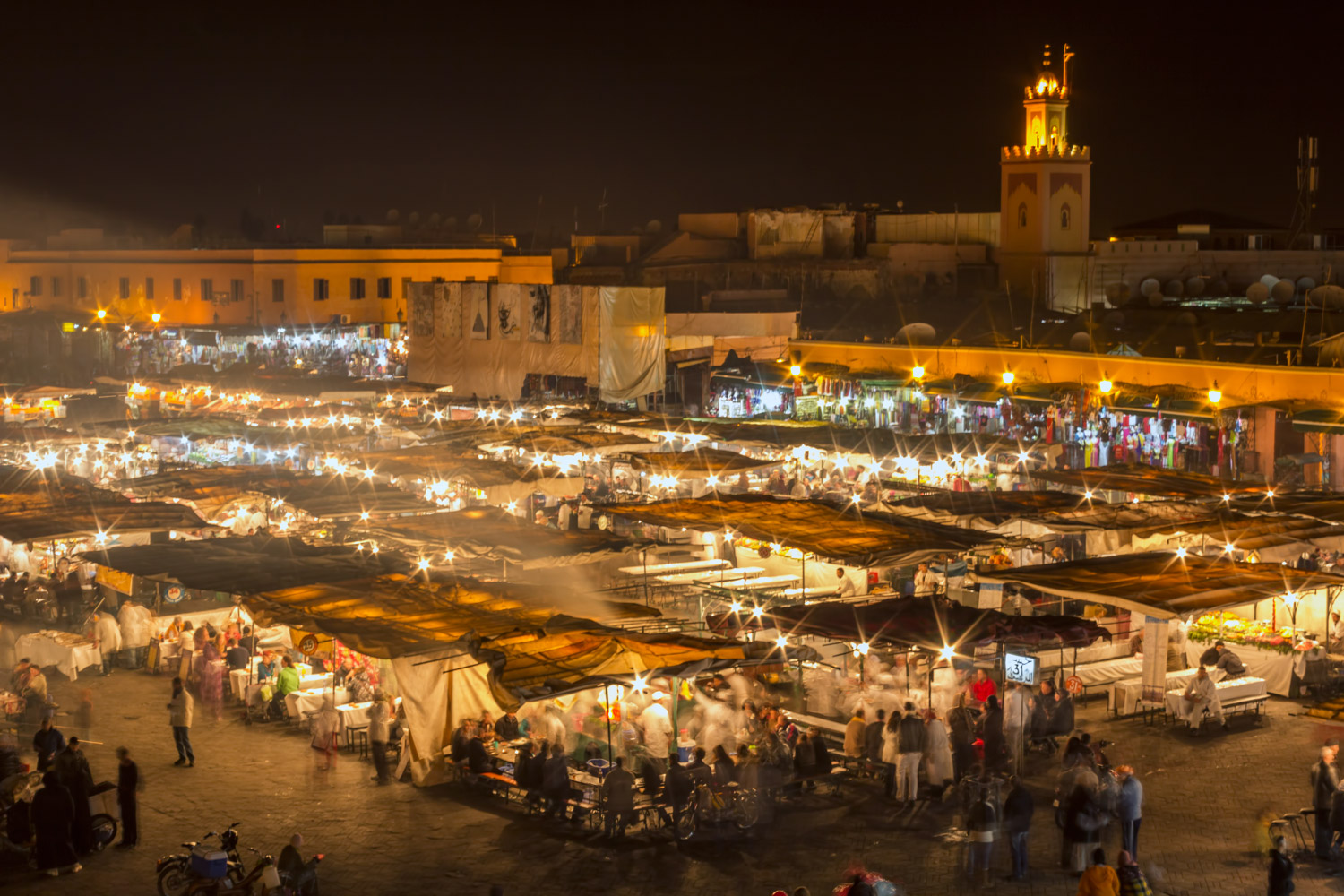 We gave up our ringside seats on the balcony and walked towards the souks behind the food stalls. Being almost nine p.m., they were closing for the day. We bought some almonds, marveled at the perfect stacks of spices, and then began the artful exercise of dodging obstacles on the crowded streets back to our riad.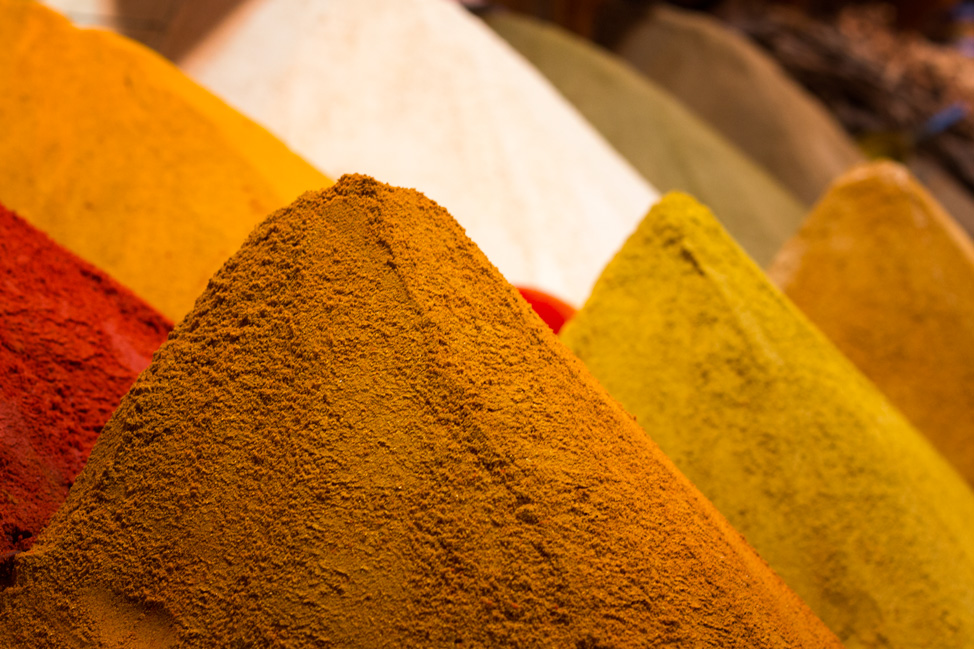 We were amazed at how just a few steps off the main street, and other than for the few polite locals we passed, silence so quickly befell.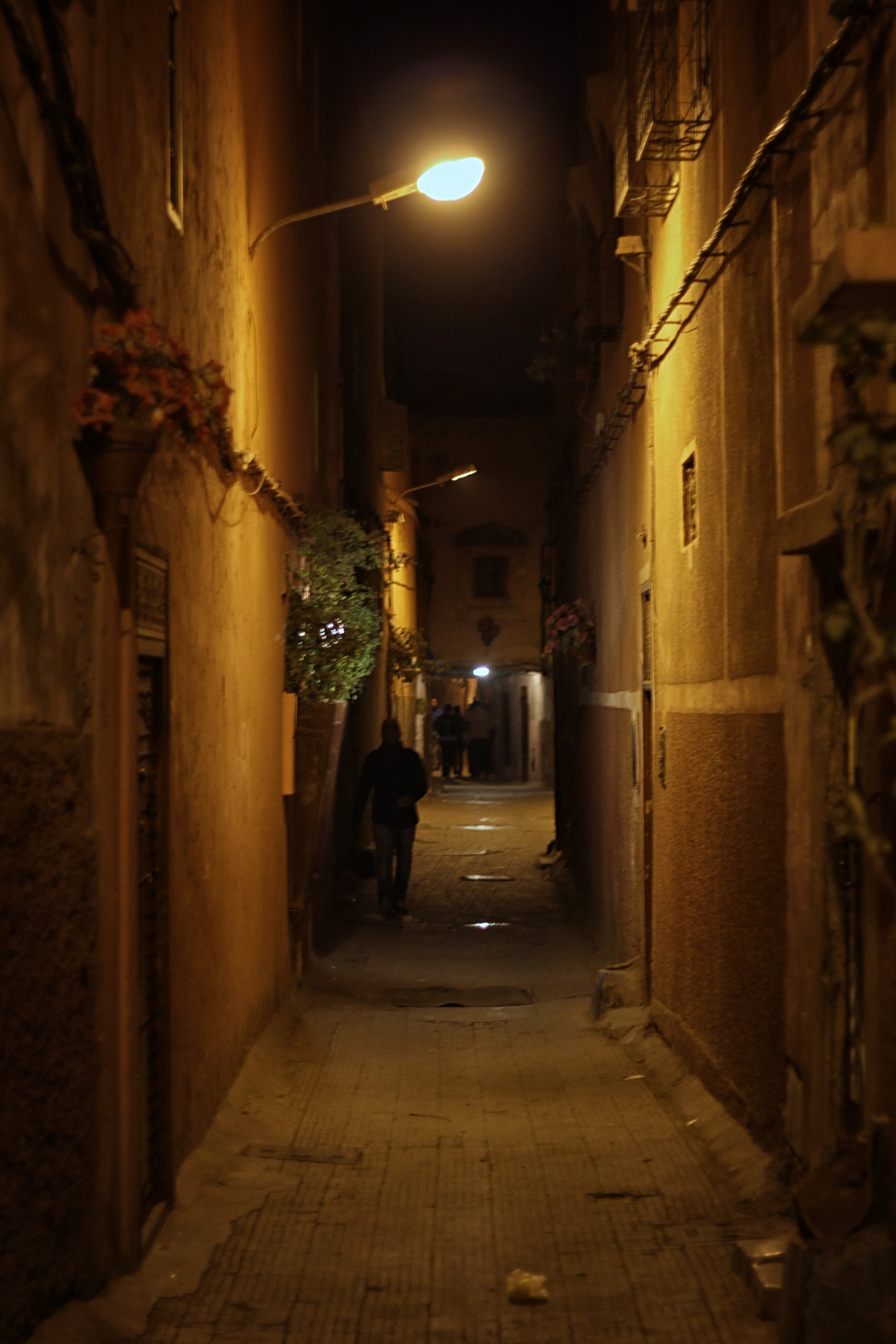 Where We Stayed
High-end
 It's rare when a luxury hotel feels like home. The staff, decor, and food at
La Sultana Marrakech
are wonderful, and definitely a fantastic option.

Check reviews
|
Book this hotel
Mid-range Spend a relaxing afternoon on the quiet terrace of Riad Linda, and then walk a short distance to the heart of a bustling market! This hotel is a great mid-range option for your trip to Marrakech. Many thanks to Riad Linda for our discounted stay while in Marrakech. For a full review, please click here.

Check reviews | Book this hotel
Budget Stay at Jnane Mogador if you're looking for gorgeous rooftop spaces, lovely breakfasts, and an amazing hammam experience all at a reasonable price.
Please note that some posts contain links that earn us a small commission (at no additional cost to you) which help keep this site running.