Words by Dalene Heck / Photography by Pete Heck
I never expected, on this trip through Atlantic Canada, that I would potentially discover one of my callings in life.
It has nothing to do with writing or blogging, or even clamming or beach-combing, as you might expect from a maritime trip. It is something that came as a wild surprise, to know that I may have hidden talents never before discovered.
You guys, I am really good at throwing axes.

This is definitely something that you all should be a little scared of. Even though it's been a couple of months since we visited Nova Scotia – I STILL think about it constantly. After throwing the first couple clear of the target and almost into the river well beyond (oops), I found my focus. I became accustomed to the weight of the axe in my hands, and I found myself correctly staring down the length of my thumbs as I launched it towards the target. (And I only almost threw it in the river one more time after being taught how to do it properly. See? Expert.)
I couldn't have had a better teacher and mentor. Darren Hudson is a 5th generation lumberjack and 7 time world-champion logroller. And given that Darren is as proficient at launching comical puns as he is axes, then you know we were in for an enjoyable afternoon.
Testing one's prowess at the variety of lumberjacking skills – axe throwing, tree climbing, two different types of sawing, and logrolling – should also be considered an important experience of Canada's cultural heritage. The Lumberjack is an iconic Canadian character. Although the profession of loggers was common across all of North America, the origins of the term is from our side of the border, first appearing in an Ontario newspaper in 1831 in the following context: "[There is] an incorrigible, though perhaps useful, race of mortals called LUMBERJACKS, whom, however, I would name the Cossacks of Upper Canada, who, having been reared among the oaks and pines of the wild forest, have never been subjected to the salutary restraint of laws."
Well yeah, and that's why we love them, especially since the image of a lumberjack has also become more romanticized over the years. I can't imagine anyone in my generation who cannot immediately recall this tune when considering flannel shirts and the felling of trees.
However, with the advent of modern tools, the skills are no longer widely useful. Although, when he's not hosting tourists for this experience, tending to his bar in Halifax (the first in North American drinking establishment to allow axe-throwing inside), or working at children's camps in the summer, Darren offers his unique talents in tree and branch removal (with no crane needed, clearly).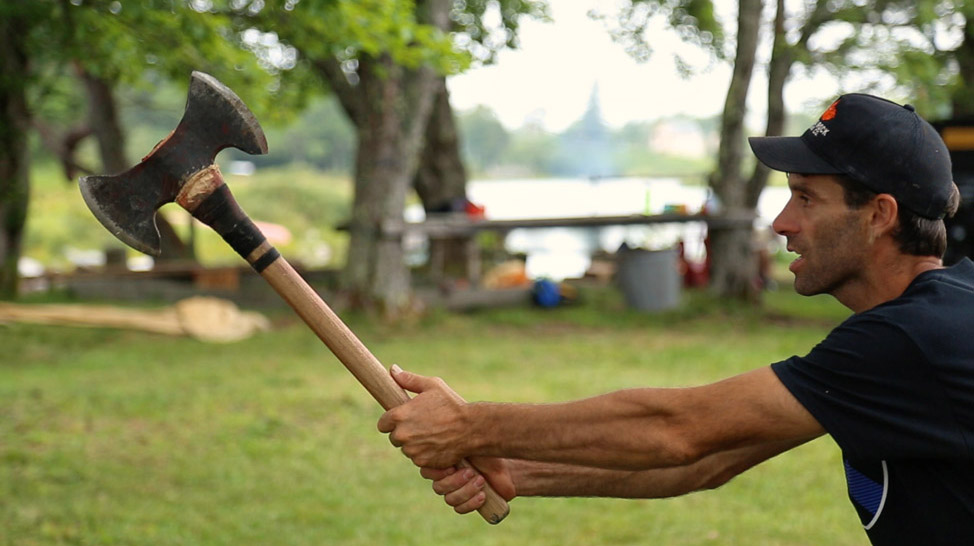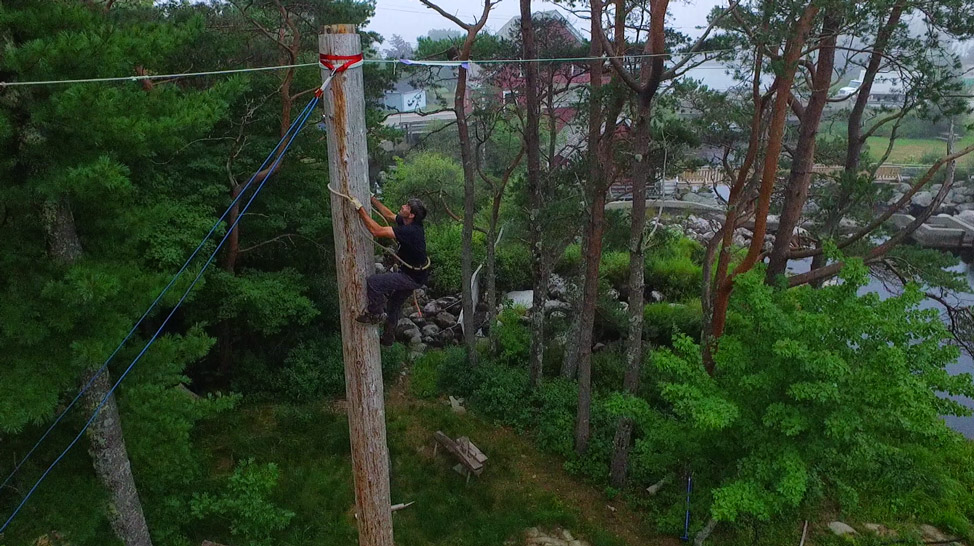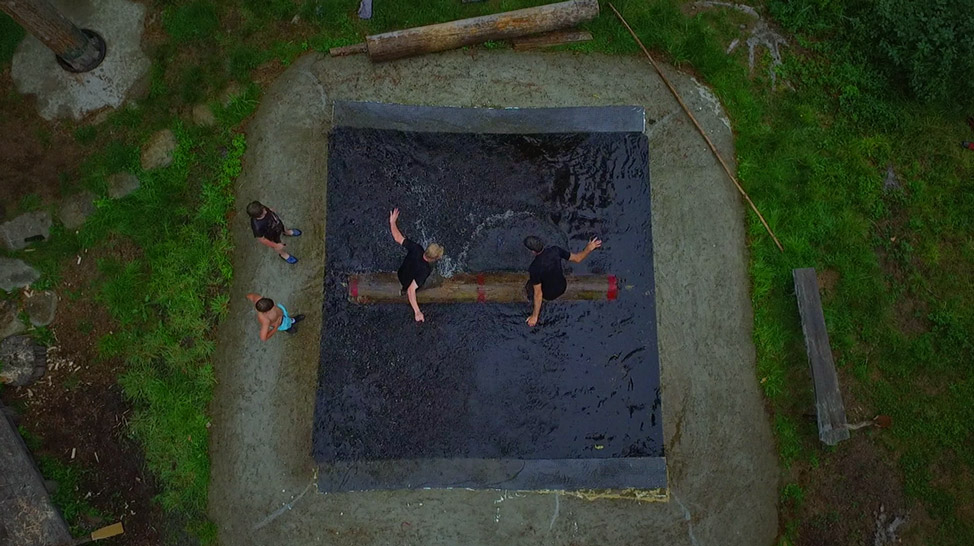 Beyond tossing axes, Darren also tested our skills with the bow and cross-cut saws, showed us how to climb a 60ft pole aided by spikes strapped onto our shoes, and literally danced on a smooth log floating in water. Both Pete and I did fairly well with some tasks, and not so well with others.
In addition to my axe-throwing talent (beating Pete head-to-head by a score of 7 to 3), I bested him in log-rolling challenges (2 to 0, although in truth I only outlasted him by mere milliseconds), and could have overcome him in the pole climbing (I know that sounds lame, but I honestly wasn't being competitive at that point. I descended the pole only because of some slight nerves at being so high. I had the stamina and better technique to take it further, and wish now that I would have proven that). At sawing, we didn't time our individual efforts but know for sure that we worked best when together.
Overall though, and Pete does agree – I do make the better Lumberjack. (It's not often that I beat him at ANYTHING, so let me have this one, please.)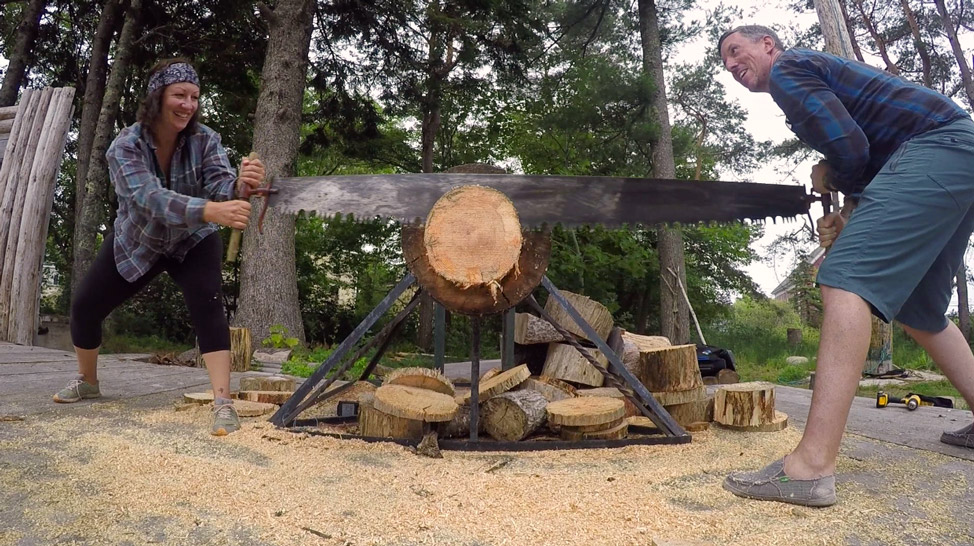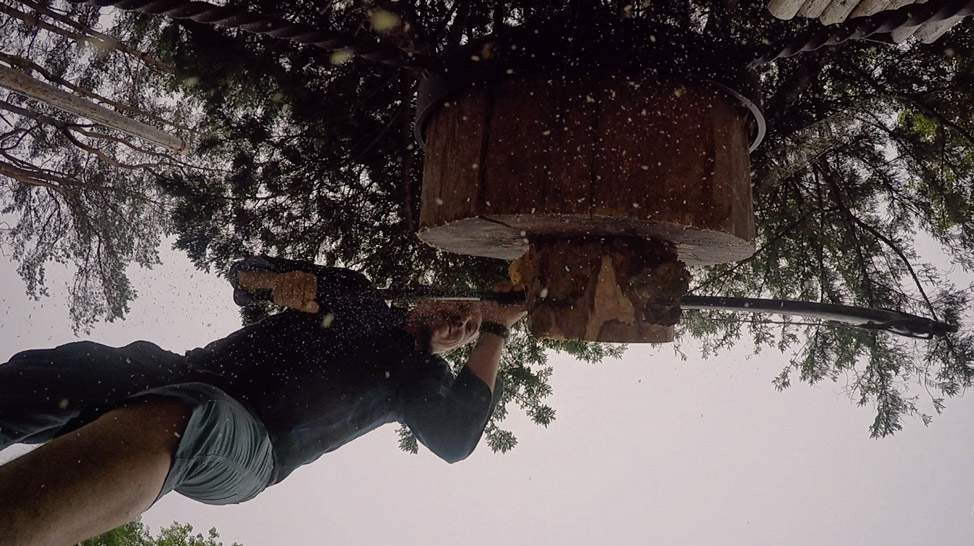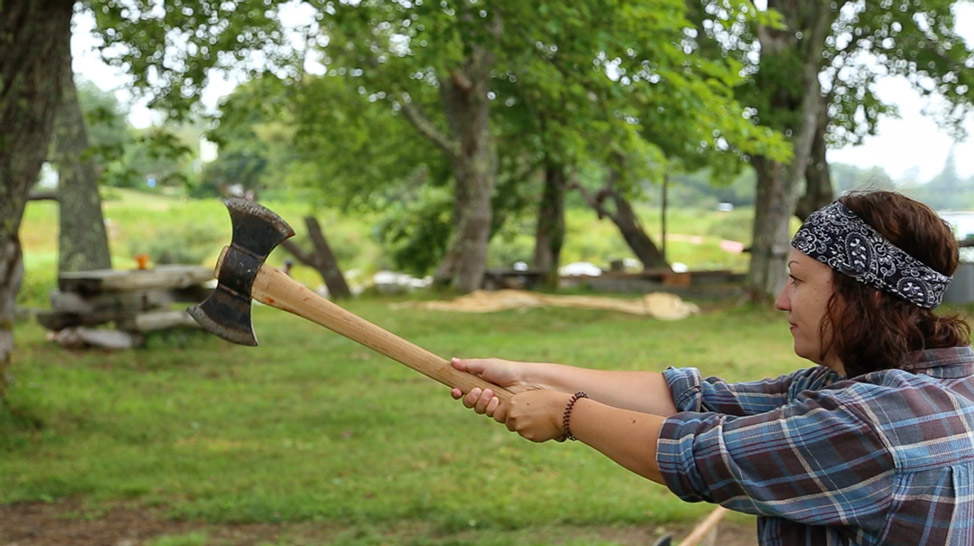 how to do it
This is a quintessential Canadian experience that is NOT to be missed, and easily one of the most fun things to do in Nova Scotia. Darren's pure talent, his extreme likability, and his penchant for fun make this the WildAXE Lumberjack Experience the most entertaining excursion in all of Atlantic Canada.
This post was produced by us, brought to you by Tourism Nova Scotia.