Visit Kemi: This is How To Do Winter in Finland
Words by Dalene Heck / Photography and Video by Dalene & Pete Heck
After a week of exploring Helsinki, we had found ourselves disappointed by one thing: the severe lack of snow.
If we were going to be in Finland in winter, we wanted to enjoy Finland in winter.
Our next stop was due north and approaching the Arctic Circle – after a quick flight to Oulu and drive to Kemi, we found ourselves marvelling at piles of the white stuff. And piles. And piles.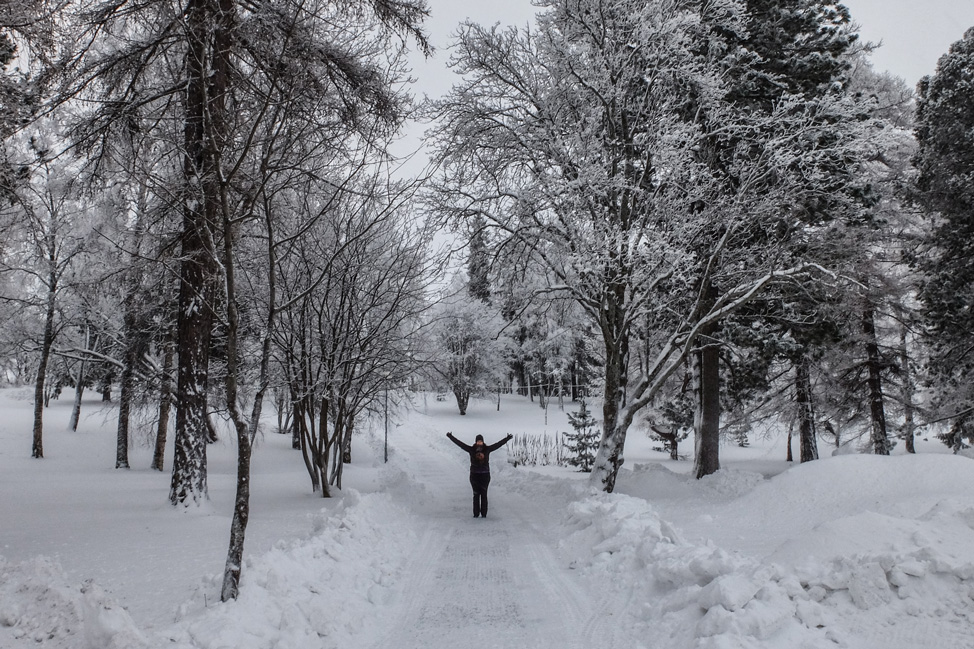 Kemi reminded me so much of where I grew up in northern Alberta. It's a small town where the sun is scarce and winter exists more months than not. It has a sleepy, quiet feel, and if you didn't know better, at first glance Kemi appears to offer nothing more than a simple life for those who live there.
But there is one significant difference: Kemi is a model town for tourism and defines how an off-beat destination can embrace its state and turn the heavy hand of winter into something incredibly positive. Among other things, two massive attractions bring this sleepy town to life.
Dine and Sleep in a Snow Castle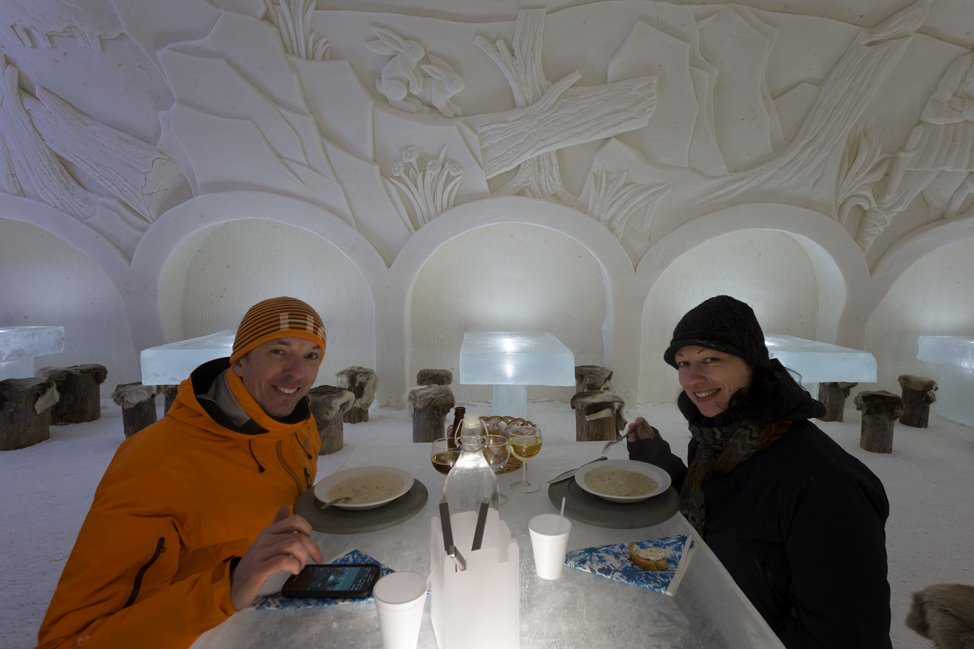 Our first night in the town was timed with the opening of the 20th annual LumiLinna Snow Castle. It should be noted that staying at a snow castle or at one of the unique glass igloos in Finland is becoming very popular due to the chance of viewing the northern lights. For the LumiLinna snow castle, the whole town appeared to converge outside the structure as we were treated to live music, fireworks, and the first opportunity to scope out the rooms. LumiLinna is the largest snow structure in the world that is magically assembled in only about three weeks' time.
Included is a restaurant that seats 200 people (and serves a luscious creamy reindeer soup), with tables made from ice lifted from the bay. There's a hotel with themed rooms and a chapel that keeps busy throughout the season.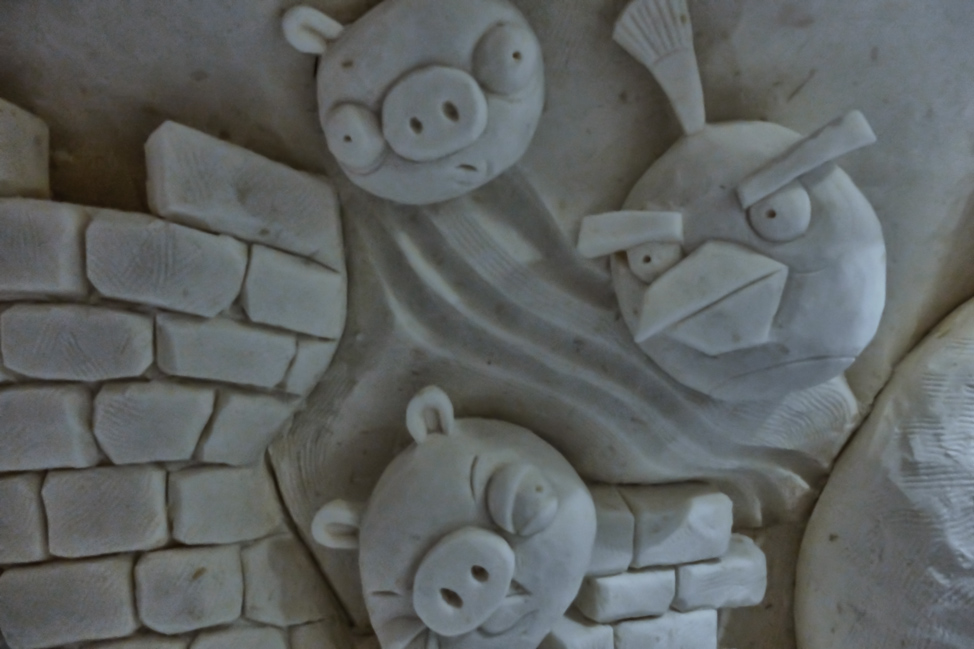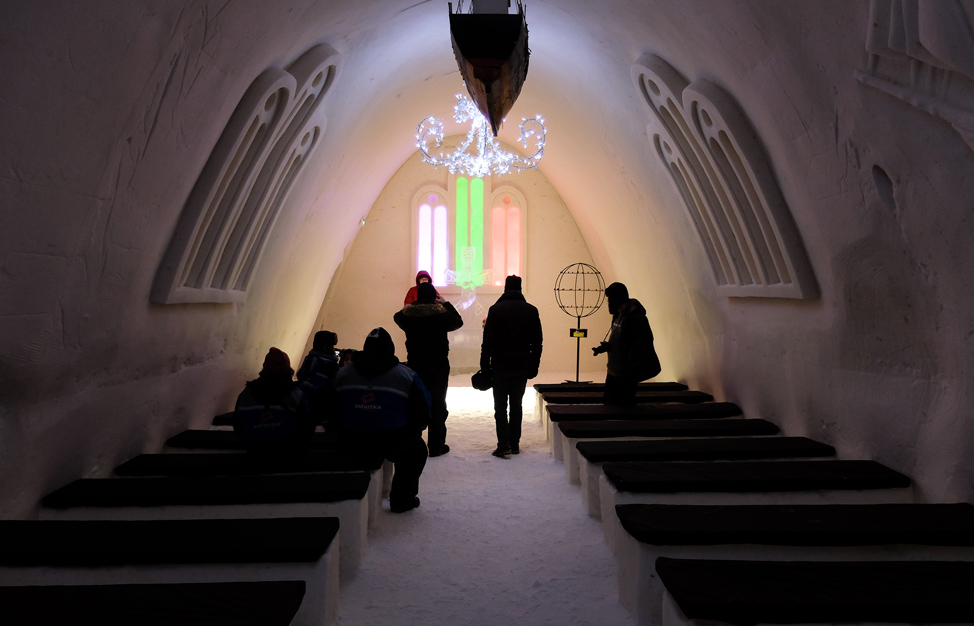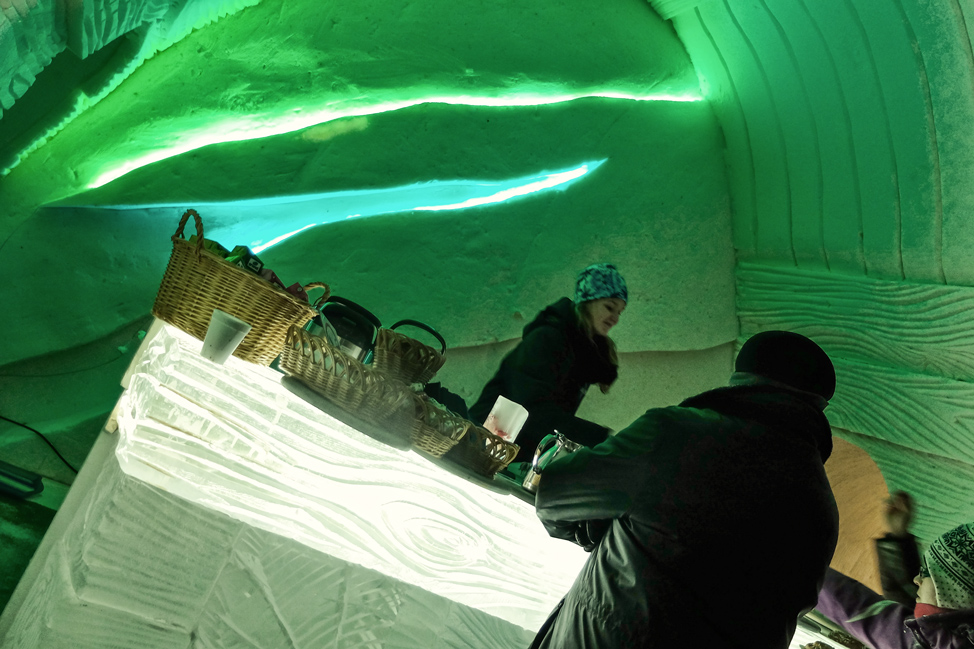 Ride on an Ice Breaker
The morning we were to board the Sampo Ice Breaker, a friend of ours sent an email bragging about the heat and humidity in Bali.Clearly, he doesn't know us very well.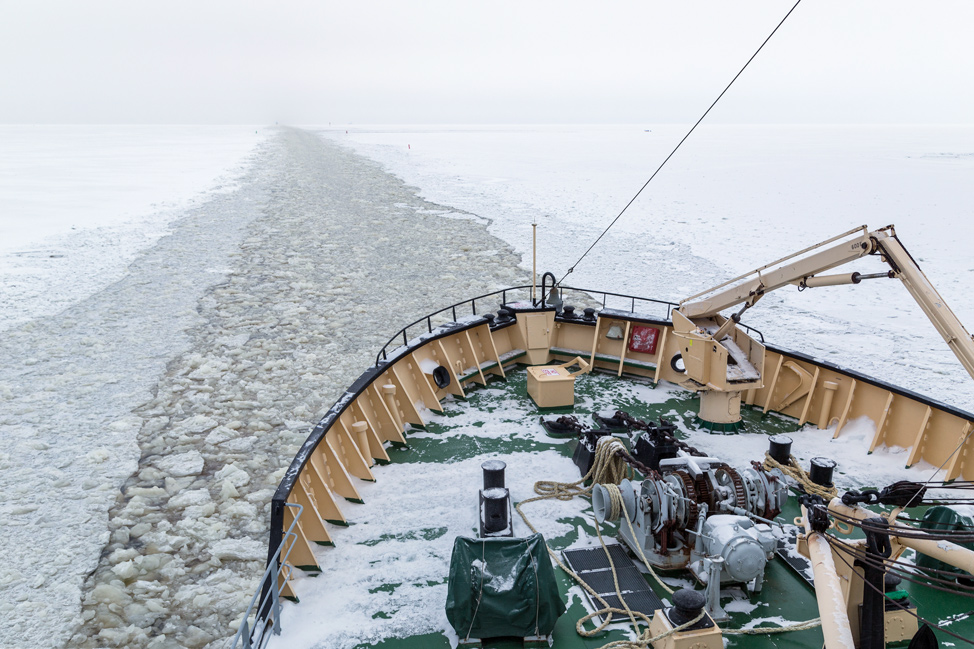 Give us the choice between a sticky hot beach and the chill of a winter activity and we'll take the latter every single time.
But as we boarded the ice breaker that morning, on the coldest day of our entire travels in Finland (-25C), we wondered if maybe this time we had taken it too far. As we cruised out of the bay, busting up the frozen harbour as we went, the wind on deck cut right through us. Others retreated quickly to the cabins, but instead, we layered up even further. Pete and I were two of the few that remained for that formidable experience.
That stunning sound, of the ship sliding on top of the ice and continuously crushing it beneath, will be something that stays with us forever. As Finland is one of the only countries in the world where it is possible for all harbours to become completely frozen, this is one of many ice breaker ships in the country, necessary so other ships can come and go in winter. Small and out of date, the Sampo was built in the 1960s and bought in the mid-80s by the town of Kemi to be turned into this tourist attraction.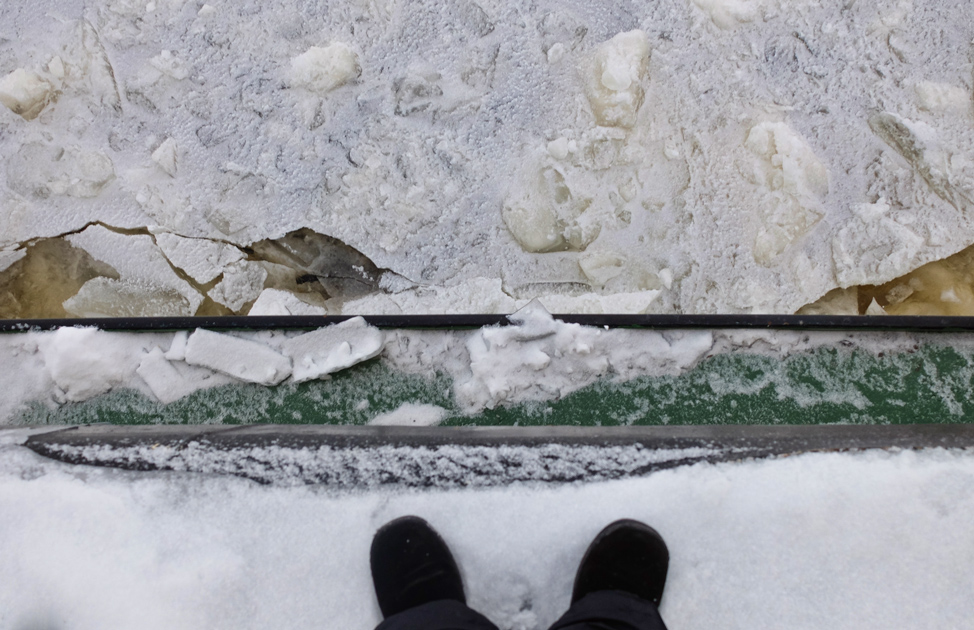 And what would a Finnish tourist attraction be without the opportunity to swim with giant ice cubes? We've worn these giant red suits only once before, and yes, it was on our last trip to Finland.
The ship parked for a couple of hours to enable us all to take a dip in the frosty waters. No, there is no way for the water to get into the suits. And yes, we were perfectly cozy inside of them. It was, in fact, very relaxing to bob around in the water.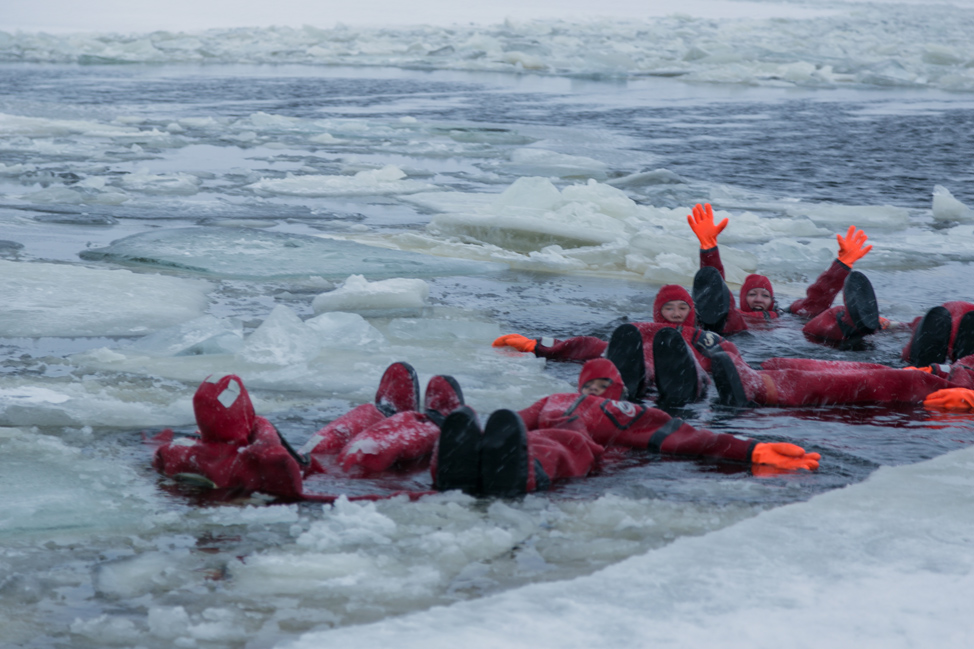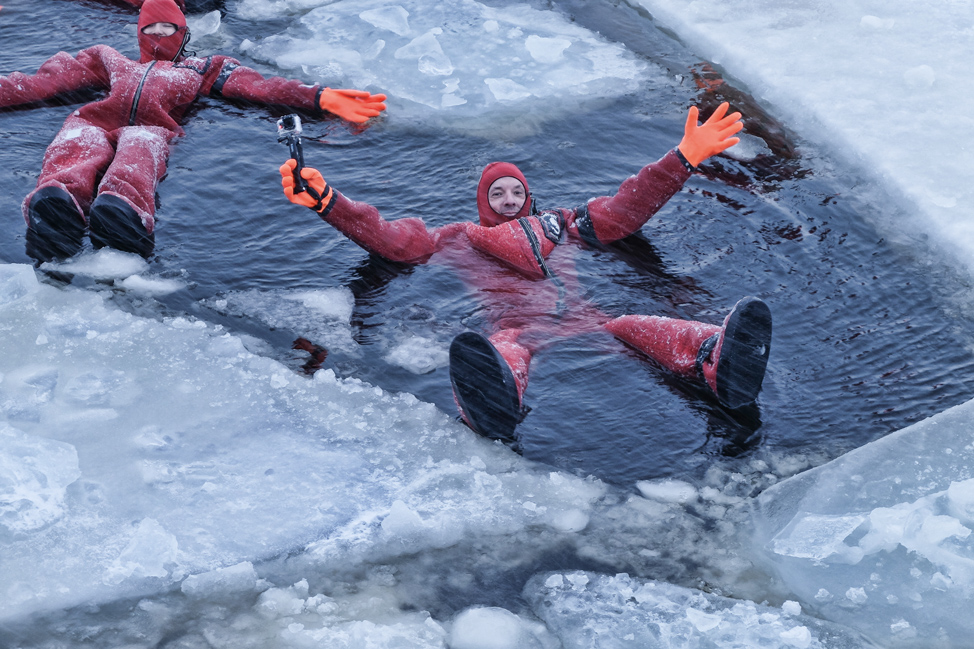 Forget the white sand beach – this is the type of unique experience we came to Finland for. This is how you do winter.
---
How to do it and where we stayed
Kemi is roughly a two-hour drive from the Oulu airport, and do yourself a favour and check into the comfortable and historic Merihovi Hotel when you get there. The Snow Castle is open from the end of January until the warm sum takes it away! Book ahead for a spot in the restaurant, a room in the snow hotel, or what the hell, go ahead and get married there too.
Bust some ice (and rhymes) on the Sampo Ice Breaker from mid-December through early April (depending on ice levels). Day and evening cruises are available.
---
This post was produced by us, brought to you by Visit Finland.