The Best Hiking in the Faroe Islands
Words by Dalene Heck / Photography by Dalene & Pete Heck
Not so long ago, access to and from the small village of Gásadalur was only via a strenuous route through the highest mountains on the island of Vágar. It was the last town in the Faroes to be connected by road until a tunnel was blasted through the mountain in 2004. With a striking waterfall at the base of the town, it has since become one of the hallmarks of the Faroe Islands. We visited it twice to capture it in different conditions, but I personally could not help but be drawn instead to the surrounding peaks. With a day left to spare in our itinerary, we spoke to a guide from a previous excursion about taking that arduous old postal route. He insisted that it was his favourite trails for hiking in the Faroe Islands, but was also concerned for our safety.
"I have seen your walking skills," he said to me. "I think you should only do that hike if you have walking sticks."
Ouch. I thought I had the whole left-foot-then-right-foot thing down pat. (Or maybe it should be right-foot-then-left-foot? I am so confused.)
I did appreciate his blunt honesty though – I fully acknowledge my own klutziness and the fact that any hike in the Faroes should not be taken lightly. With few signed paths to guide hikers and weather that can turn brutal in a moment, each needs to be taken with care.
Sound daunting? Maybe a bit. But that is what adventure is all about, and each of these excursions are also undeniably worth every effort.
Mykines
Another hallmark of the Faroe Islands, we say with confidence that this island offered the most stunning hiking we've ever done. Consider also that access to the island is only possible by boat or helicopter, and a trip to Mykines becomes a truly unforgettable outing.
Head due west from town to hit the lighthouse, walking through fields shared with sheep, down steep steps along a cliffside, and across a bridge through a narrow strait teeming with bird life. This is an excellent place to see puffins when puffins are there – unfortunately low herring populations mean that they haven't returned for the past two years.
"I've seen your walking skills," he said to me. "I think you should only do that hike if you have walking sticks."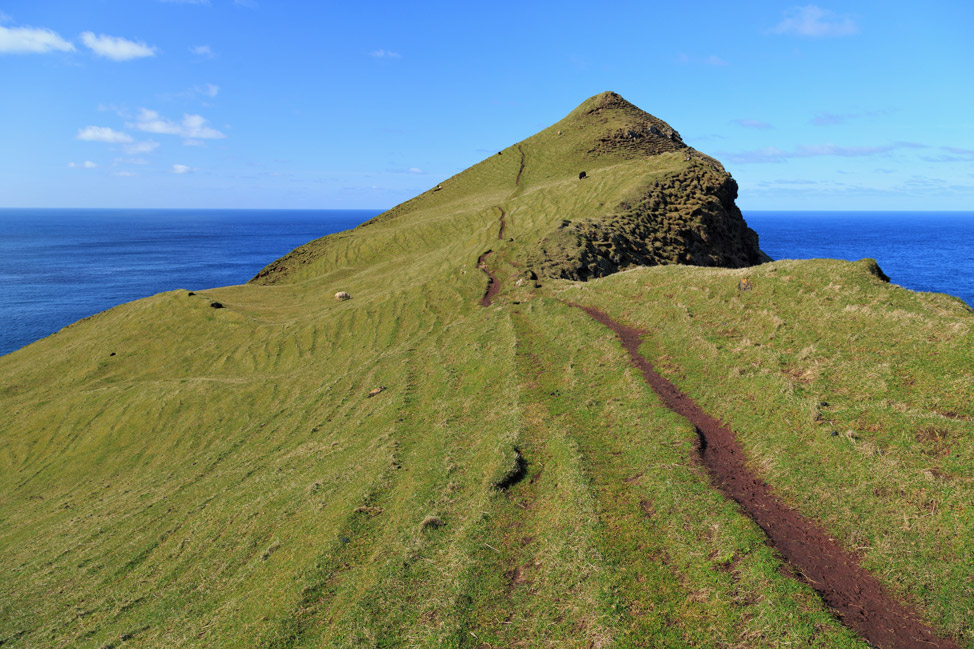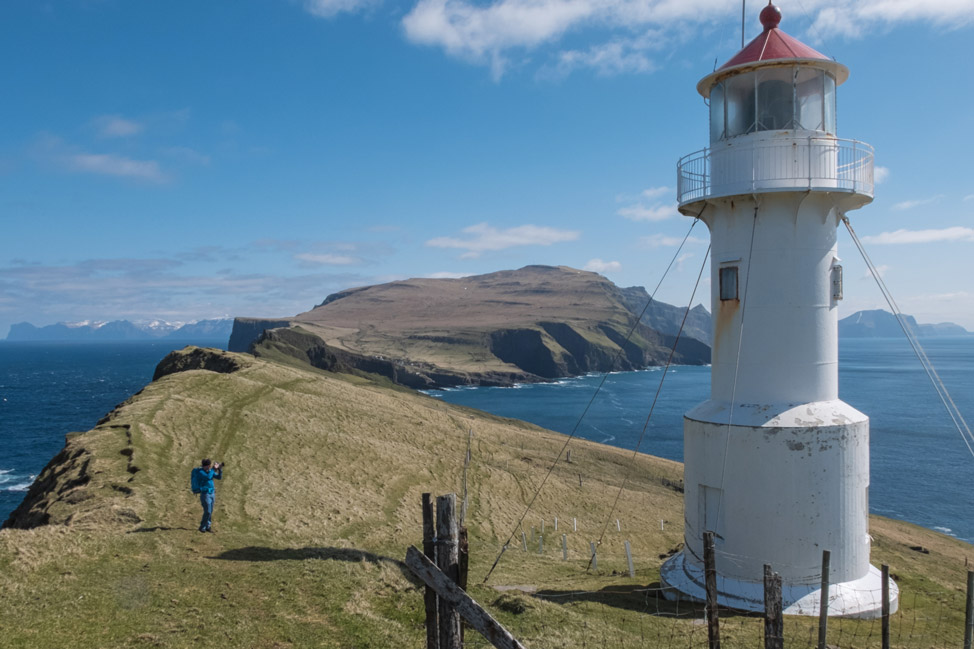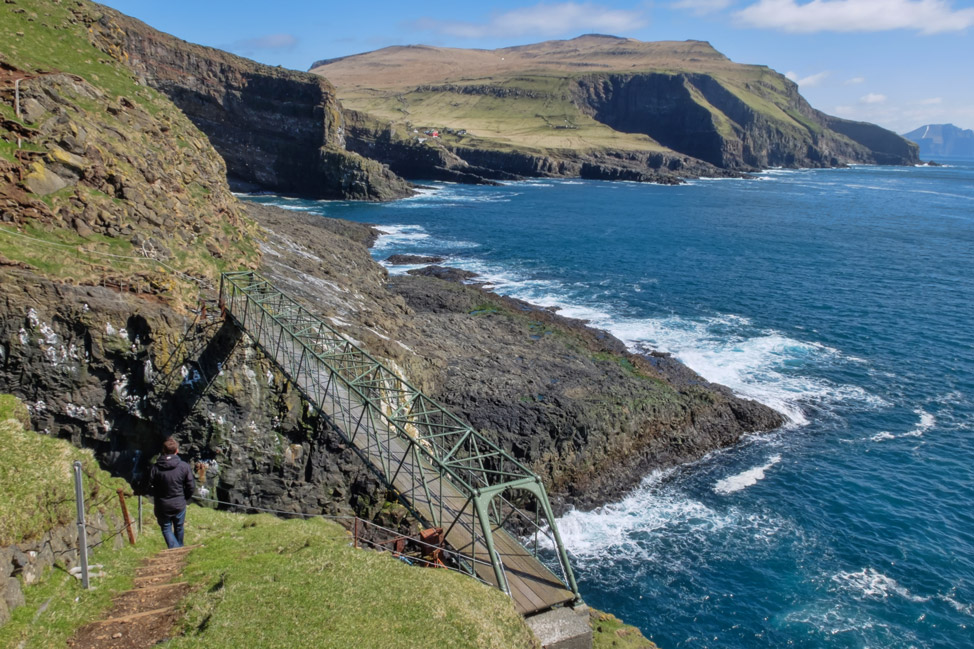 Gjógv
This was our first hike in the Faroes, and it gave us an astounding introduction.
In the northern part of the village is a gorge, walking along the outer bank of it will lead you up a sheep path that will give spectacular views back onto the neighbourhood. The going is slow with every few steps offering a photo op as waves crash below and white mist creeps up the cliff. We continued up until we got to a closed gate with a sign written in Faroese. Estimating that it was a private property sign we didn't continue on. We later found out that we could have continued on past the gate. It did mean private, but everybody ignores that and continues on their way up the cliff.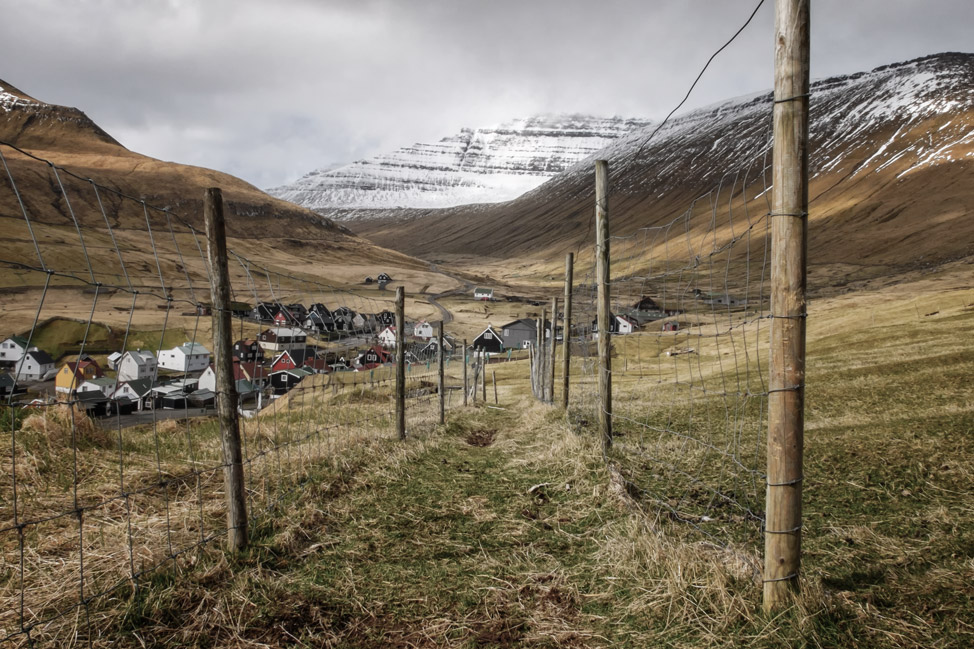 Saksun
A journey to the top of Streynoy island led us to Saksun. After parking the car we headed straight down the path towards the water, having read that it was possible to reach the sea. Immediately to our right was a huge veil-like waterfall ending in the lake at the bottom of the valley. The path led us along the western shore and we eventually made it to the black sand beach at the bottom.
Along this beach we never felt quite so alone and desolate anywhere else on the islands – the chill of howling winds dug deep while we stepped over partially decomposed animal bones. After exploring more of the beach we contemplated continuing on around the corner to get a glimpse of the North Atlantic, but the wind bit so fierce that we opted instead to make our way back to our car.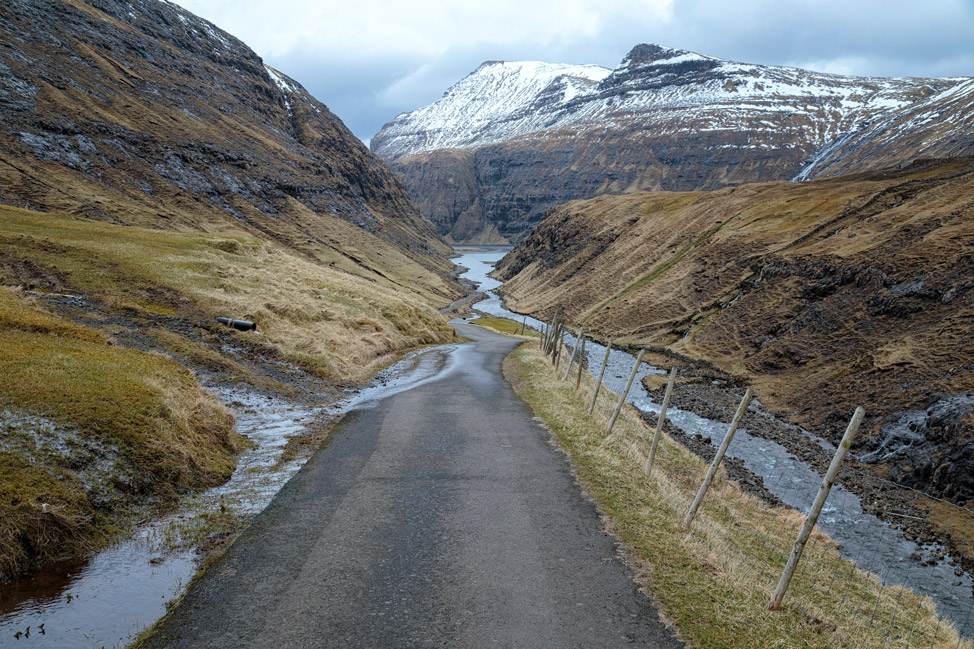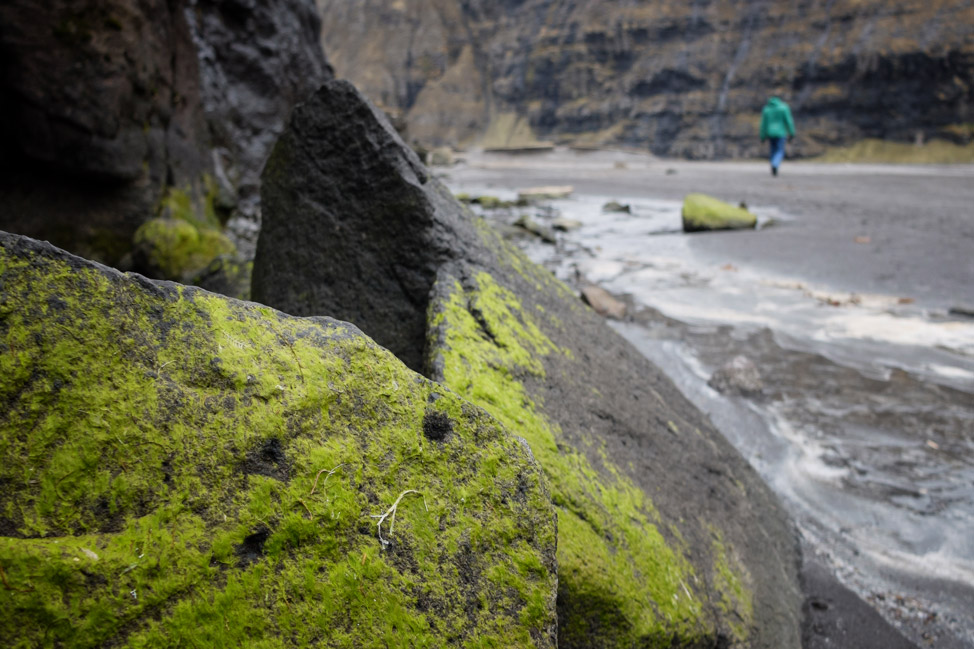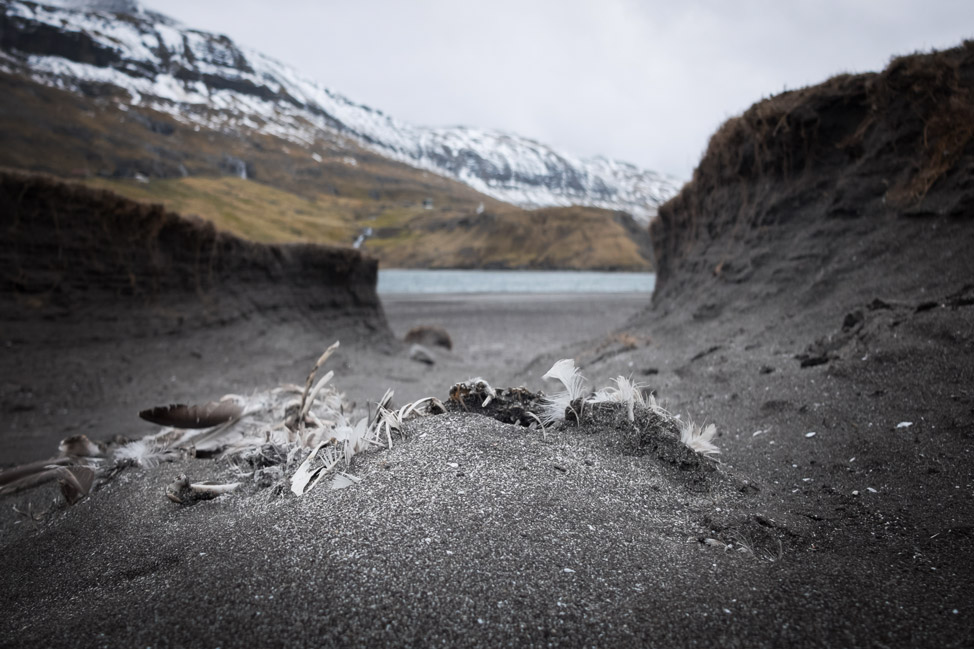 Kalsoy
We've already told this story about Kalsoy Faroe Islands. We made an attempt to reach the lighthouse at Kallur on the island of Kalsoy but lack of directions, extremely soggy conditions and the threat of more rain were the excuses we gave for not finding it.
Granted we did make the most of our day by exploring other parts of the island. But reaching this lighthouse is one of many reasons we are vowing to return to these islands.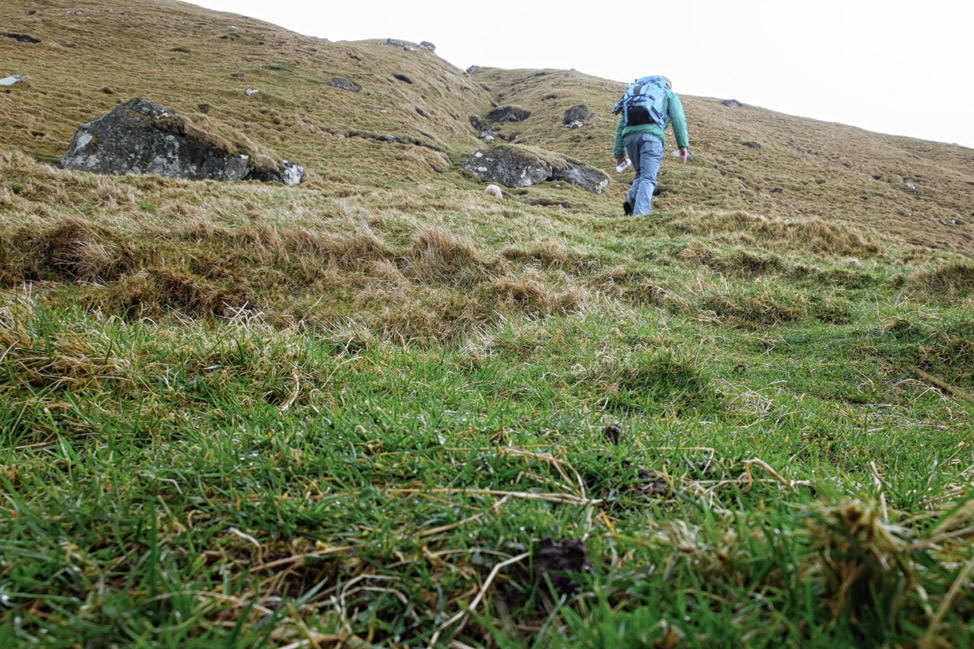 Kirkjubøur
Why drive to this important cultural spot when you can walk 7km over a mountain to it? Our destination was the small village of Kirkjubøur, the spiritual center of the Faroese society in the Middle Ages, and we were led by a local guide directly up one side of the mountain and down the other to get there. Along the way we passed cairns (pyramids of stones built to guide the way), and rocks carefully arranged as "speakers chair" and used as a meeting place for the Faroese over a century ago. Wind and fog prevented us lingering for long on the hill.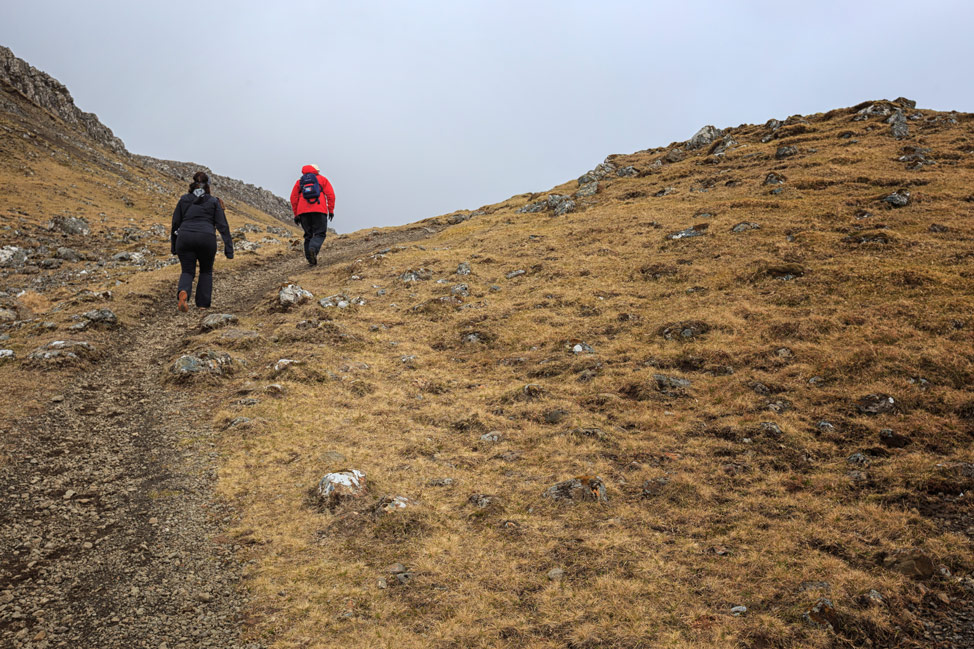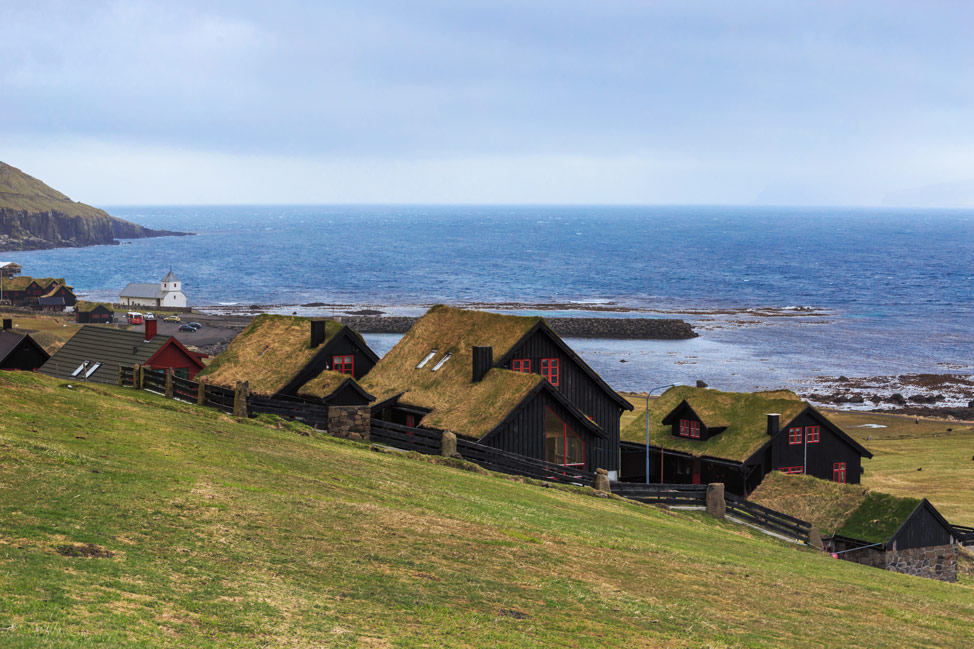 Sørvágsvatn
Beguiling images online brought us to this destination. Twice. A miscommunication with our guide meant that we actually walked right past the desired spot the first time, and so we knew we must return as our days wound down. Walking up a specific cliff would give us the perspective of the largest lake in the Faroes as an infinity pool, and that shot was not one we were going to miss.
To start, find the "old houses by the biggest lake" (you really do need no further instructions then that). Walk along the east side of it and trek as far as you can go to see a waterfall cascade over the edge into the sea below. On the way back, climb up the highest cliff to get the infinity perspective looking back. The whole trip should take 3-4 hours.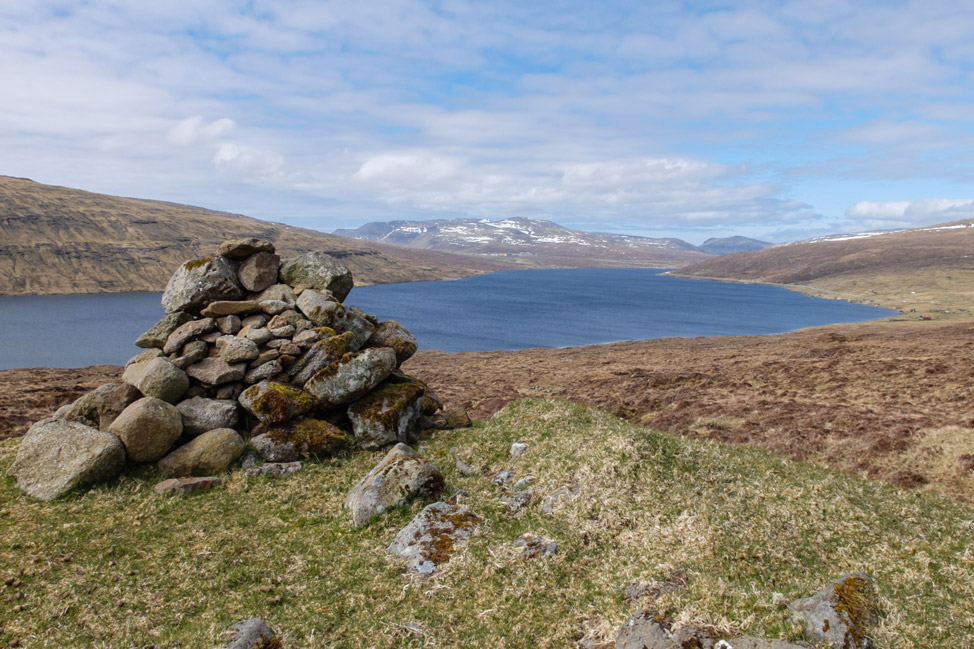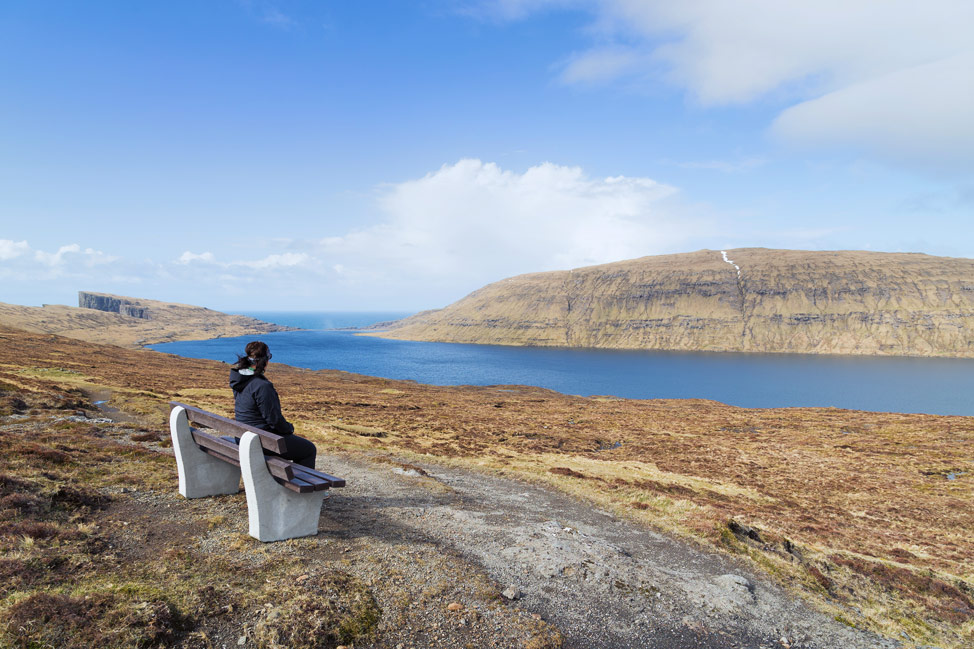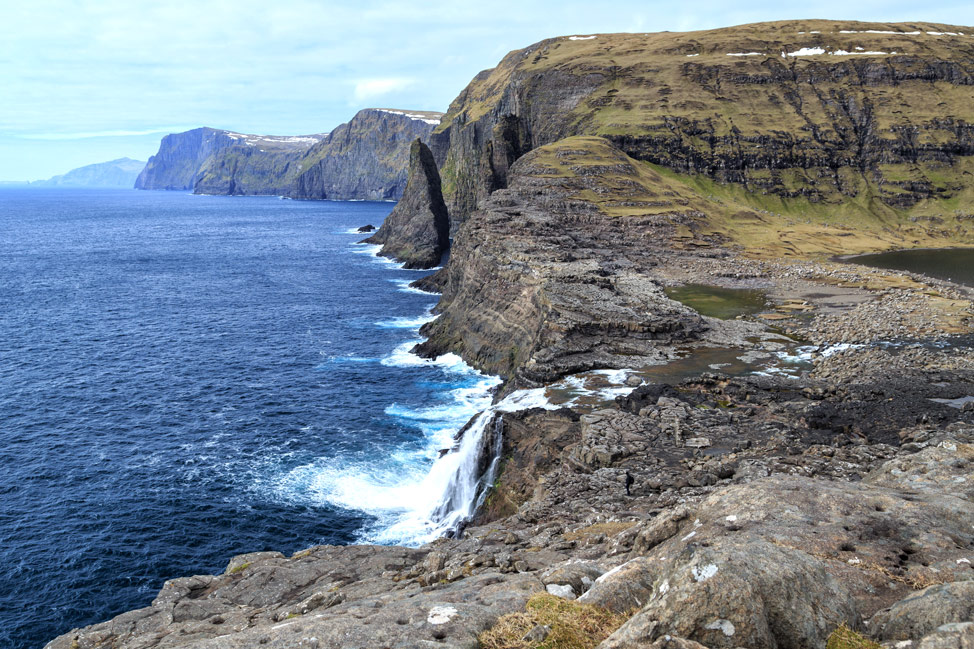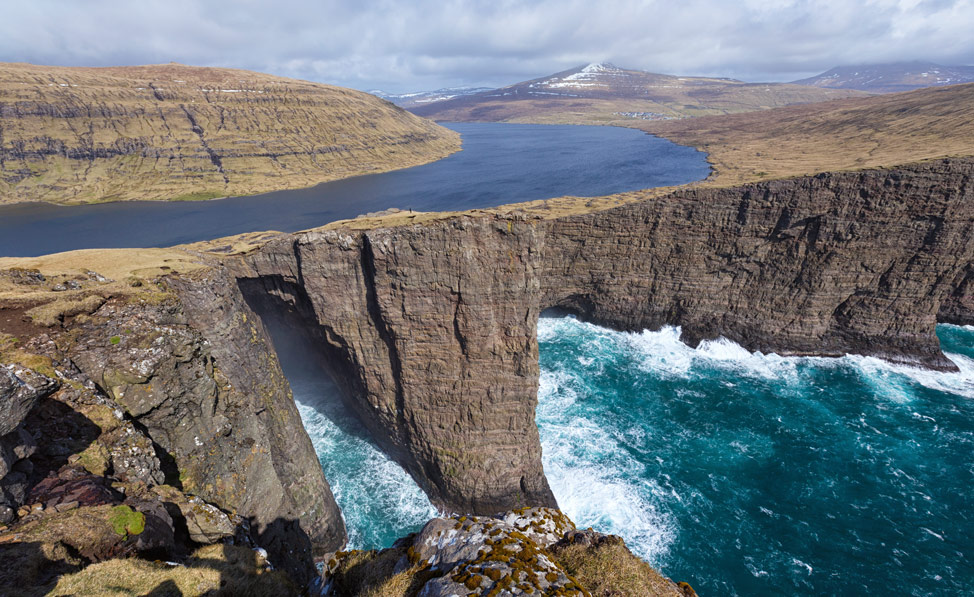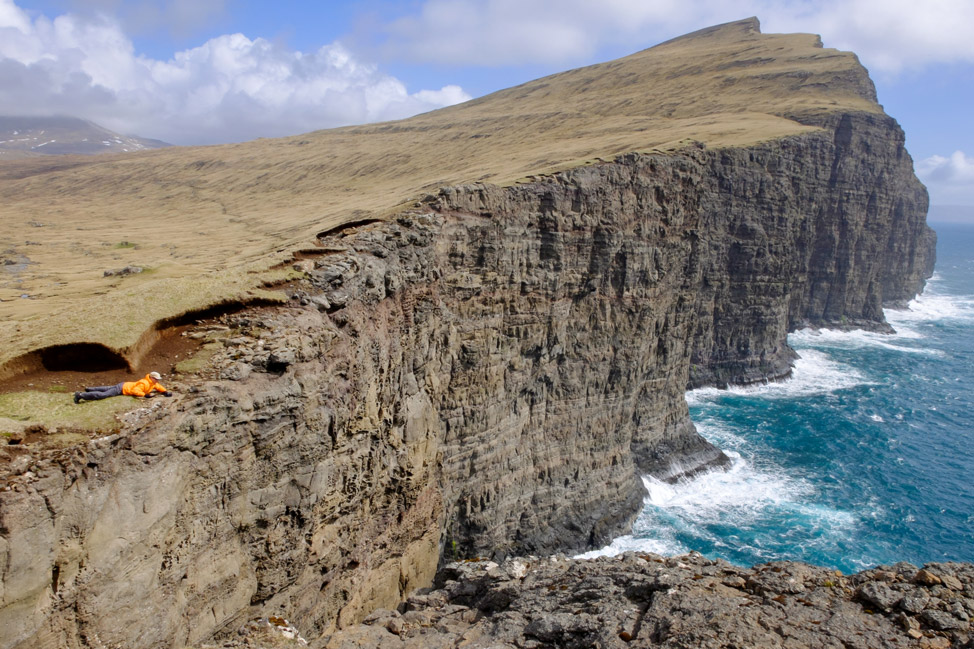 More Tips for Hiking in the Faroe Islands
There are a few things to keep in mind when venturing out.
1. Tell somebody what your plans are. Nobody will probably know you are gone and most likely you will not see too many other people on your hike. If something goes wrong at least somebody might have an idea where you might be.
2. Be prepared. Bring extra clothing, food and water. Weather can change very quickly and people have been known to get caught in storms.
3. Don't expect there to be a map or even a path. Your shoes will get soaked (waterproof is recommended) and they will be caked in mud and sheep shit. Basically everywhere on the islands is a walking path. Don't be afraid to explore, but be aware of your surroundings.
4. Don't get too close to the edge. There is a rock on top of Mykines which is a memorial to those who have gone over the edge. There are usually no guard rails to prevent this.
5. It is recommended to bring a partner. Everyone likes their quiet time, and even I like to climb mountains on my own. But this is one destination where having someone else there to keep our limits in check certainly helps. Again, if anything should go wrong (and it can) having a second person there will always help.
For more tips and information on hiking in the Islands, this is an excellent resource.
PLANNING ON VISITING THE FAROE ISLANDS
WHERE TO STAY IN THE FAROE ISLANDS
High-end Hotel Foroyar is about a 5-10 minute drive from the Tórshavn city center, but the distance provides fantastic views over the city, harbor, and islands! – Book this hotel

Mid-range Hotel HafNIa is located in the Tórshavn city center, and according to the reviews has amazing views and great food! – Book this hotel
Budget Guesthouse Marknagil is great for budget-seekers. This guesthouse is 30 minutes from town but provides everything needed to have a wonderful stay on the Faroe Islands. – Book this hotel
Gjaargardur Guesthouse in Gjogv has fantastic food and an equally amazing view! One guest called it "the only but the best place in town." Book this hotel
The best way around the Faroe Islands is by rental car. To find a rental car and the best rates we use RentalCars.com
– Click here to book a car in the Faroe Islands –
Our trip was courtesy of Visit Faroe Islands. As always, all opinions are our own.