Words and Photography by Pete Heck
Sapounochoma Beach is a tiny speck of a beach on the island of Ios, Greece. Mention the name and hardly anybody will know it. I only came across it myself early one morning over breakfast while I searched on my phone for a hike in the area. A thin line to it intrigued me, but I wasn't even certain if the path would be obvious or accessible; the beach was certainly off the beaten path and definitely not on our itinerary. I decided to find out, eager for the chance to explore a remote Greek island beach and have it all to myself.I set off after lunch and easily found the path marked by red painted dots. Along the way I encountered no other people, but I wasn't alone. Often I heard the clanging of bells and glanced up the hills to find goats grazing on any wildgrass they could find. I walked up and down a number of hillside cliffs that lined the Ios shoreline before I caught my first glimpse of the beach below. It was exactly how I pictured it: iconic Greek blue waters next to a blond sandy beach. I couldn't wait to get there.
I picked up my pace and as I took too big a step upward on a rock I heard a loud rippppppp. I knew immediately what had happened – I looked down and I wasn't wrong – my shorts had split wide open. I cursed but was not deterred. Sapounochoma awaited me.
This trip was sponsored by Club Adventures, but all opinions, as always, remain my own.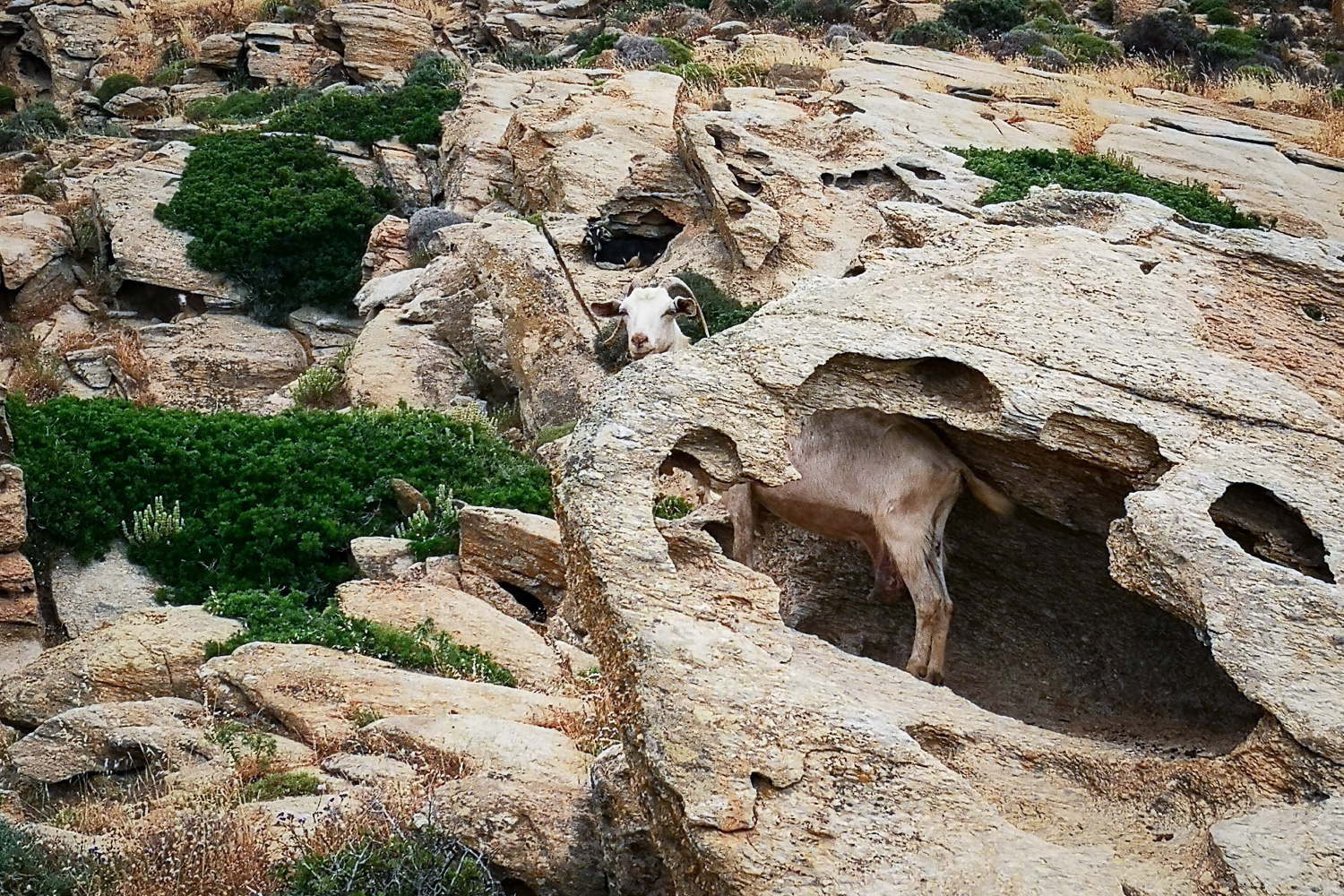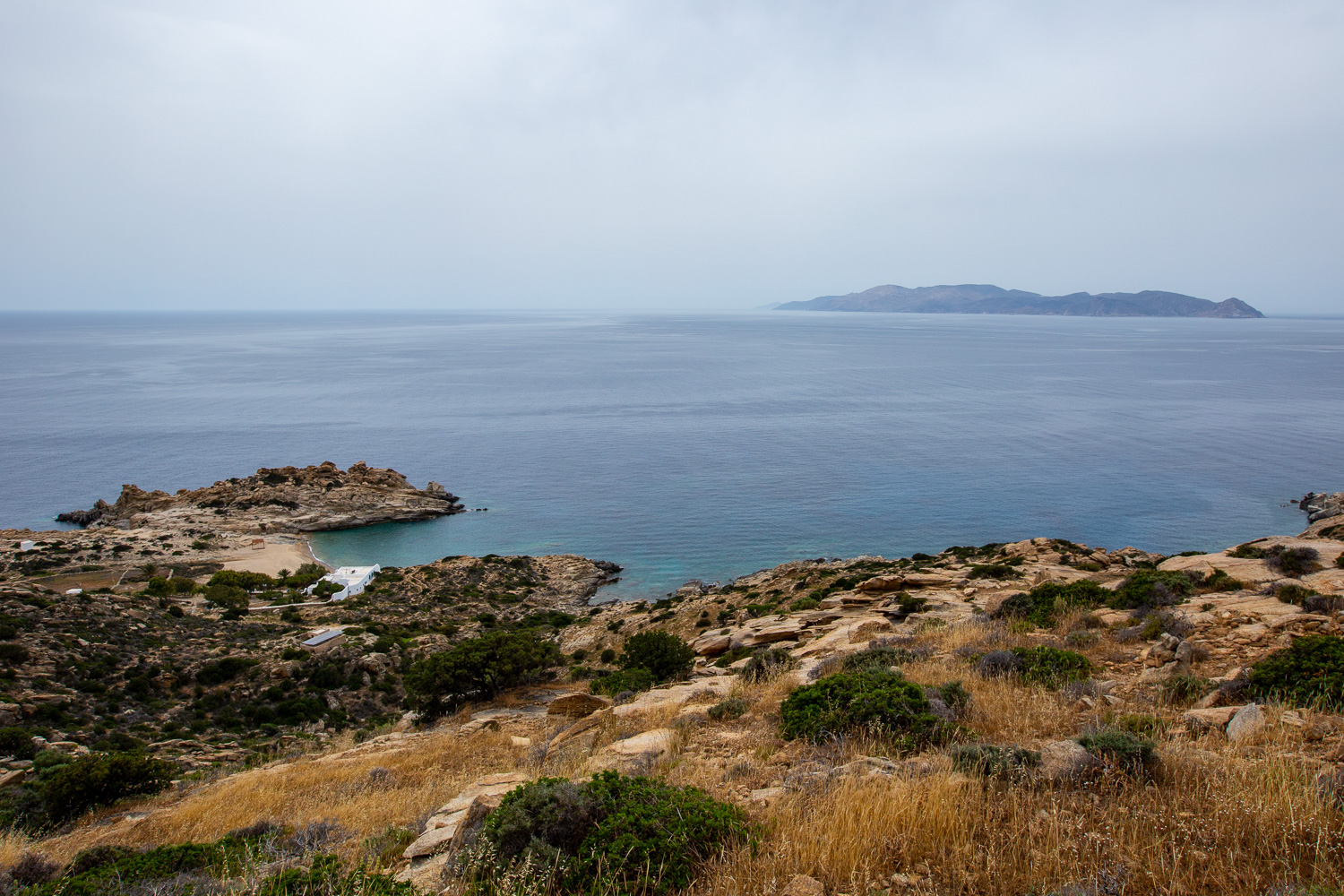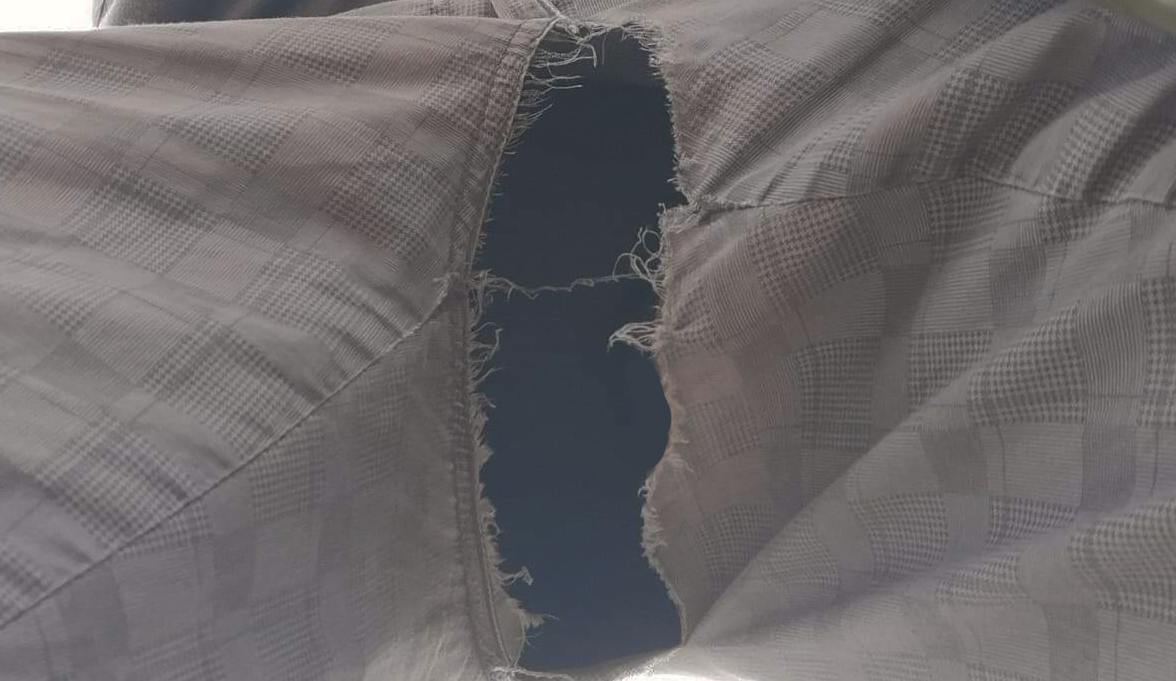 Arriving to that beach was a magical moment. The water lapped gently against the grainy shore. It was silent and I was alone. Sweaty from the hike, I couldn't get into the water fast enough. For the next hour I swam, sun bathed, and just took everything in. This was one of those unscripted moments that we all dream of as travelers, but don't often find. And I can't think of one other group trip I've been on where such a moment was even possible, but this was the single greatest benefit of the flexible itinerary on my Greece island tour with Club Adventures. Some structured activity kept our group together every day, but plenty of time would allow each of us to pursue and enjoy moments like this.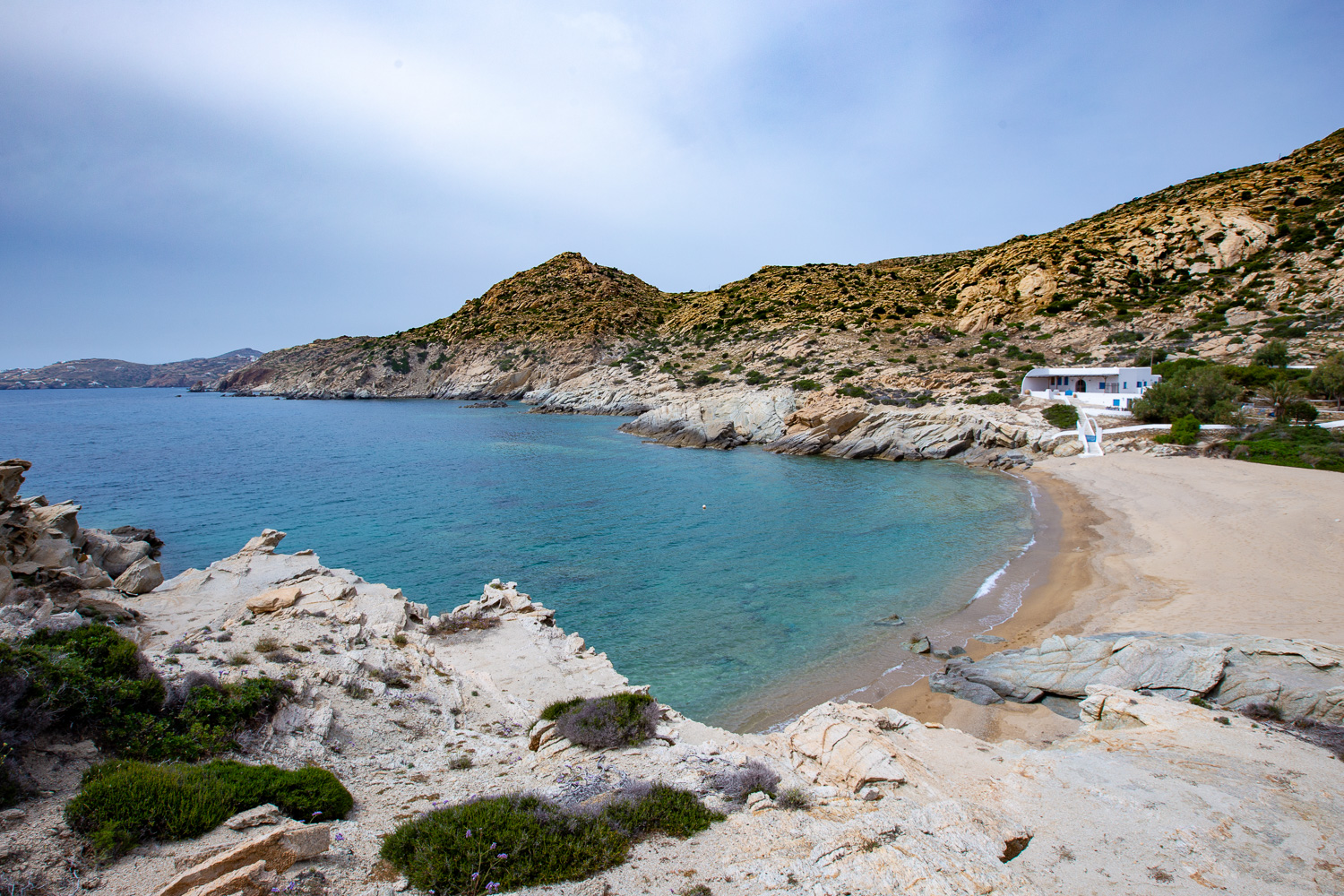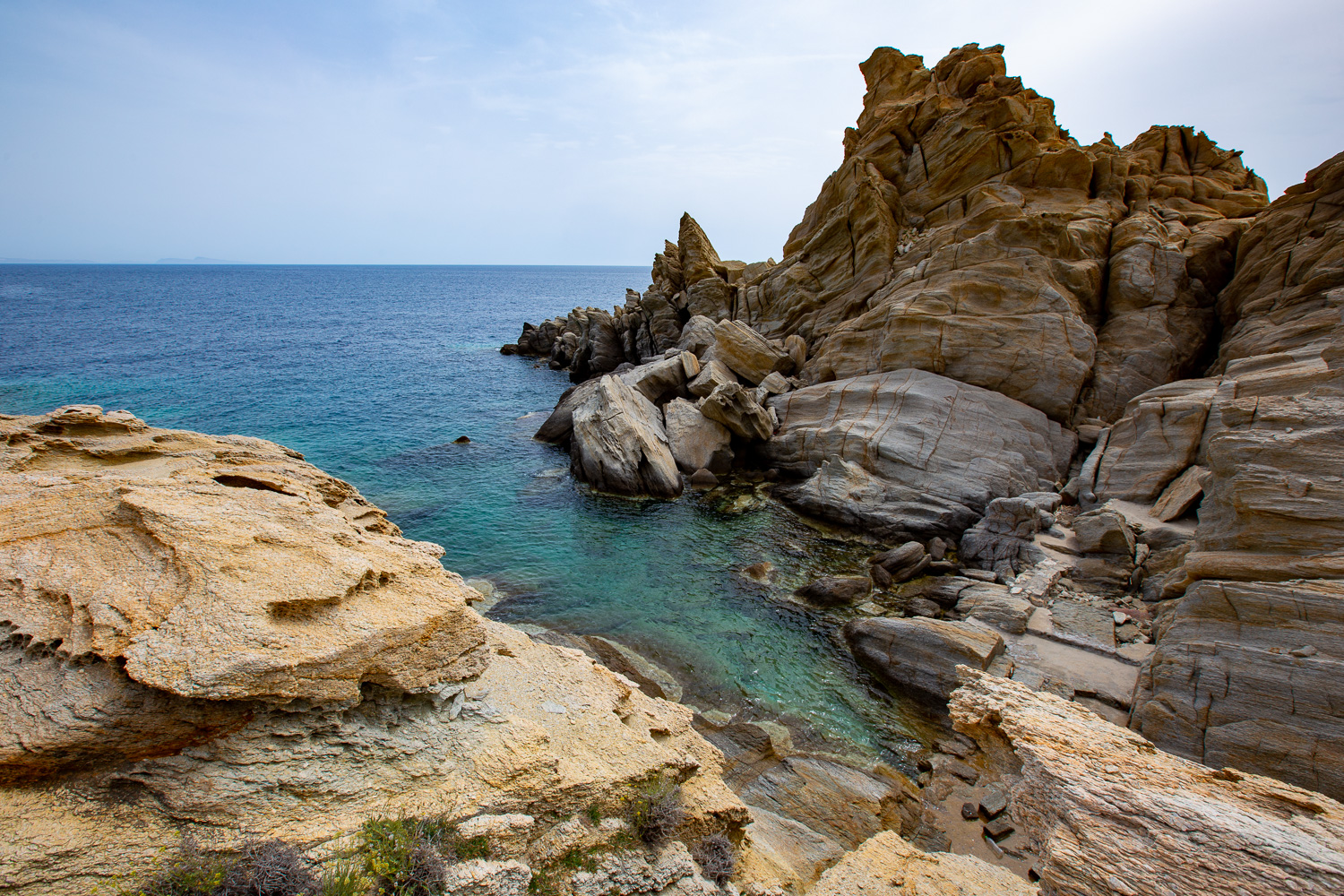 I made my visit what I wanted it to be on top of an itinerary that included a tour of Athens and the unforgettable Acropolis, a stop on the island of Naxos which is known as a mecca for Greek food, another trek to see the tomb of the poet Homer on the island of Ios, and finally a remarkable walk along a volcanic rim on the island of Santorini.
ATHENS
Our time in Athens was short. With only one night and a full day before we were off to our first island, my first unscripted moment broke me away from the group to climb Lycabettus Hill. And as it turned out, a few other (thousand) people had the same idea. But sharing this special moment with a bunch of strangers can be special; I believe world problems could be solved more effectively if we all watched sunsets together.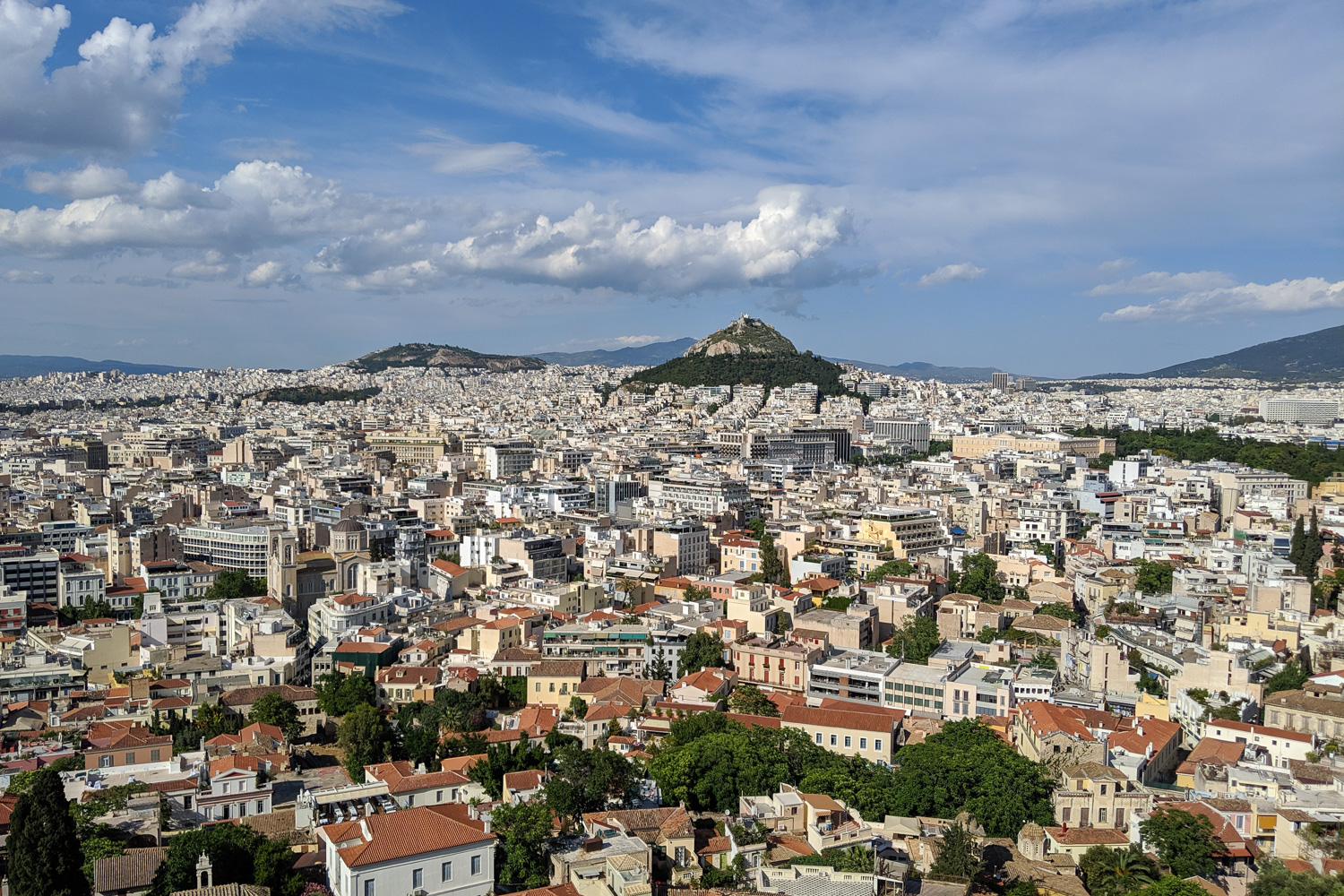 The sun dipped down behind the hills that surround the city while I enjoyed a can of local beer and really took in a sense of how big the city is. From there I could see the Acropolis, the original Olympic Stadium, and I even had a view out to the Aegean Sea that I would embark on as a part of the tour.
I made sure to stay well past when the sun went down. The city lit up and the white limestone was brilliantly illuminated.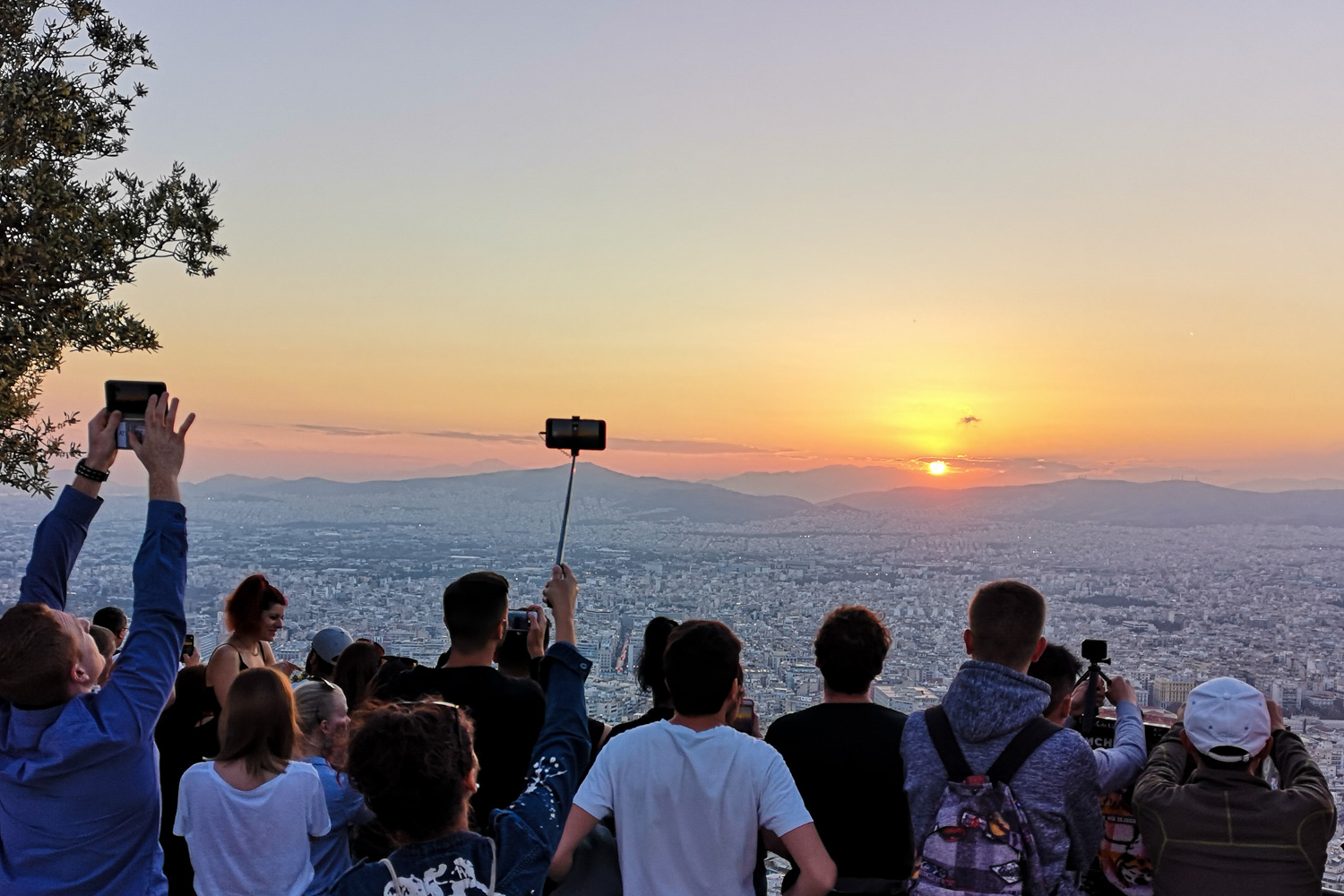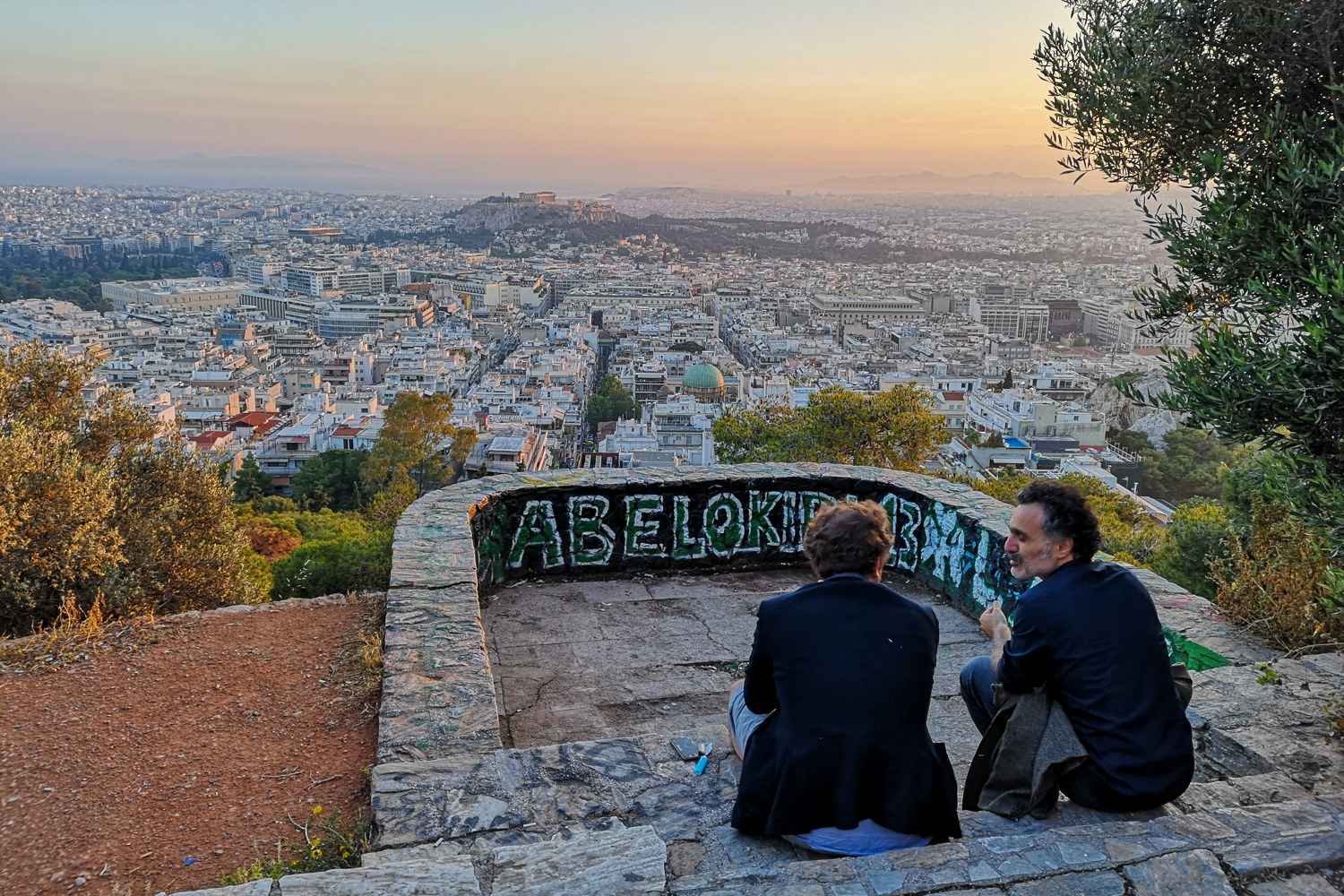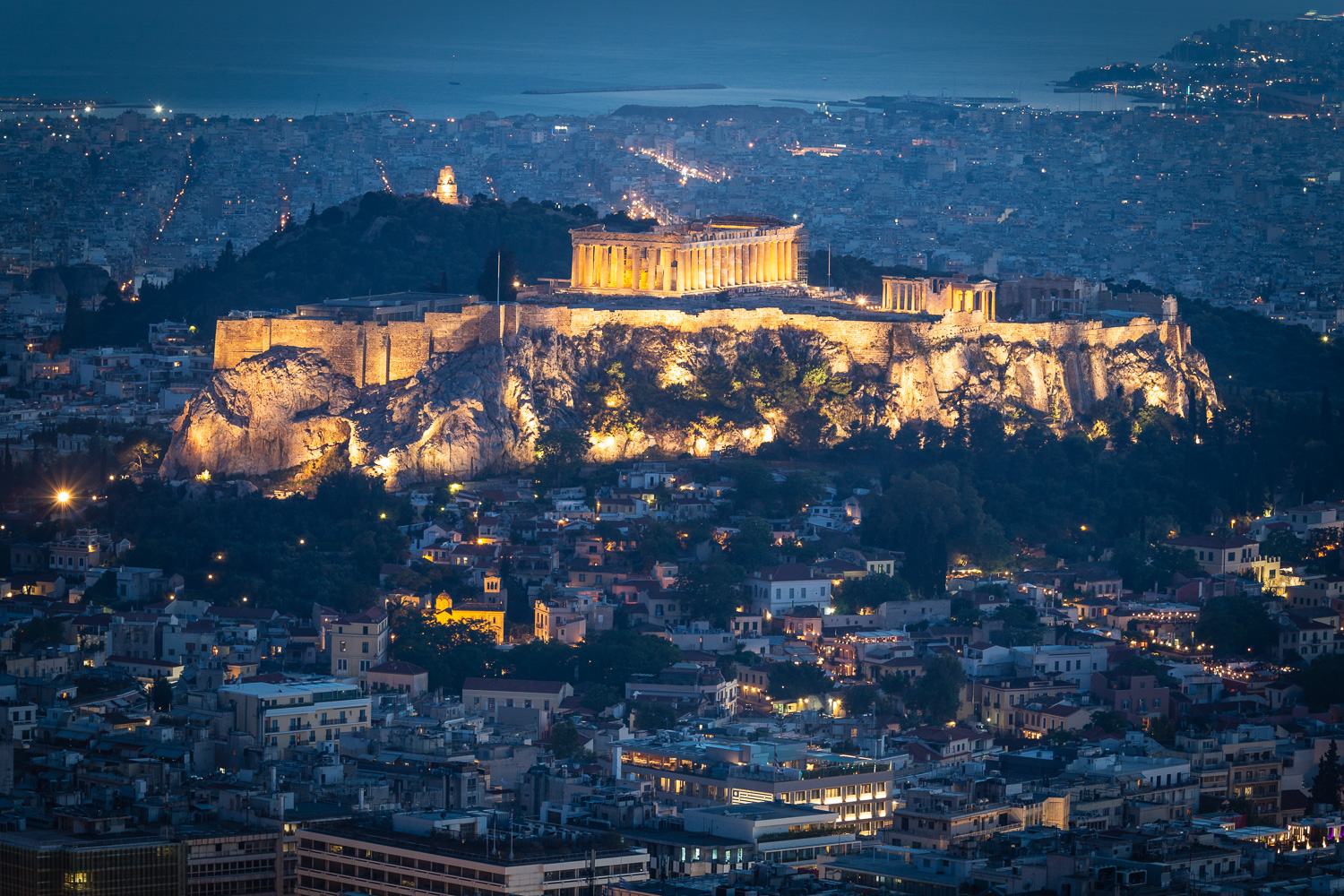 Starting early or starting late is the secret to exploring the Acropolis, I would learn the next day. (And maybe not go on one of the few days a year when there is free admission for everyone, I would also learn. Not that this could be explicitly planned for, but oops.) Our tour group found ourselves amidst at least four times the normal volume of bodies.
Despite the swarms, it was magnificent. The Temple of Athena greeted us at the entrance, the grand Odeon of Herodes Atticus and the towering pillars of the Parthenon and the Erechteum all made me feel small and in awe. We were transported back in time. We stood in a place that had seen sieges, destruction, and fires wiping it out in the dozens of centuries since its first erection.
That evening our group shared stories sitting atop a rooftop restaurant in the Plaka neighbourhood directly below the Acropolis. We dined in the Neighbourhood of the Gods, sharing many mezes, and toasted a number of glasses of ouzo to our good health and to others. It was humbling to be in a spot with over 3,000 years of history surrounding it, and there was no better way to begin our journey together.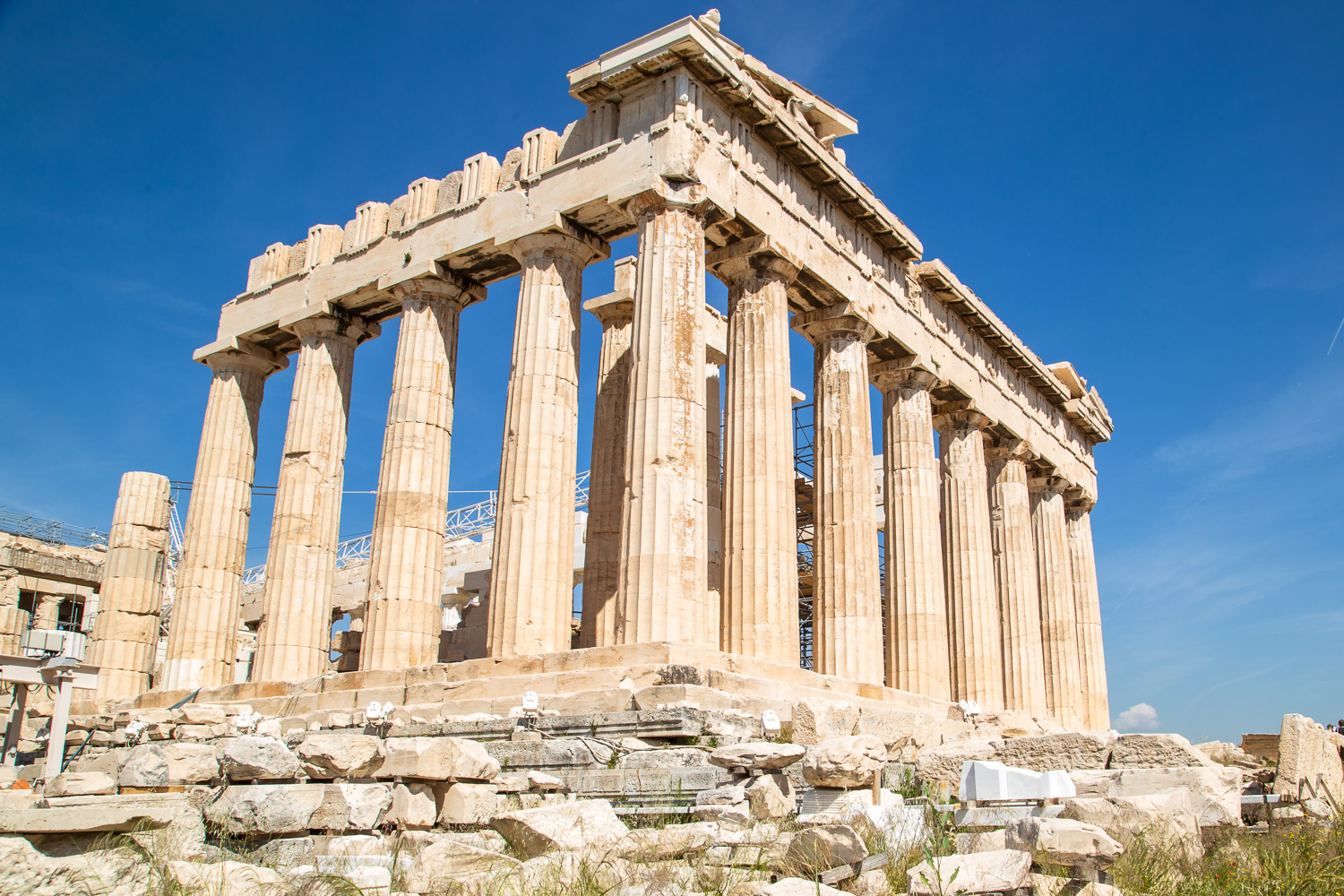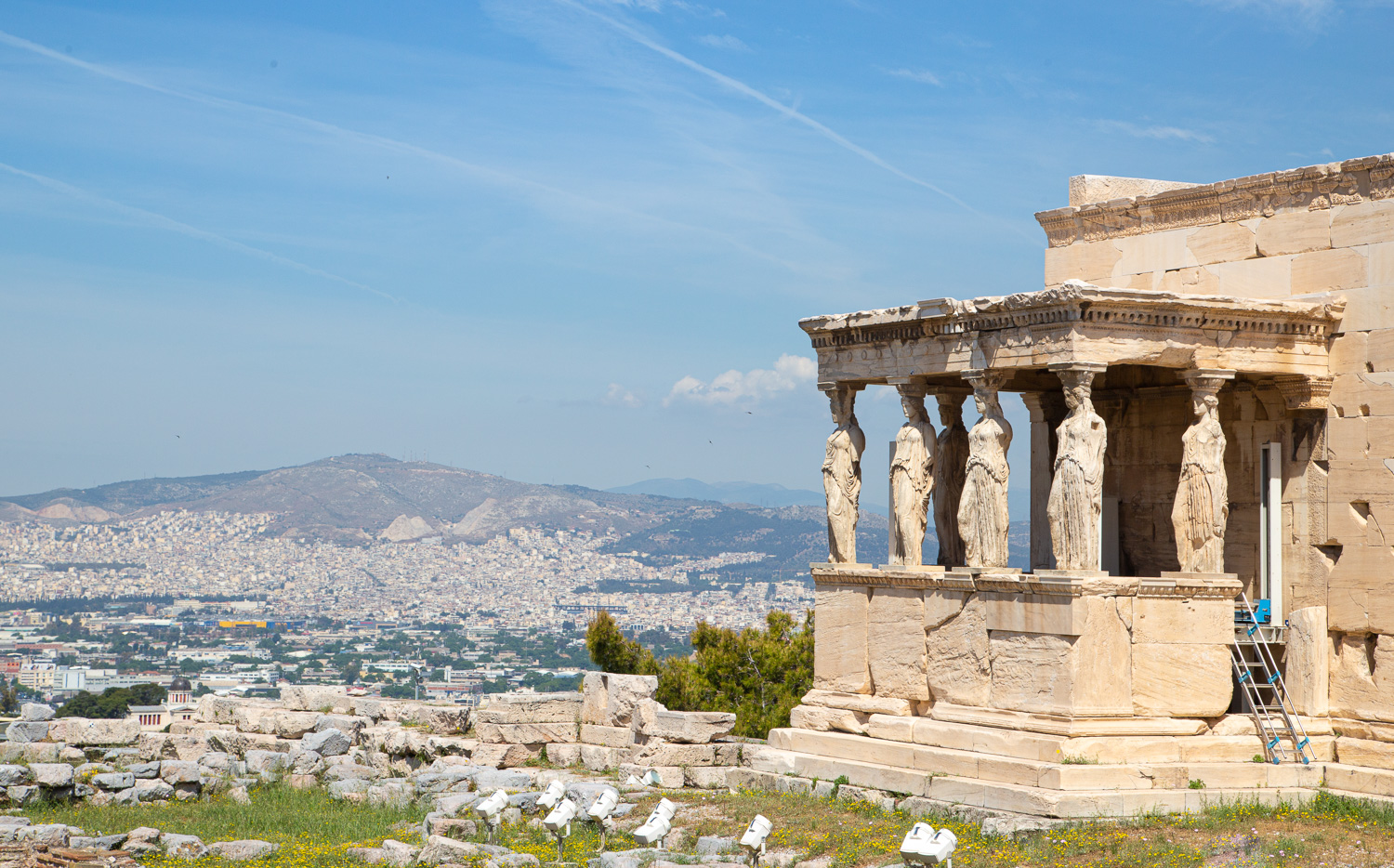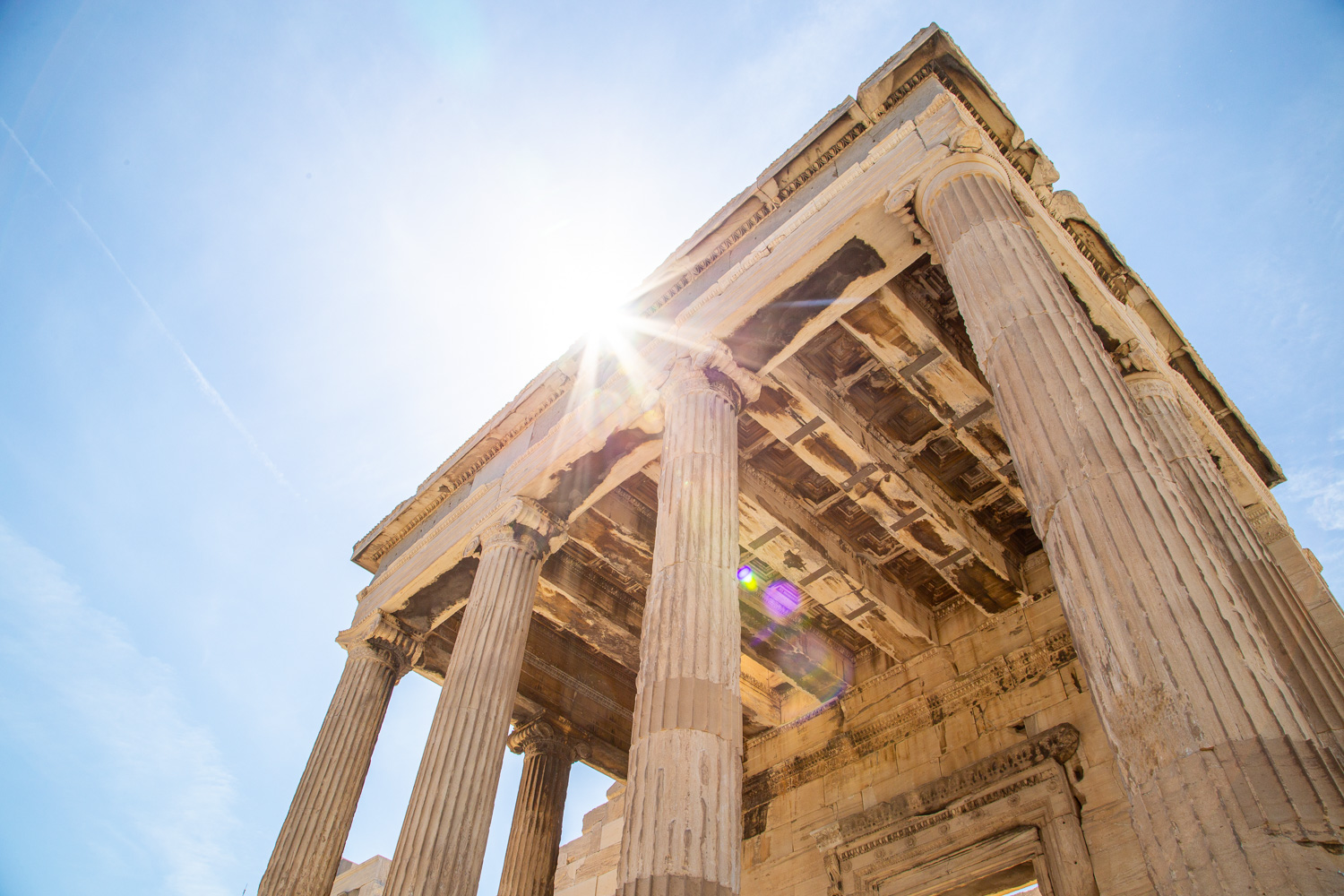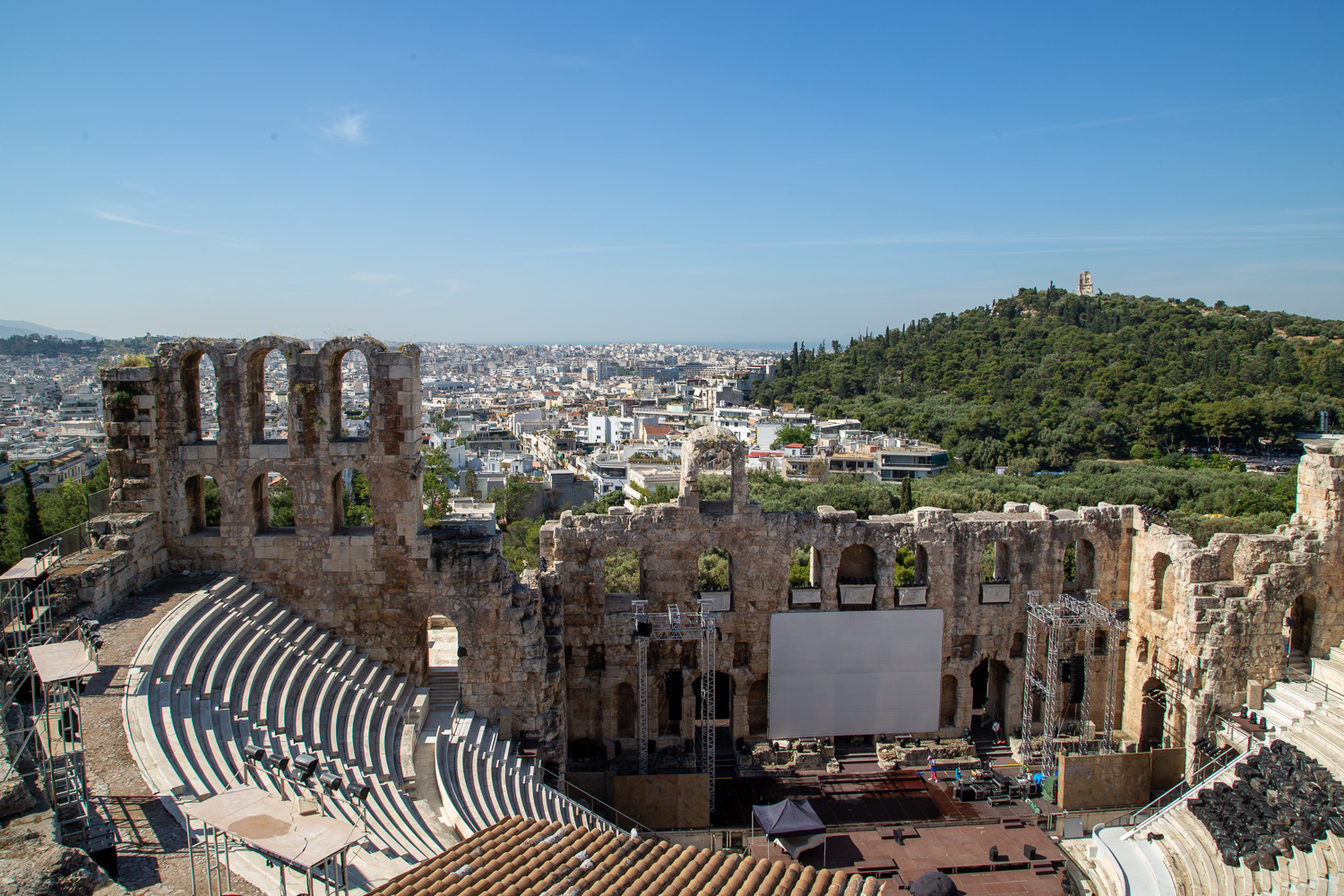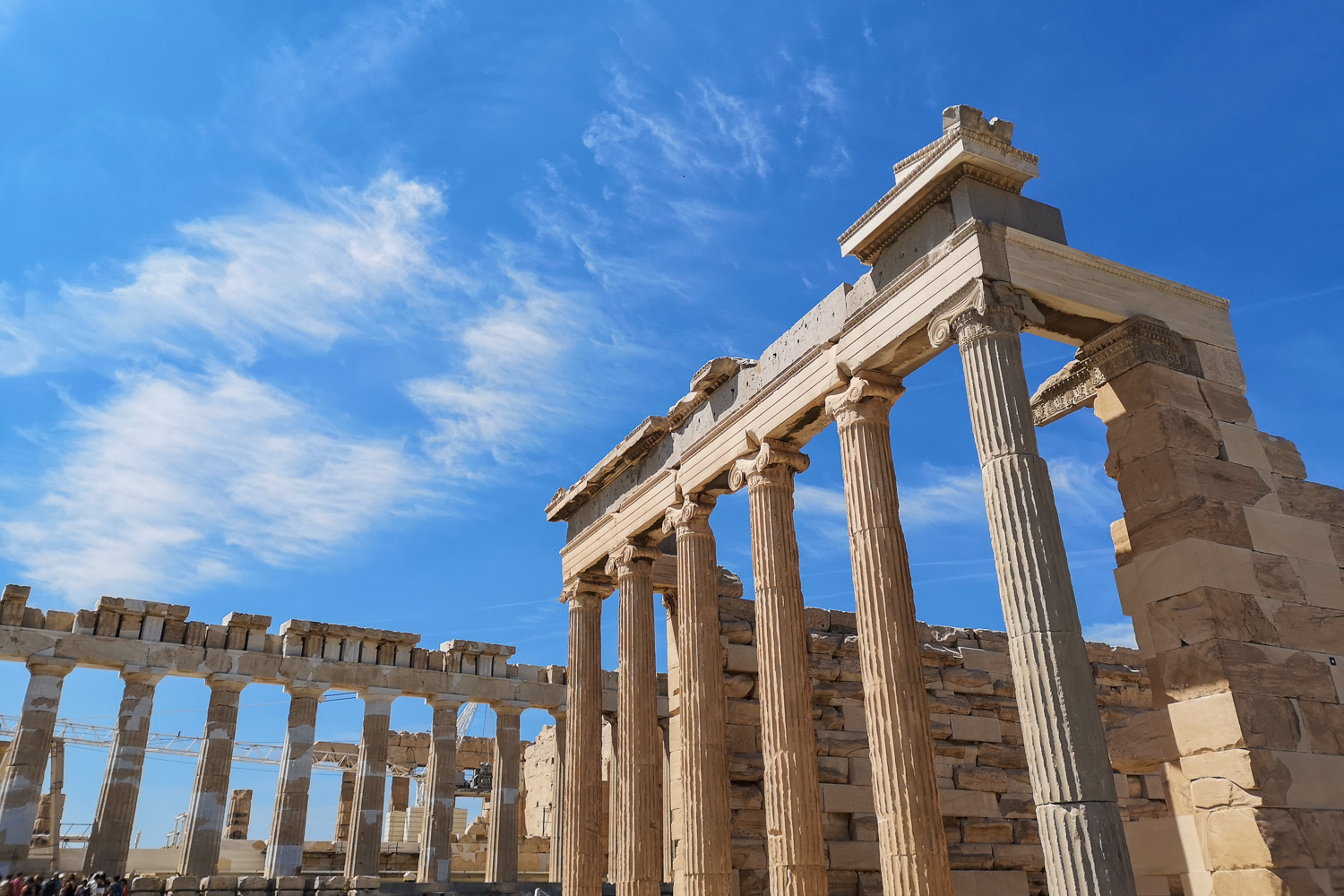 NAXOS
After Athens, we ferried to the island of Naxos. Unsure of what to expect, I was surprised to see forested mountains as a backdrop to the beaches and coastal town we arrived at. Its geography certainly made it unique in comparison to the other Cycladic islands.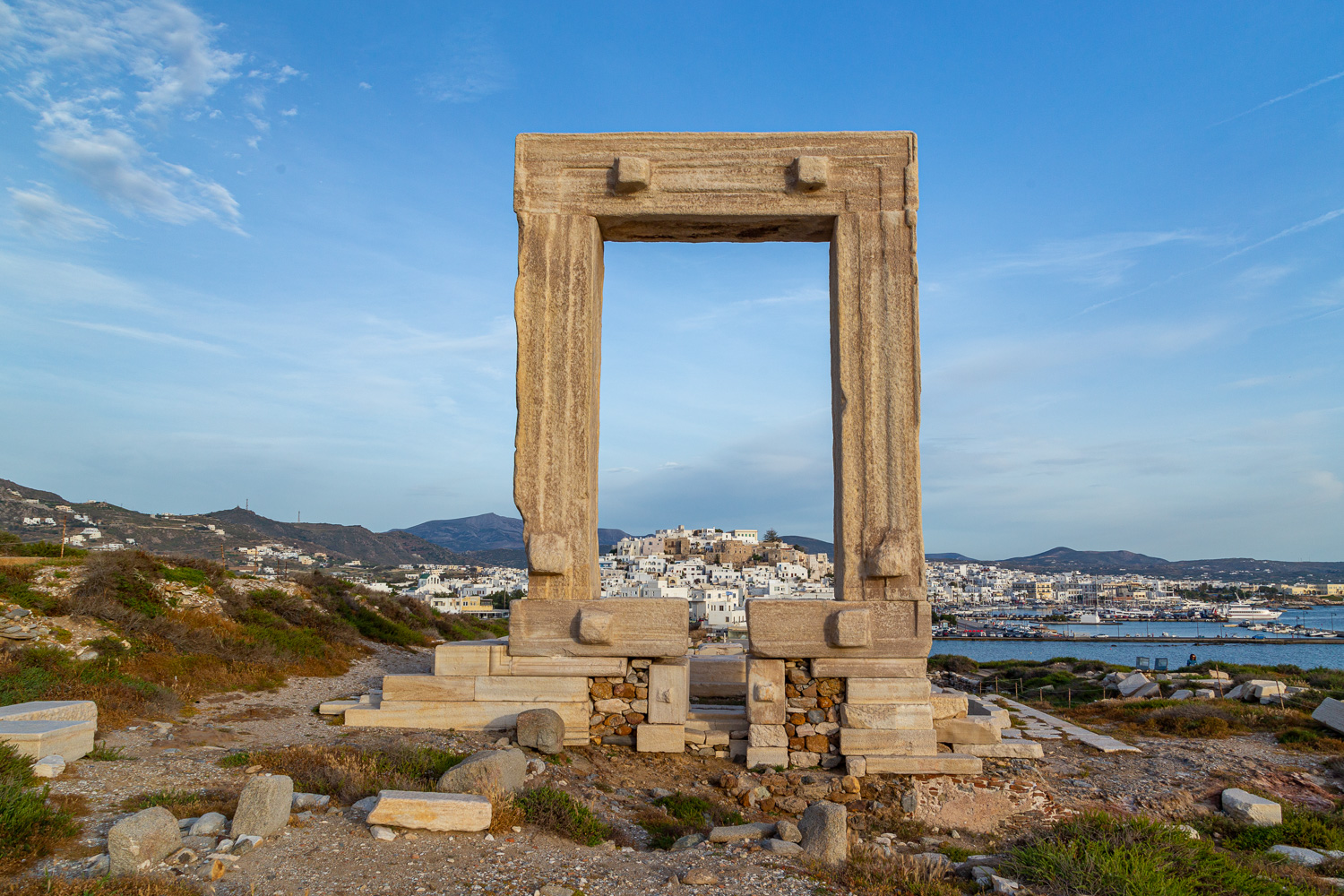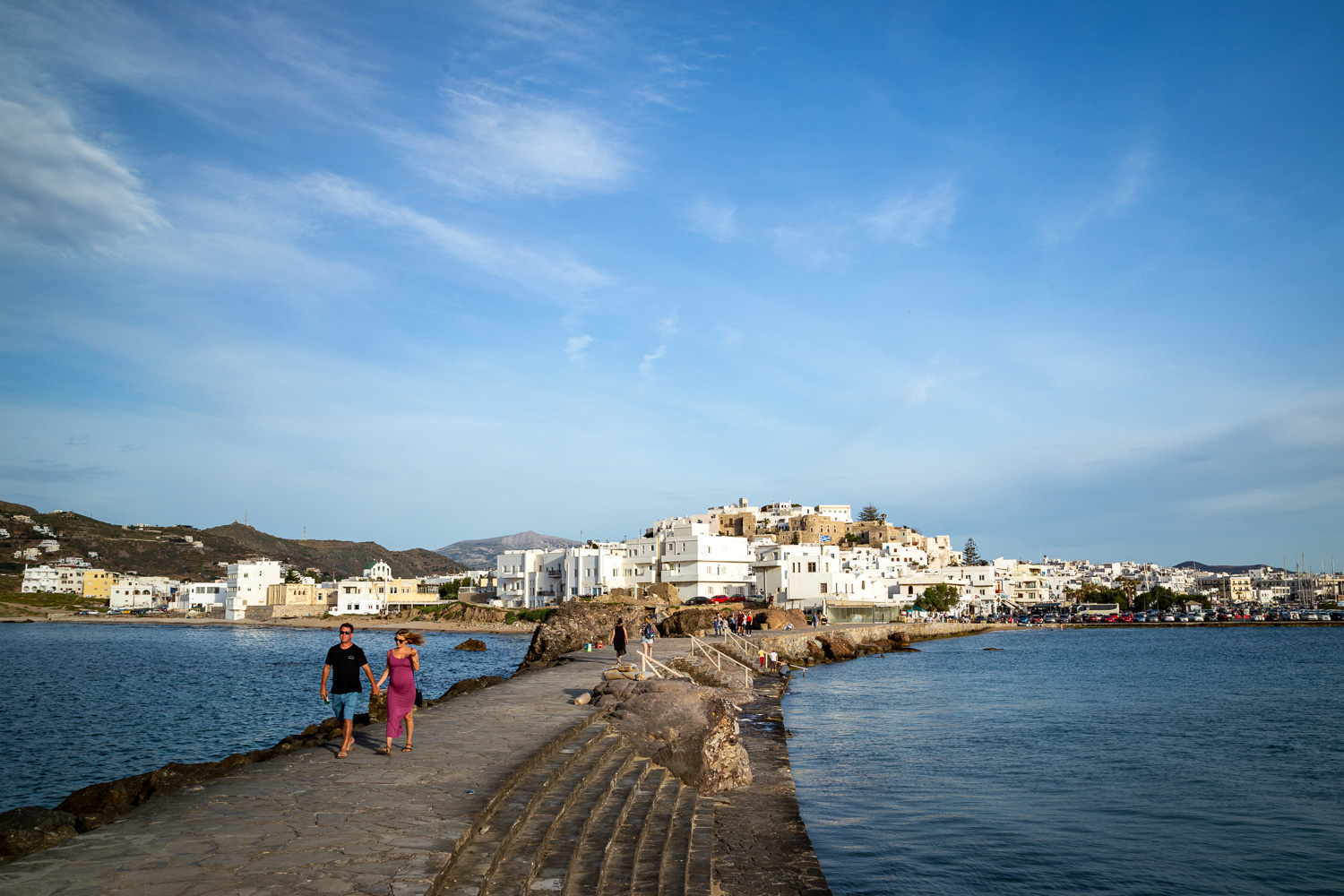 Naxos is quiet, laid back, and most well known for its agriculture and thus its food. Of course I ventured off to get photos of Apollo's temple (the giant photo frame), and woke up for sunrise to catch the light over the town. Our group again strayed from the itinerary to walk up to a church that had been built into the rockside of one of the mountains. I wandered with my camera through the streets of the main town and the surrounding mountain villages of Halki and Apriranthos.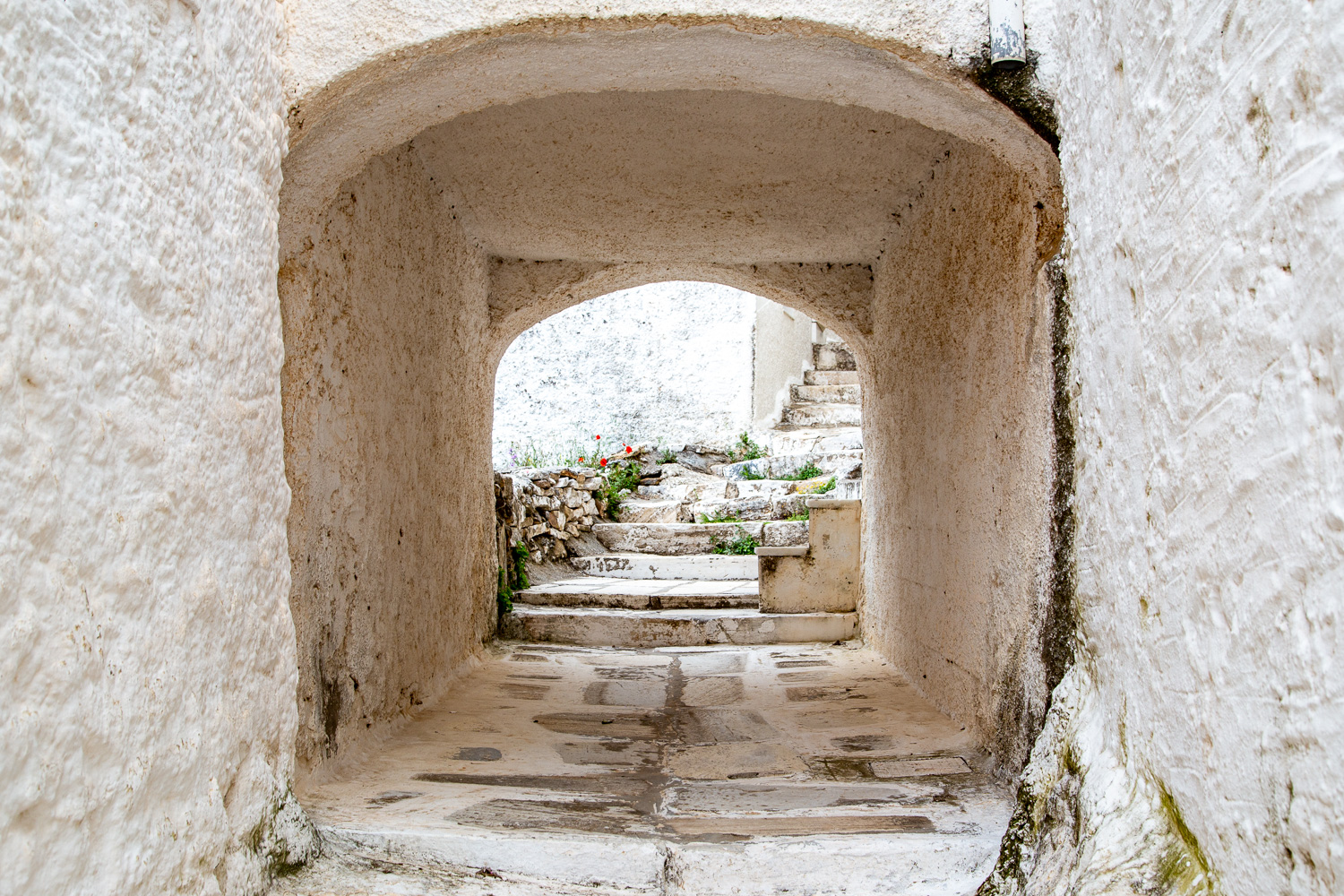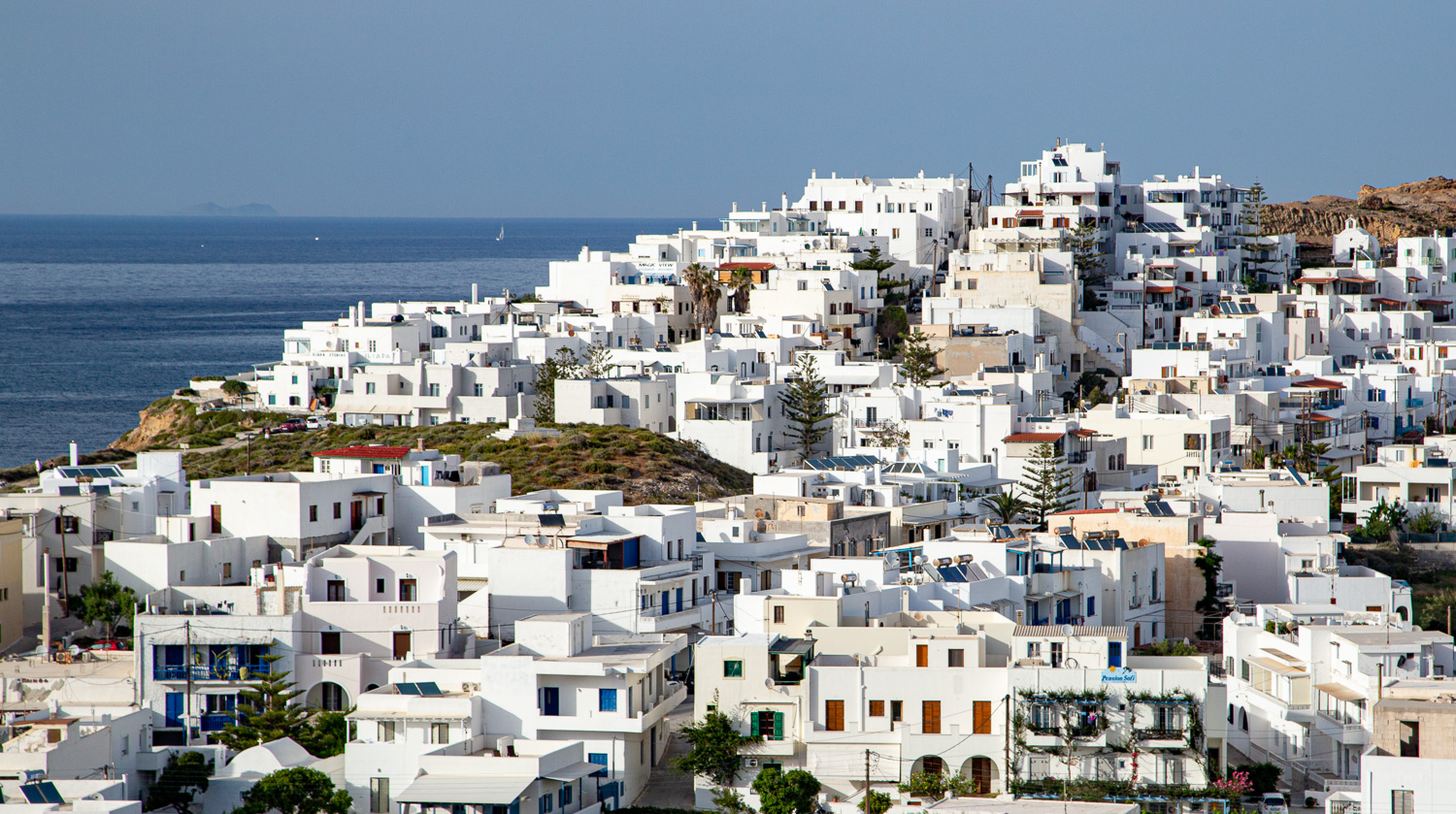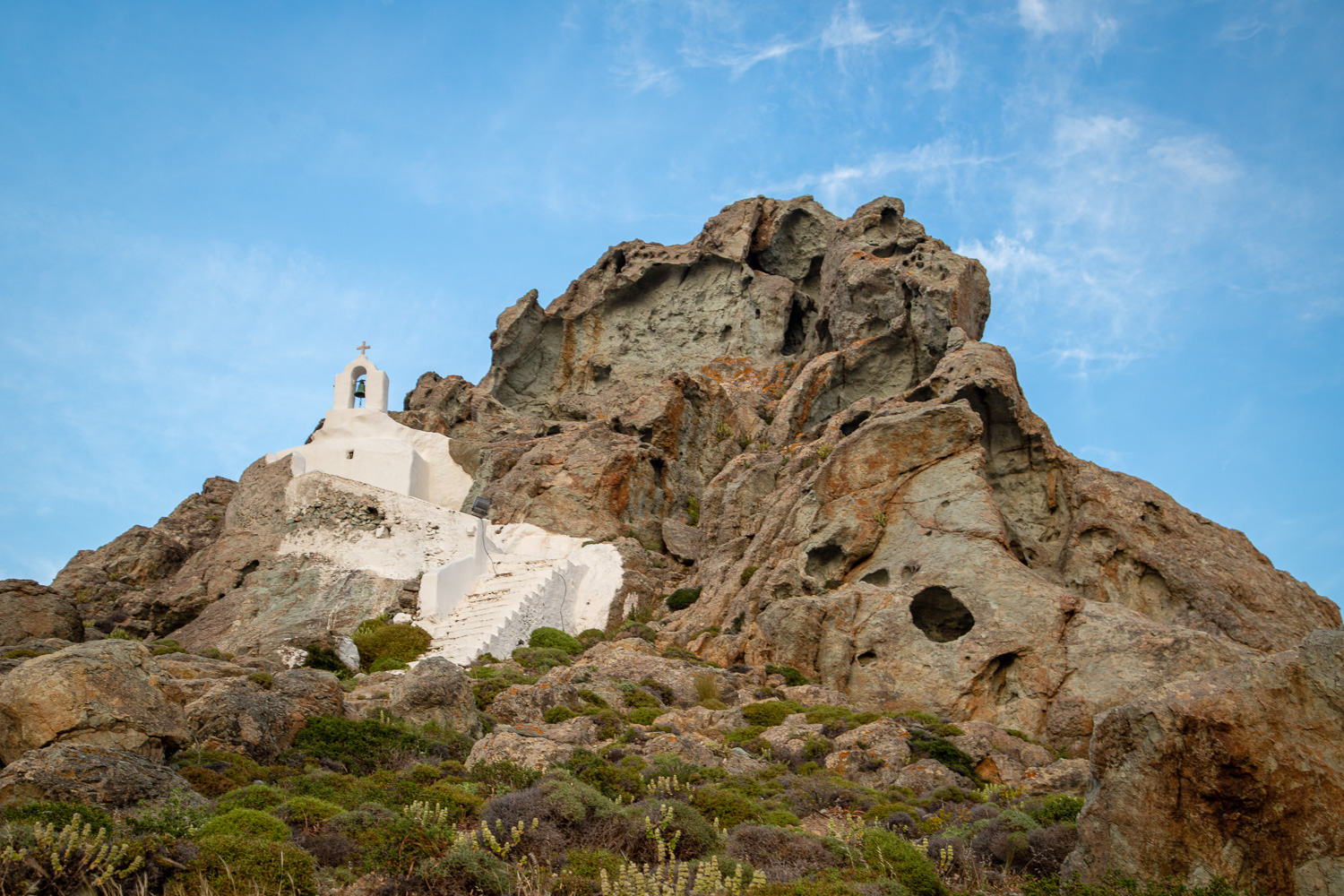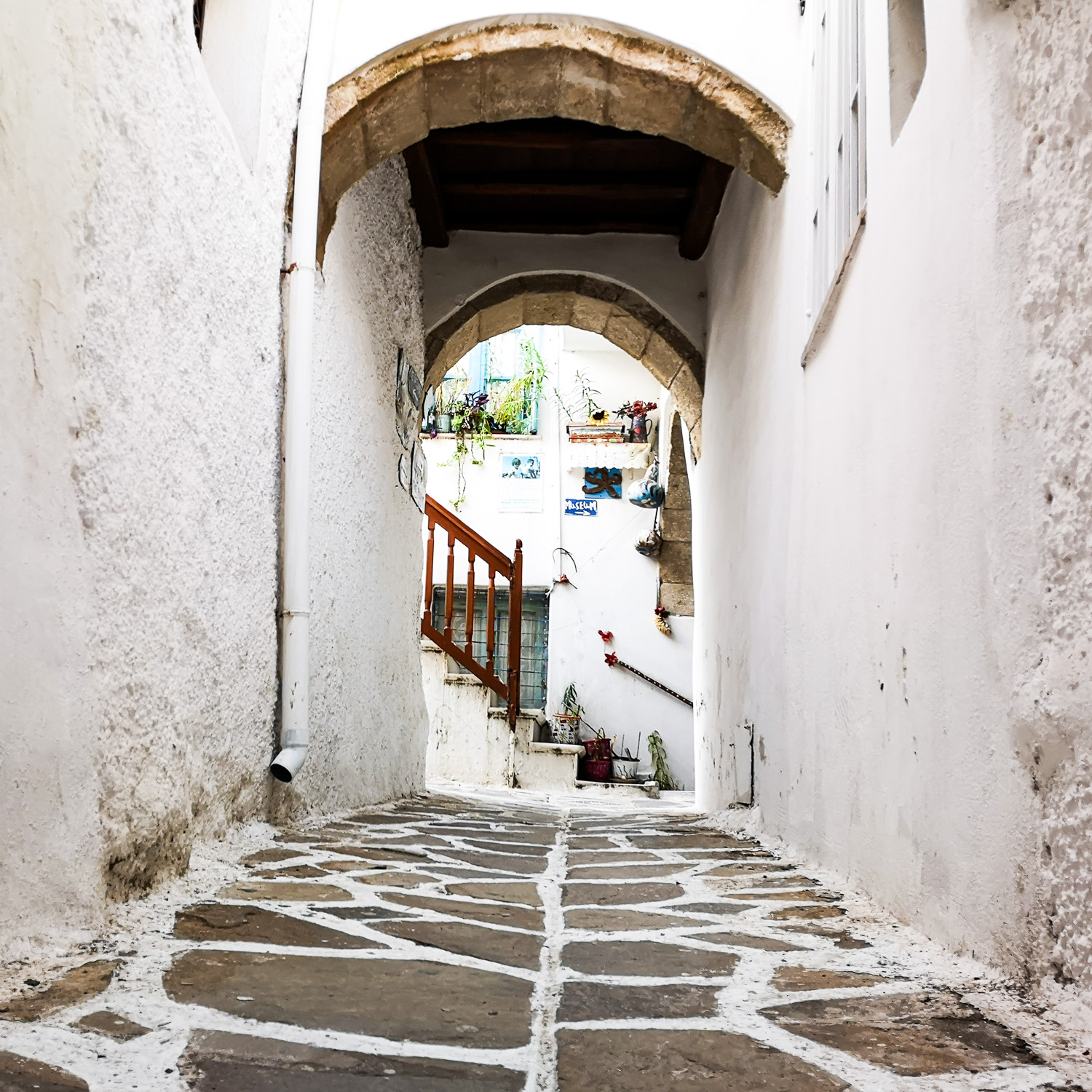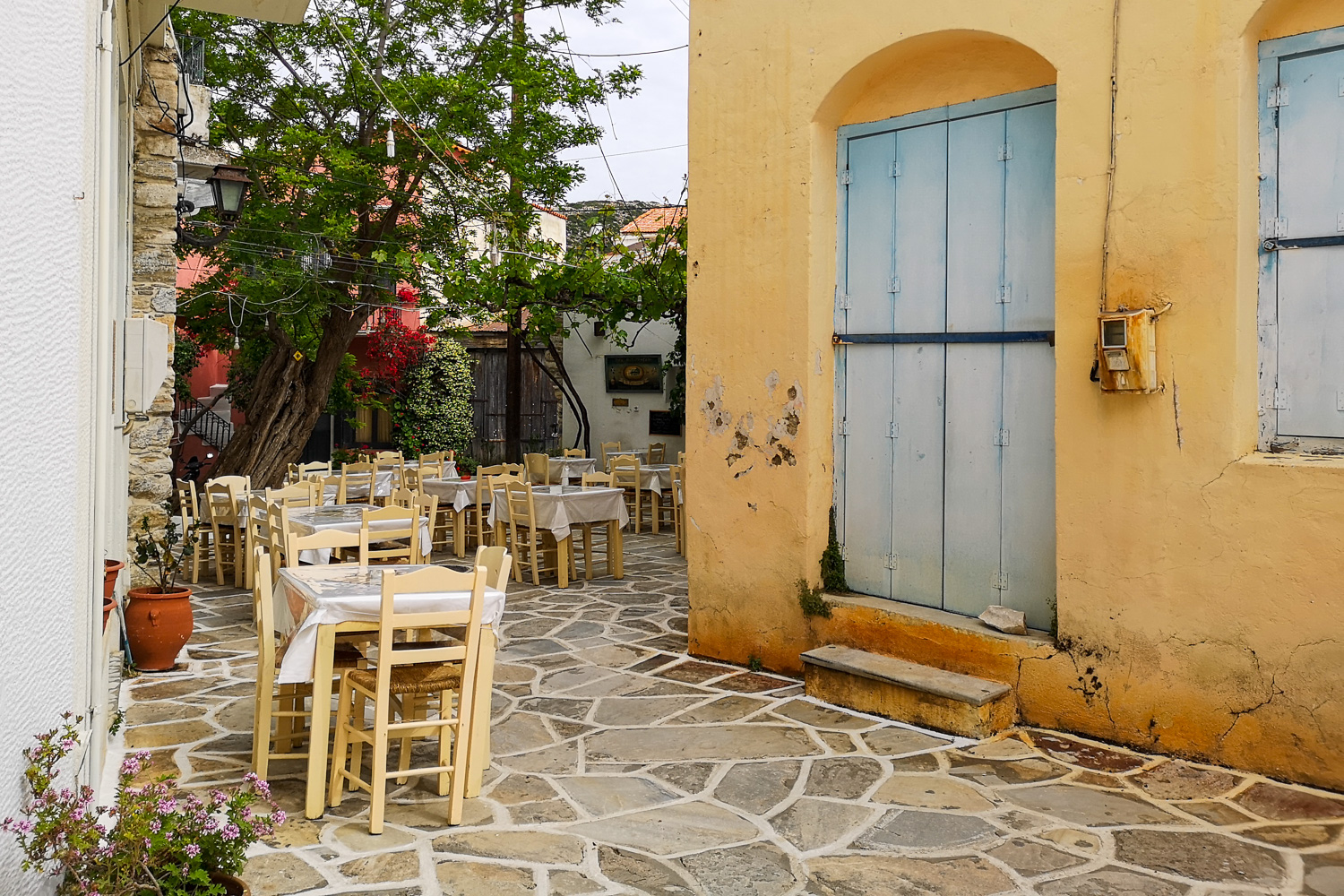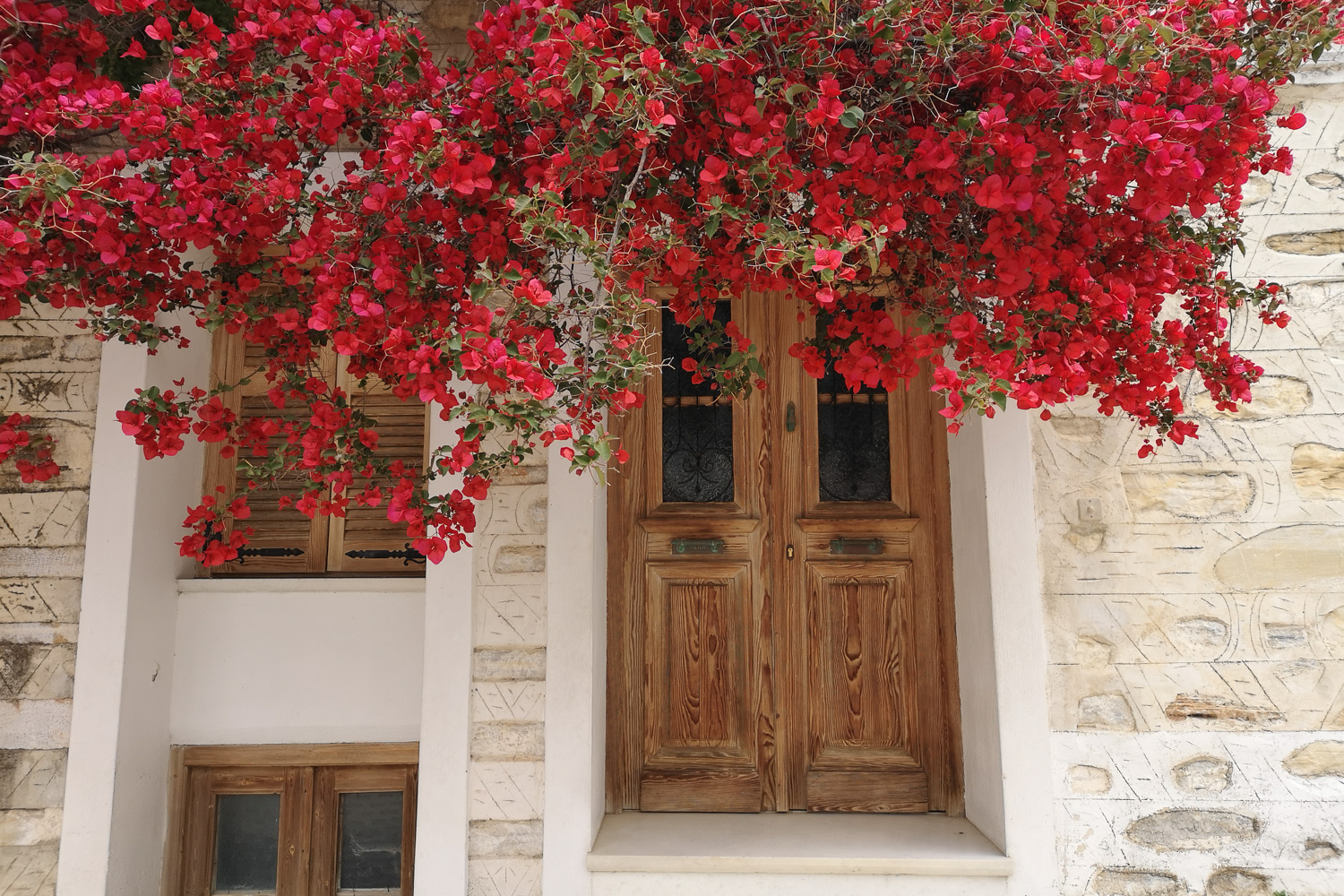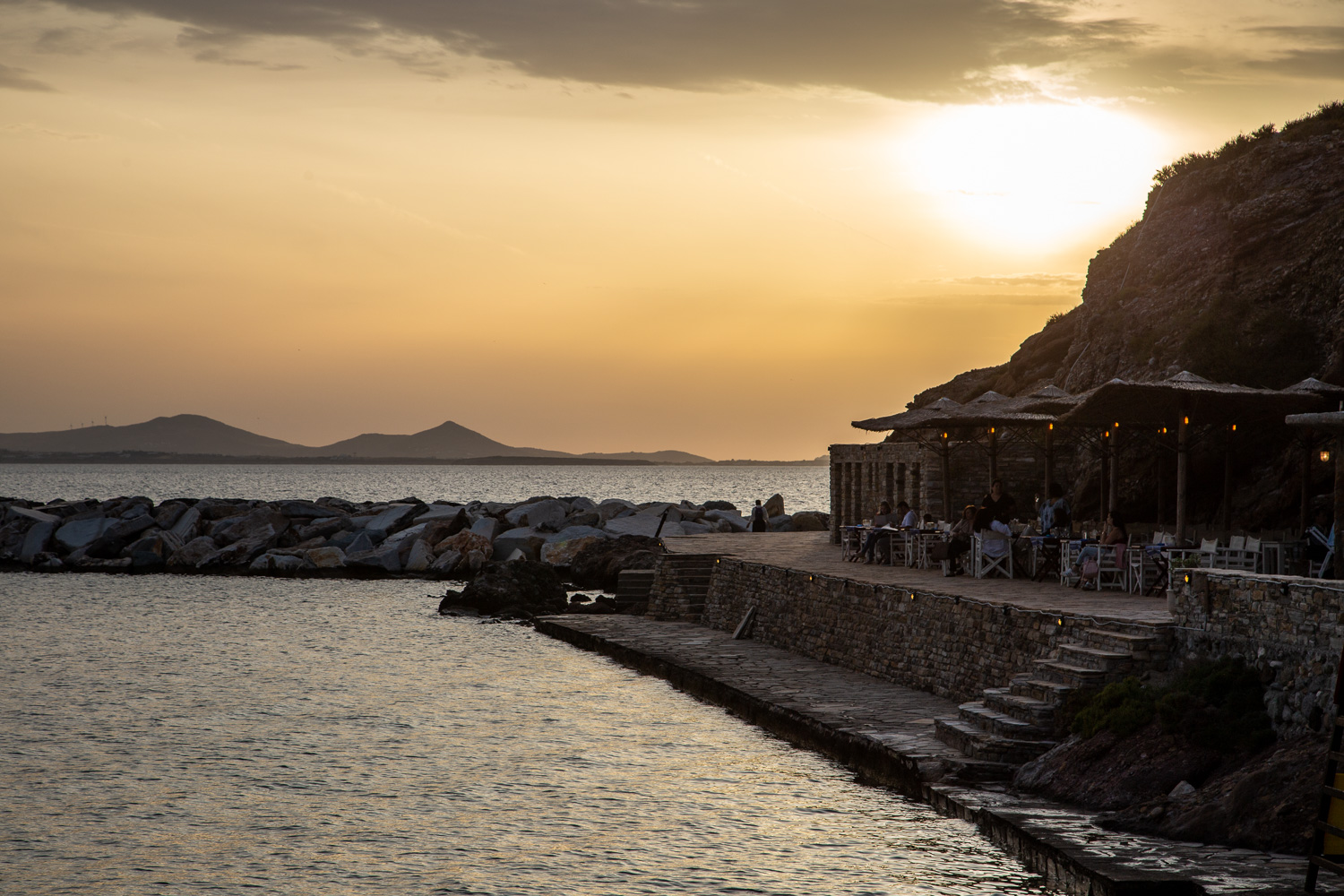 But the memories I took with me from Naxos are borne from the food.
"What's your specialty here?" I asked our server.
"Everything," I was told, "Except don't get the Greek Salad, you can get that everywhere in Greece." So instead I ordered Dakos, a twist on the Greek salad. It consists of shredded tomatoes on a barley husk, topped with ksinomithithra or mizithra cheese, capers, olive oil and has cucumbers, peppers and olives on the side.
Mind: Blown.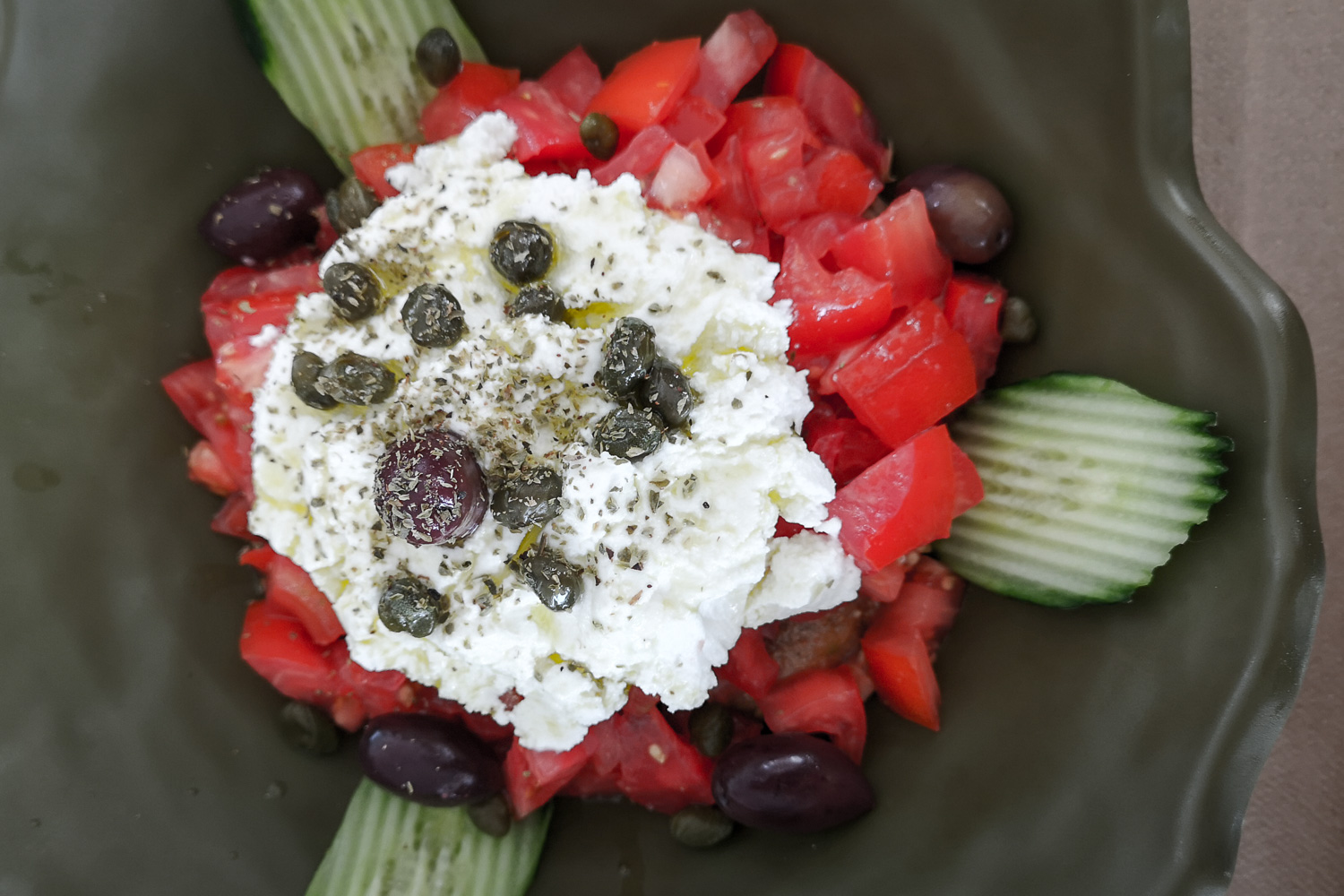 I also tried:
Rosto (garlic stuffed roasted pork leg in a red wine tomato sauce) from Apiranthos,
Specialty cheeses including Graviera (Gruyere), arseniko (hard goat cheese) and Xinomyzithra
Honey from Halki made with Thyme and from the heather flower
Kitron: a lemon flavoured liqueur that is made from the fruit and distilled leaves of the Citron tree. Kitron can not be found anywhere outside of Naxos
Yogurt topped with candied carrots: a dessert that looks so simple but takes a lot of time to make
Ekmek kantaifi: a sinful dessert made with layers of kataifi dough and baked until golden, drenched in lemon syrup and topped with a thick cream custard.
And last but not least: Naxian potatoes. The lush soil gives way to the famous potatoes which are bursting with flavour. The island celebrates its potatoes so much that they honour it with a festival every August.
The server wasn't kidding, it seemed that on Naxos everything is their specialty.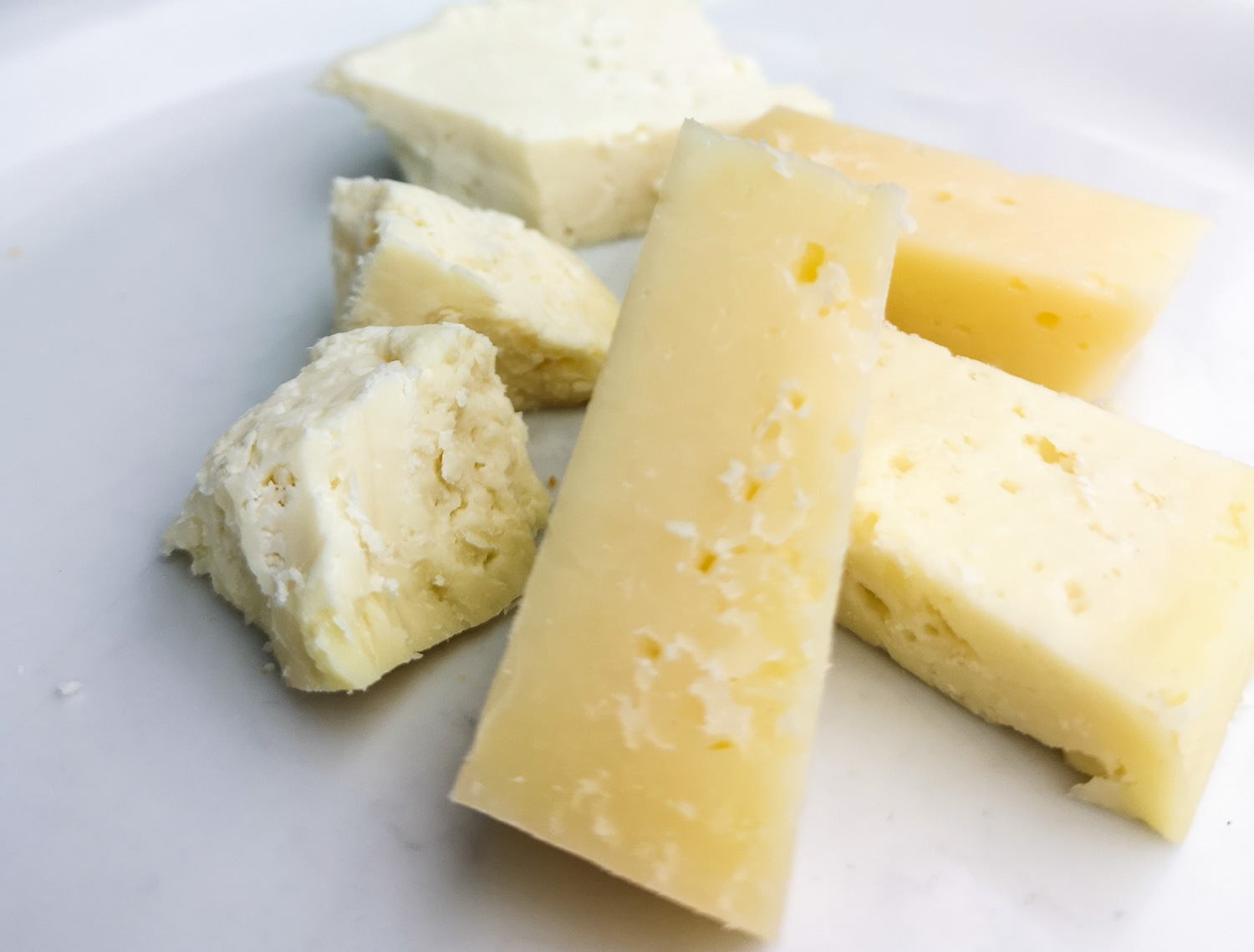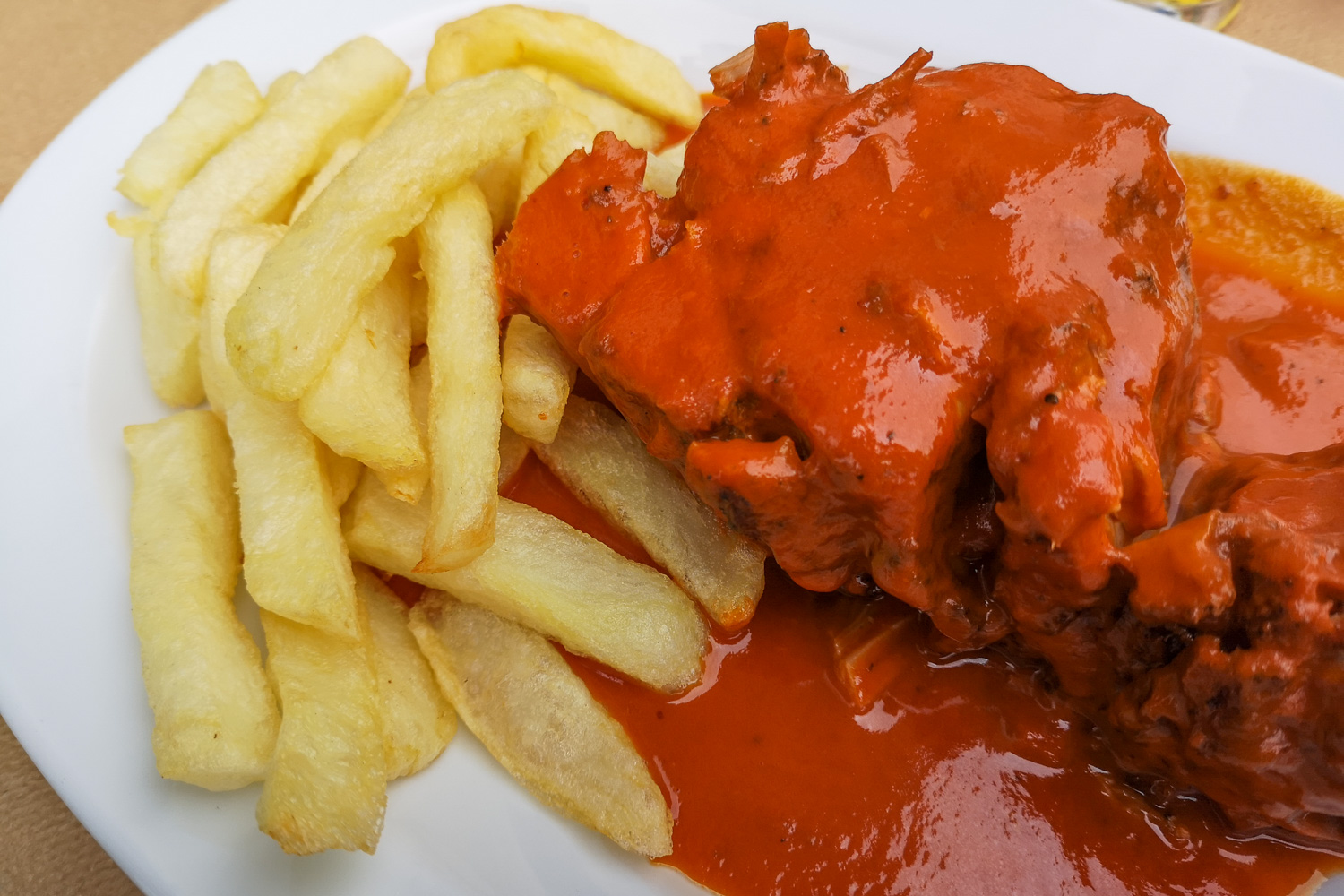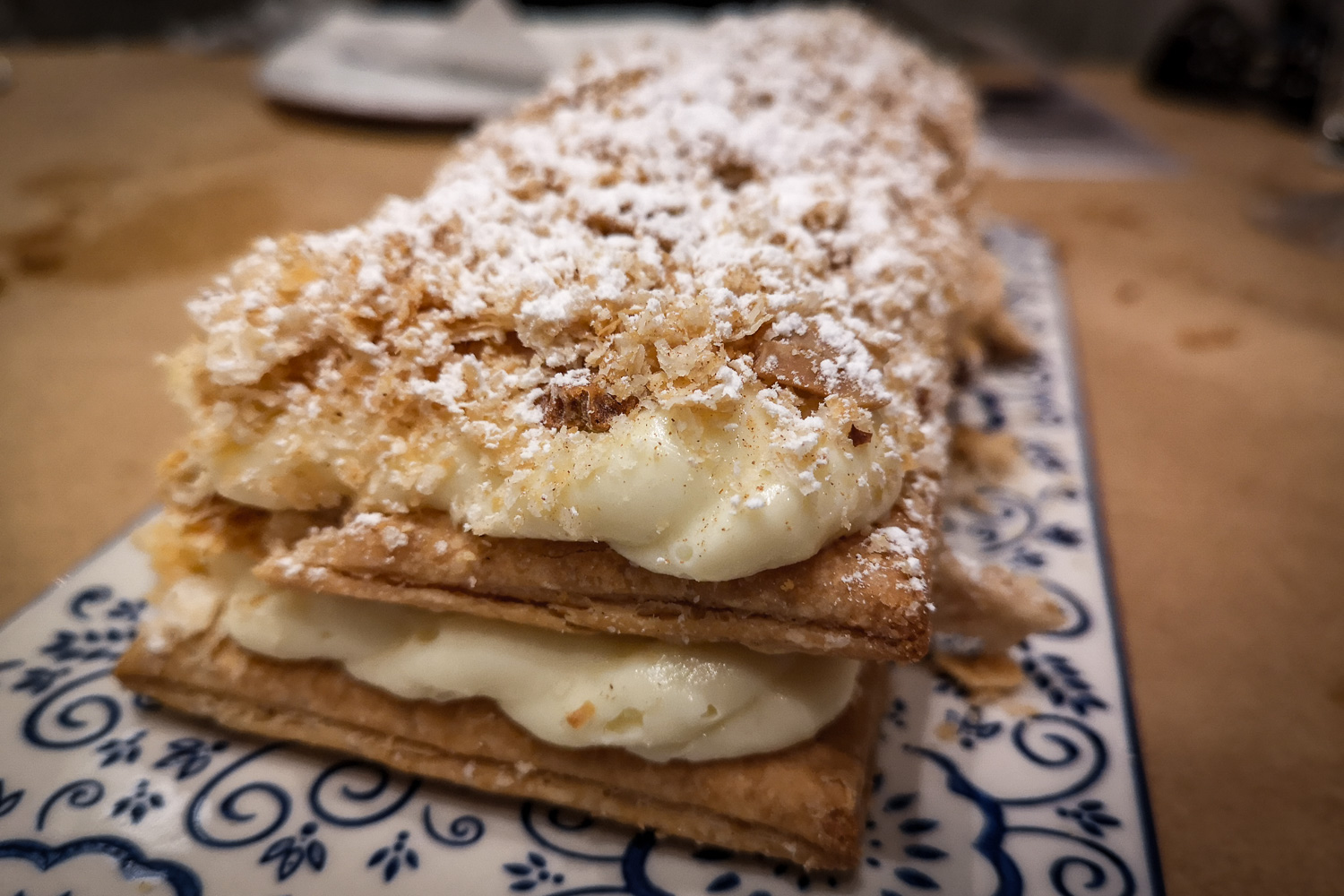 IOS
Next up on our tour was the small island of Ios. In the summer, the island is apparently quite the party. But in shoulder season it's quiet. In winter, nothing happens.
The picturesque chora (main town) is a winding maze of walking streets with shops, restaurants, bars and churches built into the white walls. Continuing up we arrived at the Panagia Gremiotissa, with incredible views over the island and an idyllic spot for sunset.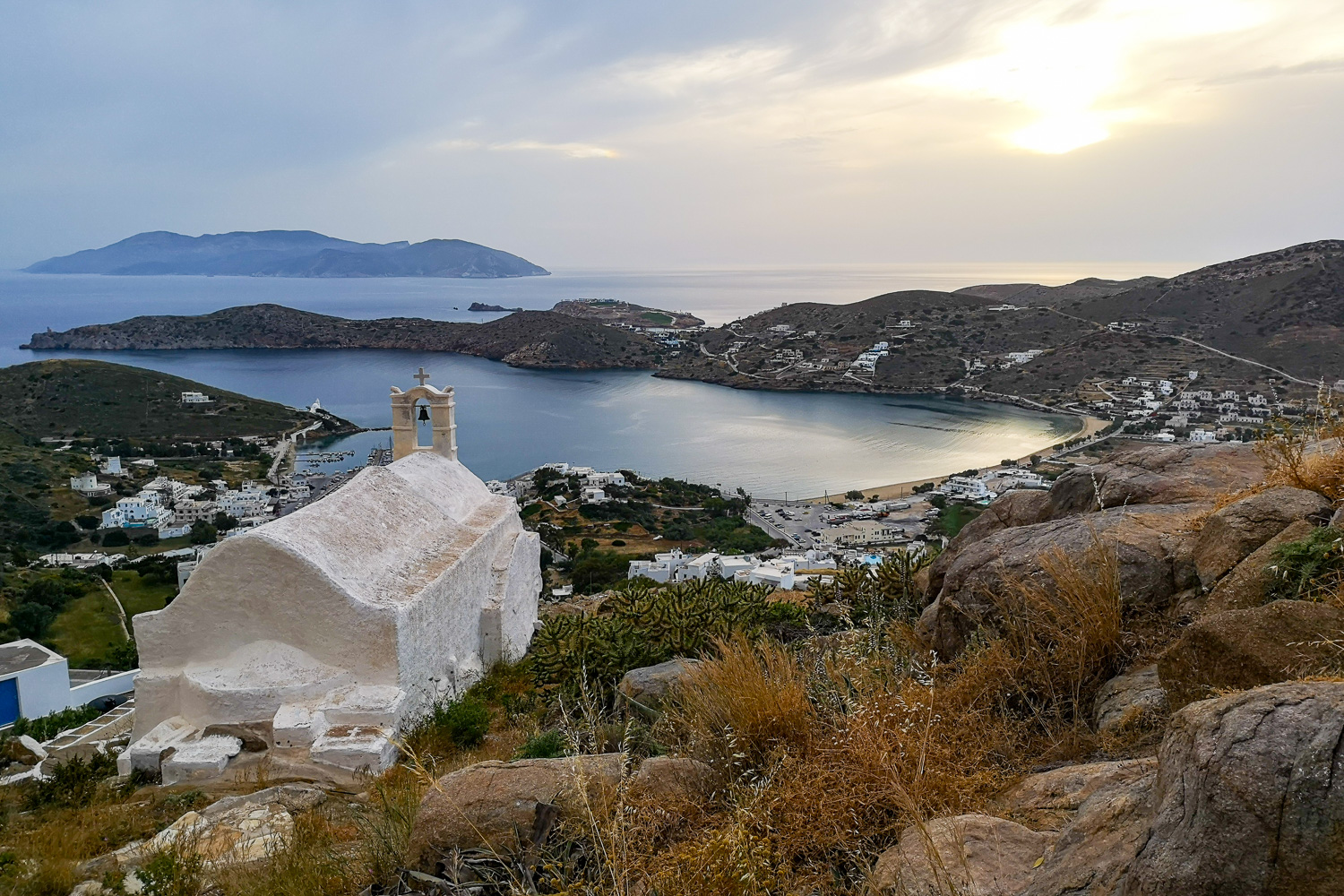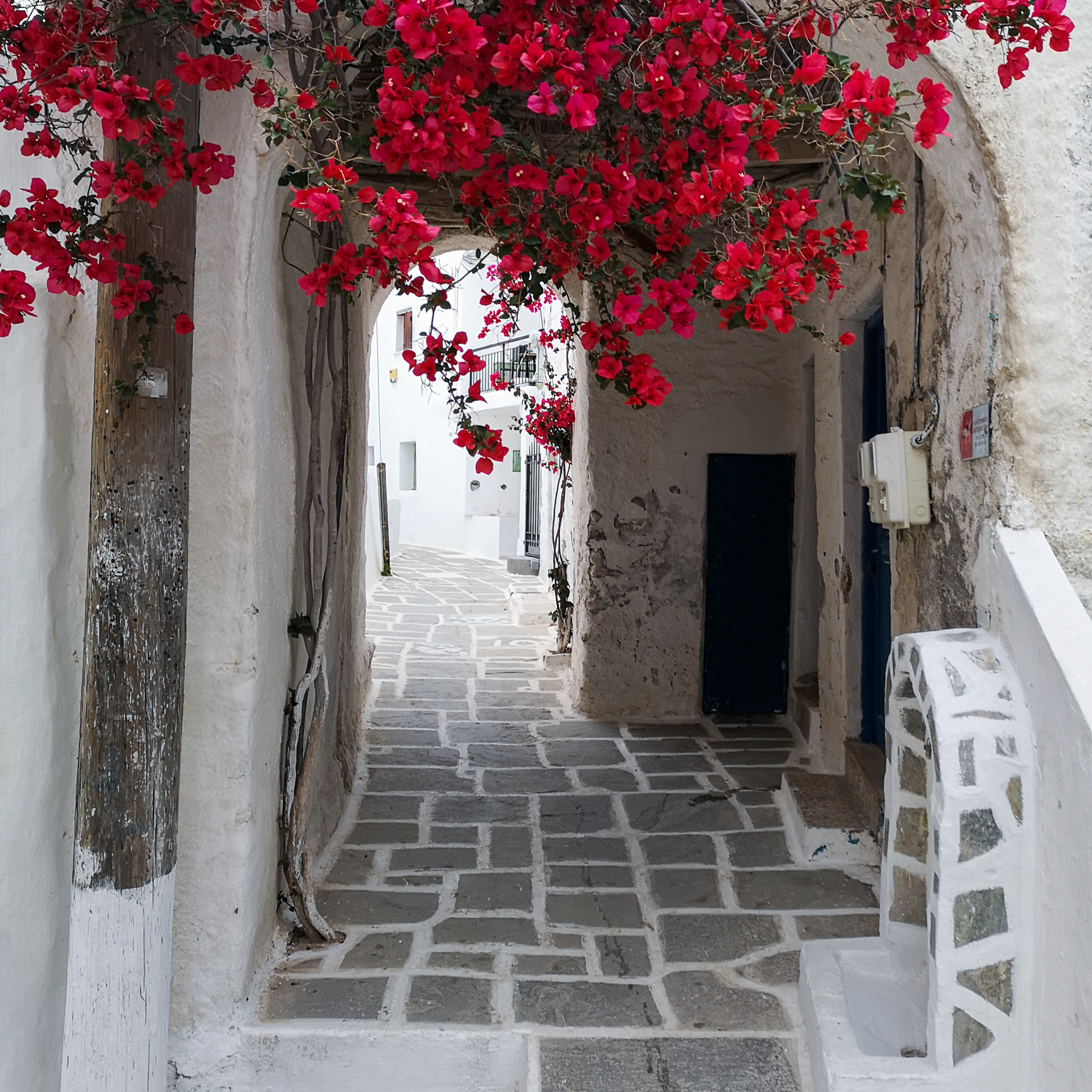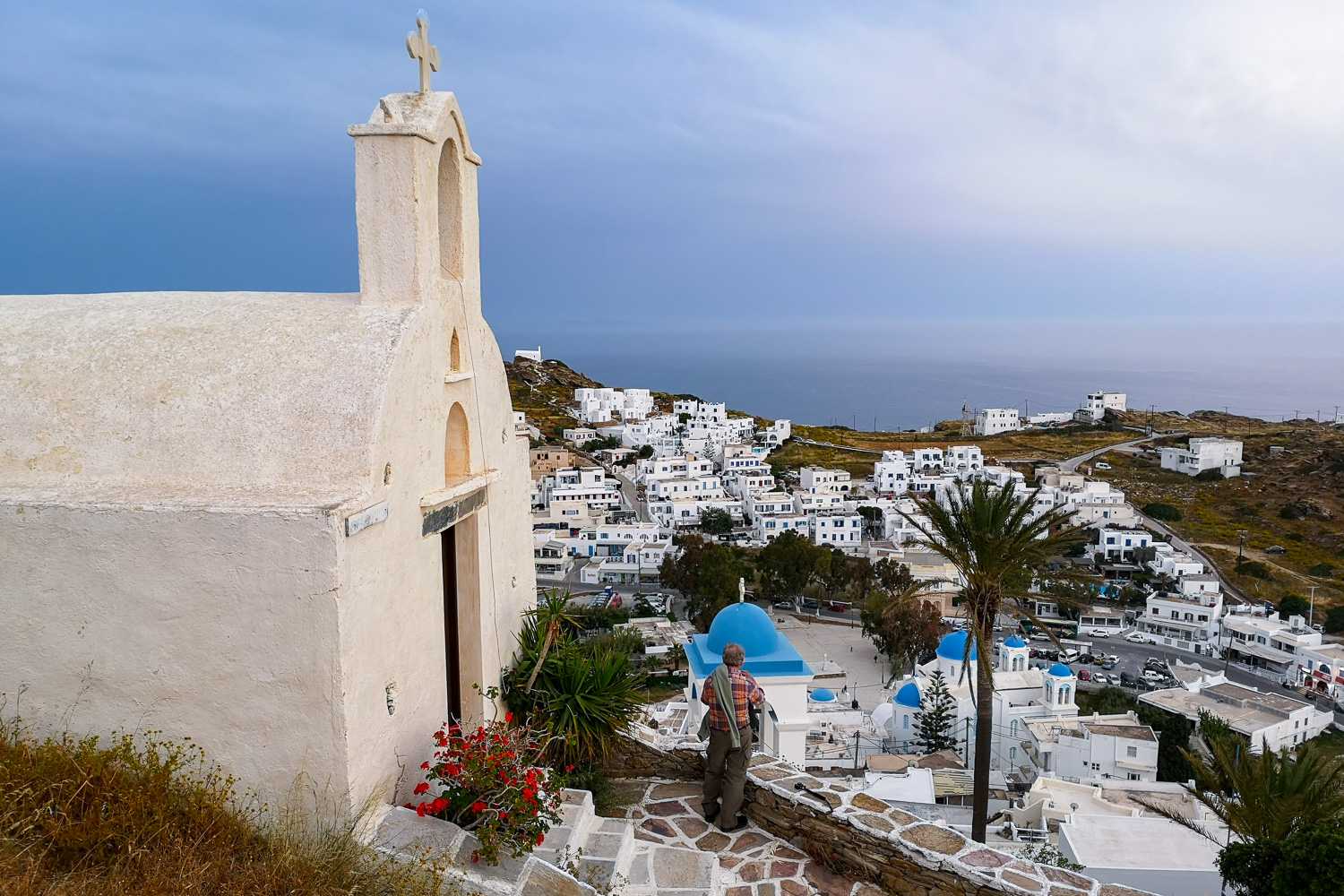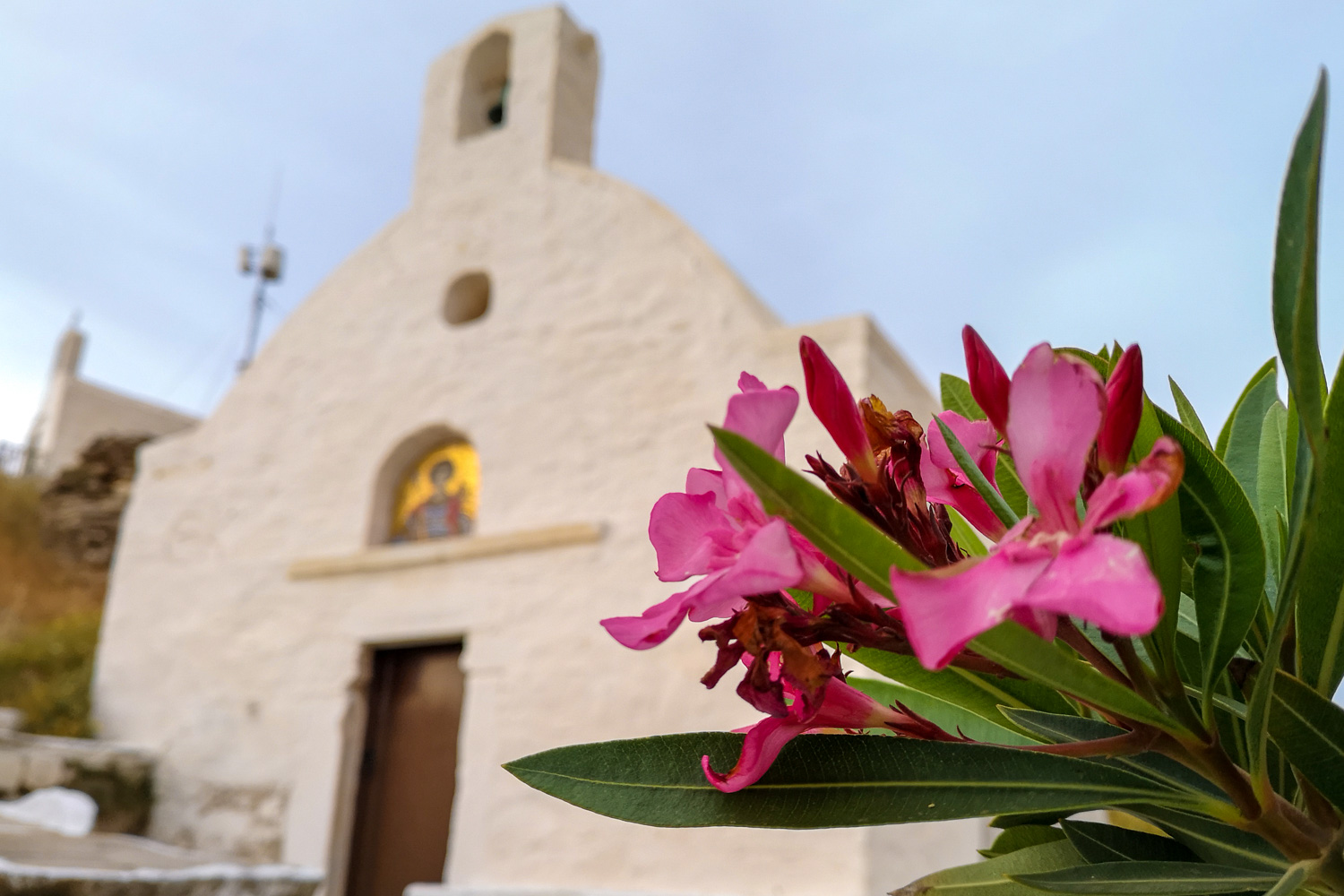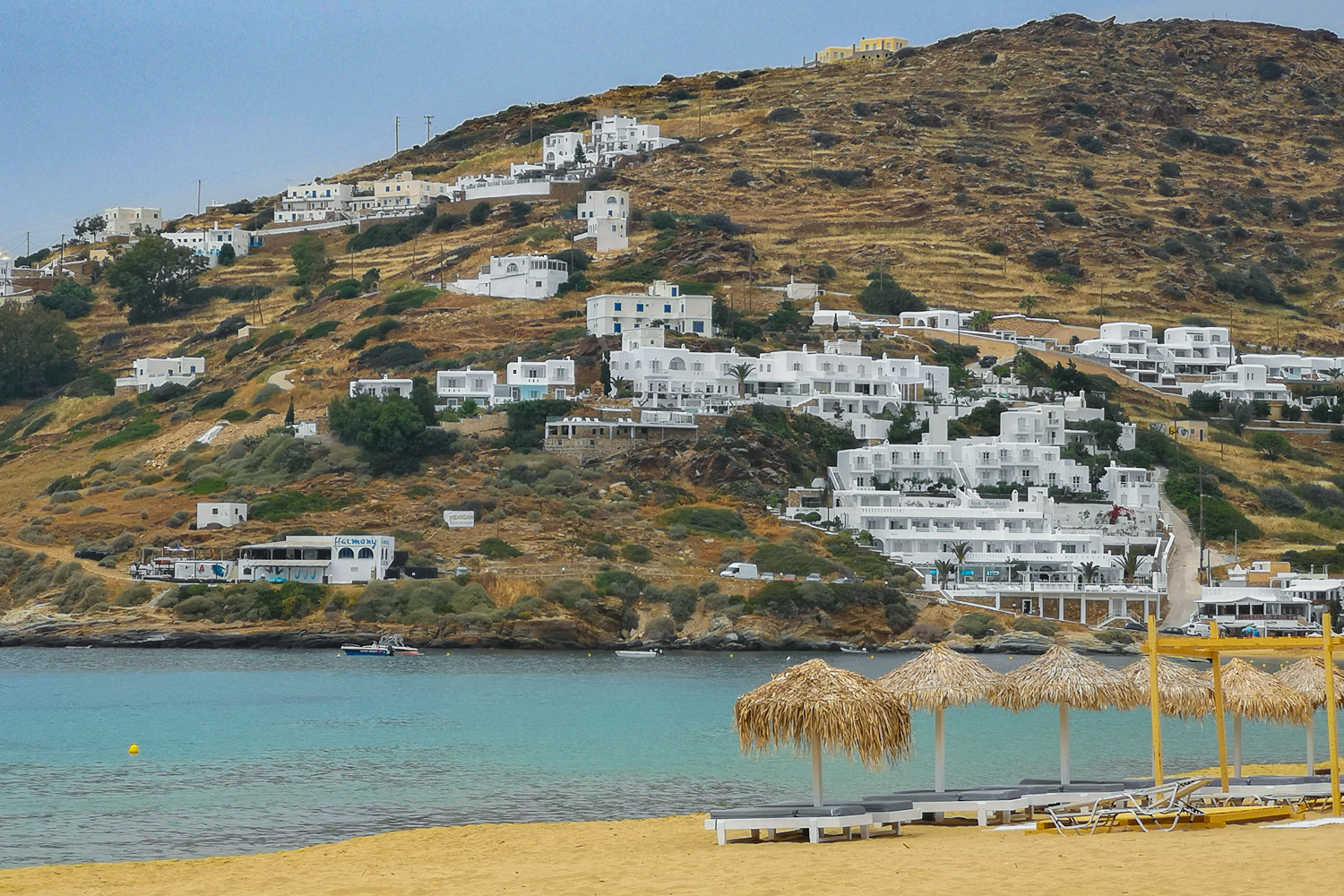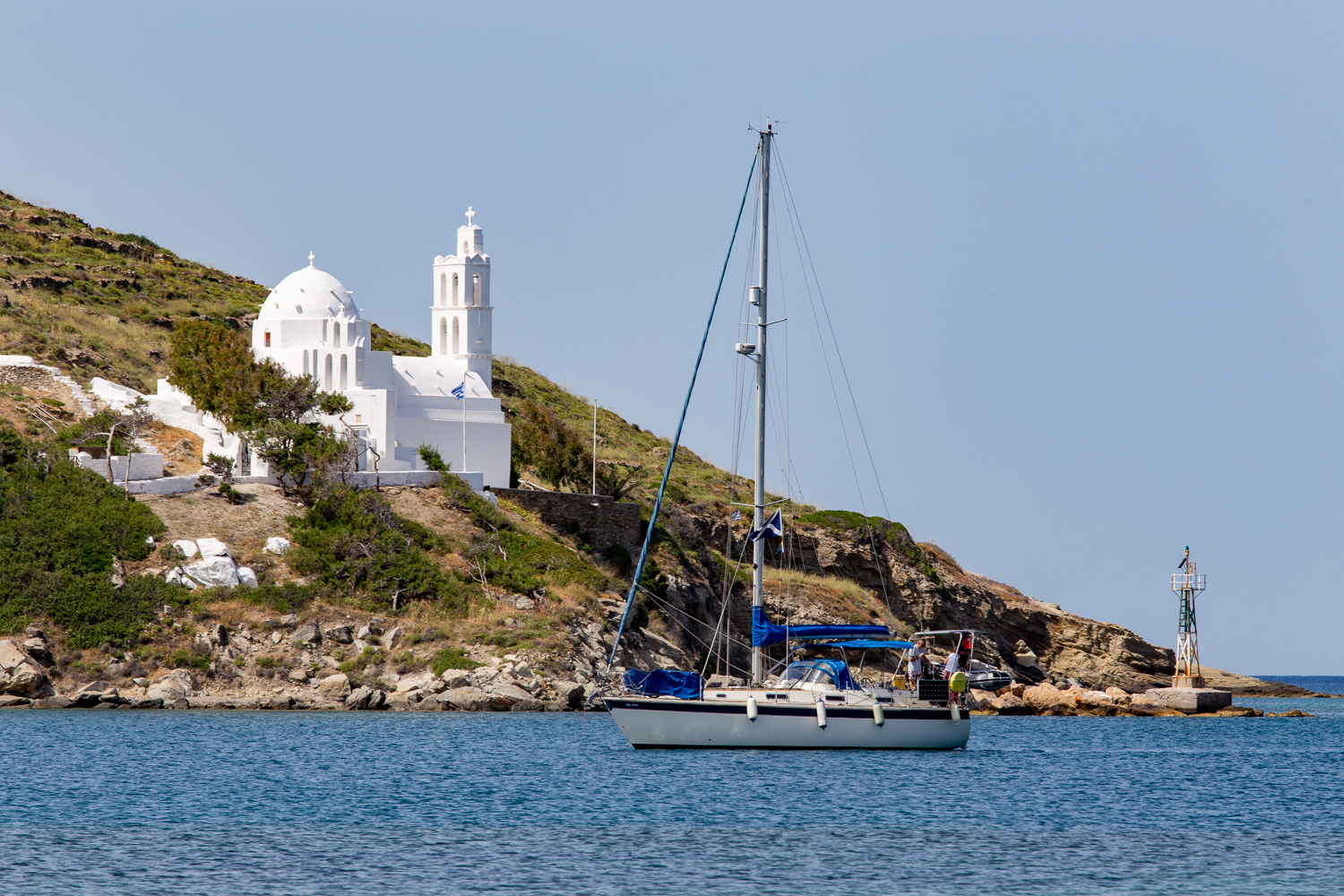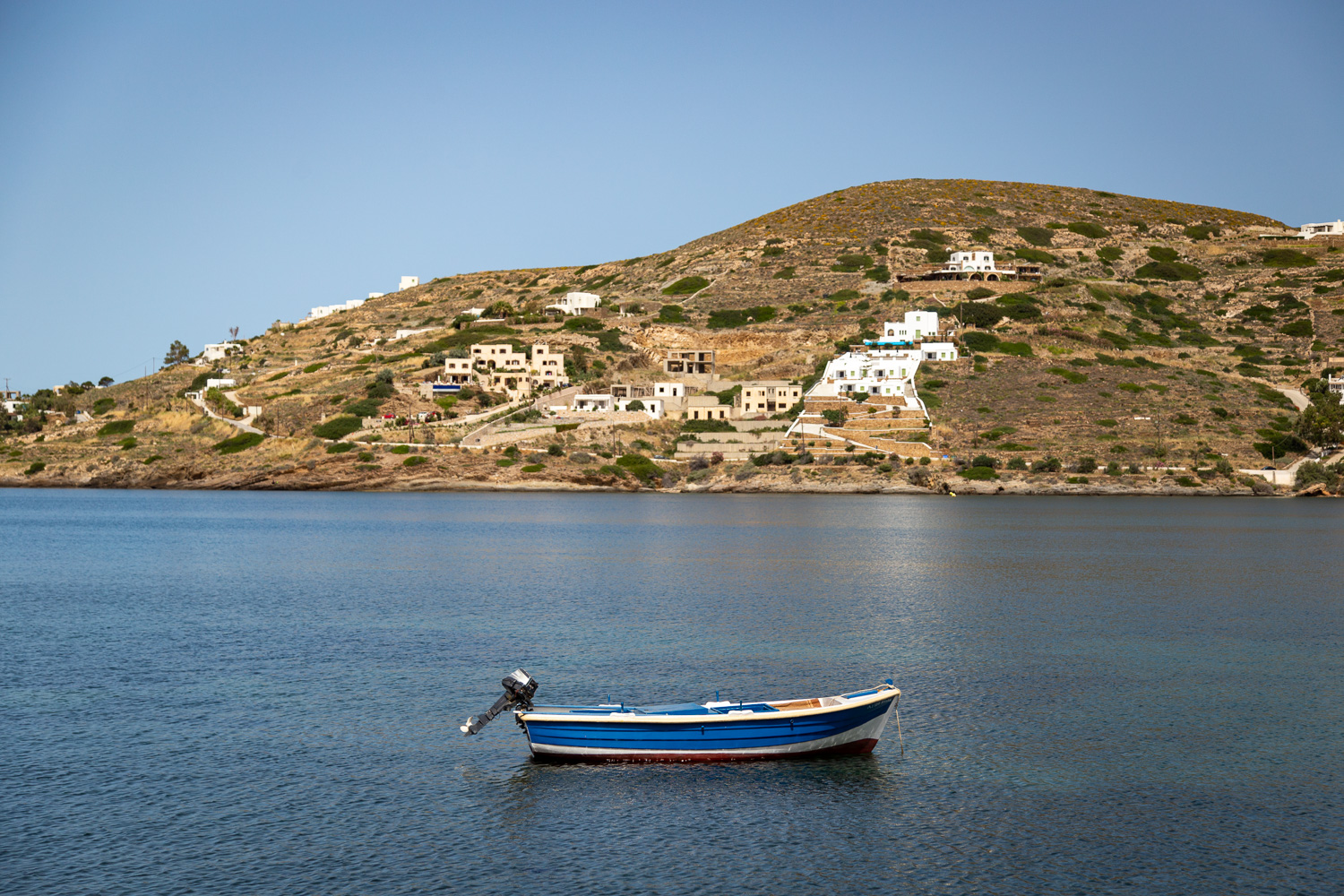 "Hey, that lighthouse over there, can we get to it?" I asked our tour leader.
"Let me find out," Sylvia responded.
This is what I loved about Sylvia and this tour. She made things happen (within reason) if we wanted it. That next evening a bunch of us found the walking trail to the lighthouse and took in the sunset. And later that evening we found a spot for some live music and post-hike beers.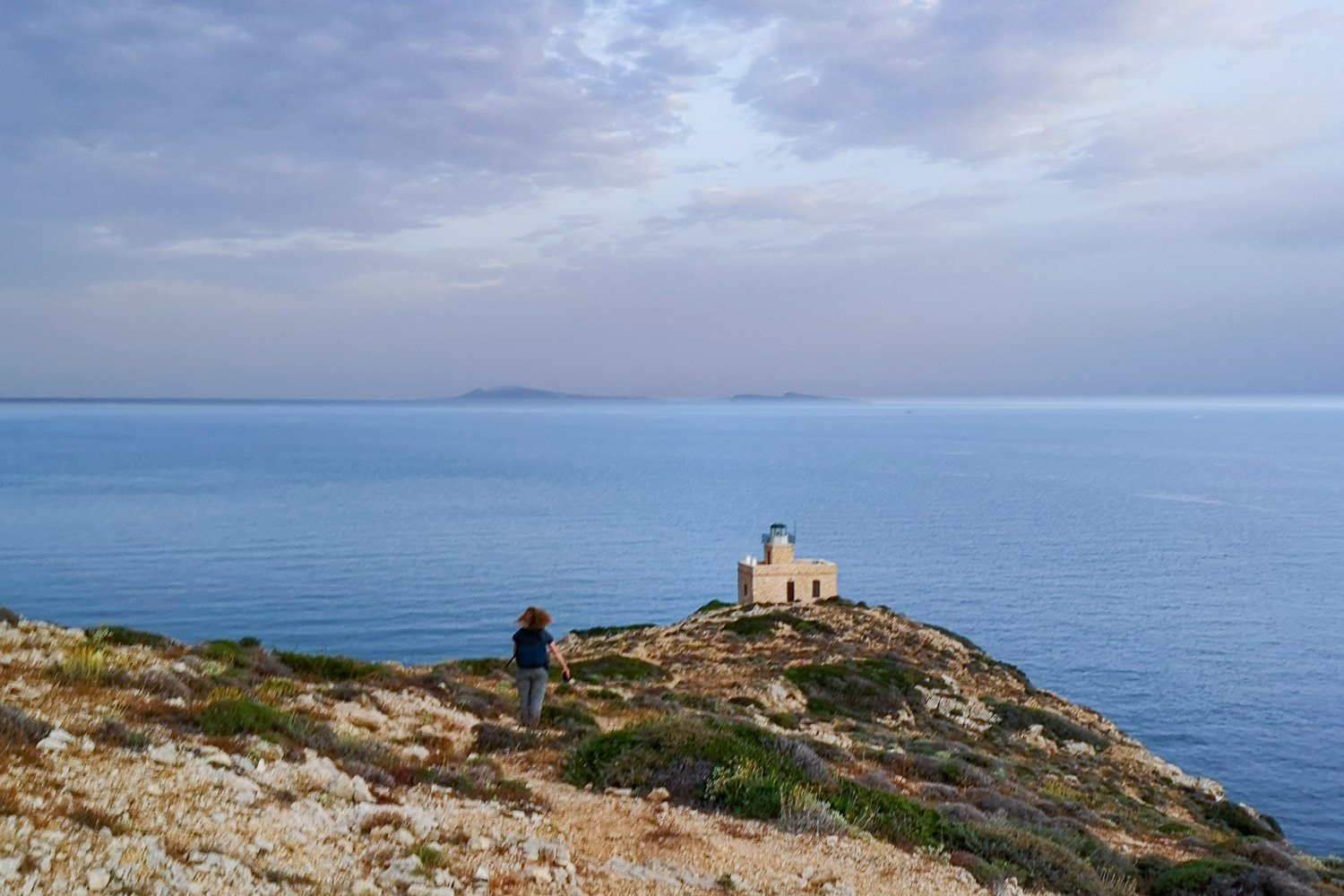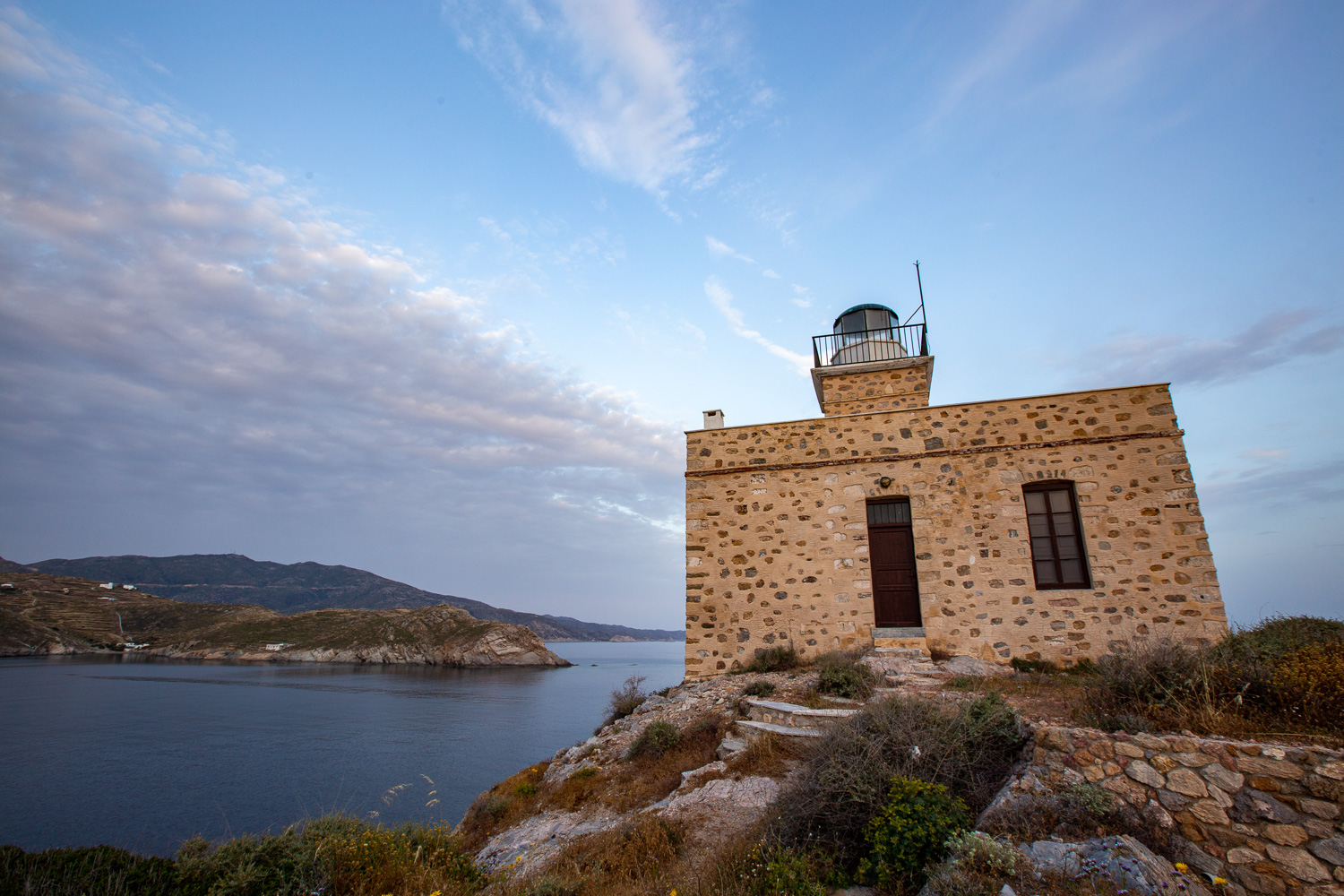 The next day, our entire crew ventured out to visit the tomb of Homer, famous for his writing of the Ilyiad and the Odyssey. To be honest, I've never read either of the poems. But I have heard of the tales and the message I was drawn to one of his most famous quotes: "The Journey is the Thing".This quote resonates with me, and it has for a long time. It's not always about the final destination, but it's how you get there – the struggles, triumphs, and the memories that have been made along the way. It's these moments that define travel.
And when we arrived at his tomb it was an amazing spot to be put to rest. It overlooked the Cycladic islands in the Aegean sea, with a strong sea breeze blowing the flowers that lined it. We took the time to listen to audio clips from Homer's writing. And after the group started to make their way back, I stayed just a bit longer. I felt humbled by where I was standing.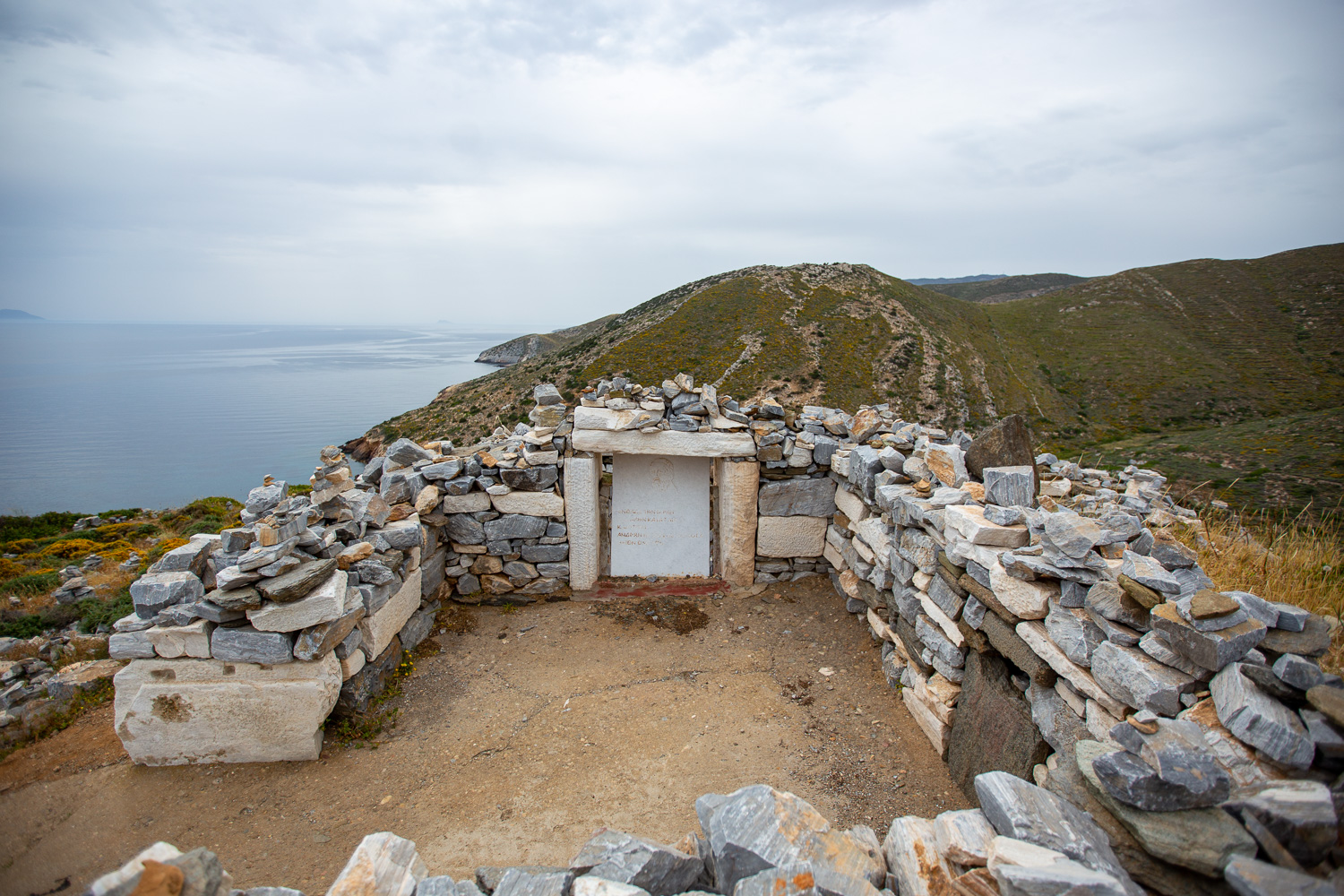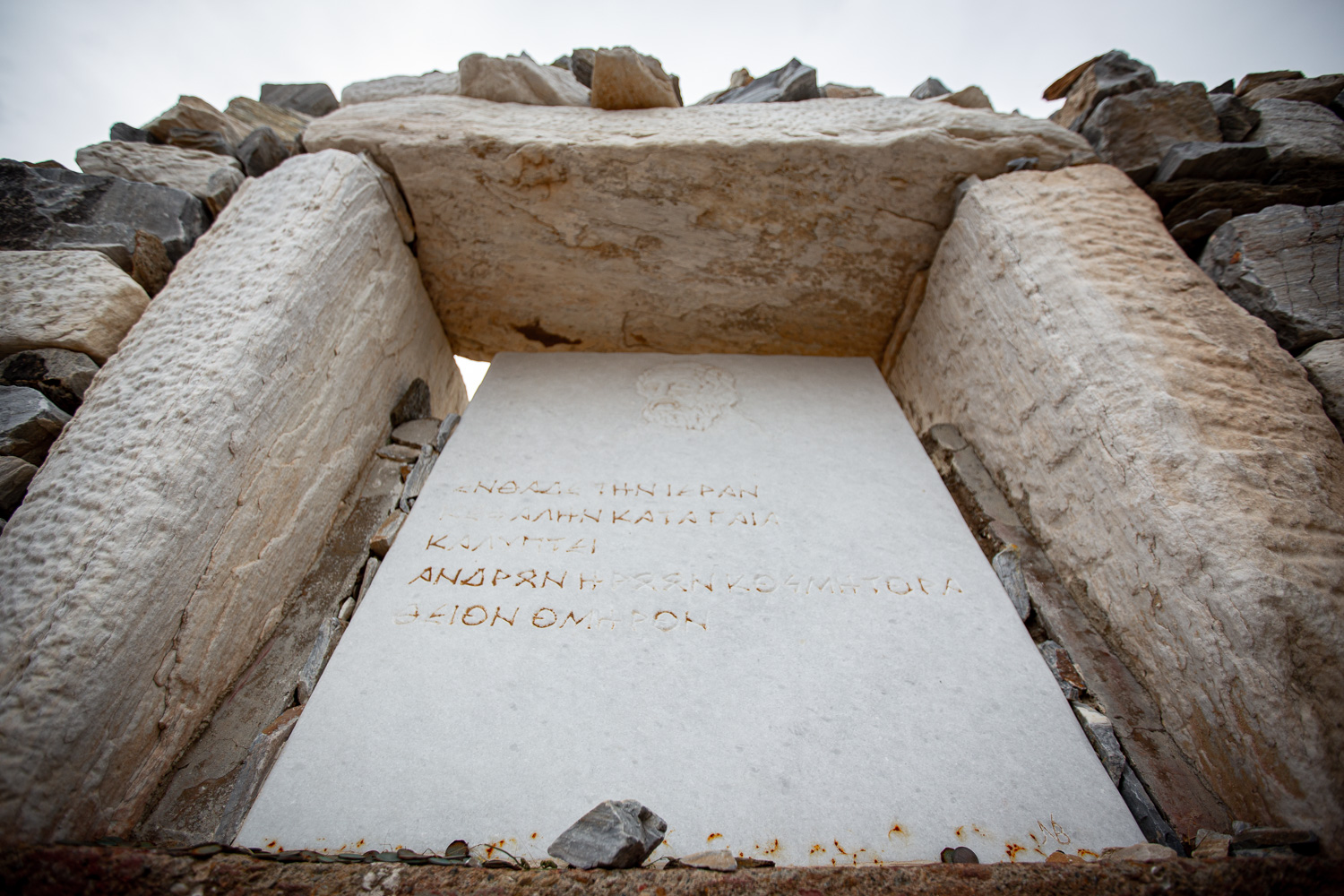 That afternoon when we returned back to our hotel, I ventured out on my own to find my own Greek beach, on that memorable trek where my shorts were sacrificed to get there. With only one more island to visit, I was thankful that my remaining wardrobe would see me through.
SANTORINI
Santorini is insanely popular, and the one that probably every single person thinks of when imagining Greek islands. I've seen countless images riddled on social media of the blue-domed white churches set atop sea cliffs.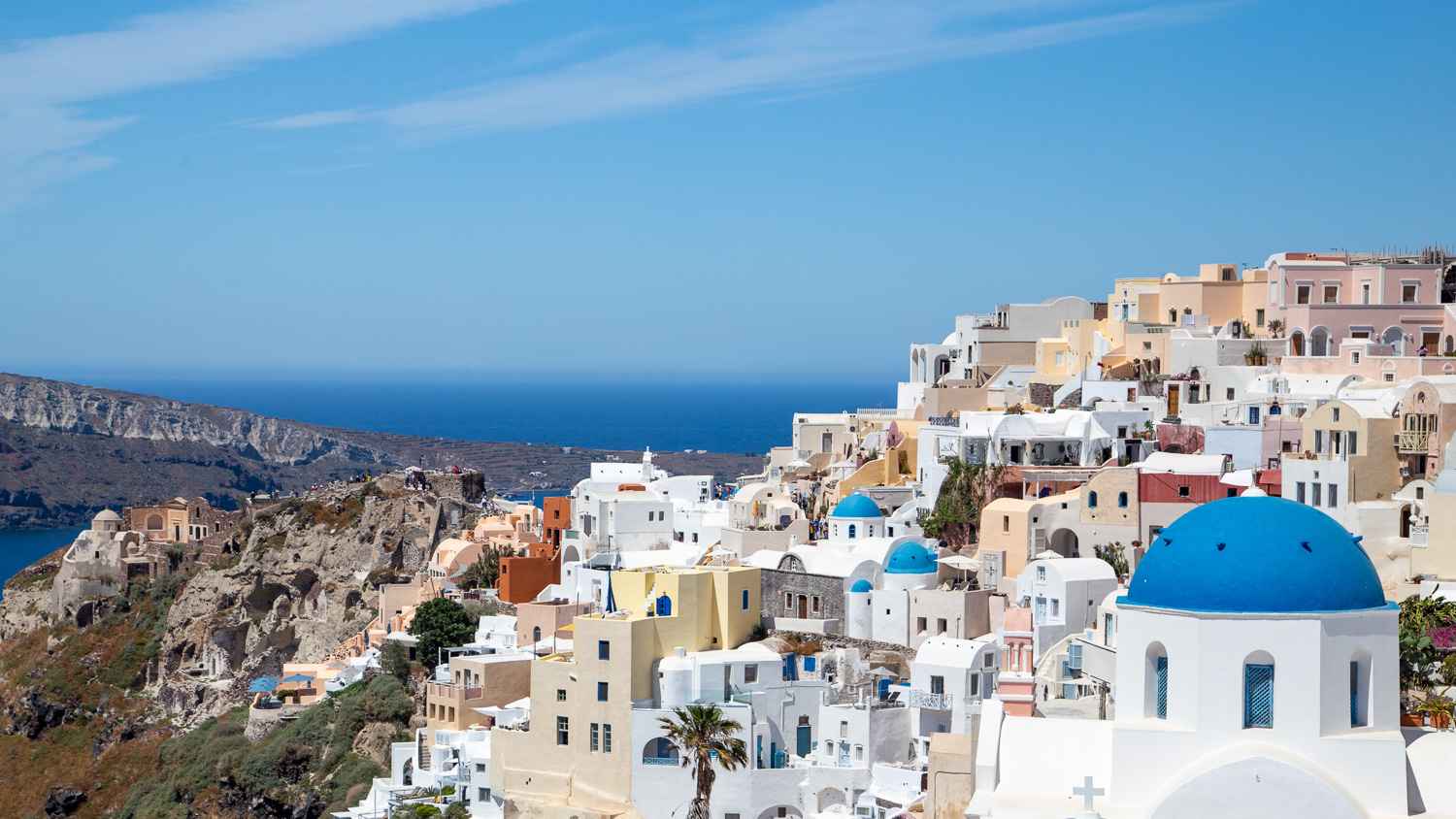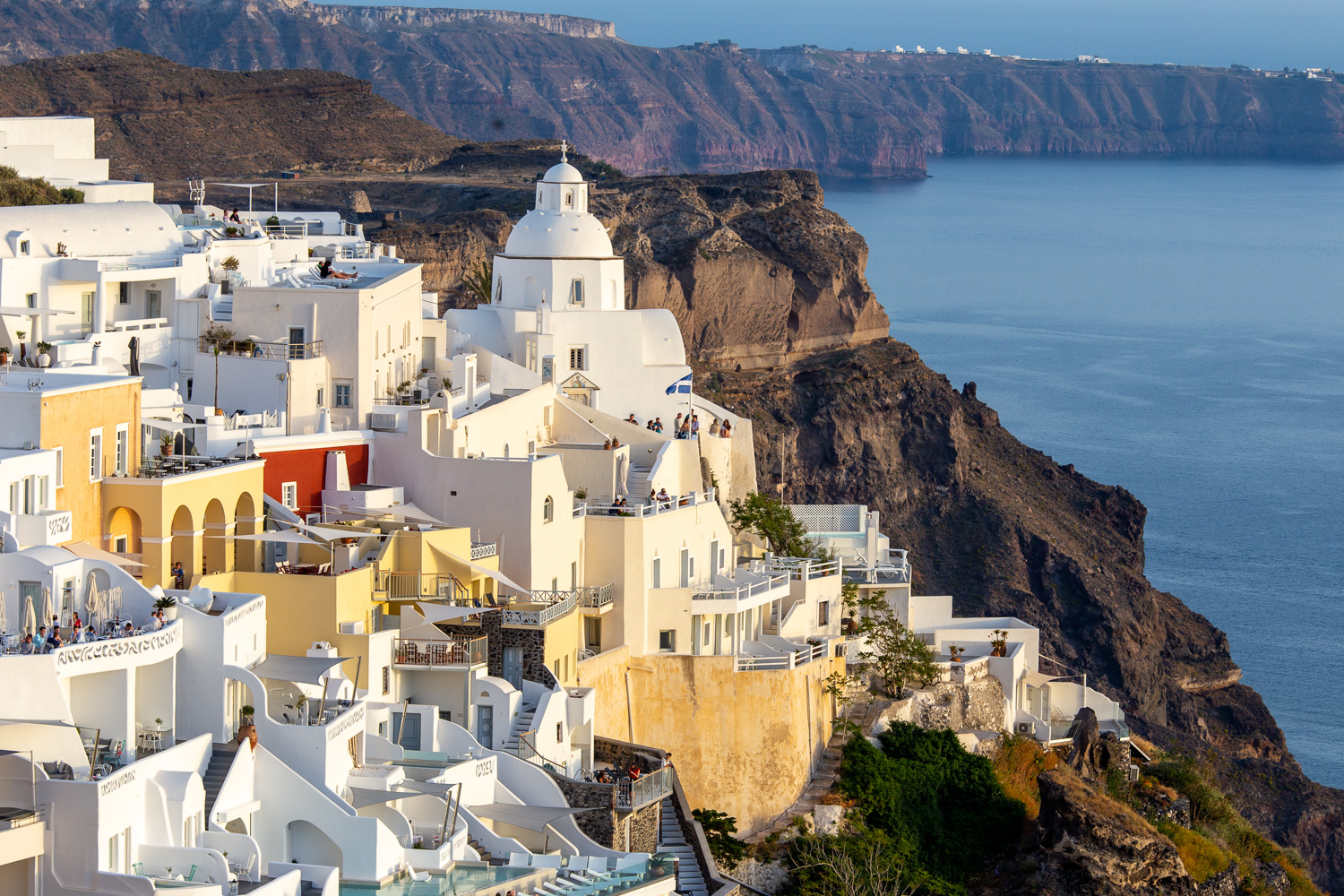 Of course we would visit that famed spot, and sure, seeing it with my own eyes was nice. But there were other highlights that completely surprised me about the island.
The island itself is the result of a massive volcano. After a big eruption in 1500BC and a number of eruptions afterward, the magma left behind a very dramatic landscape. For our big excursion on Santorini, we would hike a portion of the ring that remains.
I'll never forget feeling the wind that morning and when we caught our first glimpse of the town of Fira from above, at our starting point for a 10 kilometre hike along the sea cliffs to another town called Ia. Along the way, white towns dotted the landscape and even gave the illusion that they were snow-capped. The rich volcanic soil gave way to lush flowers along the pathside. And the dramatic elevation changes made this hike so picturesque I hardly put the camera down.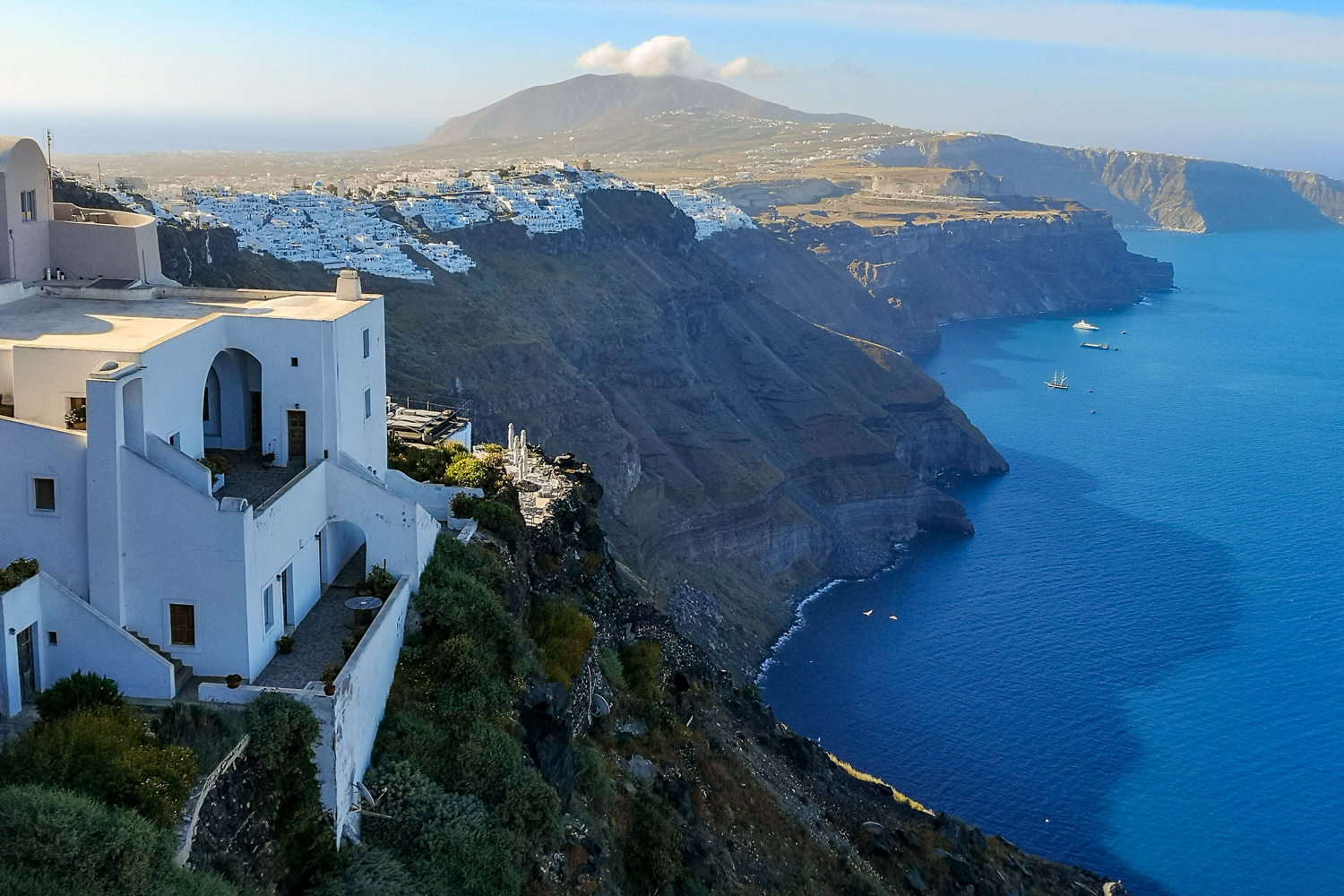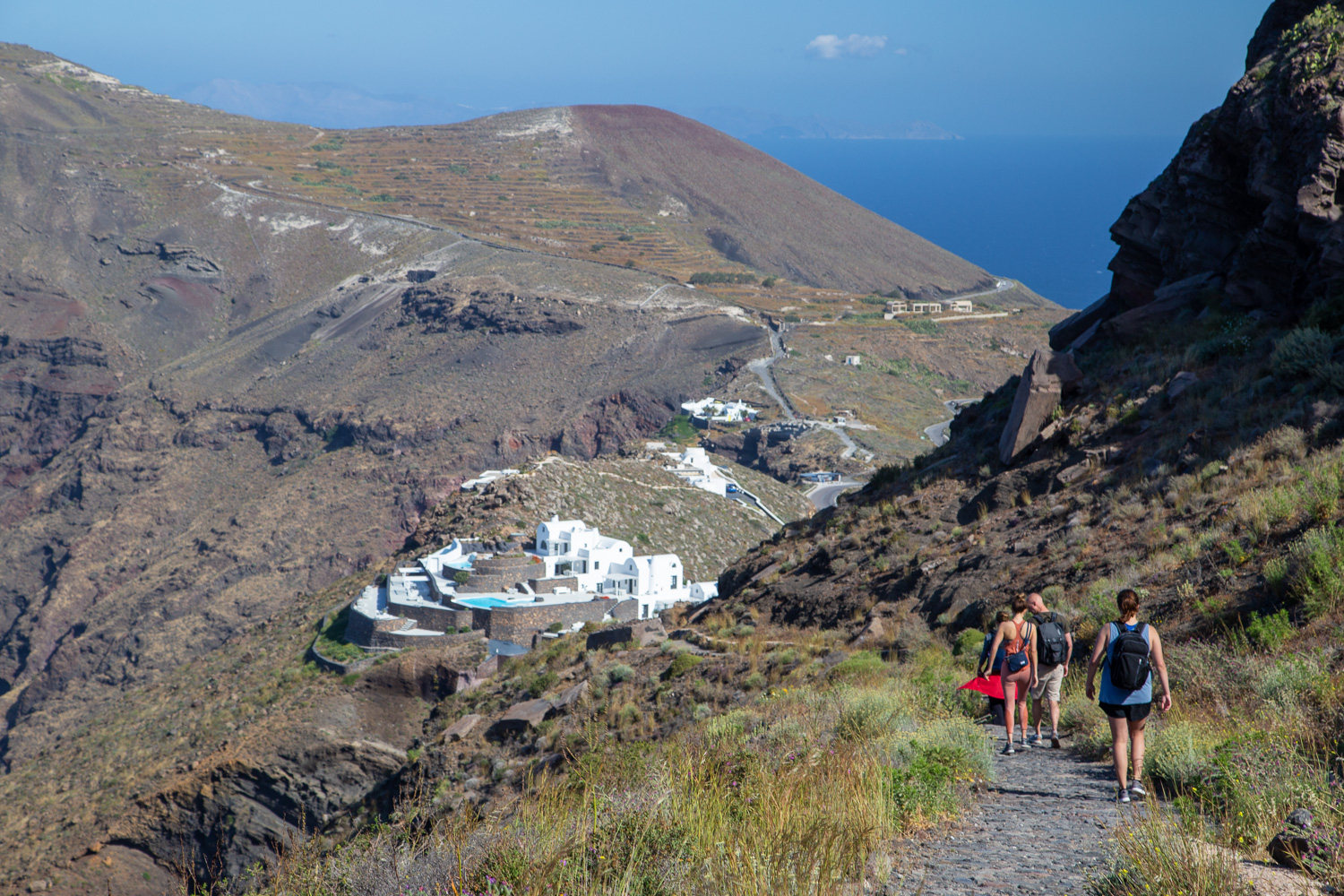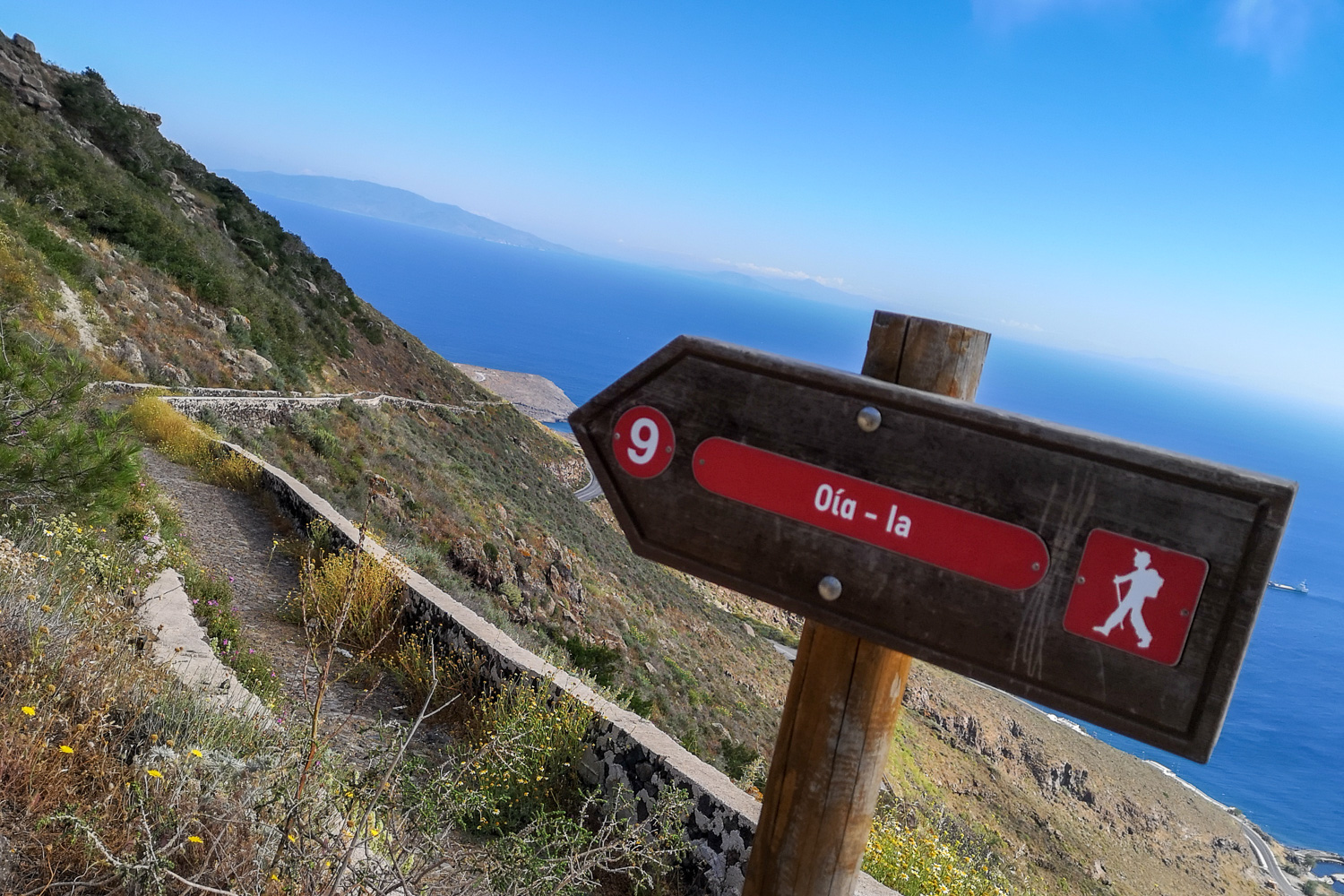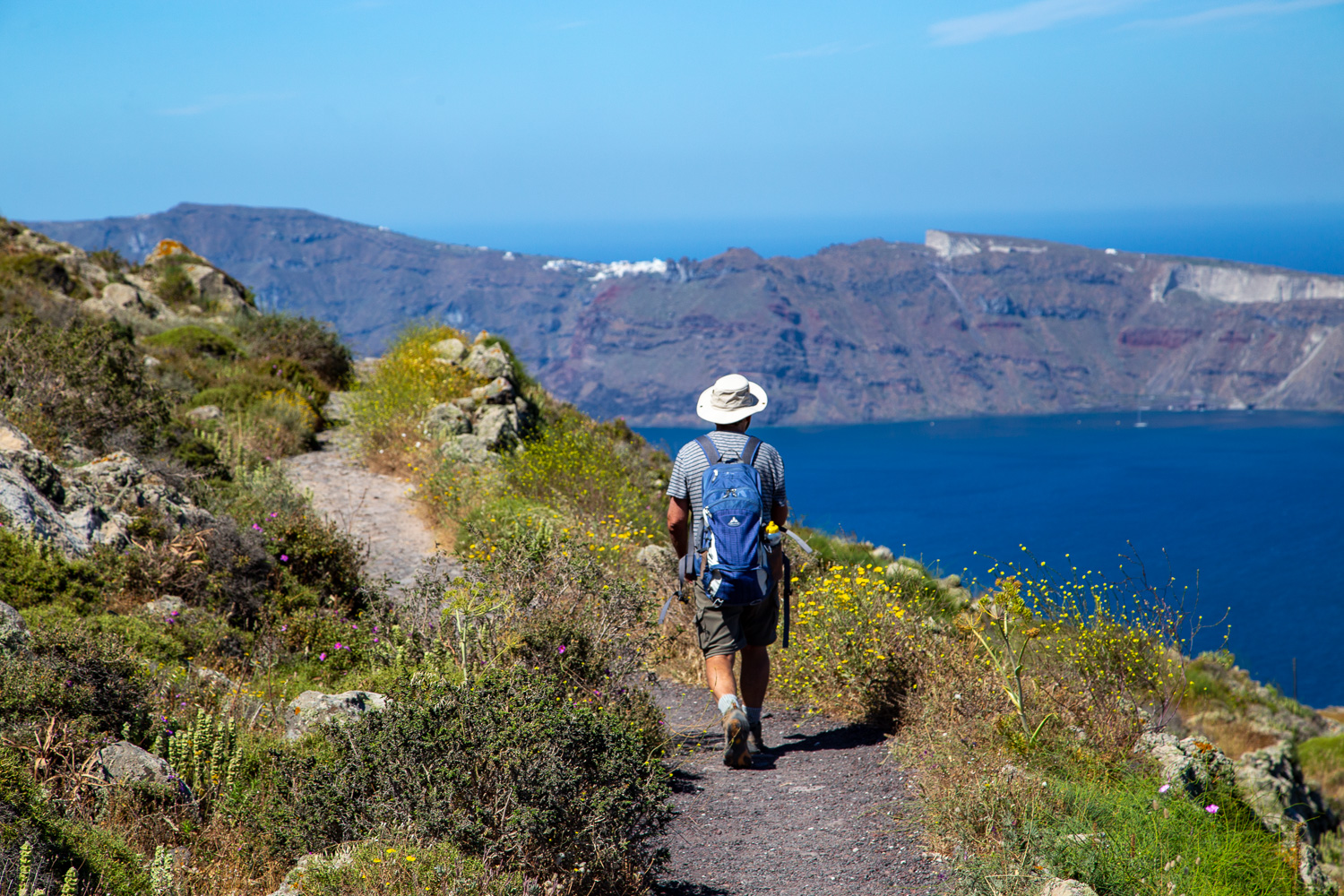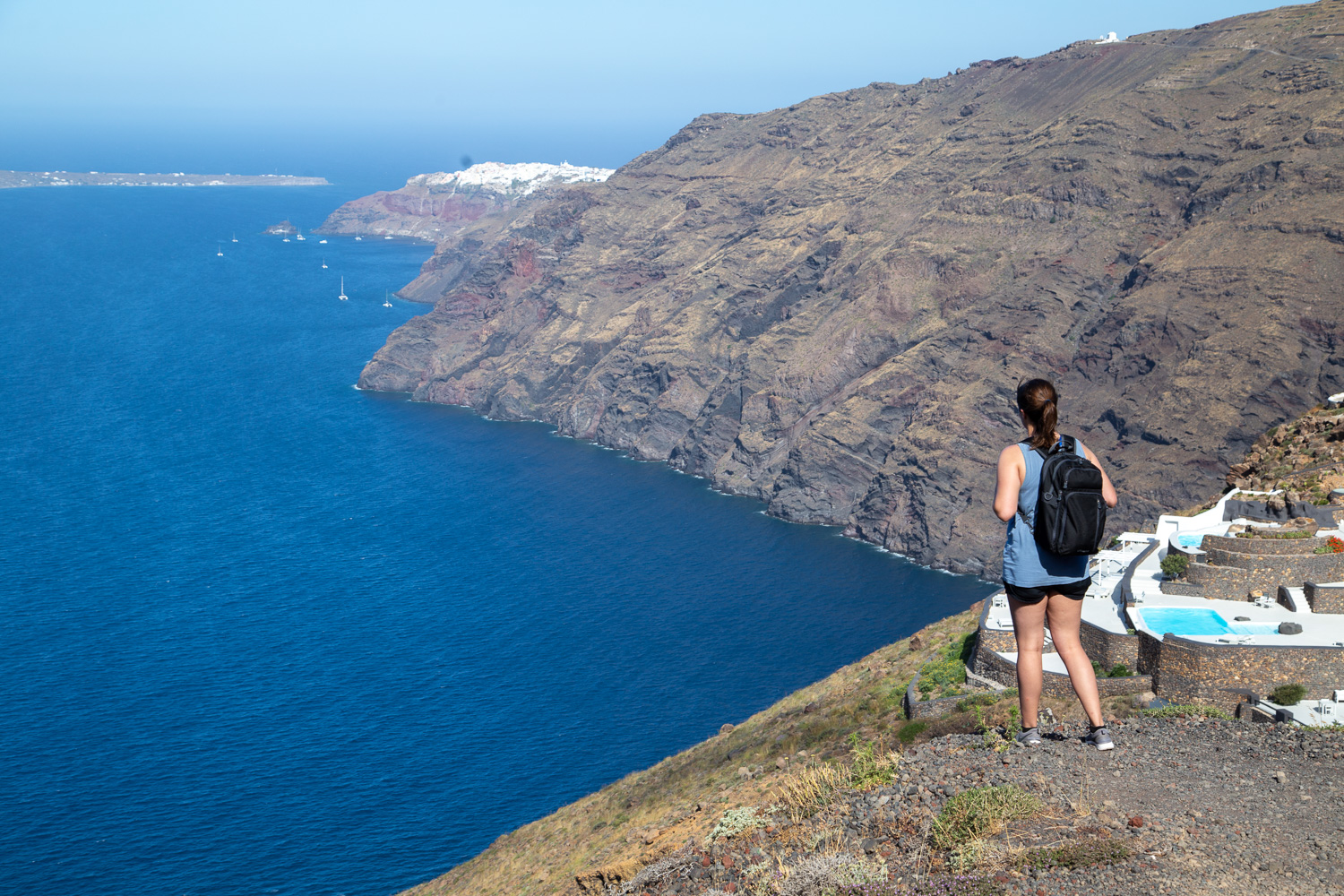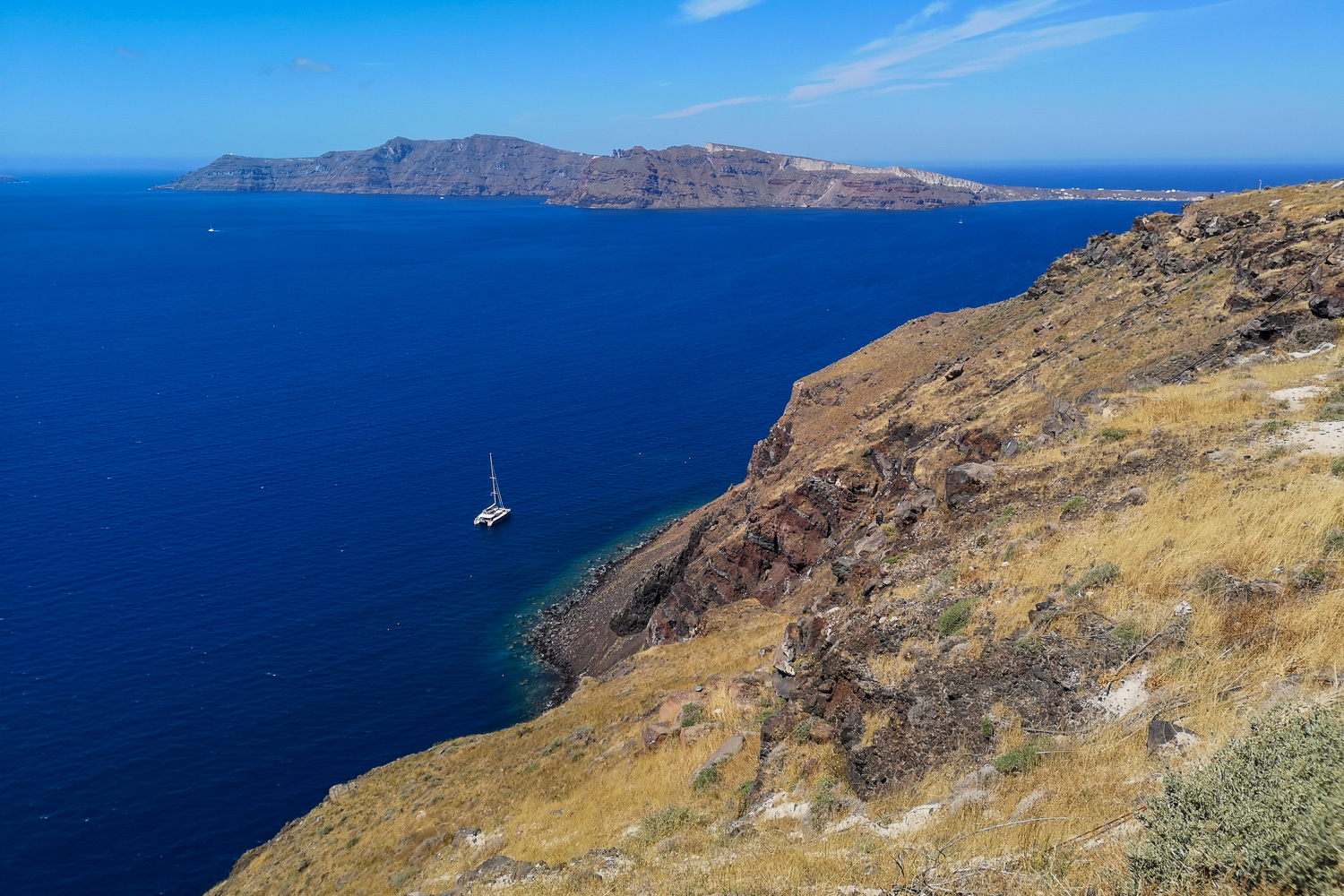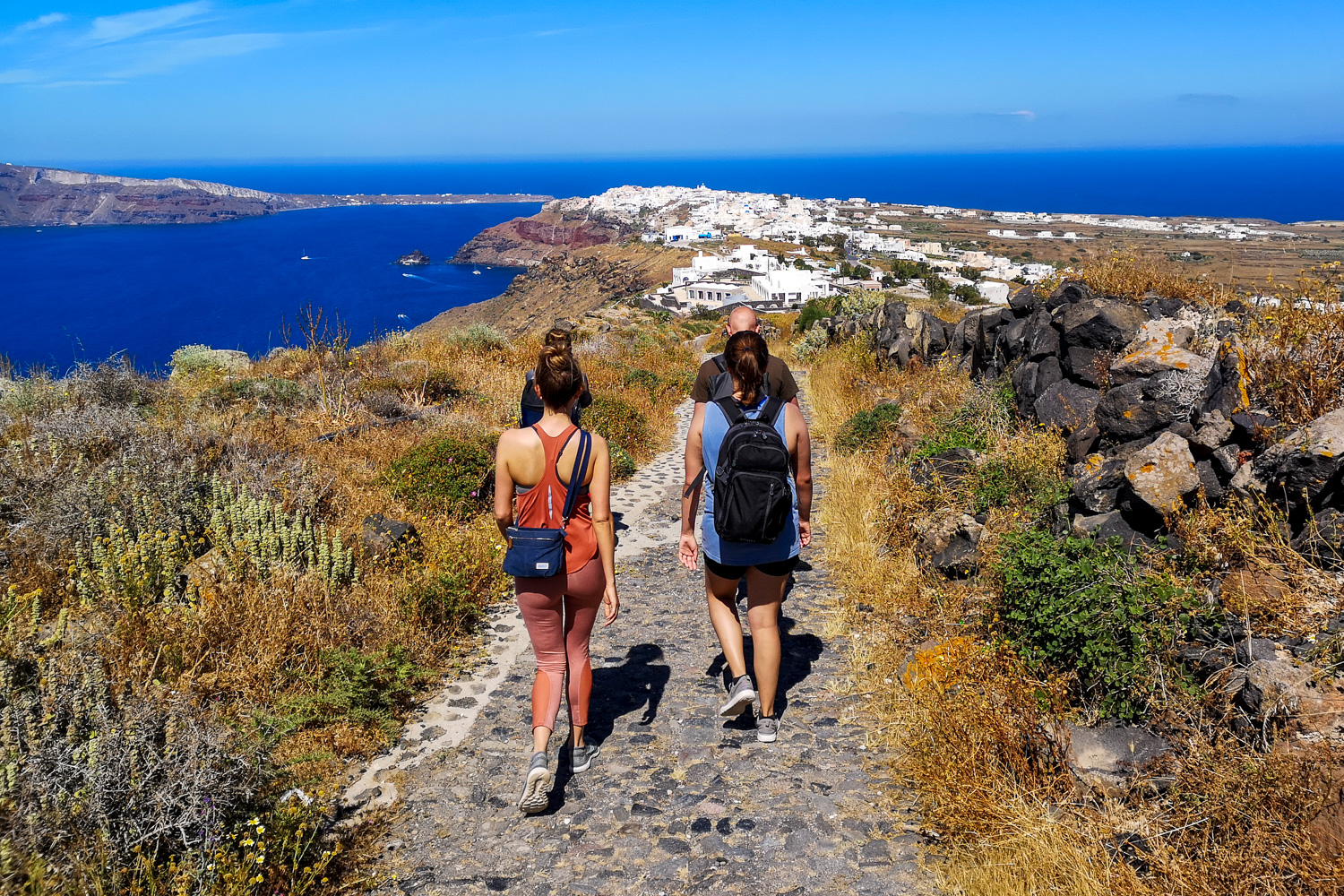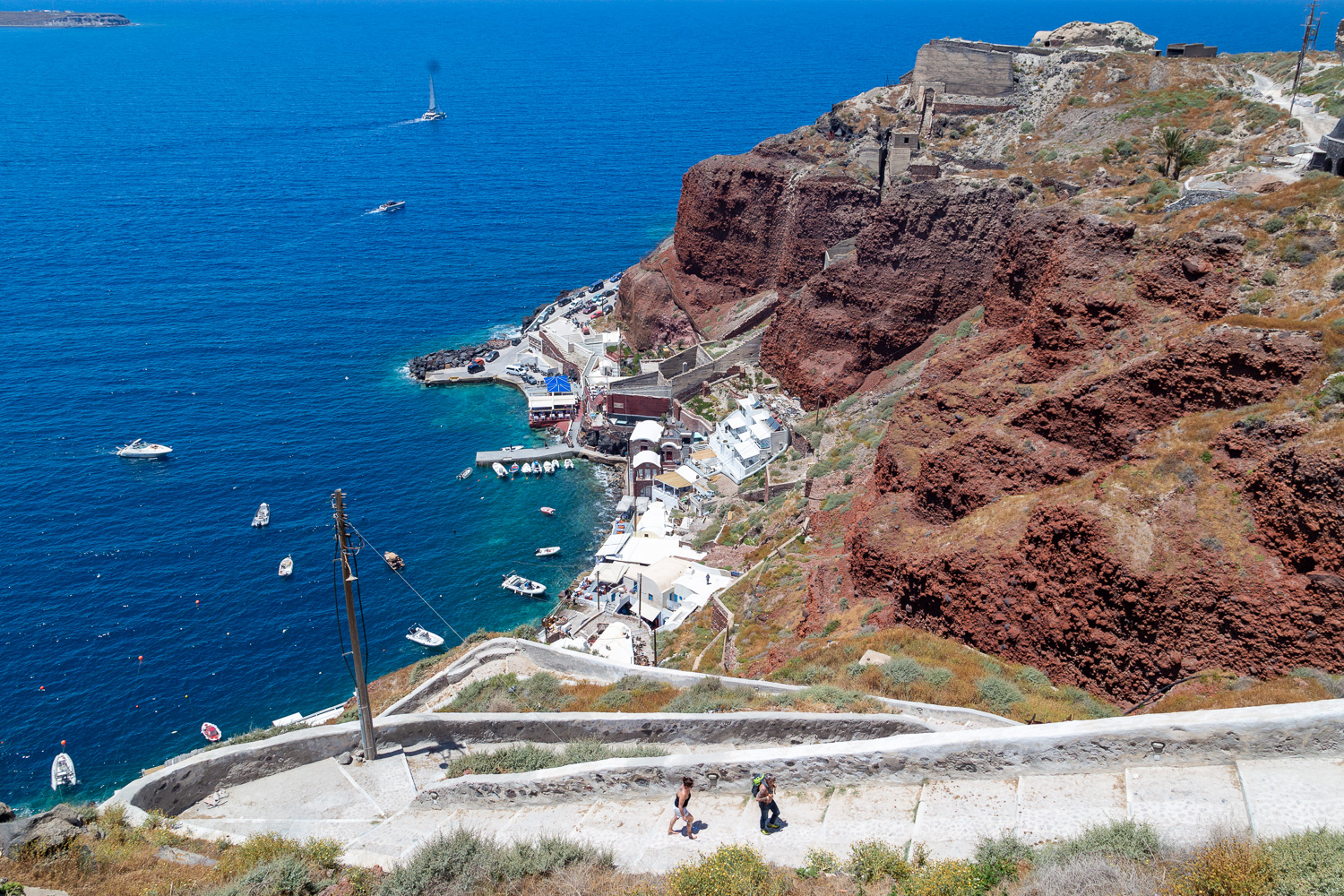 I had never seen Santorini like this. The vast majority of people who come to the island don't take this particular journey. But for me it was an impressive highlight to get away from the crowds and see the island in a whole new way.
And I learned that Santorini isn't all about the cliffside either. Our hike took us to the opposite side of the island and we found beaches and vineyards. For one, I didn't even know beaches existed on this volcanic island. And nevermind wine. But with the rich soil, the wine is very unique, sweet and citrus-y.
It's not easy to grow grapes on the island. The ash and rock landscape coupled with the strong winds make it a challenge. As a group we wanted to learn more, and so in our free time, we made our way to Argyros Estate vineyard. It was here we learned the unique method of growing the grapes – instead of the typical grape tree you see in most vineyards around the world, the vines are grown on the ground. They are pruned to be like baskets which lie flat and naturally shield themselves against the elements. We tasted the vineyard's finest selections, grabbed a few bottles, and made our way back to Fira to watch the sunset.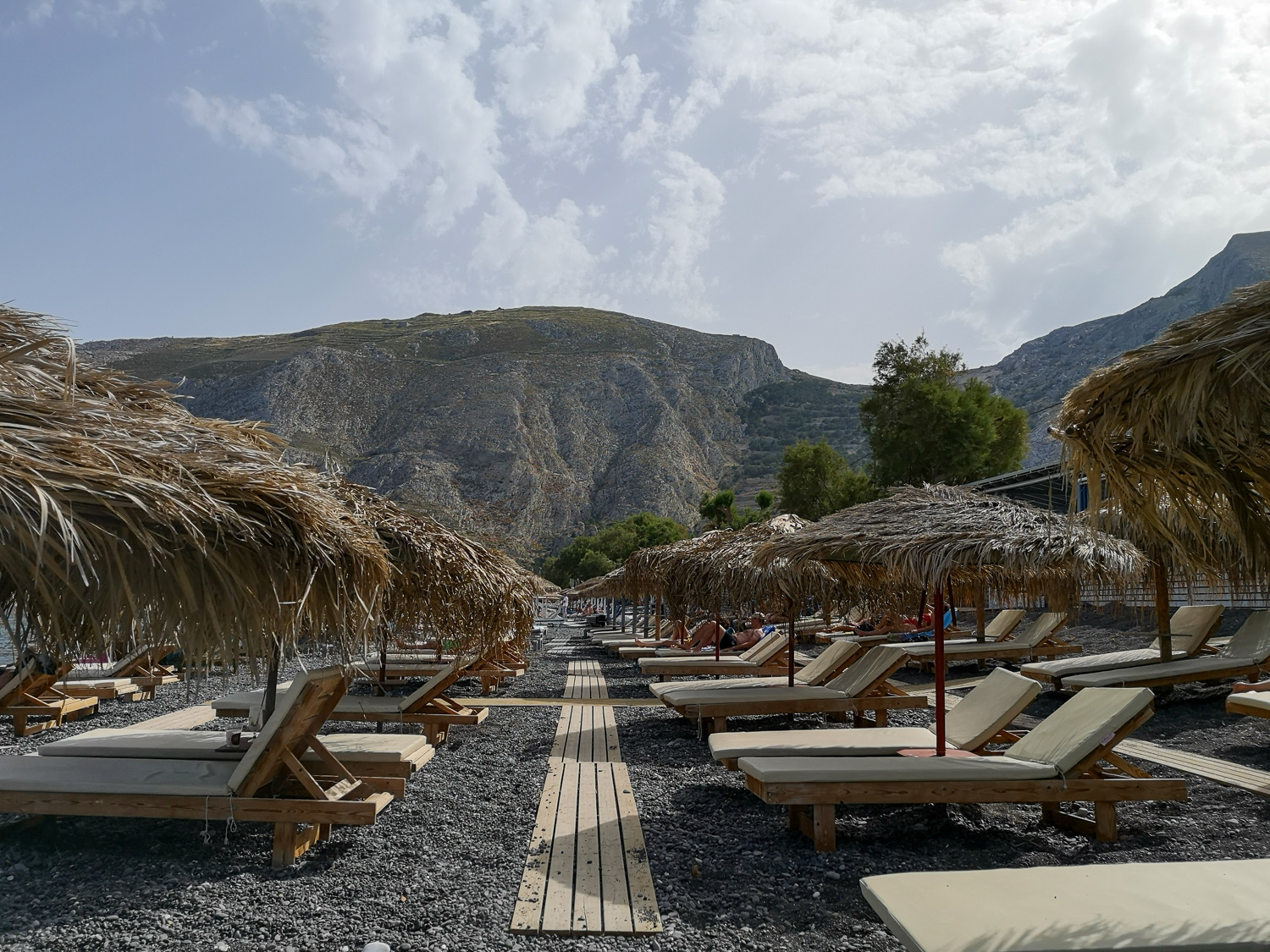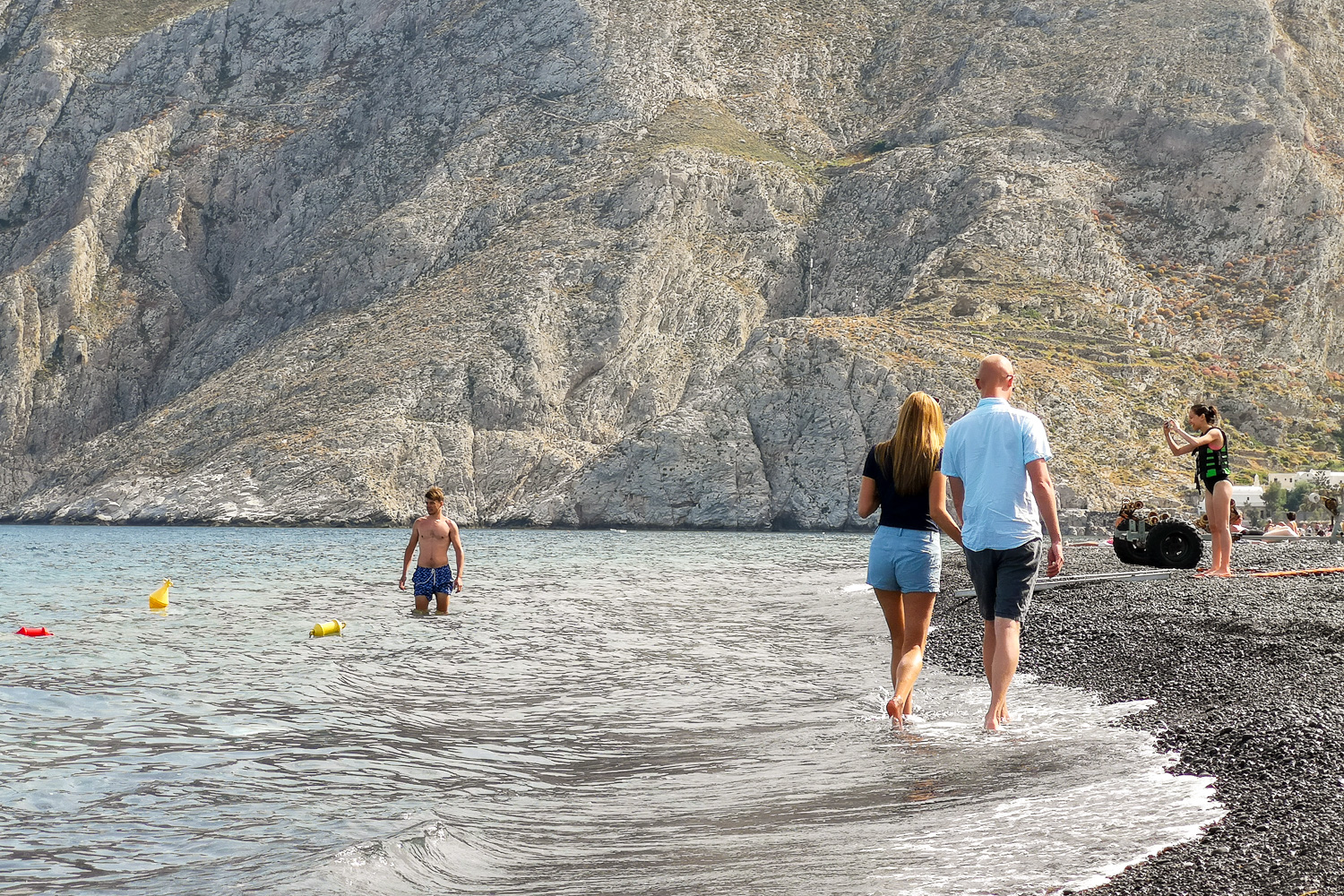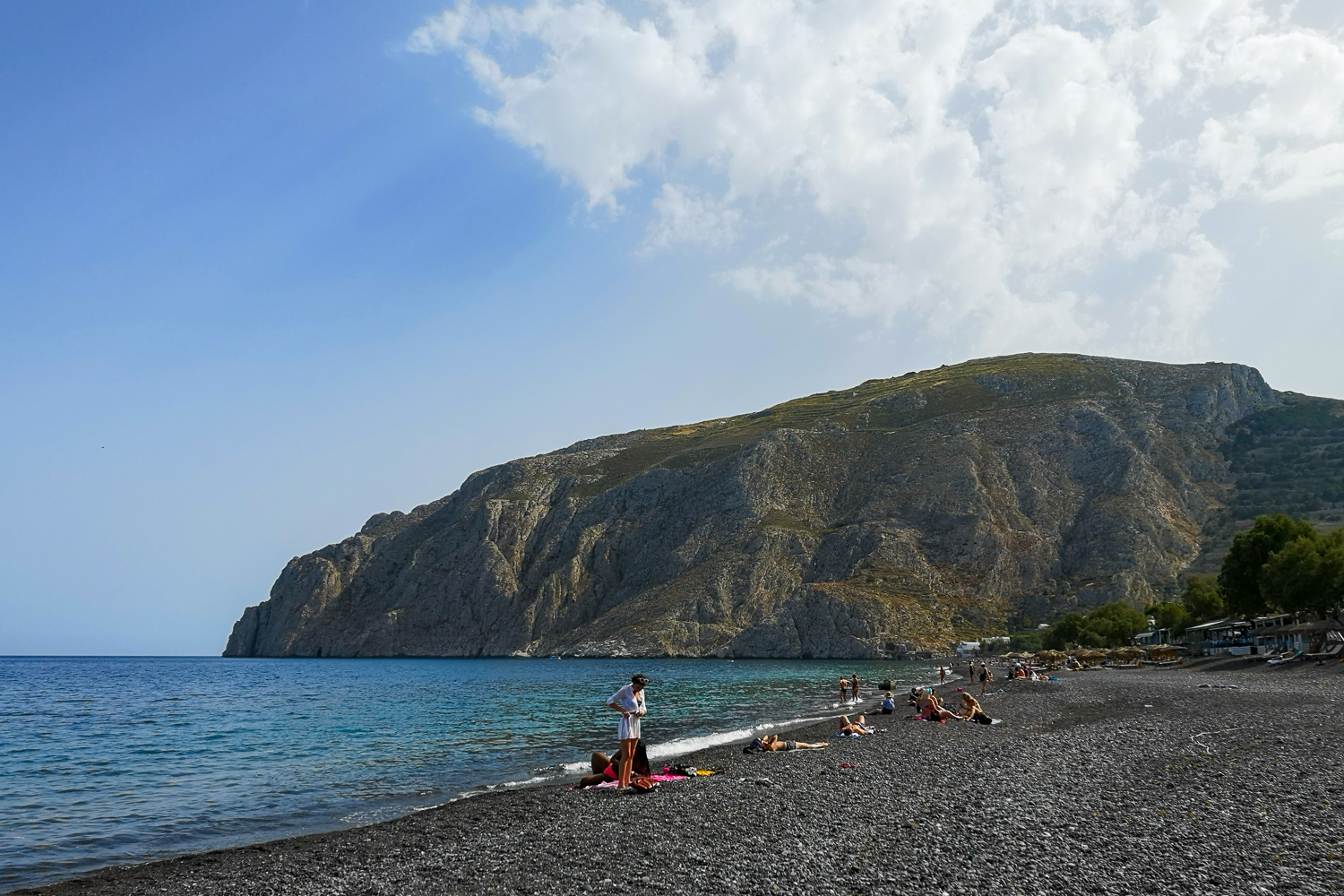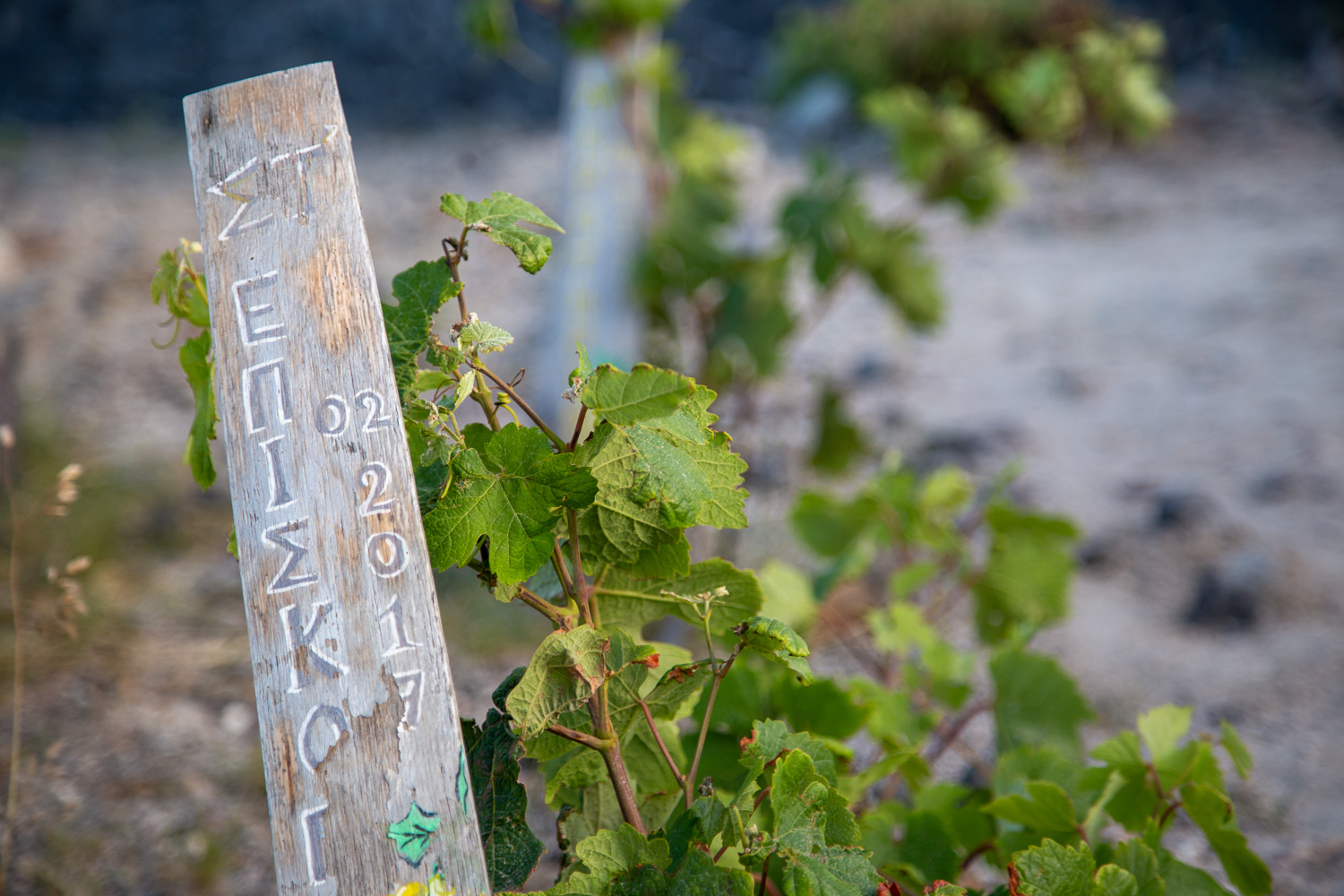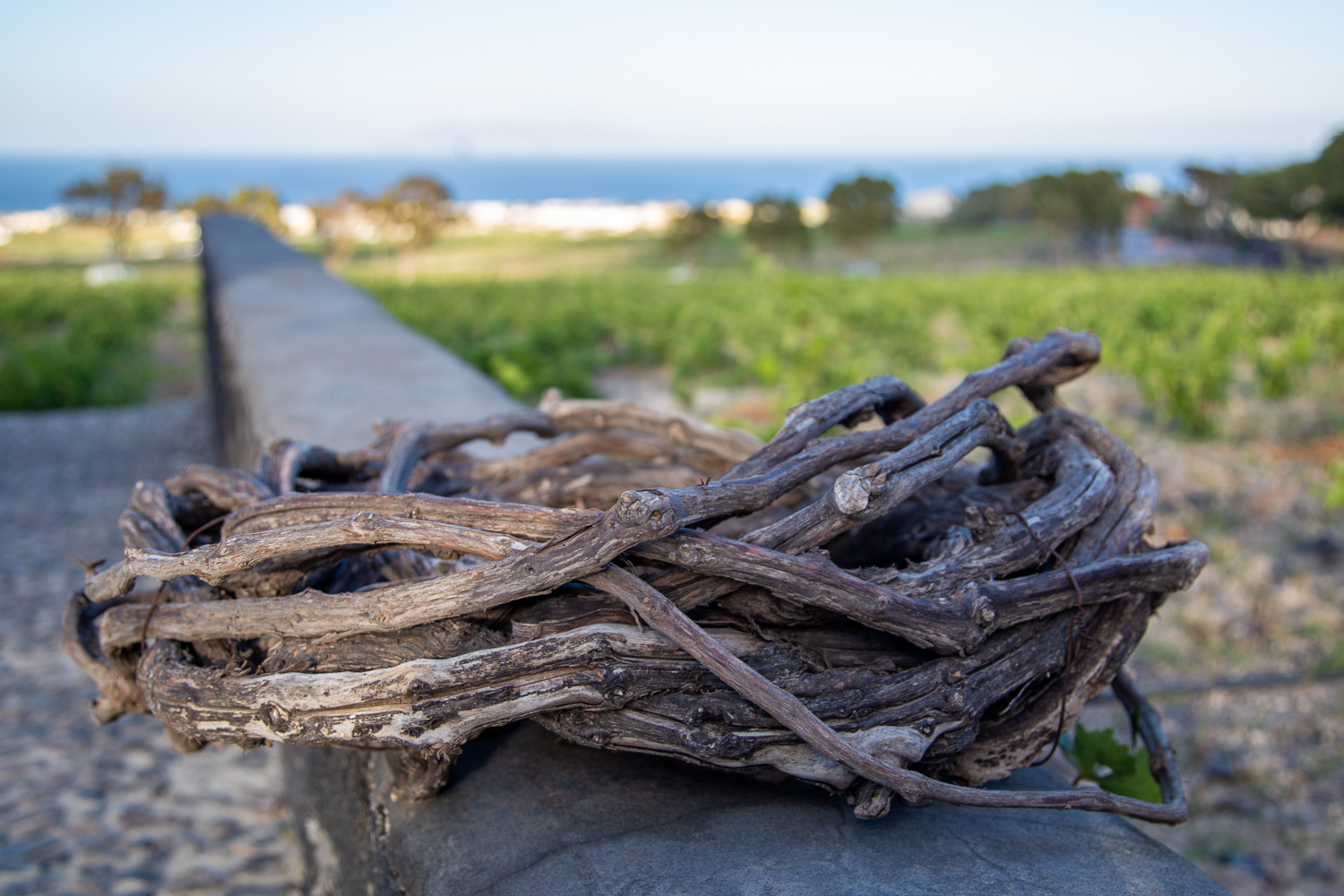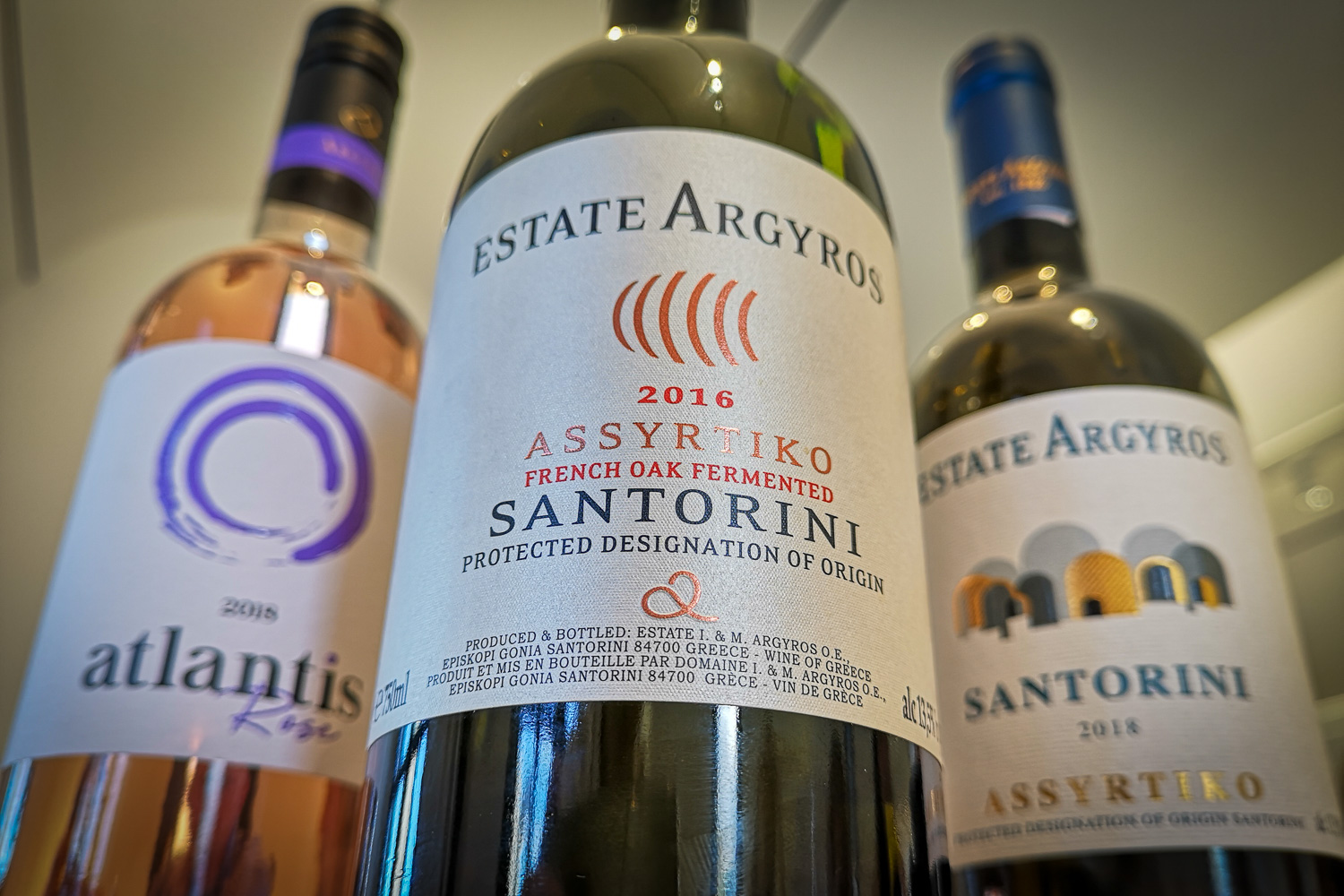 Santorini deserves the hype and attention it gets. Previous to being called Santorini, the island was actually known as Kalliste, which translates to "the fair one" or "the most beautiful". I think I'll believe the latter based on what I experienced.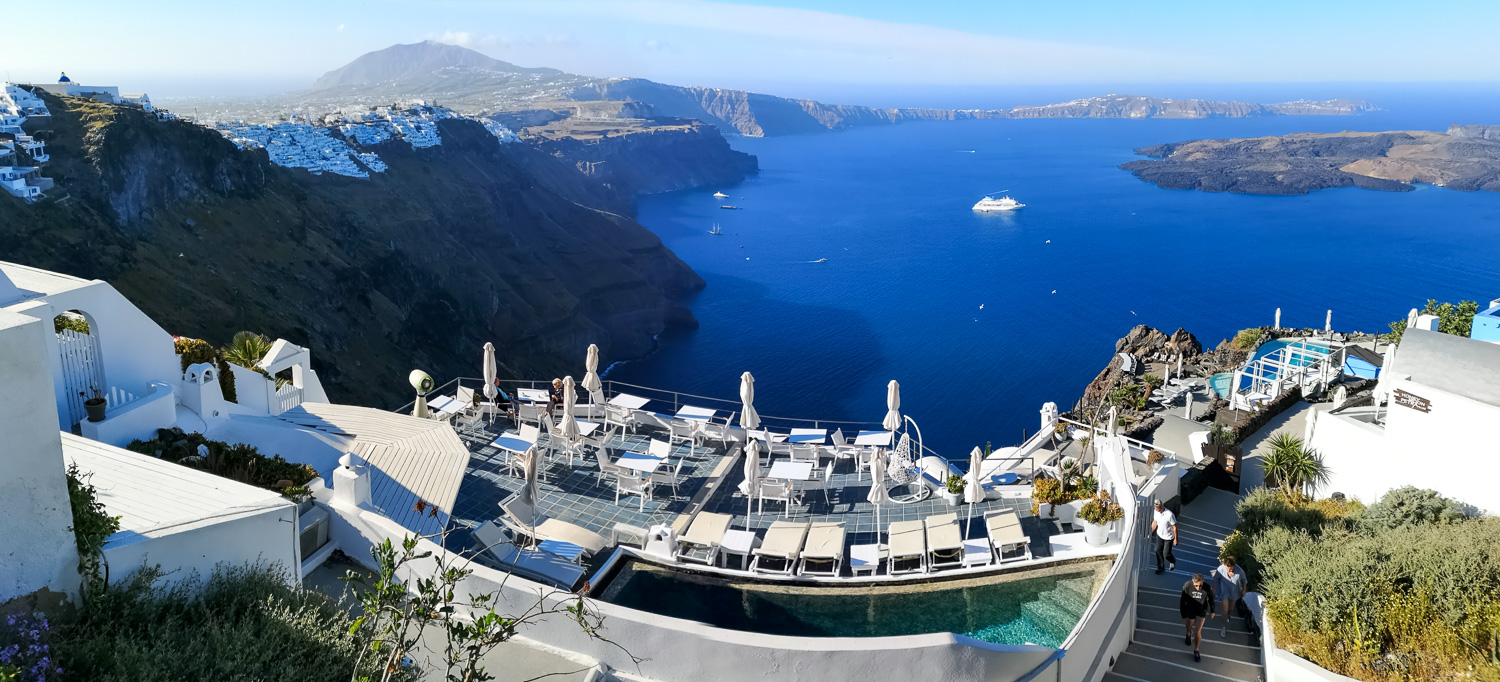 Group tours are something that Dalene and I typically don't do. We're not keen to be herded around from sight to sight on a specific bus or boat and stuck to a firm schedule. We like the flexibility to be able to explore on our own, which explains how our travels over the last decade unfolded as they did. This is why I was so intrigued about the intention behind this and other Club Adventures tours.As our tour group all sat around on the last night, watching the sunset behind Santorini, we toasted our glasses and talked about the whirlwind of the previous nine days. The common consensus was that everyone had different stories to share, a variety of experiences to take back with them, and an array of photos to remember the special moments.
It felt like a perfect balance among our truly diverse group. We were all able to see the highlights and still make our own unscripted moments. Even if one of them did include losing a pair of shorts along the way.
how to do it
You can book the exact same nine day adventure through Club Adventures which will bring you through Athens, Naxos, Ios and finishing in Santorini. Everything about the tour was exceptional from the accommodations, food, tour guides and the flexible itinerary (which can be found here).