Recovery(ish)
It has been over eight months since I took my last cancer-related treatment. The celebration was intense but short-lived as the drug-induced fatigue claimed most of my minutes for the rest of that day.
Since then, the recovery has been slow but steady. Every day, I have added a few more minutes to my alert time. Every day, I feel strength returning to muscles that I haven't used in over two years. And now, I feel almost as normal as I ever have.
I use the word almost because there have indeed been some painful bumps along the way.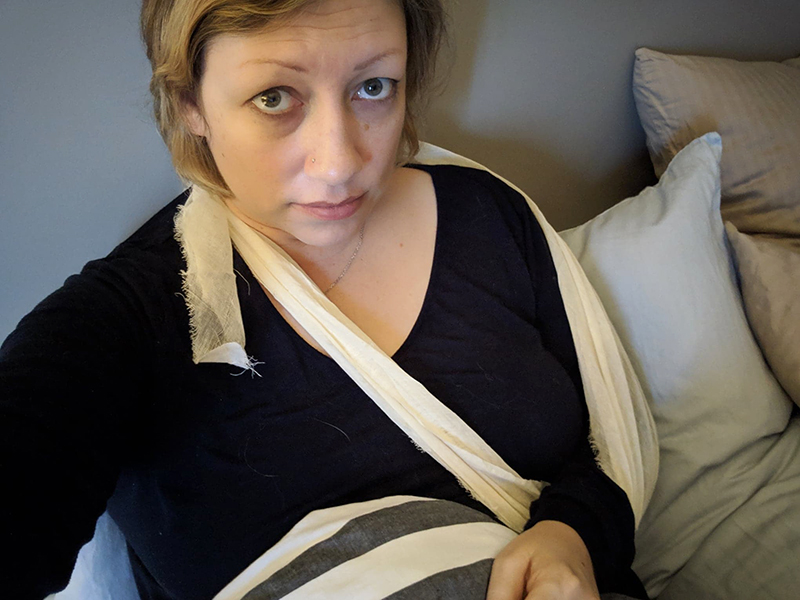 In retrospect, it was probably pretty foolish for me to join a curling league just a couple of months after that last drug. Those first few times out on the ice, I could barely lift my body up after throwing a stone. Sweeping rocks was not an option. My body was just not ready for it.
But alas, I persisted, because I can't tell you the excitement I felt to return to a sport that has been such a big part of my life. And to just be active again! To do anything more than just lie in bed and flip through mindless TV was all I could think about. I revered the resulting muscular pain as a proud accomplishment.
If only sore muscles was all I that I had to deal with…
In early November, just a couple of months into the curling season, I had to miss two games while I was on the east coast for some speaking engagements. On the very last day of a long trip, while I was packing up my luggage to begin the trip home, I felt an agonizing twinge in my back. I dropped to the floor. I was crumpled on my knees for several minutes, unsure of how I was going to move from there to three airports to three planes to home, but I mustered up whatever I had in order to do make the trip.
That was NOT a fun ride home. Nor were the next six weeks, as I dealt with recovery from what seemed to be sciatica. That laid me up again right through Christmas.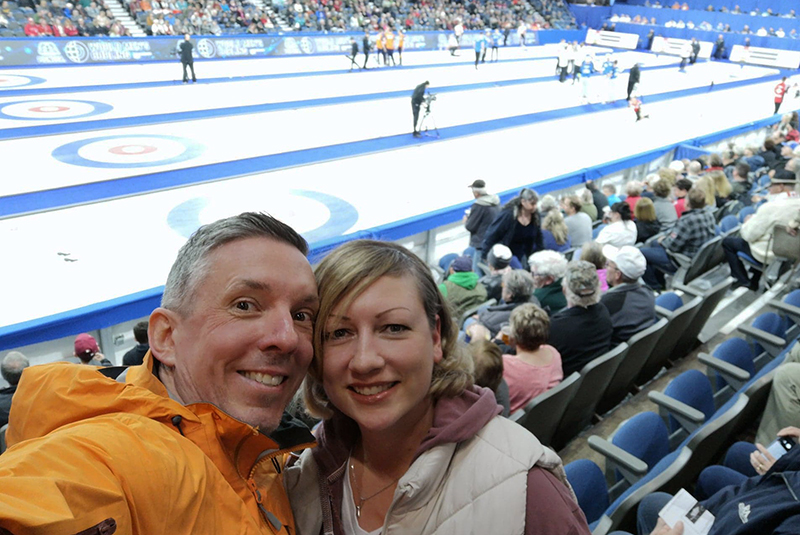 Early in the new year, I felt ready.
My sciatica had abated. My body finally felt rid of the poisons that I ingested months earlier, and my energy levels had returned as much as I hoped they would. Sleep was still a struggle, and cancer-drug-induced symptoms of tinnitus and elevated blood pressure raged on. But in January, five months after that last treatment, I felt better than I had in a very long time.
I convinced Pete to join a gym with me and we started going regularly. Walks on the treadmill and gentle stretching turned into more aggressive hill walking, stairs, and some weights. I honestly could not wait to go every other day, and rejoiced in every new muscle developed.
I returned to curling with vigor. That month, I swept my first full game and in February I made it through three games in two days. My energy was there, but my body was still screaming. When I tried to add a fourth game the following day, I limped off the ice halfway through and barely made it home on my own.
I literally dragged myself up the stairs to the bedroom by using my hands to pull me forward. The muscles in my left thigh seized repeatedly and caused me to writhe into a crumpled ball. I popped painkillers and muscle relaxants, wrapped the offending appendage up in a heating pad, and finally calmed it after a couple of hours.
The following day I checked into a physiotherapist and she quickly assessed that my pelvis was tilted, to the degree that usually only occurs after a bad fall. There was no fall, I told her, instead it was probably caused just by hurtling myself down ice without any significant muscles to support the effort. The titled pelvis likely predated my sciatica and probably caused it.
Thankfully, it was a fairly easy fix with two more visits to physio and many exercises daily. Back on the ice a few weeks later, and I finally, just as the season was a month from ending, felt like I had it all together. I was steady in my delivery, my shots were more accurate, and I was downright braggy about my abilities over the next few games.
Oh, how the mighty fall.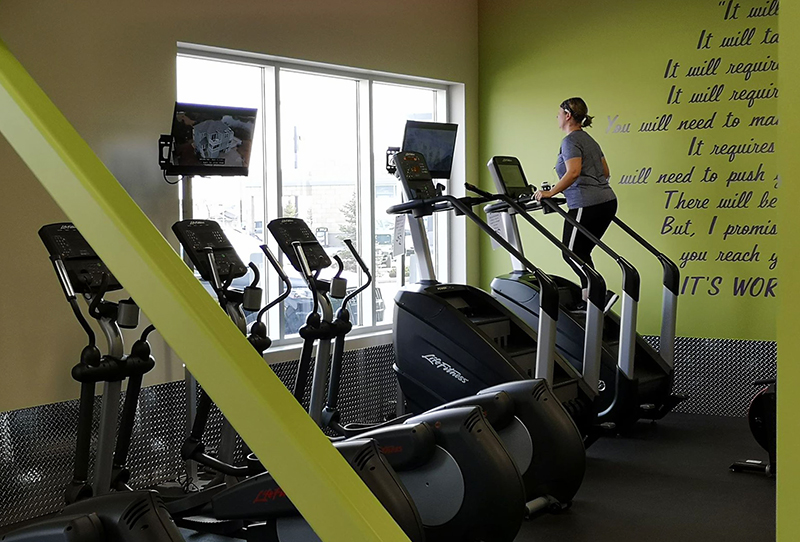 I don't think that many of you know this, but Pete and I met each other through curling. (Could there be anything more Canadian about our story?) We both played competitively into our early adult years, and had even played at the same provincial championship one season without knowing each other. Fast forward a few years later, and a mutual curling friend introduced us. The rest, as you know it, is history.
It's funny how that one thing that brought us together also had the capacity to break us apart. Even in the early days of our marriage we got along famously well, except for in two specific situations: (1) when he was behind the wheel, and (2) when we were on the curling ice together.
Pete can be fiercely competitive, and rarely can he enjoy games or sports just for fun. His older age has since mellowed him, but when we curled together a few times over a decade ago, his fierceness would overcome him to the point that friends who curled with us refused to any longer. It culminated in one particular game when, after I missed an important shot, he specifically told me to get my head out of my ass.
!!!!!
As you might have guessed, that didn't go over too well. Many many years would pass before we tried again.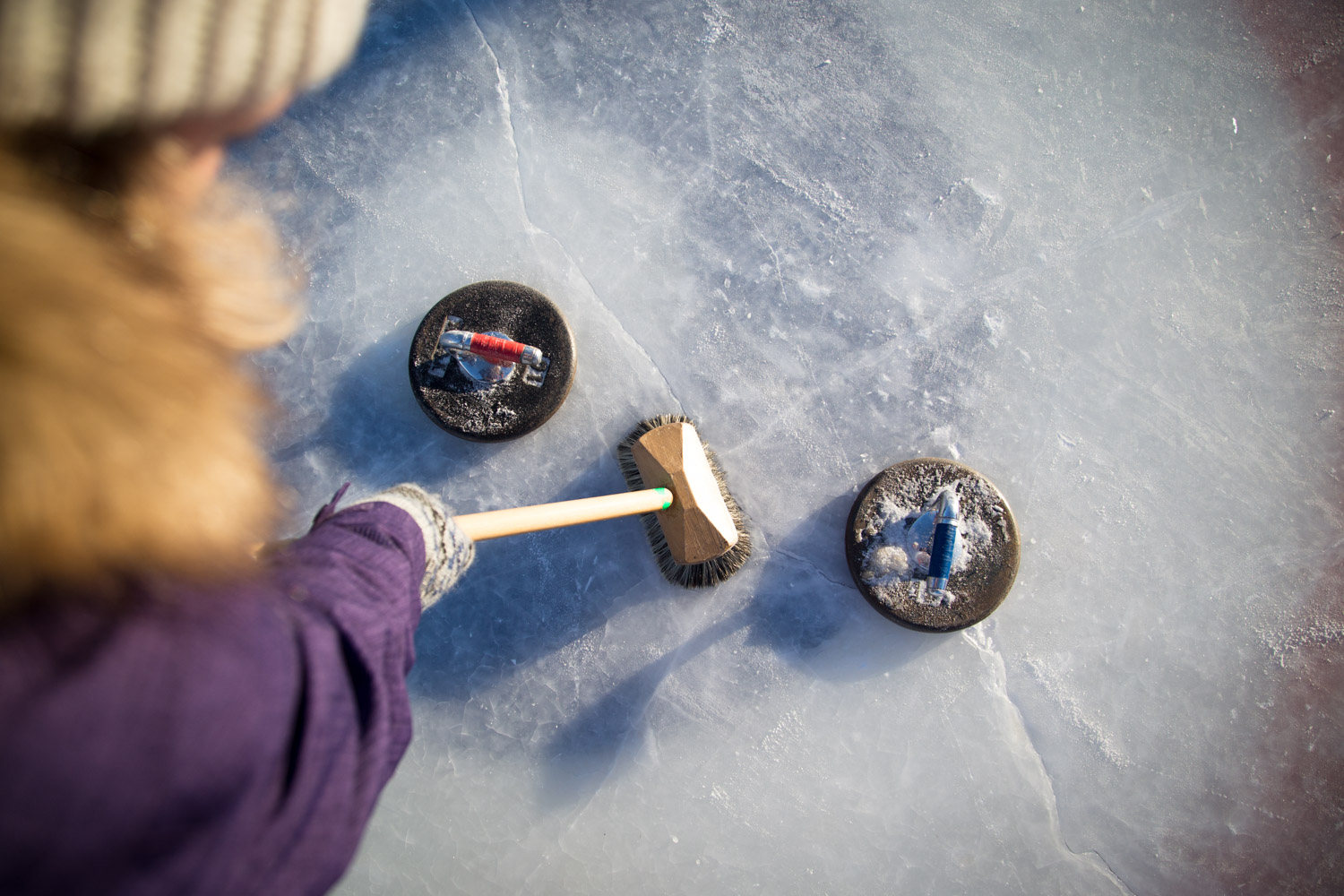 Which brings us to just last month, when we decided to enter a mixed tournament together. I was skeptical, of course, but he assured me that he had changed. He was gentler. He just wanted to have fun. I won't treat you like that again, he promised. He wanted to prove himself.
I was feeling much better, and in peak (for me) condition. The first game was going well. We were each making good shots (and missing some, of course, but without getting angry, which was a big step). It was actually really fun.
And then near the end of the game, just as I was sliding backward to head to the other end of the ice, I tripped over a rock that I had forgotten was behind me and fell hard. The emergency room doctor later told me that I had "crunched" my left humerus bone at the shoulder.
Funny, as that is the exact sound I heard on impact.
And just like that, I was slinged and sidelined. Pete was disappointed that he didn't get enough of a chance to redeem himself of his mean, competitive ways. I was downright depressed that there I was, once again, facing another period of recovery.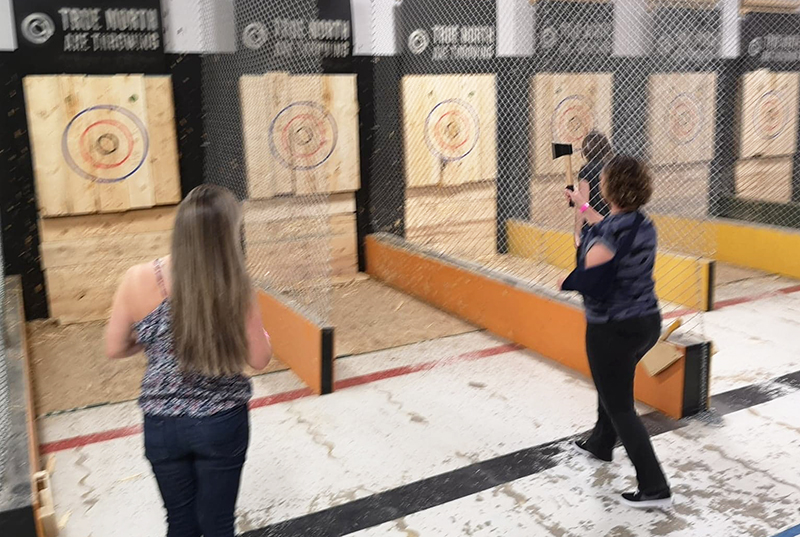 Thankfully, it was just a few hairline fractures that are healing nicely in the several weeks since. (The doctor had originally diagnosed an issue with my rotator cuff, which could have meant surgery and a long recovery.) I should be fully healed in two more weeks, although I am already able to lift my busted arm directly above my head and am beginning to lift more weight more frequently.
I'm back to the gym regularly and able to do a little more every day. I'm even down eight pounds since the beginning of the year which is significant given how much I put on during my long periods of rest. When I began at the gym the trainer asked about a goal weight to which I said I had no specific achievement in mind – I just wanted to feel better. On that point, with exception to the injuries I have sustained in this long climb back to health, I am definitely making good progress.
I am now that weird person who mutters to herself at the gym, usually in the last few seconds of stretching in child's pose on the floor mat. Each day that I am able to make it through an increasingly difficult workout I feel compelled to thank my body for getting me there. It has been through hell and back, and there were certainly moments in between when I questioned my ability to regain my strength and my life. Now, all I want more than anything is to continue to feel as energetic and mighty as I do at the end of a workout. Those thoughts of gratitude, as I stretch into my final pose, often move me to tears.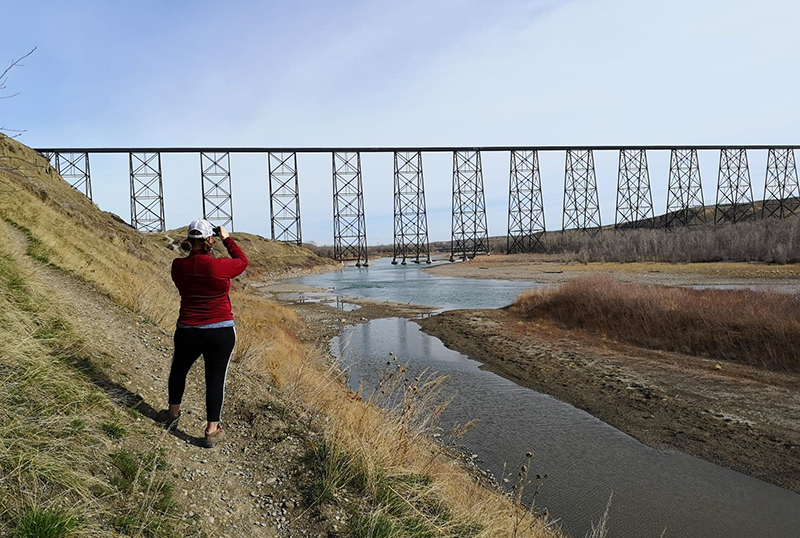 Just this last weekend, thanks to the nice weather that is finally upon us, I convinced Pete to skip the gym and take a 5-kilometer hike down into the coulees that split our city. For the most part, it wasn't too strenuous, except that we faced the harsh winds typical of early spring, and the walk ended with a substantial trek up some stairs.
I took several breaks along those stairs and couldn't help but feel disappointed for doing so. Pete reminded me that exercising in the elements is always harder than in the gym, and that I took the stairs at a more vigorous pace then what I regulate myself to on the Stairmaster. He also had to emphasize how far I have come to even get to this point. That is a reminder I need frequently.
In my journey from deathly to healthy, I have tended to push too hard too fast, as evidenced by my tilted pelvis and cracked shoulder. But after being laid up for nearly two years, I think that my impatience can hardly be blamed.







P.S. Ummm, I have another curling event coming up this weekend. I would really like to make it through unscathed and end the season on a high note. I hope I've earned that, at least.