In January of 2011, we published our very first blog post to this domain. It was written during our second house-sit, over a year into our travels, and was a hopeful broadcast into the unknown. We aspired for it to become more than a simple journal of our nomadic lifestyle and instead be a way to earn income and enable our dream of travelling indefinitely.
It did that, sort of, not according to our original ambition of using it as a beacon to pick up freelance writing assignments, but because it (and the new media industry) morphed into something else. Yes, this blog did enable some freelance work, but it also earned on its own. Not enough to make us rich, but enough to keep us going, which was the goal.
"Everyone has a plan until they get punched in the face."

~ Mike Tyson
I won't use this space to relive the past six years. But the ol' one-two punch of cancer and COVID not only altered us and our travel abilities and desires, but it changed our dedication to this website. It knocked the wind out of our creative sails and out of our keyboards and cameras. And every attempt to get back to it with gusto has been met with much internal resistance; not only do I struggle with an enduring case of writing yips, but the longer I am away from it, the greater the compounding effects of stress to return.
While we are proud of work we have done in the last few years, you have surely noticed that new posts have been fewer and farther between. It's brought to light one important realization about ourselves – for us, the drive and desire to publish are hard to come by when we're almost totally stationary. We miss the effortless inspiration that comes with being on the road.
But yet, here we are, more stationary than ever! (Sort of.)
Earlier this year, we took possession of a house in Annapolis Valley, Nova Scotia. The whole move here had been premeditated for years, and the house itself won us over on our first look. As a century home, it has its share of problems, but everything is fixable, and it comes with direct views of the Bay of Fundy. We wanted a change from our suburban, desert-like environment of southern Alberta, and boy, did we get it.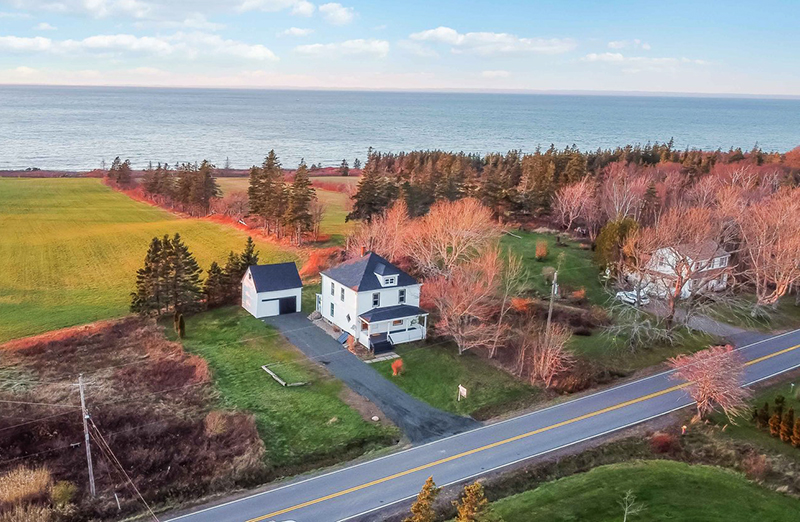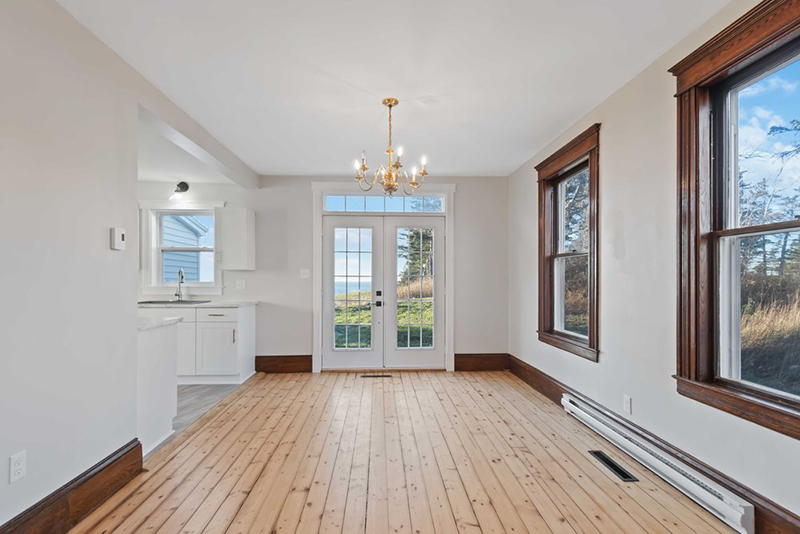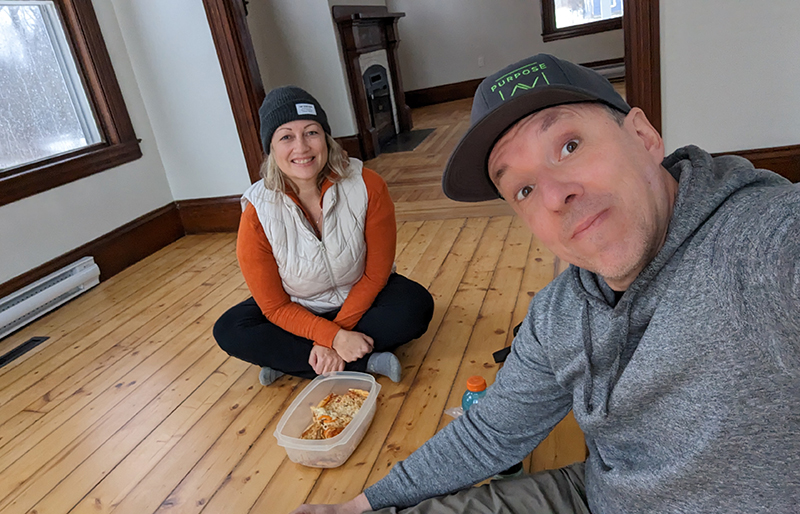 Here we are, in our mid-40s, finally feeling like we have found a forever home.
The longest we've ever lived in one place is five years – it's astonishing to think that we were nomadic a few years longer than that! So how do we know that this place is IT?
I don't know that either of us can definitively answer that question just yet. But I can say this: it feels right to be here.
And not just because of this new home that we adore. We are regularly charmed by the stained glass windows that glow inward, the dramatically framed staircase and rooms, and all of the natural light. I write this with an ocean view out my window.
But that's not all that it gives to us. It's hard to explain, but this place feels more like home than either of us has ever felt elsewhere. Nova Scotia offers a dramatically different vibe than what we're used to. It's more outwardly friendly. Less judgmental. More supportive. Less divisive. So far, it's everything we expected it to be.
I can feel myself unfolding little by little, like a new me is emerging (as cliché as that sounds). I find myself more endeared to my surroundings, and I have more of a desire to drop walls and open myself up. I'm even talking to strangers now! Maybe I'm finally where I am meant to be. Pete feels it too.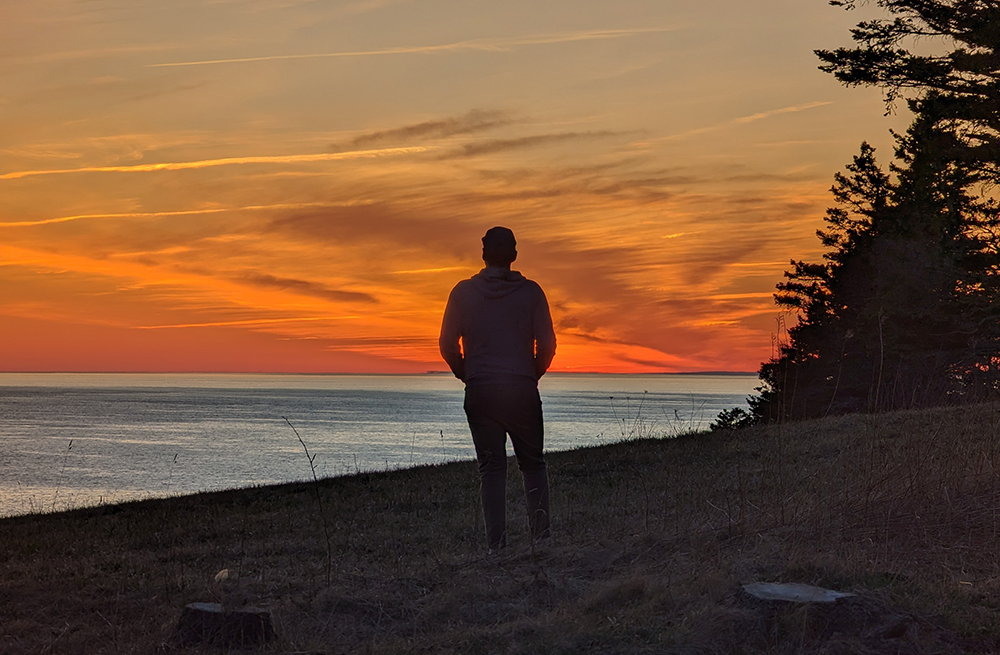 But it's also early days. When we first arrived, I tried not to let myself put too much pressure on this new place and new life as my answer to everything. I have a tendency to do that and then utterly crumple when something, someone, or somewhere doesn't live up to my lofty expectations. I'm taking it slow here.
Grief for our nomadic lifestyle has been hard to overcome, but for the first time since it abruptly ended, I feel absolutely ok with it. I don't miss it. We have always admitted that our long-term nomadism was fueled by our desire for new, and now this fresh start in Nova Scotia feels new enough for us, while still providing the stability and comfort we've come to crave, especially over these past few years.
The return of inspiration.
With my self-unfolding, the words are coming a wee bit easier. Pete has also pulled his camera out more than he has in the last few years, and with the redesign of this site, he said he feels more energized by our work here than he has in a long while.
It also helps, I'm sure, that by moving east, we have unlocked a whole corner of the planet that we know relatively little about. We are eager to see all that is around us in Nova Scotia, and to go hiking in northern New Brunswick, fromagerie-hopping in Québec, and iceberg-spotting in Newfoundland. We feel ready to dig in and tell fresh travel stories.
And so, a facelift!
It has been almost ten years since we redid the blog, and while we still loved how it looked, it was outdated, clunky, and a pure mess behind the scenes. Readership was low because it was hard for anyone even to find articles. Some of our early posts were oh-my-gawd-awful and pretty embarrassing – not that I regret them (this is all record of our evolution!), but they were completely useless now and just taking up space.
So, we've cleaned things up and given ourselves some clear direction (with more cleaning up to do, please excuse our work-in-progress). Newer blog posts from our travels will still not be as frequent (how on earth did we ever do 3 to 4 posts per week?), and while they will be a bit less personal and more helpful for travellers, know that we have still carved out space for personal stories.
We're going to update some older, key blog posts. And after a decade of publishing on the internet, we've decided to finally include some ad space (sorry…but we have a mortgage to pay!), although we promise not to make them too intrusive. It's all still a significant work in progress right now, but we're very happy with the start we've made. We'll also resume being more active on the two social media channels that have served us well – Facebook and Instagram – but are still holding out on posting to TikTok (we feel far too old for that, y'all).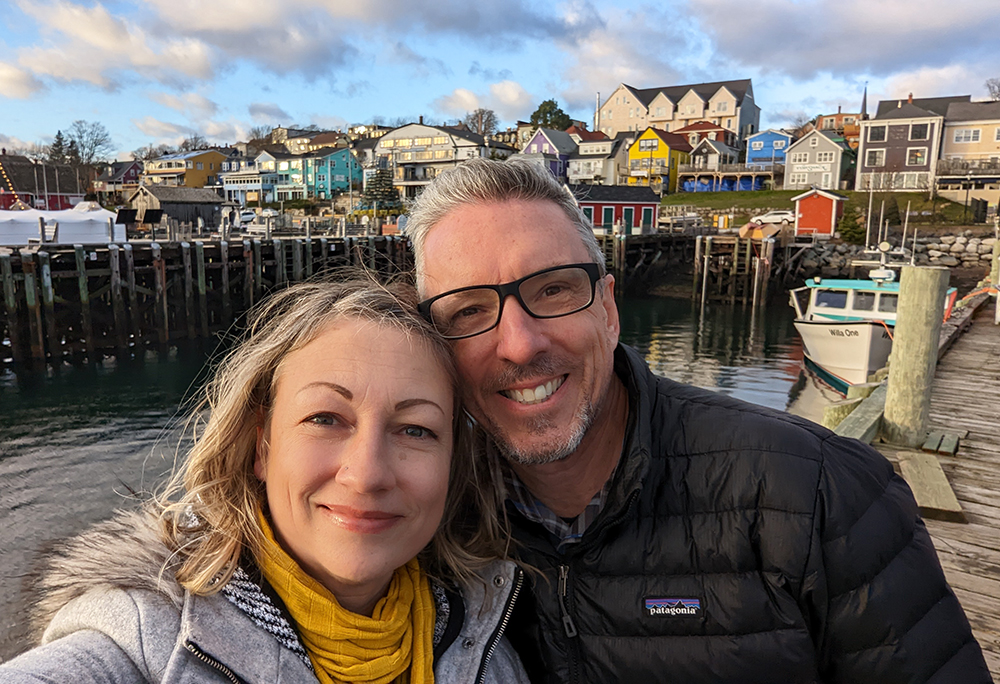 Thank you.
The last almost seven years have been tough. Many times, we debated shutting this whole website down permanently, but it has been saved by this upswing of optimism that came with our move. It feels like a fresh start in more ways than one. Finally.
Several of you have been following along since the very start, and many of you have been here for years. You've helped us through so much with your encouragement and constant support. I couldn't end this post without a shout-out to all of you and to thank you from the deepest part of our hearts for being here.
We're back, baby.