Looking Back, Looking Forward
Looking Back, Looking Forward
For the last few days of 2018, we spent it at our friend's house in central Alberta. They are such dear friends to us that I think we were all a bit ashamed to say that it was the first time we had seen each other since the same end-of-year-days of 2017. But somehow, the whole year seemed gone in a fierce whoosh.
I credit my short memory for forgetting that during much of the first part of my year, minutes ticked by achingly slow. Whole days were chewed up by my last few cancer treatments that I finally completed in summer. And one thing that no one tells is you is that cancer is boring as hell. My brain could handle nothing more than reality TV; anything that required energy or attention was out of my physical and cerebral reach. Those days drug on and on.
But, in just a few dozen hours after that last pill was consumed in mid-July, my energy and activity slowly started to increase. And then suddenly time began fluttering by with exponential momentum.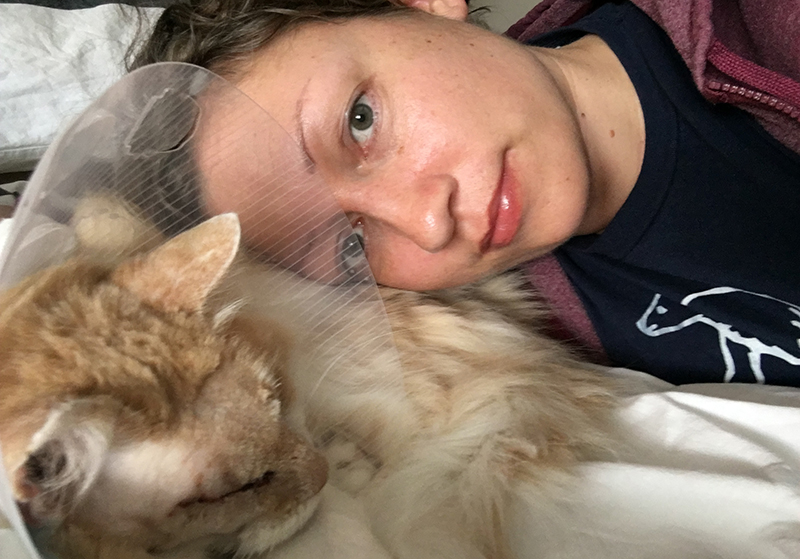 In the last year, I spent ~80 hours on planes.
If I didn't sit down to record it all here, I might not remember everything that I did this year. In between treatments and other days when my health kept me down, I stuffed in a lot of travel. In the spring Pete and I returned to our beloved Catalonia, then onto Serbia (new country!), Hungary, France, and the Netherlands. In both February and September Pete and I flew north to Yukon. In September I also spent several magical days watching whales and other wildlife in British Columbia (blog post on that coming very soon). Speaking gigs took both of us to Austin (for what felt like a cherished high-school reunion of the original travel blogging crew), and then I flew solo to speak in Regina, Saskatoon, New York, and Rhode Island. I squeezed in a few days in Montreal and finally, we took an impromptu trip to Mexico in December for what felt like a proper vacation. While my yo-yo health made some days of those trips quite painful, the memories I retain are overwhelmingly fabulous.
My 2018 travels largely revolved around friendship. I felt a bit like I was on a comeback tour, and my priority was to visit the dear people who cheered me on most fervently during my darkest times. There were moments when I thought I would never see them again, so to share hugs and food and stories and drinks and create memories with them once again meant everything to me. Many tears of joy were shed, a real and pure joy like I have never felt before. Instead of chasing new experiences, I chased embraces, making this one of the most remarkable years of all my long-term travels.
I also got back to work.
Damn, does it ever feel good to be useful again.
Mostly.
All credit to Pete and the wonderful people that work for us for keeping everything afloat as I dipped in and out of the business. When I did "dip in", I sometimes wondered if I did more damage than I helped, by offering advice and directions with limited brain power, before falling out to another episode of The Great British Baking Show. In later autumn, when I finally began feeling totally with it and investing more time every day, I sometimes felt like I was entirely starting over, which even led to a full-on confrontation with Pete as we felt our way around our roles again. A giant blow-out in September had probably been two years in the making, and I can't for one second blame Pete for any sort of frustration held. He shouldered so much and miraculously kept it all moving throughout my treatment, staff changes, and so many other issues. I honestly don't know how he did it.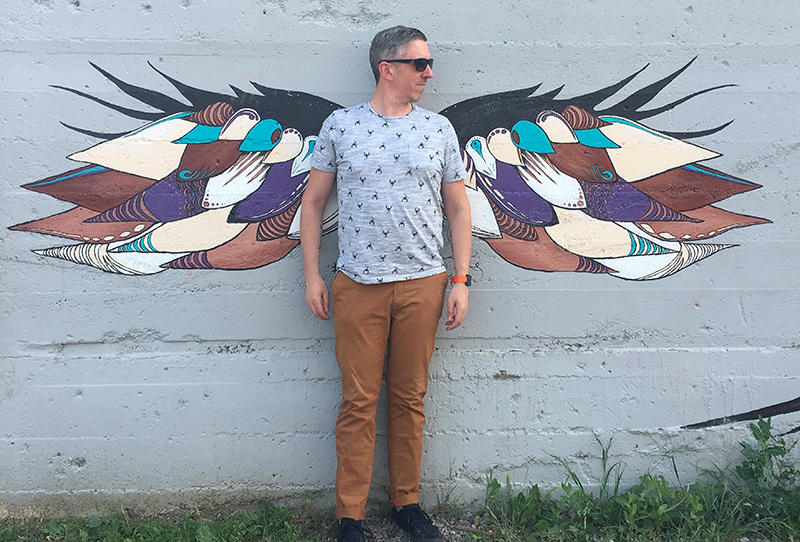 Since then, we've been rolling.
We had another record year for revenue and income (and have already booked 17% MORE revenue for 2019 – before the year even began)! Our two longest-standing clients renewed and increased their budgets with us, three returned for additional campaigns, plus we added four new clients. We even awarded writing scholarships, and have plans for many more cool projects in this new year. Our collective team is more solid and reliable than we have ever had before.
I am, FINALLY, back at full capacity and lighting it up. I am that weird person who is eager for Monday mornings because I can't wait to see what new opportunities have arisen. For as much as I loved being a full-time traveler/blogger/influencer, I feel like this is instead where I truly belong. Leading this business is what gets me excited. Seeing our ideas come to life fills me up. Conference calls are my thing. Spreadsheets and reports are my jam.
I am in a groove and I really, really, like it.
(One note about that traveler/blogger/influencer role…it's still there. It's a part of the whole package. It is not, however, the all-encompassing factor in our lives that it used to be. More on that in another forthcoming post.)
There's travel, there's work, and then there's life.
For most of the last decade those first two things were what defined me. And they were exactly what I needed for that time.
My needs are different now. Stability, as much as I hate to acknowledge it, is what is most important. I am still healing. I still need lots of rest and to work on rebuilding my strength. I still need to be tested quarterly to ensure that this leukemia is indeed slain.
And with that stability comes an entirely different lifestyle. I am enjoying more time with my family and reconnecting with old friends. I am even finally having some limited success in making new friends (c'mon Lethbridge – I like you and all – but you aren't exactly an easy nut to crack in the friendship realm). Pete and I have joined curling leagues which means – GASP – an actual weekly commitment. My sister and I discovered that we are an unbeatable force at The Office trivia (and clearly need to figure out how to take our skills global). Our furbaby Norman keeps us more grounded than ever. Yeah, I'd like to take more trips, but they had better be DAMN good if they are going to take me away from that one-eyed wonder of a cat.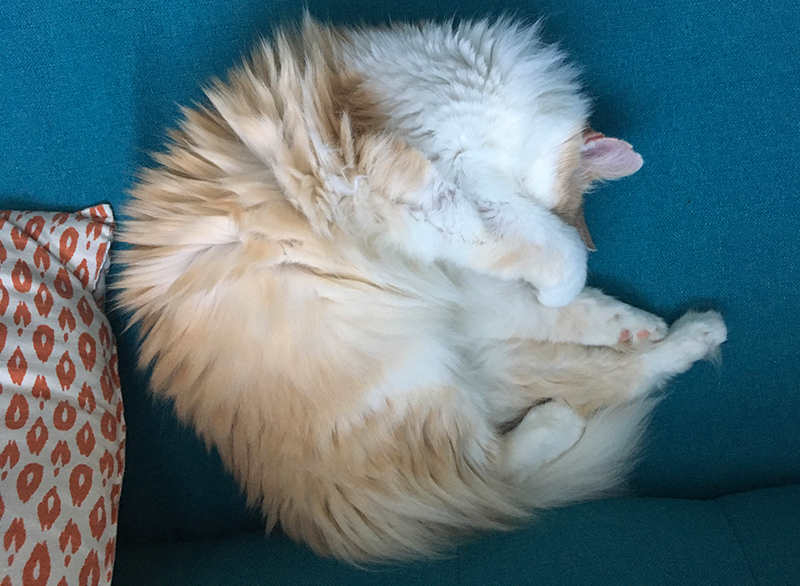 I like my little house and the comfort it brings. I love the spaces we've created and that we've even recently welcomed our first overnight guests. (And I know I'll love playing the Nintendo Switch as soon as Pete lets me buy it.) We've got a home that is cozy and full of warmth and love.
We have recreated a pretty simple and normal life for ourselves. It looks remarkably a lot like our old life pre-travel, minus the slavery to "things" and less the commutes to corporate offices complete with bosses we coped with. And, maybe because I have learned the very hard way to live only in the moment, this is all perfectly fine for me.
Right now, anyway.
There are still days (and increasingly more, as my stamina improves), when I am ready to pack it all in and hit the road. My thirst for nomadic travel has not been sated, of that I am sure. I don't think it is a matter of if, but of when we get back on the road. But it's not a question that either of us is willing to answer just yet.
So, what's next then?
Now that I am firmly within the new year by a few days, I feel an abrupt detachment from the year that passed. 2018 was a transitional time in my life that came with much emotional upheaval as I worked through the final throes of cancer and found my feet again. I realize now how badly I've been waiting for this switch on the calendar. More than ever, it feels like a welcome renewal. Tough things are behind me. Greater things are ahead.
I didn't need to wait for January 1 to say that my life is beginning anew, but I did anyway. This will be my first full-year post-cancer. I am healthier, I am stronger in my convictions, and I am ready to see what I am fully capable of. I want to be bolder, even if it means getting hurt. I want to pursue opportunities instead of waiting for them to come to me. I want to climb Mount Fernie. It's not a massive mountain by any means, and regular trekkers may laugh at the goal, but for these weak ol' cancer-y legs, reaching its summit will be a magnificent accomplishment.
I want to take our business revenue up by 60% (it's a stretch – but doable – this is where the "boldness" comes in). Which means that the start of 2019 will look much like it does for me right as I type this. I'll be sitting in sloppy house clothes with my bunny slippers on at my desk with my nose buried in my laptop as I listen to Pete fart freely into his chair across from me. Our primary focus is going to be on business, business, business. The time is right to fully pour ourselves into it like we've never been able to before.
(At least as much as we can, until the hunger for tacos or hugs or new destinations takes hold of us. My guess is that we will last three months before a hot flight deal woos us away somewhere. But I believe this is all doable without skipping a beat.)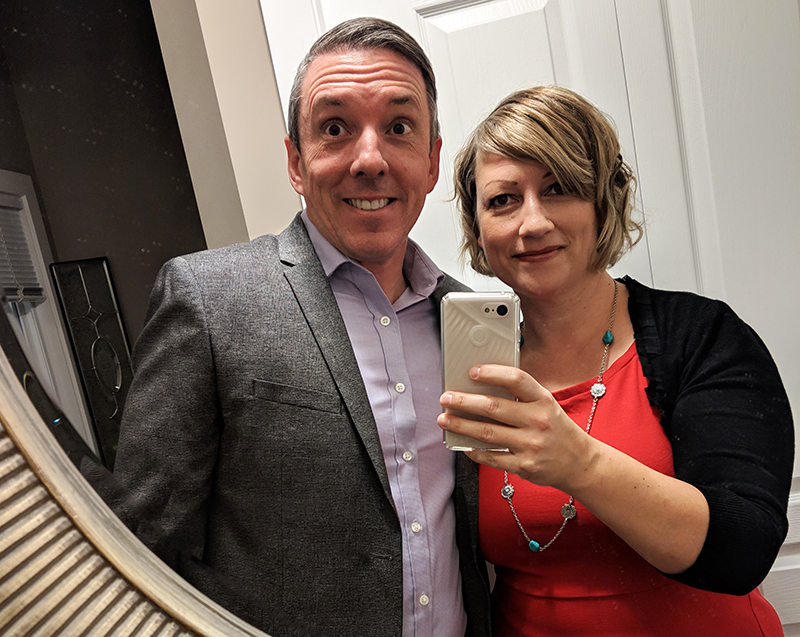 This will be the year that we figure it ALL out.
Not to be too dramatic about my expectations, but I am hitching a lot of hope on 2019.