A Matter of Perspective
Words by Dalene Heck / Photography by Dalene & Pete Heck
Perfect travel days are rarer than you might think.
In between them are days when it rains too much, or when hordes of tourists detract from a sublime experience with nature, or when a piercing hangover precludes appreciating most of the day. And even though the sight seen or adventure undertaken might be one of the Top! Rated! In! The! World!, it just doesn't feel that way to the beholder. Their perspective on that particular experience may end up skewed, and negative reviews passed on to others may distort that otherwise enjoyable attraction.
The same may happen in reverse, where a day is just so perfect that it tops an individual's own charts, even if it may not rank in a local travel guide. And as the word spreads from one person to many about this ideal experience, followers may be sadly disappointed at what they find. All the conditions for that "perfect" day may not have lined up. Maybe it was too hot, maybe the food wasn't cooked right, or perhaps they just were sick of seeing ruins.
Never mind that preferences and the definition of "perfect" and can also vary wildly by individual.
There are just so many variables to consider, which is exactly why you won't find must see/eat/do guides on this site. Our experiences are our own, as should yours be. It's not likely that either could be entirely duplicated.
Case in point : a near perfect road trip along the Ring of Kerry. By the end of our long and exciting day in the south west corner of Ireland, I was tempted to fill this post with all the flowery adjectives describing why it is a MUST do, and how we would judge you if you didn't agree.
But that wouldn't be fair. We wouldn't want to mislead you into thinking that it's always smiles and rainbows and giggling in the rain, because maybe it wouldn't be that way for you…
We wouldn't want to mislead you into thinking that it's always smiles and rainbows and giggling in the rain, because maybe it wouldn't be that way for you.
*****
We started early, wanting to get ahead of the reported gangs of tour buses that circle the Ring of Kerry daily. We were determined to beat the crowds, and had even booked an overnight stay just a few kilometers past the start of the Ring, to be sure of a head start.
We were rewarded with empty roads and brilliant morning sunshine. Blue skies were speckled with varying colors of clouds, and the water was still with not even a hint of a breeze. There are some things worth getting up this early for.
"Stop! No wait, it's gone again. Stop here! Here!" I bellowed at Pete as we weaved around the winding road in the countryside. We were chasing a rainbow, it's radiance fading in and out since the town before. Finally, at a quiet corner overlooking the water, we saw not one, but two.
Pete quickly stopped and we jumped out with the camera ready, snapping in furious spurts and then stopping to just enjoy the magnificent sight. There was no whir of cars around us, just infinite silence and seven fingers of dazzling color reaching down into the water, replicated just above with a fainter twin.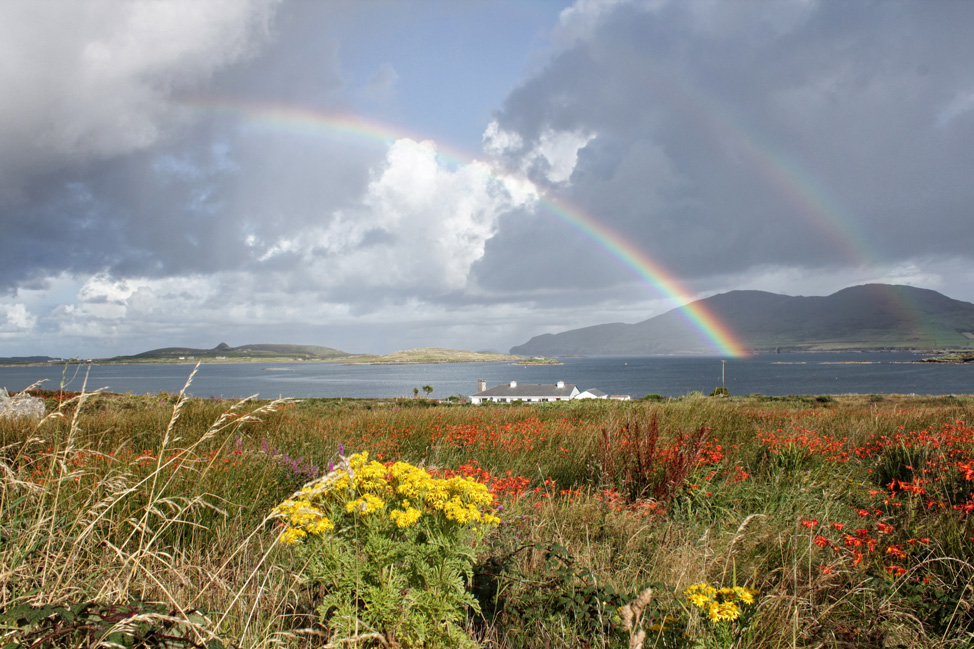 It was a luminous and promising start to our day. We marveled at our good fortune with the weather and the open road, anxiously looking in the rearview mirror for dreaded tour buses to pop into our view as we crawled slowly along, stopping frequently along the coastline.
The short ferry ride over to Valentia Island introduced us to a colorful Irish character who spent the entire ride excitedly explaining the tourist map of things to see and do in the area. She had to race to collect fares from the other cars when the ferry reached the other side, having spent all of her time playing tour guide to us.
Once back on land, we were quickly past the small town that greeted us, and as directed by our ferry tour-guide, took a detour down a very narrow and bumpy road to view a private lighthouse.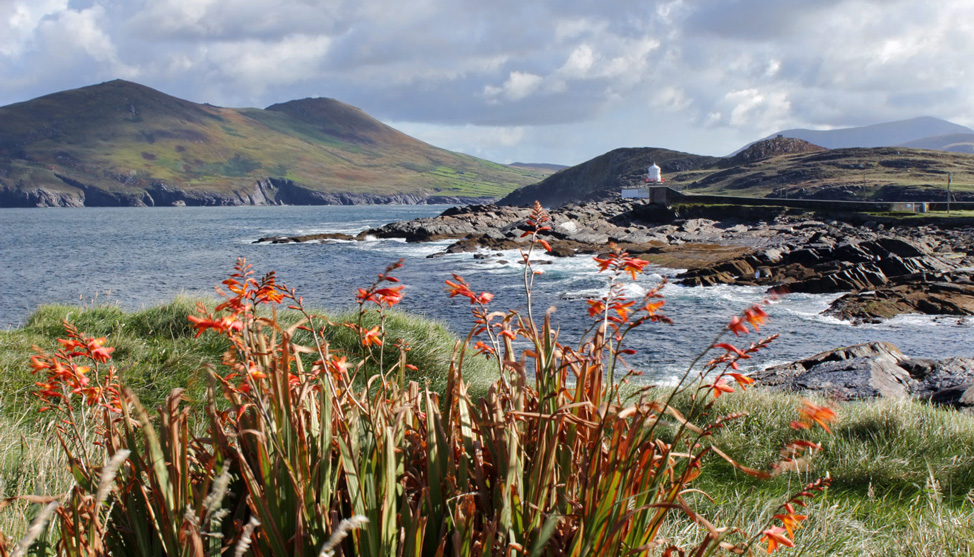 We were still entirely alone with a striking view before us. There were no sounds but crashing waves and the clicking of our camera. After spending most of our previous days fighting crowds or bad weather, we could not believe our good luck. Our attitudes, humor, and spirits were higher then at any other point of our time in Ireland.
And it continued.
Further along the Skellig Ring we found the Kerry Cliffs – not quite as blunt and dramatic as the Cliffs of Moher, but with more intriguing and harsh coastline, the best possible view of the famous Skelligs (rocky islands off the coast, one of which housed a monastery for Irish Catholic monks), and no contentious crowds.
From rocky coastline to nearby white sand beaches, each turn brought us to a new beautiful sight and gave us impossibly wider smiles.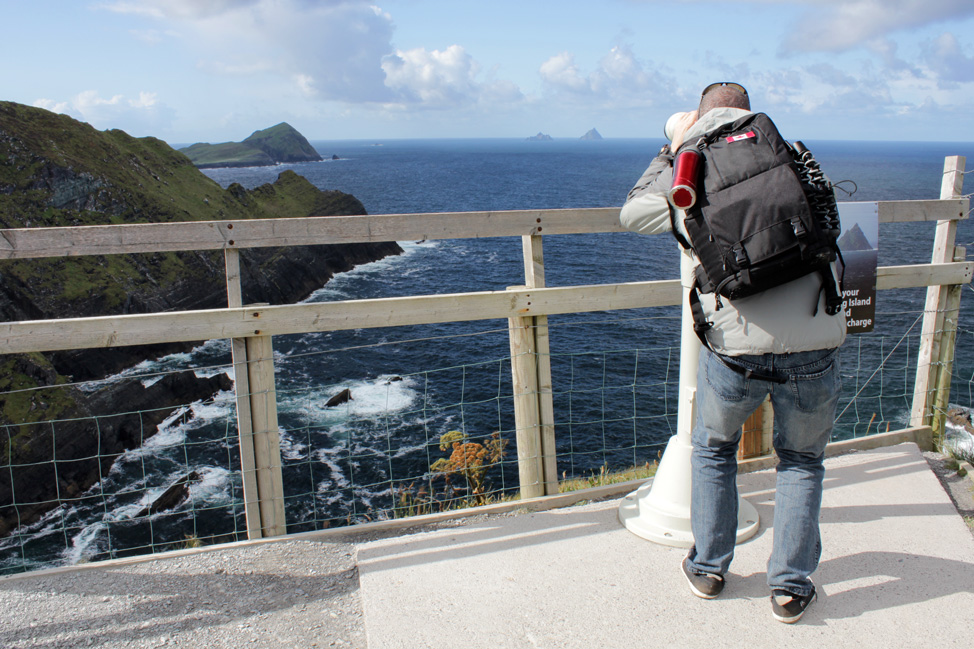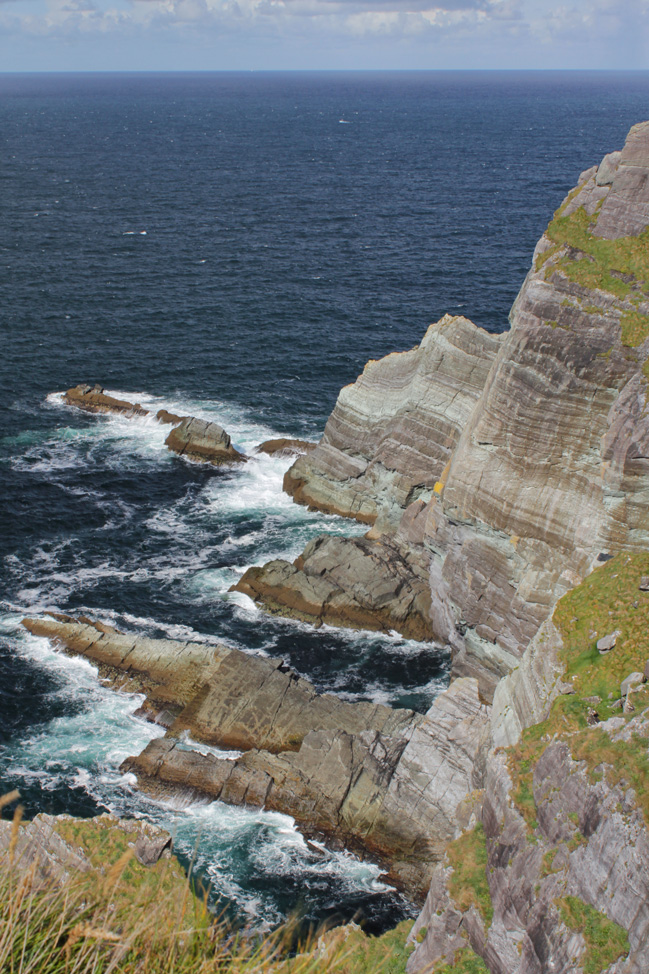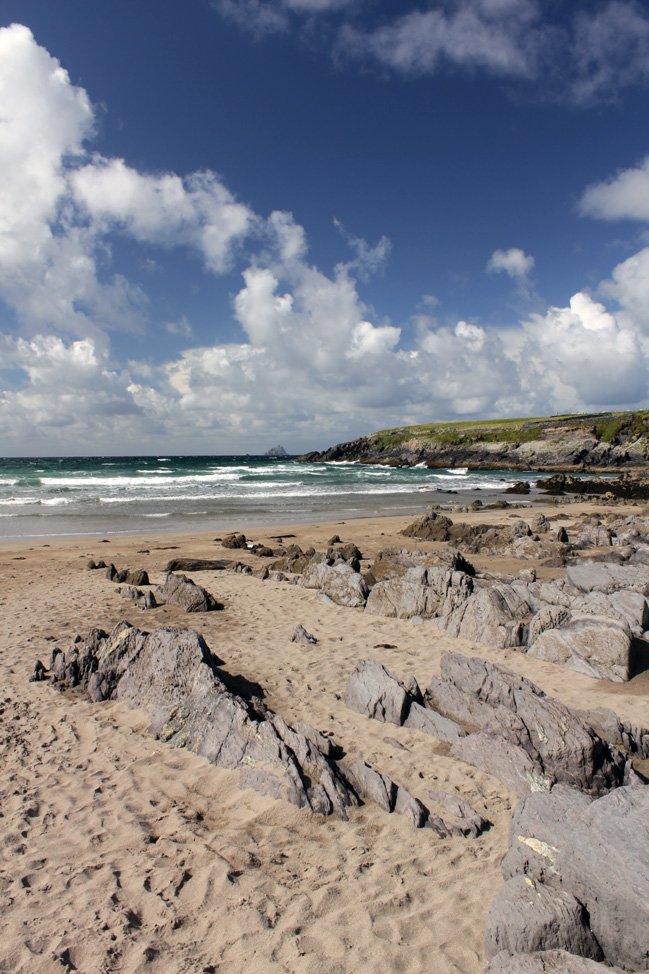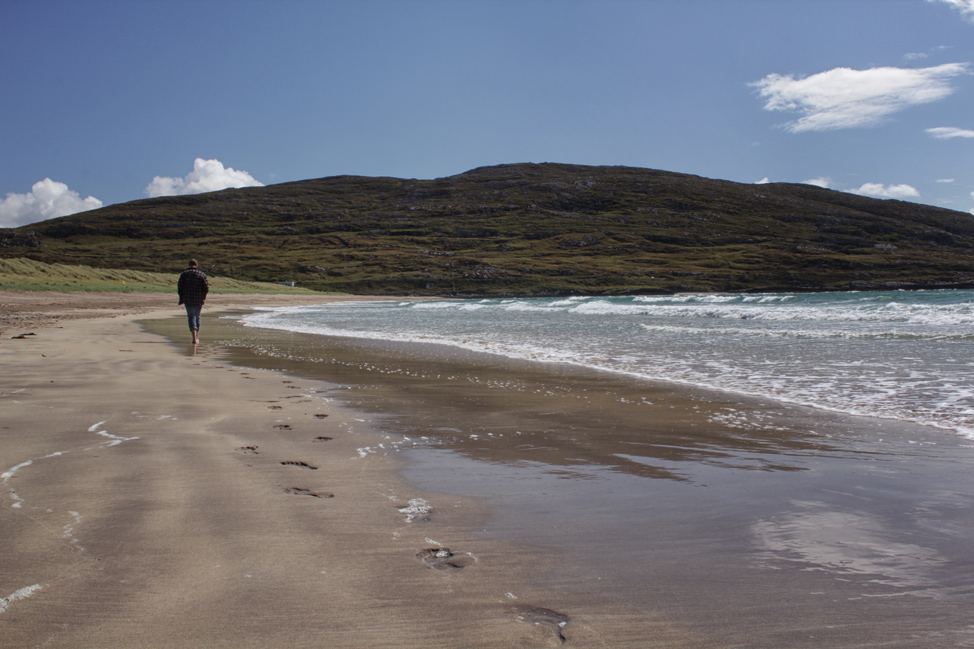 At the end of our journey on the Ring, after a pub-stop and still with several hours of daylight to burn, we did what any fortunate traveler would probably do.
We kept going.
We began the Beara Peninsula, deciding to do a small portion of it while we still could, even though dark clouds began to move in from the south.
The first few kilometers turned out to be a total bore, and as the grey clouds became grey-er, we began to wonder if we had pushed our luck. But then we began traversing the Healy Pass through the Caha mountains, and doubts were erased. We inched along the mountainside with a lush and valley sprawling below us.
We stopped for the millionth time to take pictures. Clouds parted and a spotlight shone on a gently rippled lake below.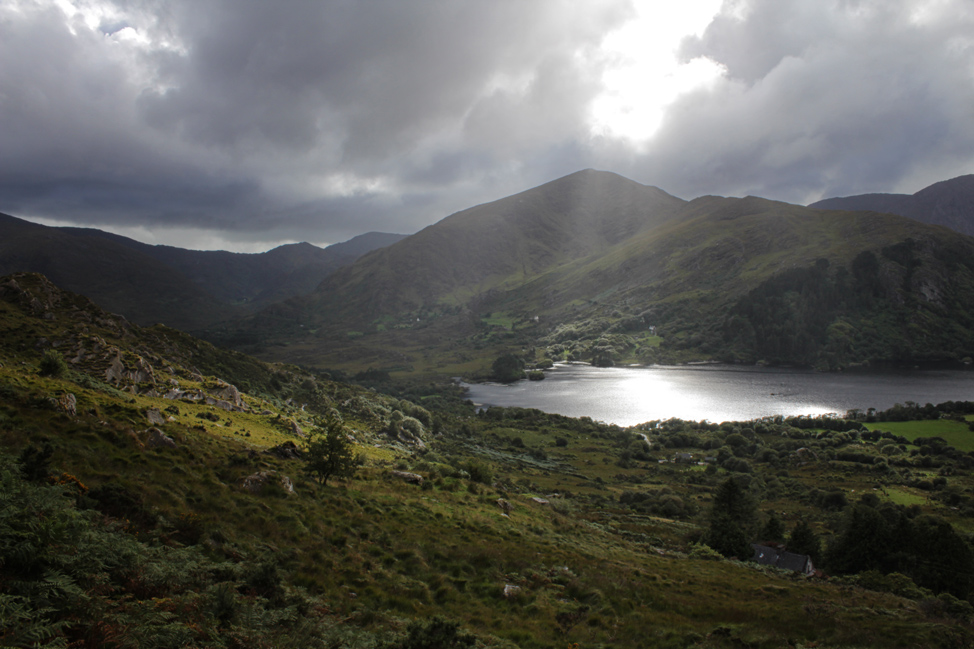 Sheep scattered as we stepped further out onto cliffside rocks for a different vantage point. So lost we were in the artistry of our surroundings, we were completely oblivious to the storm that suddenly came in. Not five seconds after I took this picture, Pete said: "I think we waited too long!"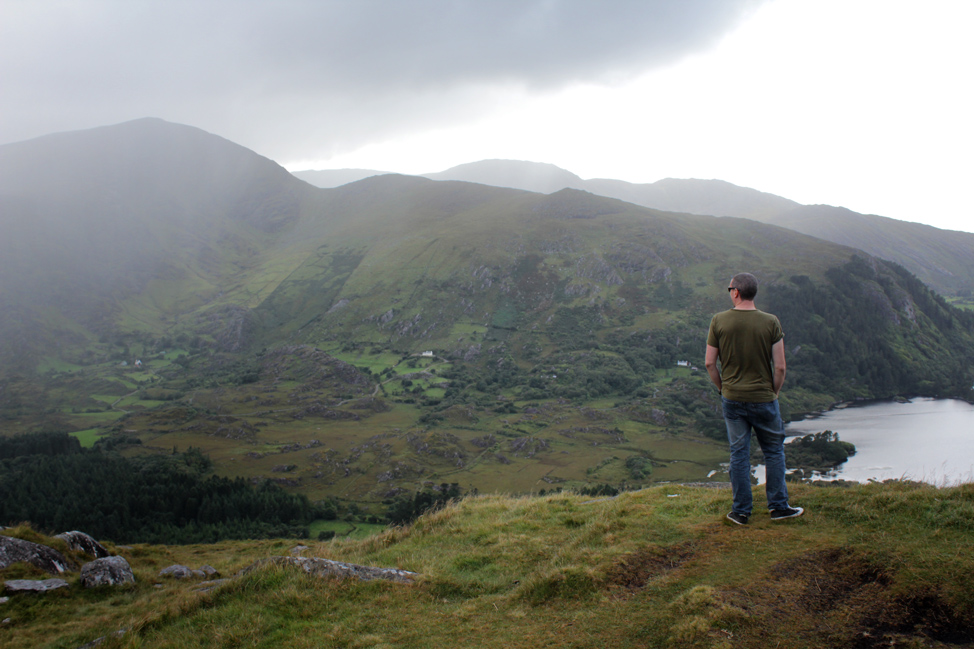 We hopped over stones and ran across damp grass back to the car, literally only a few steps ahead of the rainstorm that blew in. We collapsed into the car seats and mixed laughter with the raindrops pounding on the windshield. It was a wet and foggy drive down the mountain and onto the next town, but nothing could have dampened our spirits.
It was a rare, perfect day, in what will be remembered as our favorite spot in Ireland.
****
So maybe on your drive of the Ring of Kerry, you'll see a double rainbow.  Maybe the light will hit the swells of water just the right way as you snap photos, and maybe you'll give in to fits of laughter as you narrowly escape rain.
Or instead, you might not see the sun all day. Perhaps you'll be stuck sucking bus fumes and miss the turn to the must-see view. And ultimately you'll have a meh day and wonder what all the fuss is about.
It's all a matter of perspective.
*****
For bigger crowds and badder weather, check out our visit to the Cliffs of Moher.