Me and the Mighty Miramichi
Words by Dalene Heck / Photography by Pete Heck
I stood alone in the water a good distance downstream from the others. I sturdied myself on a flat rock while water swirled around the top of my thighs.It had been many months since I had been left on my own by any measure. My family was constantly hovering, concerned for my health and abilities, making sure that I was capable of any task before me. With any slight waiver they would take over and do it all for me. I knew that at that moment, some fifty meters away, Pete was likely watching my moves intently, nervous at my solitude in the middle of the grand Miramichi River.
Yes, my legs were a little more wobbly than they were this time last year, but I held strong. I felt strong.
I raised my fly fishing rod and made my next cast in one smooth movement: I whipped the rod back, held it at the top and whispered Miramichi to count my hold, and then cast forward softly. The fly landed just left of my intended target of rippling water. It gently bobbed downstream until it was due to be pulled out and cast again.
I came up empty but my technique had been near-perfect, and thus it was a giant win by my estimation. Fly fishing had a grace to it that I never expected, nor one that I naturally had.
On cue, a baldheaded eagle took flight from the river's edge and continued along its shoreline.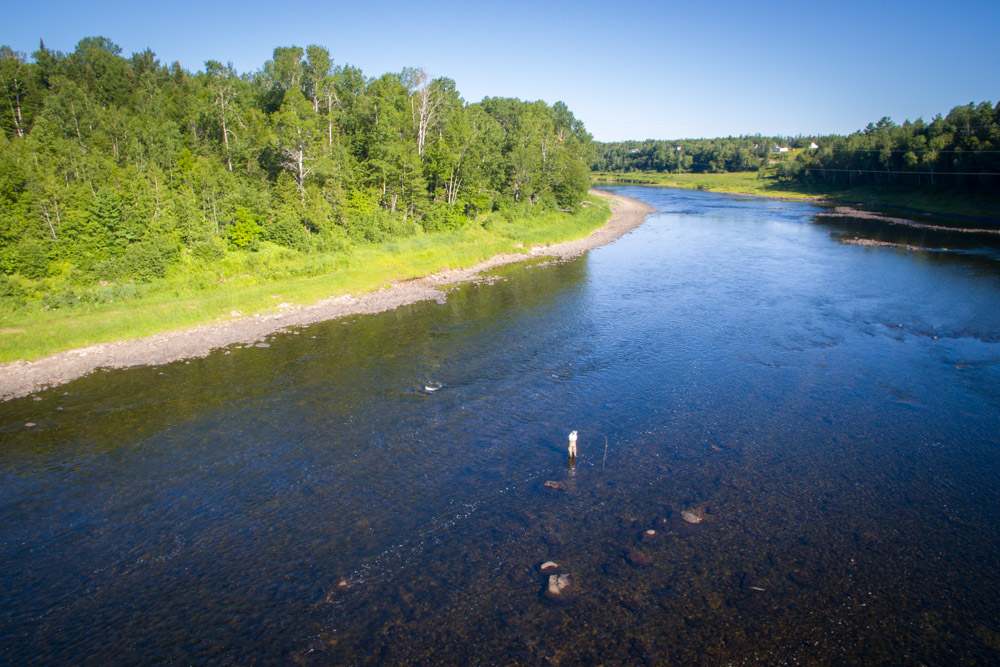 Atlantic salmon start to make their way up the mighty Miramichi in mid-June, fighting the currents to return to their natal stream to spawn. The great rush that happens early in the season had already passed, but a few still jumped near us. Jeremy was able to spot them underwater with his polarized glasses and pointed them out. I nodded in agreement, although I was pretty sure I saw nothing but sun flashes on the water.We were fishing at the halfway mark of the salmon's journey up the Miramichi, about 50 km inland from the city of the same name. Jeremy, one of our guides from the Country Haven Lodge, started out with Sherry and I in the water while Pete sat with Tyler in the boat nearby. Sherry had done this before, but it was a first time for both me and Pete. I've previously cast off of shores and boats, and even dropped hooks through holes in ice, but this was the first fly fishing that I had ever attempted. It was, as I expected, much harder than it looks.
Jeremy casted with ease, his fishing line gracefully soared through the air with full extension each time. His movements were smooth and deliberate, his hooks landed on the water's surface without drama. With the water sparkling all around him in the bright sun, Jeremy made it look effortless and romantic. Tyler told me later that Jeremy was so precise that he once purposely snatched a hat right off his head from mid-stream.
In coaching me, Jeremy repeated the few words that I needed to run through my head in the process: whip back, hold for "Miramichi", soft release, arms at a 45 degree angle.
"And I'm apparently not going to listen to anything you say," I said seconds later as the fly ended up just a handful of feet in front of me due to my ignorance of the third point. Both Pete and I suffered the same impulse having played baseball in our youth: what should have been a gentle extension of our arms toward the target often ended up in a forceful whip that dropped far short.
Hundreds of casts later, we were each starting to get in the groove of it. The frequency of our faultless casts increased, as did the praise from our guides. And so we kept chasing that satisfaction of the perfect cast, while trying different spots on the river for fish, and each of us tested our luck inside of the boat and out.
Our group came up empty save for two little river chubs caught by Sherry; the salmon were visible but not tempted by our flies. Our guides seemed nervous that we would be disappointed by our lack of catch, but they had underestimated the joy we would have just by being there.
Those hours were the first I had spent in many months doing something that resembled an athletic activity. Those new skills were the first that I had acquired in as long a time. Fly fishing is not a demanding task but it proved a wholly nourishing one. I now understood that completely, and perhaps in a way that few others could.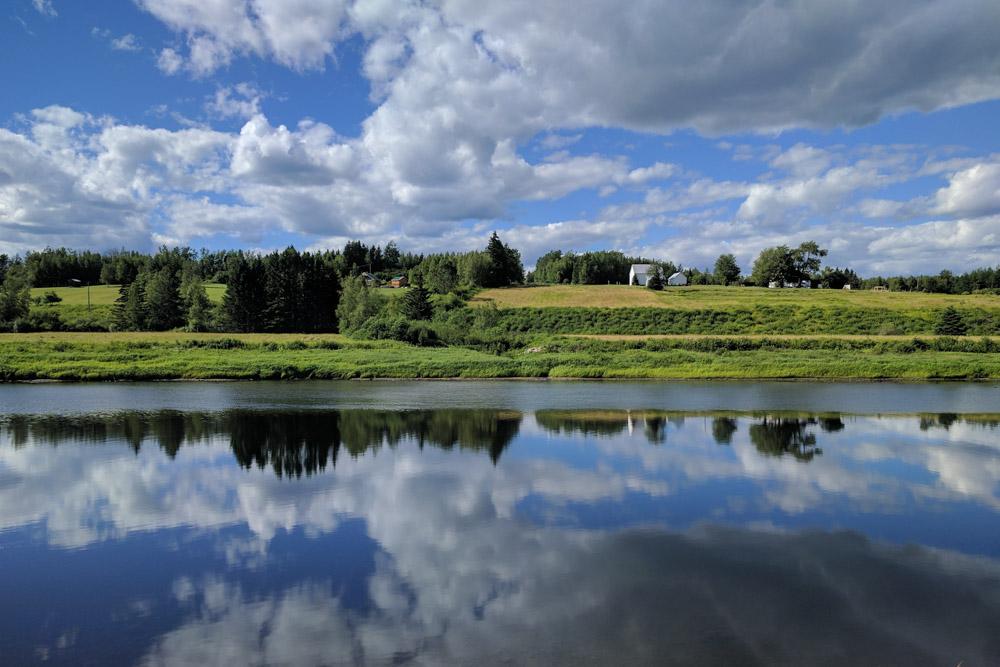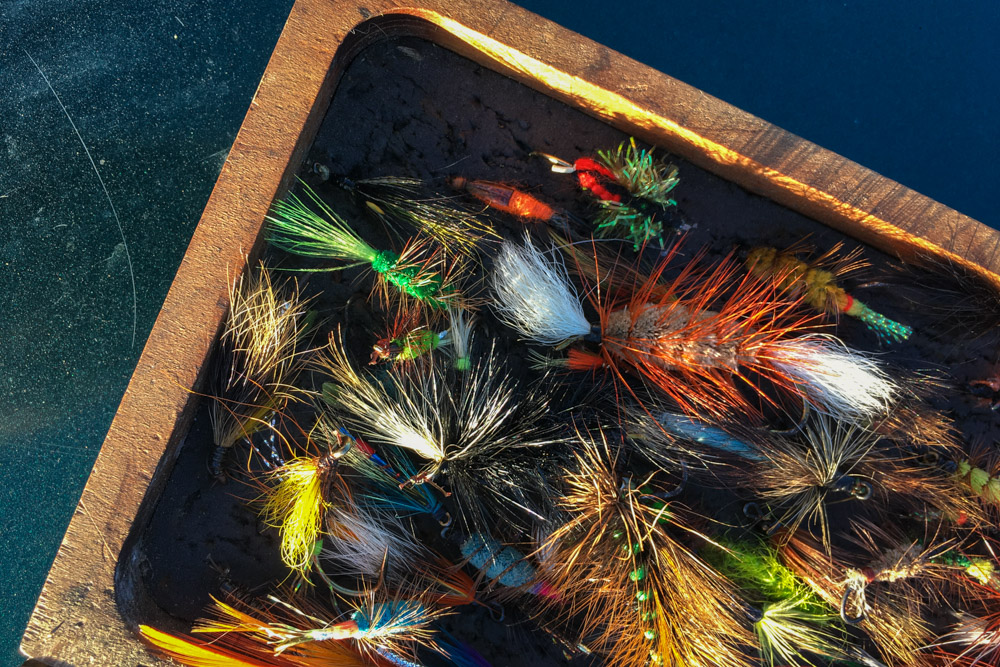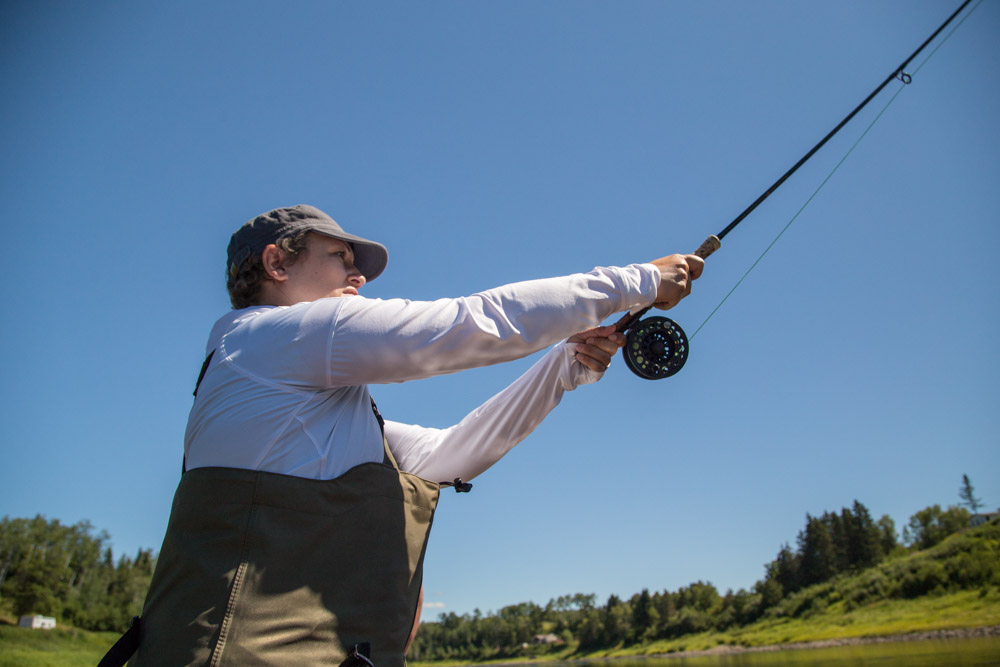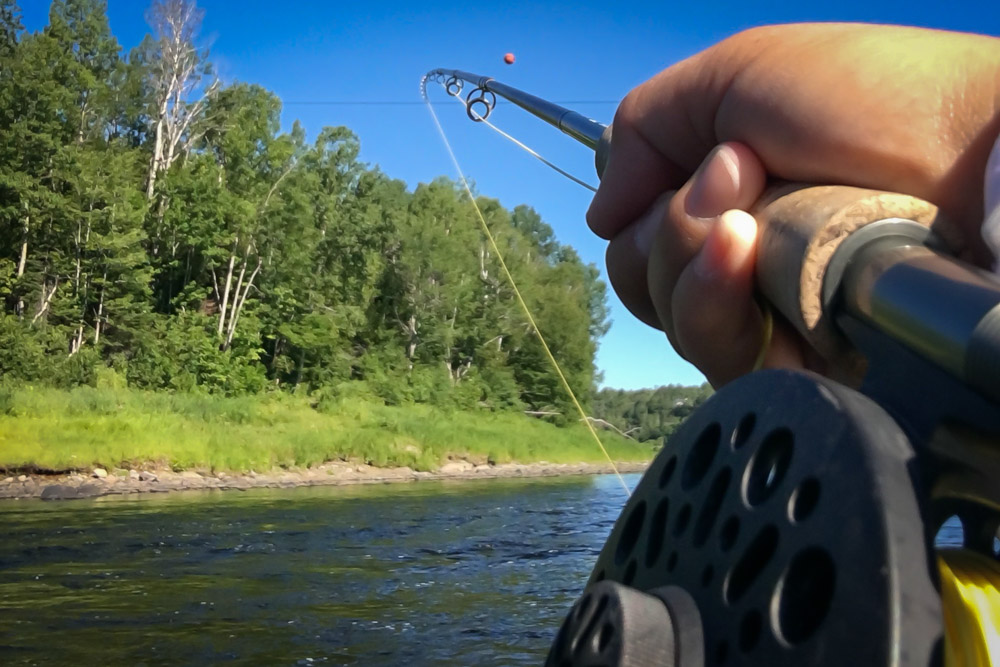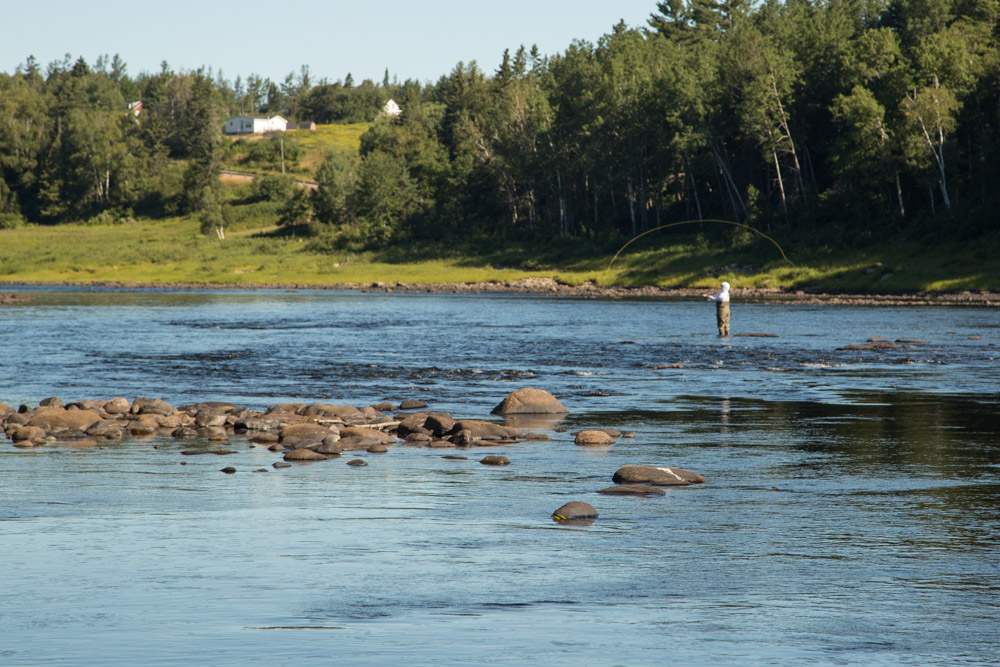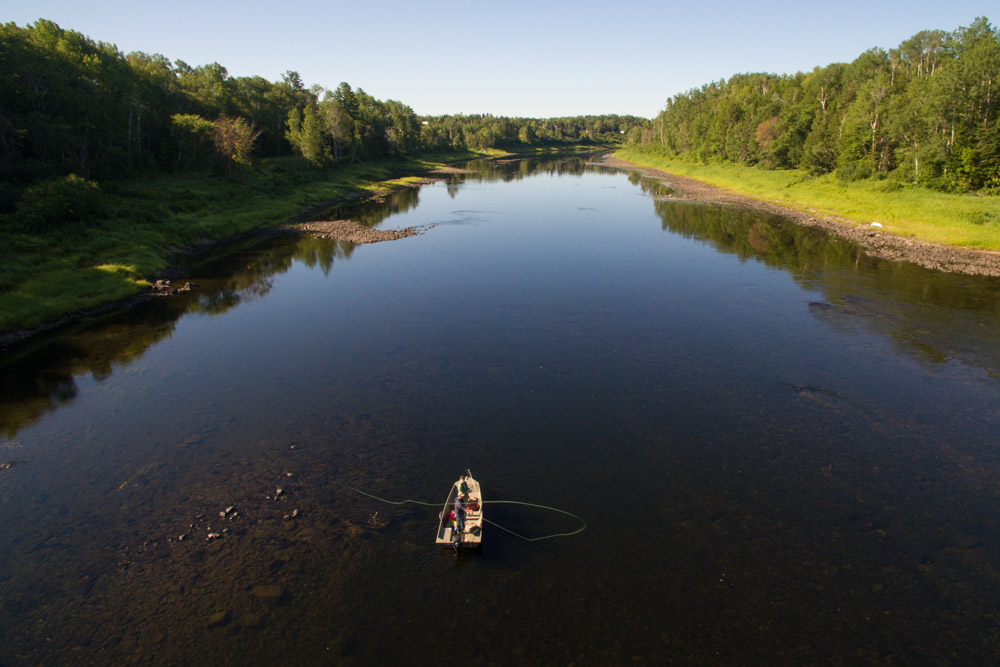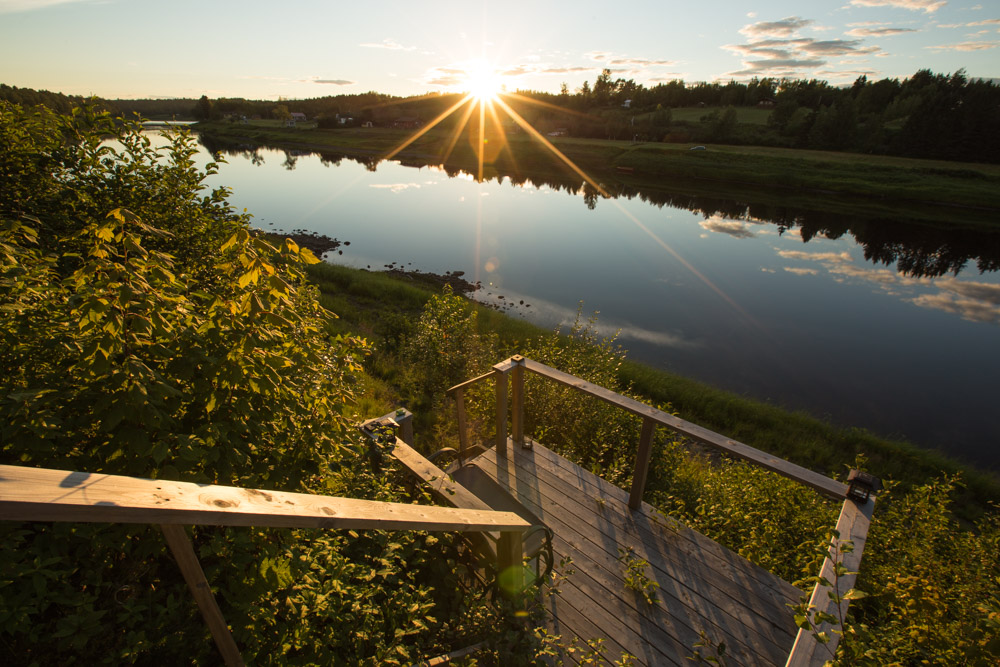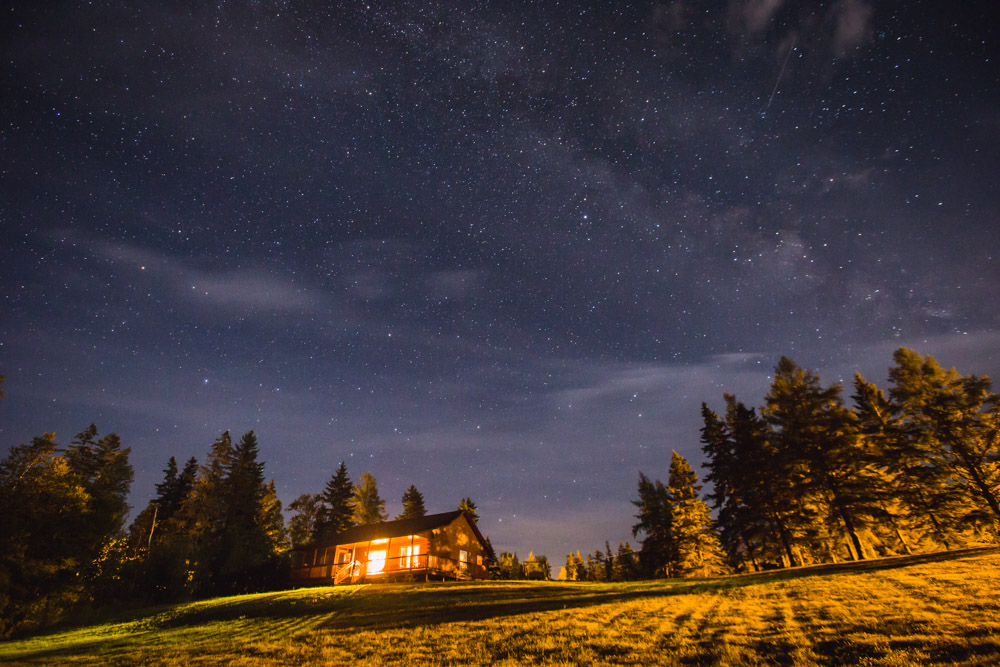 Over two days our group took to the river several times; I saved my strength and fished only twice, but on one morning I coaxed the others into putting down rods and picking up paddles.There was only one solo kayak and I called for it immediately – subtly demanded it, really – Sherry and Pete seemed not to mind and paired up in the canoe. For as much as the river had already buoyed my spirits and confidence in myself with the several hours I spent wading in it for fish, I now was eager to test myself further. I have kayaked hundreds of kilometres in my lifetime, but not for over a year, and most certainly not since my health and life were challenged. I dearly missed being on the water.
It was fifteen kilometres from our departure point back to the Lodge but there was little to severely test our skills given the shallowness of the water in the later season. A couple of small sets of rapids had us navigating rocks and almost getting stuck, but I took the lead and guided us all through safely.
I was eager for more but knew I was already busting the limits of my weary body. I was tired, but I barely stopped paddling. My arms hurt, but I insisted on continuously moving.
For a few moments midway I did force a pause while Pete and Sherry propelled ahead. I feigned interest in taking photos but really just wanted a few moments alone. My emotions, unexpectedly, were taking over.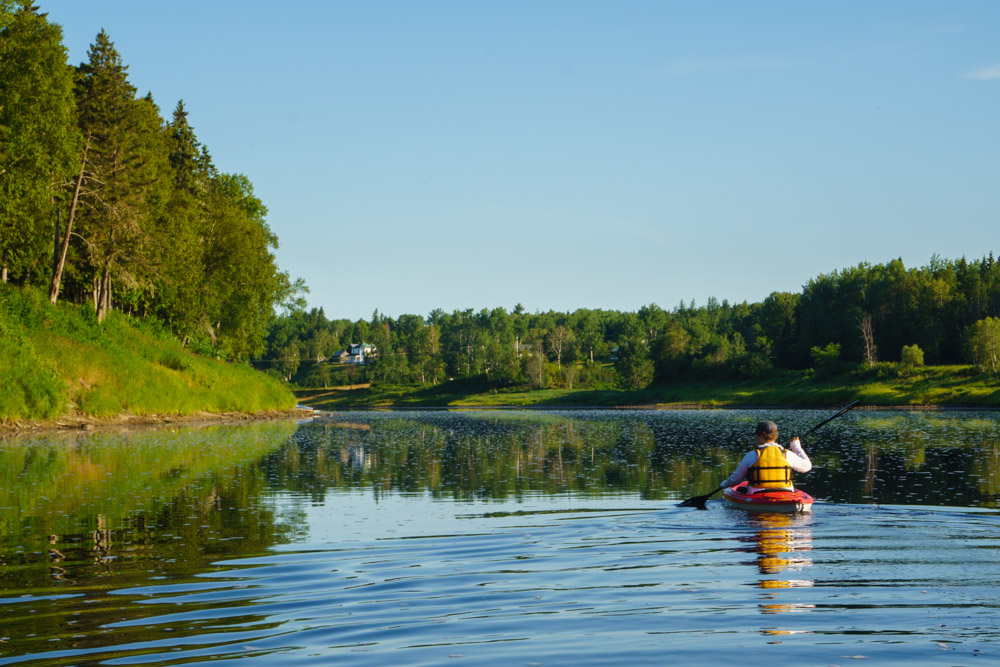 The culmination of the scene before me – the reflective glass of the river cut up only by our movement, the lushness of the river banks, the freshness of the air I breathed in deep – every element of that perfect morning served to overwhelm me. There was little I could do to avoid it; I rested my paddle across my lap and just sat and cried. They were not tears from fatigue or weariness, but out of pure joy and pride at myself.
In the past there have been many moments that I have spent on or in a river, but none seemed nearly as significant. These few were pivotal to me, for in those brief solo minutes I had been given a gift by the Miramichi.
I finally felt like I was beginning to get my life back.
how to do it
There is one very good reason why the Country Haven Lodge and Cottages has nary a blemish on its five star recommendation via online reviews: it deserves every ounce of praise and more. From the excellent guides, to the sublimely comfortable cottages, the superb home cooked meals, the picture-perfect location, and the outstanding overall service – this is one place that is perfectly memorable for all the right reasons. We immediately felt like family, and are eager to return and relive our exceptional experience.
This post was produced by us, brought to you by Tourism New Brunswick.