About Hair
November 24, 2016
I stood by the edge of the sink for as long as my weakened legs would bear me (several minutes only), but took that time to just comb through my hair. It's not a thing I do often – as a curly-haired girl I was taught long ago to just run a pick through it in the shower while the conditioner is still in, rinse, and then leave it be.
But I combed and combed, and with each pull came large chunks of my hair with it.
The likely culprit was not the arsenic that is currently being pushed through my body daily, but the idarubicin that I started on day 2. It stays in the body for about a month, so even though I stopped taking it over a week ago, new effects may still make themselves known yet. And when this all began, when the discussion of losing my hair came up, I shoved it off.
Who cares? It's just hair.
But is that I how I really felt?
So with these few minutes alone, staring in the mirror, combing, plucking the brush of a mound of hair and then combing again, I just wanted to give myself that time. To truly test my emotions about it. I've read a lot about people who are at this stage and face an emotional debate of whether to shave it all off or to hold onto it in hopes of something salvageable. I do not have very thick hair to start with, so I knew that the latter was not probably possible. Clearly, now was the time, but was I ready for it?
It took me about half of those few minutes in front of the mirror to say: Hells. Yes.
It really is just hair. And for me, it's not that great of a mane to begin with. Rumor has it that for many it grows back more full and lush than before, so bring THAT on.
Also, WIGS. Purple wigs, red wigs, pitch black wigs, I'm going bold and I can't wait to start shopping.
And, SCARVES. My sister already bought me a lightweight navy blue turban that I love, and I can't wait to add a bit more variety.
So in all honesty, this doesn't bother me. Although I do have to say that I am not quite brave enough to show you a photo of my all-bald-bad-self yet – the nurses and other help around here buzzed me, and while they are all wonderful individuals who do their job very well, but they aren't exactly hairdressers. It is still a bit patchy and once that all goes then I promise I will.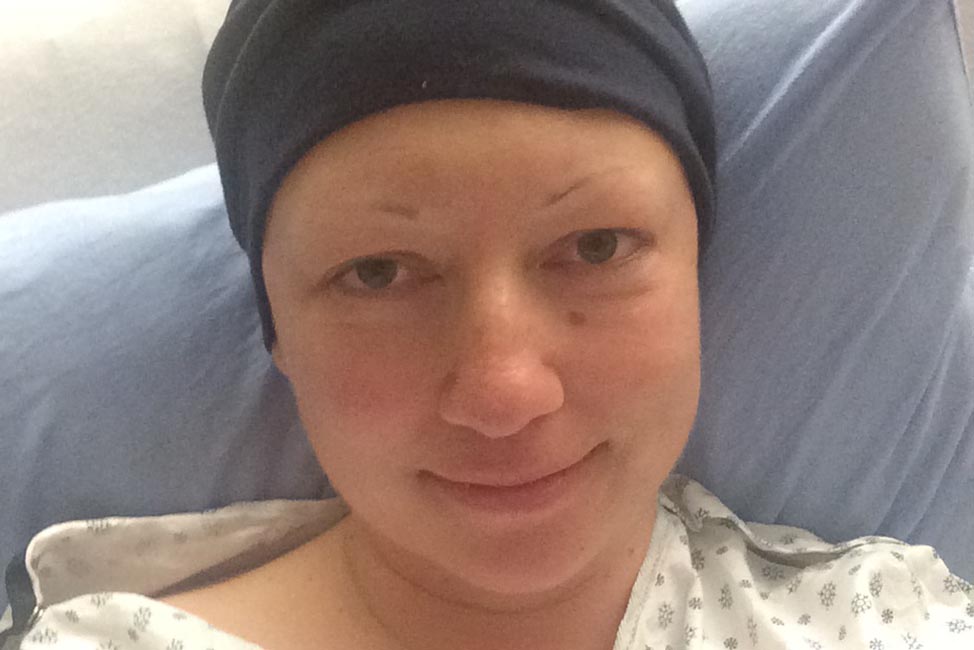 (Also, hilarious story: the shaver went dead about 4/5 through my buzzcut. So I sat with a very bizarre punk hairdo for about 2 hours while the shaver charged. It was pretty funny, but I am also not brave enough to show you that photo either.)
OTHER UPDATE
Last week was pretty dark. For some reason, I had it in my head that I was going to be one of those stories that you hear about of people who breeze through chemo without issue. I did pretty well for awhile, and then day 9 hit. Then came nausea, so much pain in my mouth that I could barely talk (I still haven't eaten anything solid since day 9 and today is day 18), I discovered the unsexy joys of wearing adult diapers, obtained a urinary tract infection, and more. I didn't get out of bed for 6 straight days except to go to the bathroom. A few people came to visit but I could barely raise my head.
And then I was told I have APML Differentiation Syndrome. My white blood cell count started to go back up (it should be hovering not much higher than zero for awhile yet), along with some weight gain (hard to consider given my lack of food intake), led to the realization. Thankfully, it didn't get too high before an astute doctor called it, and started me on steroids to reverse it (so far so good). It's not typically fatal, but it could have caused me to stop chemo and let my body rest while they sorted it out. This would mean I would have had to add any missed chemo days to the end.
To tell this to a physically ailing, vomiting, bloated, debilitated woman who can't eat or barely talk and isn't even halfway through this initial 36 day "induction" chemo session, on a day when she had both lines into her body plugged with a variety of fluids for nearly 18 hours (I wish I had the wherewithal to count the bags – must have been at least thirty that day) – I completely crumbled.
For the first time, I felt like holy fuck, this is really, really, cancer. That word doesn't have to mean a death sentence, and I still believe that it doesn't for me (although I will admit it got a bit scarier), but it is nothing if not a long series of BATTLES. Daily, sometimes even hourly, to just remember this is all another step in the journey. Just one at a time. It's not going to be easy, and it's going to be long and full of these shitty days, but I have no choice but to bear them and just get through it. (And after that I will turn this into something positive – I don't know what yet – but all this bullshit must turn into something.)
THE LAST COUPLE OF DAYS
Have been a bit better. I am still dealing with most of the above (although the nausea has abated), and I have a bit more energy (I walked about 100ft yesterday which was a HUGE win), and I'm bald, but whatever.
I am surrounded by so much love, Pete and my mom have been relentlessly and affectionately by my side every day. I wake up every morning to an inbox full of messages of support that I can't even begin to answer them all. The staff here are starting to ask questions about the crazy amount of cards and gifts that decorate my room. One of our readers is a nurse on this floor! She had the same form of leukemia when she was five years old and she has since cycled across Canada five times. Sources of inspiration and love are everywhere, and I am sopping it all up. Thank you, once again, everyone.
All I can do is end this update the same as the last one, with huge amounts of gratitude and thanks. And hopes for a few better days like today. Oh, and maybe a cheeseburger would be nice (I'm told that I have at least a week to go for that one).
Much love,







P.S. WTF…Cancer? Wondering how I got here? Start with this post.