In Alberta? Eat here
Words by Dalene Heck / Photography by Pete Heck
Whilst cruising through our former corporate and suburban lives, entirely on autopilot, we had little appetite for exploration, especially when it came to food. Our restaurant choices were often dictated by two things: what was easily accessed on our way home from work, and what provided nourishing comfort food that we could expect to be decent.I'll say it: we were pretty lame. So with a dedication to discover the best of everything in our home province while packing a suitcase full of stretchy pants, and in between our adventures of hurtling down an icy track and discovering that we actually like skiing, we ate.
A LOT. Sometimes, we sat in four or five different establishments in one day. All in the name of research (of course!) so that we could thoughtfully tell you where to eat in Alberta.
CALGARY
River Café
We were lucky enough to dine at River in the company of great friends – one of whom used to be the executive chef there. That means we were spoiled with a few off-menu treats, not that the menu needs straying from, as everything is amazing. The routinely award-winning River Café, set on the gorgeous Prince's Island Park, is one that we did frequent in our corporate/suburban days, and we're glad to see the food is as stunning as ever. Favourite dish: the eggs benedict with elk bacon and browned butter hollandaise.
But soon I wanted to drop everything in my hands just so that I could focus on the gorgeous sandwich before me.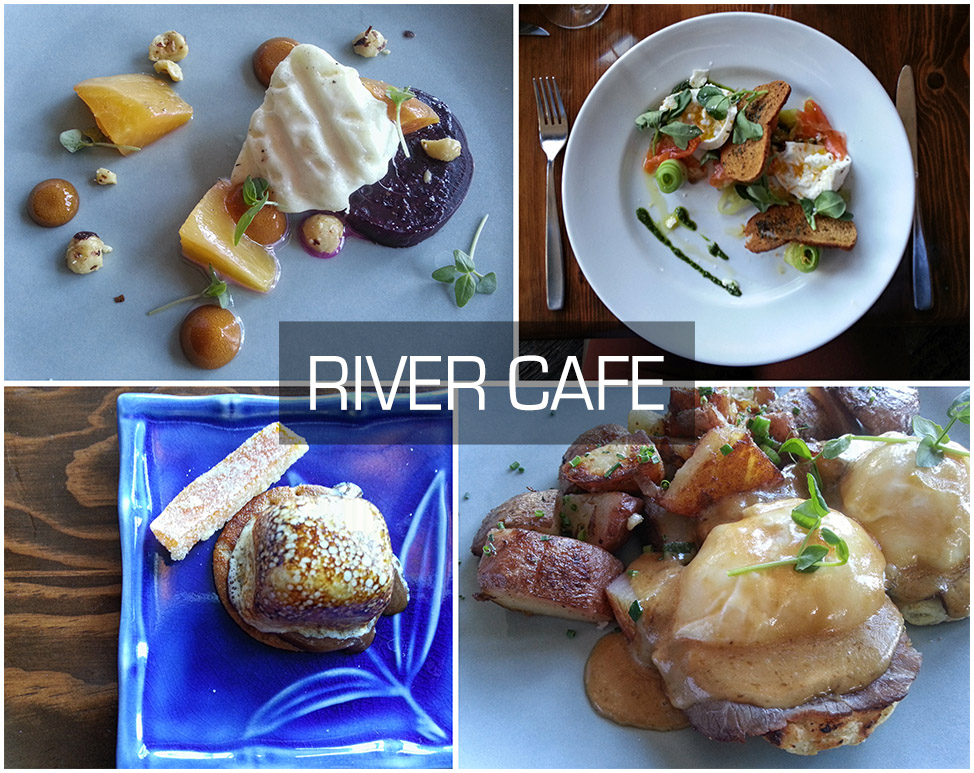 Boxwood Cafe
This sister-restaurant to River Café immediately made me want to do one thing: pull out the camera and start taking photos and video – the lighting and colors in the Boxwood Cafe are amazing. But soon I wanted to drop everything in my hands just so that I could focus on the gorgeous sandwich before me. Homemade ciabatta, oodles of juicy rotisserie meat with a flavourful salad on the side. A perfect lunch spot just south of the downtown core, set in the Central Memorial Park and serving up all local, sustainable ingredients. Favourite dish: the farm spit-roasted porchetta sandwich.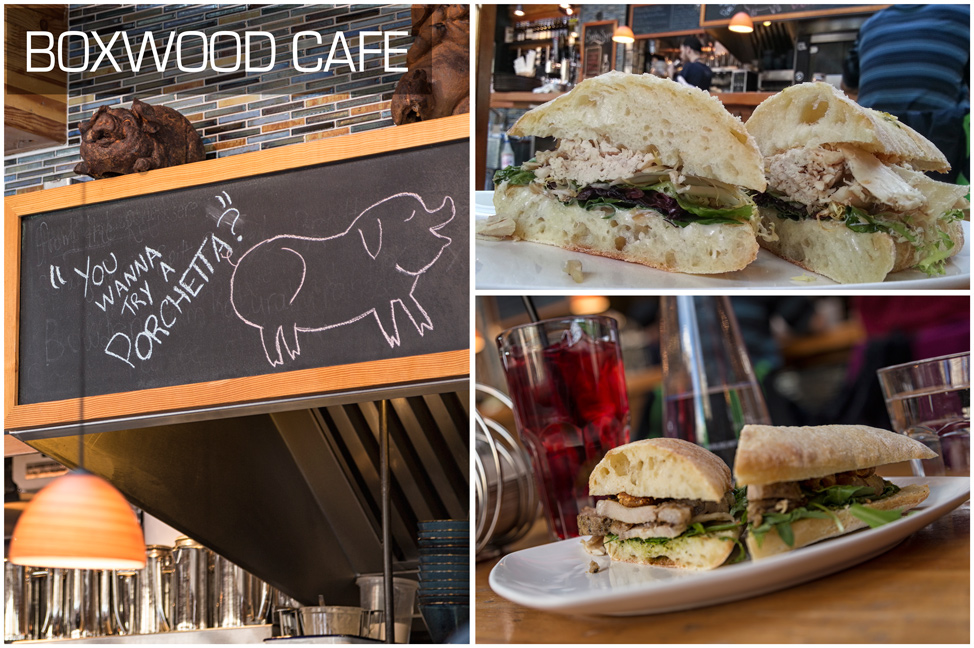 Market
Nominated Canada's best new restaurant in 2013 for Enroute Magazine, Market deserved our attention and we rolled ourselves out of there after a couple of hours of very fine dining. With a minimalist interior on 17th Ave, nearly every element of every dish is prepared in house, from growing their own herbs to making their own cheese. Favourite dish: we couldn't narrow it down to one. We nearly licked the plate clean of bison poutine, and the burger prepared sous-vide was, without doubt, the best burger we've ever tasted.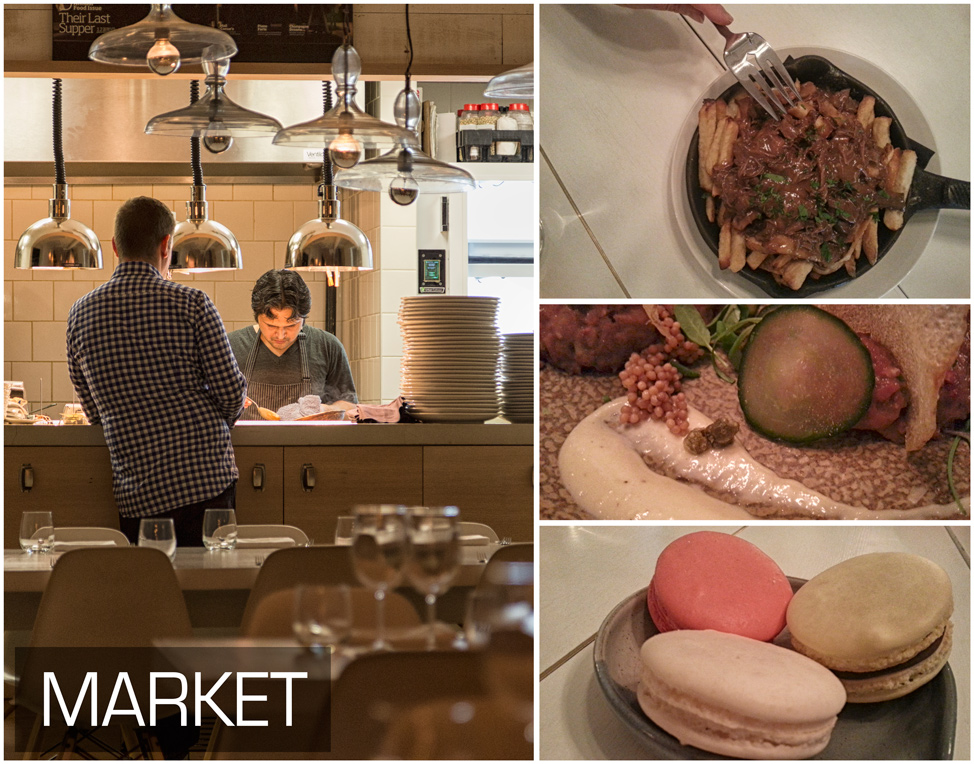 Una Pizza
You guys, Una has a pizza with maple syrup instead of tomato sauce. Of course we were going to try that one, and it did not disappoint at all. This very popular pizza and wine joint on 17th Ave routinely has a long wait-list to get in, but they also tweet out their wait times so that you know before you go. Favourite dish: Why, the Beltline pizza of course – with double smoked bacon, sausage, smoked mozza and maple syrup – but the kale caesar salad as a starter gets honourable mention.
EDMONTON
Like Calgary, Edmonton is claiming a surge in foodie-culture. While we didn't explore Edmonton in quite the same way (almost entirely with our stomachs), we did sample a few choice restaurants and came away with some high praise:
Under The High Wheel
From their website: "Old-world comfort food in a warm and welcoming atmosphere." Exactly. Favourite dish: if you'd like to eat the fluffiest waffles you've ever eaten before in your entire life, then have that.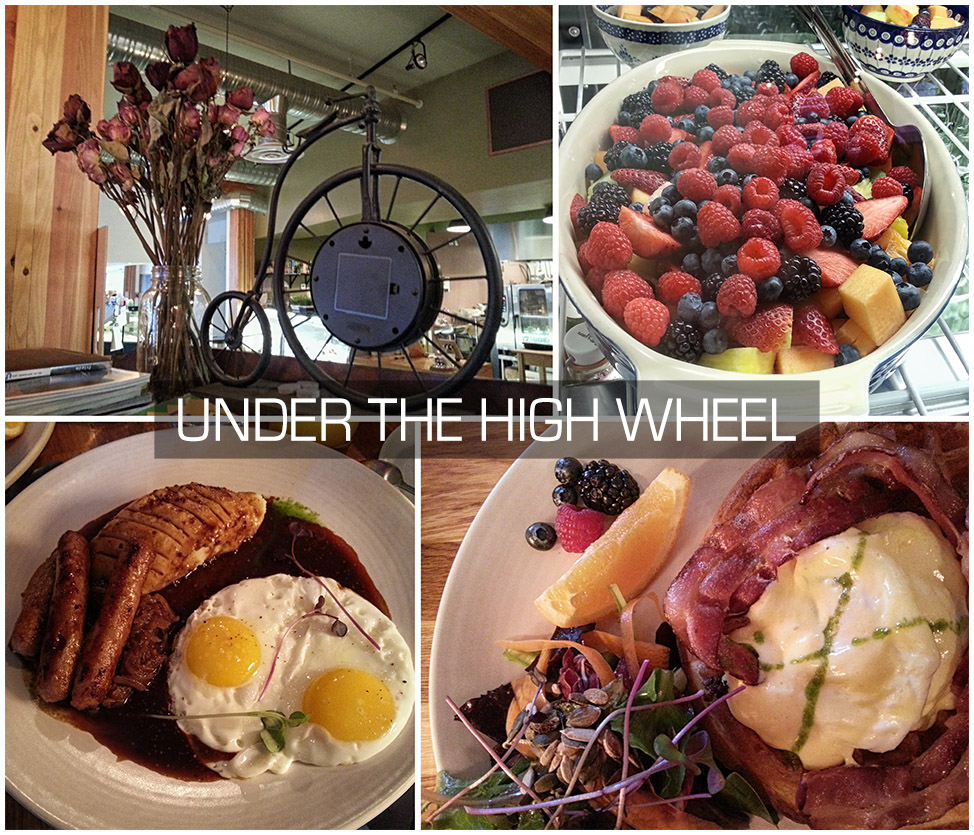 Duchess Bake Shop
I first walked into Duchess with my head down, casually ordered a quiche with soup for lunch and stupidly said "no" to dessert. And then, once the crowd dispersed a bit and I could see the length of counters and the array of sweets on them, I quickly changed my mind. O. M. G. The quiche was good, but my mind was elsewhere, mentally undressing each dessert to see if there was a hidden goodness inside. It's food-porn, like you've never seen it before. Favourite dish: I don't know. I really, truly, don't know.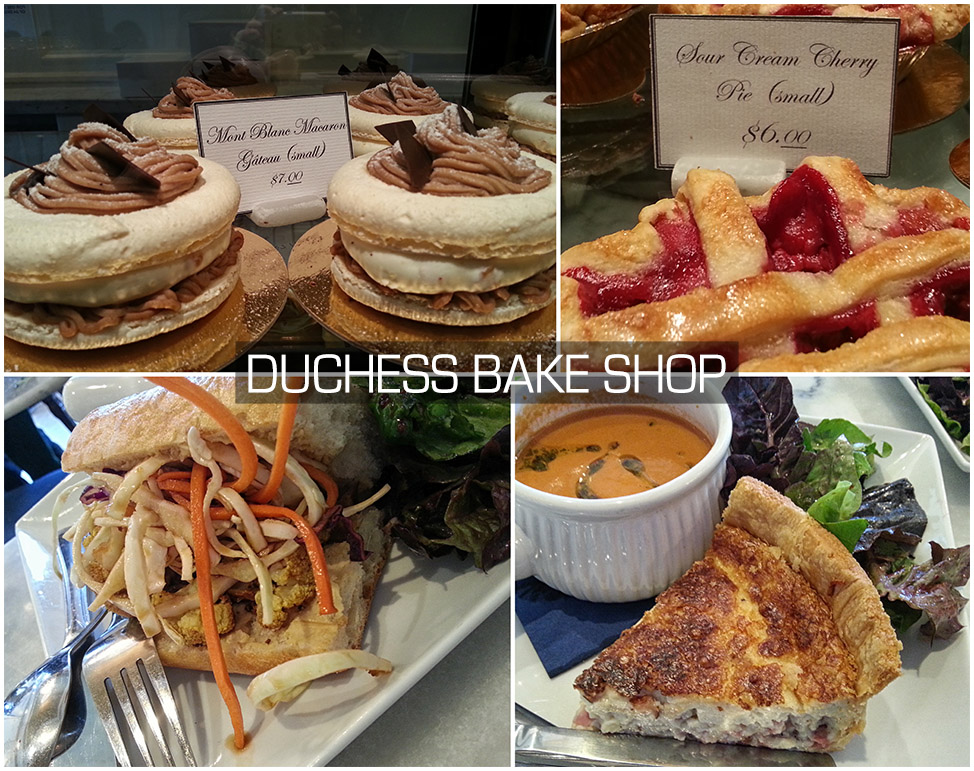 CANMORE
Gaucho Brazilian BBQ
With little time to explore in Canmore and huge hunger, we went with the first name that appealed to us – Gaucho's. We've been to a Brazilian BBQ before and knew the drill – say yes to whatever meat the servers continually bring to your table until you can't eat anymore or the "meat sweats" take over your body. Their salad bar on the side also served up an impressive array, but let's be honest, salad just wastes space in your stomach when it could be filled with meat. Favourite meats: the bacon-wrapped chicken and pork tenderloin.
BANFF
There are so many things to do in Banff that you will undoubtedly work up a major appetite. Plan a restaurant-crawl to all of the below to work up enough energy for the next day.
Banff Brewing Company
So the Brewing Company wasn't entirely worth mentioning just because of their good nachos, but instead for the beer. We'd been fine-dining it up enough, we just wanted a fun atmosphere and some good local ales to sample. We found it and parked ourselves there for a long evening. Favourite beer: the IPA.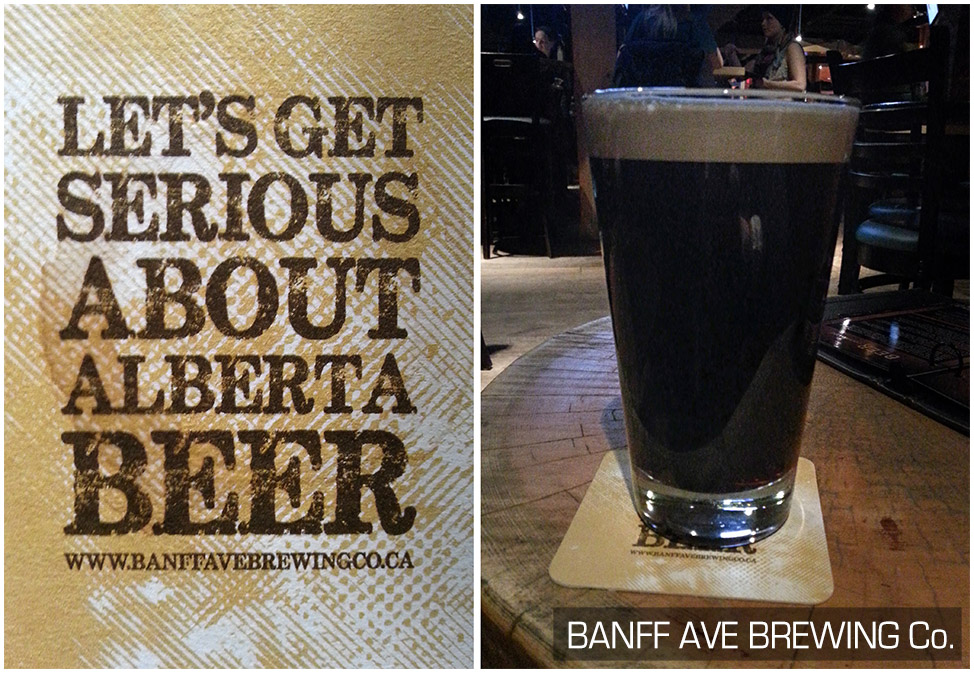 Bear Street Tavern
This was our last stop on our whirlwind Alberta tour, and we were excited about it. We'd been there before and when the Bear Street Tavern says that they have "ridiculously good pizza" – they aren't kidding. The cast iron apple crumble is also nothing short of spectacular, and could easily feed a small family. Favourite za: "The Bison", with smoked bison, caramelized onions, edamame beans and mozza.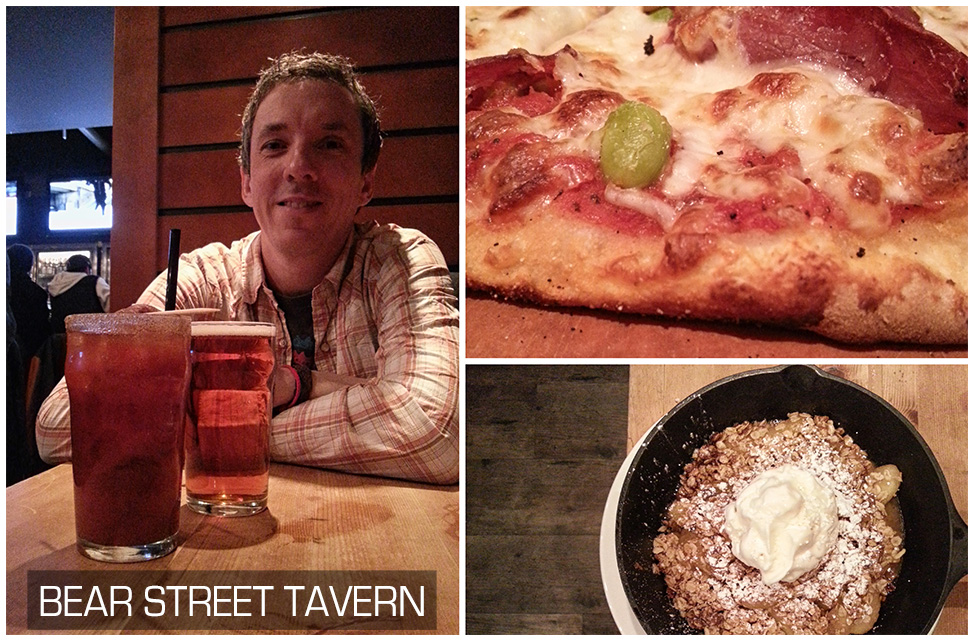 The Maple Leaf
We didn't get to visit The Maple Leaf this time around, but it is still very much worth mentioning.
For more on where to eat in this mountain mecca, see this post on Banff restaurants.
JASPER
We were so very busy in Jasper with adventurous stuff like walking in ice canyons and braving -20C temperatures to study the stars that we didn't thoroughly explore it's reported culinary prowess. We did enjoy two notable places, but I invite you to instead check out this article by our friend Ayngelina about where to go for some good noshin'.
Jasper Brewing Co.
A part of the same brewing family as the Banff Brewing Co., the Jasper version has good beer but also very excellent food. If we lived in Jasper, we would likely be a permanent fixture in this restaurant.  Favourite dish: the pulled pork sandwich.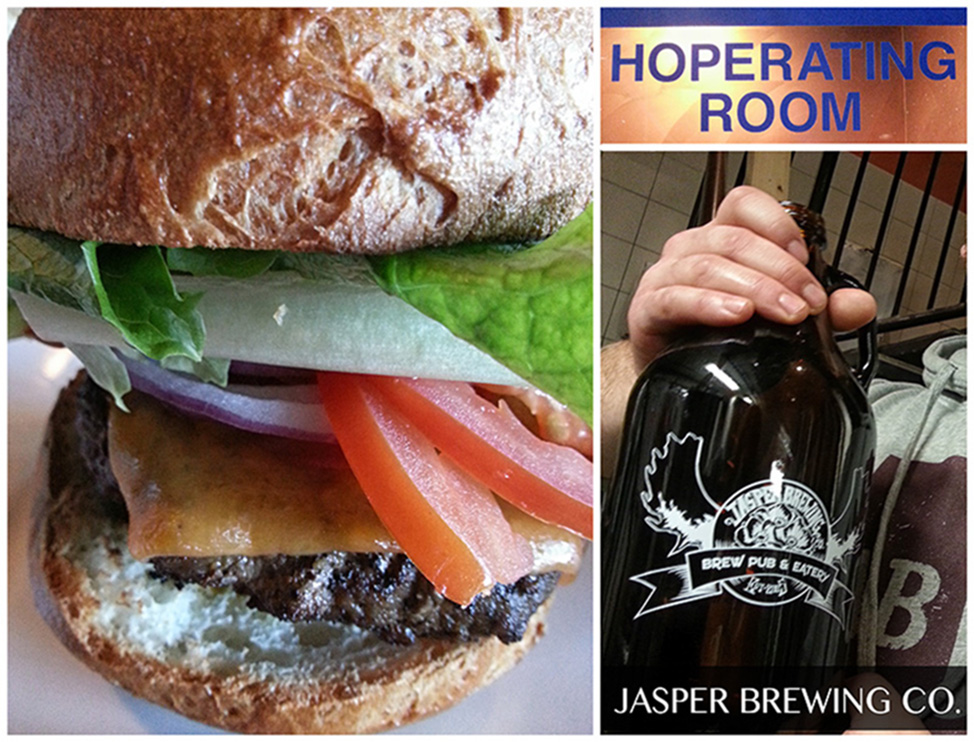 Bear's Paw Bakery
This quiet hideaway serves up some seriously good soups and sandwiches in a cozy atmosphere with mountain views just outside the door. Bear's Paw was good enough for a repeat visit from us, even with only four days in town.
Many thanks to Travel Alberta, Banff Lake Louise Tourism, Tourism Canmore and Tourism Jasper for their assistance during our travels. We will not thank them, however, for the extra poundage we both carry as a result.