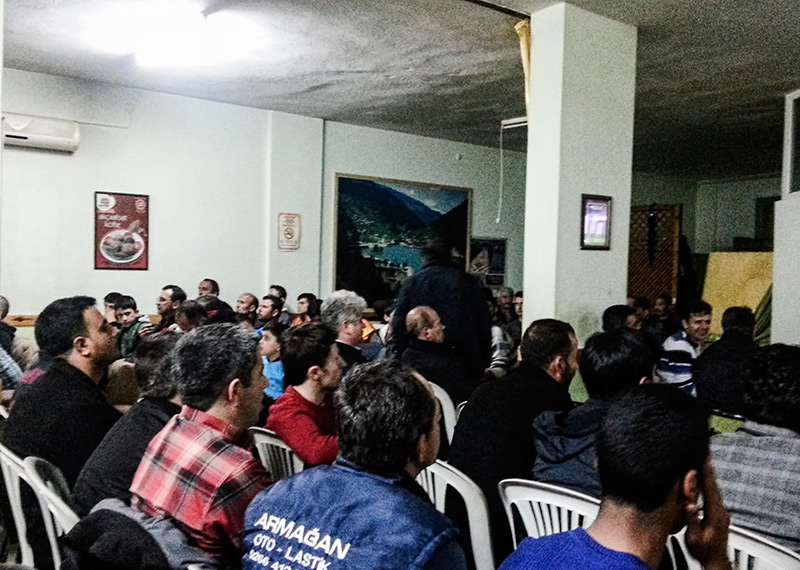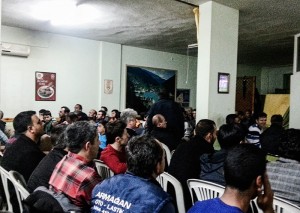 "This is what you would call a tea house" Mustafa explained as I followed him down a dark hallway that led to a large room. He graciously paid my cover and inside we went to find standing room only. There were no flashy lights or fancy bar stools, just rows and rows of plastic chairs filled with diehard football fans.The walls were lined with posters of their favourite national teams and the biggest stars. The match tonight was Galatasaray (Istanbul) versus Real Madrid in the quarterfinals of the Champions League. I'm not very big into football ("soccer" has never been very big in Canada), but it wasn't difficult to guess that this was a big match.
About this time back in Canada the drive for the NHL playoffs is in high gear. I would normally gather with friends and family on the weekend (hardly never on a work night), either at a pub or someone's house and have the chance to watch the game on a big screen TV.
We quickly found Mustafa's friends and they had luckily saved us two seats in the back row. I was introduced, but being one of only two English speakers in the whole room, conversation pretty much concluded here. It didn't matter though as the team were about to take to the pitch. There were two small (by Canadian standards) flat screens for over 200 hundred people jammed in to watch. Scarfs started waving, and the clapping and cheering began as we prepared for kickoff. I could feel the intense nervousness in the atmosphere.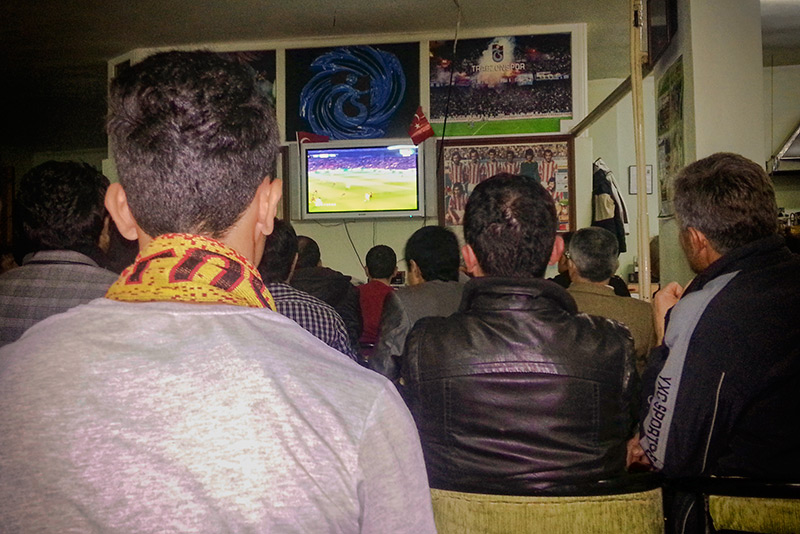 After talking about work weeks, planned vacations, films we saw and any number of things, we had not even noticed that the puck had dropped five minutes ago. For me, going to watch a hockey game in Canada was more of social event and a chance to catch up on each others lives.
"Dört çay" (four tea) Mustafa ordered from the frantic lone waiter who was trying to fulfill the whole room's needs. There was no beer going around, no food except for sunflower and pumpkin seeds.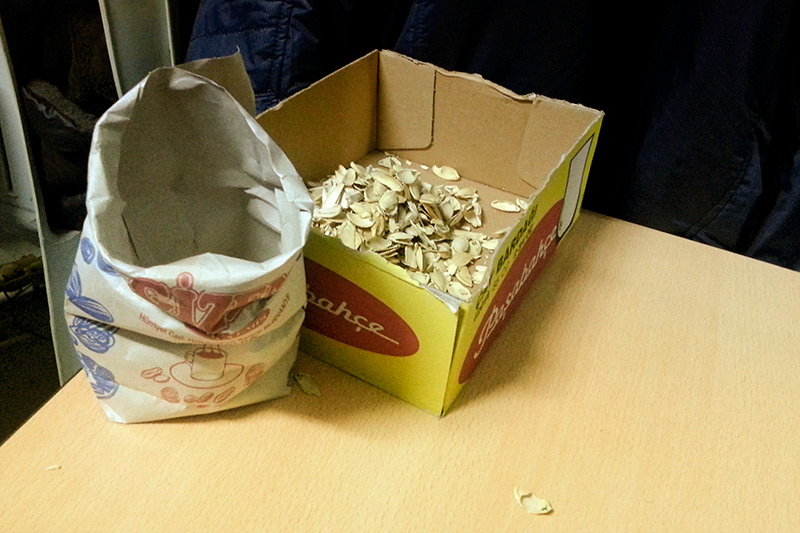 Most notably, there were no women – the tea houses are for men only. Some have even brought their children, but instead of misbehaving and fooling around like most kids do, their eyes were glued to the screens with dreams of one day gracing the field with their own feet.
At half-time, and despite playing well, luck is not on the side of the visiting team from Istanbul – Real Madrid has a 2-0 lead. We went outside to get some fresh air, and for most to get in a cigarette.
Second period is over and more attention is paid to the screen to see what ridiculous outfit Don Cherry is wearing this week. Wings, nachos and other finger foods have been served. The cases of beer are almost gone and it's decision time who is going to make a run to get some more.
The second half fares no better for the team from Istanbul and the fans are getting restless. There was yelling at the screens, smacking hands together in frustration and even sounds of spitting at the poor play. The team is down by three and now all there is hope for is just scoring a goal.
I feel the frustration. The mighty Oil are down three. Once a dynasty, now pretty much a joke. I curse like the Turkish and smack my hands at missed opportunities. I feel their pain.
I haven't felt the sensation of sport in a while and the competitive nature it creates. It was a nice reminder, despite losing.
"You can't come and watch anymore" Mustafa half jokes. "You were bad luck and they need to win the next match." Looks like such superstitions are one thing we have in common.
**Feature image from Guardian.co.uk