We're in a festive mood lately as we embark on this year 2014…we have lots to celebrate!
We just passed the 3rd anniversary of our blog, and our future is looking brighter than ever. In May of this year we'll also celebrate our fifth vagabondaversary, marking the day of when we officially became homeless and started wandering the globe a few months later. We've got some major planning to do on how to mark that milestone (more to come there).
To kick off this momentous year, we couldn't be more thrilled than to do so by celebrating two major anniversaries of one of our favourite spots on the planet, and right in our old backyard.
Jasper is a little town in a big park of the same name. It has everything we love about a travel destination: a small town feel with big scenery and an abundance of outdoor adventures. We've both spent time there previously (mostly camping in summer!), and this will be our first big winter adventure in the area.
Wherever we are in the world, being near mountains makes us feel like we're at home, and for a few days at the end of this month, we're going to rejoice being nestled in our Canadian Rockies. We're going to be skiing (gawd help us), exploring ice caves and canyons, and partying it up with the locals in Jasper in celebration of the 25th anniversary of this stellar winter festival, and the 50th anniversary of their premiere ski hill Marmot Basin. We'll be pampered with our stay at the gorgeous Jasper Park Lodge, and will be hitting the hot spots with our blogging buddy Seattle.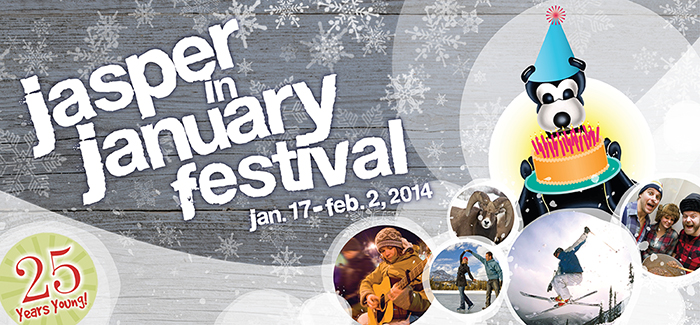 (And one of the best parts about it? We're so close to our former home that some of our friends and family are signing up to come and join us!)
We're going to go ALL OUT in supporting these events and we invite you to follow along on in real-time on all of our social media accounts, specifically with the hashtag #MyJasper. And while you're at it, be sure to check-in with Tourism Jasper too, as they'll have some surprises in store for us as the event approaches (you may even be able to choose some of our activities for us! Follow them on Facebook and Twitter to chime in.)
(Ahem…please choose things that involve a warm fire and hot cocoa!)