Into Cambodia
Words by Dalene Heck / Photography by Pete Heck
Within two minutes of being in Phnom Penh, our traveler's euphoria – that which swells with each introduction to new lands and experiences – was swiftly whisked away.
It disappeared with the sound of screeching tires and a loud thud. I turned just in time to see a woman fly over the handlebars of her scooter as another cut across, her helmeted head hitting the pavement first. We weaved past her and around the congested traffic, Pete and I gripped the sides of our tuktuk a little tighter and silently wished for our own safety in the half hour drive to our hotel.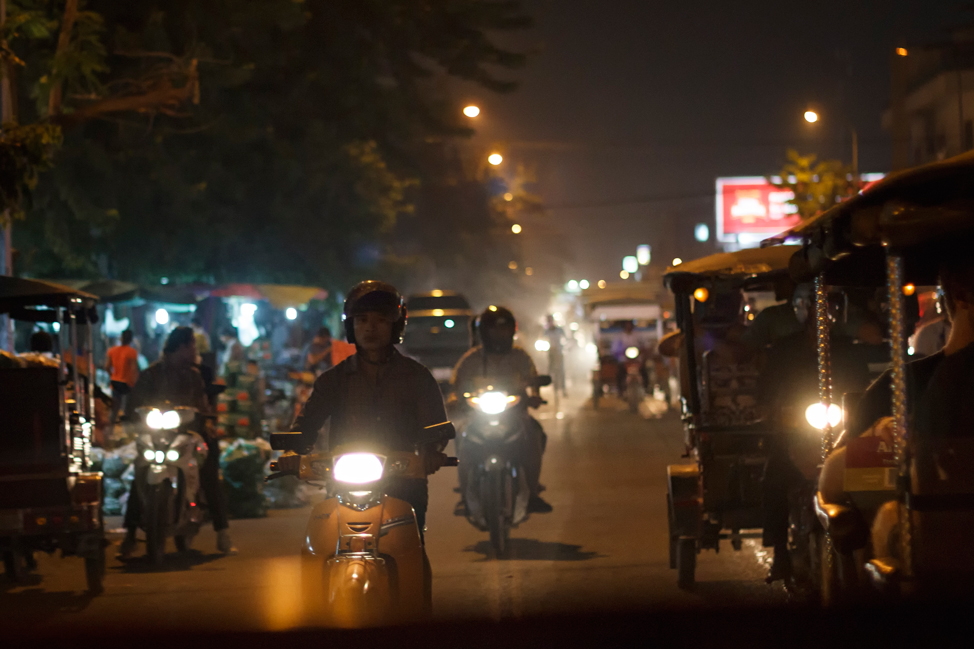 That would not be our last fearful excursion. On our very next tuktuk ride from our hotel to the centre of the city, it was our turn to tangle in transit, with our driver smacking a scooter who cut across the front too close. All were okay (our driver laughed about it for the next several minutes), but it was enough to shake me up once again.
I am not sure I'm ready for this.
So much of being in Cambodia reminds us both of our time in South America: the swirling smells of grilling meat and rotting garbage, unfamiliar creepy crawlies (of which I am unreasonably terrified), the permanence of dust and grime on anything and everything, spurring my need for a shower after every outing.
I never thought of myself as a traveling princess – we endured some very challenging travel while in South America – but perhaps I have become that way with age and from more recently being spoiled by luxurious Europe. I can barely stomach that our hotel's standards of cleanliness don't match mine, and I am struggling to accept the continuous roar of horns and revving motors as dull white noise.
I have never been a fan of crowded and busy cities, and Phnom Penh is bursting. It's exhausting, dirty, daunting. Despite repeated claims of the city's overall safety and the draw of a new culture to be discovered, I find my interest in exploring to be at a desperate low. Pete's is too.
We've been making a good effort though, exploring the Royal Palace in stifling heat, participating in a cooking class, and taking a general tour of the city via tuktuk (accident free, thankfully). And each time we have ventured out, there have been things that absolutely delight us – the way the kids are always smiling and waving, the food (ooohhh, the incredible food!), and the brilliant architecture that seems otherworldly and is a colourful introduction to this entire region. Tonight's sunset was also something for the record books, the sky bursting in pinks and oranges and the sun larger than I think I've ever seen it.
I have never been a fan of crowded and busy cities, and Phnom Penh is bursting. It's exhausting, dirty, daunting.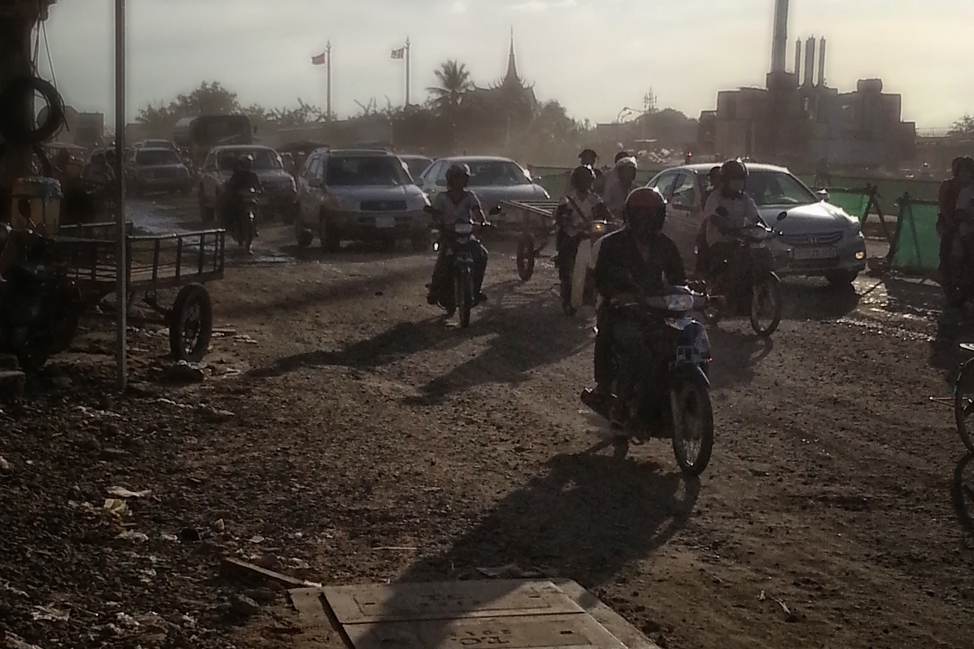 The other day, our tuktuk driver missed a turn and we ended up on the wrong side of a six lane road. We told him to just drop us off and we'd walk, but he could sense our nervousness at having to cross all the traffic. He parked his tuktuk and led us across all six lanes, stopping all the cars, scooters and tuktuks with his outstreched hands to safely deliver us across the very busy street. His beaming smile and pure kindness warmed my soul.
But then Pete almost bit into a sandwich when ants began to crawl out. I spent two days bound to my hotel room, needing to be reasonably close to a toilet thanks to something I ate or drank. And we had a scary near-miss in a tuktuk, once again.
This city is at once maddening and stunning. After our first few days, I cannot decide how I ultimately feel about it – I am teetering on a thin edge with adoration on one side and loathing on the other.
We've got a few weeks left yet to see where I land.