They all came together in the most unusual way, these summer plans of ours.
— We were pulled in one direction almost serendipitously, via a routine inquiry we are used to getting, but in which we were finally available to say YES.
— A harmless declaration on Twitter took us in another direction: a single 140 character tweet about a party led us to book our biggest adventure yet.
— Finally, the hole left in-between was filled via a dart tossed at a map. Or more accurately, a flight search that read From: New York To: Anywhere, in which we chose the cheapest destination that popped up.
We will hit three brand new countries in the next two months while bounding through a couple more. These are pretty ambitious plans, but we're really excited about how our summer is shaping up!
First up: Greenwich, Connecticut!
Every couple of months, we receive inquiries from readers looking for our house-sitting services, and every time, we've had to say no. Either it's on the wrong continent, or the lead time is too short, but either way we've never been able to make it work. Until now.
From our current location of Montréal, we'll be heading south to Greenwich and be introduced to two whippets – Mason and Cody – who need some lovin' while their human parents go on a holiday. It is only a short house-sit – just nine days – but it will allow us to catch up on some work from touring eastern Canada so rapidly, as well as prepare us for our next jaunt back overseas. Because when we typed in From: New York To: Anywhere, this is what we got…
We're off to Poland!
If you recall from almost this time last year, we asked you, our dear readers, what to do with a few weeks we had completely unplanned. We gave you four choices, one of which included Poland, but Malta won by only three votes (despite our secret pining for Poland).
Thus, when Gdansk, Poland came up as a cheap destination from New York, we jumped all over it.
We'll spend almost five weeks touring the country, with our plans largely undecided after our first 10-day stop in Gdansk. (If you have any suggestions, send them our way!)
From Poland, we'll need to make our way to London for a few days in order to get prepared for…
Greenland!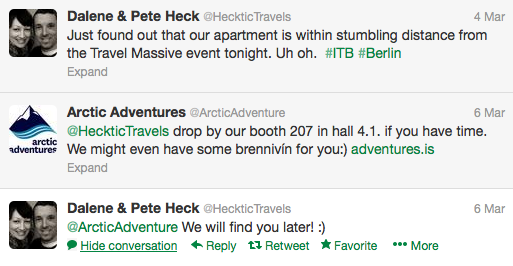 We found them later alright, and after a few emails over a couple of months, we were invited to Greenland for this:
10 days of kayaking, hiking and camping along the eastern shore of Greenland, with this tour. This is, without a doubt, a dream trip for us. The only thing that would make it more perfect-er is the guarantee of getting to hang out with some Narwhals. 🙂
And, just because we'll be in the area…
We're making a stop in Iceland!
We've only got four days only to spend in Iceland, but we're going to try and shove in as much of the country as possible.
Which hopefully, will include seeing this (among many other wonders):
These plans will take us thru to the end of August, in which we expect to collapse in an exhausted heap wherever we happen to land. (We'll be well due for our "two months of rest", if anyone in Europe is looking for house-sitters this fall!)