Welcome to Travel Photo Roulette: Round 31 "Music"!
Travel Photo Roulette started way back in November 2010 as a way for travel bloggers to showcase their best photography. For each round a new theme is chosen, independent travel bloggers are asked to submit photos, and a winner is chosen to host (and judge!) the following round.
The last round (#30) of roulette was hosted by Dina and Ryan from Vagabond Quest and the theme was silhouettes. Our photo was selected as the winner and we are excited to host the next competition!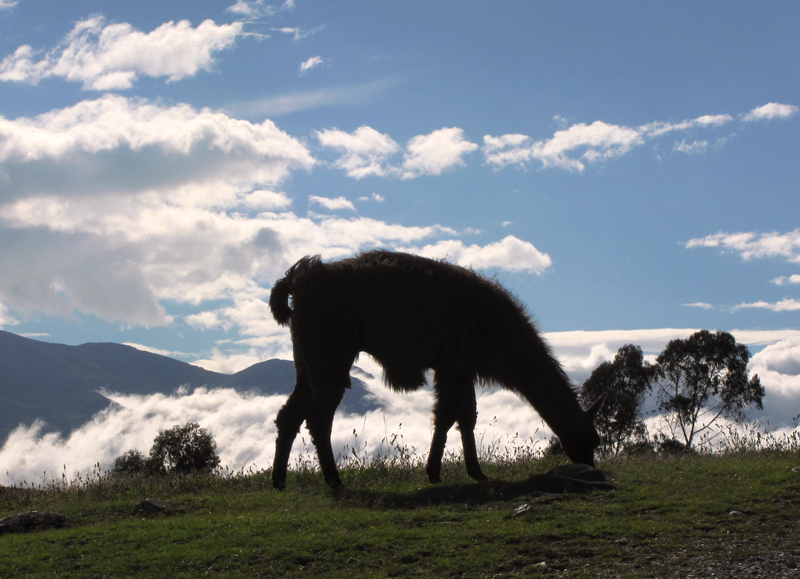 Our theme choice: Music
Music is such an instrumental (excuse the pun) part of our lives. While we are traveling, the first thing we usually do when we arrive to a new destination is check the last.fm event listings or search for live music. We even make travel plans based around music, which is why we ended up in Edinburgh, Scotland to see Arcade Fire at the Edinburgh Castle.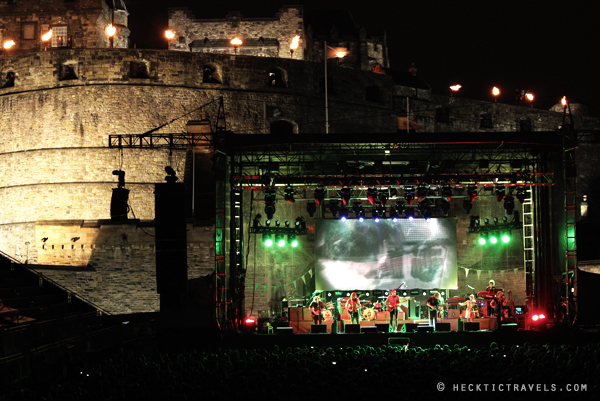 So, it was a no-brainer for us to select "Music" as the theme for this round.  It can be anything from live performances to instruments to dancing, so be creative.
We invite all of our non-travel blogging friends and fans to come back to this post regularly to check out all the new entrants and voice your opinion on who should be selected!
(And for our travel blogging friends and fans, please note that we are most definitely open for bribes.)
Contest Rules
The rules are simple. The hosting blogger is the chosen winner of the previous round. The new host chooses a generic keyword or phrase that other travelers submit photos to during the course of the week. Phrases can be as generic as 'signs' all the way to abstract thoughts like 'religion' and everything in between. At the end of the week, the hosting blogger chooses their favorite photo that fits the chosen phrase and moves it to the top of the post as the winning entry with direction to the new host's site for the next round. Readers can attempt to sway the author into picking a certain photo via comments, but the author can ignore comments as they see fit. The game is repeated with the winner hosting the following week's game and choosing a phrase for new photo submissions.
The more the merrier: Let's get more people joining the contest by sharing this article on Facebook, Twitter, and StumbleUpon (share buttons above and below).
Extra Criteria to Keep in Mind When Submitting a Photo:
One submission per Blog (so sites that have 2+ authors only get one entry).
In this round, post processing is permitted as we believe it is essential
Abstract submissions welcomed as long as it fits within the interpretation of the chosen phrase. Remember, the hosting blogger chooses the winner, so if they cannot understand the submission, you might not win!
If you win, keep these in mind when choosing a new theme:
Keep phrases general so that all bloggers can participate. Specific items like "Eiffel Tower" should be avoided but rather made open-ended like "monuments." For variety, it is ok to say focused things such as "monuments at night" in which most of us have pictures of.
Abstract thoughts are appreciated, but keep it within the realm that all readers will understand. No "Kafka-esque", but "Overlooking Creation" is able to be interpreted by all.
*NEW* After 1 year, phrases can be reused, however new photos must be submitted.
No obscene pictures or phrases allowed. Suggestive phrases and photography can be accepted, but please keep it within reason.
Keep the ideas and photos fresh!
Pictures from your entire portfolio are fair to submit. You do not have to take the photo within the week of the contest period to submit it.
Most importantly, ALL PHOTOS MUST BE YOUR OWN.
One last rule, since this is a competition for bloggers, we need you to be a blogger to be declared a winner. Sorry!
To Submit An Image
To enter in the Photo Roulette competition simply leave a comment below with a link to the image (whether Flickr, Picasa or your own site) and we will upload it to this post. Don't forget to provide a brief description or caption for the photo so the viewers can get a little background as to what's happening. Check back here through the week to see all the entries as they come in – feel free to comment on them. The contest runs for 7 days from now, with the submission date being Nov 26-Dec 3, 2011 (Saturday thru Saturday)). We will announce the winner within the next few days after the deadline, and they will host round 32.
**Note** Medium size pictures are preferred (around 600 px). Large pictures might slow down downloading time for everybody.
Past Photo Roulette Winners and Hosts
The following is a list of the previously played rounds of the game and the hosting blogger for each. This list also doubles as a winner's table as each topic host won the preceding round! Click the host's link to go directly to that entry to see some stunning photographs from the chosen term/phrase!
1. Nov 4–10, 2010  – Living the Dream – "Animals"
2. Nov 17–24, 2010 – Skinny Backpacker – "Road Signs"
3. Nov 29–Dec 6, 2010 – Dream a Little Dream – "Street Art"
4. Dec 8–15, 2010 – Flashpacker HQ – "Festival"
5. Dec 17–24, 2010 – Over Yonderlust – "Landmarks"
6. Dec 26–Jan 2, 2011 – Don't Ever Look Back – "Beaches"
7. Jan 5–12, 2011 – ThePlanetD – "Portraits"
8. Jan 15–22, 2011 – Travel with a Mate – "Motion"
9. Jan 26–Feb 3, 2011 – Johnny Vagabond – "Water"
10. Feb 8–15, 2011 – Ken Kaminesky – "Urban"
11. Feb 21–27, 2011 – Travels of Adam – "Friday Night"
12. Mar 7–13, 2011 – Itchy Feet Chronicles – "The Journey"
13. Mar 19– 25, 2011 – Brendan's Adventures – "Changing Seasons"
14. Apr 4–10, 2011 – Shutterfeet – "Storytelling"
15. Apr 13–21, 2011 – 10timesOne – "Piousness"
16. Apr 26–May 4, 2011 – Beached Eskimo – "Learning"
17. May 21–27, 2011 – Travel Junkies – "Architecture"
18. Jun 1–7, 2011 – Destination World – "Transportation"
19. Jun 8–15, 2011 – Living the Dream – "Paradise"
20. Jun 21-28, 2011 – Vagabond Quest – "Clothes"
21. Jul 4-11, 2011 – The Unframed World – "Symmetry"
22. Jul 16-25, 2011 – Beached Eskimo – "Home"
23. Jul 31 – Aug 7, 2011 – BackPackerBanter – "Inspiration"
24. Aug 14 – 21, 2011 – WanderingTrader – "Darkness"
25. Aug 28 – Sep 4, 2011 – Finding the Universe – "Tranquillity"
26. Sep 12 – 19, 2011 – Fearful Adventurer – "Food"
27. Sep 23 – 30, 2011 – Adventures of a GoodMan – "City"
28. Oct 06 – 13, 2011 – Globe-Trekking.com – "Reflections"
29. Oct 17 – 24, 2011 – Scene With A Hart – "Framing"
30. Nov 9 – 16, 2011 – Vagabond Quest – "Silhouettes"
So please tweet, share, G+, and stumble this post and let's get as many entries as we can.
Round 31 Entries:
The Gypsy Nester: This lady was performing at market day in a small Bavarian German town, collecting for the local hospice program. Loved everything about her, from her musical talent to her shoes.
Claire from two4travel.net: This is in Buenos Aires, Argentina. I was walking downtown and saw this colorful school letting out, and I noticed this boy playing his guitar all by himself. It didn't seem like he was playing for anyone, just playing because he enjoyed the music and sound of it.

Iain Mallory from Mallory on Travel: I just love this perspective from a gig in Manchester, music and beer go hand in hand
Audrey from Travel Footprints: If you have spent any amount of time in the area of Yangshou, China you have likely seen this man. He can be spotted in the tourist area known as West Street playing melodies on the reed flute.
Jeremy from Living the Dream RTW: I took this photo at the temples of Cambodia of kids singing to try and earn money from tourists. Shortly after taking this photo the kids ran up to me to ask for money for the photo. Should I feel bad that I didn't pay them?
Rachel from Miss Travel Girl:  I had an opportunity to attend a Bar Mitzvah in Israel and participate in some Jewish folk dances where I heard beautiful music. This was one of many moments that made me realize that Israel is truly rich in culture and is a very peaceful country where people go on with their lives in spite of hearing in the media about war.
Jason from Travel Junkies: The Portland Saturday Market (Oregon) attracts many street musicians. This past summer I found a group of drummers playing on different sized plastic buckets and it sounded amazing. It really drew a crowd and goes to prove that it doesn't take an expensive instrument to make great music!

William from My Walkabout 40: I took this at The Gorge Amphitheather in George, Washington ( I swear that is the name of the town!) this last summer while attending my first Phish concert. The scenery was amazing, as well as the show!
Cailin from Cailin Travels: Celebrating live and local music. Me playing the tambourine in Halifax.
Kirsten from Aviators and a Camera: David Gray in concert. A very fun night, Spencer Spellman traveled across the country to attend with me while I was in MI for a few weeks. Really wonderful night with a great travel friend. And an AMAZING concert. Highly recommend seeing David Gray, he's an excellent performer.

Manyu from Shutterfeet: I came across this scene while walking around Udaipur, India. The little boy playing the instrument with the musician just made a great scene.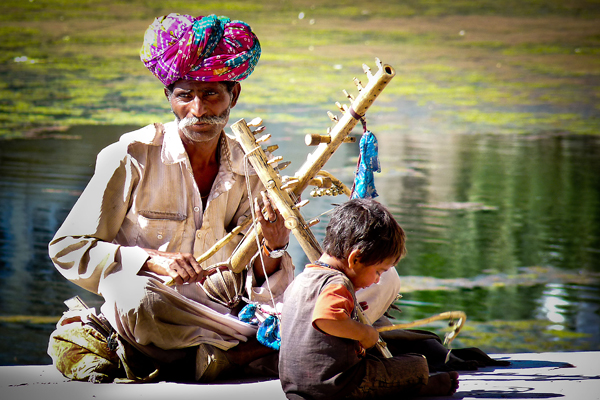 Kieron from Don't Ever Look Back: A Hawaiian Chief teaching children how to hula dance

Cam from Traveling Canucks: Street performer near the Sydney Opera House in Sydney, Australia
Cole from Four Jandals:  The Royal Netherlands Army Bicycle Band performing at the Edinburgh Tattoo this year! Hilarious and played while riding their bikes. Two guys in the band are pretending to fix a flat tyre

Audrey at That Backpacker: This photo was taken at the Mangueira samba hall in Rio de Janeiro. Up on the balcony musicians were playing an intoxicating beat that had the entire floor moving to the rhythm of the sultry music
Natasha from World Wandering Kiwi: In Cuba the nostalgia for the heady days of revolution is as palpable as the music. This guy sang with bittersweet passion that he would always remember their Comandante – Che Guevara. The sound of his voice and the look on his face are some of my most enduring memories of Cuba.
Amanda from Dangerous Business: This is a photo of "The Busker King," taken at Pike Place Market in Seattle. And yes, he is singing, playing guitar, AND hula-hooping.
The Globetrotter Girls: A mariachi girl in Mexico City. She was incredibly talented and everyone was captivated by her playing the violin. She was the only female Mariachi we've seen in all of Mexico
Stephen from Bohemian Traveler: This photo is from the bicentennial celebration in San Blas, Mexico
Lilliane from Wanderlass: Sax player by Notre Dame in Paris
Juno from Runaway Juno: Two of the most devoted musicians I met on the road. At a hostel in Franz Josef, New Zealand. Love the background.
Christy from Technosyncratic: Our submission is of a musical busker on the Charles Bridge in Prague. He was quite talented – moments before this he was playing a rousing number on a didgeridoo
Inge from Picturing the Americas: Jacob, the cellist, in a New Yorker Subway Station. Great play!! It is so amazing how many musicians are playing in the Subway and the huge diversity of instruments they are playing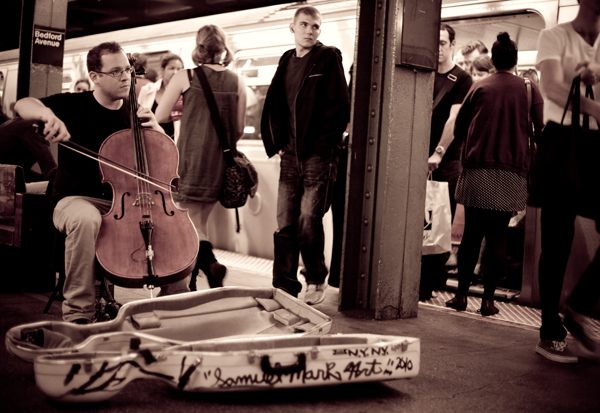 Dustin from Skinny Backpacker: Electronic music juggernauts Underworld, live in Dortmund.

Roving Jay from Roving Jay: I attended a wedding in Malibu last year on one of the hottest days of the year. It was sweltering "sweat running down the back of your legs" hot. The setting was gorgeous, and the bride walked down the aisle to this musician playing on his Cello – despite the heat, this guy kept his cool. I think the look on his face is the concentration he's exerting to make sure his fingers don't slide off his strings.